What is a Carpet Cleaner?
Carpets are a wonderful addition to any home, since they are comfortable underfoot, warm, colourful, and appealing to the eye. If you've invested in long-lasting carpets, you'll want to make sure they look their best and are properly cared for so they may last if possible.
A normal carpet should last between 3-5 years before fraying, but if properly cared for, wool carpets can last much longer – and wool rugs can survive for decades if properly cared for.
Therefore, we have created this article so you can find the best carpet cleaner for your home.
So, if you have an old carpet but don't want to get rid of it then this article will teach you all about what carpet cleaner is, how it works, the different types and the best carpet cleaner you can buy for your carpet.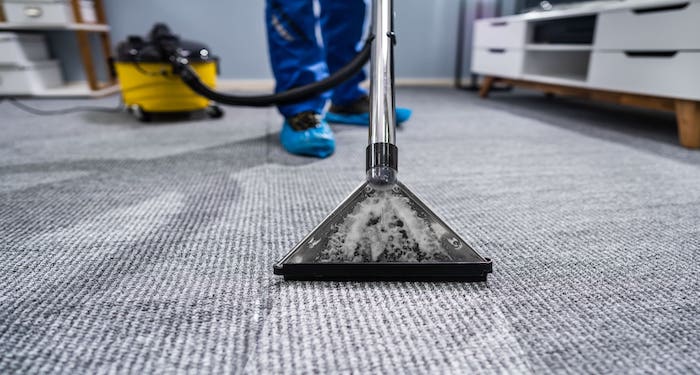 A combination of a clean solution, vigorous scrubbing brushes, and vacuum suction is used by carpet cleaners. Cleaning solutions and water are injected deep into the carpet fibres by carpet cleaners.
Brushes agitate, scour, and remove the filth and/or stain, which is then lifted away by the intense vacuum suction.
Dirt from your shoes and dirt that you see when you vacuum aren't the only sources of deep-down dirt and ground-in dirt.
What you don't see are the invisible particles left behind by vacuumings, such as skin cells, pollen, and food particles. Your carpets can hold up to one pound of soil per square foot before it becomes apparent!
Regular carpet cleaning decreases wear by eliminating small debris and huge dirt particles that scrape and dull your carpeting, speeding up the ageing process.
Plus, by cleaning it yourself, you not only save money and time, but you also safeguard your investment in your house by keeping your carpets looking newer for longer!
How Do you Use a Carpet Cleaner?
If you have light-coloured carpets, they will become soiled over time due to normal wear and strain, especially if you have children or pets.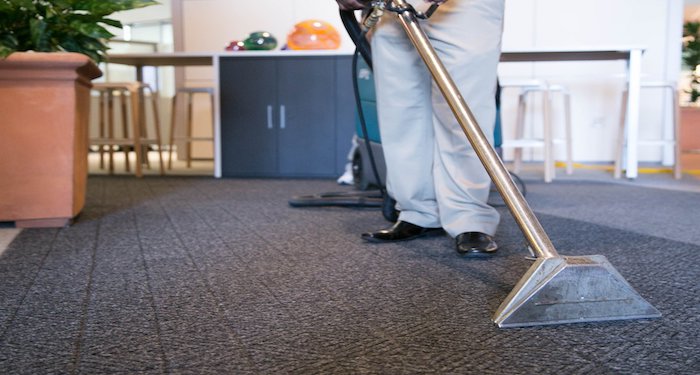 You might hire a professional carpet cleaner every time your carpets become soiled, but you might want to consider purchasing your own. This is how to use a carpet cleaner.
To guarantee that the entire floor is cleaned equally:
Clear the room of all movable furniture and objects on the floor before you wash the carpet.
Clean the carpet with a vacuum to remove any loose debris, dust, or fluff.
To figure out how much detergent to use, consult the carpet cleaner's directions; most manufacturers advocate using their brand.
Follow the directions for how to use the carpet cleaner and how many times you should run over each patch of carpet - too much detergent in one spot could result in an uneven finish.
After around five hours, the best carpet cleaners should have carpets that are dry enough to walk on. A freshly cleaned carpet, on the other hand, will take about 24 hours to completely dry.
Types of Carpet Cleaner
When in search of a carpet cleaner you come across different types of options available for you. However, each one has a different purpose that could be useful for your home.
Therefore, in this section, we have created a list of the different types of carpet cleans and the advantages of each type as well as the disadvantages of them for you to choose which one is better for you.
Carpet Steam Cleaner
A steam cleaner emits a mist of steam onto the carpet, which aids in the removal of filth. A soft surface, such as a carpet, however, is difficult to clean.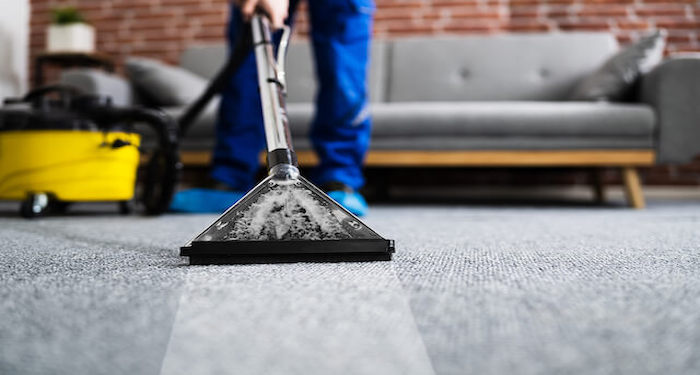 Steam carpet cleaning works well on hard surfaces and may be appropriate for a quick refresh for lightly soiled carpets, but it cannot provide the same level of cleaning as hot water extraction, and you don't want to end up with light steam if you've paid for a full hot water extraction clean.
Pros:
Extracts deeper dirt due to the steam
It dries much faster
Cons:
Upright Carpet Cleaner
Rotating brushes agitate the carpet fibres in an upright carpet cleaner, freeing dirt and lifting it to the carpet's surface.
This also helps to "puff up" the carpet, making it feel as soft and comfy as it did the first time you walked on it!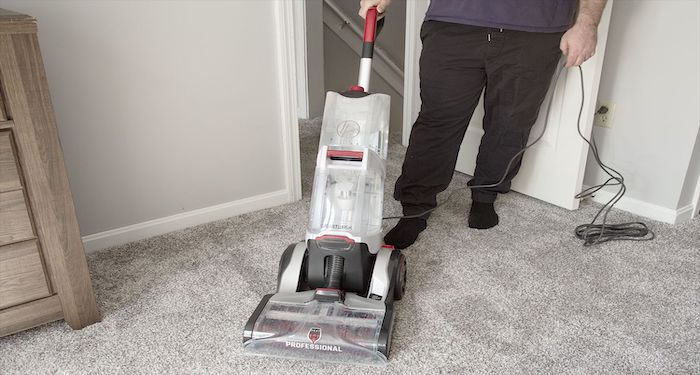 Typically, upright vacuum cleaner models contain a rotating beater bar or brush roll that eliminates all dust and dirt by vibrations and sweeping motions before being vacuumed into the machine.
A suction motor and a driving belt revolve the brush roll in most upright carpet cleaner types. Some types include a dual motor, which means the bigger motor oversees suction while the second motor oversees the brush roll.
Pros:
Easy to use
Can be adjusted to various heights
Have a larger cleaning head
Cons:
Tend to take up a lot of space
Not convenient for cleaning awkward spaces such as stairs
Portable Carpet Cleaner
Portable carpet cleaners are great for removing tiny stains from carpet, upholstery, and even your car when a full-sized choice is too heavy.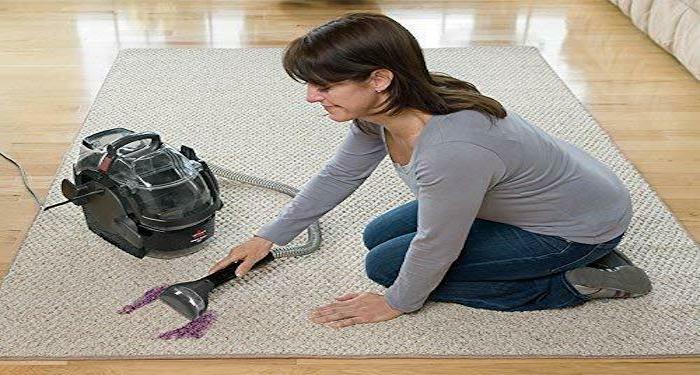 Each machine has two tanks: one carries the cleaning solution (which may be pre-mixed or must be diluted, depending on the equipment), and the other retains the sucked-up unclean liquid.
They're simple to use: Spray the stain first, then drag the nozzle or machine over it to absorb the unclean liquid. Extra applications may be required for heavy stains.
Pros:
Easy to use
Good for getting rid of small stains
Cons:
Handheld Carpet Cleaner
A handheld carpet cleaner is ideal for cleaning the house in the most efficient manner possible. This instrument can quickly remove contaminants such as chewing gum, glue, wax, and other materials.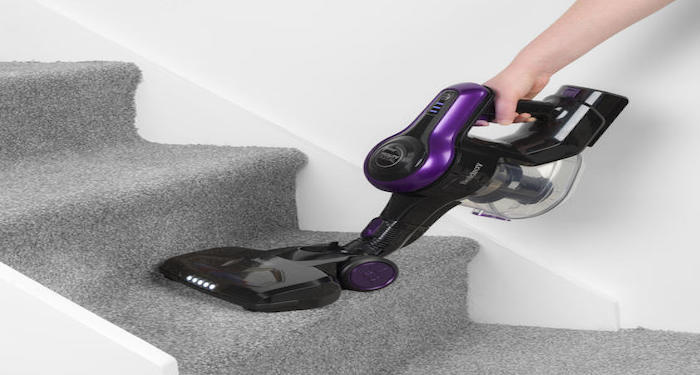 With its thorough cleaning capability using steam, it can give your floors and carpets a beautiful and fresh look. Steam cleaners are becoming more popular as they are quite simple to operate.
Pros:
Dries carpet quickly
Effective cleaning
Cons:
Can be more expensive
Needs to be cleaned more than other types
Cordless Carpet Cleaner
Cordless carpet cleaners are best if you have a big home with big carpet space, as they do not need to be plugged in to work, they usually have long-lasting battery life and still work the same as a corded carpet cleaner.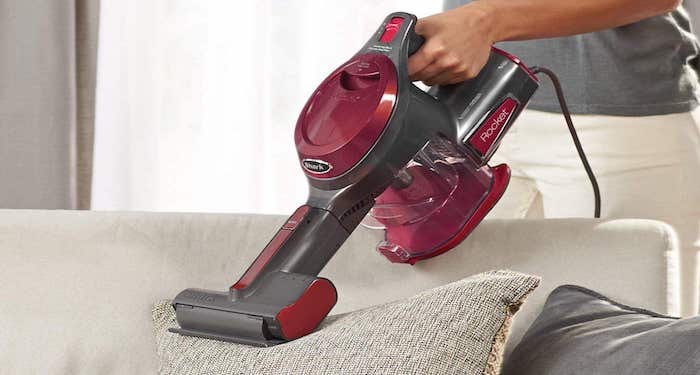 The only difference is that at the end of the cleaning then your cordless carpet cleaner will need to be charged so you can use it again when you need to. The best models will leave your carpets smelling amazing with no dirt or stains attached to them.
Pros:
Safer than corded carpet cleaners
They are flexible as there is no wire to limit the clean
Convenient for quick clean-ups
Cons:
Can be more expensive
Some models cannot do the job properly
Industrial Carpet Cleaner
This is a machine normally used by professionals however, it is possible to hire one and use it for your home. However, buying one is also an option they are just known to be expensive to buy but affordable to hire.
The machines operate in the following manner for best results: The carpet is pre-treated by spraying it with a cleaning solution and allowing it to soak in for around 15 minutes.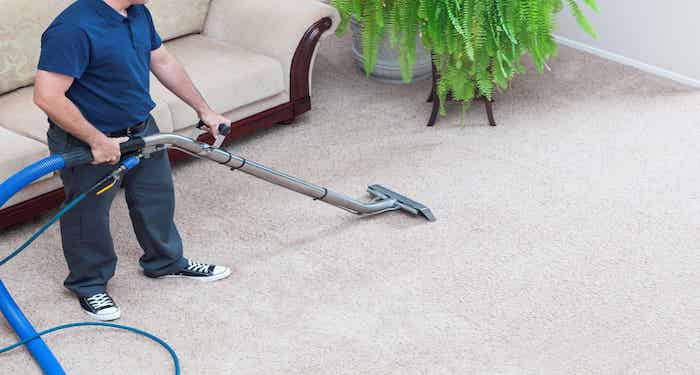 The carpet cleaner, which pushes water into the carpet and extracts the unclean, soapy fluid with a high-powered suction, is then used by the operators. The carpet is vacuumed to remove the cleaning solution, moisture, and debris.
The stronger the suction, the more effectively you can clean, the faster you can move the carpet tool (wand), and the faster the carpet dries.
Pros:
You can save money by hiring the machine
The most effective as it cleans all the dirt out of your carpet
Cons:
Using too much detergent can happen and ruin your carpet
Water in rental machines doesn't reach a high temperature
Best Carpet Cleaner
While a vacuum cleaner will remove common household dust and debris, a carpet cleaner claims to do much more. Some stains and blemishes are impossible to remove with a conventional vacuum, and while steam cleaners can rejuvenate your carpets, you'll need a specialist carpet cleaner to get rid of difficult stains and persistent odours.
Therefore, we have created this list of the best carpet cleaners you can buy for your home as well as the pros and cons of each one.
Best Carpet Steam Cleaners
Hoover Steam Capsule 2-in-1
This well-designed steam cleaner is ready to use in less than 30 seconds after filling the tank, and the maximum steam intensity proved excellent for removing deeply soiled tiles in a busy hallway.
Standing on the outer rim of the main pad releases a little triangle scrubber, which proved useful for getting into tight spots. Our cleaning was aided by the mix of brushes and steam.
It's simple to remove the tank for handheld cleaning, and you'll never scrub with chemicals again — steam is the way to go.
Pros:
Affordable
Easy to set up
Can be used as a handheld cleaner too
Cons:
Reviews say it is loud to use
Shark S6005UK Cleaner Steam
It has two steam modes – hot and low – and is suited for almost any cleaning task around the house. The pick up is particularly good on floors, with users praising the ability to flip the huge microfibre pad over for twice as much clean surface area to mop up with.
Thanks to an 8-meter cord, you can keep going without unplugging it. You don't have to wrestle the pad of the main body to wash it; simply click it off and it drops into the laundry basket. It's adaptable and well-made, but it's not a cheap option.
Pros:
Got two settings for you to use
Has an 8-meter cord
Cons:
Karcher EasyFix SC 3
The number of attachments included with this tank-on-wheels model is limited, but Kärcher sells a variety of extras separately. It's great for simple cleaning including cleaning the kitchen, defrosting the fridge, and degreasing the splashback.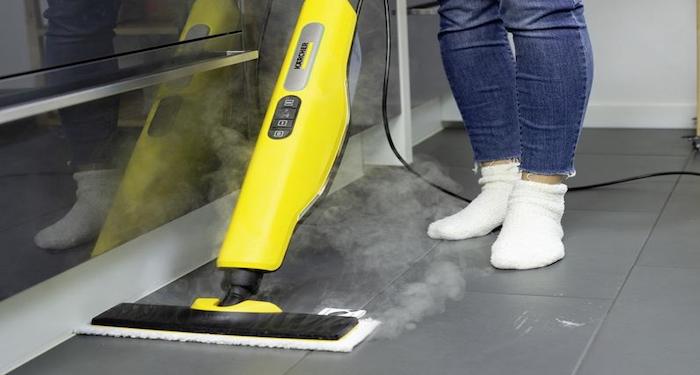 The fact that there was no need to let the machine cool down meant that there is no delay in filling it again. This model's solid cleaning handle and attachments appeared to be of higher quality than some of the other steamers, but then again, the price reflects that.
Pros:
Good for simple cleaning
High quality
Cons:
Attachments included are limited
Not good for a big cleaning job
Morphy Richards 720512 12-in-1 Steam Cleaner
This Morphy Richards model is easy to operate and intuitive when it comes to fitting the broad number of accessories supplied, making it a strong cleaner with a superb array of attachments. In handheld mode, you can blast your way around the kitchen with the work-surface attachment before switching to floor mode and tackling tiles.
Scraper and wire brush attachments are also a great pair for restoring respectability to a nasty oven. For the price, this is a fantastic steam cleaner, although many have expressed a desire for a little larger, longer-lasting water tank.
Pros:
Powerful cleaner
Easy to use
Can also be handheld
Cons:
Reviews mention how they would have preferred a larger and long-lasting water tank
Vileda 157171 Steam Mop
This little floor-cleaning equipment is uncomplicated and quite effective. There aren't many fancy extras in the box — just two head pads and a plastic glider attachment to help it glide over carpet and rug surfaces.
This is a compact type that takes up little space in storage. The triangular form of the head makes it simple to skim over tiles and get into corners.
The pads can gather up a lot of dirt and came out clean after being washed at 60 degrees. Although the steam strength could be adjusted, there was no way to control the flow, thus the machine produced it continuously.
Pros:
Affordable
Doesn't take up a lot of storage
Cons:
It may be a hassle to use if you'd like to take your time
Best Upright Carpet Cleaners
Vax Platinum Smartwash CDCW-SWXS Carpet Cleaner
This is the most recent model in Vax's carpet cleaning lineup, and it does not disappoint. The machine has two motorised brush rollers, which we felt truly made a difference in contrast to other cleaners during testing - these work to dislodge deep stains and grime in the carpet, and the colour of the liquid that came out of the dirty water tank after use was very shocking!
Because this device does not have a trigger, you will not develop tired hands from repeatedly pulling the trigger button to release the liquid, as many carpet cleaners do. Instead, it uses motion sensor technology to switch from washing to drying automatically.
Pros:
Doesn't have a trigger so all you need to do is move it forward and backwards
Makes it easy to see where you need to clean
Cons:
Bissell HydroWave
The deep clean mode, as the name implies, uses a huge brush roll to get deep into the carpet and clean it thoroughly. It gets rid of black stains on the carpet. With the express button, you can clean up ordinary dirt and spills without worrying about drying time; this mode uses less water, and we found that your carpet will be completely dry in around 30 minutes.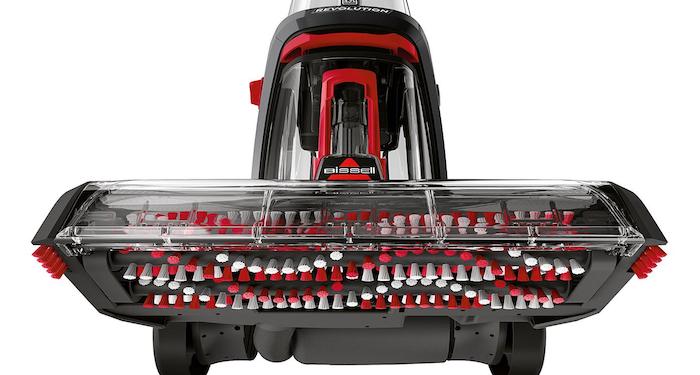 With a 1.7l clean water tank and a 0.6l dirty water tank, this has a smaller water capacity than the other models. This, however, will not be an issue because it consumes less water in general and allows the brush roller to do more of the heavy lifting.
Pros:
Gets rid of strong stains
Uses less water
Dries quickly
Cons:
Has a smaller water capacity
Bissell ProHeat
This BISSELL pro-level carpet cleaner has an appealing futuristic design and is both powerful and lightweight. If you have hard stains to remove, the ProHeat 2X Revolution Carpet Cleaner will get the job done fast and easily, restoring your carpets to their former glory.
Its ultra-low profile hugs the carpet, sliding underneath the furniture to reach tricky locations quickly, and it has built-in separate clean and dirty tanks.
The revolving brush bars with dual bristle packs and 'HeatWave' optimally heated warm water go deep into the fibres, lifting out embedded dirt for stunning results.
Pros:
Separate clean and dirty water
Lightweight and easy to use
Powerful carpet suction so it dries fast
Cons:
Bulky design
Assembly can be difficult
Vax Compact Power
The Vax Compact is the company's lightest carpet cleaner. Its sleek shape and narrow head make manoeuvring a breeze. As a result, you can easily clean both large and tiny areas without breaking a sweat.
It's easy to take up and down stairs without struggling or risking injury thanks to its compact shape and lightweight, albeit the length of the head makes it a little tricky to use on stair carpets. This model may be modest in size, but it has a lot of cleaning power.
Pros:
Lightweight
Easy to store
Good for large carpets and narrow spaces
Cons:
Awkward to use on the stairs
Plastic brush cover can get loose if caught
Vax CWGRV021 Rapid Power Plus Carpet
In less than an hour, the 'Quick Clean' mode cleans and dries carpets, allowing you to go on to more fun pursuits. This model is certainly a fantastic choice if you're tight on funds and seeking a low-cost carpet cleaner.
It does, however, have a few flaws. It's quite heavy to move about with two large tanks, and the suction can be fickle at times. Finally, if you need to remove the brushes for cleaning, be prepared to unscrew the head and spend some time doing so.
Pros:
Good power
Included attachments
Quick clean mode cleans and dries in under an hour
Cons:
Heavy
Suction can be temperamental
Best Portable Carpet Cleaners
Bissell SpotClean Pro
This tool includes a cleaning formula as well as two brush attachments, and despite its small size, it holds a respectable 2.8 litres of water - enough to clean a small room. During testing, its cleaning ability was outstanding, and the suction left the carpets unexpectedly dry.
If you have a pet and want to safeguard your carpets from accidents, this is the cleaner to acquire. Its small size makes it quick to pull out and use in an emergency, and it won't take up too much valuable storage room in your home.
Pros:
Good suction
Allows carpets to dry quickly
Lightweight
Cons:
Not the best for larger jobs
Rug Doctor 93306
This little cleaner is great for removing spot stains from carpets, stairs, and upholstery, making it a good choice if you have pets, small children, or are clumsy!
It's simple to get started – simply fill the tank with water and add your cleaning solution – and we noticed that it brightened the carpet significantly.
More persistent blemishes, on the other hand, necessitated multiple passes of the cleaner with its motorised brush. This machine is not as successful at cleaning a whole carpet because it is designed to be portable and for cleaning up in a hurry.
Pros:
Easy to use
Safe for pets and children
Cons:
Not as effective for cleaning an entire carpet
Bissell Multi-Clean Spot & Stain Cleaner
This corded portable cleaner has a five-foot hose that makes it easy to pick up spills in difficult-to-reach spots such as behind the sofa or the car. To remove set-in and entrenched stains, replace the brush head with the pet attachment. Its thin design makes it simple to transport — and use — up and downstairs.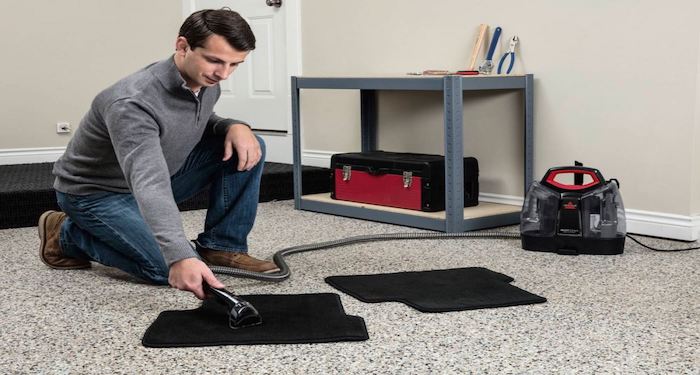 The tanks stand on their own, making filling a breeze; however, using Hoover's pre-mixed solution will void the guarantee. The cable wraps around the back of the hose, which is securely clipped to it. It's neither the quietest nor the loudest machine on the market.
Pros
Stands and stores upright
Long hose
Cons:
Rug Doctor Pet Portable Spot Cleaner
The nozzle's rubberized bristles capture pet hair while cleaning stains, and the carpet cleaner performs the best job of eliminating both the stain and the odour of the yellow ammonia.
Rug Doctor's corded model has enormous tanks that store 64 ounces of cleaning solution, which means less refilling during large or repeated operations. It's easy to navigate and move between regions thanks to wheels and a carrying handle. It's a little tough to mix the cleaning solution with hot water in the solution tank because it doesn't stand on its own.
Pros:
Good stain removal
4-foot hose
Retractable carrying handle and wheels
Cons:
Little Green Machine
The Bissell Little Green Machine is a dependable and robust cleaner. The machine's reach is extended by the four-foot hose, and the 48oz dirty water tank capacity means you won't have to empty it as often.
After cleaning, a handy hydro-rinse tool makes it easy to flush out the hose before storing it – no more trapped muck that could smell after a while!
Pros:
Easy to clean and maintain
Hose and cord management so storage is neat
Cons:
Loud
Hard to hold the solution tank
Best Handheld Carpet Cleaners
Black + Decker BHSB320JP
This cordless Black + Decker's broad mouth and powered spinning brush (which may be turned off) deal with wet messes like juice, oats, or chunky soup and weighs only four pounds. It uses any brand of portable machine cleaning solution, unlike many others. It lasts 30 minutes on a single charge.
It's easy to clean because the tank and nozzle can go in the top rack of the dishwasher. When it must be recharged, an indicator lights up.
Pros:
Charges in 2.5 hours
Easy to clean and maintain
Cons
The tank requires a lot of emptying and refilling
Loud
Zannox Handheld Electric Carpet Washer
This handheld carpet cleaner is simple to use and removes unpleasant stains and spots from carpets, rugs, and upholstery.
Handheld, compact, and weighing only 2.7 kilogrammes, it's easy to use and transport. Quickly removes unexpected spills, stains, or markings. It's also suitable for cleaning and washing automotive upholstery.
Pros:
Easy to use
Lightweight
Removes stains
Cons:
Himox Handheld Cleaner
This HIMOX cordless handheld carpet cleaner has built-in cyclone technology for sustained strong suction. 7000Pa at moderate speeds and 12000Pa at high speeds, making it simple to clean all your home's and car's corners.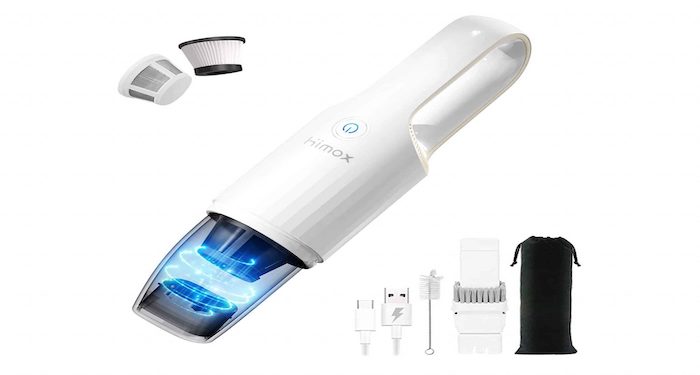 The cleaning tank is constructed of stainless steel and a washable and reusable sponge. When the dust bin is full, simply click the release button. Remove the heap filter and clean it with a brush or water afterwards. Please do not submerge the equipment in water in the event of a short circuit.
Pros:
Cons:
Need to frequently empty/refill tank
MLMLANT Handheld Portable Cleaner
This chemical-free handheld carpet cleaner emits no harmful odours or residue. For added peace of mind, a safety lock on the handle and a safety cap is included.
When cleaning countertops, floors, tables, children's toys, washrooms, toilets, bathrooms, carpets, windows, and pet boxes, avoid using dangerous chemicals. With 1050W of cleaning power, you can be confident that even the toughest oil and dirt will be removed.
Pros:
Chemical-free so it is safe to use around pets and children
Powerful suction
Cons:
Loud when it is turned on
VYTRONIX Powerful 22.2V
This carpet cleaner is powered by a 22.2V motor. The battery has a run length of up to 45 minutes and charges in 3.5 hours.
It is low in weight and easy to transport around your home, weighing only 2.3kg. There is also a cordless cleaning option, making it safer to use around the house. It also has a motorised brush bar.
Pros:
Long-lasting battery life
Included brush bar
Cons:
Takes 3.5 hours to charge
Best Cordless Carpet Cleaners
Vax ONEPWR SpotlessGo
Consider this cordless, light, and tiny Vax alternative if you have pets or dirty toddlers. Its modest size makes it ideal for minor mishaps or a quick spin in the car seats, and it can be stored in a cabinet. Granted, each charge only lasts approximately 15 minutes, but that's more than enough time to clean up a few pets or wine spills.
The SpotlessGo comes with a short 80cm hose, a little 28ml water tank, and a considerably bigger 400ml dirty-water reservoir, as well as two scrubbing brushes (a nylon one for normal jobs and a rubberised comb for cleaning up after dogs). If you identify minor stains early enough, the Vax ONEPWR SpotlessGo is quite effective.
Pros:
Light and easy to use
Effective for stains
Cons:
Battery life only lasts fifteen minutes
Bissel Pet Stain Eraser 2837
A spinning brush is included in this cordless Bissell for deep cleaning power (just switch it off when using it on delicate fabrics like woven rugs and velvet). It also includes a nubby rubber pet tool for cleaning up after your animal family members.
On a single charge, you can expect 20 minutes of running time. It was easy to clean and maintain, and it removed fresh and dried red wine and blueberry pie filling stains. The thumb controls are praised for their simplicity. Bissell suggests using their ready-to-use formula.
Pros:
Convenient control buttons
Pre-mixed formula
Cons:
Need to frequently empty/refill the tank
Takes 4.5 hours to charge
Hoover Onepwr Spotless Go
The Hoover ONEPWR Spotless Go's replaceable battery recharges in less than three and a half hours and is interchangeable with batteries from other ONEPWR devices.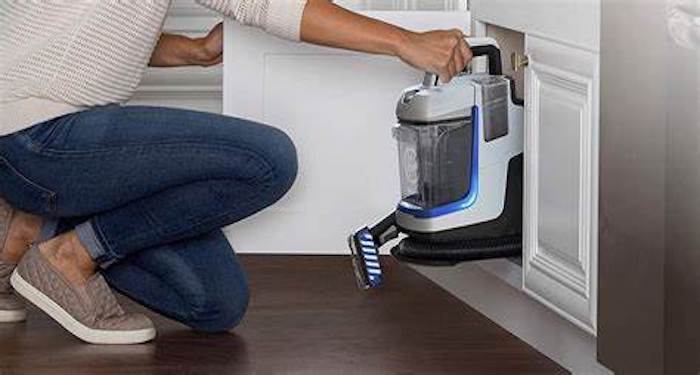 It's simpler to reach stains in automobiles and on stairs with cordless power and a two-foot hose. Tea and red wine stains were no match for it, thanks to the smaller tanks, which make it quite lightweight and suitable for a rapid clean-up.
Pros:
Tanks are easy to handle
Removable battery
Cons:
Bissell SpotBot Stain Cleaner
Cleaning performance is very identical to that of the Bissell SpotClean Professional, but you won't have to scrape back and forth manually with this one. The nozzle attachment, on the other hand, does not clean as well.
You set the machine directly on the stain and let the brush do the work instead of scrubbing the nozzle back and forth. Surprisingly, this scrubber is effective on a wide range of stains. This spot cleaner, according to users, can remove pet puke, food stains, and baby stains.
It also has a detachable hose and nozzle in case you need to remove spots that the main brush can't reach. The nozzle cleans less effectively than the primary cleaning brush.
Pros:
Hands-free option to spot clean carpets or rugs
Easy to use
Comes with two cleaning cycles
Cons:
Nozzle attachment will not work as well as the main brush
Hoover FH11300PC
The performance of Hoover, on the other hand, is a major concern. While this model cleans well, it falls short of the Rug Doctor and Bissell when it comes to dry stains.
Another difficulty is the inlet, which is located at the back of the water tank. It's difficult to fill a shallow sink due to the height and location of the inlet's water tank.
Pros:
Good suction and cleaning performance
Flexible hose
Cons:
Won't clean stains as well as other models
Best Industrial Carpet Cleaners
Bissell Professional Carpet Cleaner
The Big Green 86T3 is a high-end vehicle that can outperform a rental. While the Big Green is a strong professional cleaner, it has a simple, failsafe design that everyone can use.
There's no way this thing could topple over, and the parts are all so sturdy that I don't think I could break anything on it. The big tank carries enough cleaning solution and water too deep clean an entire large living room, and the powerful motors and suction can draw out stubborn stains in your carpet.
Pros:
Heavy-duty
Fast drying time
Long 25-foot power cord
Cons:
Not as lightweight as you'd like
JaniLink Premium Carpet Cleaning Machine
Unlike other models, the JaniLink cleaner cleans totally with a hand-held hose rather than suctions at the bottom of the machine. That means you'll be able to get into tight spots without having to move a lot of furniture.
Pros:
Cons:
Rug Doctor Mighty Pro X3
Another easy-to-use carpet cleaner with a basic and strong construction is the Rug Doctor. The Rug Doctor is a little smaller than the Big Green, but it comes with a handy upholstery tool for cleaning stairwells and couches.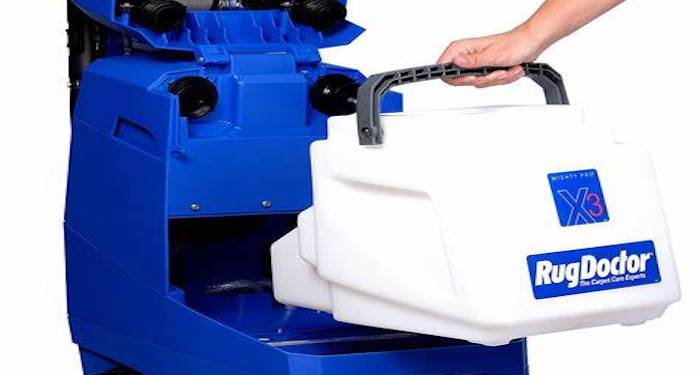 Because the push handle folds down to make the device smaller, this carpet cleaner is easy to store. The Rug Doctor can handle around two or three rooms before the water needs to be drained, thanks to its enormous 3.9-gallon recovery tank.
Pros
Lightweight design
Easy to use
Cons:
The cleaning solution and water must be mixed by hand
EDIC Galaxy 2000 Commercial Carpet Cleaning
The EDIC Galaxy is a wonderful option to the JaniLink if you're searching for a heavy-duty carpet cleaner that's a little less expensive. The Galaxy includes two vacuum motors and a 100-PSI pump, so it should be able to provide enough suction for practically any application.
A 12-gallon solution tank and an 11-gallon recovery tank are also included with the unit.
Pros:
Easy to use
5-year warranty
Powerful
Cons:
Rug Doctor 1093170
If you want your carpet to look luxurious and always smell fresh, the Rug Doctor Deep Carpet Cleaner is the carpet shampooer to use. With its cutting-edge expert technology, it provides deep cleaning.
It employs robust, double-crossed brushes that ensure thorough cleaning in only one pass. These brushes can swirl through the fibres of your carpet for a thorough cleaning, grooming, and shining from all angles.
Pros:
Luxury
Deep cleans carpets
Cons:
Best Budget Carpet Cleaners
Russell Hobbs RHC5001
This one requires some simple installation; attach the handle to the main body using a crosshead screwdriver. It's easy to use simply press the trigger button to release the cleaning solution into the carpet, and the brush bar will begin to remove any debris. It's also simple to go around the room and tidy the parts that need attention.
The suction on this machine isn't particularly strong — users reported having to refill the water tank numerous times and that the carpet was left quite wet, which wasn't ideal. As a result, this cleaner is best suited for use on smaller carpeted areas or rugs; otherwise, your carpet will remain damp for a long time.
Pros:
Easy to use
Simple to go around the room
Cons:
Suction isn't the strongest
Beldray Carpet Washer
Another low-cost carpet cleaner alternative is this one. There is some assembly involved, but it is extremely simple — simply attach the handle to the main body of the cleaner using the included screws.
It holds 1.5 litres of clean water and 1.6 litres of filthy water, and the dirty water tank is located near the cleaner's base, making it a little more difficult to remove.
It does a wonderful job of cleaning the carpet, sucking up dirt and making it look brighter, and the 6m power cord came in helpful, making cleaning around each room easier. When turned on, however, this product is quite loud, necessitating frequent breaks to escape the noise.
Pros:
Easy to assemble
Easy to move around the room
Good suction included
Cons:
Is known to be loud when it is turned on
Portable Steam Cleaner
Handheld pressurised steam cleaner employs a high-powered 1050 watt steamer to clean effectively, leaving even the toughest grime and stains immaculate. It holds 8 oz. of water and can produce continuous steam for up to 8 minutes.
Cleaning that is 100 per cent natural, chemical-free, and detergent-free, with no toxic fumes or residue, while also conserving water A unique child lock and safety cover has been added to the newly improved steam apparatus. You don't have to be concerned about your baby getting hurt.
Pros:
Handheld
Easy to use
Chemical-free
Cons:
Handheld Vacuum Cleaner
You can store it on a shelf or corner of a closet, pantry, laundry room, garage, or inside a kitchen cabinet; a great option for smaller living spaces, such as apartments, dorm rooms, cars, and RVs; easy to reach only 0.8 lbs, roughly the size of a beer; easy to fit in your decoration; you can store it on a shelf or corner of a closet, pantry, laundry room, garage, or inside a kitchen cabinet;
Pros:
Cons:
Suction isn't as powerful
FAQs
Q: How do you clean a carpet cleaner?
A: To ensure your carpet cleaner works efficiency, you should try to clean after every use. This includes removing the dirt and grime from the nozzle with water, while any stubborn dirt will need to be removed with a dry cloth.
You should also remove any lint that is stuck in the machine and clear away any debris from the machine's brushes.
It is also important that you clean the carpet cleaning tank before storing it away. This involves removing any contents from the tank and rinsing it with water, before refilling it fresh water. You should give it time to flush out and then dry the carpet cleaner thoroughly before storing it away.
Q: How often should you use a carpet cleaner?
A: You should try to deep clean your carpet with a carpet cleaner at least twice a year to ensure your carpet look fresh and new, while also eliminating any germs.
Q: How long do you have to wait after using a carpet cleaner?
A: You should normally wait around six hours before walking on your carpet after using a carpet cleaner. For furniture, you should around 24 hours before placing anything onto the carpet.
Q: Can you use anything else other than water in a carpet cleaner?
A: You can purchase carpet cleaning solutions that can be put in a carpet cleaning machine, however before doing this you should check the product instructions to ensure it is safe to do so.
Q: How long do carpets take to dry after using a carpet cleaner?
A: Drying time will vary depending on the carpet cleaner you choose to buy. However, on average, you should expect your carpet to around 6 to 12 hours to dry.
Sources