Introduction to the Best Blackout Blinds
When renovating your home, you will need to consider the type of blinds you want to enhance the look of your room, offer privacy and block out sunlight. If you prefer your room to be in complete darkness when going to bed, you may want to opt for blackout blinds.
This article sets out everything you need to know about blackout blinds, including how they work, the different types, the best brands for blackout blinds, the costs, as well as the advantages and disadvantages of choosing blackout blinds.
What are Blackout Blinds?
A blackout blind is a window feature which features opaque fabric which is designed to block out light for a better night's sleep or to prevent glare on television screens.
They also offer a great level of privacy why is why they are so popular in bedrooms and bathrooms.
Blackout blinds also reduce noise pollution, as the thick fabric works to block out external sounds while also protecting against sun damage.
How Do Blackout Blinds Work?
Blackout blinds are made using opaque fabric which is encased in a cassette window system.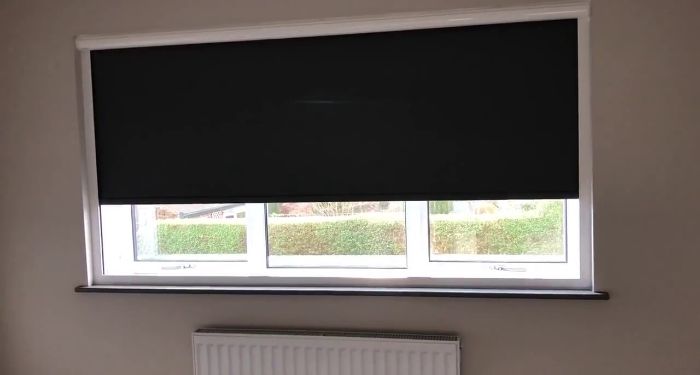 When the blind is released from the cassette it runs vertically along side channels which help to block out the light across the entire window or door.
Blackout blinds are normally attached using a mounting bracket which is usually installed at the top of the window or door. Once this is in place, the blinds simply hang from the brackets and run vertically across the opening.
Types of Blackout Blinds
Before purchasing blackout blinds, you need to consider which type you prefer. To help you decide, here is a breakdown of the different types of blackout blinds, the costs and the pros and cons of each.
Roman
Roman blackout blinds are made using a flat piece of fabric with inserted metal, plastic or wooden dowels and attached blackout lining which creates an envelope-like effect.
When not in use the material is stacked in horizontal layers at the top of the window. You can then lower them down which will flatten out the material against the window.
They also feature pull cords which allow you to lower or higher the enveloped blinds.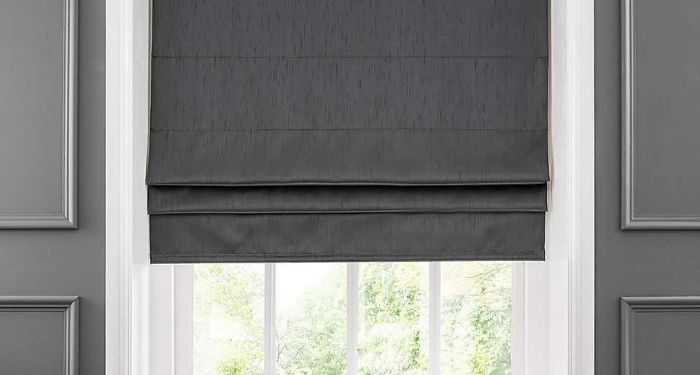 For roman blackout blinds, you should expect to pay around £20 to £90, although this will depend on the fabric and design you choose.
The main advantage of roman blackout blinds is that it uses one complete piece of fabric that helps to filter out the light more than other blind options.
This product was voted as the best blackout blinds for bedroom decor ideal, as they block out light and offer extensive privacy for other living areas, as it prevents any intruders from seeing inside your home.
The downside of roman blinds is that traditional styles do only offer reduced natural light which may not be the best option for poorly-lit rooms during the daytime. They also restrict viewing, as even when they are tilted horizontally you would need to move the blinds to look outside the window.
Roller
One of the most popular blackout blinds options is a roller blind which is made up of a singular piece of fabric along with blackout lining which is attached to the casing at the top of the window frame.
This is normally operated with a pull cord to lower and higher the roller blind vertically.
The average cost of blackout roller blinds is around £4 to £50, with the price depending on the style and material you opt for.
One of the most important benefits of roller blackout blinds is that they offer extensive versatility due to the number of designs available, so you can match your blinds to your current décor.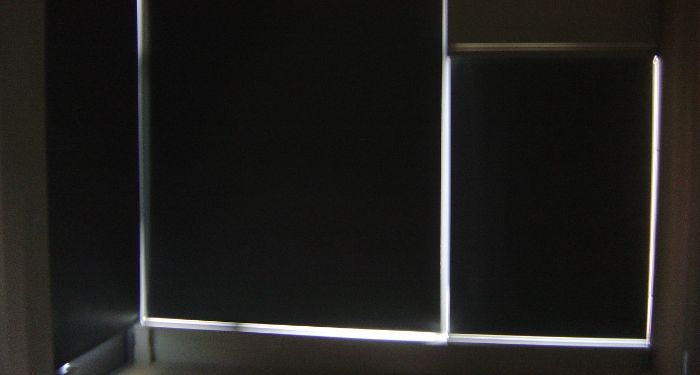 They are also very easy to install and operate so you can save on labour by fitting them yourself.
The issue with roller blinds is that they can be quite hard to clean, although this will depend on the material.
You should also be careful when choosing electric roller blackout blinds, as they are susceptible to breaking, so you may have to pay for repairs or replacement.
Skylight
If you have any skylight windows in your home, you may want to opt for a skylight blackout blind which will block out the light for a better night's sleep. They offer a similar style to roller blinds although they are designed to fit perfectly on skylight windows.
You should expect to pay around £30 to £120 for skylight blackout blinds, although the final price will depend on the design and brand you choose.
The upside of choosing skylight blackout blinds is that they help you to control the amount of light that enters the room.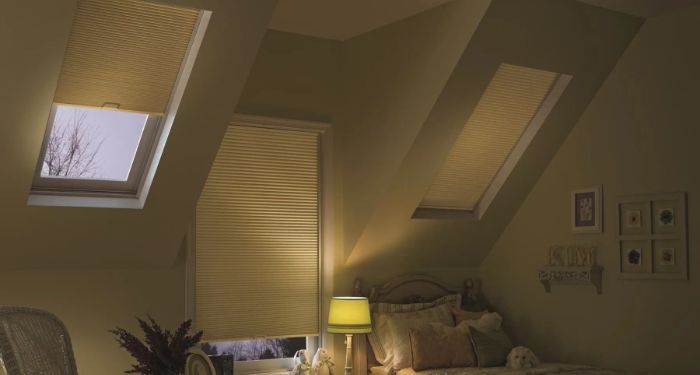 For instance, you can adjust how far down you want your blinds, as during the day you want to lower them halfway down or cover the entire window at night for complete darkness.
The problem with skylight blackout blinds is that a manual design is much harder to access than normal window blinds, so you may need to pay extra for electric-operated skylight blinds.
Best Blackout Blinds
Before you go out and buy blackout blinds for your home, you should take a look at some of the best blackout blind brands available.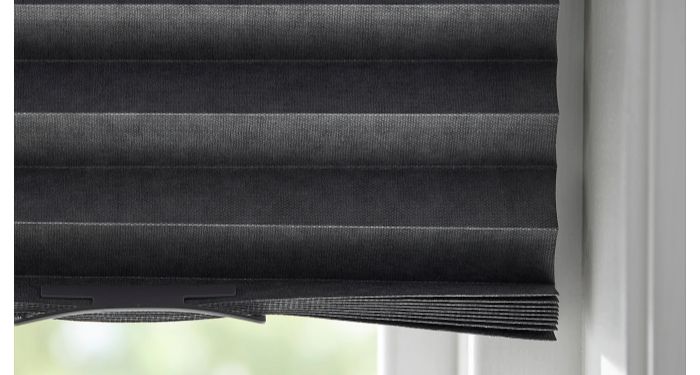 The following products are listed on best blackout blinds UK reviews which are ranked on their functionality, aesthetic and value.
Original Blackout Blinds
One of the most popular blackout blind products is the Original Blackout blind which comes in a six-pack and is available in two different sizes including 36 x 72 inches and 42 x 72 inches. The average cost of this product is around £20 to £100.
The reason these blinds are so popular is that they are so easy to install, as all you need to do is attached the blinds to the window without the need for brackets, drills or screws. They also do not have cords attached which may offer a tidier aesthetic.
The issue with these blinds is that the adhesive used to attach them is not strong enough re-application if you plan on installing new blinds, so you may need to stick to the Original Blackout blinds for a long time.
Passenger Pigeon Thermal Blinds
These blackout roller shades are available in 14 different colours and various sizes ranging from 20 inches in width to 96 inches in length. This blackout blinds product also features an aluminium weighted track to support the fabric.
You should expect to pay around £40 to £50.
The main advantage of choosing the Passenger Pigeon thermal blinds is that they are made of waterproof material and are thermally-insulated which helps to protect your windows against hot or cold weather.
They are also UV-protected, which protects your home from sun damage.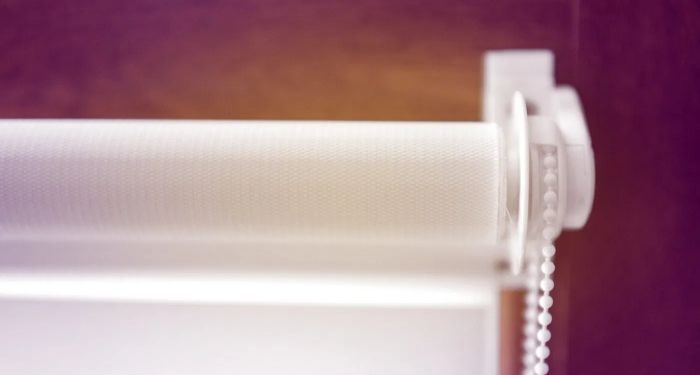 The installation of these thermal blinds may be more difficult than other products due to the fabric being 1.2 inches less than the shade width.
This means you will need to double-check that you have the right window measurements before fitting them.
Rutland Blinds Blackout Thermal Roller Blinds
These blinds are one of the best-rated products available on the market, with prices ranging from £25 to £45. These Rutland blinds come in a variety of colours and sizes range from 60cm to 240cm.
These blackout blinds have several benefits including the fact that they are made up of 100% blackout thermal material which will block out light, heat and damp. It also features a child safety device which secures the chain to the wall to prevent accidents.
While these blinds are durable, some customers have complained that the plastic fixtures are slightly brittle and are therefore at risk of breaking.
This could result in you having to pay for a replacement and additional labour costs if you hire a professional to install them.
Velux Original Blackout Blinds
This skylight blackout blind comes in various shades including grey, beige, black, blue, white and more. It is also compatible with a wide selection of Velux window types including GGL, GGU, GPL and GPU.
The typical price for these blinds is around £50 to £80.
According to a best blackout blinds review, these Velux blinds are rated as high-quality blackout blinds which feature a durable aluminium frame. It is also made of a dirt-resistant fabric, so you will need to wash it as often as other blinds.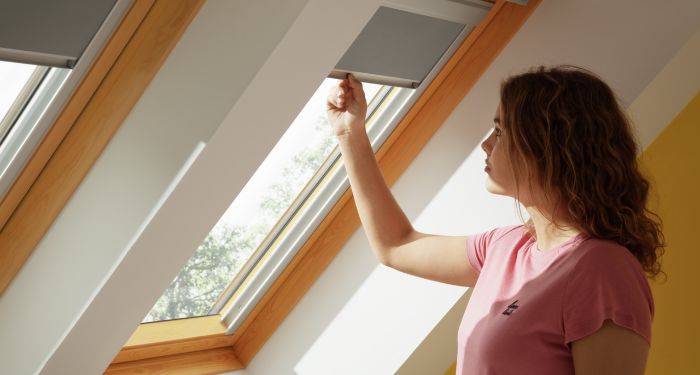 While the fittings are easy to install, the downside of choosing this blind is that it can be quite hard to access if your skylights are high up on the roof. The spring mechanism has also been criticised for not being durable enough to support the fabric which causes the blind to crumple up.
John Lewis Shawford Blackout Roman Blind
This roman blackout roman blind is one of the most popular window dressing options which costs around £35 to £75.
The price will vary depending on the design you choose, as there are an array of colours including grey marl, steel marl, white, citrine, loch blue and more. Blind sizes range from 60cm (width) x 140cm (length) to 180cm (width) x 140cm (length).
This blackout blind features a three-layer blackout coating which helps to block out as much light as possible, while also providing high-quality insulation. This will help to control incoming light, as well as stop heat loss and assist with damp prevention.
The downside of this roman blind is that it does have a cord which can be quite dangerous if you have children. To prevent accidents, you may need to hire an installer to fit a safety device to avoid entanglement or even strangulation.
Cost to Install Blackout Blinds
If you purchase blinds that are difficult to install, you may want to consider hiring a professional installer to fit them for you.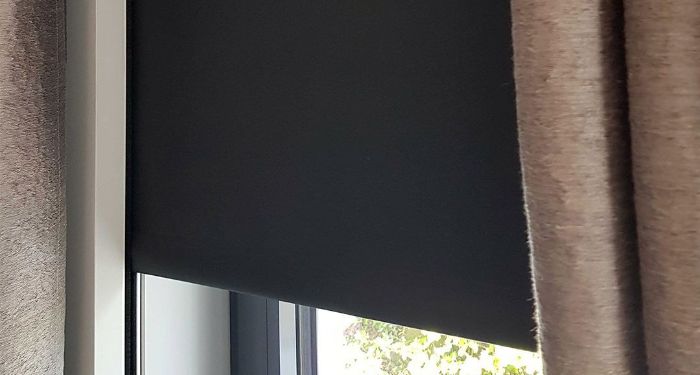 The average cost to install blackout blinds is around £60 to £115, although this will depend on the size of the window and the blind itself, as some are more complicated to install than others.
Benefits of Blackout Blinds
Installing blackout blinds in your home offers a number of benefits including:
Noise Reduction
One of the most surprising benefits of choosing blackout blinds is that they help to filter out external noises from busy traffic or noisy neighbours.
Sleeping Aid
The main reason why people prefer blackout blinds is that they help to block out the light for a better night's sleep.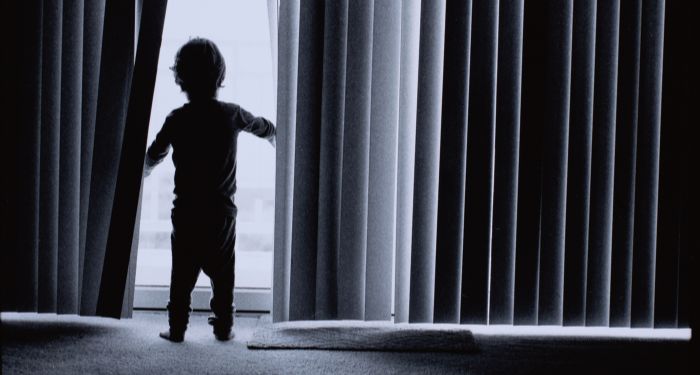 The blackout fabric works to filter out as much light as possible, including street lamps, car lights and more.
UV-protection
The majority of blackout blinds have UV-protected materials which block out the sunlight and prevents sun damage to your windows and home interior.
High-quality Insulation
Along with UV-protection, blackout blinds also offer insulating properties which helps to prevent heat loss, while also stopping too much heat from entering your home.
Increased Privacy
Blackout blinds also offer better privacy in comparison to normal blinds, as they prevent anyone from looking into your home, which could deter intruders from entering your property.
FAQs
Q. Where can I buy blackout blinds?
A: You can purchase Ikea blackout blinds, Dunelm blackout blinds, Argos blackout blinds and more. You can also buy blackout shades online on websites like Amazon where you can find some of the best-rated blinds.
Q: How can you clean blackout blinds?
A: Some blackout blinds are easier to clean than others, although some may need to be removed for a thorough clean.
However, the majority of blackout blinds can be cleaned by rolling down the blind to the window sill and use a vacuum upholstery tool to remove any dust or debris from the blinds.
You can then use a damp cloth to clear away any additional dirt, then wait for it to dry before folding it back up.
Q: Are blackout blinds waterproof?
A: Some blackout blinds are waterproof, which makes them much easier to clean, while also preventing a build-up of damp which can be caused during rain and cold weather conditions.
Q: Will blackout blinds keep heat out?
A: Blackout blinds can prevent heat gain due to the additional blackout layer attached to the blinds.
This works by blocking out the light from outside while also offering UV protection which stops sun damage and prevents your home from getting too warm in the summer.
Q: What are thermal blackout blinds?
A: Thermal blackout blinds or insulated blinds help to reflect light and heat from your windows. It also adds an extra insulation layer which also protects your home in colder months and prevents your home from losing heat.
Sources