What is a Smart Thermostat?
A smart thermostat controls a property's heating, ventilation and air conditioning systems. They are utilised by homeowners who want to make their home more energy-efficient while also enabling them to save on their energy bills.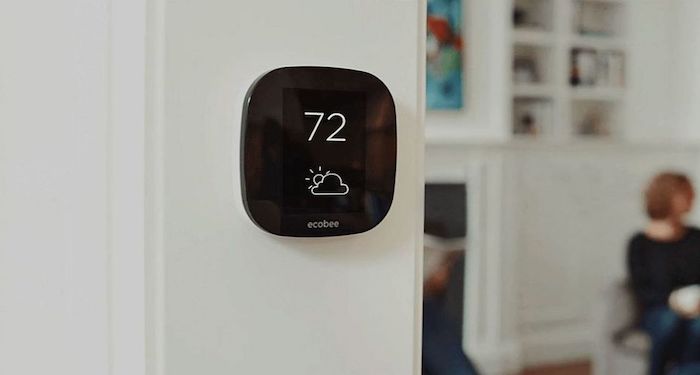 This is achieved through scheduling; for instance, you can set a time for your heating to turn on and off to prevent wasted energy.
How Do You Use a Smart Thermostat?
Most smart thermostats are extremely easy to use and can usually be controlled via the thermostat itself or an app on your smartphone, although this depends on the model you choose. Some allow hands-free options by connecting to smart assistants such as Alexa.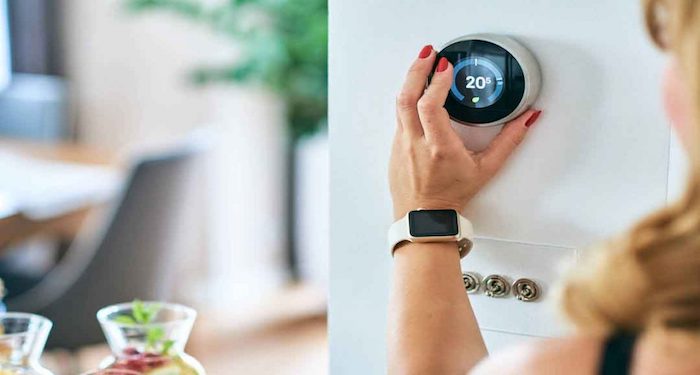 The majority of smart thermostats allow you to create a heating schedule, with some models having up to six time slots available. You can also change the heating as you go; for example, you may want to turn up the heating on a particularly cold day before you get home.
You can also change the temperature in different rooms, for instance, you may want to heat up the rest of your room apart from a guest room or additional sitting room which may not be used as often.
Types of Smart Thermostat
There are several types of smart thermostat to choose from. Here we will discuss the different types and explain the pros and cons of each:
Programmable Thermostats
A programmable thermostat enables homeowners to program in a heating schedule that suits your family's needs. Some models offer the option of choosing a specific temperature for each day of the week, while others allow you to choose different weekday and weekend temperatures.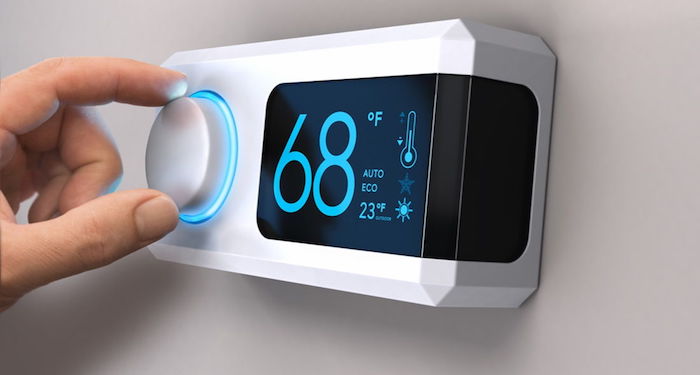 More high-end products offer more flexibility by enabling you to choose different temperatures from Monday to Sunday.
Pros:
Reduces energy bills
Controlled heating functions
Cons:
May not be suitable for all heating and cooling systems
Installation should be completed by a professional
Connected Thermostats
A connected smart thermostat works by connecting to the internet in your home, usually through a Wi-Fi connection.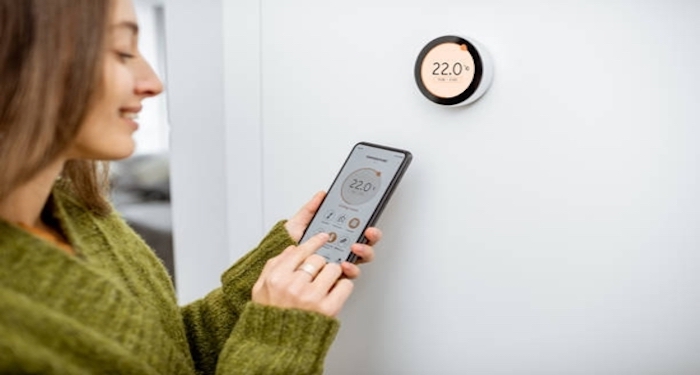 Unlike programmable thermostats, it does not learn your schedule and does not provide any analytic information.
Pros:
Connected via the internet
Cons:
Not ideal for renters who move regularly
Needs to be set up by a professional
Does not allow you to schedule heating
Learning Thermostats
This type of thermostat works by learning a homeowner's habits and preference to determine a preferred temperature. This includes learning when people are in or out of the house and when to adjust the heating.
Learning thermostats will automatically build a schedule based on your habits, which allows it to automatically pre-heat or cool down on specific days or times.
Pros:
Adjusts to meet your needs
Reduces wasted energy
Cons:
May not be compatible with some heating or cooling systems
Takes some time to find the perfect schedule
Zoned Thermostats
A zoned thermostat enables you to control the temperature of specific rooms rather than just heating the entire house.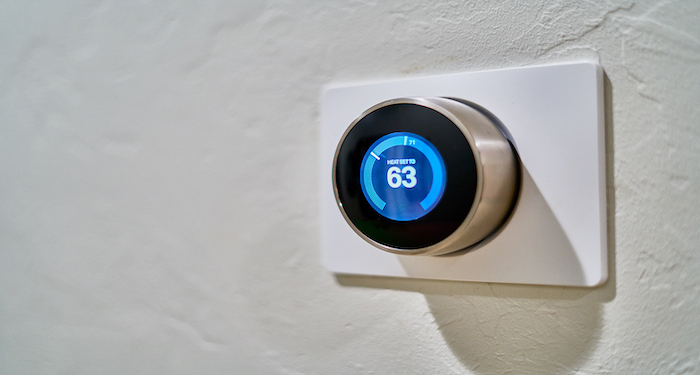 It also allows you to save energy by isolating and directing the heating or cooling system to the chosen room.
Pros:
Ideal for homes with unused rooms
Lowers energy costs
Cons:
This will require professional installation
Can be harder to repair
Learning Zoned Thermostats
This type of thermostat is one of the most advanced options as it combines a learning thermostat and a zoned system which can learn your schedule and creates an automatic schedule for each room in your home.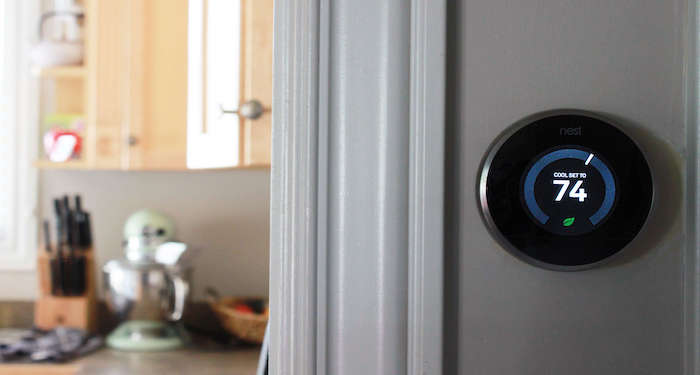 Pros:
Offers complete heating control around the home
Increased heating efficiency
Cons:
Higher cost
Harder to install
Best Smart Thermostat
To help you choose the right smart thermostat for your home, here are some of the best-rated products:
Hive Active Heating 2
Hive's Active Heating 2 thermostat can be plugged into a broadband router allowing it to be controlled remotely from a smart device or laptop.
This Hive model allows users to control and track energy usage via the Hive app. It also has six daily time slots, so you can schedule temperatures at specific times throughout the day.
This smart thermostat offers a heating boost of up to six hours and provides automatic frost protection to prevent frozen pipes. You can also set it to holiday mode to prevent energy waste while you are away.
If you forget to put this on, you can always send a text command to control the temperature, and you will always receive any heating alerts.
Along with your thermostat, you will also receive a hub and a single channel receiver, which should all be installed by a professional.
Pros:
Easy to use controls
Aesthetically pleasing design
Cons:
Is not compatible with some products
Requires professional installation
Honeywell Evohome
The Honeywell Evohome is a smart thermostat that controls individual thermostats for each radiator in your home and can also control underfloor heating. This is ideal for families who require varying temperatures to meet comfort preferences.
This touchscreen control smart thermostat allows you to choose the exact temperature for up to 12 different zones in your home. It can also be controlled from a smartphone or tablets and is also compatible with Alexa.
The Evohome Connected Thermostat pack includes an Evohome controller, a power cable and a wireless relay box.
Pros:
Compatible with underfloor heating
Provides easy-to-use zonal control
Cons:
Cheap-looking design
Lacks hi-tech features that other models provide
Nest Learning Thermostat 3rd Generation
Nest's 3rd Generation Learning Thermostat works by learning the heating habits and preferences of homeowners. It utilises smart programming and can be connected to smart devices where you can monitor heating on the Nest app.
This thermostat also uses your phone's location and built-in activity sensors to adjust the heating, as it may turn it off when you are not home. It also adjusts the temperature based on the temperature outside and the quality of your home's insulation.
The Nest Learning Thermostat pack also includes a smart hub, base, heat link, optional trim plate and mounting screws.
Pros:
Learns and adapts to heating usage
Easy to use mobile app
Cons:
Does not offer zonal control
Professional installation is required for better functionality
Drayton Wiser Thermostat
This smart thermostat model boats intelligent and easy temperature control which can be monitored on your smartphone or smart hub. You can also control the temperature in various zones by using separate radiator valves.
The Drayton Wiser Thermostat are available in various packages, with different models for combination and conventional boilers. They can also support up to 16 different rooms with 10 smart plugs and 32 smart devices which can be added or removed when necessary.
The Drayton Wiser Thermostat Kit includes a smart room thermostat, a heat hub and two radiator thermostats.
Pros:
Various package options for different heating systems
Zonal room control
Cons:
Complicated setup
Requires professional installation
Netatmo Smart Thermostat
One of the most affordable products is the Netatmo Smart Thermostat which is compatible with gas, oil and oil boilers as well as heat pumps. They are also available in various colours to blend in with your home décor.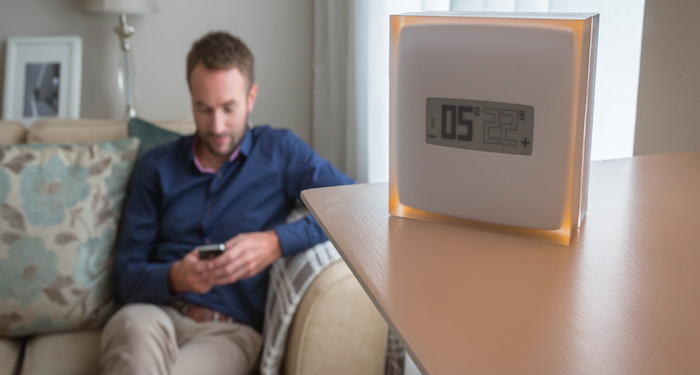 This thermostat has an auto-adapt feature that considers outside temperatures and property insulation to determine the right temperature inside. It also tracks and optimises energy consumption, which can all be viewed and controlled from a smart device.
The Netatmo Smart Thermostat pack comes with a smart thermostat, mobile stand, relay6, boiler adapter, main adapter, mounting plate, USB cable, 4 x colour adhesives, 3 x AAA batteries, screws and screw anchors.
Pros:
Wireless operation
Affordable options
Cons:
Old-fashioned display
Fewer features than other models
Lux/Geo Wi-Fi Thermostat
The Geo Smart Thermostat offers an elegantly designed, hi-tech model which uses geofencing technology to adjust temperatures based on locations. This will help you save a significant amount of energy, as it will automatically turn the heating off when you are out unless you schedule it to be on.
This model allows you to create customised schedules to meet your preferences while ensuring that you save energy and reduce costs. You can also monitor the temperature when away from home as you can use the mobile app to check your usage and control the heating.
The Lux/Geo Thermostat kit includes a smart thermostat and 2 x AA batteries.
Pros:
Geofencing technology
Wide range of scheduling options
Cons:
Lack of room sensors
Does not support IFTTT
Heatmiser Neo
This wired zoning thermostat can be connected via a wireless mesh network via neoHub. This offers a wide range of energy-saving benefits, including geofencing, which actually tracks your location and adjusts the temperature according to your whereabouts.
This model is compatible with Apple Home Kits and can be used alongside other Apple smart devices as well as all smartphones. You can also download the app to control the heating and water usage in different areas of your home.
Pros:
Easy to use app
Geofencing features
Cons:
Professional installation required
Confusing options list
Tado Smart Thermostat
The Tado model is one of the best radiator thermostats and was actually the winner of the 2020 Energy Product of the Year Award. This product features geofencing technology that tracks your location to adjust the temperature and prevents heating an empty home.
This smart thermostat also detects the weather outside as well as open windows and alerts you to lower your heating to prevent energy loss. It also offers frost protection and provides you with insightful reports to help you lower your energy costs.
You can purchase the Tado Smart Radiator Thermostat Starter Kit which includes a smart radiator thermostat, internet bridge, 2 x AA batteries, UK power adapter, EU power adaptor, USB cable and ethernet cable.
Pros:
Great aesthetic
Efficient zonal control
Cons:
App is difficult to use
Lack of motion control
Nest Thermostat E
If the Nest Learning Thermostat is out of your budget, then you may want to consider the Nest Thermostat E. Although it offers a more basic design compared to the first model, it features the same learning technology. However, this does not take away from its ability to adjust your temperature according to location, temperature preference, outdoor temperature and other factors.
To help you reduce your energy usage, the Nest thermostat will record what you use, and you will receive a report every month to show you exactly how much you are using and where the most energy is used. You can then set zonal temperature in various areas in your home to ensure you feel comfortable while also saving on your energy bills.
Pros:
Affordable option
Easy to use
Cons:
Not universally compatible
Cheap plastic design
Genius
Finally, the Genius smart thermostat is a zoned smart heating system that is extremely easy to use and can actually help you save up to 33% on your energy bills. It offers multi-room heating options and motion sensors which enable you to adjust temperatures based on comfort preferences.
The Genius Hub also provides on and off boiler control to prevent over usage of your heating and hot water. It also comes with various radiator valves, so you can turn off heating in unused rooms.
Pros:
Quiet radiator valves
Compatible with multiple heating types
Cons:
Not ideal for small properties
Fiddly app controls
Sources