What is a Petrol Lawnmower?
A petrol lawnmower use and engine to power the blades and, in some models the wheels of the mower, giving the user more power, control and ease of use.
A petrol lawnmower serves the same purpose that an electrical one does, except it also has a whole heap of features that are simply not available in their electrical counterparts.
Firstly, petrol lawnmowers possess a lot more power than any other lawnmowers due to their petrol-fuelled engine.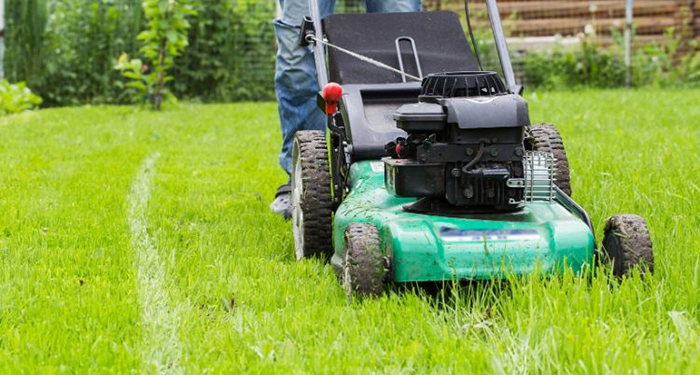 This makes short work of any terrain and grass thickness. Many petrol mowers feature an engine also powers the movement of the mower, meaning you can change the speed of the mower and you just need to keep it on track.
People of all strengths and sizes can use these types of petrol mowers effectively, with no need to push them hard across the garden.
How Does a Petrol Lawnmower Work?
The first electrical lawnmower was invented in 1926 which allowed people to cast aside their hand-powered blade reels and a new dawn of lawn maintenance began.
What was then a revolution in the industry has been far surpassed by the petrol mowers available today.
A petrol mower has a blade held within the 'deck' of the mower, which is powered by the petrol-fuelled engine, spinning at high speed and cutting the grass beneath it.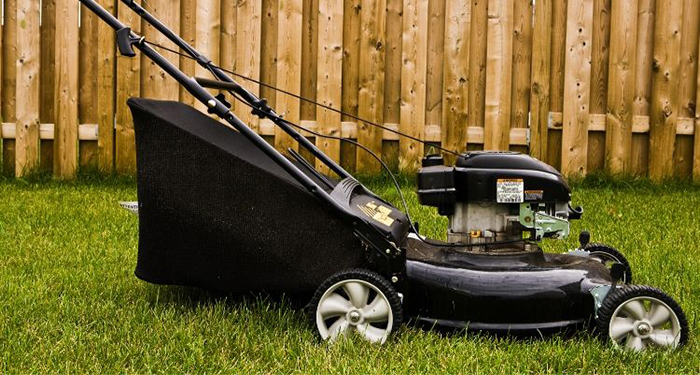 As it is a combustion engine, you will also need to ensure it is kept topped up with engine oil, but you'll be fully informed of this when you purchase from a reputable dealer.
Despite being fuelled by petrol, the mowers run on a small amount depending on the size of the engine on the mower.
The average walk-behind mower holds around a litre of petrol, which is only about £1.10, and that will keep it running for a great deal of time before needing to refuel.
Typically, the mower will need petrol with an octane level of 87 or higher.
Types of Petrol Lawnmower
Here, we break down the three different types of petrol lawnmower, so you can make a decision on which type would be most beneficial to you and your home.
Rotary
These types of lawnmowers are the most popular option amongst UK households, and they're generally the cheapest options on the market.
This type of lawnmower uses a horizontal blade spun at high speeds to cut the grass below it. Rotary mowers are certainly an effective option, but there are mowers that offer a finer cut for those that value it.
If you're looking for a striped garden look, you'll need a rotary mower that also has a roller attachment built into it.
These mowers are perfect for cutting through long grass that has been unkempt for a while as the power-driven from the motor is far superior to that of an electric mower.
Rotary mowers range in price from £150-£1,500, with different brands, engine power and styles acting as pricing factors. However, even the cheapest option will perform far better than an electric rival.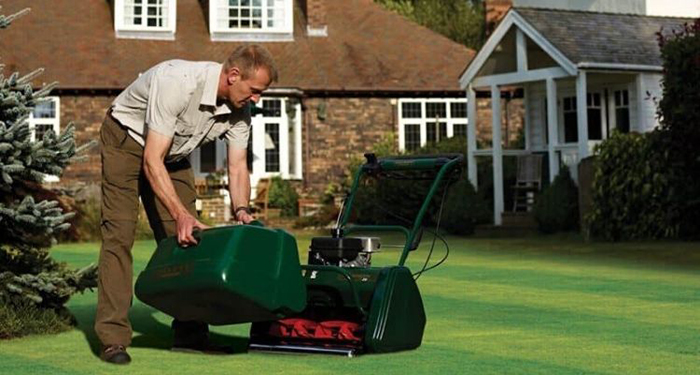 Cylinder
Cylinder petrol lawnmowers are popular amongst garden enthusiasts and landscaping professionals.
They provide the best finish on grass due to their range, flexibility and precision, scissor-like cutting ability.
Due to this precision, they are more expensive than other types, but if you value the best cut and finish, this should be your target mower.
However, these mowers are best used on shorter grass that needs perfecting and won't perform well on thick or long grass.
The pricing for cylinder mowers starts at around £800 and rises up to £4,500 for mowers designed for surfaces like cricket or bowls pitches.
Hover
These types of mowers look like they've come straight from a Sci-Fi movie. Hover mowers work in the same way as a rotary mower, with horizontal blades working at high speeds powered by the petrol motor.
However, instead of featuring wheels to move the mower around the surface, it instead has a powerful fan and 'skirt' that produces a pocket of air that lifts the mower off the ground.
This allows you to mow uneven surfaces accurately, allows you to move in any direction you wish and means that it is very easy to use for those that don't have the strength to push an electrical mower.
These types of mowers aren't as effective in the long grass as a simple rotary-style but do perform better than a cylinder in the same regard.
Hover mowers are around £500 across the board, which is a fantastic price considering the versatility they offer.
Best Petrol Lawnmower
It can often be hard to judge how well a mower will perform before you buy it, so we've put together a list of the best ten petrol lawnmowers to help you pick the perfect option!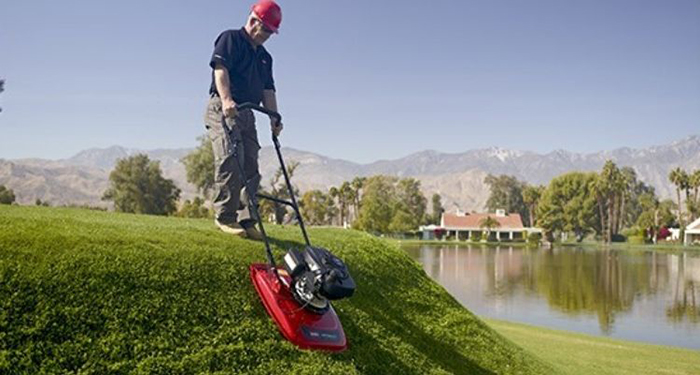 Cobra M40SPB Petrol Lawnmower
This mower features a powerful 125cc Briggs and Stratton engine and is a real top seller in the market.
It features a 40mm cutting width and a mammoth grass collector holding 50 litres! It has a strong steel deck which is also rust-proof, making this a mower that will stand the test of time.
You can alter the cutting height between 25mm-75mm, giving you the perfect cut every time! In addition to all of this, the mower is self-propelled making cutting the grass an absolute breeze!
Hyundai HYM530SPER Petrol Lawnmower
This mower features an electric start, making turning the mower on as easy as the flick of a switch.
It also features a self-propulsion feature that only further makes this a very accessible option for anyone.
It has a roller attached to give that professional striped look, and with seven height options between 17mm and 75mm, you'll really be able to give you lawn a stunning finish.
The Hyundai HYM530SPER is an option higher up the pricing table, but the features certainly warrant the extra cost.
Webb R18SP Petrol Lawnmower
This self-propelled rotary mower is a fantastic option for those looking for a cheaper model that still offers wonderful value for money.
Possessing steel wheels, a Briggs and Stratton engine and a choice of 7 height options from 25mm to 75mm, this is jam-packed with everything you need to maintain your garden like a professional.
It also has a 3-in-1 feature that allows you to change between mulching, collecting or discharging the grass you cut.
Cobra MX484SPCE Petrol Lawnmower
Cobra find themselves another place in the top ten list with the MX484SPCE. The powerful 4-speed self-propelled mower also has a key start, making it secure and easy to use.
In addition, this mower has a high wheelbase making it suitable for different terrains and is a real favourite of many.
Allett Kensington 17K Cylinder Mower
This cylinder mower is one of the finest on the market and is ideal for those that need a precision cut on their grass.
The mower provides that classic bowling green finish that makes any lawn look almost like a neat carpet.
It has a wide 43cm cutting width, a 62-litre grass box and features a wide variety of cutting heights. Due to the high class of the mower, the price follows suit is and is at the top end of the price range.
Webb Classic R410SP Self Propelled Petrol Lawnmower 41cm
This beauty of a mower is perfect for those with small family gardens and offers unbelievable value for money.
It's small, agile and self-propelled making it perfect for reaching tight corners of the garden.
It has a lever to control heights from 25mm to 75mm, and a 45-litre grass box. It's reliable, durable and inexpensive.
Hyundai 46cm Self Propelled Lawnmower HYM460SPE
This is one of the most robust self-propelled models on the market with a key start and a wide cutting width of 46cm and a huge 70-litre grass box.
The powerful Hyundai engine makes it a real joy to use and fantastic value for money.
Sherpa Premium 4-in1 Self Propelled Lawnmower with Honda Engine
This self-propelled rotary mower has been a real stand out hit in the market lately due to the impressive Honda engine.
The powdered steel deck ensures it will be reliable for many years, and it's 4-in-1 functions, and its 6 cutting heights allow you to choose a whole heap of options for your grass.
The wide 53cm cutting width and 65-litre grass box make it a great choice for larger gardens too!
Webb R21HW Self-Propelled Lawnmower
This high-wheeled, self-propelled rotary mower has a wide 53cm cutting width and a powerful, easy to start Briggs and Stratton engine.
It features a 4-in-1 collection functionality and 6 cutting heights from 25mm to 75mm, making it one of the most versatile options available.
It suitable for long and short grass, and small or large surfaces, this is a genuine all-rounder.
Cobra RM40SPC 40cm Petrol Lawnmower
This is one of Cobra's smaller rotary models which makes it perfect for those with smaller gardens or those with hard to reach spots.
It's self-propelled and features a roller to give the grass that sought-after striped look. It features 6 cutting heights from 17mm to 75mm and the strong steel deck ensures it will stand up to the test of time.
Benefits of Petrol Lawnmower
We've already told you that petrol lawnmowers are far superior to electric mowers, but why is that exactly?
Power
The petrol-fuelled engines that power the lawnmowers are the key difference.
This power is transferred into the propulsion and the blades meaning you can not only manoeuvre the mower with devastating ease, but you can also be confident that your mower will be able to cope with any length of the grass.
Most models have a varied speed option allowing anyone to use them comfortably and safely.
Versatility
The adjustable features on petrol lawnmowers often far outweigh the ones found on electrical mowers.
You can change the speed of the mower, the height of the blades, whether to collect the grass, mulch it or leave it behind and much more.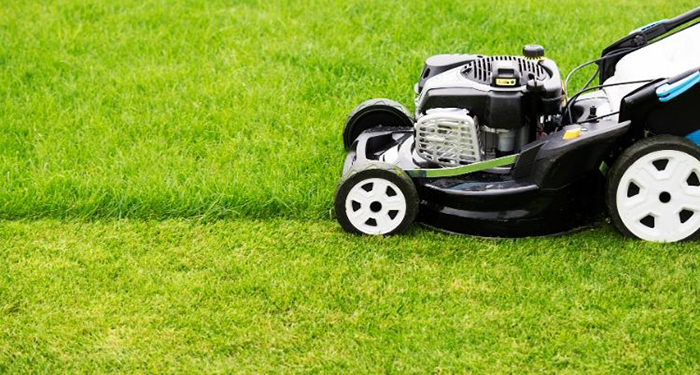 The versatility of these mowers is often the key selling point for those that want more control over their gardens and grass.
Longevity
Petrol lawnmowers are built and designed to last years while maintaining their functionalities completely.
They are predominantly made from durable steel and are protected in all areas to ensure that your mower will last.
Electric lawnmowers tend to be built largely from plastic, which is an issue with not only longevity, but with performance too.
Value for Money
You can find many entry level petrol lawnmowers that are far superior to even the most expensive home electric lawnmower.
Moving higher up the scale and investing in a mid-range petrol lawnmower will serve you for years and will be faultless for everything you need it for.
A petrol lawnmower is a genuine investment and one which will not let you down.
FAQs
How do you start a petrol lawnmower?
Different mowers have different starting features. Some models have a key to start the mower, while others have a switch. Most, however, will have a pull start rope to start the mower.
Are there petrol lawnmower repair services?
Yes, should you ever have any repair issues with your lawnmower, there are many repair companies available. This means that even if you come across issues years down the line, you can repair instead of replacing.
How do you maintain a petrol lawnmower?
Maintenance for a petrol lawnmower is pretty minimal, but you should ensure that you always use the correct petrol, you store your fuel correctly, you maintain the oil level and replace the blades when they begin to blunt after several uses.
Where can you buy a petrol lawnmower?
You can find various bespoke petrol lawnmower stores, both online and in store.
Where can you buy spare blades and parts for a petrol lawnmower?
Any good DIY or bespoke lawnmower store will have all of the parts you could possibly need for you mower.
Sources