Introduction to the Best Lawn Rollers
You may be looking for a new lawn roller to roll over newly laid soil or to deal with emerging problems with a mature lawn.
Our guide to the best lawn rollers will help you find the top lawn roller models available in the UK.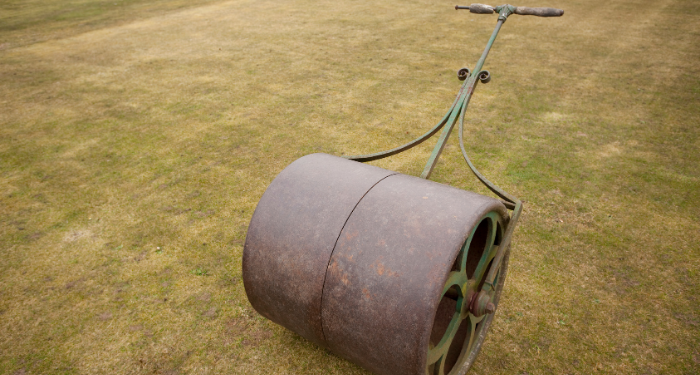 We will not only review some of the best lawn rollers on the market but we'll also delve into topics such as the cost of hiring a gardener and the various types of lawn rollers, ranging from steel to plastic.
This article will prove very useful if you're planning to purchase a new lawn roller or may do so in the future.
What is a Lawn Roller?
First, let's look at what a lawn roller is.
They are cylindrical rollers designed to apply weight and pressure to a lawn and generally this is for the purpose of flattening or compacting soil or to remove undesired lawn features.
While they tend to be made of steel or poly, there are several different types of lawn rollers, which we will discuss in more detail in the next section.
It should be noted that it's also possible to purchase a lawn mower with roller either as an electric lawn mower with roller or as a petrol lawn mower with roller.
The roller tends to be empty upon purchase but it can be filled with water or sand in order to increase its weight ahead of use.
In other cases it will be a solid concrete drum. The heavier the material in the roller, the stronger it will be at performing its job.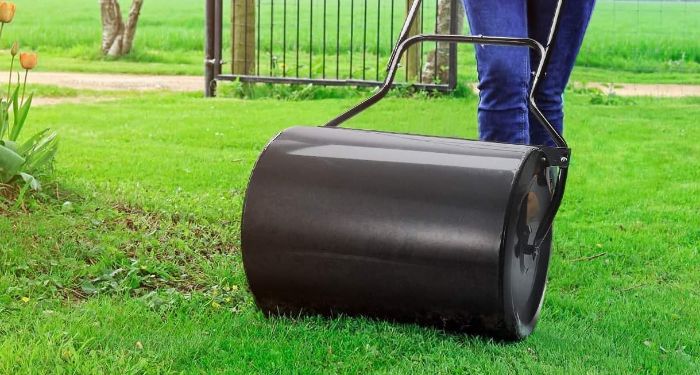 Ideally, it should be light for most lawn work since if it is too heavy, it could cause damage to your garden's surface.
Lawn rollers may be used to compact the topsoil of a newly laid lawn or/and to press down recently planted grass seeds.
For mature lawns, a roller can be employed to rid your garden of unpleasant sights such as soil heaving, worm casts and molehills.
It could also be used to prepare a given area of lawn for the construction of a new garden building or a decking instalment.
Ultimately, the main purpose is to increase the flatness of a lawn and improve its quality, whether before the growth of grass or when it is flourishing.
A lawn will not be truly flattened by a roller. In fact, what it will really do is firm the ground rather than fully flatten it.
A firmer lawn can be more aesthetically pleasing, the grass may grow more easily and it will create a more traversable environment for infants and those with mobility restrictions. A flatter lawn is also better for playing sports.
How Does a Lawn Roller Work?
We will now discuss the workings of a lawn roller.
A lawn roller applies pressure on a surface as it is rolled along. It primarily affects the top one to two inches of soil. The material inside the roller is used to apply this pressure to a lawn when in use in order to achieve the desired effects.
Push rollers are quite common and tend to feature a scraper blade designed to pull up loose material. Of course this type of roller is simply pushed forward while tow along rollers which act as a mini tractor needs to be driven along the garden.
In the case of push rollers, they should be pushed along in one straight motion without pauses until you reach the end of the lawn for ideal results.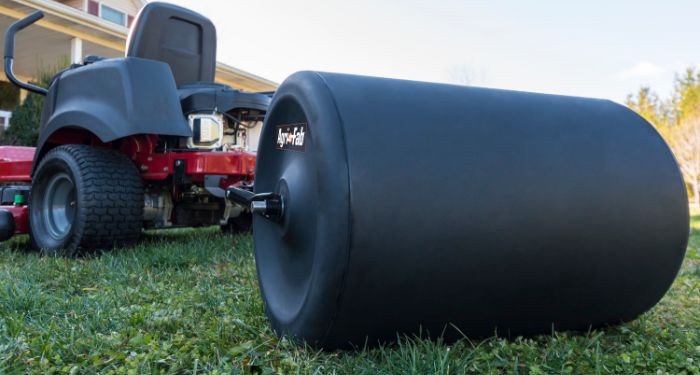 A half filled water roller or a light roller is preferable for most gardens.
Heavier lawn rollers are more suited to croquet or ornamental lawns.Heavy lawn rollers are commonly used on cricket pitches although the use of such heavy-duty rollers firm the grass to such an extent that a cricket ball can easily bounce off it.
Needless to say, this is not what most people want for their lawn. For most work, your lawn should ideally be dry when rolling takes place.
It can be a little damp for post-sodding rolling albeit not too damp such as following heavy rainfall or snow.
Do not overuse a lawn roller as it can harm your lawn.
A good time to roll a lawn in the UK is shortly after the winter, around February or March.
Types of Lawn Roller
In each of the following subsections, we will discuss the four main types of lawn roller.
For each type, those being steel, plastic, poly and concrete, we will explain what it is and lay out their pros & cons.
Steel Lawn Roller
This metallic lawn roller type is especially durable and is also particularly efficient.
Steel lawn rollers apply significant pressure to lawns.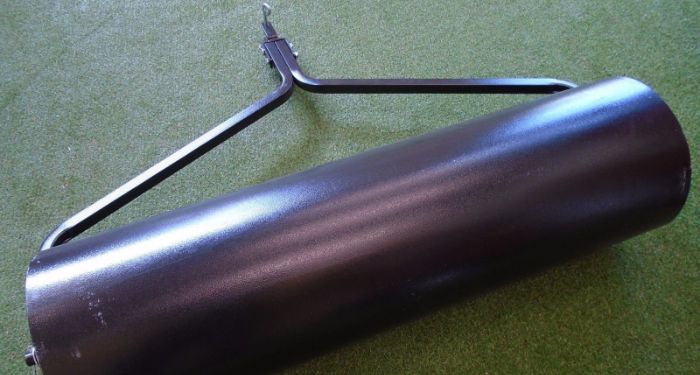 One downside is that they require more effort than say a plastic lawn roller for work and transporting.
They are also more prone to corrosion and rusting if not looked after right.
You may wish to attach a steel roller to the back of a garden tractor to make its use less arduous.
Pros:
Cons:
More effort is required for work and transportation.
Risk of corrosion and rusting.
Plastic Lawn Roller
Plastic lawn rollers tend to be less expensive. They are suitable for small gardens and light jobs.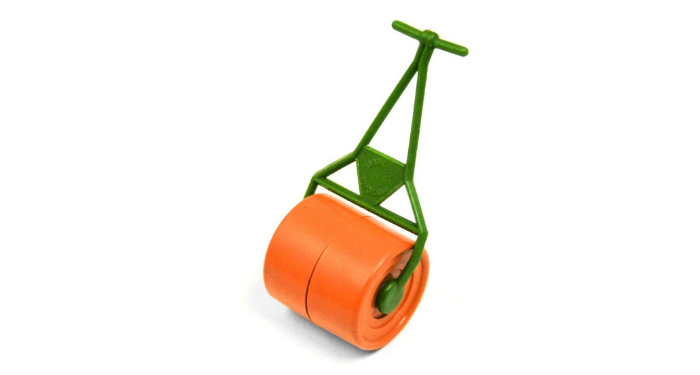 They are easier to push or pull and they can be transported with minimal effort. With that said, they are not well suited for rolling over large spaces.
If too much stress is exerted on the plastic, it can break.
Pros:
Less expensive.
Perfect for small gardens with light jobs.
Can be used and transported with ease.
Cons:
Not suitable for large spaces.
Plastic can break quite easily.
Poly Lawn Roller
This type of roller is made of a unique form of plastic designed to increase durability.
This gives Poly lawn rollers advantages over plastic rollers. Poly rollers, unlike plastic rollers, can be used on large spaces.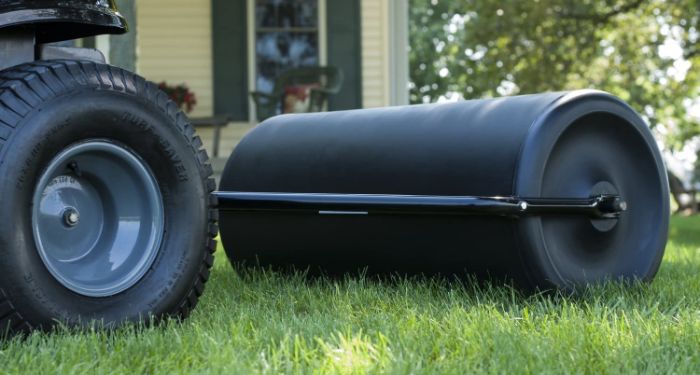 They are a good fit for preparing soil ahead of laying a new lawn or for creating flower beds.
They are very resistant to rust and are therefore suitable for use in wet conditions.
Pros:
More durable than plastic.
Suitable for use on large surfaces.
Not prone to rusting.
Cons:
Generally more expensive than plastic lawn rollers.
Concrete Lawn Roller
Either made of stone or concrete, this type of roller is highly efficient.
Its heavy material enables it to flatten surfaces on a small or large scale.
Since concrete isn't prone to rusting, its durability is even greater than that of steel.
Further, they are suitable for use in damp environments.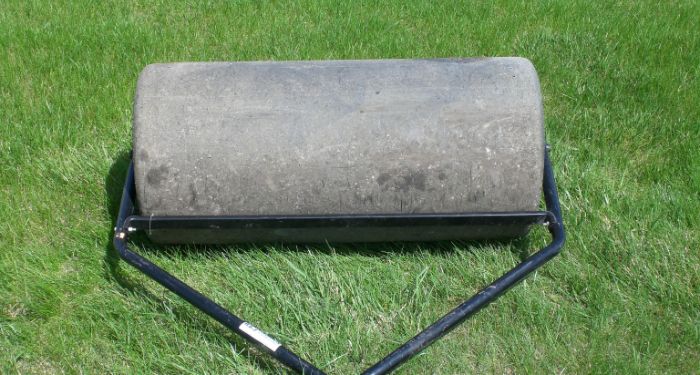 With that being said, they require a lot of effort to use and transport because of how heavy they are.
It's preferable to attach a concrete roller to the back of a garden tractor as you would with a steel roller to make it easier to use.
Concrete rollers are less popular nowadays. To purchase one, you're best chances are to find a second-hand roller on websites such as eBay.
Pros:
Very durable.
Powerful and very efficient.
Not prone to rusting.
Suitable for use in damp environments.
Cons:
Best Lawn Rollers
The following products are some of the best lawn rollers on the market although you might also be interested in finding the best roller lawn mower such as the best petrol roller lawn mower or that which is electric-based.
Garden Roller by Platinum Home and Garden
This steel garden roller has a working width of 500mm with a 420mm diameter drum.
This drum features a drain plug. Empty, it weighs just 13kg, making transportation quite easy once the drum has been drained.
Filled with sand, it weighs up to 120kg and with water its weight can reach 72kg. It also comes with a soft foldable handlebar.
This lawn roller also has a full width scraper used to maintain a high-quality finish and clean the drum. It can also apply a significant amount of pressure to a surface when filled.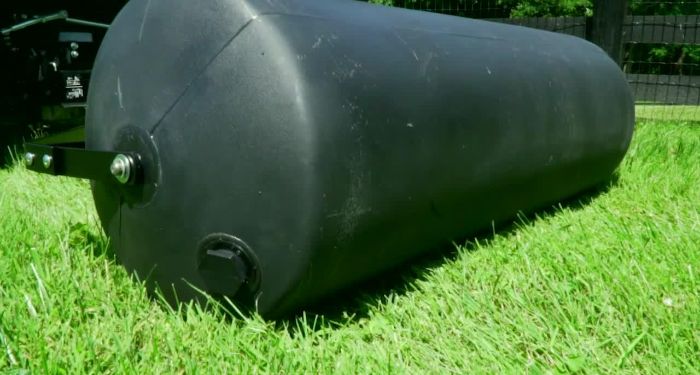 It is suited to rolling over mature lawns and for bedding in seeds.
Unfortunately, its filler hole, for adding materials to the drum is relatively small.
You might want to use a material like kiln dried sand to fill the drum more quickly as with regular sand it could take some time.
It's not too difficult to use since it is a relatively lightweight metallic roller although it may be tiresome to use when filled to its maximum capacity.
Cost-wise, this garden roller will set you back between £40 and £100. Platinum also offers a one year warranty with this model.
Pros:
Powerful and efficient.
Offers fast and effective rolling.
Lightweight when the barrel is empty.
Features a soft collapsible handlebar.
Comes with a one year warranty.
Cons:
Fill hole is relatively small.
Oypla Galvanised Steel Lawn Roller
Another steel garden roller is this model from Oypla. Its drum has a 30 litre capacity and a diameter of 300mm. It has a working width of 420mm.
Like Platinum's lawn roller, it also has a foldable handle, making it easy to store away.
However, the handle does not come with a comfort grip or any sort of padding. It's very durable due to its galvanised steel material.
This Oypla lawn roller also comes with a scraper bar to clean the drum. One major advantage of this garden roller is that it's very inexpensive.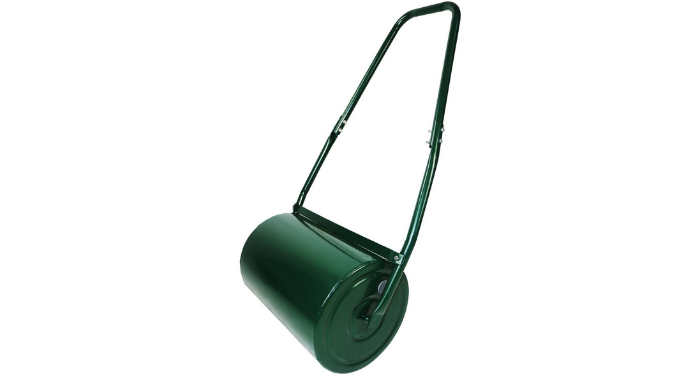 As a light and relatively small lawn roller, it should be used on loose topsoil. It does not work very well on mature, established lawns.
Further, this roller is quite vulnerable to rusting. It's preferable to fill this roller up with sand instead of water to reduce this risk.
This roller still represents great value for money especially if you're looking for a decent roller to perform light work on a small to medium lawn.
As a lightweight roller, it's quite easy to use. This highly rated product is available for as little as £10.
Pros:
Very durable.
Easy to use.
Features a foldable handle.
Inexpensive.
Cons:
Not suitable for well established lawns.
Prone to rusting.
Christow Heavy-Duty Garden Lawn Roller
The next product to feature in our guide is another steel lawn roller.
This relatively inexpensive heavy roller comes with a soft removable handlebar and rust-resistant drum. The drum is 420mm wide and has a 30 litre capacity for water or sand.
When full with sand, it weighs 51.9kg and if filled entirely with water, it weighs 36kg.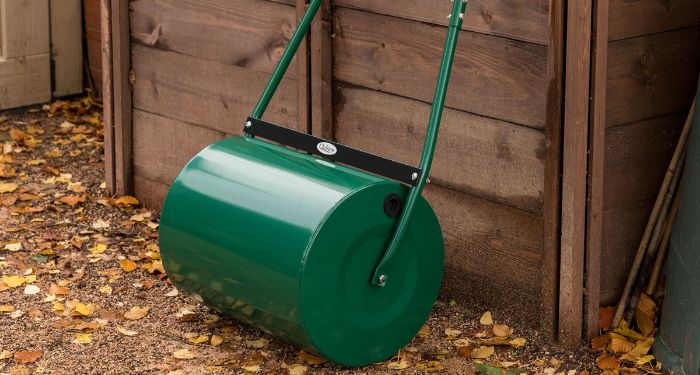 When empty, it weighs a mere 6kg. This Christow lawn roller also features a scraper bar.
Its soft handlebar allows for a comfortable, firm grip when pushing or pulling the roller.
This helps to make it relatively easy to use. Expect to pay around £30 to £40 for this lawn roller.
Pros:
Heavy-duty roller with a rust-resistant drum.
Its lightness when emptied and removable handlebar makes for easy storage.
Comes with a scraper bar.
Has a soft feel handlebar.
Relatively cheap.
Cons:
Not many cons other than it's not the very best, falling shortly behind products like the Garden Roller by Platinum.
Brinly PRC-24BH Combination Push/Tow Poly Lawn Roller
This next lawn roller is made of Poly. This highly-rated push/pull lawn roller from Brinly has a drum with an incredible 105 litre capacity and a width of 610mm. It is perfect for large spaces and tight areas.
It's very well suited for removing damage to lawns caused by frost or moles.
The PRC-24BH is also perfect for pressing down loose dirt, sod or seed.
Its construction is highly durable and resistant to rust.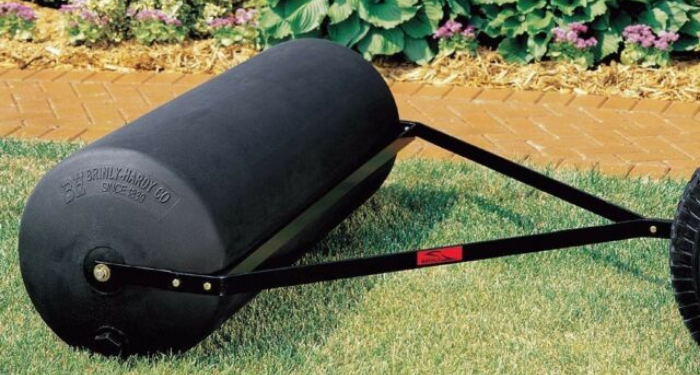 It comes with a filler hole that can be used to fill the drum with relative ease.
When the roller is empty, it weighs just 17kg and therefore can be put into storage without any hassle.
The PRC-24BH is popular and highly-rated by 100s of consumers on websites like Amazon.
When full, it may be somewhat difficult to move around. It will likely cost about £170 to £200 to purchase this lawn roller.
Pros:
Very durable.
Comes with a wide, high capacity drum.
Perfect for large areas.
Rust-resistant.
Light when the drum is empty, making it easy to store away.
Cons:
Costway Heavy Duty Lawn Roller
This popular 63 litre lawn roller is ideal for covering large spaces.
It features a U shaped handle, perfect for comfortable use, whether by pushing or pulling.
This Costway lawn roller is also another example of a steel lawn roller.
As you may have gathered from the products reviewed in this section, most of the top lawn rollers are steel-based.
It can be used for multiple purposes such as packing loose dirt, newly sown seeds or turf and to rid your lawn of damage caused by issues such as frost heave.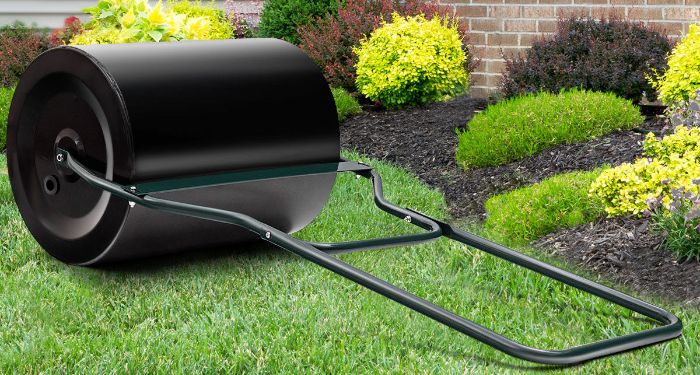 For a steel lawn roller, it is not especially susceptible to rusting and its sturdy construction makes it very durable.
Its drum has a width of 30cm and when empty, the roller weighs just 13kg, making it easy to transport and store away.
This is somewhat surprising considering that it is quite a large roller. It also features a removable drain plug.
This roller should be filled with either sand or water. If full or close to full, it will be a bit trickier to move around than a smaller lawn roller.
It will cost you around £90 to £100 to buy this lawn roller.
Pros:
63 litre capacity and a width of 30cm.
Perfect for large gardens.
Very durable.
When the drum is empty, it's easy to carry around and to put into storage.
Cons:
Relatively expensive.
Handle does not have any padding.
May be difficult to use if full or close to full.
Benefits of a Lawn Roller
We will now explore some of the advantages of a lawn roller.
Preparing a New Lawn
One major benefit of a lawn roller is that they can be used as a way to prepare a new lawn.
Prior to sowing grass seed, a lawn roller can be used to compact the soil and remove clods of soil and low spots.
Rolling can also be used after the seed has been sown as this will help to press the seeds down into the topsoil, improving the process of seed germination.
Preparing New Sod
One issue with installing new sod is that air pockets can develop in the soil.
Rolling over new sod will remove the majority of these air pockets, giving the sod better chances to flourish.
Using a lawn roller on new sod will increase the probability of a quicker bond between the underlying soil and the sod.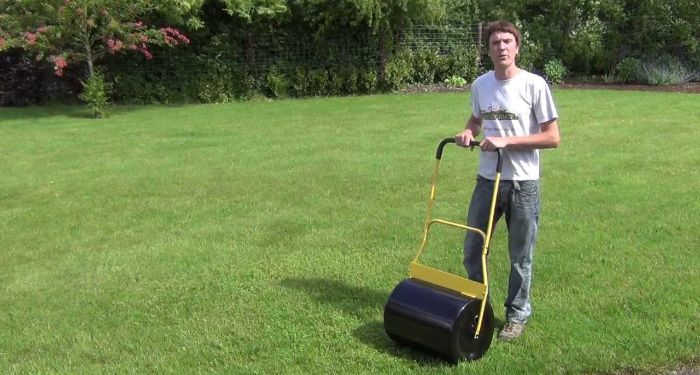 Repairing a Lawn
Rodents and insects can cause harm to your lawn by disturbing the soil and in turn, negatively impacting its uniformity.
Too much foot traffic can also have this effect. A lawn roller should be used once in a while to smoothen out the lawn.
Ideally, you should cut the grass just after using a lawn roller since a more evened out lawn will be easier to cut and will make your mower and lawn less prone to damage when cutting the grass.
A more levelled out lawn makes it easier to spot where new seed or sod are required.
Improving a Lawn after Winter
Uneven areas and bumps often develop in gardens during the winter months.
Frost and heavy snow can negatively affect your lawn. Further, burrowing ground animals during the winter can also harm your lawn.
A light lawn roller is the best option to improve your lawn during the early spring.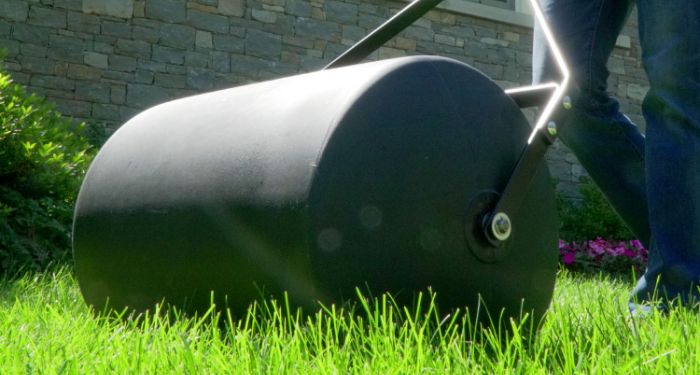 You may use a heavy duty roller if it is more suited to your garden. You should perform a checkup every spring around February or March.
You should roll the lawn at least once a year during these months.
Cost of Hiring a Gardener
You may decide that you'd prefer to hire a gardener to roll your lawn. Gardeners usually set an hourly rate which covers their labour costs.
This hourly rate may range anywhere from £15 to £50 depending on where in the UK you live. Supply and waste removal costs will make up the other parts of the total cost.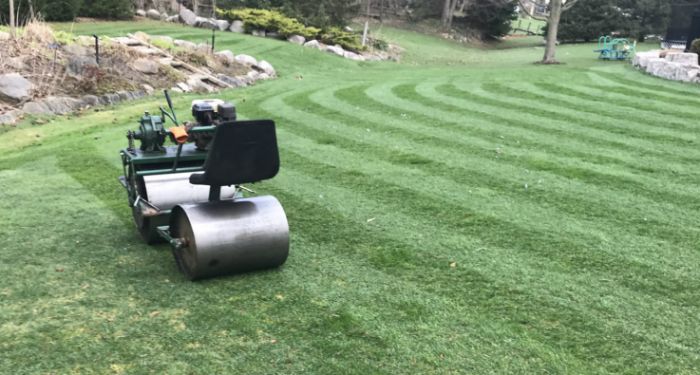 To have work undertaken on a 6 x 4 metres garden, expect the total cost of hiring a gardener to end up around £150.
For an 8 x 6 metres garden, the cost will land around £200 and for a 12 x 8 metres garden, expect to pay about £300.
FAQs
Q: How heavy should a lawn roller be?
A: It will depend on the nature of your garden. A weight of 70kg to 140kg is a good range for most lawns.
You don't want to apply too much pressure on your lawn as this could damage it.
Q: What is a heavy duty lawn roller?
A: This refers to lawn rollers with a significant weight and substantial power to offer when in use.
Q: What is the best lawn roller?
A: Garden Roller by Platinum Home and Garden is one of the best lawn rollers that money can buy. However, there are plenty of great products available to purchase in the UK.
Q: What is the most durable type of lawn roller?
A: Concrete lawn rollers are very durable although steel rollers are also long-lasting.
However, steel rollers are more prone to rusting. The only exception to this point is if the roller comes with special rust-resisting properties.
Q: Should a lawn be dry or wet when you roll it?
A: This will depend on the task at hand. For example, before sodding, the lawn should be dry but after sodding, it should be slightly damp.
For removing bumps or pressing seeds into the soil, conditions should be dry.
Sources