Introduction to the Best Hot Tubs
Our guide to the best hot tub will look at the best products available in the UK. We will review a range of hard shell and inflatable hot tub products in detail and lay out the pros and cons of each.
This article will also explore additional topics such as the cost of having a hot tub installed and how many chlorine granules you should add to a hot tub.
This guide will prove very helpful if you are planning to buy a new hot tub or are considering doing so at some point in the future.
What is a Hot Tub?
Let's start by looking at what a hot tub is. A hot tub is a tub which contains heated water. It features filtration, heating and water jets and is often located outdoors such as in a back garden although may also be installed indoors.
Primarily they are used for leisure, but if sufficiently large, they may be used for swimming training too.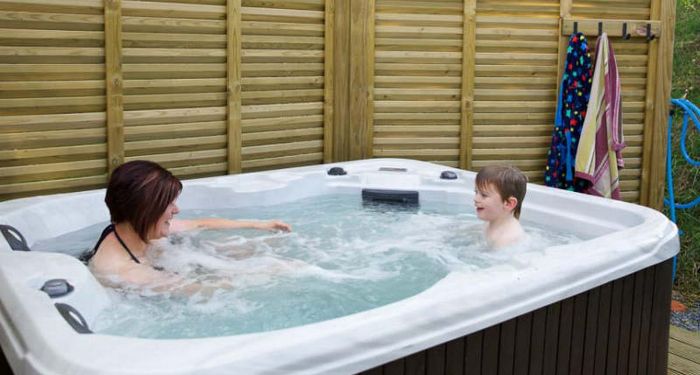 The popularity of hot tubs is on the rise in the UK due to their multi-seasonal suitability.
During the colder months, they can provide a user with warm water offering an enjoyable experience even if outdoors during the depths of winter. The minimal noise production and how easily they can be fixed has also contributed to the popularity of hot tubs.
One of the key benefits of hot tubs is the ability to provide a warm experience outdoors, generally regardless of the outdoor temperature. Further, hot tubs can allow multiple people to enjoy the tub, such as when having a party or BBQ.
They also have various health benefits such as allowing nutrient-rich blood to flow in your body as a result of blood vessels being widened, reducing swelling and taking the weight off any painful joints due to buoyancy. Hot tubs can have mental health benefits too.
Types of Hot Tub
There are several different types of hot tubs. In the following subsections, we will explore each type in detail and list their pros and cons.
Before buying a hot tub, you'll need to go through various hot tub ideas, to determine what type you'd like and ultimately what product you want to purchase.
Inflatable Hot Tub
This type of hot tub is portable and can be inflated once brought to a suitable location, such as a garden.
They tend to be smaller than built-in hot tubs but still retain many of the benefits of its counterparts.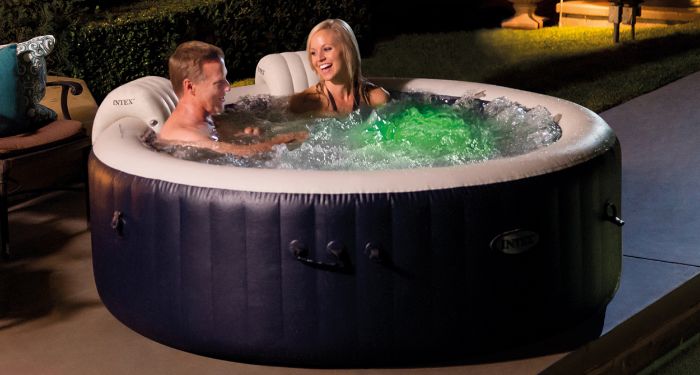 The water must be supplied by filling the tub up with a hose as with inflatable hot tubs; the water is not provided via the mains water supply.
These tubs are pre-made with all of the required elements such as jets and waterways which can be hooked up to a unit that features a pump and heater.
Pros:
Easily portable.
Tend to be quite sturdy.
Cons:
Do not come with seats.
Heat can be lost due to the material make-up of an inflatable hot tub.
While moving it is relatively easy, you'll need to empty it of water and refill it in the process.
Many inflatable hot tubs lack additional features.
An inflatable hot tub will set you back around £400.
Best Inflatable Hot Tubs on Amazon
Hard Shell Hot Tub (Acrylic)
Hard shell or acrylic hot tubs are permanent built-in tubs that come with a hard base plate.
They are installed in a given location where they will remain. Hard shell hot tubs tend to have many features that inflatable hot tubs don't.
They also come with side panels, pumps and an internal heater used to warm up the water.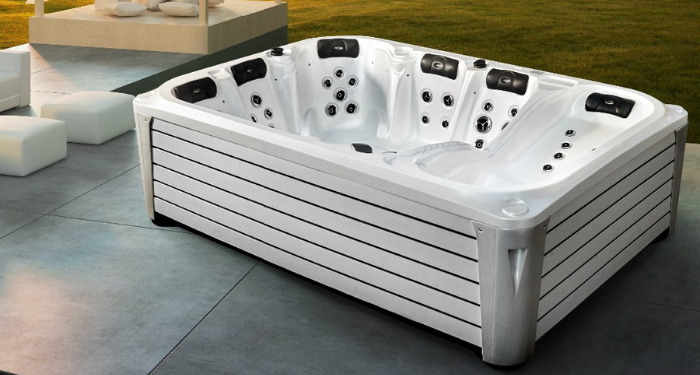 However, there are several requirements to consider. Not only will you need to find a suitable base to carry the materials and weight of a hard shell hot tub, but it must also be built close to a unit with a sufficient energy supply to power the tub.
Some, higher-end hard shell hot tubs will offer a high-quality range of lights, jets and further features for you to choose from.
Pros:
Can be installed quite easily and fast.
Feature permanent seating.
Often come with advanced features.
Cons:
Not well suited for indoor use unless an interior space happens to be right or can be altered in such a way as to become suitable for a built-in hot tub.
You'll likely need to purchase a step to access a hard shell hot tub.
A hard shell hot tub will cost around £600-£1500.
Best Hard Shell Hot Tubs on Amazon
Sunken Hot Tub
Most hot tubs are fitted above ground, but a below ground or sunken hot tub is another option worth considering.
If you are planning to have a swimming pool installed in your garden or already have one, a sunken hot tub can be combined with your pool to create a pool-spa combo if you wish.
Sunken hot tubs can provide great aesthetic value, proving easier on the eye than having a sizeable and overpowering above ground hot tub.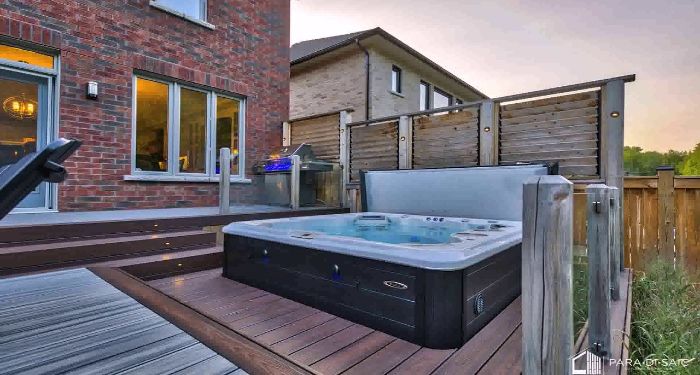 Further, getting in and out of this type of hot tub is going to be easier than with an above ground tub. They are also durable and can add value to your property should you decide to sell it down the line.
Of course, one of the major downsides to a sunken hot tub is the installation cost which will be quite hefty.
The excavation and construction work necessary to have a below ground hot tub installed will take anywhere from a fortnight to as much as three months.
Also, if you don't have a cover lift, taking its cover off will prove more difficult.
Pros:
Aesthetically pleasing.
May add value to your property.
You can get out of a sunken hot tub with ease.
Cons:
Long and costly installation required.
Tend to have fewer hydrotherapy jets.
A sunken hot tub is typically priced at £1500-£3000.
Swim Spa
A swim spa combines features of a Jacuzzi and swimming pool. If sufficiently large, swim spas will allow you to swim lengths and build fitness, or you can use it to simply relax.
Most swim spas have a length of around four to six metres.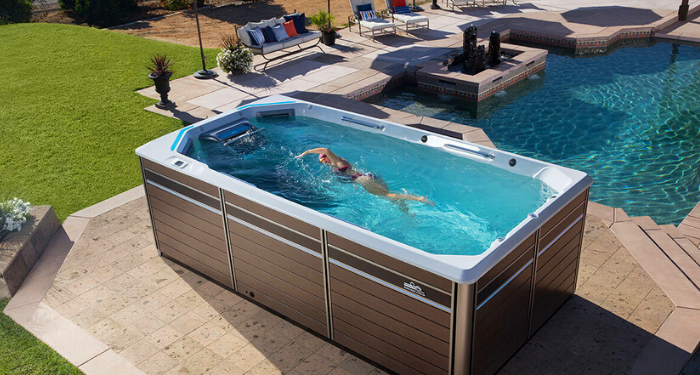 You may have a swim spa built-in or installed on a patio. The cost of a built-in model will be greater. Swim spas come with a counterflow system allowing you to swim against the currents.
You can also alter the flow's power if you wish, which can allow you to regulate how intense your swimming training sessions will be. Some swim spas also have a 'wellness area', a location that is closed off from the area in which you swim.
Pros:
Probably won't take up too much space.
Allows you to exercise or utilise a wellness area.
Can be installed quite easily.
Perfect for athletes, whether casual, amateur or professional.
Cons:
Higher heating and power costs.
Lacks the aesthetics of a regular swimming pool.
Risk of strong turbulence.
A swim spa hot tub usually costs about £12,000 to £45,000.
Best Inflatable Hot Tub
Inflatable hot tubs are excellent for people who don't want to fully commit to installing a permanent hot tub.
They are low cost, can be moved and are easy to set up. Here are some of the best on the market:
Lay-Z-Spa Vegas Hot Tub
As one of the top-selling inflatable hot tubs, the Vegas is perfect for outdoor use or a suitable interior environment. It is an example of a Lay-Z spa hot tub, one of many in the brand's line.
This hot tub is round-shaped and can heat water up to 40°C and features a Lay-Z-Massage Jet System which comes with 87 air jets.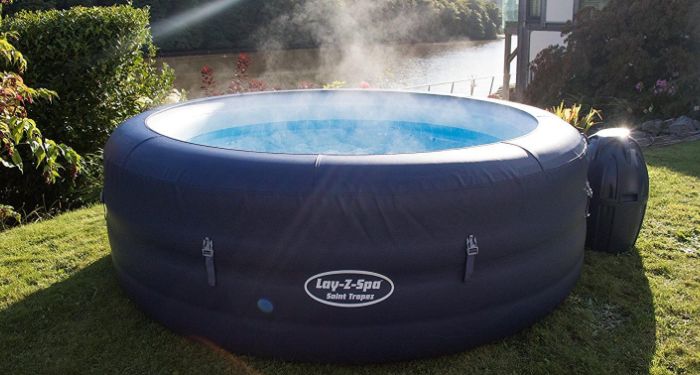 It can seat four to six people, has a volume of 935 litres and comes with two filter cartridges. Like many inflatable hot tubs, it can be easily set-up. It comes with a two year warranty.
This product will set you back around £400 to £500.
Pros:
Can be set-up with ease.
Provides plenty of space.
It is an example of a portable hot tub.
Cons:
Filter doesn't function as well compared with many other inflatable hot tubs.
May take as much as 10 hours for the water to heat up fully.
Requires cleaning and maintenance quite regularly.
See Price on Amazon
Lay-Z-Spa Miami Hot Tub
As with the Vegas, the Lay-Z-Spa Miami has a maximum temperature of 40°C and also comes with an air jet massage system. This blow up hot tub can seat two to four people and has a volume of 800 litres.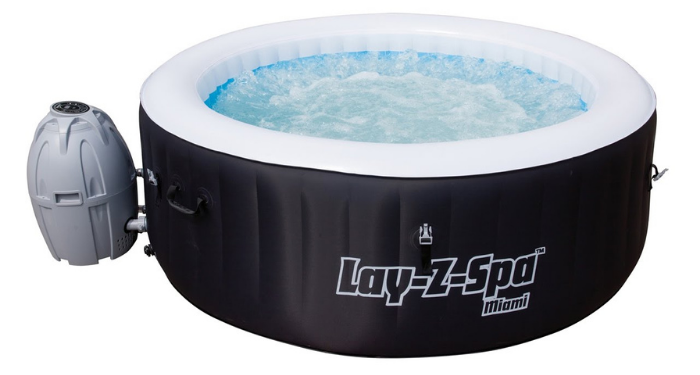 It has a durable liner, a 220 to 240 volt heater, a floater, filter and a single inflatable cover.
This product also comes with a two year warranty. The Miami is available from £400.
Pros:
Not as expensive as inflatable hot tubs like the Vegas.
Comes with a durable liner.
Does not cost much to run.
Cons:
Not as spacious as the Vegas.
See Price on Amazon
LIVIVO Inflatable Outdoor Hot Tub
While many of the most popular inflatable hot tubs on the market are part of Lay-Z brand, this highly-rated four person hot tub is from the LIVIVO brand.
It can heat water up to 42°C and features filters as well as 120 air jets.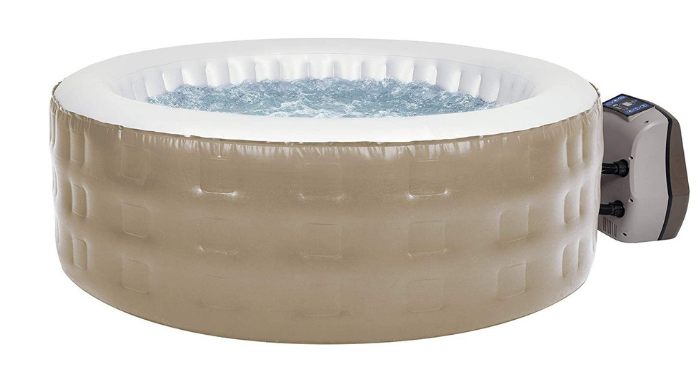 It also comes with a digital control console, an RCD plug, PTC heating element and pump unit.
The heating element is powered by a 1.5 kilowatt lead. It also comes with a repair kit, protective ground sheet and a pool cover. You can buy this hot tub on Amazon for about £700.
Pros:
Can heat water up to 42°C.
Comes with a repair kit.
Cons:
A relatively cheap hot tub.
See Price on Amazon
Lay-Z-Spa Monaco 8 Person Hot Tub
The Monaco is the largest Lay-Z hot tub with a volume of 1540 litres. It can seat between six and eight people.
Beyond this, it has many similar qualities to the other Lay-Z hot tubs discussed earlier in this section such as having a maximum temperature of 40°C and the inclusion of a 220 to 240 volt heater.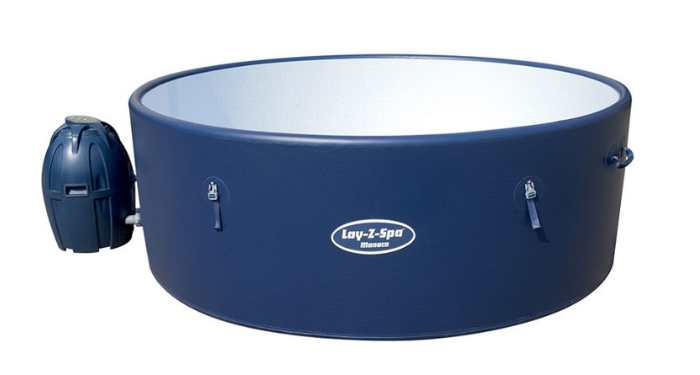 The Monaco's air jet massage system contains 90 air jets. You can buy this product for around £800.
Pros:
Largest of the Lay-Z hot tubs.
Can seat up to eight people.
The Monaco can be used all year round.
Cons:
Does not come with a cleaning kit.
The instructions are somewhat complicated.
See Price on Amazon
Lay-Z-Spa Hawaii Hot Tub
This four to six person hot tub is another popular option from the Lay-Z collection. Its Hydro Jet pro massage system includes 120 air jets and 8 hydro jets.
It has a cushioned floor, durable Y-beam construction, an inflatable and insulated cover as well as a detection system designed to pick up on ground faults to improve comfort and safety alike.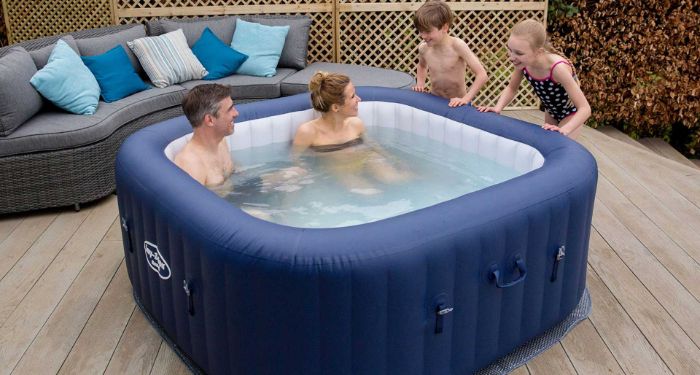 Once again, it is a Lay-Z hot tub with a two year warranty and a maximum temperature of 40°C. It is made of long-lasting TriTech material.
Since this hot tub is particularly heavy with a weight of 20kg, it must be built or fitted on solid ground. This product comes with a cost of around £450 to £700.
Pros:
Comes with 120 air jets.
Made of TriTech material, providing durability.
Spacious and large.
Cons:
Must be fitted or built on solid ground.
See Price on Amazon
Best Hard Shell Hot Tub
A hard shell hot tub is fantastic for people after a sturdy, solid hot tub that will have a permanent position, but with minimal installation.
Whilst dearer than their inflatable counterparts, they are cheaper and more movable than sunken hot tubs.
Here are some of the best hard shell hot tub:
Canadian Spa Halifax Plug & Play
This spacious hot tub features 22 spa jets, multi-coloured LED lights, a capacity of 700 litres, dimensions of 79 x 211 cm and a four person capacity. It is rectangular in shape and made of microban acrylic.
It also has an anti-entrapment safety feature. Its ozone water purification helps to ensure perfectly clear and clean water alongside 100 square feet of Microban glacier filtration.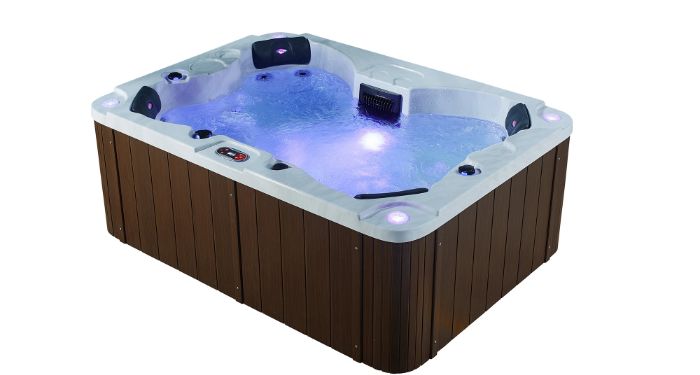 Its closed cell foam insulation which encloses the shell helps to keep the spa heated for longer as does its insulated cabinet.
This hot tub also comes with 'Digital Balboa' controls, allowing you to alter the economy settings and temperature.
This hot tub needs to be able to connect to a regular 13A socket. So long as it does, the installation is relatively easy. You can purchase this product for around £5000.
Pros:
Creates a very relaxing experience.
Quite spacious.
Well insulated.
This hot tub has an anti-entrapment safety feature.
Cons:
Relatively expensive for a 4 person hot tub.
See Price on Amazon
Barracuda Whirlpool Spa Corner Bath
The Barracuda is an ideal hard shell hot tub for couples. It comes with a base of 150cm x 150cm, 12 nozzles, four of which are small and eight large, a pump sanitisation and sterilisation system, two loudspeakers and a control panel.
This hot tub also features an automatic circuit breaker to protect against electrical leakage.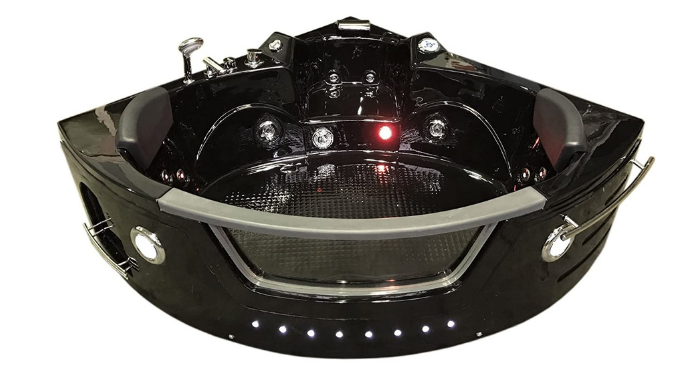 It has a black, chrome-plated aesthetic.
This 2 person hot tub is perfect for those with limited space and if you are trying to track down a more affordable product. You can purchase the Barracuda for about £1650.
Pros:
Less expensive than most hard shell hot tubs.
Ideal for a small garden or appropriate interior area with limited space.
Features an automatic circuit breaker.
Cons:
Quite a small hot tub.
Its design isn't for everyone.
See Price on Amazon
Norfolk Theatre Hot Tub
While very expensive, this hot tub has a ten person capacity, great features and provides exceptional comfort.
Alongside its ten seats are four 3hp pumps which power a total of 126 jets. These jets include 118 hydrotherapy water jets.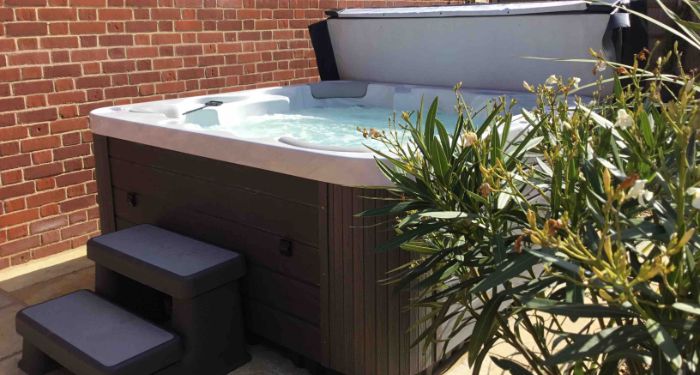 A stand-out feature of this hot tub is its 42" pop-up LCD TV. This product also comes with a circulation pump and dozens of LED lights. It is made of continuous-cast acrylic. However, it comes with a £17,000 price-tag.
Pros:
Various additional features including a pop-up LCD TV.
Can seat up to ten people.
High quality hot tub.
Cons:
See Price on SplashandRelax.co.uk
Canadian Spa Toronto 6 person Hot Tub
The Toronto is one of the most popular fixed hot tubs on the market.
It has a total of 44 jets and 5-6 hydro-massage seats. Among those seats is a single lounger no-float seat.
It also features a music system with iPod and MP3 connections and LED lighting. This hot hub has an auto-cleaning water sanitation system and 100 square feet of filtration.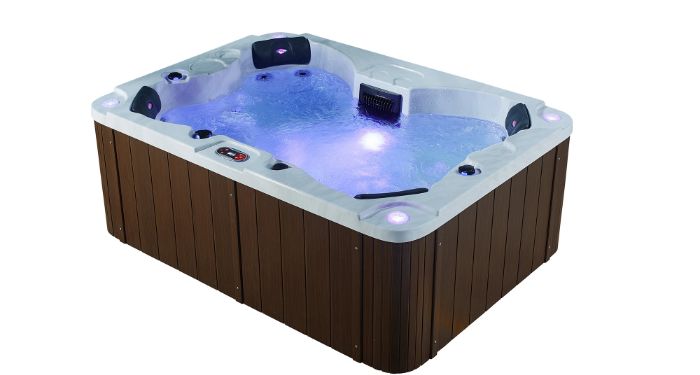 Its shells are partly made of microban which can limit bacterial growth on the spa's surface. Alike the Halifax, it also has an anti-entrapment safety feature.
This product requires a 230 volt/32 Amp RCD breaker alongside a fitted cable before the hot tub is delivered. It also needs a level existing patio or a three to four inch concrete base prior to the tub's arrival.
It comes with a volume of 980 litres. You can purchase the Toronto for approximately £6000.
Pros:
Has a powerful jet system.
Features an iPod and MP3-enabled music system.
Comes with an auto-cleaning water sanitation system.
The Toronto has an anti-entrapment safety feature.
Cons:
Outside the budget of many consumers.
See Price on Amazon
RotoSpa DuoSpa S080 Compact Hot Tub
This popular light grey hot tub can seat two to three people and has a volume of 500 to 550 litres. It has a dual-speed pump and a hydro jet-based massage system which has eight components in total.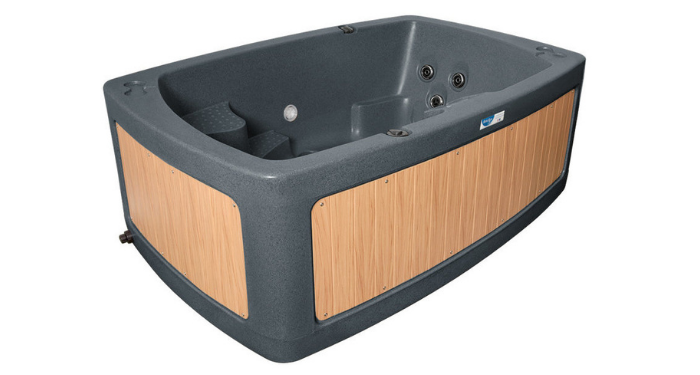 It also features multi-coloured LED lighting.
Its digital control system allows you to monitor maintenance cycles and keep an eye on the heating.
It will also let you alter the temperature. This product comes with a transport case, chemical starter pack and a thermal covering.
This compact hot tub is available for around £3500 to £4000.
Pros:
Features two reclining seats.
Popular product.
Cons:
A little expensive for a 2-3 person hot tub.
See Price on Rotospa.co.uk
Cost to Install a Hot Tub
Now, we will move on to the installation cost for a new hot tub.
It will cost you around £200 to £260 to hire a contractor to install a hot tub in your house or garden. This excludes the supply costs of the hot tub itself.
Some quick installations may cost as little as £75 to £80 while more complicated fittings could set you back as much as £600 or more.
Hot Tub Maintenance
There are various forms of up-keep that can be performed on a hot tub to increase its longevity.
A maintenance of your hot tub will cost around £15 a month.
Every week, you should add chlorine or oxidiser to kill off any contaminants and bacteria.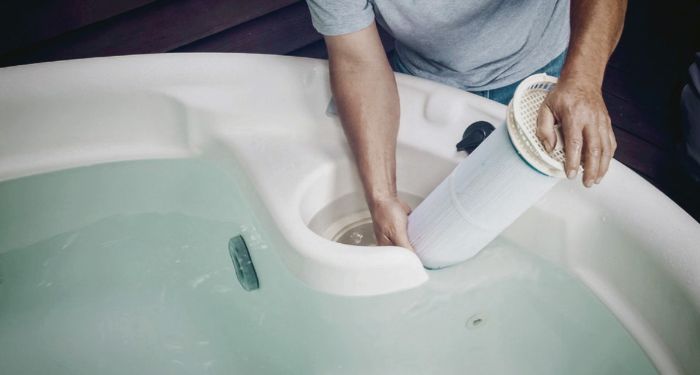 Give it 24 hours before testing its pH levels. Do not enter the hot tub during this 24 hour period. If the chlorine levels surpass 5ppm, dilute the hot tub with fresh water.
One of the most important forms of maintenance for a hot tub is regular cleaning. In order to achieve this, you should first drain the water from your hot tub.
Interior Surface Cleaning
Next, clean the interior surface of the hot tub with damp cloths and a sufficient surface cleaning product. Once you are satisfied with the clean, refill the hot tub.
Lastly, you'll need to prepare the newly filled water before the hot tub can be reused.
In order to do this, first, turn on the filtration system and each of the pumps. Then, with test strips, measure the sanitiser and alkalinity levels of the water.
If necessary, an alkalinity increaser should be applied to bring alkaline levels to the correct amount before adding the right dosage of sanitiser, again, if required. Finally, test the water, checking for its pH levels and get it in the range of 7.2 to 7.6 if necessary, using pH+ or pH-.
Then, add a sanitiser shock treatment as this will kill off any remaining bacteria. This type of clean should take place every three to four months on average.
After adding the sanitiser shock treatment, wait at least 10-15 minutes before entering the hot tub.
Filter Cleaning
Another important form of maintenance is filter cleaning.
There are three primary approaches to cleaning a filter. In either case, the first two steps are to find the isolator switch and turn off your hot tub there before removing the filter.
For a quick rinse, you'll next need to hose the filter up and down and inside the pleats.
It's preferable to let the filter dry before putting it back in place. Another approach is with the use of instant filter cleaner spray.
Following on from the first two steps, you should start with a quick rinse of the filter before spraying its surface with an instant filter cleaner.
Stand your filter up and give it about 10 to 15 minute before gently using a soft brush or hot tub blaster to get rid of any further contaminants.
If the filter is especially dirty, you may have to apply a second treatment or a soak treatment. Rinse the filter well then allow it to dry before putting it back in place.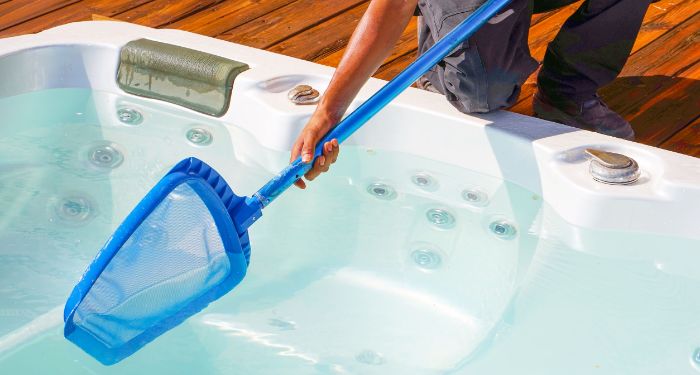 It's vital that the rinse is thorough or else foaming will appear in your hot tub.
The other approach is to soak the filter.
Following on from step one and two, rinse your filter quickly before placing it in a soak solution and in a bucket with the right dosage as recommended by the product's manufacturer.
Allow the filter to soak for at least eight hours. Rinse it thoroughly, let it dry and then add it back into your hot tub.
Once again, if it is not rinsed properly, foaming may occur. You should clean the hot tub filter once every fortnight.
How Much Chlorine Granules to Add to a Hot Tub?
We will now discuss the addition of chlorine granules to your hot tub.
Chlorine granules are essentially chlorine in powdered form and are added to a hot tub to chlorinate the water. Chlorination kills germs to provide a safe and healthy environment.
For every 1500 litres of hot tub water, you should add 60g of chlorine granules.
This can begin the process of sanitation. You must then allow the chlorine levels to drop to 5mg/l or less before re-entering your hot tub.
Before adding these granules, you should remove the filter and soak it overnight in a large container which has filter cleaner inside it.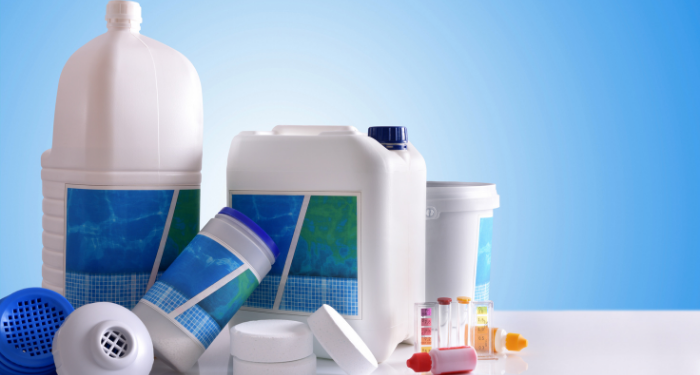 The following morning, you should rinse the filter with a garden hose before letting it dry. Finally, measure the pH levels. It should land between 7.2 and 7.6.
You can use pH paper to make this measurement. If the level is less than 7.2, add pH+ or for levels above 7.6, apply pH-, both of which are products designed to alter the pH levels of water. Once this step is complete, you can commence with chlorination.
Of course, the total amount of granules you should add will depend on the hot tubs' size and how much water it contains.
An alternative to granules that you may consider is hot tub chlorine tablets.
Hot tub granules cost around £20-£70.
FAQs
Q. How much does it cost to run a hot tub?
A: While a range of factors can influence hot tub running costs such as its size and the outside temperature, generally, these expenses will add up to around £260 per year.
Q: Can you go in a hot tub when pregnant?
A: While research in this area is limited, the NHS recommends that you avoid hot tubs when pregnant due to the risks of dehydration, fainting and overheating..
Q: What is the average size of a hot tub?
A: A small tub with room for 2-4 people will likely have a length of around 1.6 metres and a height of 0.7 to 0.9 metres.
A medium hot tub with a capacity of 5-6 people tends to have a length of around 2 to 2.5 metres and a height of just less than one metre.
While a large 7+ person hot tub will usually have a length of 2 to 2.7 metres and a height of around a metre.
Q: How long should you sit in a hot tub?
A: It is ideal to spend around 15 to 30 minutes in a hot tub. Do not spend any more than an hour in a hot tub. Even 45 to 60 minutes is not preferable.
Q: How long does it take to heat a hot tub?
A: It will likely take between 8 and 15 hours.
Sources