Introduction to the Best Garden Rotavators
If you're looking for a new garden rotavator, our guide will help you find the best products on the market. We will lay out the important details of a variety of top quality rotavators.
Each review will include their average cost and pros & cons.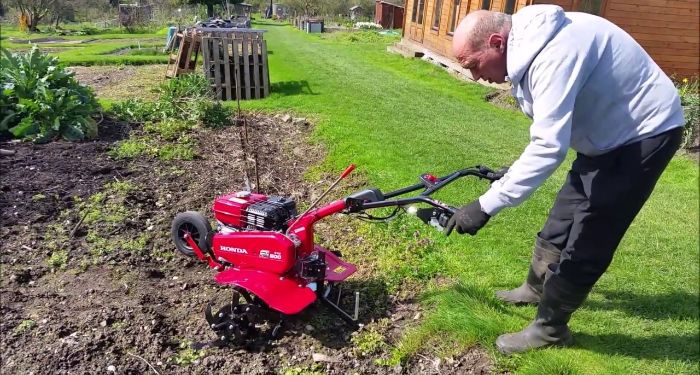 This article will also explore topics such as the cost of hiring a gardener and the differences between petrol and electric-powered rotavators.
Our guide will prove useful if you're on the hunt for a high-quality garden rotavator.
What is a Rotavator?
In this section, we'll explain what a rotavator is, what they are used for, the purpose of them and when they might be used.
A garden rotavator, also known as a cultivator or tiller is a very powerful piece of machinery which contains rotors or blades.
It is designed for allotment and garden work. They are used for churning up soil, to aerate it and to break up the soil.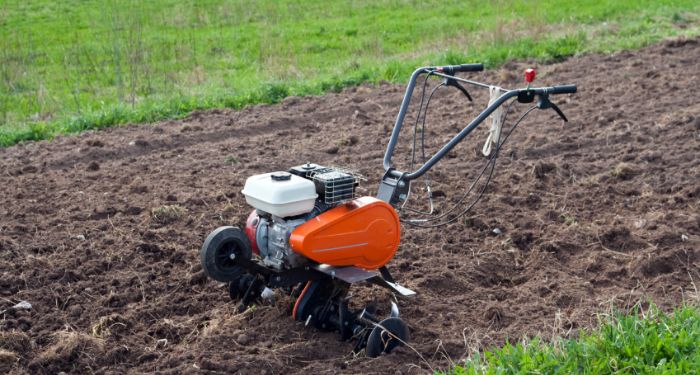 Ultimately, the purpose is to achieve aeration of the soil, to enhance drainage, level the area or/and to improve the soil for growing crops and vegetables.
Rotavating is often undertaken before planting new bulbs or seeds or prior to having new turf laid.
How Does a Rotavator Work?
We'll now discuss the workings of a garden rotavator. Rotavators employ several sharp blades or rotors. These spin and break open the soil's surface.
Garden cultivators work in a manner similar to lawn aerators although rotavators go much deeper and churn up the topsoil to bring fresh and damp soil to the surface.
Prior to using a rotavator, you need to ensure that the soil is in a suitable condition. For example, soils which are high in clay will act different when wet versus when they are dry. Dry clay soil gets very hard when dry.
Soil which is either compact or has not been cultivated prior should be watered for a couple of hours around 3-4 days before using a rotavator. Check if the soil has drained successfully prior to cultivating.
To test that the soil is ready for tilling, dig a 6-inch deep hole and pick up a small handful of soil. Squeeze it into a ball. If this soil breaks apart with just one finger pressed against it then it's ready for cultivating.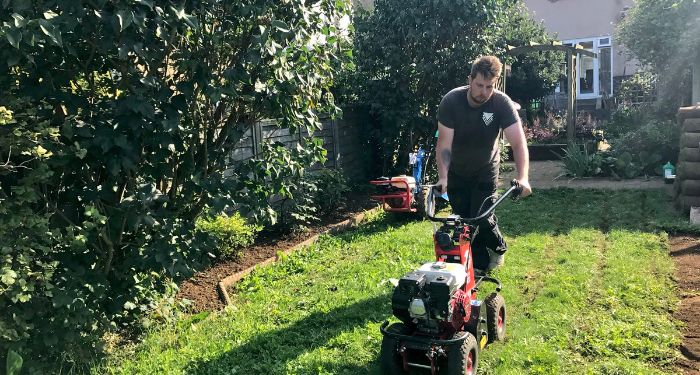 However, if it dents this means that the soil is still overly moist. You should also remove weeds a couple of days prior to rotavating.
When using a rotavator, it's important that you operate your machine safely and follow the guidelines given by the manufacturer. You should also control the rotavator in the correct way.
They have a tendency to gyrate and buck during operation. Trying to control the every movement can tire you out fast.
Instead, you should remain relaxed and allow the tiller to jump whenever it hits a hard object or section of turf. Then, guide it back to its initial path.
You may also push down on the handlebars to control how significant of a blow it takes when meeting a tough surface or object.
Rotavating should be undertaken in strips with each land strip overlapping the prior one. You should pass over each strip two to three times.
Repeat the process at right angles to the initial strips. Avoid digging significantly deeper than 2-3 inches on the first pass. You may choose to allow the rotavator to dig a little deeper in the following passes after the initial strips are completed.
Types of Rotavator
Let's now look at the various types of garden rotavator. In each of the following subsections we will explain what each type is and lay out their pros & cons.
Light Duty Rotavator
A light duty rotavator is perfect for a small garden, vegetable patch, allotment or garden border.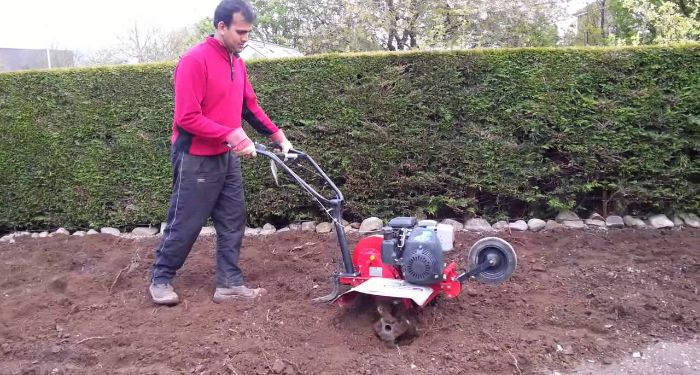 It is ideal for preparing the soil ahead of sowing and planting. They are generally designed to only churn up the topsoil.
A light duty rotavator will typically set you back around £100-£200.
Pros:
Less expensive.
Perfect for small gardens.
Cons:
Not suited to harsh terrain or large spaces.
Best Lightweight Garden Rotavators on Amazon
Medium Duty Rotavator
This type of rotavator offers more power than a light duty rotavator. It is best suited to gardens and allotments.
They assist in loosening soil around plants. This in turn helps with weed removal and improves water absorption in the soil.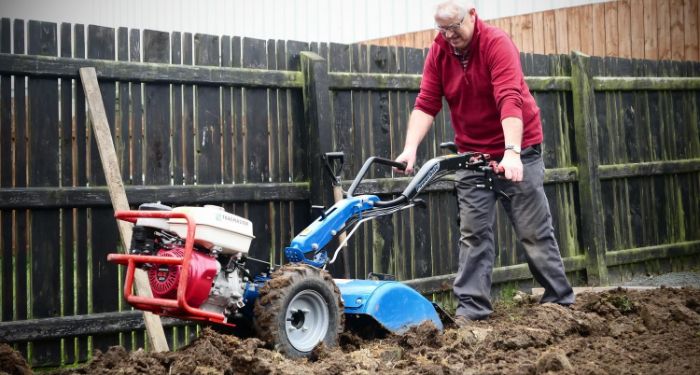 Medium duty rotavators are more durable than light duty rotavators and offer a great finish as well as reducing how much effort you'll need to put in to rotavate your land. When cultivating, you should ease the rotavator when moving between plants.
This will assist with weeding. It's important to avoid disturbing any plants with the rotavator.
A medium duty rotavator will typically set you back around £150-£400.
Pros:
More suitable for larger spaces.
More durable than light duty rotavators.
Provides a great finish.
Cons:
Not as cheap as light duty rotavators.
Best Medium-Duty Garden Rotavators on Amazon
Heavy Duty Rotavator
The heaviest and most powerful type of rotavator is heavy duty. They are ideal for digging large areas of cultivated land.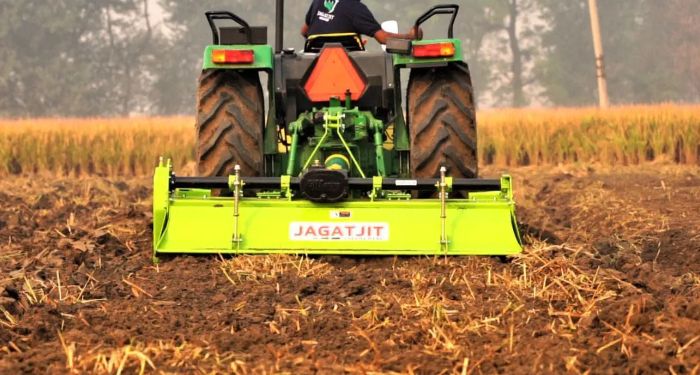 If you are dealing with especially harsh terrain, you should purchase or hire a heavy duty rotavator.
A heavy duty rotavator will typically set you back around £500-£1000.
Pros:
Perfect for harsh land and large spaces.
Powerful rotavator type.
Cons:
Most expensive type of rotavator.
Best Heavy-Duty Garden Rotavators on Amazon
Petrol Rotavators vs. Electric Rotavators
You can also break down the types of garden rotavators into the categories of petrol and electric.
Petrol Rotavators
These rotavators can reduce the effort needed to undertake cultivation work.
Further, they are arguably the better option if you have plenty of soil to deal with. However, petrol rotavators do tend to be heavier and thus can be more difficult to move from one place to another.
Further, you'll need to refuel these rotavators and they will require significantly more maintenance. Cost-wise, petrol rotavators are also usually more expensive. Another downside to petrol rotavators is that they are less environmentally-friendly.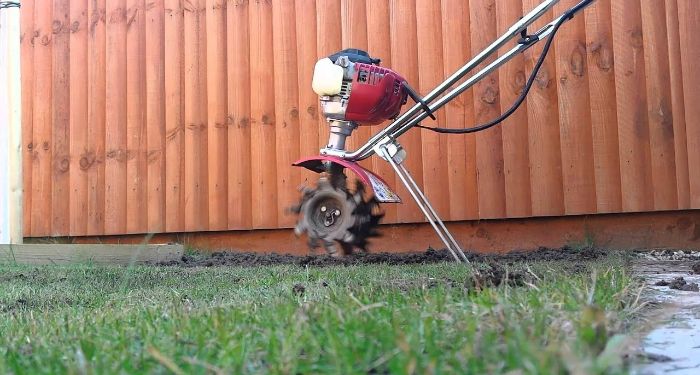 With that being said, there exist several types of petrol rotavators, each with their own advantages and disadvantages. Mini petrol tillers for example do not emit as many fumes as their larger counterparts.
Petrol front tine tillers however, are more powerful petrol rotavators.
Rear tine tillers are the largest petrol option and are perfect for breaking up turfed areas and heavier ground.
Petrol rotovators tend to cost around £120 to £900.
Pros:
Better choice for dealing with lots of soil.
Can reduce the effort needed to cultivate land.
Cons:
Heavier.
Require more maintenance.
Less eco-friendly.
Best Petrol Garden Rotavators on Amazon
Electric Rotavators
While generally not as powerful as petrol rotavators, electric-based cultivators tend to be cheaper.
They are available in cordless and corded models albeit cordless cultivators are generally more expensive. Electric rotavators are also more environmentally friendly than petrol rotavators.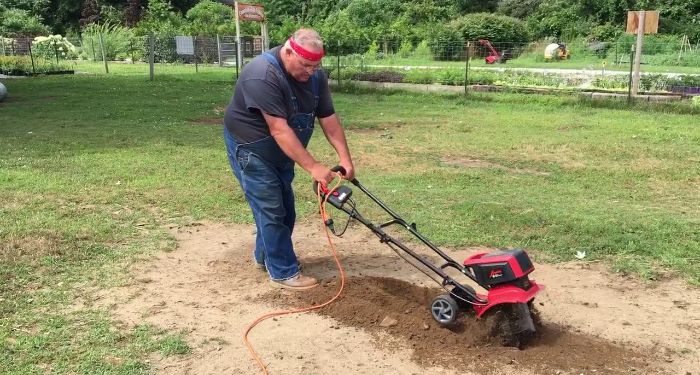 The electric power in these rotavators enable the blades to turn which as a consequence helps push the rotavator forwards. They tend to be quite compact in size and little maintenance is usually necessary.
Electric rotovators range from £80 to £560.
Pros:
Less expensive.
More eco-friendly.
Available in corded and cordless versions.
Less maintenance required.
Cons:
Tend not to be as powerful as petrol rotavators.
Best Electric Garden Rotavators on Amazon
Best Garden Rotavators
To help you choose the right rotovator for your garden, take a look at the following products.
For details regarding how to use each of the following rotavators, unless stated, see the manufacturer's instructions.
There are detailed user guides available online for some rotavators which we have linked in the subsections below.
In other cases, user guides may only be obtained with the purchase of the rotavator model in question. User manuals may also provide information on the audio output level of any given rotavator.
You should wear suitable PPE when using a garden rotavator. Don't forget to be cautious of small stones getting caught in the rotavator or shooting up and striking you while cultivating the lawn.
Garden rotavators can last for many years and some are more durable than others.
How long a given cultivator lasts for will also depend heavily on how well it is looked after and how often it's put to work. User manuals may provide further information on this matter.
VonHaus Electric 1050W Tiller
This popular, ergonomic and powerful electric 1050 watt garden rotavator provides a cutting width of 320mm and a maximum cultivating depth of 220mm. It comes with four sturdy steel blades and is made from long-lasting plastic.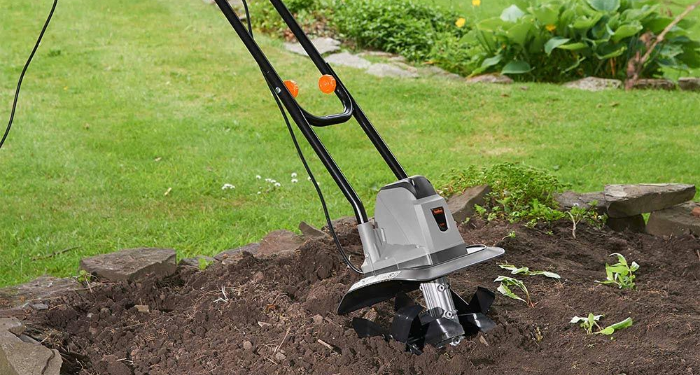 It also has a metal frame and distinct black & orange colours. This VonHaus rotavator also features a 10 metre cable. It is ideal for use in small gardens. You can expect to pay around £85 to £100 for this garden tiller.
For more information, read the VonHaus user manual that comes with this rotavator.
Pros:
Powerful and ergonomic.
Great value for money.
Durable build.
Comes with a 10 metre power cable.
Cons:
Not very well suited to larger jobs.
Its safety switch may prove difficult to use.
Check Price on Amazon
Mantis 58V Cultivator Rotavator
The Mantis 58 volts rotavator is one of the top cordless rotavators on the market. This electric cultivator comes with lithium ion batteries and a charger.
It features 4 metallic curved tines with a speed of 310 RPM. Its cutting width is 300mm and it has a cutting depth of as much as 230mm.
This Mantis rotavator comes with an ergonomic foldable handle and a steel mudguard. It's also an example of a wheeled rotavator. It weighs less than 12kg making it easy to manoeuvre.
To turn on this cordless tiller/cultivator, insert a fully charged battery before pressing the lock-off button and holding it in place.
Next, squeeze the on/off switch to turn on the rotavator. When in use, you should always hold the cultivator by its handles with both hands. Mantis recommends taking regular breaks and not overworking yourself when using this rotavator.
As you move the rotavator ahead, ensure that there are no stones, sticks, wires or any other objects that may harm your cultivator or its motor.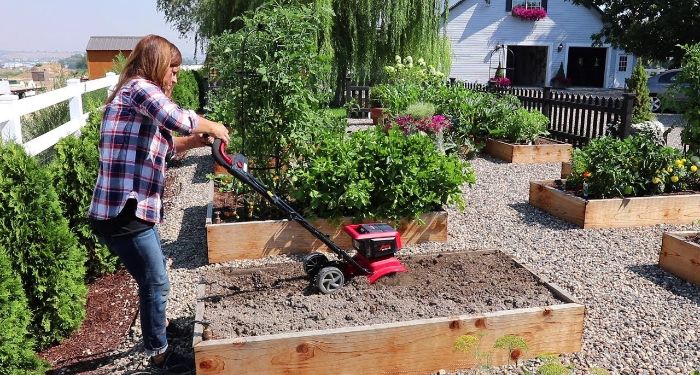 You may wish to apply a slight amount of pressure on the handles to improve guidance. You should walk this rotavator backwards in a straight line.
Slightly straddle the line of each row, one after the other. You should move this rotavator up and down in vertical lines before moving it in horizontal lines. Be cautious when you change direction.
Make sure you apply a little pressure to the handles to ensure the tines are lifted up a little when making a turn.
The wheels will help with this motion. Gradually ease pressure on the handles and allow the tines to gently return to the surface before completing the next row.
When you are finished, you should release the lock-off button. Then release the on/off switch.
You can read more about using this rotavator in Mantis' online user manual. It has a sound level of 93db.
You can purchase this cultivator for £350 on average.
Pros:
Great cordless cultivator.
Lightweight rotavator which is easy to manoeuvre.
Comes with a foldable handle.
Cons:
Check Price on Amazon
SwitZer Heavy Duty 6.5 HP Portable Petrol Garden Cultivator
This petrol-fuelled heavy duty rotavator is another highly-rated choice. This tiller offers a cultivating width of 320mm and a depth capacity of between 175mm and 350mm.
It's perfect for medium or large gardens and potagers. It is also arguably the best rotavator for allotments.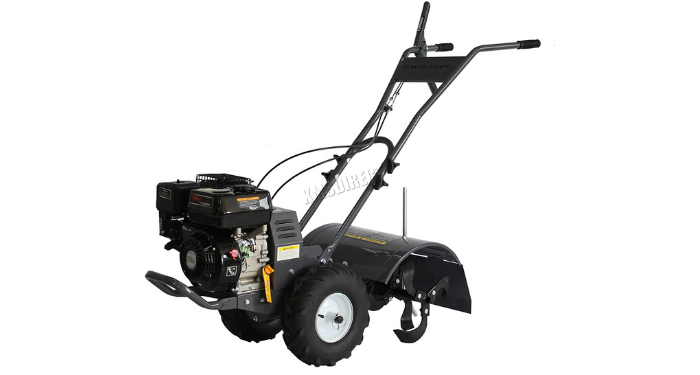 It features an air cooling 4-stroke OHV engine of industrial quality. This SwitZer rotavator has precision copper gear drive transmission.
Its handlebar height can also be adjusted. It is CE and GS approved. It also features in many of the best rotavator reviews.
You can purchase this heavy duty petrol cultivator for between £250 and £480.
SwitZer's user manual will provide more information on this rotavator such as precisely how to use it.
Pros:
Heavy duty rotavator.
Powerful with a great depth capacity.
Cons:
Expensive.
A sizeable cultivator which is not suitable for small storage spaces.
Not recommended if you're trying to find a rotavator for professional purposes.
Check Price on Amazon
Mantis 4-Stroke Petrol Deluxe Tiller
Another popular Mantis rotavator choice is this highly-rated petrol tiller with over 2 million sales. This powerful garden rotavator is powered by a 4-stroke Honda engine.
Its highly durable patented serpentine tines come with an RPM of 200 making them twice as fast as most other rotavators. It is possibly the very best rotavator for clay soil or is at least one of the best.
There are also optional attachments you might use such as for dethatching your lawn and ploughing soil.
It is also fitted with a solid worm gear system transmission. Essentially this implies that it is made for maximum torque and controlled power.
At 12kg it is another lightweight rotavator. This Mantis tiller also features ergonomic comfort grips and handles which can be adjusted with ease.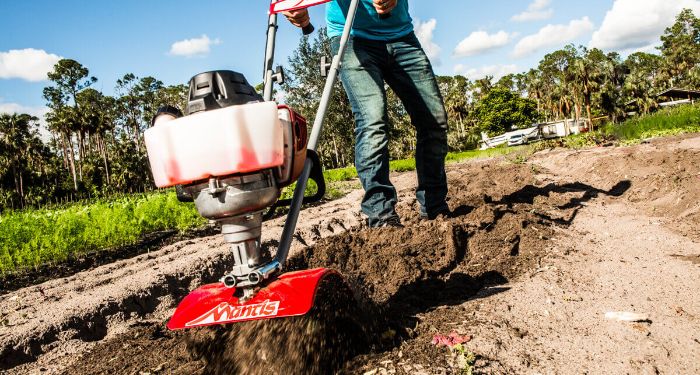 To cultivate land with this rotavator, first ensure that the tiller is off. This is because you want to switch from its tiller mode to cultivation mode.
Next, take off the retaining pins from the tines. Remove the axle tines. Place the right-side tine on top of the left axle and then place the left-side tine onto the right axle.
The D hole needs to be on the outside. Finally reinsert the pins. Mantis provides more information on using this 4-stroke petrol tiller in their online user manual. You should read their how to use instructions in full and follow any safety recommendations.
This rationale applies to any cultivator for that matter. It produces 93db of sound. You can purchase this product for £550 on average.
Pros:
Very popular choice.
Comes with durable serpentine tines.
Features a 4-stroke Honda engine.
Cons:
Check Price on Amazon
Garden Gear Electric Garden Tiller 1050W
This electric rotavator from Garden Gear is a powerful option with 1050 watts. It has a maximum cutting width of 320mm and a depth of up to 220mm. It features four steel blades and weighs 7.5kg.
Alike, the VonHaus electric tiller, this product also comes with a 10 metre power cord.
It is a multifunctional rotavator with two separate easy grip handles meaning that you can manoeuvre with ease. You will find that the more passes you make, the lighter and finer the soil will become.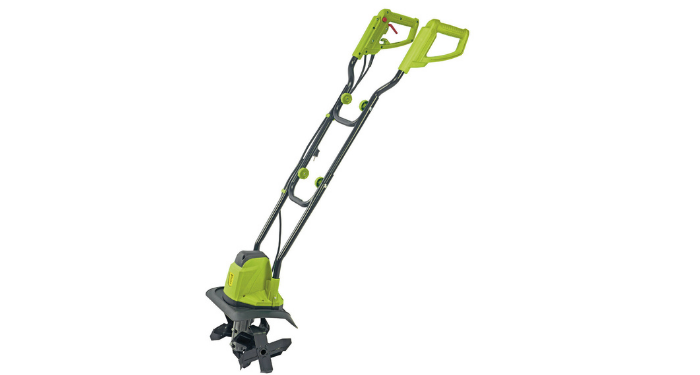 It also has a two-point safety switch, a voltage of 230 to 240 volts and an idle speed of 380 RPM.
As with many garden rotavators, it too has an audio output of 93db. Self-assembly is necessary.
This cultivator costs about £110 making it quite inexpensive. This tiller comes with a 24 month guarantee.
Pros:
Powerful and multifunctional rotavator.
Not very expensive.
Comes with a 10 metre power cord.
Cons:
Doesn't have any wheels.
Only has a plastic jointed handle.
Check Price on Amazon
Hyundai 139cc 4-Stroke Petrol RotoTiller HYT140
This petrol rotavator from Hyundai is powered by a 4 HP, four stroke petrol engine. It offers a cutting width of 370mm and a cutting depth of 130mm. The HYT140 features a rear adjustable depth control rod.
It is suited to most allotments and gardens.
This rotavator can break up hard and compacted soil and is suitable for the preparation of seed and plant beds as well as for the burying of weeds.
This machine weighs 31kg. To operate this machine, you should first check that all elements of the HYT140 are in the right position.
Check the oil and fuel levels. The machine requires fresh unleaded petrol.
To start the engine, if it is cold, push the choke lever into a forward position before pushing the primer bulb five times. If starting the engine warm, you'll need to follow the diagrams given in the user manual.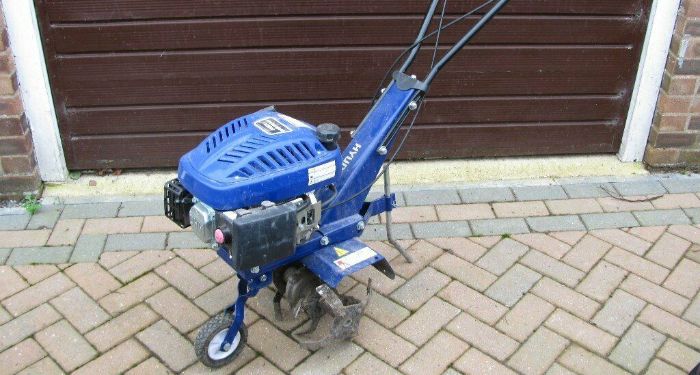 Prior to operating the clutch, bring down the engine speed. The clutch connects and disconnects the tiller blades and engine. Once closed, the clutch enables the tiller blades to begin turning. When it is released, the blades will come to a stop while the engine will continue to run.
To correctly operate, it should be at an angle so that when the handles are pushed down, the front of the rotavator rises six to eight inches above the surface.
To reach the final tilling depth, the depth must be increased after several passes. The first pass should be a shallow cut. If you find that the machine is shaking or bouncing around, adjust the speed.
If you discover that the machine is only digging on the spot and failing to move ahead, re-balance the HYT140 to enable it to move along.
Do not till soil that is rock hard. Instead you should irrigate it a couple of days prior to using this rotavator.
Avoid working on wet ground such as following heavy downpours. If there has been plenty of rain, wait one to two days before using the HYT140, allowing the soil to dry.
For more details on how to use this garden rotavator, read Hyundai's user manual. This rotavator produces 93db of sound.
The HYT140 comes with a two year warranty. Expect to pay around £200 to £250 for this rotavator.
Pros:
Powerful machine.
Highly-rated choice.
Comes with a rear adjustable depth control rod.
Cons:
Not the lightest rotavator.
Check Price on Amazon
Benefits of a Garden Rotavator
Let's now take a look at the various advantages of a garden rotavator.
Deep Tilling
A good rotavator will let you till deep into the soil. How deep it will reach will depend on the rotavator you purchase. For a really deep till, a heavy-duty rotavator should be used.
The depth capacity of a garden rotavator could range anywhere from 50mm to 350mm. Deep tillage may cause a rise in the plant availability of nutrients below the soil.
This can prove especially beneficial if you are growing any crops in your garden but it can be beneficial for grass on ordinary patches of lawn too.
Soil Aeration
Rotavators are perfect for aerating soil.
The benefits of soil aeration include improving the air exchange between the atmosphere and your soil as well as making your soil able to absorb water and fertiliser with greater efficiency.
Further, aerated soil can reduce puddling and water runoff, improve the soil's resilience, better its heat and drought tolerance and establish improved turf grass roots.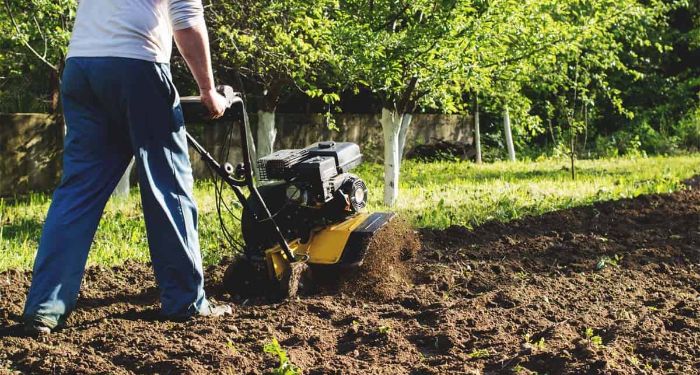 Brings Weeds and Insects to Surface
A rotavator can also bring plenty of harmful insects and weed roots to the surface.
For uncovering weeds so that they can be removed, you should cultivate your lawn at a time when continuous sunshine is expected for several days to come.
The reason for this is that several days of sun will dry any weeds that you missed after initially cleaning your garden post-cultivation.
Saves Time
A garden rotavator can save plenty of time. It is a time-efficient approach to cultivating your lawn. Exactly how long a job will take will depend on the nature and size of your lawn as well as how quickly you choose to work.
Cost of Hiring a Gardener
Let's take a look at the cost of hiring a gardener to rotavate your lawn or/and perform additional gardening work.
Gardeners tend to have a set hourly rate for their labour costs alone. This can vary anywhere from £15 to as much as £50 in places like London.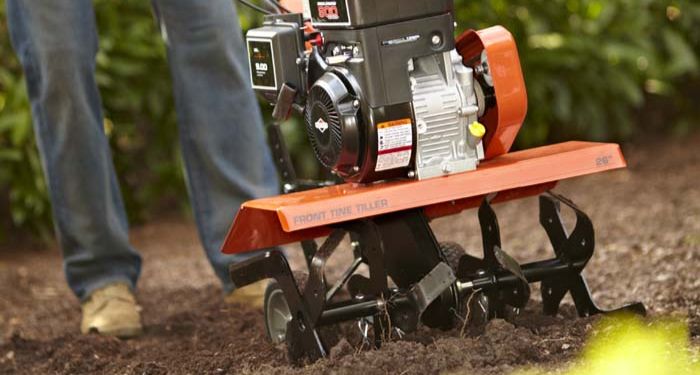 How much a gardener will charge will depend significantly on where in the UK you are located.
Including materials, labour costs and the cost of waste removal, a gardener will likely charge about £150 to work on a garden of 6 x 4 metres in size. For an 8 x 6 metres garden, expect the total cost to rise to around £200.
In the case of a 12 x 8 metres garden, the total will end up around £300.
FAQs
Q. How deep does a rotavator dig?
A: A rotavator might dig to anywhere from 50mm to 350mm in depth.
Q: Where can I hire a rotavator?
A: You can hire garden rotavators from services like HSS, Hire Station, Jewson and Smithshire.
For localised hires, simply Google 'rotavator hire' with the name of your town/county/locality.
Q: What is the best rotavator for gardening?
A: The SwitZer Heavy Duty 6.5 HP Portable Petrol Garden Cultivator is arguably the best garden rotavator available in the UK.
The perfect rotavator for you will depend on what you're looking for and there are plenty of additional high-quality rotavators to choose from, some of which we've reviewed in this article.
Q: Can I use a battery powered rotavator for a large garden?
A: Generally, a battery rotavator is unlikely to last long enough to cover a large garden before running out of power.
In this scenario, you'd need to spend time waiting around while it's re-charging.
Q: Where can I buy a rotavator?
A: Providers such as Screwfix, Garden Machinery Direct and B&Q sell garden rotavators.
You can also find some great deals on websites like eBay and Amazon.
Sources
https://www.hirestation.co.uk/faqs-frequently-asked-questions/how-2-guides/how-to-rotavate-your-garden/