Introduction to Garden Hoses
In this article, you will learn about the purpose of a garden hose and how to use one to make your garden the best.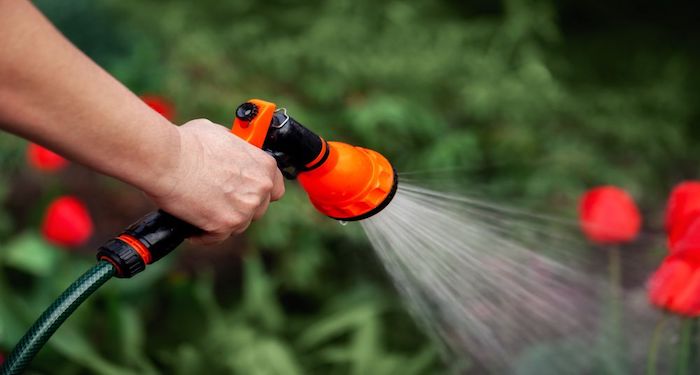 However, as there are multiple types of garden hoses then we will go through each of them so you can figure out which one will be best for your home!
We will also show you a list of the best garden hoses you can buy for your garden. So, if you want to buy a garden hose but you are unsure where to start when this article is perfect for you!
What is a Garden Hose?
A garden hose, often known as a hosepipe or simply a hose, is a flexible tube that is used to transport water around your garden.
Sprayers and sprinklers are two frequent attachments for the end of the hose, which are used to concentrate water at one point or to spread it over a large area. Hoses are typically connected to a spigot or tap.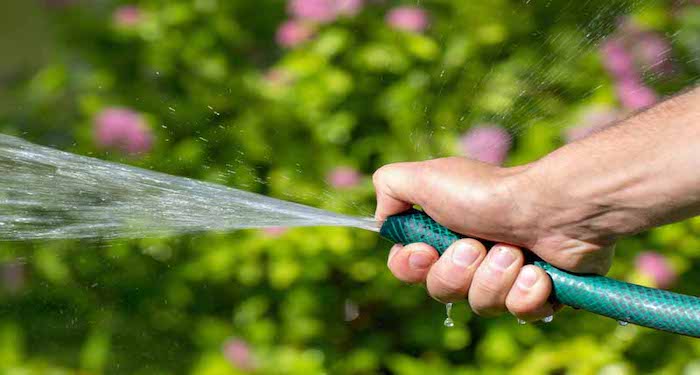 Hoses are necessary for all gardeners, even if they aren't the most exciting topic to read about in gardening. Hoses are a tool, and just like any other work, it's critical to choose the right tool for the job.
There are numerous hoses to pick from, and the one you'll need is determined by the place and plants, as well as your personal preferences. So, if you are a gardener or looking to DIY your garden for the summer then a good garden hose will be perfect for your home.
How do you Use a Garden Hose?
To use a hose is a simple task as once it is set up all you need to do is turn your tap on and the garden hose will work.
However, setting it up can be slightly more complicated as you need to take care of the garden hose to make sure the water is still fresh, and the garden hose doesn't get dirty.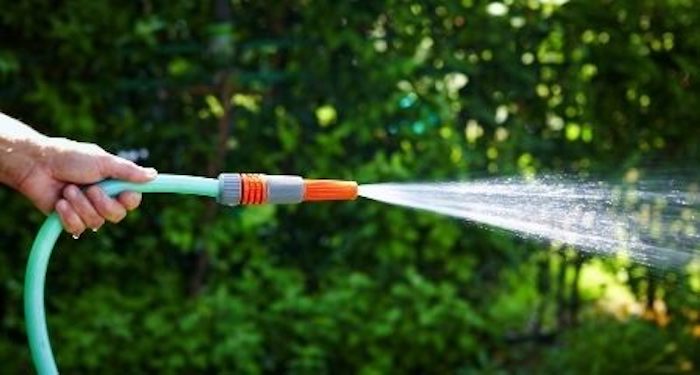 Here is a guide on how to set up your garden hose:
One end of the hose should be connected to the tap.
Then, extend the other end of the hose from the tap in a straight line if possible.
Close the nozzle or cannon on the hose's end to prevent water from escaping.
Turn on the faucet and fill the hose with water, then turn it off.
Leave the hose filled with water in the sun for up to 2 days (depending on weather conditions).
This should clear the hose and make it easier to handle. It's best to keep the hose on a hose reel or in huge loops on a hook while not in use.
Types of Garden Hose
Nowadays, almost every yard has at least one hose, and many have two or more. Most homeowners have front and back yard hoses.
Hoses must be replaced regularly, along with nozzles. That's why we've compiled a list of the various sorts of garden hoses so you can decide which is ideal for your garden!
Light Duty Garden Hose
Most hoses are hefty, especially when filled with water. If you want to be able to move your hose about with ease, you should look for one that is lightweight.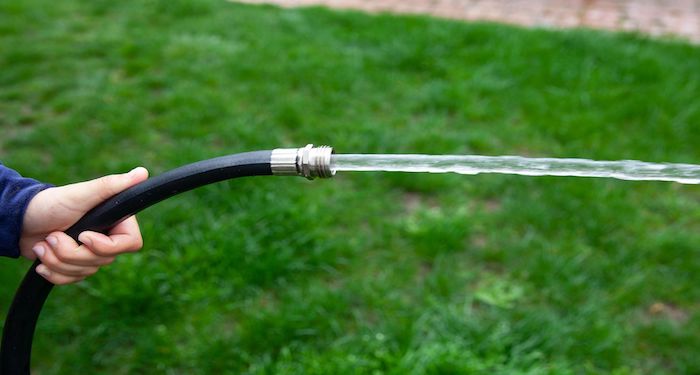 These hoses provide all the same benefits as standard hoses, but they are far lighter, making them excellent for a variety of household tasks. All jobs will be much easier when you use a lightweight hose to accomplish the work, from watering the lawn to washing the roof.
Furthermore, because they are lighter, children and the elderly may use them more easily. This ensures that everyone can accomplish the required task without difficulty.
Flexible Garden Hose
Rubber or vinyl are the most prevalent materials for excellent garden hoses as they flexible.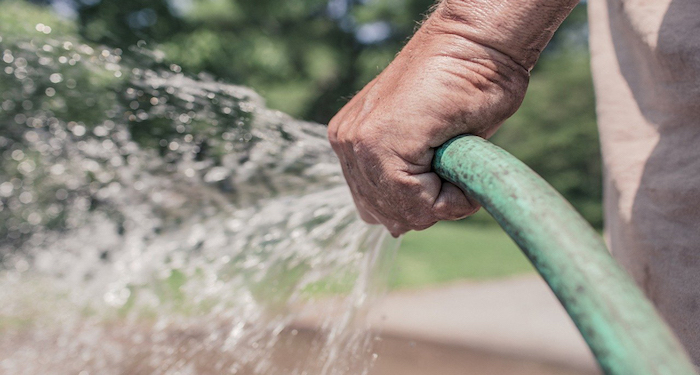 The flexible material makes them easy to use and they are also long-lasting.
They also come in various lengths, so you can choose the right size for your garden.
Expandable Garden Hose
With how easily they can be packed and what little room they take up, expandable hoses have become quite popular in recent years.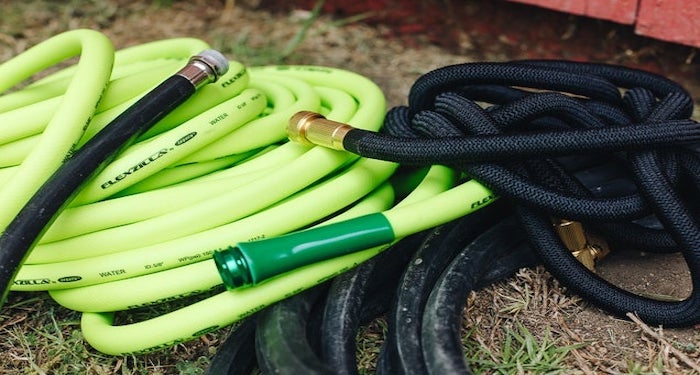 These hoses may be stored anywhere when there is no water in them, but as the water starts to flow through them, they immediately expand to the same length as most conventional hoses.
Expandable garden hoses are lightweight and easy to move around and they are also less prone to kink or twist.
Retractable Garden Hose
If you have a backyard garden, you are probably aware that keeping it in great condition is a demanding task. You must water the plants regularly, in addition to performing a variety of other activities, to ensure that they receive consistently and enough water.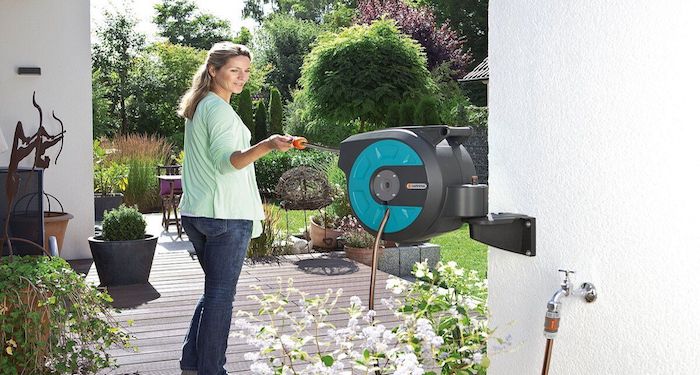 These hoses can drastically save physical labour, making your task easier. by allowing you to tuck your garden hose away from your body after usage.
Garden Soaker Hose
Soaker hoses are a terrific investment, they're highly flexible, so winding them around the garden and the beds without squishing or hurting the plants is a breeze. They work with very little water pressure and expand somewhat as the water passes through the hose.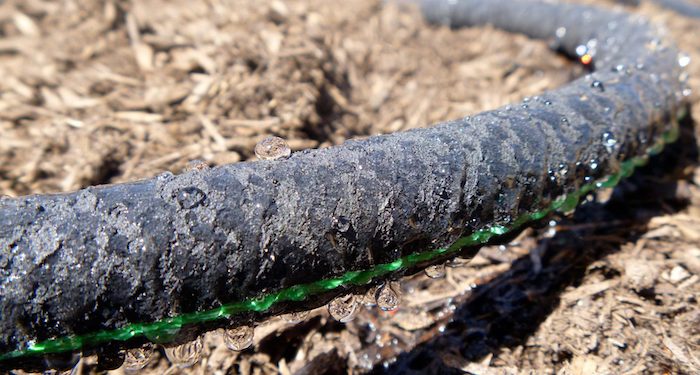 The water will then be released into the yard via tiny holes strewn along the length of the hose. This lets the water slowly drip onto the ground and irrigate the plants without releasing too much water at once, allowing it to soak deeply into the soil.
While these hoses can be stored in the garage or shed after each use, it is typical for homeowners to leave them in the garden beds and bury them under a light layer of mulch during the summer.
Coil Garden Hose
When not in use, a coiled hose is constructed into a tight spiral that can be drawn out when needed. They are usually shorter in length and have a diameter of 12 inches or less.
These hoses do not stretch out to their full length due to the coils. Consider that a 25-foot hose may only stretch 15 to 20 feet, so keep that in mind when shopping.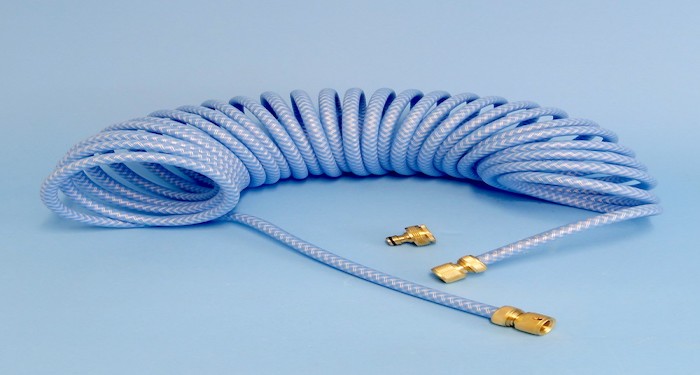 Coiled hoses can't be stored on a hose reel, and if placed in a particularly big pot or storage bin, they can quickly tangle.
For coiled hose storage, there are wall-mounted and stand-up hangers, however, I've found that the coils get trapped on the hanger. Use in smaller spaces, such as a balcony or patio.
Flat Garden Hose
If you want to store your hose without having to bother about winding it up, flat hoses are a fantastic solution.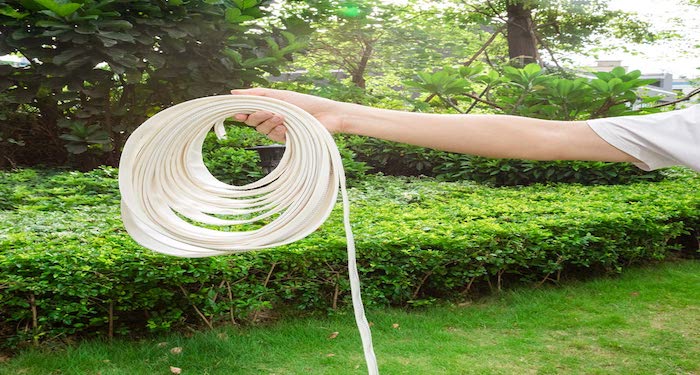 They function by inflating when water flows through the hose and then compressing on their own once the water has been removed. This means you won't have to bother about flattening the hose yourself because it will flatten out on its own.
They are lightweight and easy to roll up compared to standard spherical garden hoses. They contain both male and female ends, making it simple to connect the hose to various sprayers as well as the spigot without difficulty.
Best Garden Hoses
A hose is an important piece of gardening equipment since it makes watering your garden much easier than lugging a heavy watering can back and forth from the tap.
The size of your garden, the amount of time you spend watering, and, of course, your budget will all influence the hose you choose. We've compiled a list of the best garden hoses for various applications so you can discover the ideal one for your home.
Best Light Duty Garden Hose
Hozelock 7830P0000
This premium hose is extremely lightweight and simple to water and clean. The Hozelock Ultimate is made up of five layers, including a strengthened substance and a smooth inner layer that improves water flow.
It has a 30-year guarantee and is kink-free and flexible.
PROS
Anti-kink design.
Crushproof
Long guarantee.
CONS
Can be difficult to re-coil.
Ailuze Garden Hose
The Ailuze garden hose is a fantastic space-saving and lightweight solution. It all comes down to the design: a thick latex inner hose pipe combined with a tightly knitted outer fabric allows this hosepipe to endure pressure while extending up to 30 metres.
Because it's so light, you'll never feel like you're hauling or slinging a giant rubber hose around the edges of your garden.
You won't trip over the kinks and twists, either. For the children, it can be used as a car washer, house cleaner, and paddling pool filler.
PROS
Space-saving and lightweight.
Multiple uses.
CONS
Inventel Forever Steel Hose
It's essentially a lightweight metal garden hose that's been coated with a robust and flexible sort of stainless steel. This is significant because a lot of lightweight hoses aren't built to last.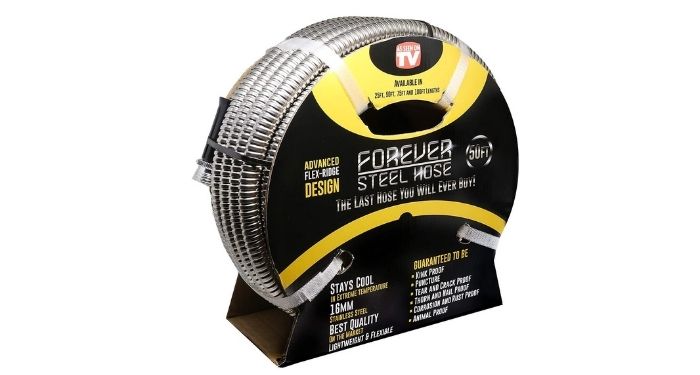 The stainless steel is kink-free, rust-resistant, corrosion-resistant, and UV-resistant. You could link two of these 50-foot hoses together to produce a single 100-foot hose, so this hose pipe is still a smart alternative if you have a large garden or area to cover.
The hose's inner is made of PVC, which means it is lightweight.
PROS
Kink-free.
Rust-resistant.
CONS
Expensive
It can only handle a certain amount of water pressure.
Flexzilla HFZG550YW
It has a rubber design that is flexible, supple, and won't get trapped in standard coil patterns. It can be tough to unwind because of this, but it is simple to wind up. The most challenging part of the process is winding down.
This hose has aircraft quality anodized aluminium connectors and is approximately 50 feet long. When exposed to unfavourable weather conditions, these are crucial since they will not rust or begin to exhibit wear.
PROS
One of the best features of the Flexzilla Garden Hose is its ability to manage high water pressure.
This hose is one of a kind because it has a limited lifetime warranty.
CONS
If not properly maintained, the Flexzilla Garden Hose is notorious to become mouldy over time.
Water Right 400 Series
It can withstand up to 400 psi of water pressure. It has also been confirmed as totally safe to drink from by both the NSF and the NDA, indicating that none of the materials contains lead and is all BPA-free.
The brass fittings on this garden hose is a nice touch. The hose itself is long-lasting and made to last. It comes in a green hue, but there are other colour variations available, so you can pick one that you want.
PROS
This hose weighs up to 3 lbs.
The hose comes in a variety of colours.
CONS
Best Flexible Garden Hose
Floproplus Hose
Thanks to a four-layered reinforced structure, this robust hose is light but tough.
It's less prone to crash, twist, or kink, and it's also easy to operate, making watering a pleasure. It's backed by a 20-year warranty.
PROS
Flexible and strong.
Light and comfortable.
Long guarantee.
CONS
RHS Everflow Hose Pipe
This pliable hose never comes to a halt. It includes a central core throughout the hose that keeps the water flowing even when it is twisted, crushed, or knotted, and it is made of a durable PVC blend with 'Everflow technology.'
It's well-made and simple to operate, plus it comes with a 30-year warranty.
PROS
Flexible and doesn't block.
Long guarantee.
Connectors and spray heads are included.
CONS
Gardena Comfort Flex Hose
This garden hose takes pride in its robust spiral mesh textile design and strong connector attachment. It can also resist water pressure of up to 25 bars.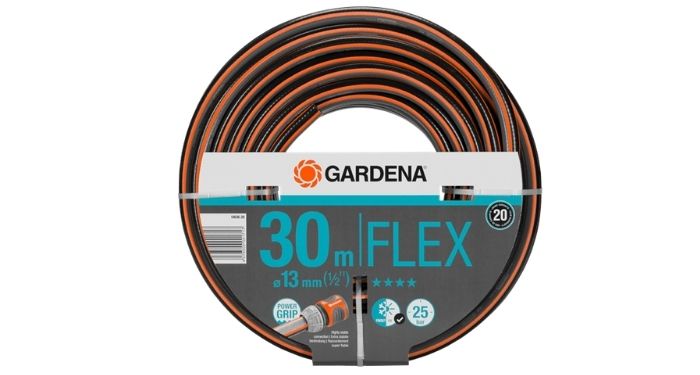 This hose won't let you down, even if it doesn't come with wall mounting accessories or a fancy cart on wheels. Gardena's easy-to-use, high-quality, and dependable products come with a 20-year guarantee.
PROS
Easy to use.
High quality.
20-year guarantee.
CONS
Garden Hose Homeme
This garden hose's material has a long service life and can be used about 1000 to 1500 times, compared to traditional ones that can only be used 500 to 600 times.
Furthermore, because the upper layer is composed of densely knitted fabric, this hose is noted for its elegant design.
Leaks and cracks are also avoided thanks to the brass fittings. The exterior elastic fabric is constructed of high-quality and long-lasting latex.
Finally, when not in use, this garden hose comes with a complimentary storage bag that can be stacked away from the hose. It's especially important to store it away in the winter in locations where the water could freeze if left outside unattended.
PROS
High quality.
Long-lasting.
Comes with a storage bag.
CONS
In winter it can freeze if left unattended.
Ansio Garden Hose Pipe
To prevent pipe bursts, the Ansio Garden hosepipe is comprised of polyester webbing with brass inducting. It's also tangle-free, which reduces the chance of bursts and cracks.
Furthermore, the hose's inner tube is composed of triple-layer latex, while the outside layer is made of a durable and aesthetically beautiful substance.
It's important to remember that the hosepipe should be drained after each use and kept dry and out of direct sunlight. Finally, the spray gun has an anti-slip grip and an on/off handle.
PROS
CONS
Needs to be kept dry and out of sunlight.
Best Expandable Garden Hose
Hozelock Superhoze Expandable 30m Hose
Although it comes with two easy-to-attach universal connectors and one nozzle, this elastic rubber hose with a fabric outer layer is compatible with Hozelock's selection of hose ends and accessories, which may be purchased separately.
It is flexible and lightweight, and it comes in a variety of lengths. It can also be used to connect two expandable hoses, which is beneficial if you have a large garden.
The packaging is made entirely of recycled materials and printed using water-based ink, allowing it to be composted or recycled.
PROS
Lightweight
Tangle-free
Five-year guarantee
CONS
Expensive
Hooks or reels for storage aren't included.
Robert Dyas Extendable 30m Hose
This lightweight, extended hose includes connections as well as a seven-dial spray gun, which are both attachments that many of the other hoses we examined require you to purchase separately.
When the hose is filled with water, it fully stretches to 30m, or three times its original length, before quickly retracting when the tap is turned off.
PROS
Lightweight
Spray gun included.
Tangle-free
CONS
No storage features included.
Sarah Raven Self-Extendable Hose
Sarah Raven's expanding hose is a delight to use. It has a smooth twist nozzle that can generate both delicate veils of mist and a single forceful jet of water, and it expands swiftly from 5 to 15 metres.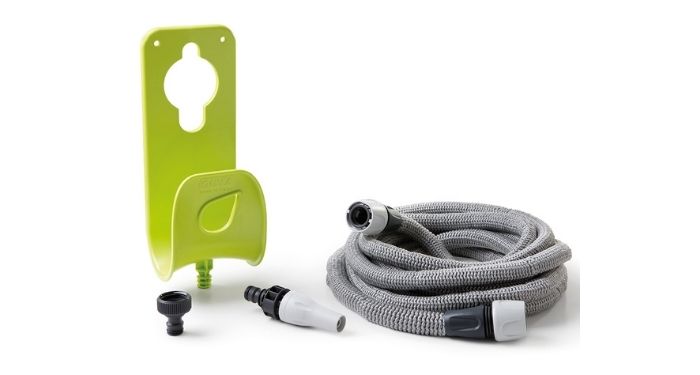 The presence of a plastic hanging that fits over the tap for simple storage is particularly appealing.
PROS
Comes with its hanger.
Easy to set up.
Easy to use.
CONS
Grey hose is hard to spot in the grass.
Flexi Hose Expandable Garden Hose
This sturdy hose is made of double latex and will not kink. The five-metre-long superlight hose may be extended up to three times its original length, to a total length of 15 metres. It returns to its normal length after usage, making it easier to store.
Its connectors are also composed of solid brass, making them less prone to flex or snap than plastic connectors. Water pressure is decent at up to 12 bars, and there are eight various spray settings. This is a fantastic hose for the money.
PROS
Anti-free kink.
Good water pressure.
Eight spray settings.
CONS
Nararis 7.5 Expandable Garden Hose
When the water pressure is turned on, this garden hosepipe swells to three times its original size. The pipe shrinks back to its original length when it is switched off, making it easier to store.
It has a spray gun with seven functions. Furthermore, the nozzle can be modified to suit your demands.
The hose is made of high-quality latex and has a triple-layer of 2500D Dacron. The outside braided material and the double latex inner pipe can withstand high pressure without splitting or leaking.
What makes it unique is that it is climate-resistant, meaning it can withstand both low temperatures and UV rays.
PROS
High quality.
Affordable
Easy to store.
CONS
Reviews say the nozzle can come faulty.
Best Retractable Garden Hose
Hozelock HZ24250000 Pico Reel
This little hose reel is small, lightweight, adaptable, and simple to use. It's also reasonably priced for the capabilities it offers, and it comes with a lengthy guarantee.
With a pistol-grip spray gun that's especially helpful for anyone with stiff hands, it's ideal for any little garden, patio, courtyard, or balcony.
If your only tap is inside, connecting the long segment of the hose to the tap and moving the reel around is convenient because any leaks will be kept outside.
PROS
Fully assembled.
Comfortable, easy to use.
Long warranty.
CONS
Retractor is fiddly to tuck away.
Karcher Compact Hose Box
This durable and compact hose is fully built and packaged in a stylish square box. The nozzle and handle are removable, and there's also a two-metre feeding hose and a wall-mounting bracket to keep it out of the way. Although rewinding is a little uncomfortable, it is ideal for storing.
It comes with a one-year warranty.
PROS
Sturdy, enclosed with non-drip storage.
Can be used with a pressure washer.
CONS
The feeder needs to be put under the bracket.
Hozelock 2494R0000 Freestanding Fast Reel
This hose's automatic self-layering mechanism makes winding and unwinding a breeze. The hose is completely enclosed by the casing, which feels solid and stable.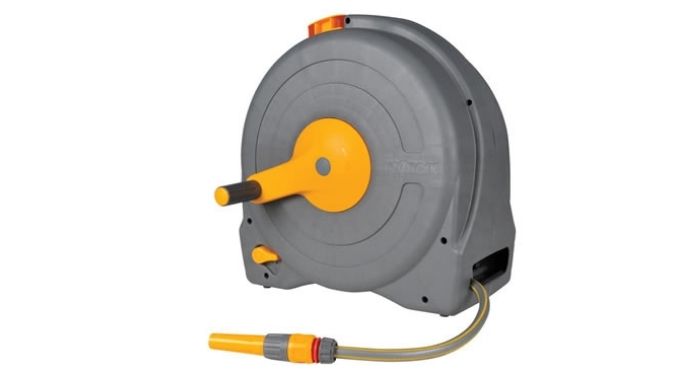 This is one of the heaviest hoses available but it comes with a five-year warranty. Overall, it's an outstanding hose that's also the most user-friendly.
PROS
Already assembled.
Easy to rewind.
Long warranty.
CONS
Large and heavy.
Expensive
Gardena Retractable Hose
This hose is easy to use and good for transport because it stays stable during unwinding. Customers love the angled connector, which lowers the danger of kinking, and the hose is lightweight but still seems durable.
This is the greatest lightweight bigger reel with a five-year warranty.
PROS
Easy to carry.
Lightweight
Long warranty.
CONS
Hozelock 2435 0000
This 50-metre-long hose is the finest garden hose for you if you have a lengthy garden or a garden with hard-to-reach faucets. Because the hose cart is designed to be wheeled, you can use it wherever you wish.
The advantage of this design is that if you wish to water a specific section, you simply clip your hose to the frame.
The main drawback is that because of the hose's length, you must manually wound it back up after you're done because there is no spring-activated mechanism. However, you may consider this as a benefit because there will be one less thing to break!
PROS
50-metre-long hose.
Good for a large garden.
CONS
Must manually wind it back up as there is no spring-activated.
Best Garden Soaker Hose
Draper 15 Meter Soaker Hose
A 'soaker' hose differs from a regular hose in a few ways. It's designed to be placed in your beds or borders to water a specific area, such as a rose bed, an allotment, or a vegetable patch.
This brand provides a high-quality device that reliably distributes water uniformly throughout a certain region.
The hose features a lot of holes for sprinkling water on a flower garden or lawn to give it a nice soak. This is an excellent and dependable budget purchase.
PROS
CONS
The nozzle leaks sometimes according to reviews.
Hozelock Porous Soaker Hose
The Hozelock Soaker Hose by reputed brand Hozelock comes with an excellent 2-year warranty and is available in 10m, 15m, or 25m.
It comes with connectors so you can link it to other soaker hoses, which is great if you have a big garden and need to cover a lot of territories.
The Hozelock Soaker Hose can also be buried in your garden, which will assist the water reach even deeper into the roots of the plants.
It won't be very effective if water is simply sprayed on the ground's surface and then evaporates. By burying it, you are truly maximising the use of water.
PROS
2-year warranty.
Connectors included.
CONS
It won't be very effective if water is simply sprayed on the ground's surface.
HydroSure Soaker Hose
This hose is of excellent quality and comes with connections. The Hydrosure Soaker Hose has the added benefit of being made from recycled tyres!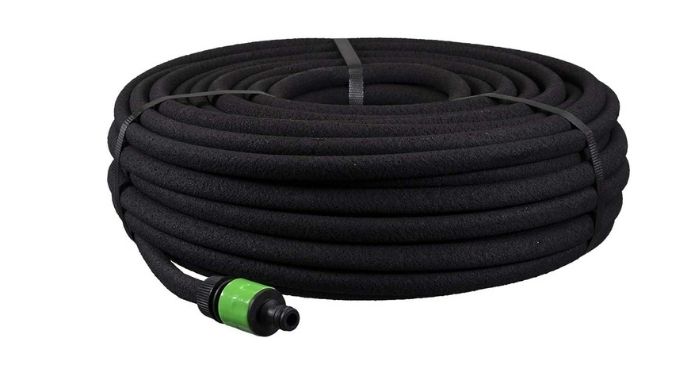 This is great to watch, as it helps to reduce carbon emissions and make the world a better place.
PROS
Can be buried 15cm underground to save water.
Affordable
CONS
Reviews say the quality is not good.
AF Garden Supplies Porous Pipe
This soaker hose is manufactured in the United Kingdom from recycled materials! It measures 25 metres in length and is ideal for small to medium-sized gardens.
It comes with connections to link it to your current Hozelock hose pipe (also works with other brands), so if you already have one, you should have everything you need to get started using this hose right away.
PROS
Comes with connections.
Affordable
CONS
Awkward to set up the reviews mention.
Karcher Soaker Hose
Karcher, a well-known maker of high-quality water products, has created an excellent soaker hose! To fit your garden's demands, we have 10m and 25m lengths available.
If you don't already have them, you'll need to acquire a few additional components to get this soaker hose to operate.
It's part of the Karcher Rain Irrigation System, which includes a wide range of devices that work together to create a massive watering paradise.
PROS
CONS
Need to add extra products for it to work.
Best Coil Garden Hose
GHN-06 Heavy-Duty Coil Garden Hose (
In comparison to the other things, it provides its users with some more advanced and beneficial functions. That is why, if the length is ideal for you, we propose this. This hose comes with a spray nozzle with seven spray patterns.
The tool's handle has an anti-slip rubber grip that makes it easy to use. Even after the water has been added, the handle remains non-slip. You can also change the water control valve on the sprayer to control the flow of water.
PROS
Provides more advanced functions.
The rubber grip is easy to use.
CONS
Quality is known to not be the best.
Orbit 27389 Coil Garden Hose
The coil hose returns to its original size on its own. However, some hoses do not collapse after prolonged use. Even after extended and hard use, this orbit coil hose recovers to its original shape. As a result, you will never have a storage issue with it.
It can be used for any type of outdoor watering, although it is not advised for providing hot water. Furthermore, because the manufacturer does not disclose such information, you should use this for drinking water as well.
PROS
Returns to original size.
Durable
CONS
Not the cheapest option available.
Better Boat Hose
This hose is made of high-quality, ultra-durable rubber that will endure a long time. Anti-corrosion brass fittings also last longer than other, less expensive materials. The hose's strength qualifies it as a heavy-duty component.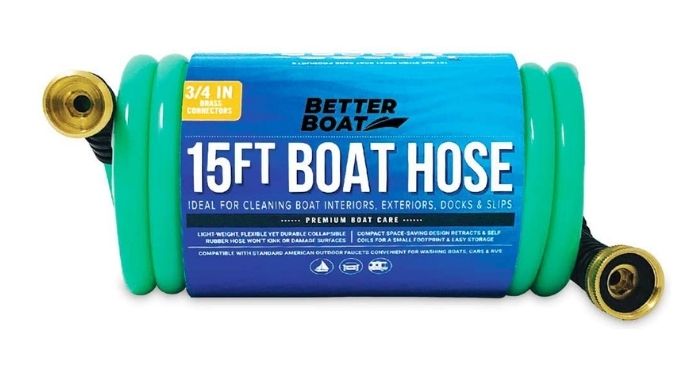 Although it is a multi-purpose hose, it is ideal for watering gardens, cleaning boats, trailers, slips, and decks, and washing cars.
PROS
Affordable
Will endure a long time.
CONS
It is heavy so not suitable for everyone.
Seachoice 79691 Coiled Hose
With the supplied hose, spray nozzle, and brass fittings, the Seachoice coiled garden hose is a full set. As a result, you won't have to pay extra for fittings or a spray nozzle, making it a fantastic value for money alternative for those on a tight budget.
The flexible hose stretches and contracts gently, making it ideal for use in tight locations. You may also store the hose in any location because of its strong retracting ability.
When not in use, it needs to be stored properly over the winter and away from direct sunlight. This will ensure that it lasts longer.
PROS
Includes spray nozzle.
Durable
CONS
Expensive
Must avoid sunlight when not in use.
Whitecap 15 Coiled Hose
With its flexibility, lightweight, and captivating water flow rate, this garden hose will make watering and gardening easier.
To prevent damage, the hose is composed of polyurethane and contains numerous layers. The fittings are constructed of brass and will not rust. Finally, this garden hose would be a good addition to your inventory for routine jobs due to its affordable price.
PROS
Lightweight
Durable
Anti-rust.
Reviews say the quality feels cheap.
Best Flat Garden Hose
Apache 98138045
This product resembles a fire hose and comes with aluminium pin lug fittings, making it ideal for agricultural, vehicle washing, irrigation, and pool draining.
Its operational temperature range is -5°F to 124°F, making it ideal for both cold and warm weather conditions.
PROS
Durable
Can be extended by connecting with other hose pipes.
CONS
Won't fit garden accessories or sprinklers out of the box.
Hydro Maxx Hose
The Hydro Maxx high duty flat discharge hose should be your go-to option if you're looking for a super robust flat hose that can handle not just water but also chemicals (including oils and acids).
This hose is quite versatile, and it may be utilised in a variety of industrial settings, including mining and construction. It has a high-quality PVC lining that adds to the product's longevity and allows it to withstand a high pressure of 6 Bar.
PROS
Available in different sizes.
Easy to store.
Anti-kink.
CONS
Doesn't come with connectors.
Expensive
Melnor 65062-AMZ
This device is backed by a two-year warranty that covers all manufacturing flaws. Unlike most soaker hoses, which can take up a lot of room, this product takes up very little space because of its flat design.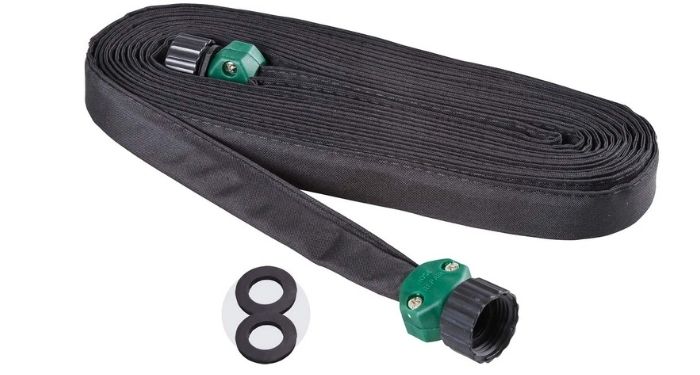 It is designed in such a way that it takes up only 0.035 ft3 of space and is therefore very easy to store. Because the Melnor soaker pipe is so flexible, it's ideal for drip watering.
PROS
2-year warranty.
Durable
Flexible and portable.
CONS
For more advanced gardeners.
Plastic connectors.
Abbot Rubber Hose
This hose is simple to reel, and because it's so long, it's unlikely that you'll need more than one, so there's no need for assembly or coupling.
It's completely constructed and ready to use right out of the box. If you have a garden that is greater than 100 square feet, you should seriously consider purchasing this product.
PROS
Tough
Easy to use.
Quick to the coil.
CONS
Vetroo Hose Pipe
The hose's heavy-duty nozzle sprayer is composed of metal, not plastic like other cheap hoses. This sprayer contains a rust-resistant coating and a water pressure control button.
The type of spray is adjusted by turning the spray nozzle tip to manage flow and pressure.
PROS
Available in different colours.
CONS
Best Wall Mounted Garden Hose
VonHaus Hose Reel
A strewn-out hose on your lawn might be a sight, not to mention a safety danger if your kids are running around playing. Consider this 20-meter hose with an automated rewinding reel that will rewind your hose into a neat wheel located on your wall off the ground.
The hose, as well as the associated attachments and connectors, are of good quality, though some reviewers suggest that it should be mounted with stronger bolts and rawl plugs.
PROS
Safe to use.
20-metre hose.
CONS
Reviews say should come with stronger bolts.
Hozelock Auto Reel
It's wall-mounted, which makes it even easier to get this hose to where you need it because it can pivot at a 180-degree angle as needed.
It's simple to attach to your taps, and the wall bracket can be removed and stored away in the winter. You can count on this garden hose to last a long time.
PROS
CONS
The 30-meter hose might not be needed.
Gardena Wall Mounted Roll Up
It has a self-locking auto-reel mechanism that stops at different increments and then retracts when not in use.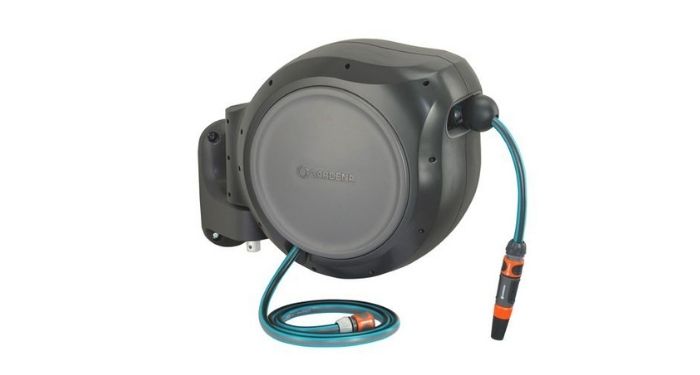 It's wall-mounted on a 180-degree swivel arm for improved reach, and even though it's quite hefty, you won't notice because it's always supported. It also stows away so nicely when not in use.
PROS
Smooth auto-reel.
Frost protection
CONS
Hozelock 2-in-1 Reel
This hose reel is lightweight and portable. The hose is retractable, but it can also be wound by hand with a handle. A threaded tap connector, hose end connectors, and a spray nozzle are included. There are also wall anchors to be found.
You can move the yellow tab on the front of the hose from right to left to allow it to wrap evenly around the reel when rewinding to avoid tangles.
PROS
Has two year-warranty.
Portable
CONS
Instructions aren't clean.
Need tougher screws.
Hozelock 2585
The Hozelock Auto Reel With 40M Hose is a wall-mounted device with a self-layering mechanism that automatically rewinds the hose without kinking it.
You don't have to stand and hold the hose taut while watering because the reel locks automatically.
PROS
Child-proof.
Five-year guarantee.
CONS
The form of the wall bracket makes it impossible to attach it to the wall using certain power screwdrivers or drills.
Best Budget Garden Hose
Callfast Garden Hose
For your watering needs, this is a low-cost and cheery alternative. This is a wonderful buy if you're searching for a simple hosepipe to water your yard.
It's best suited to tiny gardens with convenient access to a water source.
This hose is likely to kink if you must cross curves and tunnels, but you can't expect too much for just over a fiver! This is a good all-around hose.
PROS
Affordable
Simple to use.
CONS
It is more than likely to kink.
Homoze Garden Hose
This Homoze hose is a terrific choice if you're looking for a huge extensible hose on a budget. When it comes to quality and design, it holds its own against its competitors. Under normal water pressure, the hose extends to three times its original size and reaches up to 15 metres.
Once drained, it reverts to its original size, allowing you to store it in the supplied storage bag.
It seems unjust to pick faults at such a low price, but if we had to, we'd point out the plastic fittings and connectors, which come in a variety of sizes to accommodate a variety of faucets.
There are eight settings on the plastic spray gun.
PROS
Affordable
Extends up to three times to its original size.
CONS
Not the best quality hose.
Hozelock 8215 8000
Hozelock's version of the expanding fabric hose, packaged in a little plastic box with everything you need to get started watering.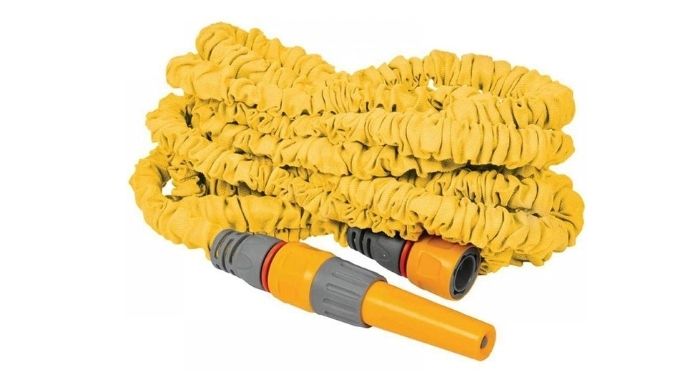 It's hard to think that a wrinkly yellow cloth can be transformed into a 15-meter hosepipe, but it can, and it's remarkably sturdy and resistant to kinking and pinching if you don't let it form any knots.
PROS
Fitt Heavy Hose
It's as tough as old boots, thanks to a knitted reinforcement that prevents twisting and knotting, as well as anti-algae protection and an anti-UV treatment, so you don't have to treat it with kid gloves.
The one-year warranty isn't particularly encouraging, don't let that deter you.
PROS
Twists and knots are prevented.
Good quality.
CONS
Only comes with one year warranty.
Draper 15 Meter
The Soaker hose from Draper Tools is little more than a plain black tube, but that barely matters.
The Soaker is a dependable lawn sprinkler hose that does an excellent job of uniformly spreading water over a big area, making it ideal for allotments or huge areas of the yard.
The hose has a lot of holes and may cover a lot of ground, but the size of the holes isn't always uniform.
PROS
CONS
The size of the holes isn't always consistent.
Sources