What is a Fence Sprayer?
Fence sprayers are designed to pump out paint through a small vent in the nozzle, creating lightweight microdroplets to spray onto your fence. Because the paint is so much lighter in this form, it goes on much more smoothly and evenly than using a paintbrush or roller and does not clump at the bottom of the post.
As a result, the timber will be effectively protected from damp and rot, bringing a new lease of colour and life into your garden.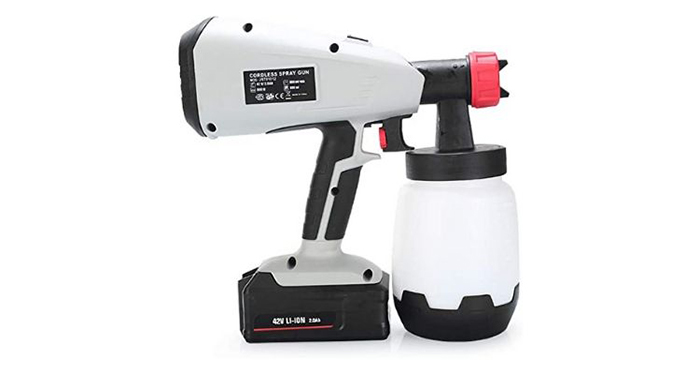 Paint sprayers will often have different settings on the nozzle, allowing for wider or more concentrated streams of paint to be used in different areas. Being able to cover a wide section with each spray will save you time, paint, and money!
The best paint sprayers will be capable of painting most surfaces, including fences, walls and posts in your garden.
If there are plants or pieces of furniture close to the area that you are planning to spray, make sure to cover them up with a sheet to keep them from being painted too!
Types of Fence Sprayer
There are three main types of fence sprayer on the market: corded, cordless, and manual. This section will explain the basics of each, along with some pros and cons to help you decide which suits your needs best.
Electric Fence Sprayer (Corded)
The advantages of having an electrical sprayer are pretty straight forward – there's no remembering to charge it up or replace the batteries, they are energy efficient, and they do most of the work for you.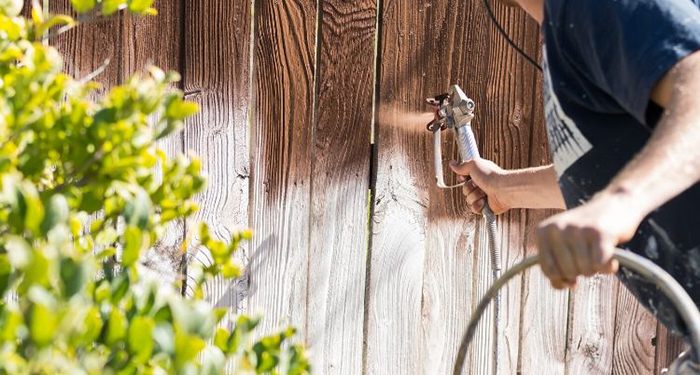 However, there is a slight disadvantage to the cable. You should take into consideration whether the cable will be able to reach the end of your garden or at least remember to have an extension to hand – just in case.
Electric Fence Sprayer (Cordless)
A cordless fence sprayer is generally quite light and versatile, being easily transported around the garden without the faff of extension leads or tangled wires.
They offer the same speed and coverage levels as a corded model, being powered by batteries in place of the restrictive mains-powered cords.
However, being battery powered can raise issues of its own – remembering to replace them. Although some are rechargeable, which saves endless trips to the shop for more batteries and limits waste, charge times can be long and running times short.
Both of these factors should be taken into consideration when deciding between rechargeable or battery replaceable models.
Pump Fence Sprayer
Manual or 'pump' fence sprayers are generally cheaper than electric models, and are both durable and reliable, seeing as they are powered by you rather than depending on pre-charged batteries or a super-long extension lead.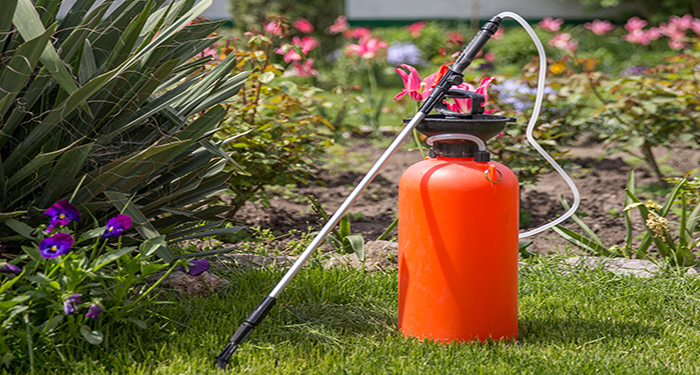 Much like the cordless electric fence sprayers, they are easily portable and still offer a wide coverage.
However, powering a fence sprayer by hand can quickly become tiring, meaning that they are ideal for painting smaller areas rather than the entire garden.
Tips for Using Any Paint Sprayer
Make sure that you buy the right paint to go with your sprayer! The wrong paint types can clog your machine
Consider the weight of the sprayer after you've filled it up – will it be too heavy to carry?
Consider how easy the tank will be to fill, refill, and clean
Do the choice of nozzles and length of the hose suit your needs? Will it be able to reach any awkward angles?
If you're covering a large area, consider how much paint the tank can hold, as well as how fast the stream of paint will be
Remember to always wear safety gear – goggles, a face covering, gloves and overalls
Best Fence Sprayer
After learning about the advantages and disadvantages of each type of paint sprayer, it becomes clear that a one-off investment into buying your own can save you huge amounts of time and money.
To help you further in deciding which product type will best suit you and your garden's needs, here is a roundup of some of the best available fence sprayers on the market:
Wagner Electric Garden Shed & Fence Sprayer
Rated one of the best electric fence paint sprayers, this corded model has a huge amount of 5-star reviews online.
The spray jet is easily adjustable to suit the size of the area, making it versatile in its use for different areas around the garden.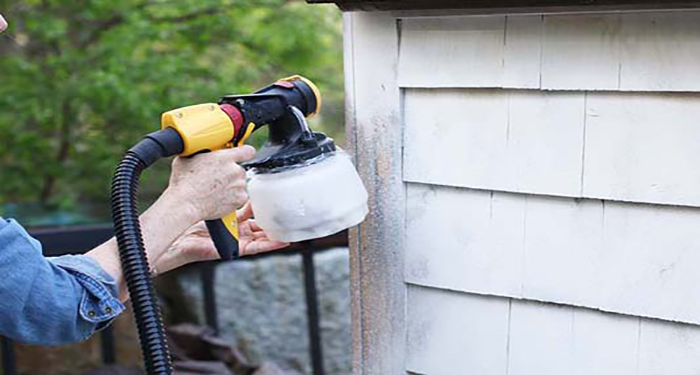 The paint tank is detachable, meaning you have the choice of leaving it on the ground beside you or carrying it on your back using the shoulder strap.
However, the tank does have a smaller capacity of 1.4 litres, so it'll need regular refills if you're using it to paint a large area.
Ronseal Precision Finish Fence Paint Sprayer
This cordless Ronseal fence sprayer is easily adjustable to suit almost any area with several different power and nozzle settings, providing the user great control over the speed and accuracy of the area being painted.
The tank size is generous at 5 litres, making it perfect for covering large areas without having to stop and refill. The cord that attaches the nozzle is short in comparison to some models, meaning that the user could potentially struggle to reach a few cramped areas.
Overall, the reviews of this product are good, and it seems to be a great all-rounder.
Spear & Jackson Pressure Sprayer for Wood Stain
As one of the best sprayers for staining a fence, this manual pump model is great value for money. It has a 3-bar pressure level to keep a consistent stream for a prolonged period of time, sparing you a little less pumping than some other manual sprayers.
It has a 5-litre tank, meaning you aren't wasting time with refilling, and the brass nozzles are easy to clean, preventing clogging. This product is versatile with the things that it can spray, including things like weed killer and water for your plants.
The reviews, averaging at 4 stars, note that thicker paints can easily be used in this sprayer too, advising that you water it down just a little if you're having trouble maintaining a consistent stream.
Cuprinol Pump and Brush Garden Fence Sprayer MPSB
This 2-in-1 Cuprinol fence sprayer is unusual, combining a pump sprayer with a brush that can be used for finishing touches in those hard to reach areas.
With the speed of a sprayer and the control of a brush, this product claims to be able to paint an entire fence panel in only 3 minutes and comes with a 5 year protection.
Its tank is fairly small and is not detachable, yet it is rated one of the best garden fence sprayers online.
Wagner WoodPerfect Fence Sprayer
This corded fence sprayer by Wagner is expensive, but incredibly durable and versatile with the types of wood and metal paint that it can handle.
Ideal for small to medium jobs, it recommends its fine spray for surfaces such as fencing, doors, decking and garden furniture.
This product is light, has fully adjustable paint flow, and guarantees professional results with any water or solvent based paints.
Tacklife SGP15AC 400W Paint Sprayer
This corded Tacklife electric paint sprayer comes with 3 different spray patterns, designed to suit different angles and areas of the garden.
Its quick-refill lid means you are hardly slowed down during bigger garden projects, helping you work quickly and efficiently to get the job done.
The tank is a decent size at 900ml, and all parts are easily detachable for cleaning and prevention of clogging.
Again, this product is quite expensive compared to others, yet its consistent good reviews and flexibility to successfully paint almost any outdoor surface make it a worthy investment.
Fence Sprayer Hire
Now comes the decision between buying and renting out a paint sprayer, and this decision really depends on what you need it for – is it a one off, small paint job? Or a bigger project that may need multiple coats throughout the year?
While buying a paint sprayer is often considerably more expensive than renting, this ceases to be the case if you would need to rent it often.
This depends on the needs of your current project, and the needs of potential projects to come. For example, if you are only painting a small area, then renting out a sprayer for a few hours could be the cheapest option.
One of the unexpected benefits of renting is quality, allowing you to use high-end tools for a fraction of the retail price.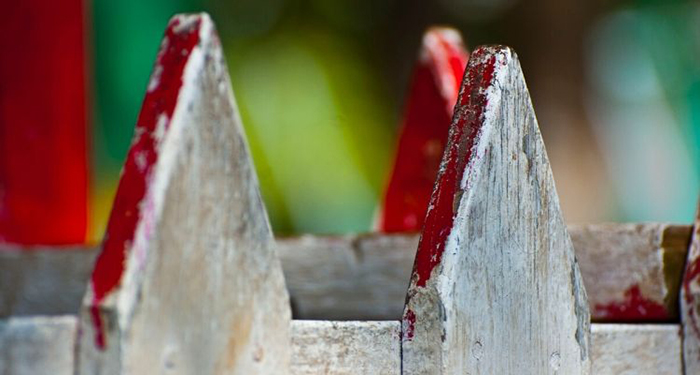 However, if you're looking to paint the entire fence of a very large garden or shed, or maybe even the exterior of your house, then investing in a paint sprayer could save you a lot of money in the long term.
There are lots of places from which you can hire some of the very best fence sprayers, with the most reliable usually being local tool stations. These places can be easily found with a quick search on the internet.
High-end equipment for hire generally ranges from about £50-£70 for the day, or £200-£300 for a week. If you're determined to use only the very best equipment in your small project, then this is definitely a cheap way to do so.
However, there are lots of cheaper and good value for money products that you can buy and keep for a fraction of the price, saving you money in the long run.
Smaller, independent renters in your local area may charge less, but they may also have less sophisticated fence sprayers than some tool hire companies do.
The trick is to shop around and make inquiries with lots of different businesses in order to find the price that suits you.
Cost of Painting Fences
Often, people will turn to hiring a contractor to paint their garden fence to avoid the usually tedious task themselves.
Although this can be a blessing if you have the spare cash to do so, hiring a professional can be incredibly expensive, and may not be worth it if you can achieve the same results with your own fence sprayer for a fraction of the price.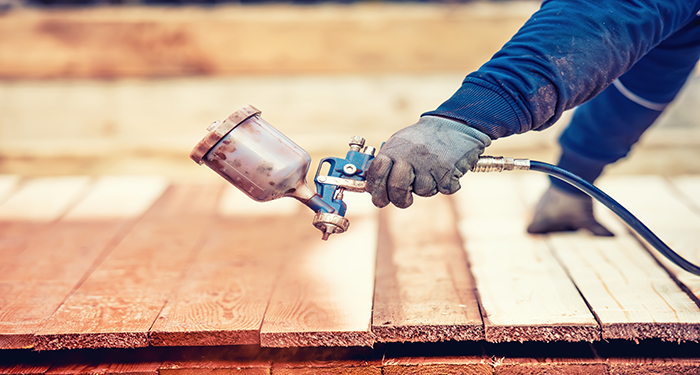 Painting a fence is usually less expensive than staining but may require more preparation to the wood before work can begin, and needs topping up more frequently.
Staining is initially pricier but tends to last longer and there is less preparation needed before the workers can begin.
Although the job is not difficult, it can be very time consuming, wracking up the bill with the longer it takes the contractor to complete the job.
Here is guideline to typical costs of hiring a contractor:
| JOB DESCRIPTION | DURATION | MATERIAL COST | LABOUR COST |
| --- | --- | --- | --- |
| 8 panels, 2m x 2m each | 1 day | £20 | £150 |
| 12 panels, 2m x 2m each | 1-2 days | £40 | £225 |
| 8 panels, 1m x 2m each | 4-6 hours | £20 | £100 |
| 12 panels, 1m x 2m each | 6-8 hours | £20 | £125 |
| 12 panels, 2m x 2m each | 1-2 days | £40 | £225 |
FAQs
What is the best fence paint sprayer to use for larger areas?
Electric fence sprayers tend to be the better option when it comes to spraying larger areas. Pump sprayers require physical exertion, which can quickly become tiring if you use it for a longer time.
Can I spray synthetic paints or just water-based paints?
Most fence paint sprayers will enable you to work with all paint types, but it is definitely worth checking the product description before you commit.
Paint sprayers are generally divided into spraying lacquer paint, emulsion paint, or both. For example, the Spear & Jackson Pressure Sprayer and similar models from Ronseal and Cuprinol are specifically tailored to successfully spray both types, making them generally more versatile.
Will I use more or less paint with paint spraying when compared to conventional rolling?
You will use less paint. The paint is turned into smaller droplets, making them lighter. This means that it goes on much more smoothly than using a paintbrush or roller, saving you unnecessary layers of paint.
How many nozzles/settings should I expect from my fence sprayer?
Ideally your fence paint sprayer will have at least two spray settings or nozzles, allowing you to spray both wide areas and narrow corners, streamlining the spray to suit the area you need covering.
Am I limited in the types of surfaces I can use my paint sprayer on?
Most fence sprayers are designed specifically for wood paints and stains, and so to use different surface paints would risk clogging and breaking your machine.
If you're looking for a multi-use sprayer, you need to look at the product descriptions carefully. For example, the Wagner WoodPerfect Fence Sprayer is designed to handle both wood and metal paints.
Sources