Introduction to the Best Combi Boilers
Below you will find everything you need to know about combi boilers, including regulations, costs and benefits, as well as advise you on the best combi boilers available.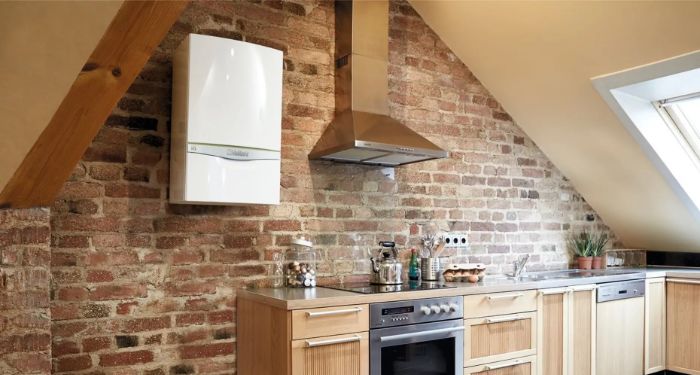 What is a Combi Boiler?
A combi or combination boiler is a singular compact unit which features a high-efficiency water heater and a central heating boiler to power both heating and water.
Many homeowners prefer combi boilers as they are both efficient and cost-effective due to their ability to heat water instantly without the need for a cylinder.
How Does a Combi Boiler Work?
A combi boiler works by directly heating water from the main supply which occurs when turning on a hot tap, as this powers up the heat exchange transfer system which enables on-demand heating and hot water.
This is what separates them from other boilers which require water storage tanks to produce hot water.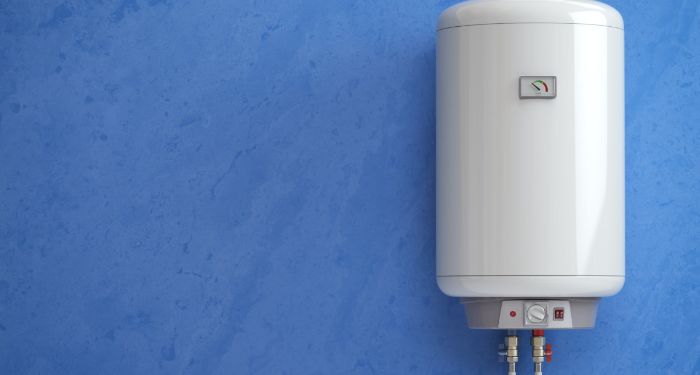 The majority of combi boilers use oil as a fuel, however, an LPG combi boiler will require Liquid Propane Gas which can be delivered and stored in a tank outside of your home.
Advantages of Installing a Combi Boiler
Before purchasing a combi boiler, you should consider the following benefits to ensure a combi boiler is right for you.
Efficiency
A combi boiler is one of the most efficient boilers available, with a 90% efficiency rating.
The reason for its high level of efficiency is that combination boilers only heat up water when you need it, unlike older models where water is stored in a cylinder and take longer to heat up.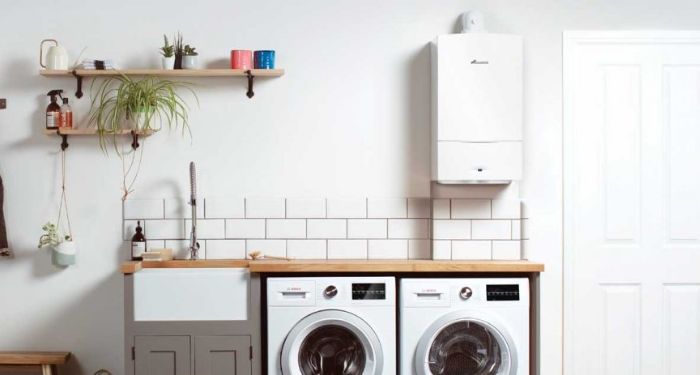 Combination boilers operate by delivering water via the mains pressure which enables better water flow and makes your shower more powerful without the use of a pump.
Cost-effective
The main function of combi boilers is to heat water on-demand instead of wasting it in a storage tank.
This helps to reduce utility bills as less water and heating is used in the long run. In fact, homeowners can actually save up to £300 or more in a year when making the switch to a combi boiler.
Combi boilers are also easier to install, therefore installation costs will be much lower than traditional-style boilers.
This is because combi boilers only have one compact unit, where system boiler installation involves fitting the boiler as well as the storage tank.
Compact
Combination boilers are the perfect choice for anyone living in a small property, as their compact size means they take up less living space.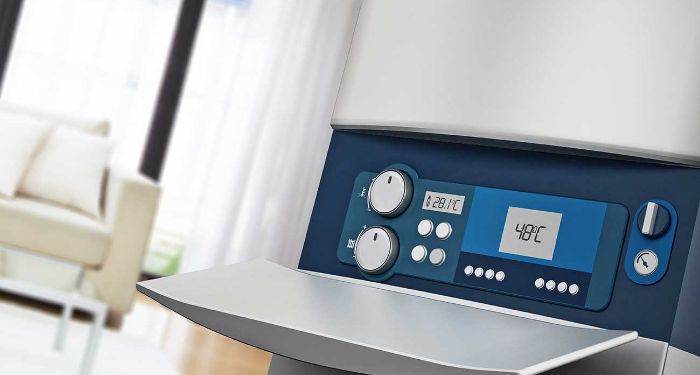 Due to their size, combi boilers are usually installed in airing cupboards where they are easy to access and are out of sight.
Hygienic
Installing a combi boiler in your home can also make the water in your home much cleaner.
This is because the water is directly funnelled through the mains which enables water to become more hygienic for both washing and drinking.
Low-maintenance
Another benefit of choosing a combi boiler is that they are a lot cleaner as they tend to have less sludge build-up due to the water being directly fed from the mains, unlike storage tanks which are susceptible to rust and debris.
Combi boilers are also a lot easier to service, as they are much smaller than regular tanks and are also very popular which means you should always have access to an engineer if you face any issues.
Best Combi Boiler Review
If you are asking yourself the question which is the best combi boiler, you should take a look at the following guide which lays out the best combi boiler types and the associated costs as well as the pros and cons of each.
Viessman Vitodens 050-W Combi Review
One of the best-rated combi boilers is the Viessman Vitodens 050-W Combi which is ultra-compact at just 707mm in height. This is one of the best small combi boiler models with two heat output options including 29kW and 35kW.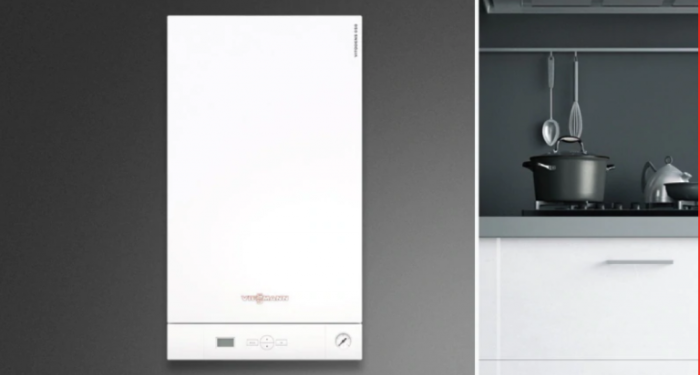 The main benefit of this combi boiler is that is low-budget with prices ranging from £800 to £1100.
This boiler is also very robust as it features a stainless steel exchanger which is built to last, while also reducing the amount of maintenance required.
The downside of this boiler is that it is not ideal for homes with more than three bedrooms, as it is compact and therefore does not accommodate larger properties with more than ten radiators.
Vaillant ecoTEC exclusive Combi Review
Another highly recommended combi boiler is the Vaillant ecoTEC exclusive model which is available in numerous outputs including 35kW and 43kW.
This is a wall-mounting boiler which operates on gas fuel, although there is the option for LPG conversion.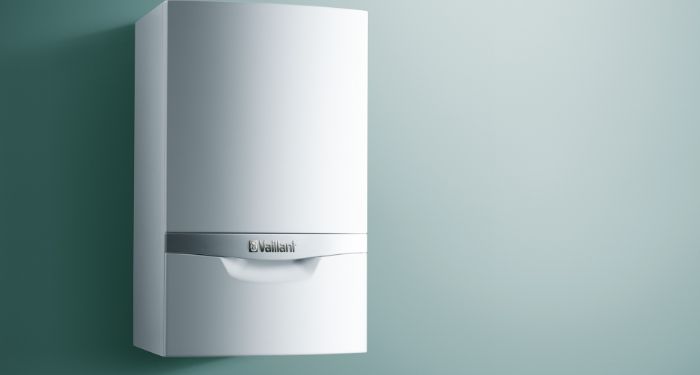 The retail price for this boiler is around £1400 to £1800.
If you are wondering what is the best combi boiler for a large house, this model is ideal as it boasts an impressive 17 litres of hot water per minute.
It Is also one of the most eco-friendly boiler models as it is made from 85% renewable materials.
The ecoTEC exclusive boiler is also compatible with smart thermostats including Hive and Nest which will help you reduce your energy bills and carbon footprint.
If you do not have high water pressure then this boiler may not be the best option, as this boiler requires high pressure to perform at its highest capacity.
It may also not be suitable if you live in a small property, as it is designed to heat a home with around fifteen to twenty radiators.
Worcester Greenstar 30i Review
This combination boiler is another highly-rated appliance that features a 24kW heating output and a 30kW hot water output, while also supplying 12.3 litres of water per minute.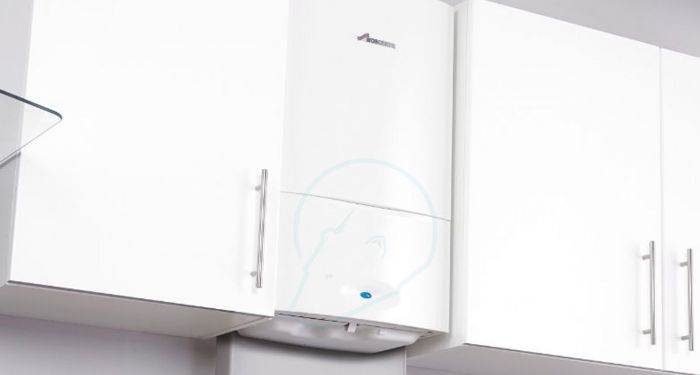 You should expect to pay around £1000 to £1400 for this combi boiler.
The Worcester Greenstar 30i features a simple panel design which makes servicing extremely easy, so you can save a significant amount on maintenance fees.
Another advantage of choosing this boiler is that is extremely energy-efficiency and has a rating of around 93%.
This combi boiler is not ideal for properties with more than three bedrooms and two bathrooms, as it does not have the capacity to support more than ten radiators or additional hot water outlets.
Baxi 800 platinum+ 40kW Combi Review
This platinum Baxi combi boiler is a wall-mounted appliance which has an impressive 40kW heat output and a flow rate of around 16.4 litres per minute.
The average cost of this boiler is around £1300 to £1600.
This boiler has numerous benefits including its built-in frost thermometer which is in place to ensure the water in your boiler never freezes over during the winter months.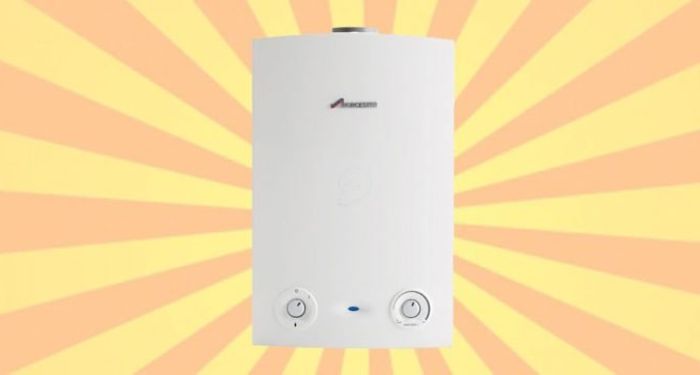 This ensures space flexibility, especially in smaller properties where there may not be enough room in the house, so the boiler can be installed a garage where it will be protected.
The downfalls of choosing this boiler is that is quite costly for its size. It is also susceptible to faults according to the best combi boiler reviews which could mean it may be unreliable.
Ideal Logic+ 30kW Combi Review
This combination boiler is designed for mid-range properties with three to four-bedroom and one to two bathrooms. It features an outdoor sensor which monitors the temperature outside and enables a change in water flow.
The ideal Logic+ combi boiler costs around £800 to £900, which is one of the cheap combi boiler models.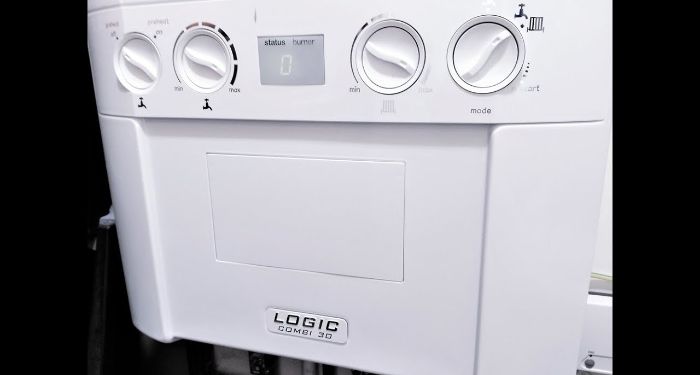 One of the main benefits of Ideal Logic+ boiler is that It features a radio frequency electronic programmer which enables you to control the heating on a simple dashboard while also offering holiday mode settings.
It also provides an efficiency rating of 91% that makes it one of the best value combi boiler models.
A downside of opting for this combi boiler is that it is not ideal for larger properties as the output is not big enough. In comparison to other boilers, it has a shorter warranty of just seven years which may not be suitable.
Cost to Install a Combi Boiler
Now you are aware of the boiler only expenses, you need to consider installation prices to work out exactly how much your combi boiler installation will cost.
To install a combi boiler, you will need to hire a qualified heating engineer who will charge around £150 to £350 per day depending on what the job entails.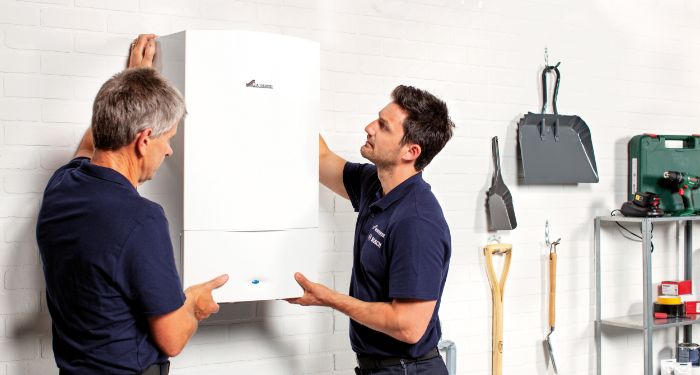 The overall installation cost for a combi boiler starts from £600 to replace an existing boiler with the exact same model. If you wish to install your combi boiler in a location then you should expect to pay around £1600 or £2500 if replacing a conventional boiler.
Boiler Regulations
Before hiring a professional engineer to install your new combi boiler, it is important that you understand the current regulations regarding boiler installation.
It is unlikely that you will be required to apply for building regulations approval to replace a boiler, however, regulations must be met to ensure your boiler fitting is compliant.
To do this, you will need to hire a tradesman who is listed under the competent person's scheme while also making sure that you choose an appropriate engineer for the particular boiler fuel type.
For instance, a gas safe engineer is qualified to fit a gas boiler as long as they are registered after the 1st of April 2009.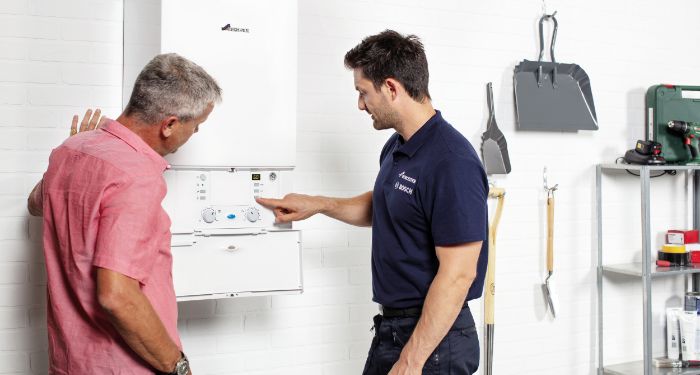 If you do not hire a person who is an approved person, then the person conducted the work cannot self-certify the installation.
Instead, you would need to notify your local council and inform them of the work which will involve paying a notification fee.
Your local authority may then decide to check the work with an approved installer to ensure everything is compliant and if not then you may have to pay for them to remove and replace the boiler in accordance with the current guidelines.
The boiler itself must also meet certain regulations, as any boiler fitting must have an efficiency rating of at least 85% for oil and 86% for gas. This should be assessed by an installer before fixing it in place.
FAQs
Q. What type of shower can you have with a combi boiler?
A: As combi boilers are powered by the main supply which makes them compatible with various models including electric, power, mixer, thermostatic mixer, digital, and smart showers.
However, out of all the shower options, mixer showers will offer you the best water pressure, while also providing a great aesthetic for your bathroom.
Q: Where should a combi boiler be installed?
A: Combi boilers are ideal for small properties which have limited space as there is no need to make room for a water storage tank.
Combination boilers are compact units which can fit virtually anywhere including kitchen cupboards, lofts, garages, airing cupboards and more.
Q: Do combi boilers lose pressure?
A: Like any boiler, combi boilers can lose pressure, which basically means it is losing water. However, it is more problematic with this particular boiler as combination boilers rely on constant pressure to function properly.
If you notice that your combi boiler is losing pressure, then you can check the built-in pressure gauge which will flag up any pressure issues.
If this happens, then you should call a qualified engineer to assess your boiler and troubleshoot the issue.
Q: Can a combi boiler run two showers?
A: Combi boilers with a high kW output can help with the flow rate of the water, however, experts advise that you should not use two showers at the same time regardless of high the output is.
Q: Is a combi boiler powered with gas or electric?
A: You can purchase both gas and electric combi boilers, with the only difference being electric combi boilers are powered by electricity alone. The latter may be an option if your property is not connected to a mains gas network.
Electric combi boilers are also more eco-efficient, however, the running costs are more expensive than gas combi boilers, although the actual boiler is cheaper to purchase.
Sources