Introduction to Raised Beds
Raised garden beds are an alternative option to conventional plant growth mediums. We will look at topics such as brick raised beds, sleeper raised beds and stone raised beds as well as raised garden beds for vegetables and herbs.
This article will be helpful if you are interested in raised bed gardening and in becoming a raised bed planter.
Our guide will help with finding the best materials you could use for a raised bed, where you can buy such materials and by laying out the pros and cons of different types of raised garden beds.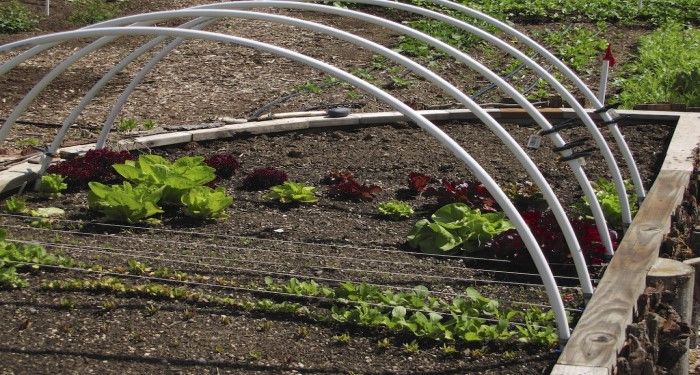 What is a Raised Bed?
A raised garden bed is a sizeable planting container which is positioned aboveground. It is filled with soil and plants. Raised beds are popular due to the various benefits they offer compared to growing plants directly from the ground.
It's possible to purchase the individual materials for a DIY approach but raised bed kits also exist.
These options also play a role in the popularity of raised garden beds. Raised beds are generally used to grow small plots of flowers or/and vegetables.
Some of the advantages of a raised bed include their ability to prevent soil compaction, good drainage and the creation of a barrier to prevent pests from accessing your plants.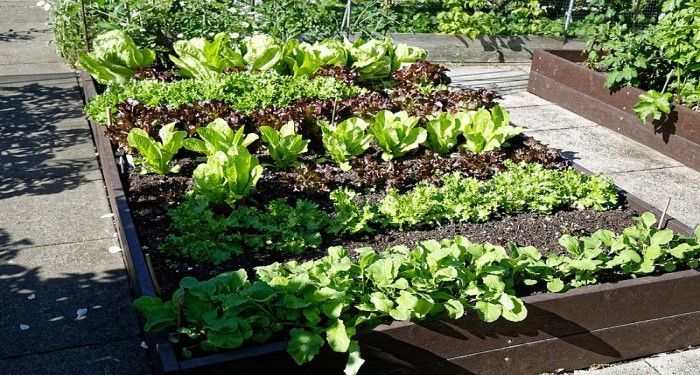 Brick Raised Beds Ideas
For this section we will discuss brick raised beds. We will consider topics such as the pros and cons of these types of raised beds, which bricks are best to use and where you could buy the materials needed to build a brick raised bed garden.
Brick raised beds are used for plant growth aboveground. You may consider making a raised flower bed, raised vegetable bed or a raised garden bed for multi-purpose use.
Some of the pros with this type of raised bed are sturdiness, increased longevity and the benefits of having higher side walls which offer better stability than various other materials.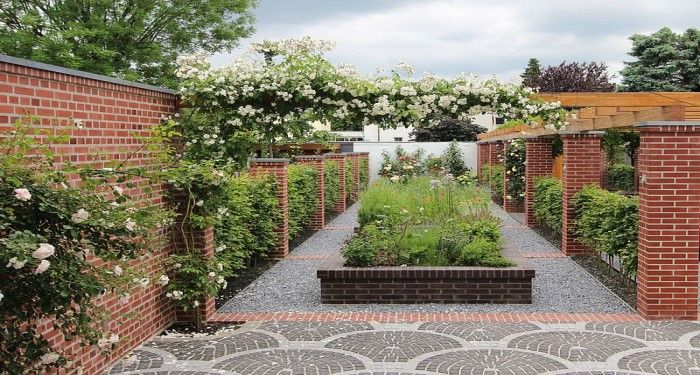 Among the cons is the fact that brick raised beds may require a certain degree of decorating to bring up its aesthetics. Other cons include the cost and increased difficulty in building a brick raised bed.
Brick raised beds can be built in your back garden and there are few limitations in terms of where exactly in your garden the build could take place. You still want to ensure that the raised bed has access to sunlight.
The estimated cost of materials for a brick raised bed is about £400 to £600. Cement bricks or other bricks designed to better resist water damage for a long period of time are the best choices for building a brick raised bed with.
You can purchase bricks from DIY stores such as Homebase, B&Q and Wickes. There are also specific brick providers including Brick Express and Brick Link. Online stores will also allow you to buy materials for a DIY raised garden bed.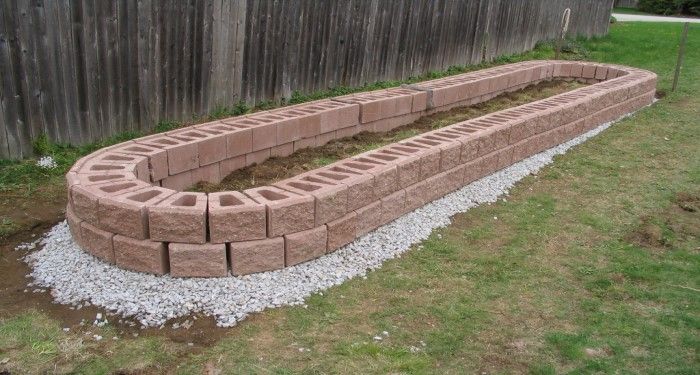 It's possible to build a raised bed with reclaimed bricks if you would prefer. You can purchase reclaimed bricks through a variety of services such as Hadley Reclaimed and Authentic Reclamation.
By utilising a search engine, you can type the name of your local area followed by the words 'reclaimed bricks' before searching to find any nearby suppliers.
You can grow flowers and vegetables of various kinds in a brick raised bed such as onions, potatoes or calendula flowers.
Sleeper Raised Bed Ideas
Among raised bed garden ideas to choose from is a sleeper raised bed which we will analyse in this section. We will delve into considerations such as their cost and where you can find reclaimed sleepers. A sleeper raised bed is built using stocky sleepers made from hard or softwood.
Pine, oak and timber are among the most popular materials used for a sleeper raised bed frame. Sleeper raised beds are used for growing plants although usually this will exclude organic food due to chemical-related concerns.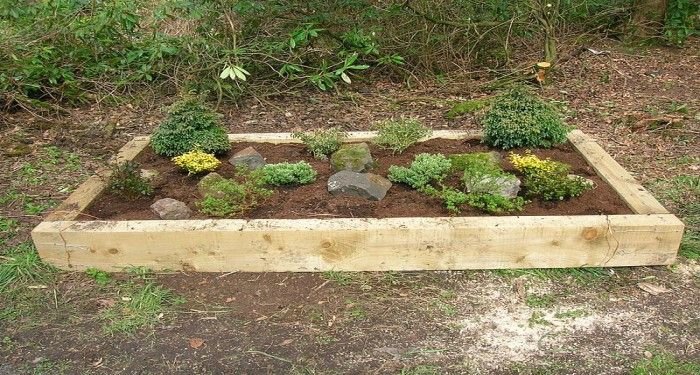 Advantages to having a sleeper raised bed include a good aesthetic, it's relatively easy to construct and it offers high versatility.
Disadvantages include reduced longevity compared to brick raised beds due to the material used, the likely need for yearly preservative treatment of the wood and the risk of chemicals from the preservatives making their way into the soil.
You can probably place a sleeper raised bed anywhere that you'd like in the garden so long as its access to sunlight is not blocked.
The material cost of a sleeper raised bed will likely land somewhere between £20 and £30. It may cost an additional £100 to £400 to add reinforcing bars. Many suppliers across the UK sell wooden sleepers including Wickes, UK Sleepers and Lawsons.
You can also purchase sleepers through online stores such as eBay and Amazon. Reclaimed sleepers can also be obtained via online stores as well as from suppliers such as UK Sleepers.
Once more a search engine can be used to find suppliers in your local region. You can grow most plants in a sleeper raised bed although you might decide against growing organic food due to preservatives from the treatment that the wood will likely need.
Stone Raised Bed Ideas
We will now discuss stone raised beds. In this section we will answer questions such as what the pros and cons of this type of raised bed are, what stone can be used and what you can plant in a stone raised bed.
With a range of options in visual style, this version of a raised bed comprises stones lined atop one another to form the exterior of a raised garden bed with flat, oval or more rectangular stones among the options for this type of build.
A stone raised bed is generally employed for growing flowers or/and vegetables.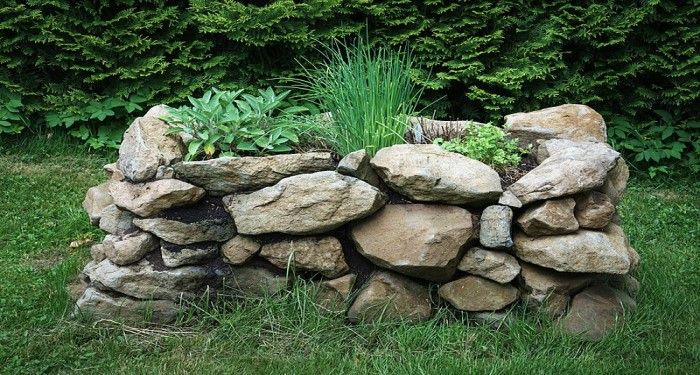 Some of the benefits of a stone raised bed are the fact that the stones can come in many different shapes, sizes and colours as well as stone having increased longevity compared to most materials. Stone raised beds are among the best to use for coming up with raised flower bed ideas.
The downsides of a stone raised bed include the cost and the likelihood that building a stone raised bed will prove more complicated than most. This is due in part to the variation in size and shape from stone to stone.
Stone raised beds can be located practically anywhere in the garden once they can see the sun. A stone raised bed may cost £400 or more depending on the type of stone used and the size of the raised bed.
Of course, cheaper stone is available with many slate stones on sale for lower prices than most stones.
Types of stone you might utilise include weathered Chilton, slate and gravel. You can purchase stone from DIY stores such as B&Q, Homebase and B&M. Stone can also be bought through stores online like eBay.
The best type of stone to use for a raised garden bed is arguably slate although weathered Chilton is an interesting consideration that is used by some.
Plants like tomatoes and cleome flowers among many others can be grown in a stone raised bed.
Ideas for Raised Beds for Vegetables
In this section we will discuss raised bed ideas for vegetables. We will look at the required characteristics of a vegetable raised bed, what the best vegetable raised beds are made from and what the ideal location is for a raised vegetable bed among several other topics.
A vegetable raised bed is a garden raised bed designed and used primarily, if not exclusively for cultivating vegetables.
This kind of raised bed will need sufficient room for vegetables to grow (including adequate soil depth), access to sunlight, the best protection from pests, a nutrient-rich environment and high enough sides for the specific crops that you're growing.
Certain vegetables can have added requirements compared to most vegetables.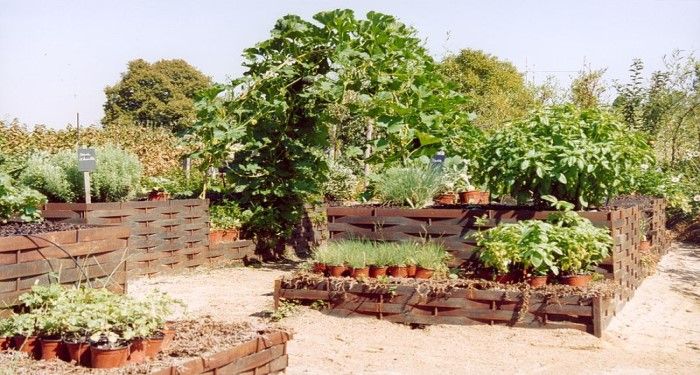 Double-digging may be required for vegetables with roots that extend further beneath the surface than most. A high-sided raised garden bed will protect against pests including snails and slugs.
Ways to keep other animals such as crows at bay include using an aluminium screening, fishing line or reusable plastic netting.
A form of bird netting can also help to protect against butterflies and other insects. Bird scare lines can be used too which are devices designed to make sounds to deter certain animals.
You should probably not make a vegetable raised bed with wood since this will likely require annual preservative wood treatment which in turn can be harmful to your crops.
You should also take caution when it comes to any metallic materials for a raised vegetable bed. A stone or brick-based raised bed is preferable. These types of raised beds are also some of the longest lasting types of raised garden beds.
Raised beds made from stone or brick with high sides and sufficient depth and surface room make for the best type of raised bed for growing vegetables.
It's important that a raised vegetable bed is located in a part of the garden where it can easily access sunlight and is protected from pests.
While you can install protections such as netting, you should avoid setting up your raised vegetable bed too close to trees or bushes which may be filled with insects.
If you have children, you might want to consider where would be the best spot in your garden to avoid undesired interference.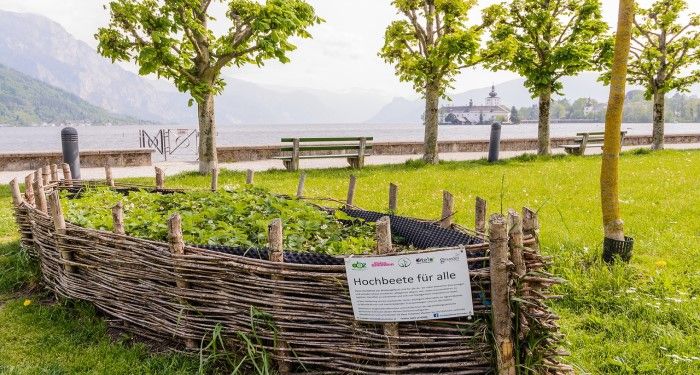 For example, if your children play football in the garden, where could the raised bed be placed to reduce the chances of a ball landing in the vegetable plot and causing damage? These sorts of considerations can help you figure out the ideal spot for a raised vegetable bed.
Ideas for Raised Beds for Herbs
In this section we will discuss using raised garden beds for herbs. We will look into areas such as the characteristics needed for herb raised beds, the protection required to deter pests and the best type of raised bed to use for growing herbs.
This type of raised bed is utilised for growing herbs in a garden. Raised herb beds, like raised vegetable beds, require the right amount of room for growth, direct exposure to sunlight and preferably should be made from a material other than wood to avoid issues related to wood preservative treatment.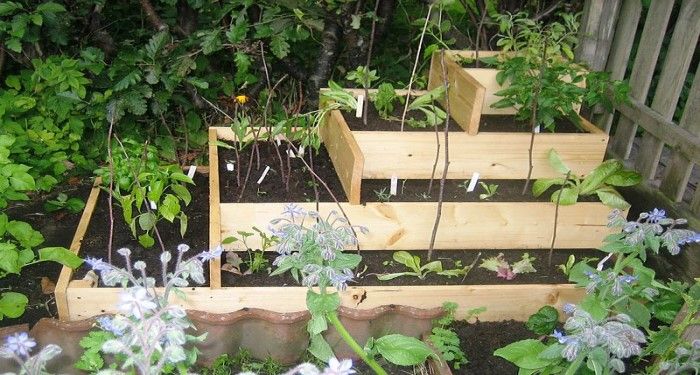 You should also be cautious of using any metallic materials for a raised herb bed and this includes reinforced bars. Some of the pests that could threaten your herbs include aphids, spider mites and mealybugs.
Adding a net is arguably the best first measure to take but since many of these pests are especially small, an insecticide may prove necessary. Some herbs actually deter many pests however including basil and garlic.
As with vegetable production, stone or brick raised beds are probably the best options. Ideally, your raised herb bed should be built using one of the two aforementioned materials, have sufficient depth and be high-sided to protect against pests.
Similar considerations as with a raised vegetable bed should be taken for choosing a location. Access to sunlight and open space, minimal risk of pests and safety from garden activities should all be taken into account.
Corner Raised Bed Ideas
We will now discuss corner raised beds. For this section we will discuss the best location for a corner raised bed, its advantages and disadvantages and what you can plant in this type of raised bed alongside other relevant topics.
This type of raised garden bed as the name suggests is located in the corner of a garden. You will want to find a corner of your garden which is most suited for this version of a raised bed.
Ensuring that the corner you place it in has enough access to the sun and rain are important considerations. You may also prefer one corner over another for aesthetic reasons.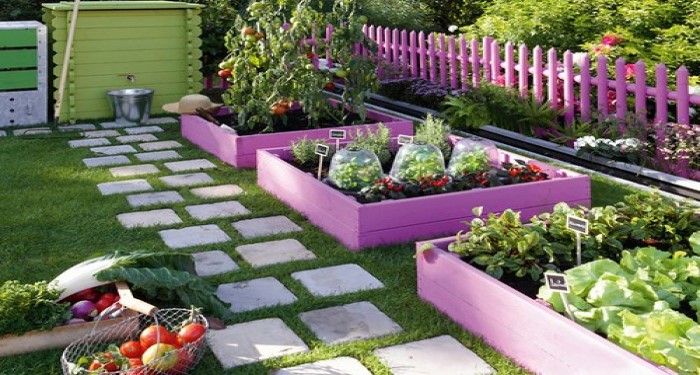 The pros of having a corner raised bed include its potential aesthetic benefits and its likelihood of being cheaper. Among the cons are the level of building difficulty, limited room for error in construction and limited location choices.
A corner raised bed may be made from brick, wooden sleepers, stone or metal among other materials. Any limitations in material use will depend on what you intend to grow in a corner raised bed.
As discussed earlier, you should probably avoid building a raised bed from wood if you plan to grow edible plants such as onions or potatoes. Assuming you have taken this consideration into account, any flower or vegetable which is grown in your region should be able to grow in a corner raised bed.
Sources