Introduction to Pergola Ideas
It can be a tough task to create a comfortable, stylish and practical outdoor area to use in the summer.
Even in Britain's fairly mild weather, those bright sunny days can really create a little bit of an issue, especially if you don't have any trees or bushes nearby that can provide a little shade.
If you find yourself in this position each year, we may have the answer to your prayers in the form of a Pergola.
This article is all about pergolas; we'll tell you what they are, how to erect them, how to decorate them and all the different types of pergola you can buy, along with some brilliant ideas that you can apply in your own garden!
What is a Pergola?
A Pergola is an outdoor structure that lends a ton of aesthetic and practical benefits to your garden, yard or terrace.
Pergolas are typically made from wooden beams and posts attached either against a wall in a 'lean-to' fashion, or they can be freestanding, with an option to either leave the roof of the pergola uncovered or with different roof materials to create a sunshade.
Now, pergolas can be left completely bare down to the posts and beams, and by themselves, they look impressive in a garden or patio setting, but they can also be equipped with curtains, blinds or canvas if you prefer this aesthetic, with some going as far as installing floor spotlights to create a more dramatic effect.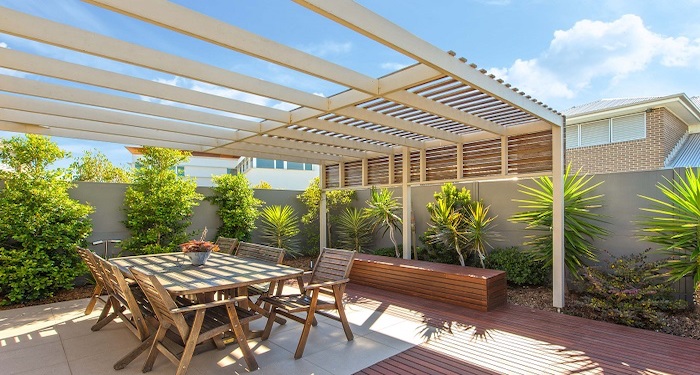 For a more wildly natural look, you can even let plants and flowers grow up the posts of the pergola, with vines and other similar plants being a popular choice for this kind of look.
A lot of people mistake a pergola for a gazebo or marquee. The main difference is that a gazebo or marquee is a type of tent which is quickly erected for events and parties, and while they serve a similar purpose to a pergola, they are miles away in terms of quality.
Also, gazebos tend to be covered on all sides and the roof, not generally allowing for the same openness that a pergola does.
Patio Pergola Ideas
Pergolas on patios are a great option if you're looking to add a touch of class to the outdoor areas of your home.
Typically, patios are used most for garden furniture such as chairs, benches and outdoor dining table sets, so the addition of a pergola can really boost the style of these types of spaces.
The first option you have is to install a pergola with the common 'lean-to' style where the pergola is attached to your home.
This would create a wonderful, covered area on your patio while still being almost a part of your home, making dinners on a summers evening more akin to that of a relaxing holiday than anything else.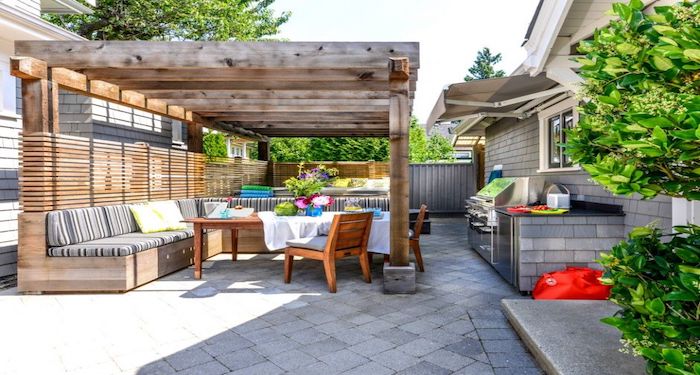 Another option, and a more practical option if you have a larger patio area, is to create a freestanding pergola in the centre of your patio.
This turns the new pergola into the centrepiece of your patio, and it will surely be the central hub of any get-togethers, parties or events for as long as its erected.
The best thing about a centrally placed pergola is the number of options you have for reinventing it.
In the summer, it can be a great place to relax with a book on a comfy hammock or lounger, whereas in the winter, it could be a wonderful place to gather around a fire pit and drink hot chocolate.
Pergolas are incredibly versatile, which makes them so well suited to patio areas.
Garden Pergola Ideas
Gardens are already a great place to unwind on a summers evening, to play with the kids on the weekend or for hosting a birthday party that you can enjoy yourself, but there are some drawbacks to a garden without any covered areas or variety.
Firstly, you don't always want to sit under a beating sun all day, but that doesn't necessarily mean that you want to go inside either.
A pergola allows you to get out of the sun for a little while without having to give up the fresh air, and if you are inventive, you can even fit them out with other gadgets like lights and speakers.
Most pergolas in gardens tend to look better when the décor is incorporated into the natural look, with designs like plants and vines growing up the beams and flowers planted around the pergola.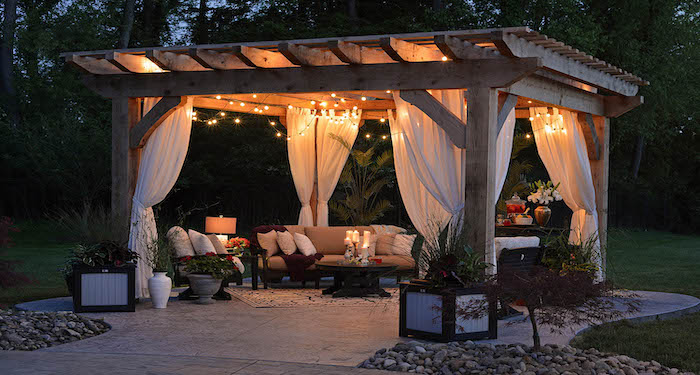 Another wonderfully inventive addition is the trellis screen which is used to train certain plants to grow around the gaps in the screen creating almost a wall of natural plants.
This is a fantastic way of incorporating your pergola into the décor of your garden, and while it takes a little maintenance to keep the plants from growing out of control, it's nothing too tedious.
As the beams of a pergola are considerably strong and stable, you can add permanent fixtures to them in the form of lights and other technology, however, if you prefer the completely traditional feel, you could screw on wooden plant bases around the pergola and bed in colourful flowers to add a little contrast to your pergola.
While this wouldn't look quite as impressive in the winter, there is nothing stopping you changing it from soil and plants to fairy lights and other decorative materials in the winter, which would also take much less maintenance to keep looking its best.
Lean-to Pergola Ideas
A lean-to pergola is a pergola that is attached to a structure on one or more sides, so instead of the structure being freestanding with access from all four sides, it is levied against another structure for support.
This is most commonly against one side of your home, and it allows the pergola to almost act like another part of your home as you can situate it around entrances.
An incredibly popular place for a lean-to pergola is above French doors at the back of your home to allow for outdoor seating or dining area, with close access to the kitchen.
This is a wonderful feature to utilise throughout the summer for quiet dinners or for BBQs and dinner parties.
The close proximity to the kitchen makes serving food and transferring dining items really easy, and it's almost like an alfresco dining area as opposed to a pergola.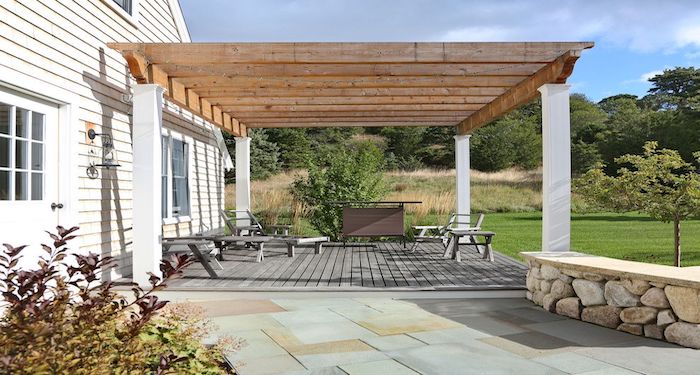 It's certainly a luxury addition, and the reviews are nothing but positive from those people that have opted for this layout in their homes.
Another great thing about lean-to pergolas is that it provides a little more privacy than a completely freestanding pergola, for example, some people will place a pergola in the corner of their garden or patio with one side against a wall or fence and the other attached to their home, which provides two completely covered areas and two open ones for the best of both worlds.
These types of pergola layouts are wonderful for hot tubs, which have really risen to great acclaim in the home setting over the past few years, with them becoming a lot more affordable and easier to install.
There are even the Lay Z Spa variations of the hot tub, which cost less than £500, but have received critical acclaim amongst homeowners looking for a hot tub while on a strict budget!
Wooden Pergola Ideas
If you're looking for a wooden pergola as an addition to your outdoor area, here are some ideas:
Oak Pergola
Oak is an incredibly high-quality wood, which is essential for building permanent structures like pergolas, and you can have faith that if you invest in an oak pergola, it will stand the test of time and not degrade quickly.
However, it isn't just the durability of oak that makes it perfect for pergolas, as it's also a very impressive looking wood to use for decorative purposes too.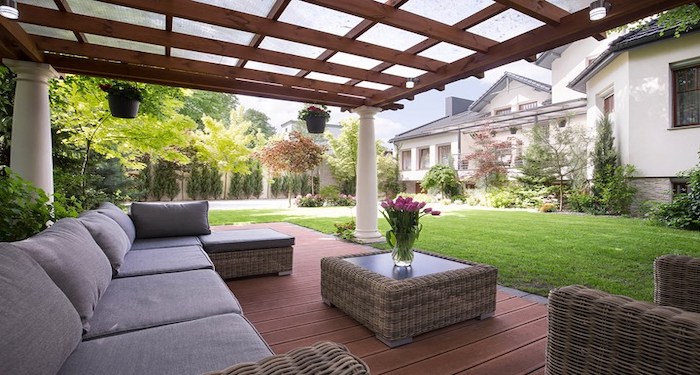 Oak is generally supplied untreated, which means that you can add your own wood stains and treatments to it to change the colour or the shade of the wood.
You can also leave it untreated if you like the silver-ish look that oak turns to over years of being exposed to the elements.
Leaving a wood untreated won't impact the durability of it, but it will certainly affect the look of the wood.
Red Cedar Pergola
Untreated red cedar, much like oak, will turn to a silver and grey colour over time, which a lot of people hope to gain.
However, it is different to oak in its durability, as red cedar is a considerably softer wood than oak is, meaning that it is prone to splintering and bruising if it is harshly handled.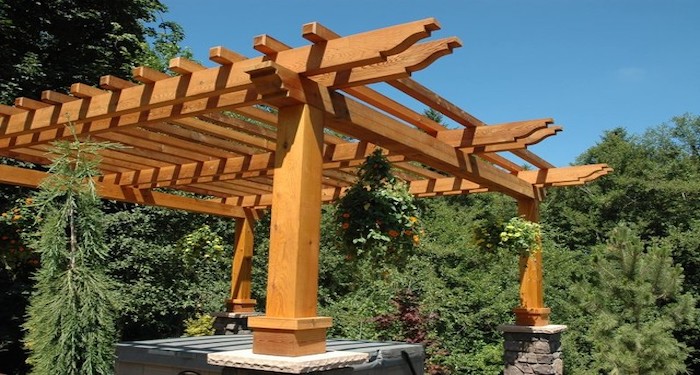 While this won't affect the structural integrity of the pergola, it may not be the best option if you have children playing around the pergola.
Other than its soft nature, aesthetically, it's a beautiful wood to use for building pergolas, and you certainly won't be disappointed with the look of the structure; you should just be wary of its softwood properties.
Pressure Treated Pergola
Pressure-treated wood is lumber wood that has been sealed in a tank which creates a vacuum to remove the air from within it before a solution including chromium, copper and arsenic is added to fuse the wood together into pressure-treated wood.
This is done to increase the lifespan of the wood, with the chemicals acting as a bactericide, insecticide and fungicide.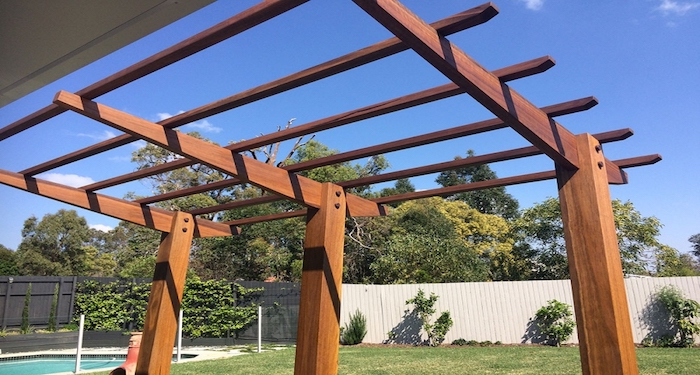 The vacuumed wood keeps all of these chemicals within and prevents them from leaking out into soil or the ground surrounding it, which makes it a great option for budget pergolas.
Pressure-treated wood is pretty cheap, so if oak and red cedar are out of your price range, you can look to pressure treated wood as a good alternative.
The wood can still be stained and coloured in any way you choose, and it will still look impressive in your garden or patio setting.
Metal Pergola Ideas
Metal pergolas are typically made from either steel or aluminium, and there is a certain allure to a metal pergola over the more common wooden structures.
Firstly, metal can be easy to work in the sense that you don't need to worry about breaking or splitting the wood while drilling or screwing the pieces together, and metal requires much less maintenance than wood does.
Metal can also be manipulated to create intricate and impressive designs for those people looking for something a little more unique than the standard wooden beam pergola.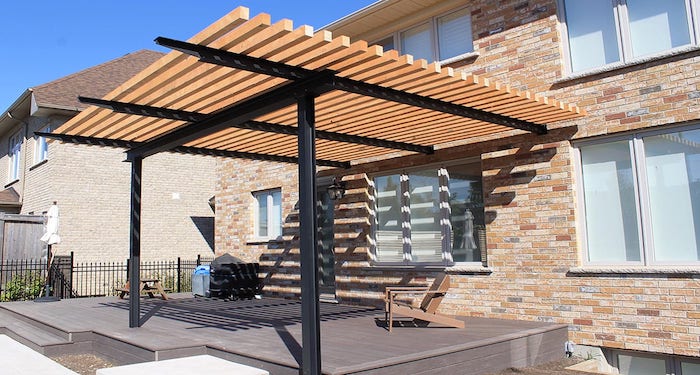 However, metal pergolas can also be very simplistic structures, fitted to provide the base for other decorations such as white canvas ceilings or walls to the pergola.
Metal lean-to pergolas look very modern, and so they are a top choice for new build homes and homes that have been recently renovated to a more modern aesthetic.
Steel and aluminium are the top choices due to their ease of use, availability and price.
Vinyl Pergola Ideas
Budget-friendly, easy to fit, and non-existing maintenance makes vinyl pergolas a very popular choice amongst many households.
There are various names for vinyl, as some refer to it as UPVC, PVC, vinyl or plastic, but each of them has the same properties as the other.
Vinyl can be designed to mimic almost any other design ranging from wooden effects to stone effects, so if you're looking for a very specific design or colour, vinyl will be the best option to opt for.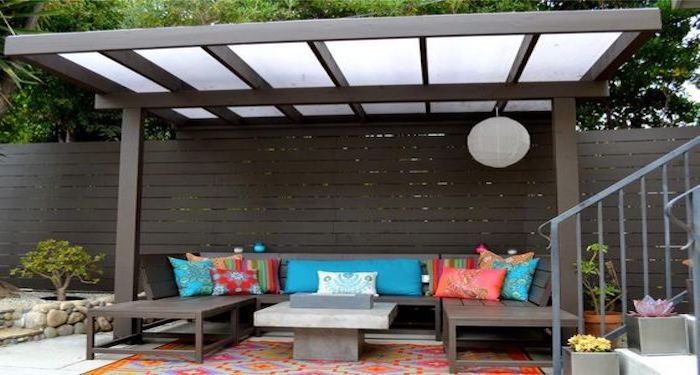 Vinyl pergolas are very easy to work with, so you can usually buy them custom made or picked from a wide range of options, and there are many more choices today than there were a few years back as the popularity of vinyl pergolas continues to rise.
Vinyl pergolas can be as large as their metal and wooden counterparts, or they can simply cover a small corner of your patio or garden fit for a comfortable reading chair.
The biggest selling point of vinyl pergolas is the lack of maintenance required, with no cleaning, varnishing, treatments or any ongoing work required, making it the perfect option for busy households.
Sources