What is a Garden Pond?
A garden pond is quite literally a small pond installed somewhere in your garden, often with a plastic insert and decorated with fish, plants and usually bricks around the outer.
In recent years however, people have begun to get much more inventive with their garden pond ideas.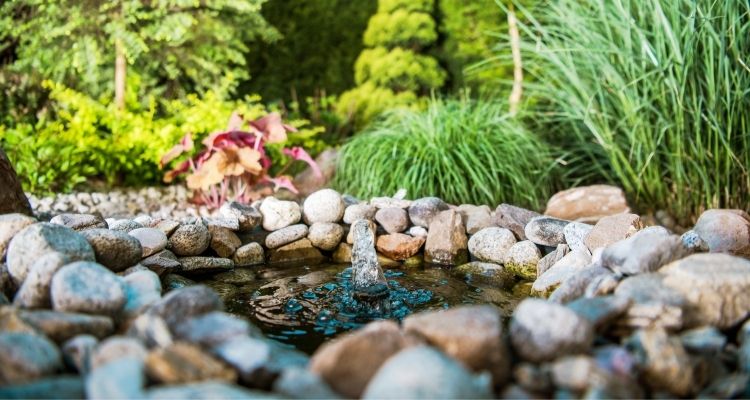 Typically, garden ponds are there for aesthetic purposes. They are wonderful visual additions to gardens, with vibrantly colour flowers and plants that attract all kinds of eclectic wildlife too.
They are also nice additions to your garden for sitting beside in the summer, listening to the small waterfalls that many include, and letting the kids feed the fish in the pond.
Ponds also attract newts, frogs, dragonflies, butterflies and other interesting creatures, which is a great way to teach children about nature.
Natural Garden Pond Ideas
The key to a great natural garden pond is to integrate it into the same style as the rest of your garden.
To do this, you'll need to locate an area of the garden you want to transform into your pond area and dig a hole in any shape you like.
Typically, garden ponds are square or oval-shaped, but you have free reign over the shape of your own pond.
Once you've dug the hole to the shape you want, you'll need to line with plastic pond lining. Now, this comes as either a sheet lining or as a rigid plastic bottom not dissimilar to a small plastic pool.
Once you have this base, in whichever style you choose, you can fill your pond with anything you want, whether you're just looking for a patch of water to plant aquatic plants and waterfalls or whether you want to put fish in there too.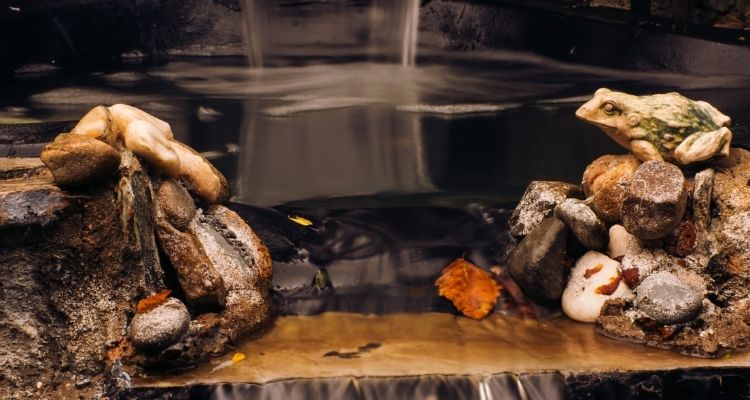 For a natural-looking pond, you can decorate them with a natural-looking slate and stone around the outside, with varying levels of height.
Still, of course, if there are small children playing around the water, you should make sure there are ample fall prevention measures installed either with over pond netting or guardrails surrounding the water.
Natural ponds tend to be filled with green plants and flowers, and while weed isn't a very welcome guest on our gardens and our paving stones, within a pond, it breeds a ton of natural insects and animals like water snails and tadpoles.
Weed holds natural food for fish to eat too, if you plan on putting some ornamental fish in the pond like Koi Carp, Ide or any other fish suitable for the British outdoors.
Small Garden Pond Ideas
Even if you don't have a ton of space available for your outdoor garden pond, you can still fit them in!
You could set aside a corner of your garden to install a pond around 2 or 3 foot long and wide, then put some decorative items in it for the kids to play around.
There are a lot of ornaments that you can buy to brighten up your small pond, like garden gnomes or running water ornaments like waterfalls or water features.
You could set aside a square space in the corner of your garden to build your stone, brick or slate walls, and then place an oval or different shaped pond base within the square to give the pond a little more variation.
This in turn could make for a great place to sit beside in the summer with a book or a coffee in the morning. The cost to build something like this wouldn't be much at all, and you could probably take advantage of some reclaimed materials to create this space.
Garden Koi Pond Ideas
Very few cold-water fish can compete with Koi Carp for garden ponds, especially considering their ornamental qualities.
Not only are they stunning fish, but they come in a variety of colours, from ghostly white fish to bright orange and red-spotted Koi.
They have a cultural background like very few other fish, and they are highly sought after, actually making some variations incredibly valuable.
However, it can be a little demanding to keep a Koi pond, and there are a lot of aspects that you must consider and stay on top of in order to keep your garden Koi pond looking vibrant and beautiful.
First of all, Koi can grow to quite substantial sizes, meaning that you'll need a pond just as substantial in size.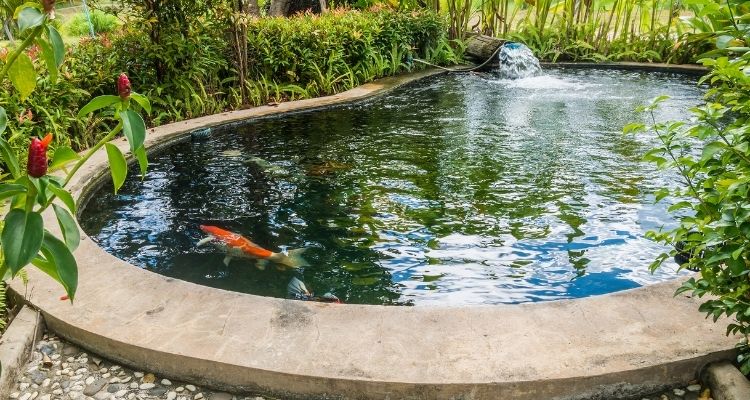 In fact, Koi carp can actually grow to 4 feet in size, with an average of around 2-3 feet, so you'll need a decent-sized space to allow them to achieve full growth potential.
A good rule of thumb for outlaying the size of pond you'll need is keeping your pond no smaller than 8ft by 6ft and at least 4ft deep, but of course, the bigger, the better!
Filtration systems for your Koi pond is a must-have as Koi create a high amount of nitrogenous waste, which will need filtering from the water regularly, especially in the summer when Koi feed more ferociously.
These filters are rated on the volume of water in your pond so ensure you get one large enough to suit your pond.
Plants are pretty much impossible to plant with Koi carp as they feed on the plants keenly and pretty much consume whatever plant you try to keep in the pond with them.
It's best to put in underwater features, stones and other decorative items, which the carp will love as they are keen to explore their surroundings.
Koi are peaceful creatures, meaning you can keep multiple together, and if treated gently, they will actually let you feed them by hand, which is quite the experience, and it's something that kids will love to do.
Garden Pond Waterfall Ideas
There are an abundance of garden pond waterfall and water feature options for you to choose from, and we're going to explore them in a little more detail here:
Waterfalls
Waterfalls are great features to install alongside your pond. A lot of them will feature filtration systems within them, meaning you get decorative and practical benefits.
Now, they do range quite greatly in price, and they do need powering with electricity. However, you can now buy waterfalls and water features powered by solar energy.
Waterfall features range from £50 to £1,000 depending on the style and size you need, and you can buy them either in full flow, cascading or stream-like designs.
There are a lot of online retailers that you can browse through to find your perfect design.
Water Features
Water features are a little different from waterfalls because they are usually decorative models or structures that use water to emphasize their design, and they look just as beautiful without the water features turned on.
Now, these products range from designs like marble balls constantly cascading water around it, gnomes with umbrellas avoiding rain pumped from the ornament or scenes of waterfalls or fallen pots.
It would take days and weeks to explore all the different designs available, so all we can suggest is that you take a look online and see which ones catch your eye!
Again, these range in price quite drastically, so you could pay anything from £20-£1,000!
Garden Pond Edging Ideas
There are generally five ways to edge your garden pond, and we're going to explore them here:
Rocks & Pebbles
Rocks and pebbles are the most common material for edging your pond as they blend nicely from your garden or yard to the pond.
They're also inexpensive and very readily available by the sack, meaning you won't find it hard to edge your pond without spending more than your budget will allow for.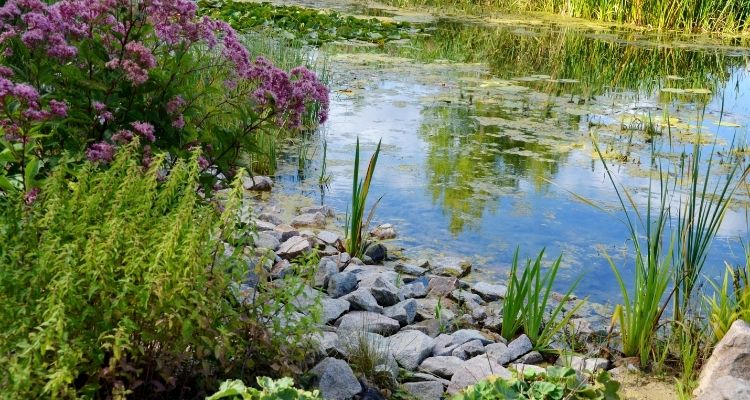 You can use larger and smaller pebbles to either create large stone walls for high sided ponds or use them to create a gradual point from under the water to the exit to allow wildlife easy entry in and out of the pond.
You can get really inventive with pebbles and rocks, and that's why they're the most commonly used material.
Plants
Plants really help create the natural look that people want for their garden ponds, and we're going to explore plants in a section all of their own below!
Turf
Garden ponds situated in the middle of your garden or turf can look wonderful, and they are perfect for sitting around in the summer months.
Now, a big issue with these ponds is the struggle to cut the grass without showering the pond in clippings.
However, you can combat this by letting the grass grow a little longer around the pond, which actually adds to the aesthetic. It will also give frogs and toads a great place to hide beside the pond.
Pavers
Paving slabs are a great way to give yourself a nice patio area around your pond which requires very little maintenance and will last for years.
They are also great for setting up patio furniture beside your pond, and while the level ground aesthetic may not be as common as others, it has a whole host of benefits to reap.
Wood
Hardwood is a great material to create a surround for your pond if you're installing an above-ground pond.
Now, these hardwood surrounds are great for laying pond liner and if you want a viewing window for any carp or fish within the pond.
These ponds are becoming very popular, especially for watching fish, and the viewing panel is usually very thick glass or clear plastic.
Garden Pond Plant Ideas
In this section, we're going to explore the popular plants that people use in their garden ponds, but before we do, there are some things to consider first.
Think about how much sun your pond gets, or will get, as plants will need this sunlight to grow and survive.
Plants also survive much better in pond water or rainwater, free from the chlorine found in tap water, so do your best to get hold of pond water from wherever you can or give your pond time to fill naturally.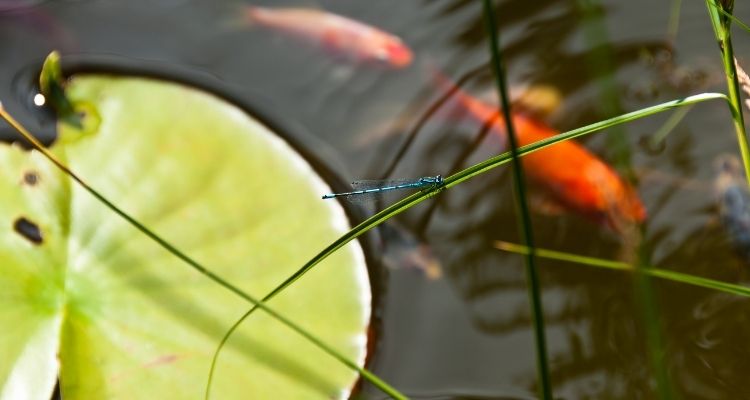 Pumps and filtration systems keep the water in the pond moving to prevent it from becoming stagnant, and this is pretty essential to keep your pond nice and soothing rather than smelly and dingy.
Pond plants tend to be popular in two categories: Bog Plants and Marginal Plants, and we're going to explore them a little here.
Bog Plants
These plants grow in waterlogged areas like around ponds and water, so they thrive in a garden pond area.
They also provide wonderful homes for frogs, toads and other wildlife, so bog plants will entice more natural wildlife to your new pond.
Some popular bog plants are canna lilies, irises and pitcher plants, and they all bloom into wonderful colours.
Marginal Plants
Marginal plants can be potted within plant pots and then placed within your pond, or they can be planted into shelves that you can build into a shallow area of your pond.
They are wonderful for making your pond more beautiful and picturesque, and some popular variations are water lilies, lotus and bacopa.
Garden Pond Lighting Ideas
Underwater and above water pond lighting is a wonderful way to emphasize the beauty within it. You can purchase them from a number of places online, and they are incredibly affordable.
Some coloured lights spotted around your pond can create that magical look, while bright spotlights shining up from the bottom of the pond can create a stunning dramatic look that illuminates the entire surrounding.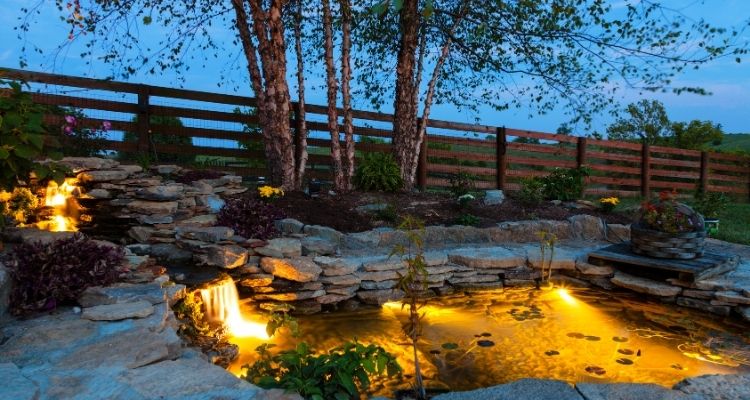 Pond lights don't have much of an effect on fish, although if you are planning on having fish in your pond, the dimmer the better.
A lot of these lights are powered with solar panels, which removes any need for long tailing lines or costly electricians.
Sources