Introduction to the Best Wood Preservers
If you are on the lookout for the best wood preserver for wood furnishings in and outside of your hope, this article will offer all the adviice you need ensure you make an informed decision.
Here you will find a guide on some the best wood preserver products, detailing both costs and functions. We will discuss the qualities of each product, prices and where you can buy them.
We will also lay out the pros and cons of each wood preserver. This article will explore other relevant topics such as different types of wood preserver and the cost of hiring a contractor to apply wood preserver.
This article will prove useful if you're looking for the ideal wood preserving product.
What is Wood Preserver?
Let's start by looking at what a wood preserver is as well as considering what it's used for and why they're used.
Wood preserver is a treatment made with chemical preservatives designed to protect and prolong timber surfaces. They are used to treat a whole range of different wooden surfaces, especially those outdoors which are exposed to nature and the elements.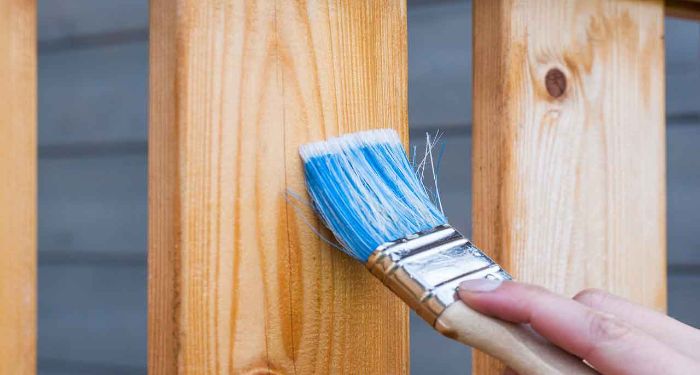 They may be used outdoors such as on decking, fascia & soffits, doors or internally on the likes of doors or a staircase, for example.
Wood preserver helps to protect wooden surfaces from issues such as decay, moulds, insects, sapstain, algae or/and fungal rot.
How Does Wood Preserver Work?
In this section, we will discuss the workings of wood preserver.
Wood preserver works by sinking deeply into the sawn or sanded surface of timber in order to establish a protective shield around the wood.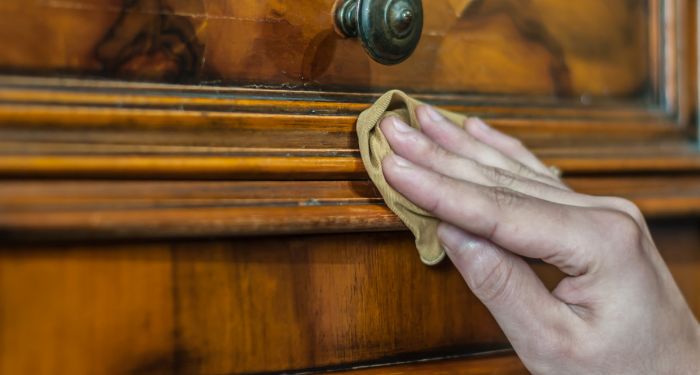 In turn, this significantly improves the durability and life expectancy of a given wood surface. It also improves the wood's natural aesthetic in the process.
What Can Wood Preserver be Used for?
Wood preserver can be used indoors or outdoors but are mostly needed for outside wooden objects. These could include but are not limited to sheds, fences, wooden outdoor furniture, cladding, decking, fascias & soffits, guttering and raised garden beds.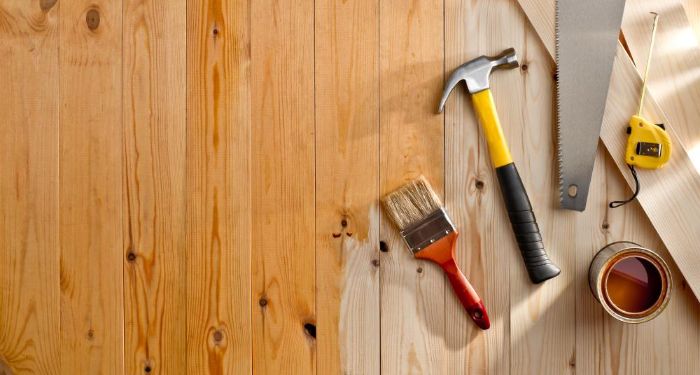 With the application of a wood preservative, an outdoor wooden object can be protected from fungi such as brown rot, white rot and soft rot, wood-eating insects like powderpost beetles and bark beetles, moulds, algae and sapstain.
Without wood treatment, these problems can easily accumulate and massively reduce the longevity of a wooden object.
Types of Wood Preserver
In each of the following subsections, we will lay out details regarding different types of wood preserver. We will then list the pros and cons of each wood preserver type discussed.
Water-borne
This type features a variety of metallic salts and other compounds. The main compounds featured in water-borne wood preserver are arsenic, fluoride, chromium and copper.
This preservative type is on the rise in popularity, especially when employed for use on plywood, fence posts, timbers, poles and lumber.
It is also one of the cheapest wood preserver choices on the market.
Pros:
No risk of fire, unlike with oil-borne wood preserver.
Can be used inside and on playground equipment.
Resistant to leaching.
Does not result in unpleasant or harmful odours.
Cons:
The wood is left prone to warping and swelling if not re-dried after the preservative is applied.
Will not protect the wooden surface from substantial weathering.
Oil-borne
Oil-borne wood preservers are not particularly common as consumer products although they may be used on some structural wooden parts of a household.
Such preservers are generally made of creosote or pentachlorophenol.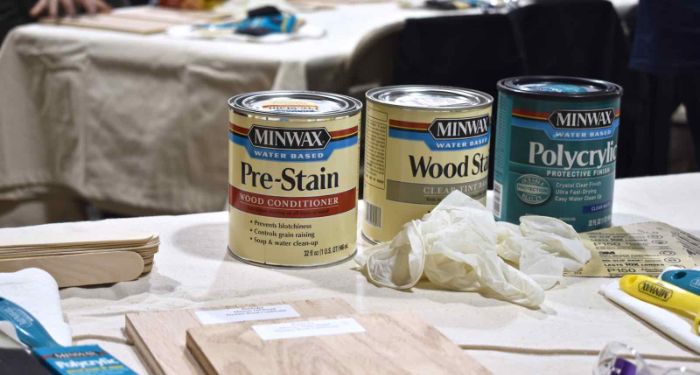 The chemicals used in oil-borne preservers tend to be insoluble in water; thus, they are generally dissolved in other organic solvents such as petroleum so that they can penetrate the wood.
Pros:
You can dissolve such treatments in oils allowing for a variety of colours, vapour pressures and stickiness.
Does not have high water solubility and is often insoluble in water.
Easily carried and applied.
Cons:
Could result in a surface which cannot be painted due to the oiliness levels. However, this will depend on the carrier.
Can cause a strong odour which is toxic to humans, plants and animals.
Oil-borne preserver may exude or bleed from the wood.
Acetylation
One modern approach to wood preservation is acetylation. It is a non-toxic method whereby wood is drenched in acetic anhydride to improve the wood's durability by protecting it from threats such as insects, rot and moisture.
Pros:
Acetylation is more effective than traditional wood preservatives.
Does not cause wood to shrink or swell.
Unlikely to result in cracking.
Cons:
May cost a little more than other products.
Best Wood Preservers
With each of the following products, make sure that you read the label regarding health & safety warnings and to check for the presence of any possible allergens.
Cuprinol 5L Wood Preserver
This Cuprinol wood preserver product is suitable for all types of wood and can be used either indoors or outdoors.
With that said, it is arguably more suited to garden furniture than say sheds or fences. It can cover a 5m² with two coats per litre.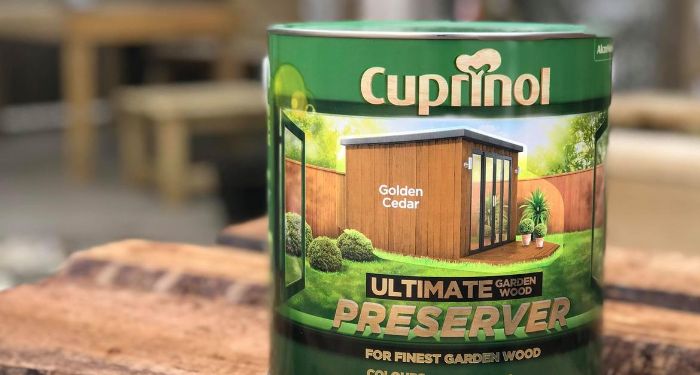 It takes approximately one to five days for this wood preserver to dry. You should apply two coats of this product to each wooden surface.
It should last for around three to five years, if not more, after which point, you'll need to apply a new wood preserver.
You can purchase this product for £50 on Amazon.
Pros:
Actively prevents decay and rot.
Works on both indoor and outdoor surfaces.
It is colourless.
The odour is not particularly bad compared with other solvent-based wood preservers.
Cons:
Not ideal for the likes of sheds and fences.
Solvent-based wood preserver that is not the best for painting over.
Sadolin Wood Preserver
This 2.5-litre exterior use product is another popular wood preserver. It is suited for all types of non-durable timber.
It has a single coat coverage six square metres per litre. You should apply 1-2 coats of this product. It should last for around three to five years before you'll need to apply another coat. This product has a drying time of 2-4 hours.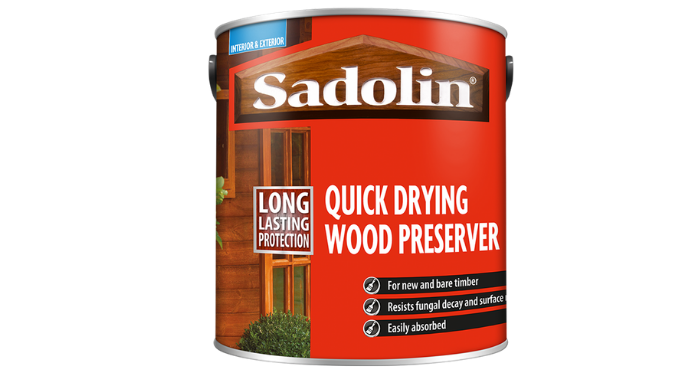 You can recoat it within 24 hours. To overcoat with a water-borne product, you'll need to wait 72 hours but for an oil-borne product, just 24 hours. Coating it with a paint or exterior wood stain is a must. You can buy this product for £25 on Wood Finishes.
Pros:
Cons:
Must be given an overcoat.
Only suitable for exterior surfaces.
Barrettine Premier Wood Preserver
While from a less known brand, this product is a 5L wood preserver that is used by many decorating professionals. This wood preserver also has plenty of positive online reviews.
It features a deeply penetrating microporous solution designed to rapidly absorb so that the wood can stabilise. This way, the preserver can quickly establish a protective seal around the wood. It is suited for use on sawn, rough or smooth timber.
The solution of this product is solvent-based. This Barrettine wood preserver product is designed for exterior use only.
This product is available in a variety of colours including black, cedar red, dark brown and holly green.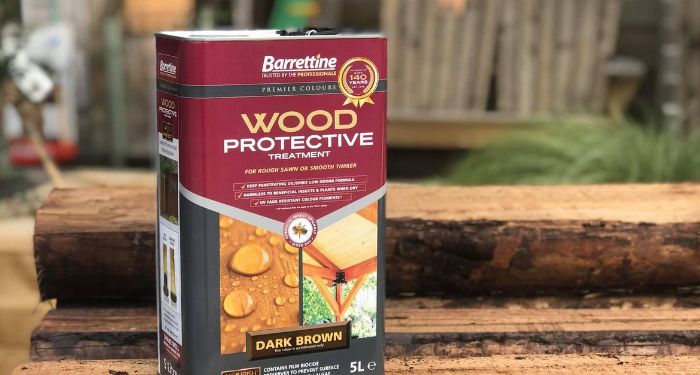 Ideally, 2-3 coats of this treatment should be applied to a given surface. It should protect your wooden surfaces for 3-5 years on average. You can apply it with either a brush or sprayer depending on your preference. It can cover five to six square metres per litre.
It takes about 12 hours to dry.
You can purchase this product for £35 on websites such as Wood Finishes. You can also purchase a one-litre option online for around £12 to £13. It contains wax for the purpose of water-resistance too.
Pros:
An additional topcoat is unnecessary.
Designed to resist UV light.
Comes with a deeply penetrating microporous solution.
Available in a range of different colours.
High-quality water-resistant properties.
Not harmful to pets or plants upon drying.
Cons:
You may need to apply a third coat.
Only suitable for outdoor surfaces.
Sikagard Wood Preserver
This next product is another 5-litre preserver. It is colourless and is made of a solvent-free formula.
Sikagard Wood Preserver can be used on all kinds of timber, including damp timber.
You could apply this treatment to wooden garden features like windows, doors and fences. It is suitable for interior and exterior use.
This product features microemulsion technology which allows it to penetrate deeper into the wood.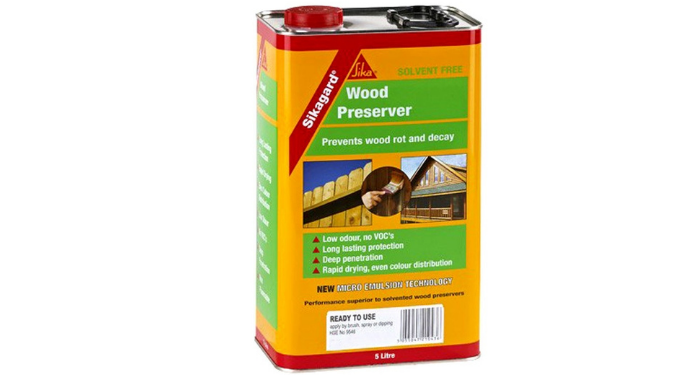 This wood preserver should be applied before an additional treatment such as wood stains or paint.
You should apply two coats of this product. You will likely need to reapply every three to five years.
It is available for £35 on Amazon.
Pros:
Can be used both indoors and outdoors.
Features microemulsion technology.
Non-flammable.
Cons:
May take a little longer to dry in comparison with some other products.
Everbuild 5L Lumberjack Triple Action Wood Treatment
The ability of this wood preserver to remedy current wood harm and to protect wood against future damage makes it particularly popular. It can kill any wood eating insects as well as their larva and eggs.
This product penetrates deeply into wood and can treat both dry rot and wet rot.
The brand behind this product Everbuild also advertises as Sika.
This treatment can be used on any type of wood and works on both interior and exterior wooden surfaces. The formula used is solvent-free and features micro-fine active technology.
You should apply one to two coats the first time, and you'll likely need to reapply a single coat again roughly every 3-5 years.
You can purchase this wood treatment product on Amazon for around £27.
Pros:
Provides a triple action treatment.
Can be used on both indoor and outdoor surfaces.
Kills wood-boring insects and their larvae.
Treats both dry and wet rot.
Cons:
Highly toxic to aquatic life with lasting, if not fatal effects.
Features 3-iodo-2-propynyl butylcarbamate which can result in an allergic reaction.
Osmo 2.5L Wood Protector
Osmo's wood preserver is designed primarily for interior use but may also be used externally.
While expensive, it is highly rated and considered a top-quality interior wood preserver. You can buy this as a 2.5-litre option or a 0.75-litre product.
You can cover up to eight square metres with a single coat using this product or about 3.2m² per litre.
One coat will likely be all that is necessary. It should be applied to an evenly sanded or untreated surface. It is suitable for any type of wood once it is indoors.
For exterior use, it should be applied only where an absolutely economical, non-biocidal impregnation is necessary such as for animal housing, raised garden beds or children's toys.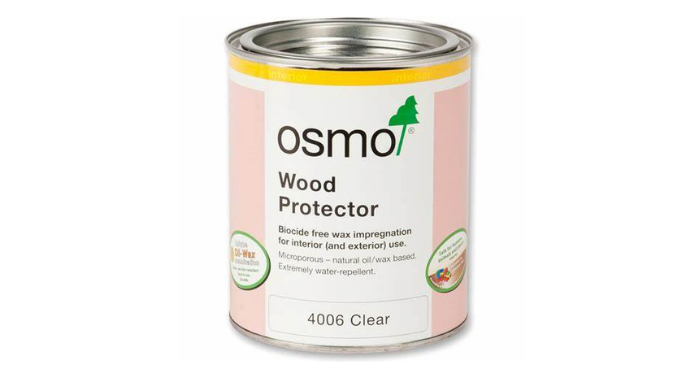 It should have a lifetime preservative effect on interior wooden surfaces without need for reapplication at a later stage.
The Osmo 2.5L Wood Protector is an eco-friendly solvent-based solution which features organic, microporous wax oil designed to deeply penetrate the wood, preserving it from the inside out.
The solution is also water-resistant while not containing any preservatives or biocides. It is also a low odour solution which is especially beneficial for indoor use.
Once dried, you'll need to apply a finishing product to each surface that has been treated within 7-10 days.
It is safe for animals and plants once it has dried. You can buy Osmo 2.5L Wood Protector for £57 on Amazon. It takes approximately 24 hours for this treatment to dry.
Pros:
Only one coat is necessary.
More environmentally-friendly than most other products.
Low odour solution.
Has water-resistant properties.
Does not contain biocides or preservatives.
Cons:
Quite expensive.
Not suitable for all exterior uses.
It will darken the natural colour of the wood.
Everbuild Wood Preserver Clear 5L
This popular clear wood preserver has a solvent-free and low odour solution. It is based on micro-fine active technology.
It contains algaecides and fungicides to help prevent organic growth on the wood.
This product is available in a wide range of colours such as clear, dark oak, red cedar and fir green.
More recently, Everbuild has also introduced silver birch and slate grey options.
It is suitable indoor and outdoor use and can be applied to any wood type including damp timbers.
It is also non-flammable and dries fast. It can deeply and effectively penetrate any wood and joinery inside or outside your house.
You should apply two coats and recoat again every 3-5 years on average. This product is available for around £27 on Amazon. It can easily be applied with a garden sprayer. Once dried, you can apply varnish or wood paint over the wood preserver.
Pros:
Rapidly dries.
Non-flammable.
One of the best clear wood preserver products available.
Can be used indoors or outdoors.
Features fungicides and algaecides.
Comes in various different colours.
Cons:
Highly toxic to aquatic life with lasting or fatal effects.
Benefits of Wood Preserver
We will now look at the various benefits of wood preserver through each of the following subsections.
Protects Against Mould & Algae
Mould growth on wood is a common problem that can appear indoors or outdoors.
Wood contains a range of minerals and nutrients as well as being a food source and containing moisture which attracts mould growth.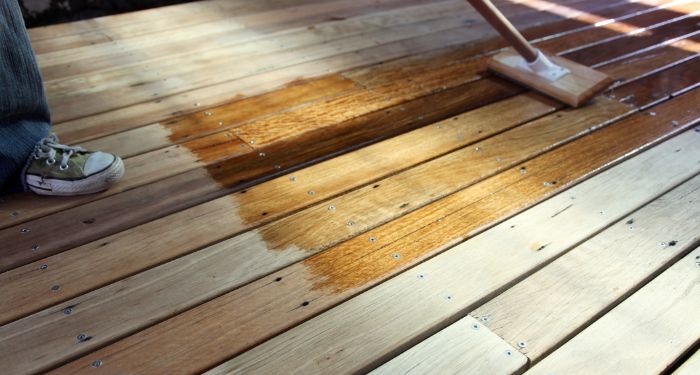 Algae, on the other hand, appears as a slimy, green film that is not only aesthetically undesirable but potentially harmful when inhaled by humans and pets as well as being particularly slippery.
However, a wood preserver can prevent both of these issues. Since it contains biocides, wood treatments can prevent mould and algae from growing in the first place, which has aesthetic and health benefits alike.
Protects Against Wood Boring Insects
The other key ingredients of wood preservers are insecticides.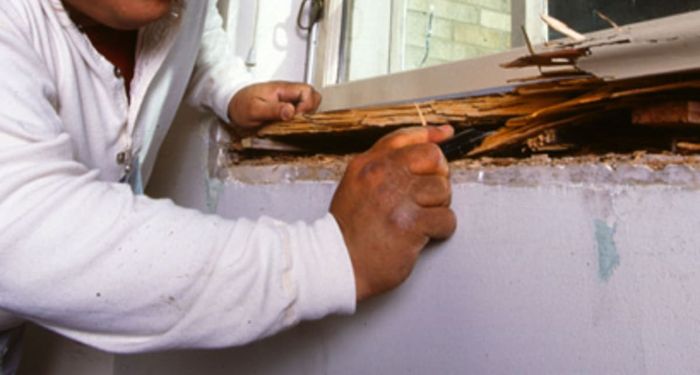 Permethrin is an especially common insecticide feature in most products.
With many wood-boring insects that could threaten your wooden surfaces, the application of an effective wood preserver will protect wooden surfaces in and around your home from insect accumulation.
Protects Against Rot
Wood preserver also protects against both dry and wet rot.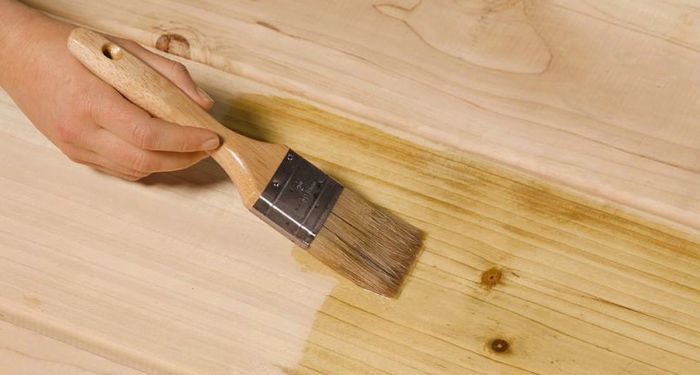 The most common causes of wood rot and decay are algae, fungi, mould and wood-boring insects and since wood preservers can protect against these threats, in turn, it can prevent rot from occurring in the first place.
Cost to Hire a Contractor to Apply Wood Preserver
For this section, we will discuss the total costs of having a professional apply wood preserver.
For this job, a paid professional will probably charge between £18 and £25 per hour for labour costs and then around to £1 to £2 per square metre based on the average supply costs involved.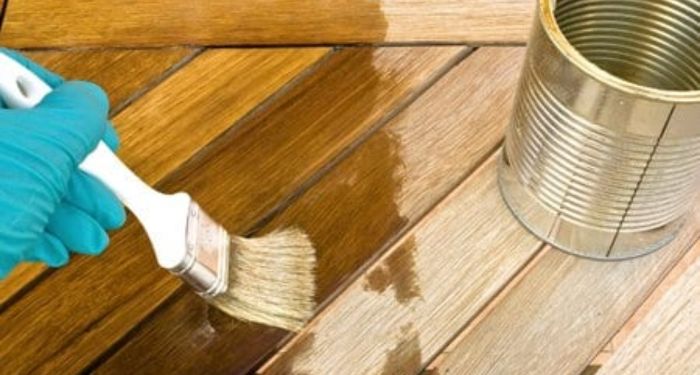 The total cost will depend heavily on the product used and the surface area that needs to be covered.
The more work required, the longer it will take, thus, the higher the labour costs will be.
To have your decking covered, the total cost by adding both labour and supply costs could end up anywhere from £180 to £300, assuming a medium-sized decking of about 30m². To cover five fencing panels may cost around £45 to £100.
For an average shed, the price could end up somewhere between £70 and £170.
FAQs
Q: What is the best way to apply wood preserver?
A: You can apply wood preserver with a brush, roller or sprayer. Which will be the best option will depend on the thickness of the product.
Q: What is the best type of wood preserver for hardwood?
A: Sikagard Wood Preserver is one of the best choices out there which can be used on either soft or hardwoods.
Q: How long will wood preserver last?
A: The effects of a high-quality wood preserver should last for at least 3 to 5 years although you'll hopefully get many more years out of it than that, perhaps up to a decade or more.
Some cheaper wood preservers may only be good for a year or two.
Q: What is the best outdoor wood preserver?
A: Barettine Premier Wood Preserver is arguably one of the best exterior wood preservers.
Q: How long will it take to apply wood preserver to a decking?
A: This may involve about a day's work, assuming an average-sized decking.
Sources