Introduction to Petrol Strimmers
A strimmer is a tool that is used to cut grass and weeds on a variety of surfaces and terrains. It also makes cutting the grass on the edges of your lawn and garden easier. It's one of the most useful garden power tools you can own.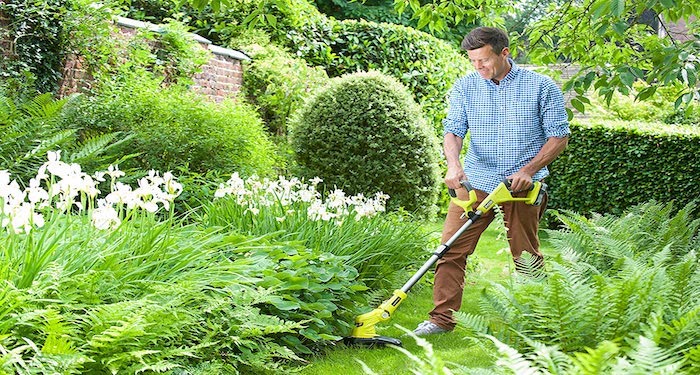 Cutting grass with various approaches is also easier using a grass trimmer. It allows you to customise the look of your garden. While a strimmer is good at cutting grass on a variety of surfaces, you must employ the proper technique to avoid damaging the trimming line.
We'll explain more about petrol strimmer in this article, as well as provide a list of the top ones on the market right now!
What is a Petrol Strimmer?
Petrol strimmers are useful for cutting and pruning places where a lawnmower would be unable to manoeuvre. Cutting power is the primary reason why people choose petrol strimmers to electric versions.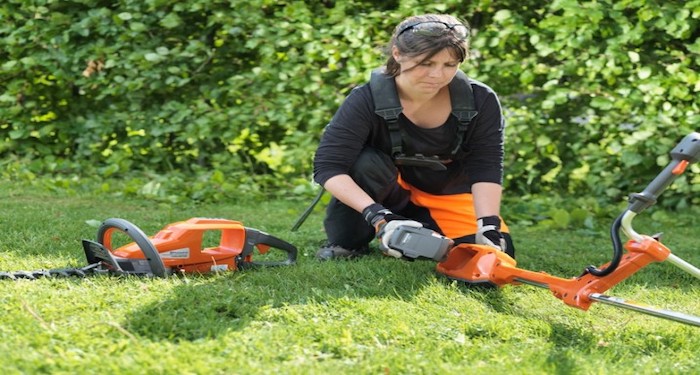 To locate an electric strimmer that even comes close to the power of a petrol machine, you'll have to look hard and pay a lot of money. Petrol strimmer's typically had powerful two-stroke engines with displacements ranging from 25cc to more than 50cc.
The type of cutting mechanism is just as crucial as the power source. Although some petrol strimmer models come with both, you'll have to choose between a nylon line trimmer head and a metal brush cutter blade.
How Do You Use a Petrol Strimmer?
Carbon monoxide, emitted by a gasoline-powered strimmer, is a dangerous gas that can destroy your body. It is risky to use petrol lawn trimmers or brush cutters in a confined space.
Remember to open all the windows if you're going to utilise them in a closed space.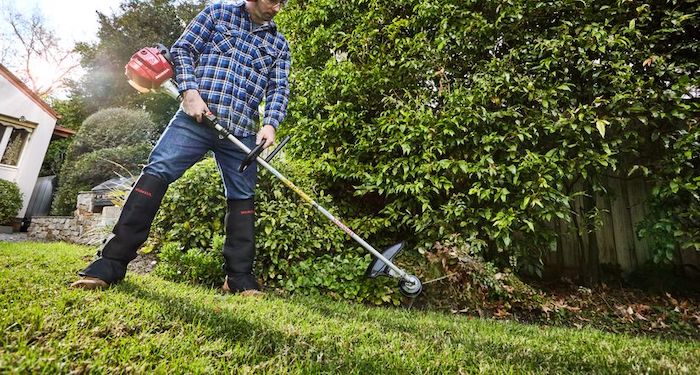 Here's a step-by-step guide on how to use a petrol strimmer.
When a string trimmer encounters a stone, it can cause chaos by throwing it in numerous directions. You must remove any stones that may have accumulated in your lawn or garden. To avoid damage to the tips, you should also remove the stones from the cut route.
After that, you'll need to start the strimmer. Because brush cutters are designed differently, the start mechanism may differ from one strimmer to the next. Most trimmers, on the other hand, feature a power switch that allows you to turn on the motor.
Depending on the rotation of the cutting line, a strimmer displaces grass in different directions. When a trimmer line rotates clockwise, for example, debris is displaced to the right side of the strimmer
The part of the trimmer that cuts the grass is the tip. Hovering a strimmer above the grass isn't very effective. For a brush cutter to cut properly, the cutting head's tip must contact the grass.
Then, your grass is all done! You can enjoy a nice clean-cut garden just by following more steps, there are different types of techniques available, but the four-step guide above is the standard guide.
Types of Petrol Strimmer
A lawn strimmer is the best tool for keeping overgrown grass, bushes, and weeds under control. Even though these are simple devices to use and maintain, there are numerous variations on the market.
Therefore, we prepared this guide to help you understand the various petrol strimmers available for your garden.
Grass Petrol Strimmer
Grass petrol strimmers are useful for cutting and pruning places where a lawnmower would be unable to manoeuvre. The cutting power is the primary reason why people choose petrol strimmers to electric versions.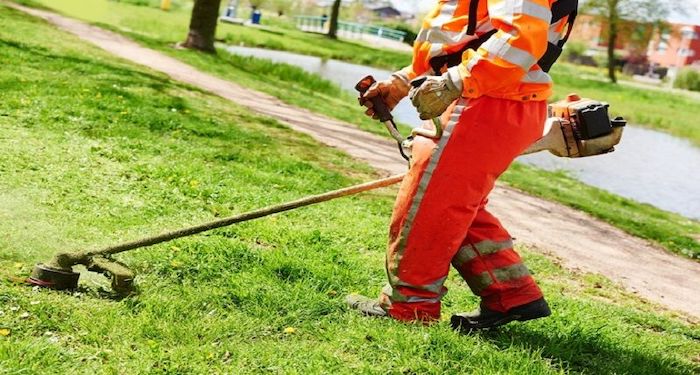 To locate an electric strimmer that even comes close to the power of a petrol machine, you'll have to look hard and pay a lot of money. Petrol strimmer's typically had powerful two-stroke engines with displacements ranging from 25cc to more than 50cc.
Grass and Hedge Petrol Strimmer
More than likely you will be able to use the grass strimmer to cut your hedges after you have finished. You will need a powerful petrol strimmer to cut through the harsh hedges in your garden and one easy enough to cut your grass.
Therefore, grass and hedge petrol strimmer's are lightweight and portable to allow you to walk around and not have to worry about tripping over the power cord.
On the other hand, they do most of more money and depending on the type of strimmer you own it will depend on where you will get the petrol from which could be an issue.
Petrol Line Strimmer
Petrol line strimmers typically have powerful two-stroke engines with displacements ranging from 25cc to more than 50cc.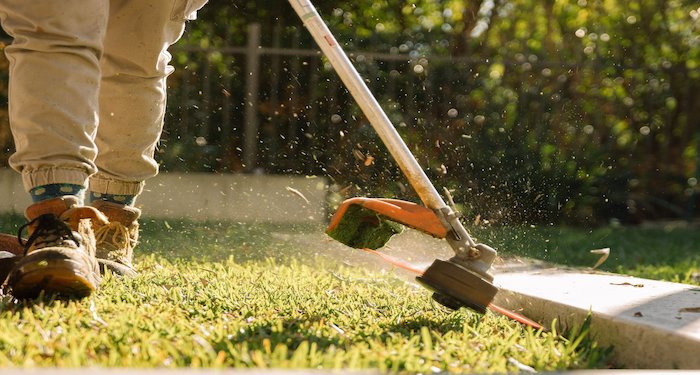 A petrol line strimmer also has a loop handle midway down the shaft, which provides significantly better control over the strimmer head than more powerful machines' wider bicycle-style handlebars.
Straight Shaft Petrol Strimmer
This design gives you more options for the type of driving mechanism you want inside the shaft. A cable made of plastic or steel can be used to drive a straight shaft.
It can also be a solid steel driveshaft, which is a common choice on commercial-grade trimmers because it doesn't have to bend to accommodate a curved design.
Gearboxes are used in straight-shaft trimmers to help transfer the rotational force (also known as torque) of the motor or engine into the speed of the head.
The structure of a straight shaft trimmer with a solid steel driveshaft is more durable than that of a trimmer with a plastic drive cable. In place of the string, it can use a heavier-grade replacement string as well as optional cutting blade attachments.
Wheeled Petrol Strimmer
Wheeled petrol strimmers are ideal for clearing long grass, tall weeds, and overgrowth from sections of your yard that are inaccessible to traditional mowers, such as woodland, banks, and borders.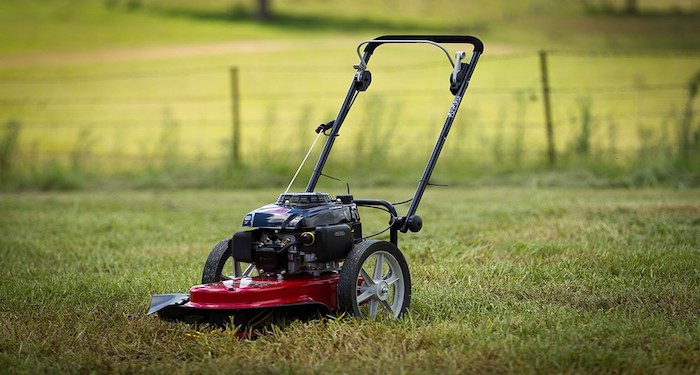 Brush cutters with wheels are ideal for removing weeds and dense scrub. Strimmer's with wheels are perfect for mowing and trimming big areas of difficult grass.
The benefit of a wheeled device is that it is pushed along, removing the strain of strimming. Because this machine runs parallel to the ground, it works best on flat terrain. The only drawback is that it doesn't come with a blade attachment.
Best Petrol Strimmers
Although they may appear to be like a brush cutter or even a garden multi-tool at first appearance, fuel strimmer's are less powerful than electric or cordless strimmer's.
These are only good for getting that perfect grass edge. Petrol strimmers are ideal for individuals with vast lawns or long garden walks to maintain, but they are overkill if you only have a small or average-sized garden.
An electric or cordless strimmer will be enough for most individuals.
So, here we have created a list of the best petrol strimmer's you can buy for your garden! Therefore, if you are finding it difficult to sort your garden out a petrol strimmer might be the best option for you.
Best Grass Petrol Strimmers
Stanley STR-750A Petrol Grass Strimmer
The Stanley STR 750A petrol strimmer has a lot to offer. It's lightweight and well-balanced, allowing even small-framed persons to utilise it for long periods.
The engine is one of the most fuel-efficient on the market, and it's also a great starter if you follow the instructions carefully. The instructions are what hold the product back a little, but it's still a great product.
PROS
CONS
Instructions aren't the best
Stihl FS 55 R Petrol Strimmer
The Stihl isn't particularly light, but it's not particularly heavy for this type of equipment, and a little more weight can be a sign of solidity and quality. When wearing the harness, the weight is barely noticeable, and the tool always seems well-balanced and manoeuvrable.
The Stihl has low vibration levels, thanks in part to the high-quality materials used in its construction, as well as some excellent engineering. Everything about this product just indicates that it is a part of something greater than usual.
PROS
No vibrations
Slices through weeds
CONS
UK Cutter Petrol Grass Strimmer and Brushcutter
The 33cc engine is a single-cylinder, air-cooled, two-stroke engine with a recoil starter that produces 1.2 horsepower. As you'd expect from a petrol strimmer, this power makes removing stubborn weeds a breeze.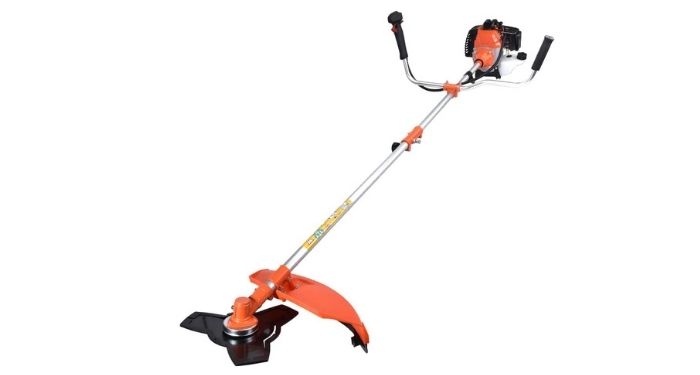 The motor must be primed by squeezing the bulb under the carburettor, which is standard procedure for all gasoline strimmers.
You'll also need the choke, which is a simple lever on the back, but if you follow these steps, the petrol strimmer will start right up. This is true of any two-stroke engine, not just gasoline strimmers.
PROS
Good quality
The frame is rustproof
CONS
McCulloch Trimmac Trimmer
The engine that powers the McCulloch petrol strimmer is a super-quiet 25cc two-stroke block with a purge button that allows you to flow fuel directly into the carburettor, making the strimmer easier to start with fewer cord pulls. This purge button is visible.
The adjustable handle may be divided in half for easy transport and storage, and the shaft can be broken in half for easy transit and storage.
McCulloch has chosen a small, triangular-shaped loop handle that is padded and comfy, rather than bike-style handlebars or huge cow horns. The shaft is curved to give you a decent cutting angle while keeping you in a good position.
PROS
Easy to set up
Due to its curve, you get a good angle to cut
CONS
Not as powerful as other strimmers
EFCO Sparta 250 S
The strength and convenience of this professional strimmer will be appreciated by anyone working in commercial landscape situations. It can keep up with the everyday demands of professional gardeners thanks to its Emak 36.2cc two-stroke petrol engine and 'Tough Tech' characteristics.
The huge fuel tank gives you about 50 minutes of running time, so you won't have to stop and replenish as often. Long work sessions are made as pleasant as possible thanks to the harness and anti-vibration feature. This is an excellent investment that benefits industrious professionals.
PROS
Good running time
Good for professionals
Durable
CONS
Best Grass and Hedge Petrol Strimmers
Petrol Grass Trimmer and Brushcutter
True Shopping petrol strimmer's come in a variety of engine sizes, so you can choose the right one for the job. With a large gasoline tank, a reasonable price, and a complimentary brush cutter attachment, it's easy to see why this is one of the most popular petrol strimmers.
This tool shines in many areas, and if you don't mind a little smoke and vibration, it's a great price.
PROS
Come in different engine sizes
Reasonable price
CONS
Reasonable price
Causes some smoke
ParkerBrand Petrol Garden Brush Cutter Grass Strimmer
The Parker Brand petrol strimmer comes with its harness, which is padded and of good quality, just like the strimmer itself, however, I believe the design is overly convoluted for no obvious purpose.
The strimmer's split shaft design provides you two lengthy handlebars to grip and helps you control the product's 10+kg weight.
A spool fed grass trimmer and a more heavy-duty brush cutter attachment is included with this device. Purchase a few additional spools for your grass strimmer, as you will go through them quickly, but they are not expensive so don't worry. This applies to all spool fed strimmer's.
PROS
It comes with a harness.
Easy to start.
Powerful
CONS
Instructions aren't very straightforward
BU-KO Long Reach Petrol Multi-Functional Garden Tool
The strimmer is a dual-line nylon cutting device that can be replaced with a metal 3T brush cutting blade or a 40T blade. The double-edged long reach hedge trimmer blade is composed of hardened steel and will make quick work of your hedge tops.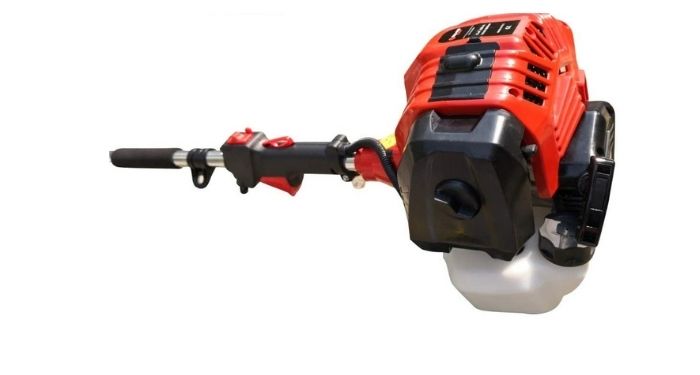 The chainsaw/pruning saw blade is 25cm long and comes with an automated oiler that can be adjusted to keep the chain lubricated. A single screw and lock nut allow the chain to be readily adjusted.
A handy extension pole is also included in the kit, giving you an extra 105cm of reach when you need it.
PROS
Multi-functional
No difficultly when in use
CONS
Instructions are not clear enough
Ryobi 25.4CC 2-in-1
The Ryobi grass brush cutter exposes a powerful 25 cc full crank engine that delivers real power in a small package. The Reel Easy head with a 26 cm Tri-Arc cutting blade gives you a 43 cm trimming path.
There are 2.4 mm bump feed lines with Reel Easy heads for rapid line refills, as well as split shafts that are compatible with all 'Expand-it' devices. Enjoy the clean engine design with the Easy Start feature, which ensures a quick and easy start-up.
PROS
Good grip for easy use
Useful attachments
CONS
Dealourus 5 in 1 Multi-Function Petrol Strimmer
Superior consistency is ensured by a precisely proportioned 182 cm long shaft with a genuine industrial securing handle - essential for properly regulating your borders. A high-quality product at a cost that is fair.
It delivers with a separate shaft, making it easily transportable and mobile. A multi-functional strimmer with a two-stroke engine and a 52-cc power air-cooled three-dimensional total capacity motor.
PROS
Powerful
Long reach pole included
CONS
Best Petrol Line Strimmers
Makita EBH252U Brush Cutter
Makita has instead chosen a 1 horsepower, 24.5cc 4 stroke engine for their EBH252U model. This engine is quieter than two-stroke engines, and the clean exhaust system ensures that pollutants are kept to a minimum.
It's one of only a few 4-stroke petrol strimmers on the market in the UK at the moment, so it's a cut above most of what we've reviewed in terms of quality, and although being significantly more expensive, I can't help but think it's still excellent value.
As you'd expect from Makita, a leading manufacturer of petrol line strimmers, the engine incorporates automatic decompression to make starting easier, as well as a primer pump for cold starts.
PROS
High quality
Good fuel consumption
CONS
Ryobi RLT26CDS Petrol Line Strimmer
The POWR LT2 26cc 2 stroke engine has been developed to be not only tiny and lightweight, but also to be a 'clean' engine that emits fewer emissions than other petrol lawn strimmer's, so you can feel good about helping to save the environment.
Despite its low weight, it packs a punch and can handle even the roughest brush once the appropriate attachments (available separately) are attached.
The normal nylon wire is used for cutting, but this model incorporates Ryobi's 'ReelEasy' bump feed head to keep things moving along smoothly.
PROS
Lightweight
Good for reaching the awkward spots
CONS
Instructions aren't the best
Changing the spark plug takes time
STIHL FS40
This petrol line strimmer comes already assembled so you don't have to worry about the stress of assembling it yourself when it comes.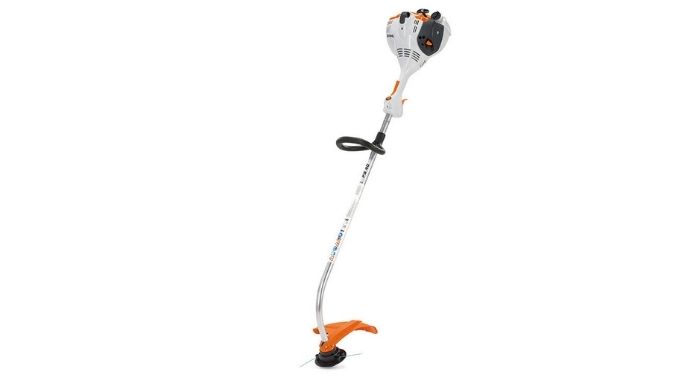 Reviews mention how it is easy to start and isn't very noisy so if you don't want to make a lot of noise and wake your neighbours up then this petrol line strimmer is just for you!
The only drawback of this is that reviews say it isn't the most durable therefore if you use it all the time then the blade will more than likely go blunt which then won't work to the expectations you are used to.
PROS
CONS
Expensive
Not well-suited to larger household
Einhell Scythe AGILLO
A front motor powers the convenient cordless scythe, ensuring optimal power transmission and weight distribution. The bike handle version's two-hand handle is universally adjustable. For dense growth and tall grass, the sturdy line spool with an automated jog line feed is ideal.
A high-quality 3-tooth blade is included for cutting through undergrowth and bush. The spindle lock system makes changing the cutter set simple.
The AGILLO can spin at a maximum of 7,200 times per minute. Electronic speed control maintains the power under control, allowing for fine-tuning to each application.
PROS
CONS
Vibrates a lot of reviews say
Ryobi 25.4CC 2-in-1
The Ryobi 2 in 1 Petrol Grass Brush Cutter is a suitable option for neatening up lawn edges as well as cutting through tougher vegetation like brambles: strong yet lightweight.
You can use either a brush-cutter blade or ahead with a bump-feed line, so this model can be adjusted to any task, whether it's merely tidying up the grass or beating back stronger plants.
The line head has a 43 cm cutting path, so it won't take long to cover larger areas; if the mower can't reach some areas of the garden, this strimmer should be able to get in and keep things tidy – especially around fountains, benches, and playgrounds.
PROS
CONS
Tall users may think the pole isn't very long
Best Straight Shaft Petrol Strimmers
Mountfield 287120123/M16
This Mountfield trimmer cutter incorporates a garden trimmer with a (Tap and GO) synthetic head for a comprehensively convenient technique. A 3 teeth metallic blade and a 40 cm hedge clipper tool are included with the brush cutter machine. It's also lightweight and simple to operate.
The strimmer comes with dual hedge clipping cutting blades that are 40 cm long and can cut 'messy vegetation' up to 20 mm in diameter. The clipper and brush cutter machine comes with a line head that allows you to replace the line when it wears out by gently tapping the head against the floor.
PROS
Effortless to use
Good engine
CONS
AOSOME Multi-Function 5 in 1 Garden Tool
Not only does it come with a basic two-string grass trimmer head, but it also comes with a 3-teeth brush cutter blade, a long reach chain saw pruner, an adjustable hedge trimmer, and an extension pole.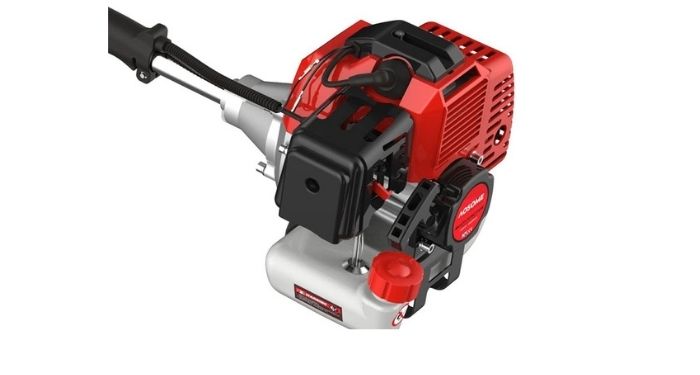 This means you may do nearly any form of maintenance, including branch pruning, lawn trimming, and bramble cutting.
All of these are driven by a powerful 52cc, 2-stroke engine, so the performance is second to none, while you also get a distinctive double shoulder harness to equally distribute the burden, aiding improve balance and comfort when using any of the five attachments.
PROS
Good for any job.
Reasonable price
CONS
Vibrates a lot of reviews say
Progen 52cc Multi-Function Garden Tool
This is a powerful and dependable 52cc two-stroke gasoline engine that will deliver outstanding performance. A chainsaw, grass trimmer, and brush cutter are included.
A hedge cutter and extension pole are included, as well as the tool kit, harness, and fuel mixing bottle.
PROS
CONS
Instructions aren't very clear
Einhell GC-BC
PROS
The shaft can divide into two.
Good for medium gardens.
CONS
Best Wheeled Petrol Strimmers
Hyundai HYWT5080
This Hyundai strimmer has the most powerful engine, with a 50.8cc engine that makes short work of any brush cutting and strimming you need to perform. This efficiency is aided by the 45cm cutting breadth. With a weight of 18kg and a capacity of 0.8L, it's a good thing this machine is on big wheels.
Despite its size, this equipment is relatively easy to manoeuvre. The strimmer's collapsible handle makes it simple to store and transfer between job sites.
This strimmer is not just for those searching for a powerful strimmer, but it is also an option for people who are unable to lift other strimmers due to the wheels.
PROS
Affordable
Powerful
Simple to store
CONS
Reviews say it vibrates a lot
AOSOME ASWBC520
This Aosome model is one of the most popular petrol wheeled trimmers on the market in the United Kingdom. When compared to other models, such as Hyundai, the pricing is significantly lower.
This is made to work on both flat and sloping surfaces. It has a 51.7cc two-stroke petrol engine with a 1400-watt output and 2 HP. The cutting cord has a diameter of 3.0 mm. The cutting width can be readily adjusted between 40 and 50 cm, and it folds away for easy storage.
PROS
Easy to store away
Affordable
CONS
Fox 52cc 2 Petrol Lawn Strimmer
This Fox model is one of the most affordable ones we found. It's worth noting that the ratings aren't as high as they could be, but they're still acceptable. This is made to work on both flat and sloping surfaces.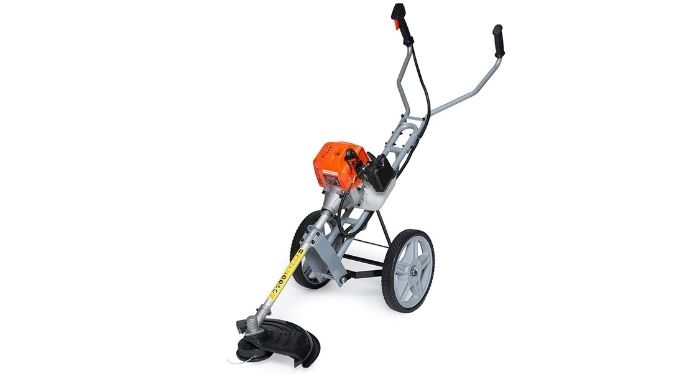 It sports a Wolf 52cc two-stroke petrol engine. The cutting cord has a diameter of 3.0 mm. (Please note that a metal cutting head cannot be attached to this one.)
It also includes a 2.4 mm line spool and a bump head feed line spool for normal grass maintenance. The breadth of the cutting blade is 40cm.
PROS
CONS
Takes a while to assemble
Hyundai Petrol Push Field Grass
This is a pricey wheeled trimmer, but if you get it, you'll have one of the best petrol wheeled trimmers on the market right now in the UK. This one has a Briggs & Stratton 675 series, a 190 cc engine that drives a quad cutting string head.
It's ideal for clearing huge gardens and tough terrain. It has a 20" cutting swath and can clear a lot of territory in a short amount of time.
PROS
Ideal for big gardens
Powerful
CONS
McCulloch MWT420 Wheeled Trimmer
This is a pricey wheeled trimmer, but if you get it, you'll have one of the best petrol wheeled trimmers on the market right now in the UK. This one has a Briggs & Stratton 675 series, a 190 cc engine that drives a quad cutting string head.
It's ideal for clearing huge gardens and tough terrain. It has a 20" cutting swath and can clear a lot of territory in a short amount of time.
PROS
Best for large gardens.
Powerful
CONS
Best Lightweight Petrol Strimmers
eSkde BP52-S8
The eSkde 52 ccs petrol-powered backpack brush cutter strimmer system is a fantastic approach that will benefit both your hands and your backbone.
The rucksack cutter and strimmer have all of the features and capabilities of the conventional handheld range, but with the added benefit of a backpack-mounted power model.
With a metallic brush cutter machine blade and a synthetic(s) strimmer head device, the equipment is a two-in-one strategy. With the addition of the hedge clipper, pruner, and expansion rod add-ons, it could be converted into a complete garden multiple tool system.
PROS
CONS
Stihl FS 55 E 27.2cc
The Stihl FS 55 R 27.2cc Petrol Strimmer has all the characteristics of the more powerful strimmers in our review, but it is lighter and has a less powerful engine. As a result, it's a good entry-level strimmer that's also dependable and built to last.
All the controls on the multi-function control loop are grouped for convenient access by your thumb. You never have to remove your hand from the loop, giving you complete control.
PROS
CONS
True Shopping 26cc Petrol Grass Trimmer
The 26cc is the lightest and least powerful, but it still has plenty of power and great build quality with a sturdy metal frame. This one is perfect for small-scale strimming activities like edging lawns or clearing brambles and weeds.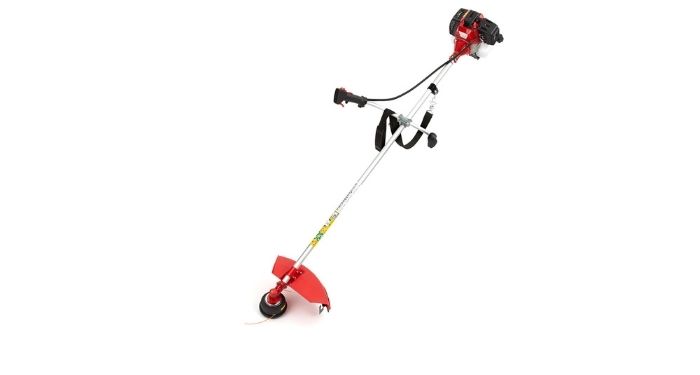 The only drawback is the build quality, which leaves some sections feeling cheap and plasticky.
However, assembly is simple thanks to the included instruction manual, and the strimmer is simple to operate. If parts do break, the Trueshopping customer service crew is said to be pleasant to work with and eager to replace them.
PROS
Affordable
Easy to assemble
CONS
Makita EBH252U 24.5cc
The grasscutter is one of the lightest on the market, and the bike-inspired handlebar makes it even easier to use and control. All of the features are located on the ergonomically built handle, so you never have to leave it.
A shoulder harness with a waist belt is included for added support. A four-toothed metal blade and a nylon cutting head are included with the equipment. As a result, you can use it with a metal blade to cut tough grass or attach the nylon feed to chop overgrown weeds.
PROS
Ergonomic handlebar
Low noise
CONS
McCulloch TRIMMAC Curved Trimmer
The Trimmac is ideal for homeowners who don't want to deal with the hassle of heavy tools while maintaining their property.
The Mcculloch petrol trimmer is simple to install and start, and it completes the operation in minutes, saving you from a tedious grass cutting session. All owing to its powerful two-stroke engine, which can work in any environment.
PROS
CONS
Best Budget Petrol Strimmers
B&Q Petrol 2-in-1 Grass Strimmer
Cuts thick grass and brushwood in fields and ditches with this B&Q 25cc petrol brush cutter.
It works well in fields and ditches to cut thick grass and brushwood. 1x single harness, 1x four-tooth blade, and 1x spool are included. It also has a 230 mm plastic cutting blade.
PROS
Can cut tall grass
Includes extra features.
CONS
Gracious Gardens Grass Strimmer
Gracious Gardens' 18V Strimmer efficiently cuts through the grass. The Strimmer's ultra-lightweight design makes it simple to use and store. On a full charge, you get 40 minutes of use, and the batteries recharge in an hour.
It also includes an adjustable height, a big trimming diameter, and blades that change quickly. 2 batteries, a charger, and 20 strimmer blades are included in this package.
PROS
Lightweight
Adjustable height
CONS
Einhell Classic BC52AS
The Einhell GC-BC 52 AS petrol brushcutter is a powerful instrument for getting rid of obstinate growth in difficult-to-reach sections of the yard.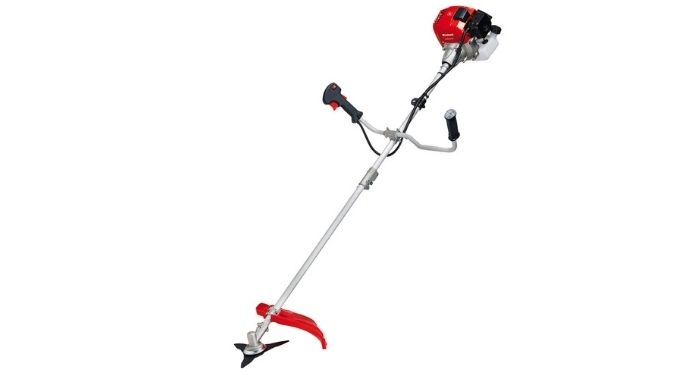 A high-quality two-stroke engine provides plenty of power, and thanks to a crankshaft with double bearings and anti-vibration feature, it runs particularly smoothly and quietly. Digital ignition ensures a fast, dynamic fuel intake as well as stable motor running.
PROS
CONS
Not as cheap as the others but better quality
True Shopping 43cc Petrol Grass Strimmer
For more efficient lawn edge trimming and bush & weed clearing, use the dual-line and 3-toothed cutting blade. An ergonomic harness is offered for free, which distributes the load and improves comfort and efficiency.
To prevent an uneven load from being imposed on the user's back, a bike-style handlebar is supplied.
PROS
Harness included
Easy to hold
CONS
True Shopping Petrol Garden Brushcutter Grass Strimmer
This petrol brush cutter/trimmer is not only incredibly flexible, but also simple to handle and maintain, and it outperforms many of its more expensive competitors.
The True Shopping Petrol Trimmer is great for trimming along the borders of lawns and small-scale clean-up activities, such as cleaning out stubborn weeds and bushes, thanks to its twin line and 3 toothed cutting blades.
The True Shopping Petrol Brushcutter also boasts a great power-to-weight ratio and starts effortlessly in all weather. It also offers tremendous torque, maximum efficiency, and quick acceleration.
PROS
Comes with a kit
Easy to clean
CONS
Sources