Introduction to the Best Impact Drivers
If you're performing some serious woodworking and need to drive long screws into various types of wood, an impact driver is a piece of equipment to use.
These little titans resemble drill drivers, but their bodies are usually smaller, making them ideal for operating in tight locations.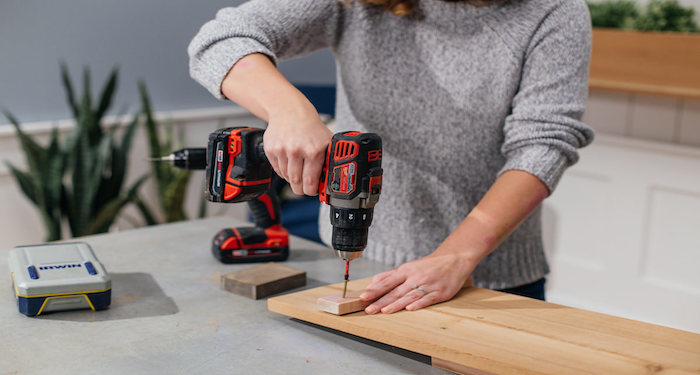 A good impact driver can easily drive an 8-inch monster screw into the wood without causing a commotion. It accomplishes this by combining its screwing action with a quick and noisy up, down, and sideways pounding motion.
Here we will tell you all about impact drivers, including what they are, how to use them, the different types of impact drivers and the best ones you can buy for your DIY projects!
What is an Impact Driver?
An impact driver resembles a standard power drill in appearance. However, if you understand when to utilise an impact driver, you'll know it's not meant to replace your beloved drill. Impact drivers provide a variety of advantages.
Impact drivers are made for driving long deck screws or carriage bolts into timber posts, as well as fixing concrete screw anchors into block walls and screwing into metal studs.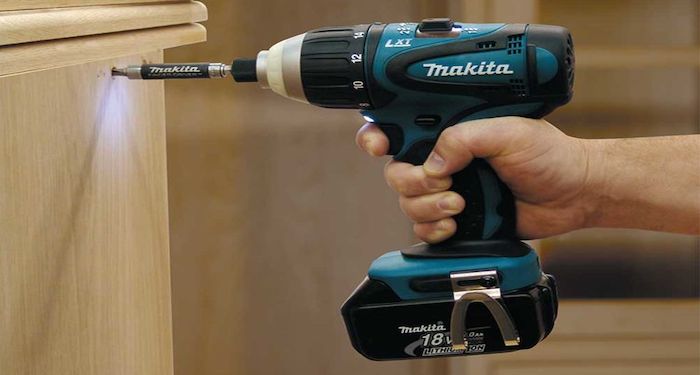 The lack of a clutch in these tools contributes to the impact driver's smaller size.
Keep in mind, an impact driver is not meant to be used for drilling.
How do you Use an Impact Driver?
Using an impact driver to drive or remove screws is like using a power drill. The way the screwdriver bit is fastened to the tool's chuck is a significant distinction between the two.
Impact drivers have a hex shank that locks into the chuck collar without the need to tighten the chuck collar, as is required with a traditional drill.
Choose the correct driver bit.
In the quick-release chuck, place the bit.
Place the rotation selector in the appropriate position for operation.
With one hand, hold the impact driver.
Slowly depress the switch trigger while placing the bit on the screw head.
To gain better control, start the bit gently.
Impacting will begin when the screw is driven.
When the screw head is flush with the surface, release the trigger.
Types of Impact Drivers
When looking at the different impact drivers, there is a big selection to choose from. Depending on your job or task in your home, the perfect impact driver is out there for you.
Here we will list the different types of impact drivers and the pros and cons of each:
Cordless Impact Driver
It's a fastener driver for screws, nuts, and small bolts that runs on batteries. It has a clutch that disengages the drill's powertrain when the tool exceeds a certain torque level (turning force).
It prevents stripping the fastener head, breaking the fastening off, or pushing the fastener right through a piece of wood by disengaging the powertrain at that point.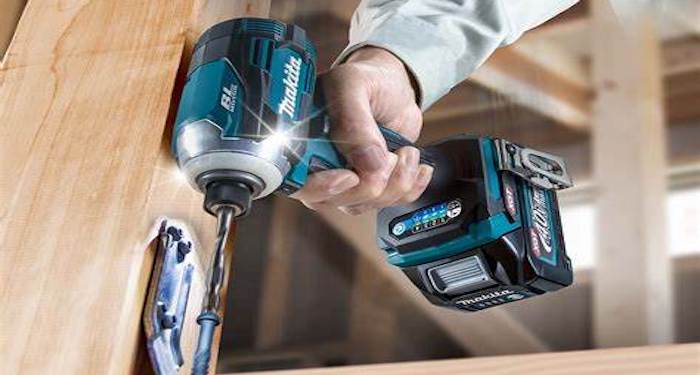 Cordless impact drivers always include a clutch that allows them to drill or drive, but they can also have a hammer function that allows them to bore a hole in concrete or stone with a carbide-tip masonry bit.
Corded Impact Driver
Corded impact drivers can only be used when the plug is plugged into the socket. You don't have to be concerned about them stopping in the middle of their work. Impact wrenches with cords are less expensive, but they bind you to a plug socket.
Depending on the wire length, a corded impact wrench has a defined work radius. You won't be able to move the cord past this distance if it's 3 metres long.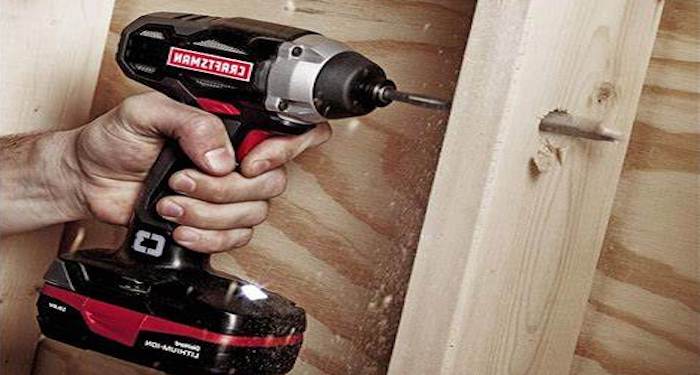 Impact drivers with cordless motors are ideal for manoeuvring around and around bends. Additionally, you may trip over cables, particularly if the line is taut all the way. The only way to improve this is to purchase an extension cord.
Compact Impact Driver
It creates threaded holes through which a machine screw can be inserted. It can drive a wide range of threaded fasteners, including wood screws, drywall screws, and concrete screws.
It not only drills specific pocket screw holes, but it also drives the screws, putting you one step closer to being a furniture manufacturer.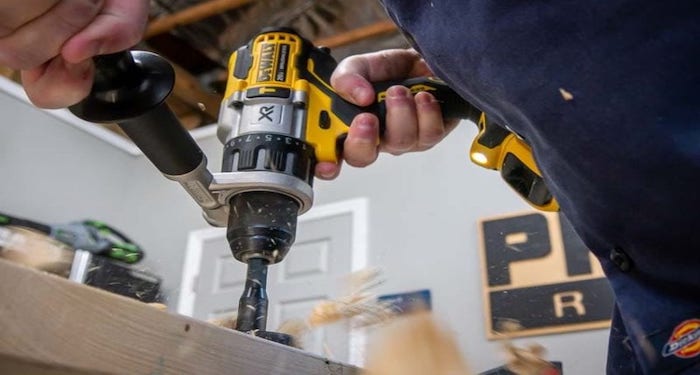 To tighten a bolt head or a nut, use a nut driver bit or a socket to speed through the assembly process. A chisel setting on specialised drills allows the tool to work in a percussive mode without any rotary motion.
Brushless Impact Driver
Brushless impact drivers have no friction, which means more power goes to the tool, greater precision motor and power control, longer battery run time, less heat created during usage, and longer battery life. Brushless tools are also easier to maintain.
The pieces in a brushed tool may need to be replaced from time to time due to the friction created by the contact. Brushless technological developments, on the other hand, come at a higher price.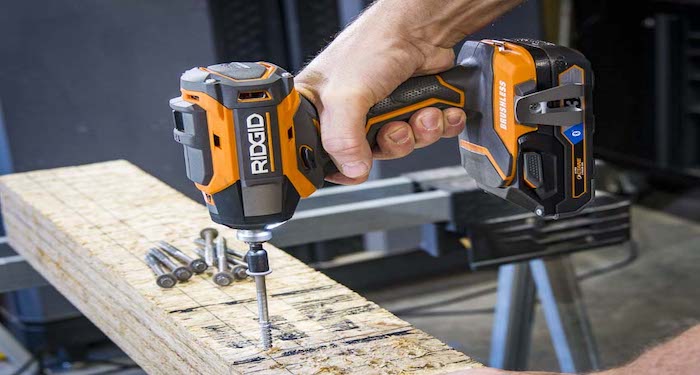 Brushless tools may be a better long-term investment if your tools will be used frequently, but brushed tools might serve you well and save you money upfront if you simply use your toolbox for infrequent domestic and DIY chores.
Keyless Impact Driver
A keyless impact driver takes a range of round and hex shank bits, which are held in position by turning the chuck. An impact driver has a collet that accommodates 1/4-inch hex shank driver bits, and you pull the collet forward to insert or release a bit.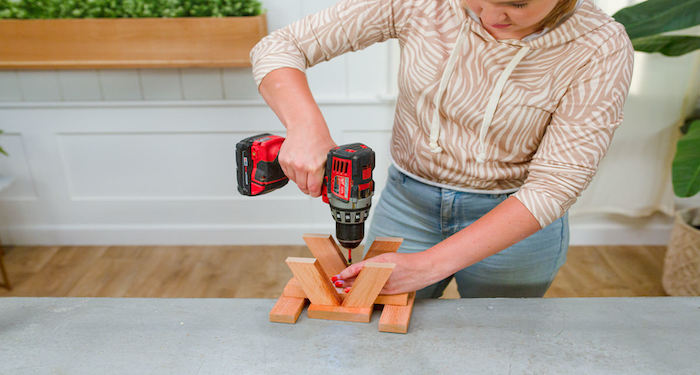 Best Impact Drivers
Impact drivers are a more powerful and effective alternative to drill drivers and electric screwdrivers. However, with so many options to consider, selecting the best one might be difficult.
We've compiled a list of the greatest impact drivers you can buy for your home.
Best Cordless Impact Driver
Gtech 20V Impact Driver
The Gtech 20V costs a little under £130 and includes a 20V battery, charger, and 12 high-quality bit heads that fit a wide range of screw types, including Phillips, Posidriv, Torx, Slotted and Hex.
This little impact driver is one of the lightest and smallest on the list, weighing only 1.12kg. It's ideal for any DIY project, including ones in tight places.
This type has a smooth and sensitive variable speed trigger that slowly starts the brushed motor for screw alignment before increasing speed when finger pressure is applied. However, be warned that the motor rapidly ramps up to full power in the last millimetre of trigger travel.
Pros:
Cons:
The last centimetre of trigger travel ramps the motor to full power
Milwaukee M18FID-0
This one has four operating modes, each of which produces a different speed and torque range (mode four is an especially clever setting that automatically adjusts the bit speed if it detects a high level of resistance).
The M18FID has a front-mounted LED and a convenient power gauge that lets you know when it's time to re-charge or replace the battery, as do other decent modern power tools.
If you're a serious DIYer or even a pro with this much money to spend on an impact driver that delivers in spades and is as robust as old boots, this is the tool for you.
Pros:
Let's you know when to re-charge
LED lights included
Cons:
WORX WX291
If you want to drive screws swiftly and easily without breaking the bank, this Worx cordless impact driver is a terrific option. It includes a long-lasting 2.0Ah battery, making it suitable for both regular use and extensive tasks.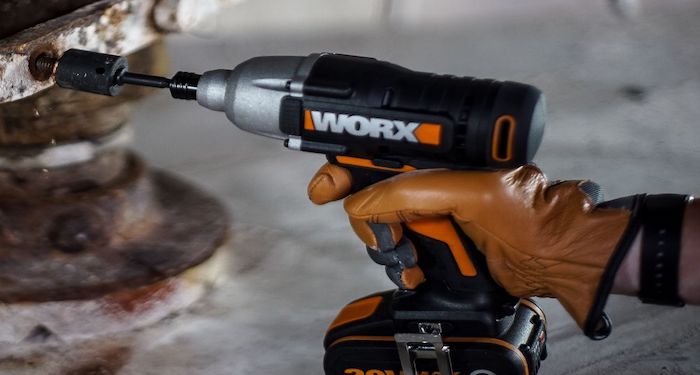 Because the battery is compatible with other Worx 20V power tools, it's an excellent choice if you already own other Worx 20V power tools.
This Worx impact driver has all the power and features you'll need for most projects at a low price. It's also simple to use and comfy, which helps to prevent wrist and arm fatigue.
Pros:
Battery included
LED work light
Cons:
Reviews say the charger is slow
Bosch Professional 601900
This Bosch model is a perfect choice if you require a light and small cordless impact driver for tight places and overhead work. This driver is highly efficient, with great durability and runtime thanks to its brushless motor technology.
It's designed to sit comfortably in your hand for less fatigue and increased precision.
The two-stage power control, which is ideal for use with tiny to medium length screws, will assist you to avoid overtightening small screws. You can use this impact driver on projects that require more accurate, detailed work because of the enhanced control and variable speed trigger.
Pros:
LED ring light
Long runtime
Cons:
Battery/charger aren't included
Bosch Professional GDR
Due to its strong torque, the Bosch Professional powerful cordless impact driver GDR 18 V - 160 with 18 V offers quick working progress. Because of the integrated belt clip and screwdriver bit, it is simple and practical to use.
Professional 18 V System; ultimate performance; greatest freedom; all batteries are compatible with new and existing Bosch. Professional tools with a built-in LED light to enable complete precision even in dark environments.
Pros:
Built-in LED lights
Affordable
Cons:
The battery isn't included
Best Corded Impact Drivers
Silverstorm 593128
This corded impact wrench has a maximum torque of 350 Nm and a maximum impact rate of 4,000 bpm. It comes with a soft grip handle and a variable speed trigger. The tool is tiny and easy to use, and the build quality is good.
Hardened steel sockets in sizes 17, 19, 21, and 23 mm are included with the 240v impact wrench. For all of these features, this is a low-cost impact wrench that provides excellent value for money and has everything you'll need to do most DIY and car maintenance tasks.
Pros:
Affordable
Comfortable handle
Cons:
New Clarke CEW1000
This New Clarke CEW1000 Electric Impact Wrench 240v is a fantastic corded impact wrench option. This mains impact wrench has a torque rating of 450 Nm and is easy to set up and use.
The 240v impact wrench produces 3,400 bpm and is powerful enough for heavy-duty jobs. It's well-made and feels weighty, which is understandable given its strength. Impact sockets in the sizes of 17, 19, 21, and 22 mm are included in the package. It also includes extra brushes and a carrying case.
Pros:
Easy to set up
Good quality
Cons:
Reviews say the wire is not very long
GM Performance Parts
The 1/2" Drive Electric Impact Wrench has a 2100 RPM motor that can produce up to 235-foot pounds of torque, making it easy to finish a range of chores. Spare brushes are included with the impact wrench, and thanks to their screw-in form, they are simple to change.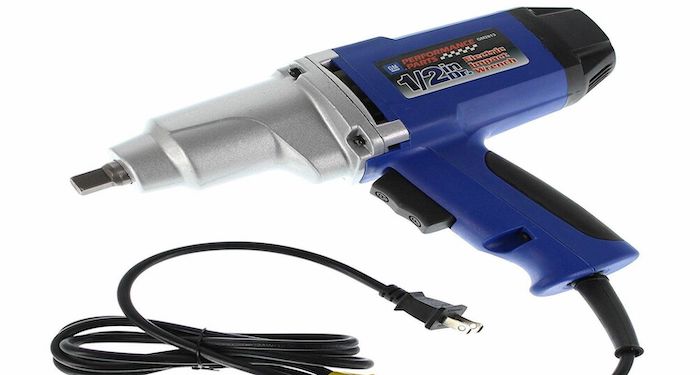 Pros:
Cons:
ToolTronix Electric Impact Driver
For the DIYer or automotive enthusiast, the ToolTronix 450W electric impact wrench and socket kit are a must-have. This tool is ideal for jacking up wheels, installing sockets, and removing or replacing wheel nuts.
It also comes with a high-quality 1/2" drive for easily loosening tight bolts and fastening to high torque levels.
Precision control is provided by a variable speed trigger with forward and reverse selection. The direction control switch allows you to effortlessly control the impact wrench's direction.
Pros:
Variable speeds
Easily change the direction
Cons:
Not the best quality reviews say
Clarke CEW1100 Electric Impact Driver
The CEW1100 is the ideal electric impact wrench for steel erectors, fitters, engineers, and garage mechanics, with a massive 710Nm torque and forward and reverse drives. It's a great addition to any worksite or workshop.
The CEW1100 comes with 24, 30, 32, and 36mm sockets and is ready to use right out of the box, making it excellent for a wide range of applications.
Pros:
Ready to use
1-year warranty
Cons:
Reviews mention how loud the impact driver is
Best Compact Impact Drivers
Bosch Home and Garden 06033D6000
This lightweight impact driver weighs only 1kg, so it's worth considering if weight is an issue. It's also the only driver here that will fit in a drawer, although it's not the best balanced, and you won't be able to stand it upright on its batteries while working.
This Bosch isn't the most powerful tool, but despite having a brushed motor that produces only 100Nm of torque. It's a nice touch to have a two-speed power switch.
Pros:
Cons:
Ridgid R8723 Sub-Compact Impact Driver
The Ridgid Sub-Compact Impact Driver is the smallest in the class, measuring just 4.6 inches across the head. It's also light, weighing only 2.8 pounds with a 2.0Ah battery.
It has the most muscle in the class, with 1800 in-lbs of torque and 4200 IPM, albeit it does lose a little speed at 2900 RPM. It's also quite reasonable, with a £199 package that includes the impact driver, drill driver, two 2.0Ah batteries, charger, and soft bag.
Pros:
Doesn't include any features
Small to use
Cons:
Reviews say it is very loud
Milwaukee 2853-20 M18
If keeping a high level of productivity is important to you, you'll appreciate how quickly the Milwaukee M18 FUEL drives fasteners. This variant also holds its own in terms of power, easily destroying all of our torque tests. The M18 FUEL's diminutive size is one of the favourite features; it's the smallest 18V impact driver we've ever seen.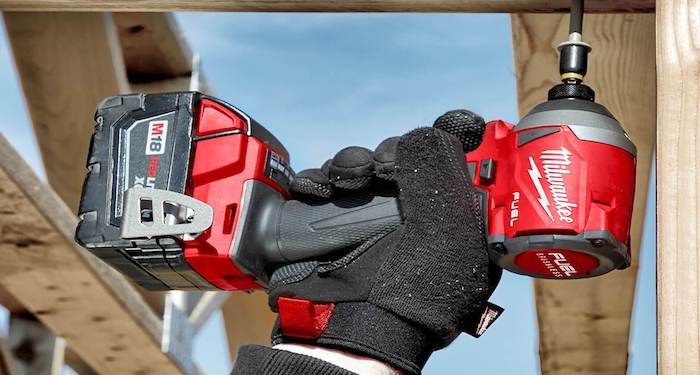 The only problem with this model is that the batteries don't last as long as they should, but this can easily be fixed by changing the batteries or keeping an additional one on the charger at all times.
Pros:
Comfortable to hold
Fast driving modes
Cons:
Batteries don't last long
Ferrex 18V Impact Driver
With this Ferrex 18V Impact Driver, you can get started on that DIY project. This power tool is great for working on heavy-duty chores and is ideal for decking and other surfaces while being a compact impact driver.
With its forward and reverse features, this power tool is designed to drive and loosen large screws on rough surfaces. It also has a 3 LED ring light on the machine head for better sight in dark locations. So, with the help of the Ferrex impact driver, why not invest your time in a new project?
Pros:
Affordable
Good for heavy-duty jobs
Cons:
Dewalt DCF787D2T-SFGB
Compared to brushed motors, this Brushless motor has a longer run duration. Its compact and lightweight design makes it easy to store in small spaces. It also comes with an ergonomic comfort-grip handle for optimal balance and tool control.
Pros:
Long duration
Comfort grip
Cons:
Best Brushless Impact Drivers
Dewalt DCF887D1
The brushless motor in the DeWalt produces a massive maximum torque of 205Nm, making it appropriate for practically all heavy-duty applications.
A variable speed trigger, a three-speed switch for varied length screws, three bright LEDs for illuminating the job, a handy magnetic receptacle for two extra bits, and a trouser clip are among the other useful features.
The bit sleeve from DeWalt is simple to use. Simply push the bit in, and it snatches it automatically; however, be careful while ejecting it because it jumps out, much like the newly laid decking you just spent hours installing.
Pros:
Cons:
Takes a long time to set up
Ryobi Brushless Impact Driver
Because the Ryobi has a hefty grip, it may be better suited to people with larger hands. However, when used horizontally, it is incredibly comfortable, and the balance is perfect.
It has a variable speed trigger, three useful power levels, a dedicated DeckDrive mode for decking work, three bright LEDs to work with, and an easy-to-use spring-loaded bit sleeve that shoots out the bit a little too enthusiastically.
Pros:
Easy to use
Doesn't need any pressure
Cons:
Ryobi R18IDBL-0 One+
This Brushless motor is electronically controlled to improve efficiency and provide up to 40% greater runtime per charge. Because Ryobi offers battery-powered or electric equipment, it operates cooler and lasts up to 10 times longer than brushed drills, eliminating accessories and components exposed to natural and normal wear and tear.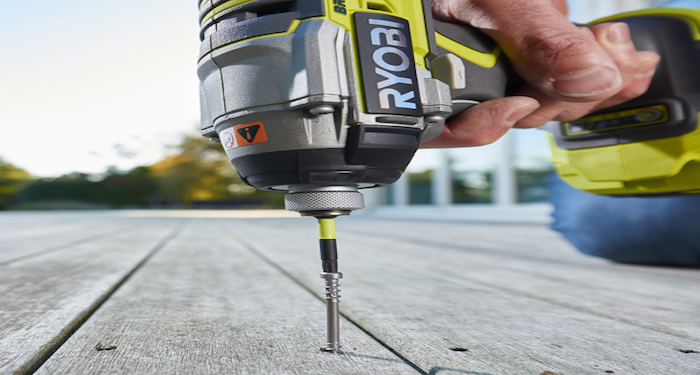 Pros:
Cons:
The body is only included
Makita XDT12T
The Makita 18V LXT Impact Driver is more powerful and faster than its predecessors. There is no harm to the screw or work surface due to its precision fastening operations.
It has four power speed settings up to 3600 RPM and weighs 3.3 pounds. It produces 1,550 pounds of torque. This is the smallest and most powerful cordless impact driver in its class.
Pros:
Good battery life
3-year warranty
Cons:
It isn't the lightest model
Porter-Cable Impact Driver Kit
The brushless motor of the PORTER-CABLE Cordless Impact Driver gives it 50% greater runtime. With 1400lbs of torque and 2900 RPM, it's ideal for heavy fastening jobs. Reviews like the quick-change hex, which allows for one-handed drill bit changes when standing on top of a ladder in a confined position.
It's quite light, weighing only 2.9 pounds, and it comes with a three-year warranty. It has a 14 per cent shorter ergonomic design than prior models, making it easier to grab and hold. Porter-Cable has a long history, and for the price, this impact driver is a bargain.
Pros:
3-year warranty
Quick change hex
Cons:
Batteries don't last long
No speed settings
Best Keyless Impact Drivers
Ryobi RID1801M
The Ryobi One+ Impact Driver is a good choice for most DIY projects, and its 220 Nm of torque makes it great for screwing and loosening heavy bolts. This impact driver is also extremely sturdy, thanks to its die-cast aluminium front housing. If you're new to DIY and don't have a complete set of tools, the 13-inch socket adaptor can be used as an impact wrench.
The keyless 14-inch hex drive makes replacing bits quick and straightforward, and because of the integrated bit storage, you won't lose any bits during the process. Furthermore, even in dimly lit regions, the Tri-Beam Led work light allows you to drive screws with precision.
Pros:
Cons:
Black & Decker
The Black & Decker 5.2 amp 3/8-inch VSR Drill Driver with Storage Bag is ideal for the handyman or homeowner who prefers to do their repairs. The drill comes with a convenient storage bag to keep it secure when not in use, as well as an easy-to-use keyless chuck.
Pros:
Cons:
Reviews say it is not the best quality
Makita XDT16T Kit
It has a torque power that can handle most screws and offers stronger impact drivers a run for their money in terms of efficiency and power. To make your life easier, it is a keyless impact driver.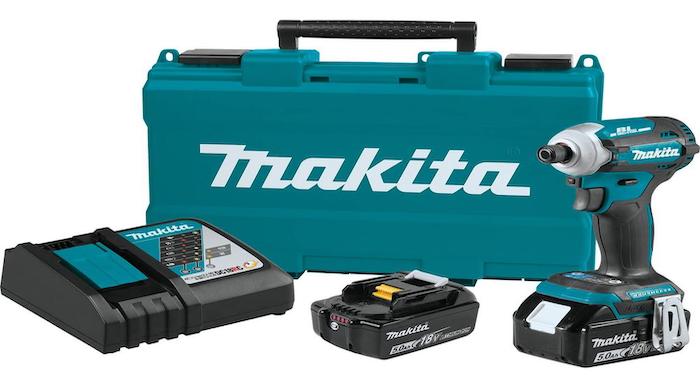 The spinning force it generates is incredible, and the battery's overall quality is excellent. As a result, if you don't mind the price, this will provide the best operation and versatility now accessible.
Pros:
Can handle most screws
Easy to use
Good battery
Cons:
Bosch 25618-02 Impact Driver Kit
This Bosch contractor-grade tool is ideal for tight project work where a large impact driver would be difficult to use. This keyless impact driver is 25% lighter than the competition, making it both small and lightweight. It has more torque and is faster with an LED light for use in dark situations.
Pros:
Two batteries included
Compact
Cons:
Reviews say it is toy looking
Ryobi P237 18V
This ranges from 0 to 3200 impacts per minute, allowing you to work on both delicate and demanding chores with ease. All you have to do with this chuck is insert your bits into the slot. Pull back on the collar to eject the fragments. There are no tools required.
The handle is covered in a special notched rubber that gives you a better grip on the tool. LED lighting adjacent to the chuck illuminates your work, allowing you to operate in low-light conditions.
It also comes with a magnetic bit holder that attaches to the tool's base and allows you to hold on to fasteners and bits that you might need to attach to the tool while you're high up on a ladder.
Pros:
Cons:
Best Budget Impact Drivers
Makita DTD152Z
The rubber driver's grip is comfortable enough, though the battery's increased weight makes it seem a touch bottom-heavy when used horizontally. Makita makes a variety of batteries in various sizes, so if you want to lighten your load and enhance your balance, go for a smaller battery.
It doesn't have a brushless motor and isn't as powerful as the DeWalt, Ryobi, or Milwaukee, but based on the abundance of user evaluations, there aren't many people who are unhappy with their purchase. This is a fantastic value impact driver for just about any DIY project you can think of. It's also quite likely to be dependable.
Pros:
Cons:
No extra features included
QUPER Cordless Impact Driver
All Makita 18V lithium-ion batteries, including the BL1850, BL1850B, BL1860B, BL1840, BL1830, are compatible with this heavy-duty power tool. (batteries are not included.) Make your Makita battery more versatile by adding more tools to it.
2-Mode: If you keep pushing the trigger after turning on the "Mode" button, it will cease operating after a few seconds. Release the button and try again. If you turn it off, it will continue to tighten for a longer period.
Pros:
Variable speed control
< Auto-stop mode
Cons:
Batteries are not included.
Mac Allister MSID18-LI
This is a low-cost, compact impact driver with strong torque that can screw and loosen larger screws and bolts in metal and wood. It also comes with a handy nylon bag, ensuring that you get your money's worth!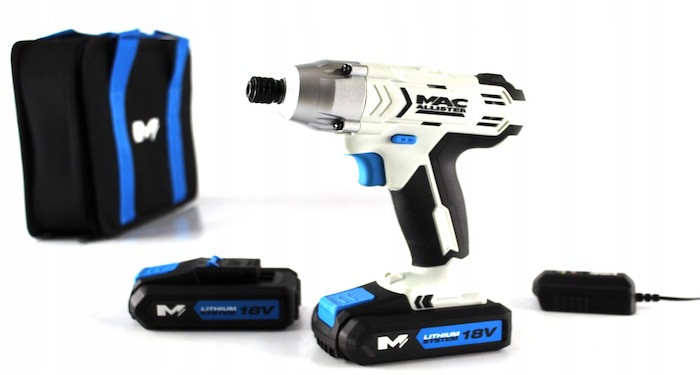 Pros:
Compact
Handy bag included
Cons:
Reviews say it isn't the best quality
Einhell TE-CI Li 12V
Screws can be screwed in and out quickly with the Einhell TE-CI 12 Li cordless impact driver. The wrists are protected from severe torsional pressures by a unique impact mechanism. It makes driving in huge or lengthy screws a breeze. The tool's electronic speed control allows it to be tailored to the application and material.
The hexagon mount is always equipped with the necessary tool accessories. The impact driver includes ergonomic soft-grip surfaces and is short and light in design. The LED light illuminates the workspace to its maximum potential. A 45-minute charger, a 2.0 Ah rechargeable battery, and a convenient storage case are included with the product.
Pros:
Comfortable to hold
Quick to charge
Cons:
Reviews say it isn't durable
DeWalt DCF815N
This compact, long-lasting impact driver produces 107Nm of torque and features all-metal gearing for efficient power transmission and extended life. Its front casing is made of aluminium, which allows for better heat dissipation and this longer motor life.
It includes a three-LED 'Halo' ring for optimal workpiece illumination.
The compact body makes it possible to work in tight locations and do repetitive tasks with little fatigue. It also has a rubber over the moulded ergonomic handle that decreases surface vibration and user strain.
Pros:
Compact
Keyless
Ergonomic handle
Cons:
FAQs
Q: What is the difference between an impact driver and a drill?
A: The key difference between a drill and an impact driver are that impact drivers tend to be much smaller and lightweight. Impact drivers also provide bursts of torque, while a drill offers consistent torque using its gears.
Q: What size impact driver do I need?
A: The size of impact driver you choose will depend on the job itself. For example, a small 1/4 inch or 3/8 impact wrench are ideal for very tight spaces. While the most common size is a 1/2 inch impact driver which offer the best power and precision and are ideal for most household jobs.
Q: When should you use an impact driver?
A: Impact drivers are typically used to secure long carriage bolts and decking screws into wood. You can also use an impact driver when installing cupboards or other awkward or small screw applications.
Q: How much torque should an impact driver have?
A: The amount of torque will depend on the type of impact driver and the job itself. However, 450 to 500 ft lbs should be sufficient enough to remove lug nuts and perform other suspension work.
Q: Can I use an impact driver instead of a drill?
A: An impact driver can drill holes, as long as it has the right drill bit. There are also some circumstances where an impact driver is a better option than a drill. For example, jobs such as a cabinet installation may require an impact driver instead of a drill, as extra muscle and torque is required.
Sources