Introduction to Garden Incinerators
The simplest, cleanest, quickest, and most efficient way to dispose of lawn/landscape garbage such as leaves, debris, and hedge cuttings is to use a garden incinerator.
They're usually composed of galvanised steel and come in two shapes: cylindrical (like a trash can) and square. It comprises a kiln (where the trash is burned) and a series of ventilation openings in the lower area of the incinerator.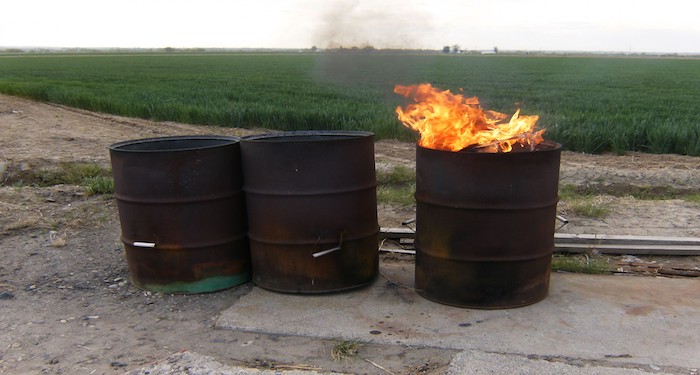 However, owning an incinerator is useless if you don't know how to utilise it properly, just like any other tool.
Therefore, we have created this guide to help you understand what a garden incinerator is, how to use one with the different types including the best garden incinerators you can buy! So, if you have a lot of garden waste in your garden a garden incinerator will probably be the best idea for you.
What is a Garden Incinerator?
Any furnace used in the process of burning solid waste to reduce the volume of the garbage by removing combustible stuff is referred to as an incinerator.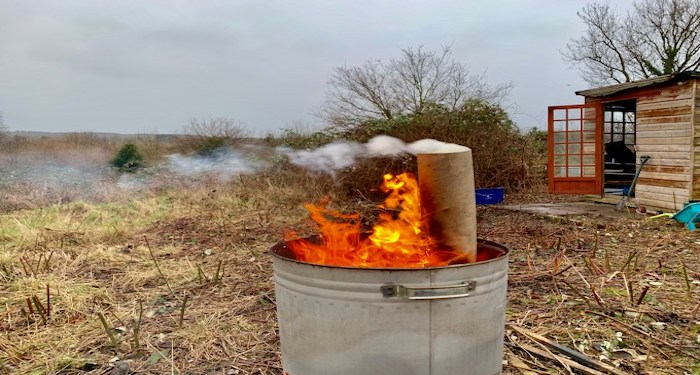 Particles and possibly dangerous contaminants are among the emissions of concern, depending on what is burned. So, having one in your garden is useful as it burns all the waste in your home.
How do you Use a Garden Incinerator?
A garden incinerator is a convenient way to dispose of organic waste while also avoiding trips to the landfill. It is, nevertheless, critical that you understand how to use a backyard incinerator properly and effectively.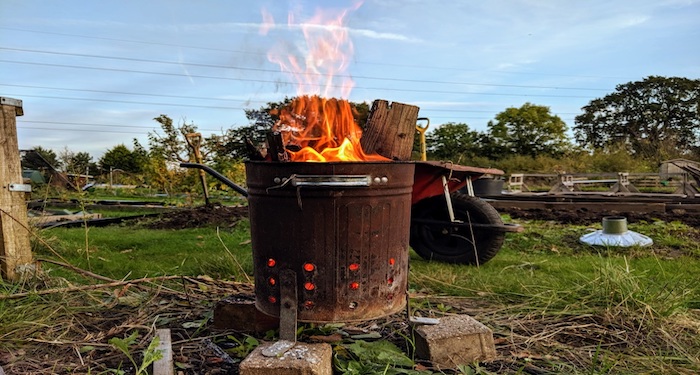 This step-by-step guide will show you how to use your garden incinerator to turn your garden waste into a mound of ash.
If you've recently purchased a garden incinerator, it will require some basic assembly. Make sure the legs are securely fastened, and if an internal flue is included, install it before putting anything else inside. Make sure it is away from roads, buildings, trees and hedges.
It's simple to light your incinerator if you work in stages and make sure all the materials you utilise are clean and dry. To begin, line the bottom of the incinerator with scrunched-up newspaper don't roll it up too tightly; you want air to move freely through it.
Apply a loose layer of dried twigs/grass on top. Place some larger branches on top, but don't compress anything too much. With a long match or safety lighter, light the paper through a few of the holes around the base. Until the fire is well established, only add bone-dry stuff.
Once you've got a good fire going, you can add more garden waste a little at a time but be careful not to smother the flames by adding too much at once. When adding more material, remember to use heat-resistant gloves.
Once the contents have been reduced to ash, remove the cover and stir it to help it cool down faster. When the ash has cooled completely, lift it out with an old cup or trowel and place it in an airtight bag or container. You can also utilise the ash to fight excess acidity in the soil and provide vital trace elements by mixing it with compost. As a result, a large amount of yard waste has been reduced to a little pile of easily removable ash.
Types of Garden Incinerator
In a year, a garden produces a lot of leaves, twigs, and waste. You'll need to get rid of this garbage now and then. A garden incinerator is an excellent tool for accomplishing this. It is a tiny, cylindrical or, less typically, square-shaped metal or steel container that allows you to simply and swiftly burn your waste.
Garden incinerators are incredibly efficient and cost-effective. You are not required to pay for the disposal of your garden garbage. You can save a lot of money by using this easy technique instead of paying for commercial services to dispose of your waste.
Here we will break down the different types of garden incinerators so you can see which one will fit your needs.
Galvanized Metal Garden Incinerator
The Galvanized Garden Incinerator has a simple design with side openings for oxygen and a built-in chimney in the top that can be removed. Made of tough 28-gauge metal. Place it on a fire-resistant patio surface like concrete, slate, or brick.
This is perfect for shredding financial and other paperwork, as well as yard trash including leaves, grass clippings, and more.
When galvanised steel is heated, the zinc covering burns off, releasing zinc oxide vapour. If you inhale enough of it, you will get a condition known as "metal fume fever," which can be fatal.
Composting may be fine, but according to a study, burning galvanised metal can result in death and mild to severe lung damage, so use it outside only.
Mini Garden Incinerator
Household garbage, medical waste, butcher waste, and other waste can be combusted instead of being dumped in landfills using small-scale incinerators.
Furthermore, heat and energy may be recovered, and it aids in the avoidance of open burning of municipal waste, which emits far more hazardous emissions and puts human health and the environment at risk.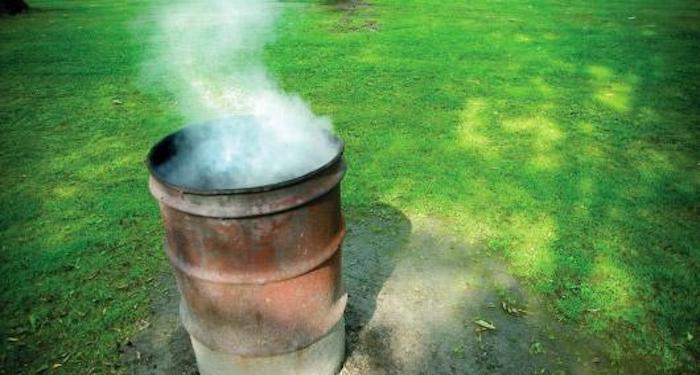 The costs of these incinerators range from extremely high to extremely low, but they are frequently built by community people using local materials such as bricks and steel. Before incineration, the garbage should be sorted to retain organics or recyclable materials.
Large and Extra-Large Garden Incinerator
Garden incinerator plants with a capacity of up to 3000 tonnes per day are high-tech and expensive. Where land for sanitary landfills is scarce and finances and highly trained labourers are available, municipal solid waste incinerators are used.
The ashes can be used to recover heat, energy, and precious metals. Large-scale incinerators are classified into three categories: Mass-burn incinerators, fluidized-bed incinerators, and modular incinerators are all types of incinerators.
Circular Garden Incinerator
This is the most common incinerator shape as people find it more aesthetically pleasing. They are usually made from metal and have little holes around the incinerator which allow air to get to the fire. They can vary in price depending on the type and the brand you are buying from.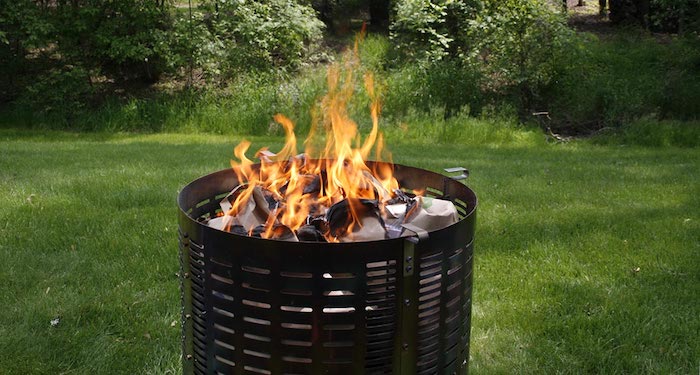 This type of garden incinerator is harder to stand as the shape doesn't match the legs, so most people say that it is harder to balance in their garden.
Square Garden Incinerator
A square garden incinerator is another option for your garden. This shape does have a bigger capacity however they are also known to be more expensive. They are square with four legs on each corner to lift it from the ground with holes around the sides to let the air get to the fire.
Best Garden Incinerators
Garden incinerators allow you to burn garden waste in a safe, cost-effective, and efficient manner. Using an incinerator to burn waste can save you time and effort lugging your garden waste to the bin and the landfill.
These days, there are various good lawn incinerators on the market. We've ranked some of the greatest currently available in the table below. We'll go through their essential features, as well as their benefits and drawbacks, so you can make an informed decision.
Best Galvanized Metal Garden Incinerators
CrazyGadget Galvanized Metal Incinerator
This is the CrazyGadget® Galvanised Metal Incinerator, which holds 15 litres. It's compact and easy to transport. It already has aeration holes drilled into it. This aeration hole contributes to the incinerator's effectiveness by allowing the burning contents to reach extremely high temperatures.
The CrazyGadget® 15L Galvanised Metal Incinerator is made of galvanised steel and has a metal lid with a chimney. This allows the smoke from the burning goods to escape the building. It also has three robust legs that support the base and keeps it from making direct touch with the ground.
PROS
Durable.
Airholes make burning faster and easier.
CONS
Not ideal for big gardens.
Keto Plastics Galvanised Garden Incinerator
The volume of this fantastic product is 90 litres. This is more than enough to take in everything you want to burn. The Keto Plastics Galvanised Garden Incinerator is constructed of sturdy, high-grade metal that has been galvanised for further durability.
Furthermore, the incinerator has a three-legged platform that allows it to be elevated off the ground. When burning, you won't have to worry about scorching the ground. Furthermore, multiple air openings allow air to enter the incinerator, allowing for quick and efficient burning.
PROS
Easy to assemble.
Large capacity.
CONS
No good for small gardens.
Gardman Metal Galvanised Dustbin Composter
Every aspect of the Gardman huge metal galvanised dustbin composter is designed to make burning your garden trash a breeze. To begin with, its massive size is extremely remarkable. It also features a metallic cover that aids in smoke reduction.
A chimney is built into this lid, allowing the smoke to escape in a regulated manner.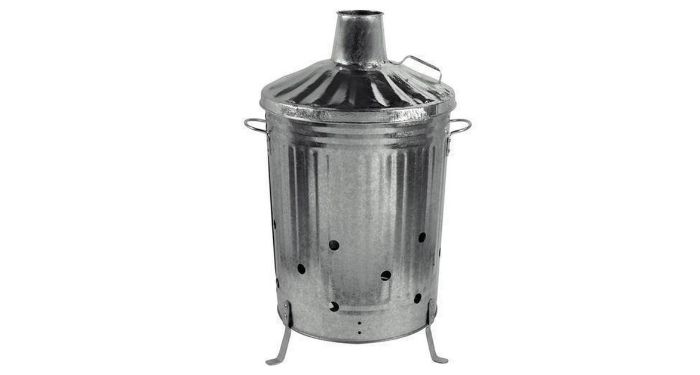 The Gardman dustbin composter features holes drilled into its side and base to facilitate airflow within the incinerator when it is burning. This ensures that the burning temperature is always maintained, allowing trash to be burned rapidly and efficiently.
It also helps to reduce the amount of smoke produced by the incinerator.
PROS
Large.
Strong and durable.
CONS
Takes awhile to cool down.
Apollo Gardening Galvanised Metal Incinerator
The Apollo metal incinerator for gardening is composed of sturdy, durable steel that has been galvanised for further strength. This excellent garden gadget has a capacity of 90 litres, allowing you to burn a large amount of yard trash in one sitting.
The incinerator features multiple aeration holes, which help to ventilate the interior and make burning easier and faster. The incinerator is relatively light, weighing only 3.3kg.
The Apollo gardening metal incinerator comes with two sturdy handles for simple lifting. The top of the structure has a thin funnel-like tunnel via which smoke from the burning materials can escape.
PROS
CONS
Materials have been known to fly out.
TML 90 Litre Galvanised Incinerator
Because this incinerator comes with legs and a lid, it may be simply propped up without the need for a support platform. The 90L capacity is large enough to handle the great majority of horticultural waste disposal activities.
This is a simple incinerator made of galvanised steel. Galvanized steel is long-lasting, weather-resistant, and rust-resistant, so it should keep its shape over time.
The aeration holes are also quite large, which is excellent because some incinerators have smaller aeration holes that do not allow enough air to pass through the barrel.
For easier handling, the lid includes a small chimney and an external handle. This is a traditional, dependable incinerator that can be used in a variety of gardens.
PROS
Wear and rust resistant.
External handle.
CONS
Too small for large gardens.
Best Mini Garden Incinerators
Keto Plastics Mini Garden Incinerator
Although this incinerator is little, there is a reason for it. It is extremely light and portable, making it easy to carry once the burning process is thorough and it has cooled down. It is constructed with two handles that you can grab when carrying it to make it even easier.
In addition to being lightweight and portable, the Mini Garden 15 litre incinerator is also incredibly solid and resilient. It is composed of galvanised metal, which will ensure that you may use it for a long period with little or no maintenance.
It has a metal top and a chimney to assist you to keep the smoke from the burning materials under control.
PROS
CONS
EasyShopping Small Litre Metal Galvanised Incinerator
This is a popular, highly rated, and best-selling alternative. They come in three sizes, so there's something for everyone saves the biggest gardens. It's made in the United States of strong galvanised steel. It has outstanding durability and effectiveness as a result of this.
It comes in three sizes: 15L, 60L, and 90L, all of which offer excellent value for money. For a slight additional fee, you can get the incinerator along with a poker and/or shovel.
The incinerator is made of high-quality materials and should last a long time. It features a firm base with three sturdy legs, so it won't tumble over, and handles make it easy to transport when it's cool. A chimney lid is included with the fire bin.
PROS
It comes with a poker.
Durable.
CONS
It can only burn certain materials such as leaves paper and wood.
Crazy Gadget 15 Litre
This Crazy Gadget fire bin, like the Denney garden incinerator, is a well-priced and well-made fire bin.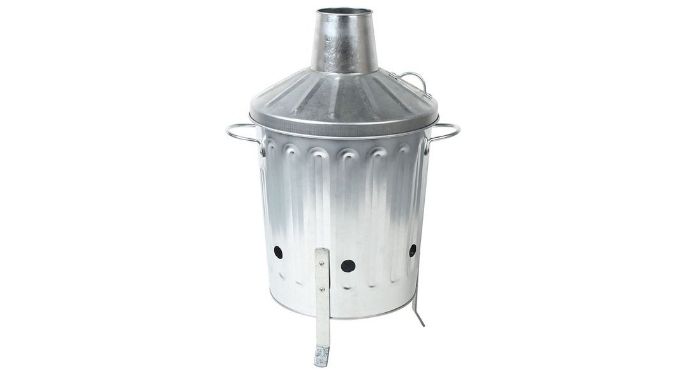 It is incredibly sturdy, with a galvanised steel body, lid, legs, and handles, and it stands very firmly even when loaded to capacity.
PROS
Good for small gardens.
Easy to assemble.
CONS
Household Products Garden Incinerator Bin
The container is composed of rust-resistant anodized steel. In other words, you'll most likely use this burner for so long that it will be passed down to your ancestors.
It also has a solid base and a cover that prevents sparks and flames from escaping. You can put all yard trash and paper-related things from your home in this bin, including cardboard.
PROS
CONS
JunKun Garden Incinerator
The container is built of tough stainless steel that can withstand extremely high temperatures without breaking down. The top also completely seals the container, preventing sparks, smoke, and flames from escaping. You may also expect a long-lasting design, excellent portability, and effective performance.
PROS
The lid seals everything during burning.
Easy to carry.
CONS
Best Large Garden Incinerators
Crazy Gadget Large Metal Incinerator
The cover helps to keep the heat in the incinerator and makes it more efficient. It has a lock for enhanced security. Multiple holes provide ventilation for optimal airflow and efficient burning. It has three sturdy legs that provide excellent stability to the incinerator. This makes it easier to work with and less likely to tumble over.
PROS
It comes with a lid.
Easy to set up.
CONS
Denny International Incinerator
Most gardens are suited for 90L incinerators. They are capable of handling big amounts of leaves, twigs, and logs. The sides of this incinerator are lined with aeration holes. This guarantees that the airflow is effective and that the burning temperature is high. It has zinc-plated handles and a thin chimney.
PROS
CONS
Easy Shopping Medium Garden Incinerator
It has the same two rows of ventilation holes around and in the base as the previous model, as well as the same sort of lid with a big chimney in the centre.
You also get a well-made poker to help keep the flames going, and while it's a little short to reach down through the top of the incinerator, it fits neatly through the side holes.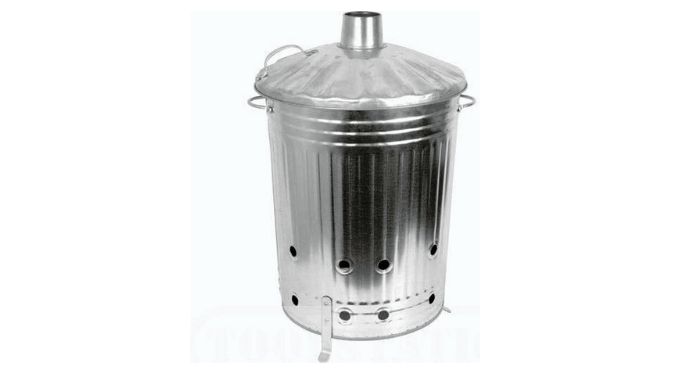 The second bonus item is a shovel, which comes in helpful for cleaning the ashes from the bottom of the bin once all the burning has been completed. The shovel's sides are rather deep, so it can carry quite a quantity of ash.
PROS
Affordable.
Shovel included.
CONS
Simpaoutdoor Large Galvanised Incinerator Bin
A galvanised metal incinerator and a leaf grabber set make up the Simpaoutdoor. With the set, it is easier to clean up gardens, paths, or driveways.
The leaf grabber makes it simple to scoop and collect rubbish without getting your hands filthy or needing gloves. Collecting leaves, trimmings, and other garden trash is simple. It disposes of and burns waste in a timely and efficient manner.
Pros:
Helpful handle on the lid.
Has a large capacity.
CONS
Handle can get quite hot.
Simpa Large Metal Incinerator
These long-lasting incinerators are made of sturdy galvanised steel and have lots of ventilation holes to keep them burning efficiently and safely. There's also plenty of area for burning paper, leaves, and modest amounts of wood, with each having a capacity of 60 litres.
Storage in a dry shed or garage is ideal, as it keeps these incinerators out of the rain and other bad weather.
PROS
Easy to assemble.
Sturdy.
CONS
Needs to be kept dry to prolong lifespan.
Best Extra-Large Garden Incinerators
Denny International Incinerator
The Fire Vida Incinerator is composed of galvanised metal and has a gleaming silver body. As a result, it is powerful and long-lasting. You'll be using it for a long time. It has a 90-litre capacity, which is plenty for a large garden. It includes holes on the bottom and sides to allow more air to move within.
The kit also includes three stands and handles. These stands are quite simple to put up, and the entire setup does not take long.
PROS:
Made from galvanized metal.
Easy to clean.
CONS
Useless for small gardens.
Crazy Gadget Incinerator
The Crazy Gadget incinerator is a super-sized incinerator that can burn the garbage from a medium-sized garden all at once. It is built of galvanised steel, which means that if you choose it, you will not only receive a solid incinerator.
This is long-term investment because the galvanised steel material it is made of makes it incredibly durable.
A shovel is included in the package, which will come in useful for dumping undesirable items from your garden into the incinerator.
PROS
Durable.
Airholes aid good air circulation.
CONS
Reviews say it rusts easily.
Crazy Gadget 125L Extra Large Galvanised Metal Incinerator
It has a 125L capacity, which is more than enough to handle enormous amounts of foliage. The incinerator is composed of galvanised steel and is quite durable.
It features a locking lid and legs, so you won't have to construct any additional supports. A shovel and a 42L plastic Flexi tub are included with the CrazyGadget® 125 Litre 125L Extra Large Galvanised Metal Incinerator.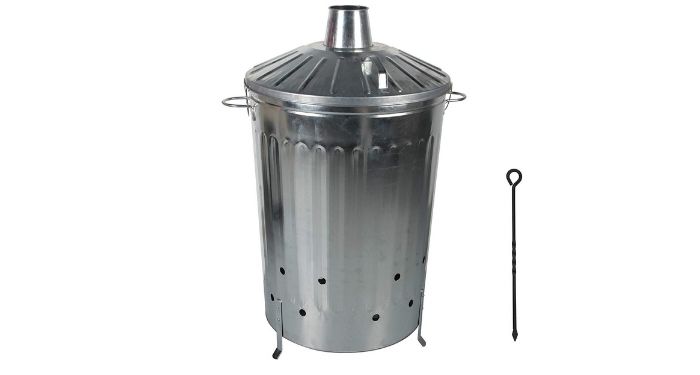 It's a breeze to scoop yard trimmings and materials into the tub and transport them to the incinerator with this package. The incinerator has a lid that is secured to the drum's body by two lockable handles. To secure the lid, simply set it on top and slide the latches down.
PROS
Lockable handles.
Removable legs.
CONS
SAIT Garden Incinerator
With 12 aeration holes drilled in the side of the barrel and another 6 installed at the base, this extra-large garden incinerator is a true workhorse. This enables maximum airflow, which is particularly beneficial for burning bigger materials. It has a capacity of 200L, which is quite substantial – ideal for heavy-duty burning activities.
The SAIT Garden Incinerator Bin Fire Burner is a thick steel drum that achieves extremely high temperatures. The thicker steel keeps the contents well-insulated while the airflow promotes continuous burning. This makes it extremely efficient, making it ideal for burning bigger amounts of heavier vegetation and logs.
PROS
Thick construction.
Fully recyclable.
CONS
Keto Plastics 210 Litre Garden Incinerator
It is constructed of sturdy steel and features four ventilation holes at the base for easy combustion. It can burn a wide range of garbage, from garden waste to any other type of waste.
Its size also enables it to hold many items. It also comes in a variety of fun colours that set it out from the standard silver incinerator.
PROS
CCONS
Best Circular Garden Incinerators
EasyShopping Metal Galvanised Garden Incinerator
The EasyShopping big 90L litre galvanised metal garden incinerator is the largest of the series. It includes a metallic lid that you may use to cover it when you're burning it to reduce the quantity of smoke it produces. The smoke is expelled through a built-in chimney.
In addition, the EasyShopping huge metal galvanised garden incinerator, like most garden incinerators, comes with a set of handles and a solid three-legged base that allows you to raise it when burning.
PROS
It comes in different sizes.
Sturdy.
CONS
Only the large model comes with a shovel.
Draper GLI Garden Incinerator
Even in a tight place, it burns in a highly controlled manner; it is not a bonfire substance. It's galvanised and can burn a variety of materials, including home trash and green waste. It also has a large enough opening for combustion to occur within. It is always appropriate for usage.
PROS
Controlled burning.
Good value.
CONS
Simpa 40L Incinerator
The steel is strong and long-lasting, and it comes with a complimentary ash shovel. They aren't the greatest garden incinerator, so don't expect them to last long, especially since consumers have reported malfunctioning parts.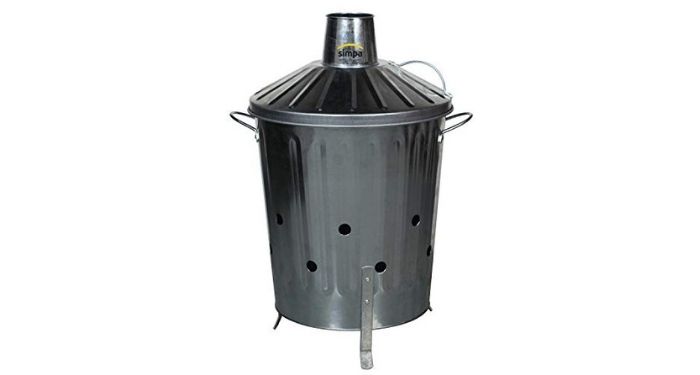 Nonetheless, the openings in the bottom offer just enough airflow to ensure the complete combustion of paper, leaves, or tiny wood.
Pros:
Strong steel design.
Good for small gardens.
CONS
Not the most durable product.
Srendi Metal Galvanised Incinerator
It's made of galvanised steel, which looks excellent and should last a long time – and it's a British-made product, which should appeal to many people. The primary issue we have with the metal is its thinness; while you will get a lot of use out of it, we are concerned about its long-term survival.
PROS
Affordable.
Good quality material.
CONS
Trendi Fire Incinerator
Galvanized steel is a sturdy and long-lasting material that also retains its colour well, though it will lose its lustre over time and use. The sharpness of the perforations is something to be aware of; if you don't wear gloves, it's simple to cut your fingers.
Furthermore, the metal is a touch thin, making it flimsy. This indicates that the incinerator is prone to denting, however, the damage will be minor.
PROS
Affordable.
The colour keeps well.
CONS
Best Square Garden Incinerators
Kingfisher SINSIN Square Incinerator
The kingfisher SINSIN square incinerator is a square-shaped garden incinerator, as the name suggests. Most incinerators are cylindrical, therefore it's fair to say that this square design sets it apart.
Aside from its distinctive form, the Kingfisher SINSIN square incinerator burns quite efficiently. It's made of galvanised steel that's sturdy and long-lasting, and it's strengthened at all four corners.
Furthermore, unlike the three legs that come with the spherical incinerators, there are four legs at the base of this model. This offers it a better sense of balance and stability than cylindrical incinerators.
PROS
Long-lasting.
Good stability.
CONS
Woodside 100L Garden Incinerator
The metal grate is a nice addition because it prevents fire debris from flying all over your garden; but it lacks the targeted flu, so we're concerned that the temperature won't rise as hot as some of the other garden incinerators.
While the holes run the length of the incinerator, they do not begin at the bottom. This may make it difficult to deliver oxygen to the fire's base, resulting in the fire not reaching a high enough temperature.
PROS
Legs included.
Robust design.
CONS
It doesn't get a hot as other incinerators.
Denny Large 60L
Because of the large number of holes on the top and all around, it burns waste faster than a cylinder incinerator. They prevent small, charred particles from escaping, allowing for faster waste disposal. It's a good incinerator for a good price, despite the time it takes to put it together.
PROS
CONS
It takes while to assemble.
Moose Incinerator
It includes extra reinforcement cross supports in addition to 2mm thick carbon steel plates for extra sturdiness and heat resistance. It's the ideal size for small to medium gardens, and the attractive appearance makes it ideal for both garden rubbish and bonfire evenings.
PROS
Aesthetically pleasing design.
Good for a bonfire.
CONS
Unibos Incinerator
For maximum durability, this square incinerator is composed of galvanised steel. It arrives flat packed in a box with a full-colour label, but reviews say it's a pain to put together. Turning all wood prunings and waste into ash is ideal. To increase airflow, holes have been cut on all four sides.
PROS
Beautiful design.
Affordable.
CONS
Best Lightweight Garden Incinerators
XZZ Garden Incinerator
The burner is lightweight and portable, making it simple to transport to your desired location. You may easily tip out the ashes by picking them up.
The pot is also incredibly simple to clean, ensuring that it looks as good as the day you received it! It has a safety mesh and a fire poker and can burn all forms of garden trash.
PROS
Portable.
It comes in 3 sizes.
CONS
Pro-Merch Garden Incinerator
It's made of galvanised steel, so it'll last a long time, and it's supported on three legs to keep it off the ground and stable on uneven terrain. It has a big 90L capacity yet is still lightweight, making it ideal for garden trash burning. confidential documents
PROS
CONS
Janoon 90L Metal Garden Incinerator
It has a high-quality, modern, elegant design. Incinerator made of galvanised steel. The chimney lid is included and is made of sturdy galvanised steel. Its pre-drilled ventilation holes ensure that the fire burns efficiently. A three-legged base is included. When the unit is cold, it can be simply moved using the side handles.
PROS
CONS
Holibanna Portable Garden Incinerator
It's made of stainless steel, so it won't rust and will endure a long time. With great heat resistance, safety, and environmental protection, the inner lining design can postpone product discolouration.
The cover prevents sparks and ashes from floating around, as well as flames from overflowing from the hood, reducing fire threats and eliminating the need to clean every time.
PROS
CONS
E Bargains UK Steel Incinerator
This lightweight garden incinerator is great for burning paper, leaves, and wood, among other things. With a sturdy three-legged base, it has strong metal legs and riveted handles. It's made of galvanised steel and comes with a chimney, feet, and metal lid. The ventilation holes ensure that the combustion process is as efficient as possible.
PROS
Portable.
Metal lid included.
CONS
Reviews say it is smaller than expected.
Best Heavy-Duty Garden Incinerators
210 L Garden Incinerator
It's solid and long-lasting, and we enjoy the attractive finish as well – although the paint will wear off after a few uses, making it less desirable over time. It also just has a few small holes near the bottom, which isn't ideal for ventilation, yet it will still effectively burn garbage.
This incinerator could be ideal for households which have a lot of trash to dispose of, and if that is you, it's a solution worth considering.
PROS
Durable.
Ideal for burning anything.
CONS
45 Gallon Outdoor Incinerator
An open-top drum is a metal 45 gallon / 205-litre open-top drum with a lid. This tapered drum is perfect for burning yard debris, wood, or sensitive documents. It's an excellent wood-burning incinerator. With Bonfire Night quickly approaching, this drum would be ideal for throwing your own safe garden bonfire party!
PROS
CONS
FastCar Metal Garden Incinerator
This metal garden incinerator is perfect for burning trash from the home or the garden (such as leaves etc..) It includes a Chimney cap that allows the fire to burn longer. There are side holes for ventilation to keep the fire burning, as well as built-in handles for convenient transport.
PROS
Built-in handles.
Affordable.
CONS
The lid does not fit the bin properly.
Srendi 90L
A large 90L galvanised steel incinerator burning fire bin for garden waste is best to burn paper, leaves and documents. It was created in the United Kingdom. It is made of durable galvanised steel construction.
It is ideal for removing all undesirable debris (leaves, branches, cardboard, etc.) from your garden, especially now that the weather has improved, and we have yet to enjoy the best of the sun!
PROS
CONS
SAIT 200L Garden Incinerator
It's massive, it's robust, and it ignites and burns wonderfully thanks to large air-inlet holes cut into the base and bottom of the sides. Furthermore, because of the wide top and great height, it is simple and safe to add more fuel while the fire is blazing.
PROS
CONS
Best Budget Garden Incinerators
Draper DRA53250
The Draper Mini Incinerator is a miniature-sized incinerator that is lightweight and portable. Consider going on a picnic in the woods where you'll need to dispose of rubbish; this incinerator will come in handy.
The waste will take longer to burn in this incinerator bin than in ordinary incinerators. There is no need to construct it because it is already put together. Because of its size, it is a far more convenient and conducive incineration bin.
PROS
CONS
Simpa Mini Incinerator
It's quick and straightforward to put together, and it's also simple to operate. It burns quickly and is ideal if you don't require a large fire in your garden. It's compact and comes with a complimentary tiny shovel. However, due to its small size, it is only suitable for burning paper.
PROS
It comes with a shovel.
Easy to use.
CONS
Only good for burning paper.
Parasene Mini Incinerator
This garden incinerator is quite simple to assemble; the legs are secured with bolts, and the lid fits nicely. It's a little bigger than some people expected, but it's about the size of a large wastepaper basket, so that's a plus. Ideal for destroying personal documents and small bits of wood.
PROS
Easy to put together.
Stable.
CONS
Elex 15L Garden Incinerator
This 15L galvanised tiny garden incinerator is suitable for burning paper and wood. It has metal legs and strong riveted handles, as well as a three-legged base that is solid. It is made of robust galvanised steel and has a chimney, feet, and metal lid. Its pre-drilled ventilation holes ensure that the fire burns efficiently.
PROS
Durable.
Handles included.
CONS
Sterling Ventured Galvanised Incinerator Bin
For long-term endurance, this incinerator is built of galvanised steel. It has a chimney spout on the lid for smoke to escape and ventilation holes to keep the fire from burning out. It has a lot of power. Strong and constructed with sturdiness in mind
PROS
It comes with a lid.
Affordable.
CONS
It is not as durable as other incinerators.
Sources