Introduction to the Best Electrical Fires
Do you like the idea of having an electric fireplace in your home without the need for extra maintenance and stress coming with a natural fire? Then, this is the article for you. Here, we're going to talk all about electric fires.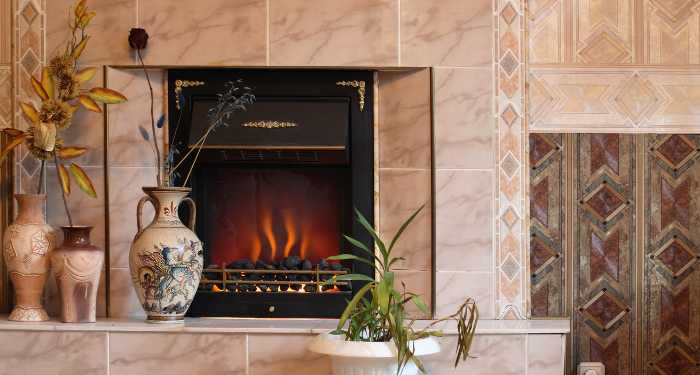 You'll learn how they work, how they came about, where they are used, the different types that exist, and the best brands that exist out there. So, keep reading, we're about to delve deep to understand the fascinating world of electric fires further.
What Is An Electric Fire?
As with any article that seeks to enlighten, let's start with some introductions and definitions.
What is an electric fire? Well, as the name implies, it is a type of fire that is generated through electricity.
Moving into more in-depth specifics, the fire is produced when metal coils are heated with electricity, like an electric stove, and then spread around a room with the help of a fan.
One of the major advantages of electric fires is how economical they are as they don't require much energy and are never wasted.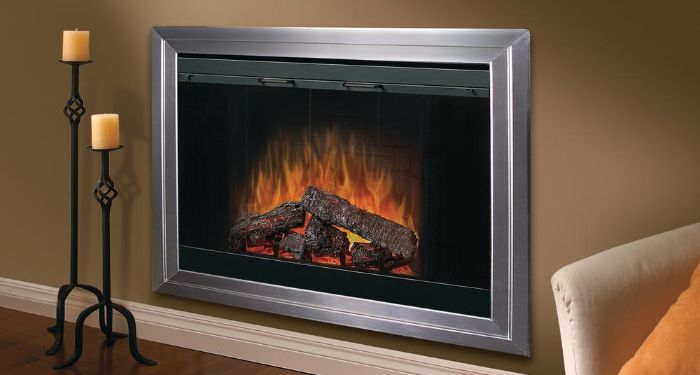 They first came into use way back in 1912, but really gained popularity in the 1950s when many more people were aware of its use and functionality.
Since then, it has become a staple in the colder Western societies.
Furthermore, since this fire doesn't produce, ash, soot, or any other waste which needs to be cleaned up, many people are more likely to purchase electric fires.
How Does An Electric Fire Work?
We've gone into a bit of detail about this in the last section, but a quick recap: electric fires make use of metal coils that are heated and spread around with a fan.
This is done with the help of electricity, which also provides several advantages, including ease of installation. Also, electric fires can produce flames that don't burn you, meaning you can use it at any point in time.
That said, electric fires are mostly used for fireplaces, and in some cases, for stoves.
Apart from heated metal coils and a fan that wafts the heat around the room, some electric fireplaces make use of infrared technology, which heats particular objects in a room thereby, giving the user an unprecedented level of control.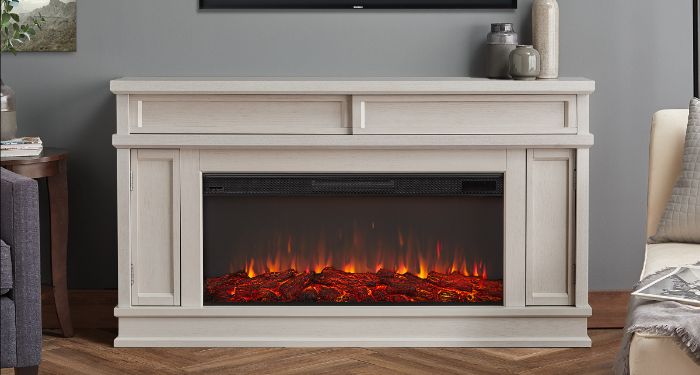 Due to many of these characteristics, electric fires are generally considered a safer option, which is why families with pets and young children are advised to get them.
Also, as mentioned earlier, they do not consume a lot of electricity, which is just great as it saves you money on the energy bill. On top of that, they do not need a chimney or flue to be effective and require no ventilation system whatsoever.
As a result, electric fires are highly eco-friendly as they don't produce any smoke that could clog up the environment or anything of the sort.
Therefore, once you purchase an electric fireplace in your home, you have a technology that can be used all year round and poses no major harm to you.
Types Of Electric Fires
Variety is the spice of life, or at least thats the popular saying that most people get behind. Ultimately, what it indicates is that humans are varied and like different things.
Similarly, there are various types of electric fires which might work for some and not for others.
However, there is likely an electric fire that would suit you best, and to help identify that, we'll take you through the different types of electric fires that exist.
Also, we'll take a look at their advantages and drawbacks to zero in on what might work best for you and equip you with all the information needed to make a choice.
Freestanding Electrical Fire
As the name implies, this type of electric fire is freestanding and doesn't require attachment or installation to anything to work efficiently.
A freestanding electric fire is quite useful as it is incredibly easy to install, and all you need to do is plug it in and get it working.
Also, it can simply be laid flat and put to work with a minimum amount of fuss. That said, it can also be used in a wall cavity or in a traditional fireplace to imitate natural fire.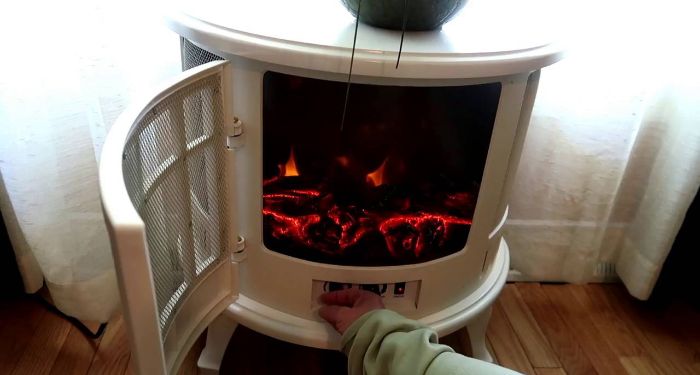 As with most electric fires, freestanding electric fire doesn't make use of much energy and can be controlled at will.
For example, the Dimplex electric fire can be controlled to exude heat or not, meaning you can use it all year long.
Also, freestanding fires are great since they come in various shapes and sizes meaning it is much easier to find one that suits you.
A freestanding electrical fire will typically cost between £100-£300.
Pros:
Easy to install and manage.
Available in various shapes and sizes.
Does not require a wall cavity to function.
Cons:
It is not as aesthetically pleasing as some of the other types.
Inset Electrical Fire
Inset electric fires are made for those who already have a fireplace or a cavity where they plan to have some fire.
Therefore, they can simply be placed in the vacant space and put to work.
On top of that, they feature a compact design that makes them very attractive to several users, and any wires or cables that accompany the product can easily be hidden in the cavity, which gives off a more realistic feel.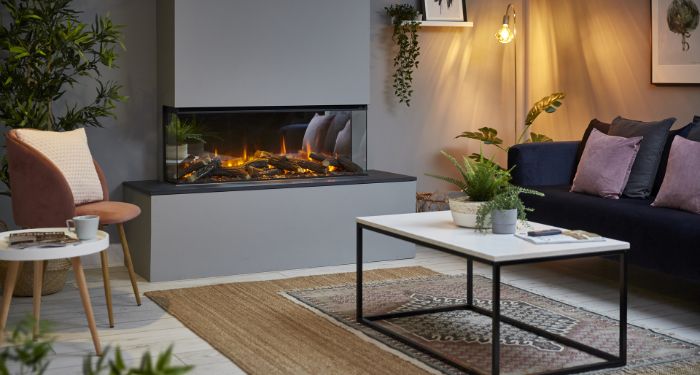 They are not as vibrant as some of the other types on this list, but they are immensely useful and provide a space solution to many homeowners and decorators.
And with a 'flame only' picture setting, inset electric fires are perfect for warm days when you'd prefer not to deal with any heat.
An inset electrical fire will typically cost between £50-£400
Pros:
Great for pre-existing fireplaces.
Easy to hide wires and cables.
Come with 'flame only' picture setting.
Cons:
It is not as vibrant as many other types on the market.
Radiant Bar Electrical Fire
Radiant bar fires are all about the aesthetic. Since they are one of the earliest types of electric fires, they have a more retro look that you'd either love or not care for.
If you want to hark back to the days of old fireplaces with merry looking glowing bars, then radiant bar fires are perfect for you, however, if you are a bit more modern, you might not be drawn in by the design.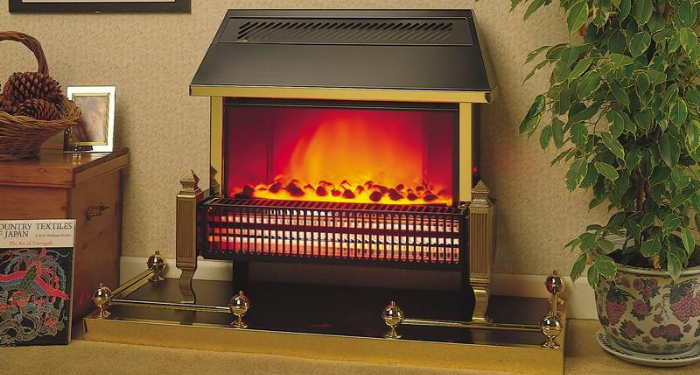 That said, these types of fires have become quite popular in recent times thanks to the general appreciation for retro stuff that we experience nowadays.
Thankfully, just like with other electric fires, it is energy efficient and very easy to install as it doesn't need too much in terms of expertise to get it working.
Also, various brands dabble in radiant bar fires, and they are priced kindly, meaning your pocket shouldn't suffer too much if you decide to buy it.
A radiant bar electrical fire will typically cost between £200-£600
Pros:
Retro look that many users find endearing.
Easy to procure and use.
Convenient to turn on and off.
Cons:
Might be too old-fashioned for some.
Wall-Mounted Electrical Fire
If we went way back in the past with the radiant bar fires, thereby creating a retro aesthetic that might induce some nostalgia, wall-mounted fires are the complete opposite and are as modern as they come.
Due to their means of installation, on a wall, which is higher than traditional fireplaces, they are incredibly attractive for homeowners and decorators who are obsessed with the ultramodern look.
Wall-mounted fires are usually a delight to behold and fit in perfectly in most walls giving the surrounding area a sophisticated and classy look.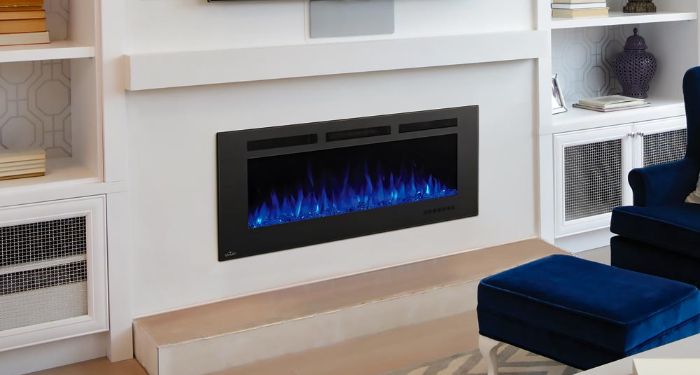 That said, these types of fire are not simply for those looking for the ultramodern look as they are also quite useful for you if you have little to no floor space to work with.
In such situations, they can easily be fitted in the wall without any extra floor space requirement.
In addition, if you have a wall space that isn't doing anything else, you'll also find wall-mounted electric fires incredibly useful.
A wall mounted electrical fire will typically cost between £150-£500.
Pros:
Helps to manage floor space effectively.
Offers an option for bare wall spaces.
Lovely modern look.
Cons:
Due to its unnatural placement, it will always remind you that it is not a real fireplace.
Electric Stoves
Electric stoves evoke such a feeling of nostalgia that they can bring tears to the eyes.
Since they represent such a part of history, they are a welcome addition to the world of electric fires.
Furthermore, an electric stove fire doesn't require the maintenance and stress that comes with a traditional stove.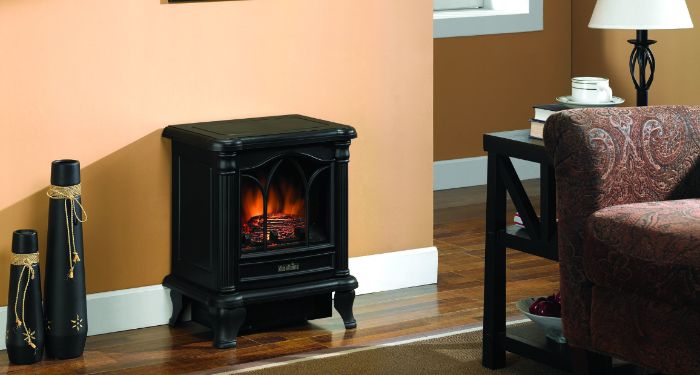 Also, there are no ashes, soot, or anything else to contend with, making this an excellent electric fire with retro aesthetics with a modern twist.
On top of that, they are also energy efficient and can even be turned on all night with no hassles or worries.
An electric stove will typically cost between £100-£700.
Pros:
Retro aesthetics.
Easy to operate.
Affordable and budget-friendly.
Cons:
It takes up more space than some of the other entries.
Best Electric Fires
This is perhaps the most subjective part of the article as we delve into what makes the best electric fire.
Due to people's diverse interests and personalities, what makes a product your best electric fire might not be the same for someone else.
But, we are quite confident that you'll find something you like on this list as we take a look at some of the best electric fires on the market.
We have picked one product for each manufacturer to give you more options and increase the chances of finding a product that you'll fall in love with.
Dimplex Electric Fireplace
The first on our list is the Dimplex Electric Fireplace, which is arguably the best inset electric fire you can find. Apart from the great features that this product has, the Dimplex brand name is also really strong.
Known to be a meticulous manufacturer, most homes prefer a Dimplex electric fire, and with this particular product, you will not be disappointed.
For instance, it features an in-built fan with which it evenly distributes heat all around a room.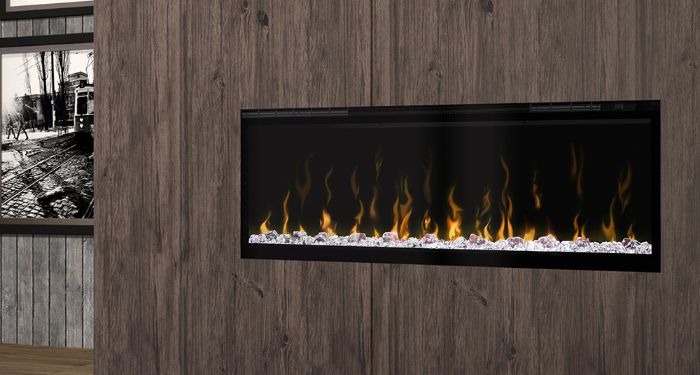 Also, it is powered by 1375 watts of power, and thanks to the addition of a remote control, you can easily control your fireplace with ease.
Designed to fit into an existing fireplace space, it brings some much-needed warmth into your home, and even on hot days, it can be used as you can configure the product to produce flames, but not heat.
On top of that, it is pretty easy to install and shouldn't give you much of a problem when setting up.
Dimplex Electric Fireplaces range from £180 to £470.
Pros:
Easy to install.
In-built fan that evenly distributes heat.
Full heat, and flame only options.
Cons:
Pretty pricey.
It's not very attractive when not in use.
It uses up quite a bit of electricity.
Touchstone 80004 - Sideline Electric Fireplace
The Touchstone 80004 - Sideline Electric Fireplace features a sleek design that looks great on your wall where it is to be mounted.
Furthermore, it is an easy product to install and doesn't need much in terms of expertise to get it going.
Also, if you run into any problems, the package comes with a user manual that shows you how to go about the installation process with relative ease.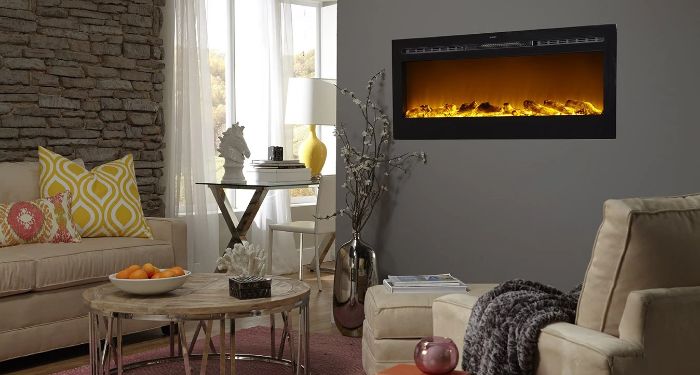 On top of that, this product comes with two heat settings, handing you control of how much heat the unit produces.
The two settings: high and low, can be used whenever you want, and the former is great for chilly days that require some warming up.
And if you worry that the flames won't feel realistic, you can rest easy, as the flames look pretty good and there's also a color-changing option added for good measure.
The Touchstone 80004 Sideline Electric Fireplace costs £370 to £1200.
Pros:
Easy to set up.
Realistic-looking flames.
User manual to ease the installation process.
Cons:
Too expensive for some.
It could get pretty loud.
Some users feel the flames aren't realistic enough.
SEI Cartwright Convertible Electric Fireplace
The SEI Furniture Southern Enterprises Cartwright Convertible Electric Fireplace is a beauty to behold, and it's undoubtedly going to appeal to those who like a little vintage in their home decor.
While it takes up a significant amount of space, it possesses a corner convertible design that provides space for a flat TV and a storage area for other furnishings, including trinkets, vases, and so on.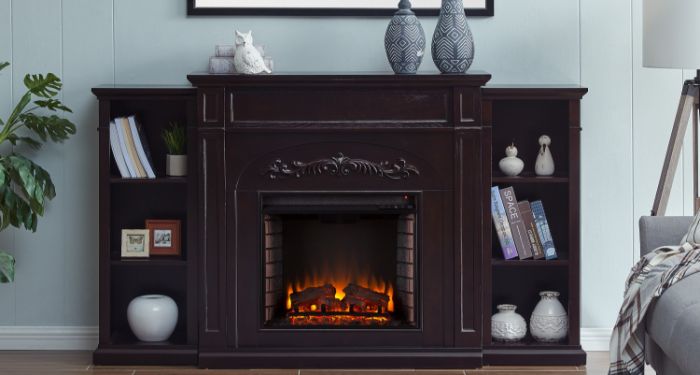 Furthermore, installation is no problem at all, and it can easily be plugged in with its six-foot cord.
As mentioned before, the design is flawless and features a mission oak finish coupled with earth-toned tiles to really class it up.
That's not all as the product is accompanied by a remote control, which you can conveniently use to control the fireplace's output meaning this is a suitable companion for both the summer and winter.
The SEI Cartwright Convertible Electric Fireplace is priced at £500 to £750.
Pros:
Exquisite design.
Remote control for easy operation.
Provides space for a TV.
Cons:
It's pretty expensive.
It takes up a significant amount of space.
The fire effect might not impress some.
Duraflame DFS-550-21-BLK Maxwell Electric Stove
If you are on the lookout for the best electric stove fire, may we recommend the Duraflame DFS-550-21-BLK Maxwell Electric Stove?
This excellent electric stove fire has a design that will only bring you joy with sturdy metal construction, meaning it is a durable product.
Also, the glossy surface is a thing of beauty, and due to its color, it fits in well in most homes.
Also of note is the 4,600 BTU heater, which provides adequate heat for up to 400 square feet.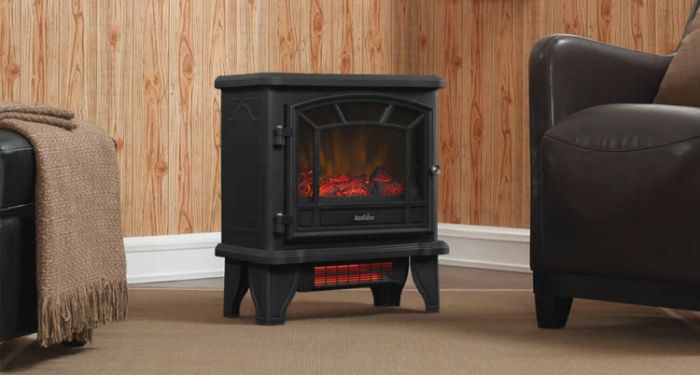 Besides, the flame effect is realistic looking, and the ember bed is stunning to behold. Moreover, the heat can be adjusted easily with even the provision of a no-heat option available for users.
Therefore, this is a product that can be used at any time and any weather condition.
Finally, the electric stove is outfitted with overheating protection, meaning that it automatically shuts off when it gets too hot.
You can purchase the Duraflame DFS-550-21-BLK Maxwell Electric Stove for around £90.
Pros:
Exquisite flame effects.
No-heat option available.
Suitable for all times and seasons.
Cons:
It takes up significant space.
Consumers have complained about a dip in quality.
It doesn't heat as well as some users hoped.
PuraFlame 30 Inches Western Electric Fireplace
The PuraFlame 30 Inches Western Electric Fireplace is perhaps the best electric log effect fire on this list. Its design is amazing with the addition of fake logs to add to the realism.
Furthermore, there is the option for crackling sounds to add to the realistic feeling of the fireplace.
On top of that, it features a remote control that is very convenient to use, and with three flame settings, there is most likely a setting that works best for you.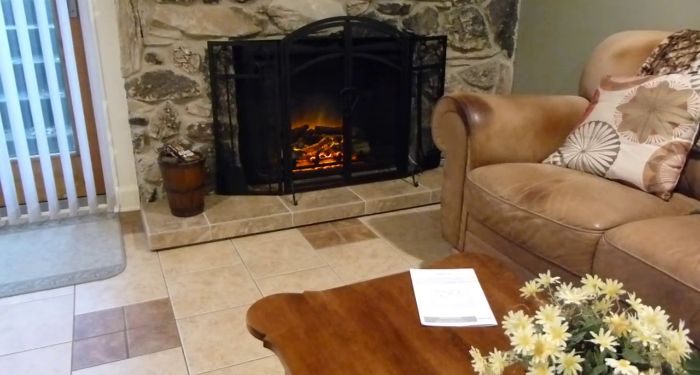 In addition, it makes use of energy-saving LED technology, which means less money on electricity bills. Besides, it is also really easy to install and shouldn't take too much out of you to do it.
And finally, the product is backed by a one-year warranty, and there's an excellent customer service team on hand to help you if there's trouble. So, why not give it a try?
You can buy the Puraflame 30 Inches Western Electric Fireplace for £180 or up to £260 depending on the size.
Pros:
Easy to install.
Makes use of LED technology.
Life-like resin logs for added realism.
Cons:
Cannot be used as a primary heat source.
The fire effects could be better.
It makes a substantial amount of noise
R.W.FLAME 60 inch Recessed and Wall Mounted Electric Fireplace
In terms of ambience-setting electric fires, the R.W.FLAME 60 inch Recessed and Wall Mounted Electric Fireplace is right up there with the very best. This is due to the amazing design that embraces its futuristic aesthetic and wears it with pride.
This electric fire is great to look at and seems excellent for a quiet night with a glass of wine and some soft music. In terms of operation, it is very easy to get around it with its touch screen function, presenting you with several options.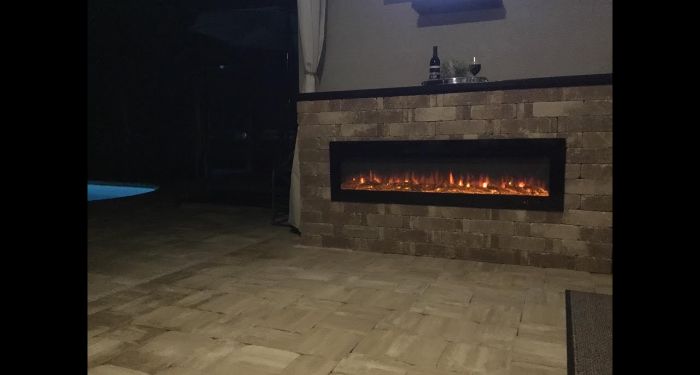 Also, it comes with five flame speed modes, flame brightness options, heat settings, and so on.
Even with that, it still possesses a one-year warranty, which means you are completely safe in your purchase.
That said, even when you run into any problems, there is a dedicated team of customer care agents to listen and help.
The R.W Flame 60 Inch Recessed and Wall Mounted Electric Fireplace costs around £320.
Pros:
Great design and aesthetic.
Convenient modes and easy settings.
One year warranty.
Cons:
It barely provides any heat.
The flames don't look so great.
It can get pretty noisy.
Xbeauty 42" Electric Fireplace In-Wall
Up next is the Xbeauty 42" Electric Fireplace in-wall which also features a prominent design that is appreciated by many.
Just like with the RW Flame, it is a wall-mounted electric fire that is made for relaxation and a good time with friends or a loved one.
To ensure you get the best quality possible, the product comes with various modes and settings to provide you with the ultimate fireplace experience.
This includes a quiet operation that doesn't disturb the serenity around you with dimensions that makes it perfect for space just above (or below) your TV so you can enjoy the heat and effects while taking in the images on your screen.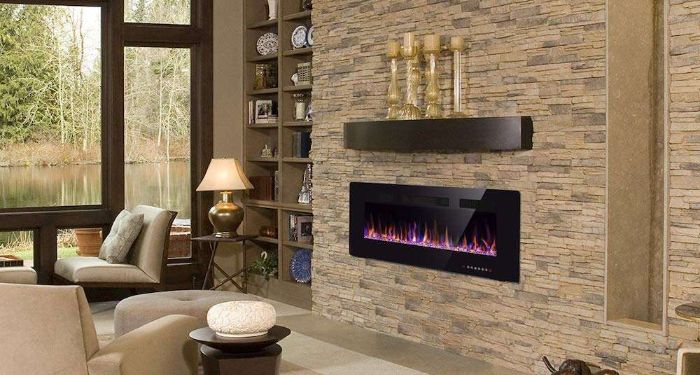 Besides, it features touch screen functionality, and if you'd rather not leave your sitting position, there's the option of a remote control.
Of course, the exquisite design just adds to the fireplace's appeal, and a timer control ensures that even if you forget to turn it off, you don't use up too much energy.
You can purchase the Xbeauty 42" Electric Fireplace in-Wall for £130 to £300 depending on the size.
Pros:
Very attractive, sleek design.
Convenient timer mode.
Touch screen functionality.
Cons:
The flames can go dim really quickly.
The user manual is a bit difficult to use.
Doesn't give off much heat.
Dimplex CHT20 Cheriton Freestanding Optiflame Electric Fire
So, we're breaking our rules a little here, but the Dimplex brand has such an array of options that we couldn't help taking a look at the Dimplex CHT20 Cheriton Freestanding Optiflame Electric Fire.
And as with the other Dimplex entry on this list, this is a pretty impressive electric fireplace.
On top of that, it has two flame settings, which means you can alternate depending on the weather and how warm/cold you feel.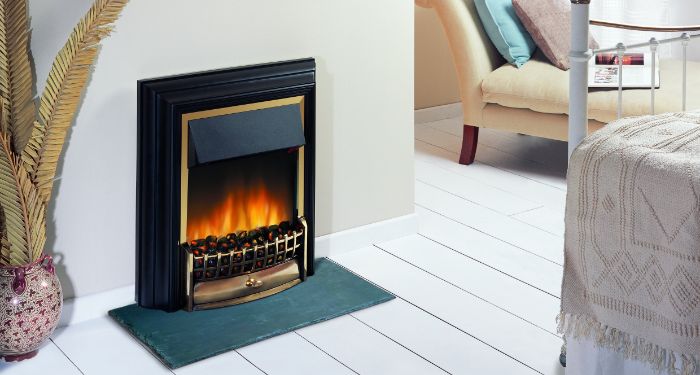 That's not all as it features a real coal fuel bed, and since it's easy to install, you can have it up and running in no time.
Also, since it's a freestanding electric fire, it can be installed anywhere, and there are no limitations.
Finally, just like many of the other products listed here, it is also backed by a one year warranty that makes the purchase as risk-free as possible.
The Dimplex CHT20 Cheriton Freestanding Optiflame Electric Fire costs around £150.
Pros:
Excellent design.
Can be installed anywhere.
Affordable and budget-friendly.
Cons:
It is rather noisy .
It is very light and can be moved too easily.
Heat output could be much better.
Cost To Install An Electric Fire
One of the more attractive features of electric fires is how easy they are to install.
They don't take much skill to install, and if you run into any problems, you can simply make use of the user manual that accompanies most products.
However, you might decide to go for a professional as they often do a better job and are easier to rely on. That said, they obviously will cost you some money which might deter some people.
But, if you have the funds, and would prefer to have a professional install your fireplace since it will give you peace of mind, then go for it.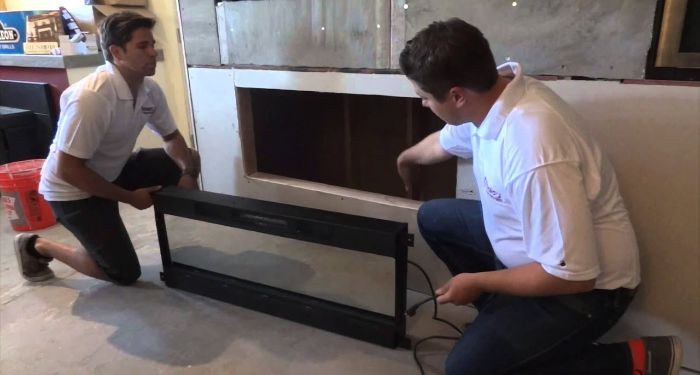 In terms of cost, the majority of it goes towards labor as the materials needed aren't much. So, you can expect to spend around £150-£200 per day.
Thankfully, the installation process doesn't take too long, and the specialist can be done between 2-3 hours.
Also, you should note that while electric fires are cheaper to install than gas ones, they cost more money in the long run.
Benefits Of An Electric Fire
We've gone on and on about electric fires, different uses, costs, types, and so on, but what are the benefits they possess?
Well, the good news is that there are quite a few. Let's have a look at them below.
No Need for Chimneys
While chimneys are a vintage aesthetic that some homeowners favour, the truth is, they release out smoke into the atmosphere which adds to the pollution of the environment.
But with electric fires, there's no need for chimneys or flues and you can enjoy your fireplace with no hassles.
Low Maintenance
Authentic fireplaces are a beauty to behold and there is a calming feeling that comes with sitting and staring at the fire. On the flip side, they are a chore to take care of as they emit smoke and result in ashes.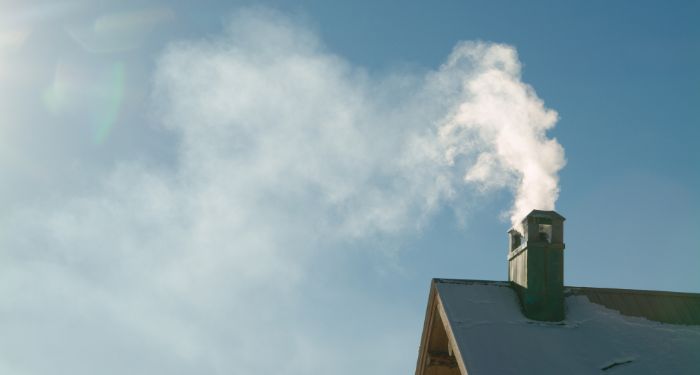 This means it requires quite a bit of cleaning and is even worse if kids or a pet gets too close. However, with electric fires, there's no need to worry about this.
They are Portable
For better or worse, a traditional fireplace needs an ample amount of space which isn't always to your advantage.
But, with electric fires, they can be mounted or placed in small spaces meaning that you have more flexibility when it comes to decorating or remodeling.
FAQs
Q: Which electric fire has the best flame effect?
A: When it comes to flame effects, this can be difficult to pull off and you'll find several of the negative reviews that electric fires receive stem from consumers discontent with the quality of the flame effect.
But, the Dimplex optiflame has pretty cool flame effects that you would love.
Q: What is the quietest electric fire?
A: Puraflame has been heralded as the quietest electric fire on the market. This is due to the minimal sound it makes while working and it is so soothing, you could fall asleep to it.
Also, it possesses a 'flame only' option which is super quiet and doesn't exude any heat meaning it can be used at any time.
Q: What should I look for when buying an electric fire?
A: It is best to always check the track record of the brand that manufactured the product you're interested in.
If you're satisfied, then check out what type of electric fire it is, the size, and how much space it will take up in your home.
Q: Should I get a professional to install my electric fire?
A: This depends solely on you. Electric fires are easy to install and come with user manuals to help if you run into any problems.
But if you have no DIY experience, then getting a professional to help you out is probably the best thing. That said, professionals cost money, so keep that in mind.
Q: Do electric fires need ventilation?
A: No. This is because besides from heat derived from electricity and metal, the electric fireplace doesn't emit anything else.
This means that there is no smoke or other toxins that might need to escape into the air.
Sources