How Much Does It Cost to Install a Wood Burner?
Today's wood burners are extremely efficient, reducing the need for fossil fuels for home heating. Wood burners are ideal for heating a single room, but they can also be used in conjunction with other low-carbon heating options such as heat pumps.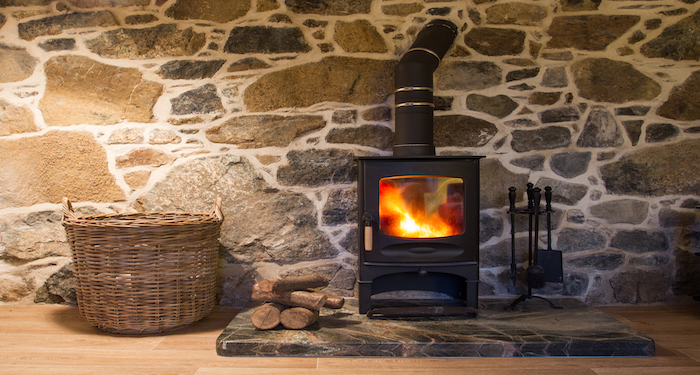 However, how much does it cost to install a wood burner? Here we will discuss the costs of installing one, such as the supply, tradesmen and additional costs, the duration to install a wood burner, the different types of wood burners, the benefits and how much it costs to remove a wood burner.
So, if you are looking to have a wood burner installed, you will find all the information here.
Calculating a total cost necessitates navigating a slew of variables. The final price should account for the entire procedure, from choosing your ideal stove to installation, HETAS registration, and fuel replenishment regularly.
So, how much does a wood burner cost? If a chimney is already in place, adding a log burner will cost between £1,000 - £1,200, which includes cleaning and lining the chimney as well as installing the log burner to HETAS standards.
If there is no chimney, building a log burner will cost between £2,000 - £2,300, which includes erecting a twin wall chimney system and installing the log burner to meet HETAS requirements.
A good quality 4kW wood-burning stove should cost between £500 and £1,000, although, as with any appliances, prices vary drastically based on style, features, and output. Timber is a relatively inexpensive and readily available fuel, particularly if you have access to a local supply.
Although there is an initial cost for the burner and the labour necessary to install it, a wood burner will be more cost-effective over time than an open fire.
The cost will depend on if you already have an existing flue or if you need a new one or one installing as this is what can make the job more expensive.
To install a wood burner from a new fireplace with the use of an existing flue will cost £900 - £1,000, with a new flue in an existing chimney it will cost £1,000 - £1,500 and an external twin wall flue system it will cost you £2,500 - £3,000.
However, if you are using an existing fireplace with an existing flue, it will cost £500 - £600, to install a new flue in an existing fireplace will cost £1,000 - £1,500 and installing an external twin wall flue system in an existing fireplace will cost £2,500 - £3,000.
The cost of installing a wood burner ranges from £800 - £2,000. The total cost of constructing a wood-burning stove is determined by several factors, including the project's size and complexity. The job will be relatively quick and inexpensive if the stove is installed in an existing fireplace with an existing chimney.
Wood Burner Prices
The table below will show the average wood burner prices:
| Fireplace | Cost |
| --- | --- |
| From a new fireplace | £900 - £3,000 |
| Use the existing fireplace | £550 – £2,550 |
The cost of living in the south of the country is often higher than in the north. Expect to pay an extra £200 – £300 for extra labour charges in London and the neighbouring areas. Typically, one-man or tiny traders will charge less. A larger firm with overheads will cost a couple of hundred pounds more.
The type of wood burner you want will also depend on the overall price. Therefore, if you want a good quality new wood burner, then you should expect to pay more for supply and labour costs.
What are the Supply Costs of a Wood Burner?
Are you planning to install a log burner for the first time in your home this year? If you're new to the world of stoves, you may be unsure of exactly what you'll need to get started.
If you don't want to pay a labourer to install a wood stove in your home, knowing what you'll need is critical. We'll go over the supply expenses here, leaving out any installation or labour charges.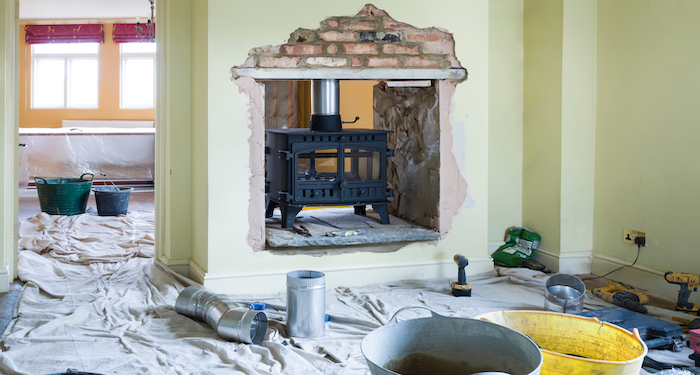 First, you will need a stovepipe which usually costs £40 - £150 depending on where you get it from and what you want. Then you will need a stove register plate which costs £15 - £30.
You will also need a chimney if you haven't already got one which you will need to have installed. This costs £1,500 - £2,500.
One of the most significant price variations is the flue liner required. It is the internal barrier that protects the chimney and its walls from heat, corrosion, and combustion products.
A contractor's recommendation for a flue liner is based on whether or not you have a chimney and how good it is.
Grade 316 liners and grade 904 liners are the two most common grades of flue liners. For home wood-burning stoves, the 316 liners are typically used. The 904 is a higher-grade liner than the 316, meaning it is thicker and more durable.
As a result, it's more typically seen in multifuel stoves, smokeless fuel stoves, and boiler stoves. Expect to pay an extra £130 if you require a 904 lining.
You will then need a chimney liner which costs £100 - £260. A chimney cowl will cost £45 - £200, a carbon monoxide alarm for safety reasons will cost you £14 - £50. The cost of a wood burner varies greatly depending on its design and quality.
Prices start at around £500 and can go as high as £1,000. A pipe collar will cost £2 - £5. You will need a HETAS certificate will cost £17.50 to make sure the wood burner is safe to use in your home.
The table below will go breakdown the supply costs needed to install a wood burner:
| Supply | Cost |
| --- | --- |
| Stovepipe | £40 - £150 |
| Stove register plate | £15 - £30 |
| Chimney installation | £1,500 - £2,500 |
| Flue liner | £100 - £150 |
| Chimney liner | £100 - £260 |
| Chimney cowl | £45 - £200 |
| Carbon monoxide alarm | £14 - £50 |
| Wood burner | £500 - £1,000 |
| Pipe collar | £2 - £5 |
| HETAS certificate | £17.50 |
What are the Additional Costs of Installing a Wood Burner?
When having a wood burner installed in your home, you should expect some additional costs to add to the overall cost. Therefore, you should know what to expect.
Here we will go through the different additional costs that might be needed to install your wood burner. So, if you are concerned about your budget, then this section will be useful for you.
Chimney Repair
If you already have a chimney, but it doesn't work, then you can hire someone to fix your problem for you.
But how much do chimney repairs cost? A chimney sweeper may perform extra cleaning tasks, such as sweeping and cleaning the flue pipe, smoke duct, and fireplace, in addition to cleaning and sweeping your chimney.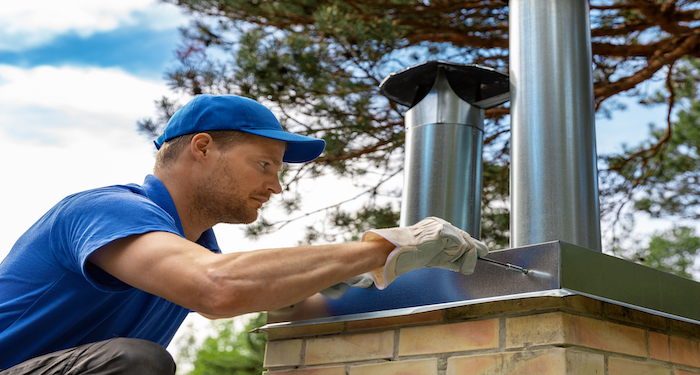 This can help to lessen the risk of soot-related fires and/or harmful gas emissions into the atmosphere. Except for the chimney sweep cost, which is dependent on supplies, you should anticipate paying between £9 and £25 for this work based on the average cost per hour charged by professionals.
You can also have a chimney cowl installed to protect your chimney. A chimney cowl is a metal ventilator that sits atop the flue or pot of the chimney.
Its purpose is to make the chimney flue or pot more practical. A chimney cowl can significantly minimise, if not eliminate, the likelihood of birds entering your chimney by accident.
Chimney cowls can also help to minimise the amount of rain that enters your chimney and prevent down draughts from entering. A chimney cowl typically costs between £180 - £250 to install.
Another technique to keep your chimney in top shape is to inspect it for problems regularly. Look for any traces of cracks in bricks and mortar, as well as any loose pieces.
You will save money in the long run if you can detect problems before they worsen. It will cost roughly £18 - £25 per hour to have a professional inspect your chimney.
You may limit the danger of water damage caused by undesired water accumulation by cleaning your gutters and eliminating any blockages regularly.
You may expect to pay at least £40 for a professional to do this task, with a clean costing around £4 per metre on top of a stated fixed charge.
New Chimney
The cost of installing or replacing a chimney liner is determined by several factors, beginning with the size of your chimney. This will have a big impact on the cost of installing a chimney lining because you'll have to think about how many materials you'll need. However, the cost of lining a chimney system ranges from £600 - £1,000.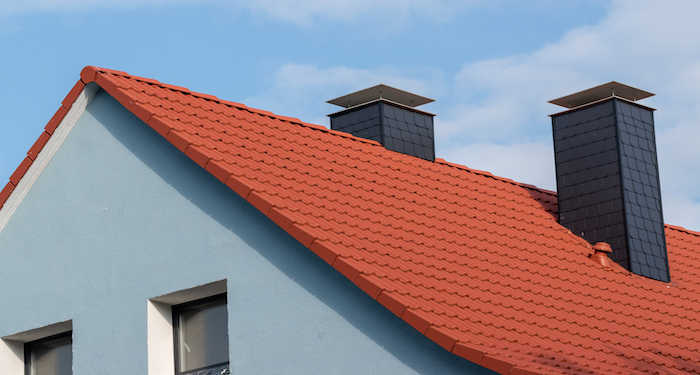 Installing a chimney liner can take anywhere from one to three days, depending on the complexity, and the usual cost of the craftsman is between £180 - £250 per day.
Flue Liner
There are a variety of reasons why you might need to install a chimney liner, whether your chimney has no lining at all or has an old lining that needs to be replaced.
There are many various types of liners and suppliers, but stainless steel, concrete, and ceramic liners are available. Depending on the sort of chimney you have, the most cost-effective solution will need to be carefully considered.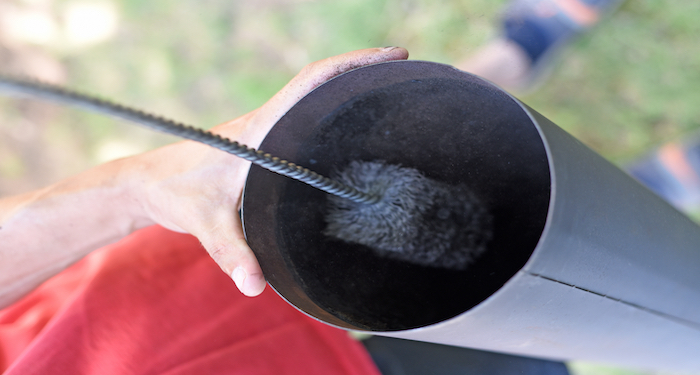 The typical cost of supplying and installing a chimney liner is £250 per metre. Other repairs, such as new pots, flaunching, repointing, and repairs, may be required for your chimney.
This will be an extra charge on top of the previous charges. The cost of just supplying the liner is expected to be around £175 per metre, with the remainder being labour.
Stainless steel, pumice, and clay are the most frequent materials used to construct flues. The cost of a chimney liner can vary, and certain liners are only suitable for certain types of chimneys.
Before selecting a liner, you must first determine the material of your chimney and the sort of heating appliances you have.
Installing a chimney liner is not a project for the inexperienced. Flue installers must be able to deal with a variety of chimney linings, as well as link the flue liner to a stovepipe or install a fireplace liner.
A person's health and life could be jeopardised if a chimney lining is not installed appropriately. Therefore, local governments use the Building Regulations to regulate the installation of a flue liner. You can also expect to pay a premium for competent labour.
Scaffolding Hire
Sometimes when repairing a chimney, you may need to pay for scaffolding as they may need to do work to your chimney. But how much does scaffolding hire cost?
The type and size of scaffolding, the number of tradespeople engaged, the convenience of access, and the location of your property are all factors that determine the cost of hiring scaffolding.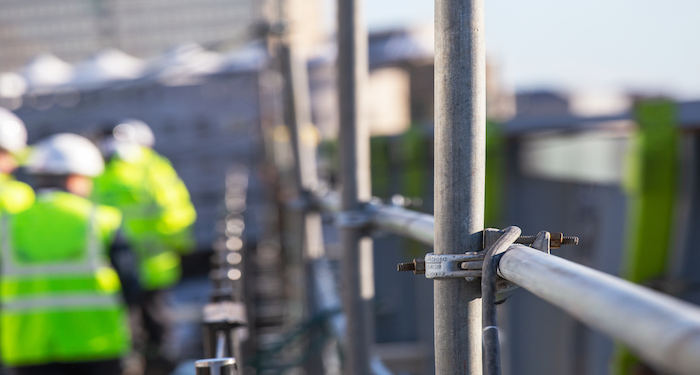 Scaffolding a chimney will cost between £450 - £550. The obvious benefit of renting scaffolding is that it is much less expensive than purchasing it all together for any given job. Buying it to keep will usually set you back several thousand pounds.
However, if you plan to reuse the scaffolding frequently enough, it will save you money in the long run. When deciding whether to hire or purchase scaffolding, keep this in mind.
Location
In most locations, prices in the southeast of England (and particularly London) are higher than the national average. In places like the north of England, Scotland, and Northern Ireland, however, the opposite is true.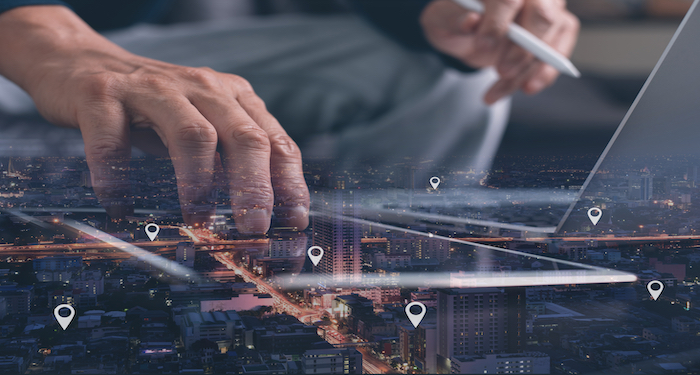 Tradesmen
The cost of installing a wood stove will also vary depending on how many craftsmen are employed. The labour cost of installing a wood stove will be much reduced if only one tradesperson is required rather than two, three, or more.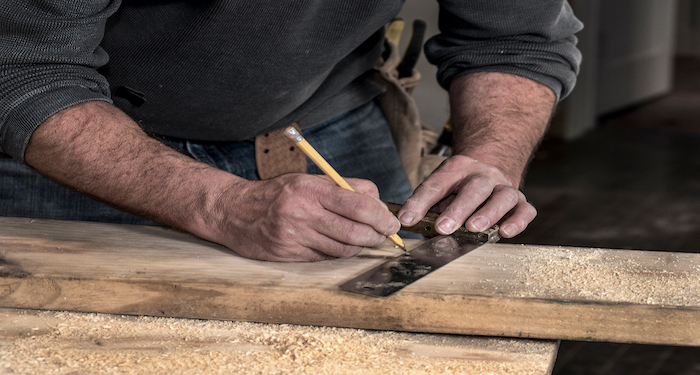 Tradesmen Costs for a Wood Burner Installation
Installing a chimney liner is not a project for the inexperienced. Flue installers must be able to deal with a variety of chimney linings, as well as link the flue liner to a stovepipe or install a fireplace liner.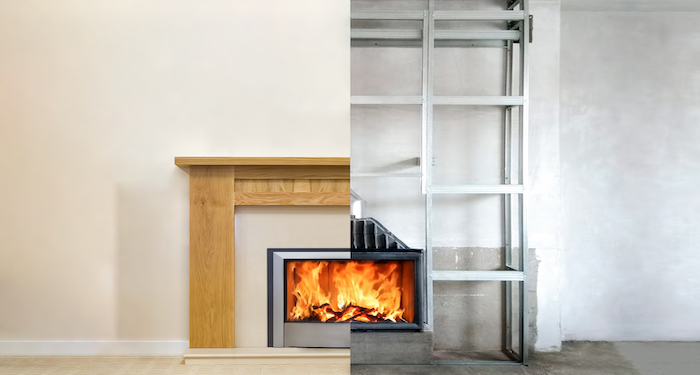 A person's health and life could be jeopardised if a chimney lining is not installed appropriately. This is why local governments use the Building Regulations to regulate the installation of a flue liner. You can also expect to pay a premium for competent labour.
Here we will go through the tradesmen costs only to install a wood burner, so you will know what labour costs you should be expected to pay.
Installation is a complicated procedure, so most estimates you'll see will automatically contain several "givens," such as all essential authorisations, labour expenses, and materials, among other things.
The figures will roughly account for two labourers' work, the use of strong flue pipes, a stainless-steel liner, a register plate to seal off the chimney hole, a chimney cowl, a CO Detector, and HETAS registration.
But there's always a twist, and this time it's all about chimneys specifically, whether you have a pre-existing chimney or need a whole new twin walled flue system installed.
Wood burner installation costs will vary. The cost of labour varies between £150 - £250 per day. A competent flue installer can estimate how long it will take to complete the work on your chimney. As a result, rather than a day fee, you may be offered a fixed charge for the project.
For access to the chimney stack, you may need to hire scaffolding, depending on the liner type. Don't worry; this additional fee should be included in your quote. Regardless of the style of liner you select, most installers operate in two-person teams.
More complicated installations, such as those that require additional fireproofing or insulation, will necessitate more man-hours and money.
How Long Does It Take to Install a Wood Burner?
Installing a wood burner seems like a long process; however, it usually doesn't take as long as it seems. Every project is unique, but a typical easy installation with a hearth, new liner, and cowl will take at least two workers a day, with a day and a half being more common.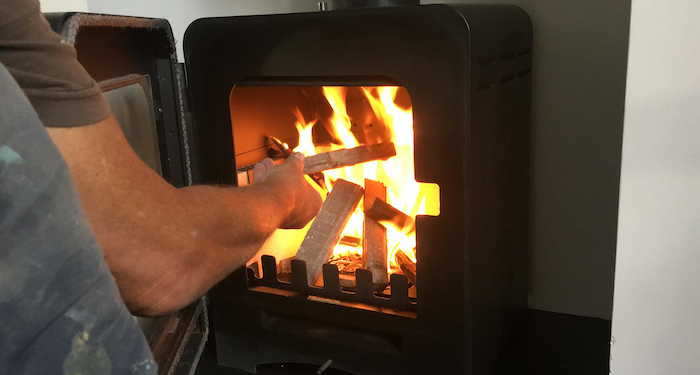 A twin wall flue can be placed on the outside of the building if the property does not have a chimney; this will add at least half a day to a typical job.
If all goes well, a fireplace installation might be completed in one day; otherwise, it could take up to a week. The firm performing the work on your home's ability and quickness may also influence the delivery time.
To install a twin wall chimney, if there is no chimney present, will take 4 – 5 hours, cleaning and lining the existing chimney will take 3 – 4 hours and installing a wood burner takes 2 – 3 hours if there are no complications.
| Job | Duration |
| --- | --- |
| A twin wall chimney with no chimney present | 4 – 5 hours |
| Cleaning and lining existing chimney | 3 – 4 hours |
| Installing a wood burner | 2 – 3 hours |
| New liner and cowl | 1 day |
| New hearth | 1 day |
| Twin wall flue installation | 5 – 7 hours |
Types of Wood Burner
Once you have decided you want to install a wood burner in your home, you must decide on what one you want. Several types of wood burners work in different ways and have their qualities.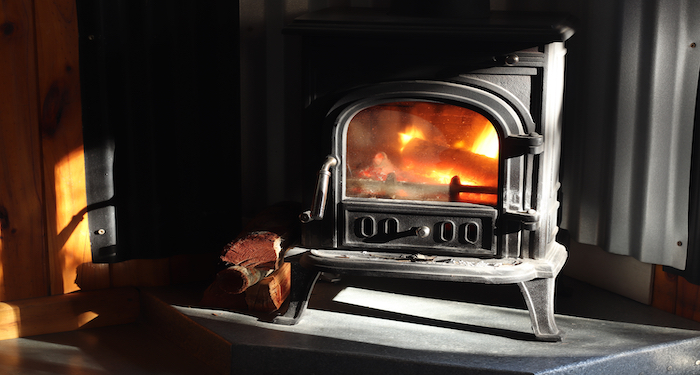 Therefore, here we will go through the different types of wood burners as well as their pros and cons and find the right one for you.
Radiant Wood Burners
These log burning stoves, as the name implies, radiate heat through the glass and stove body, creating a cosy focal point (they're still popular because they most closely imitate open flames in this way).
When put within a chimney breast or inglenook, this sort of stove is the safest, and soapstone is sometimes used to wrap the top and sides; this stone absorbs, stores, and slowly radiates heat.
Pros
Suit older and less insulated houses.
Long-lasting.
Cons
If you are near the fire, it can get really hot as well as the furniture around it.
Convection Wood Burners
A convection wood burner has an outer shell or additional side panels that surround the combustion chamber; heat is transferred to the air trapped within the outer shell, which is then diffused around the room.
They're a better choice for freestanding wood burners because the sides don't get as hot, and they're ideal for open-plan rooms where they'll be utilised as a secondary heating source.
Pros
The sides don't get as hot.
Good for open rooms.
The heat warms the room.
Cons
Catalytic Wood Burners
Catalytic stoves, like catalytic converters in cars, pass their Smokey exhaust through a ceramic "honeycomb" catalyst, which burns off the gases and particles, resulting in fewer pollutants.
Cat stoves are more efficient than non-cat stoves, having longer burn periods and less heat loss on average. They do, however, necessitate additional care because the catalysts must be replaced every few years.
Pros
Fewer pollutants.
Efficient
Cons
Non-Catalytic
Non-catalytic wood burners, as the name says, lack the catalyst mechanism. Non-catalytic stoves, on the other hand, contain a few emissions-reducing features, such as inner baffles that create a longer flow channel for the hot exhaust, allowing more gases and particles to burn off.
The EPA's emissions standards for non-cat stoves are higher than the 4.1 g/h standard for cat stoves, reflecting the inevitable deterioration of catalytic stoves' catalysts; by the time the catalysts are due for replacement, emissions will have no doubt surpassed the 7.5 g/h standard for non-catalytic models.
Pros
Allow more gases and particles to burn.
Durable
Cons
Benefits of a Wood Burner
Having a wood burner installed in your home is a big decision to make as it includes a lot of work being done in your home. Therefore, you may be thinking, is it worth it?
Therefore, we have created a list of the benefits when you install a wood burner in your home, so you make the correct decision.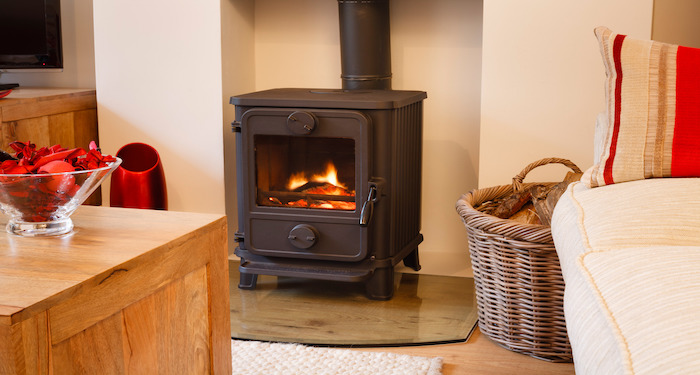 Sustainable
Wood-burning stoves are becoming increasingly popular as an environmentally benign alternative to fireplaces and fossil fuel-based home heating systems around the world.
Wood-burning stoves are a very sustainable heating option since wood is considered a renewable resource, unlike the fossil fuels frequently used to heat homes.
Save Money
Heating your home is more expensive than it has ever been. Due to a perilous combination of growing demand and limited availability, non-renewable resources such as propane, oil, and coal are skyrocketing in price.
You'll save money by cutting down on high gas bills in the long, dark winter months by zone-heating your home's primary living room with a wood-burning stove.
Purchasing an EPA-certified stove will ensure that you save money because they burn more efficiently and require up to 1/3 less firewood than traditional models.
This makes a wood-burning stove an excellent choice for those of us wanting to save money while maintaining an environmentally conscious lifestyle.
High Efficiency
Wood stoves are not only getting more environmentally friendly, but they are also growing more efficient. This means that instead of being discharged up the chimney, more heat is used to heat your home.
Older stoves will also have a lower efficiency rating, so upgrading to a modern wood burner is a good idea if you want to ensure that you get more heat into your home.
A more efficient stove is not only better for your wallet because you'll save money on fuel, but it's also better for the environment.
Stylish
Wood burning stoves not only provide a great source of heat during the cooler months, but they also look great. When you install one in your living room, you'll notice that it becomes a new centre point, bringing character and style to the place.
The burner will look beautiful in any room, whether it is in use or not. There are many alternatives available for you to acquire a wood-burning stove that suits the décor of your home, with styles ranging from traditional to contemporary.
Reliable
Because of technological advancements, we are rarely affected by power outages these days. Winter weather, in particular, has become more unpredictable in recent years, with many people losing power due to flooding, cold temperatures, and other adverse weather.
During a power outage, this can result in vital winter heating not working.
A wood burner, on the other hand, is dependable because it does not require electricity, oil, or gas to operate. Even if other heating sources are unavailable due to a power outage, a wood-burning stove can keep your home warm.
How Much Does It Cost to Remove a Wood Burner?
If you want to redecorate your home and create more space, then you might be thinking about removing your wood burner. Removing a fireplace is a great method to modernise a home and remodel a room.
Alternatively, it could be an opportunity to upgrade to a more energy-efficient heating system or a different fireplace.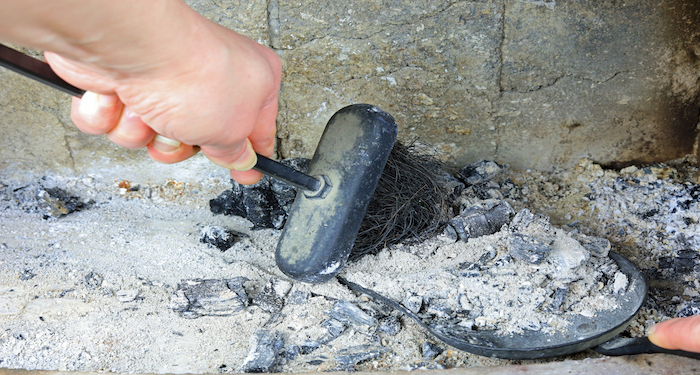 Because there are no gas or electric connections to remove, removing a wood-burning stove is simple in theory. They can, however, be quite heavy, weighing up to 300kg in some cases. They're also quite heavy, making them difficult to transport.
The vent or chimney that is attached to the fireplace must be removed or capped. A sweep is recommended for open coal fires to clear the space or chimney. It would cost around £150 - £300 to remove a wood burner from your home.
FAQs
Q: What size wood burner do I need?
A: Measure your room and divide by 14 to figure out what size wood burning stove you'll need (so length x width x height in metres, divided by 14).
If your room is exceptionally inadequately insulated, multiply by ten. If your room is super-insulated, multiply by 25. An outside wood burner will usually come in various sizes and you should choose one that matches the size of your outdoor space.
Q: How do you clean a wood burner?
A: With your gloves on, move the ash from the fire into a metal ash container or a metal pail with a tiny spade. If you want to avoid spilling any ash, be careful when moving it and placing it in its metal container.
Take the ashes in the pail outside to a safe location and keep it confined. A safe environment is often defined as one that is free of flammable shrubs, trees, or other elements.
Then, take a cold piece of charcoal from your stove and carefully remove it - you may need to take it when it's hot and set it aside to cool. After dampening it with water, wipe it on the inside of the glass, concentrating on any dark or blackened areas.
After that, all you need is a piece of kitchen roll to wipe away the excess moisture from the stove glass, and you should have a completely clean glass pane to see the raging flames.
Q: Can you DIY a wood burner installation?
A: It is not advisable to install a log burner yourself, as all solid fuel heating installations, including your log burner, must be approved by a HETAS qualified installer.
If the works are not approved, there will be major consequences. They will be deemed unlawful, and any incidents that occur as a result of improper installation will not be covered by your homeowner's insurance.
Q: What are the disadvantages to installing a wood burner?
A: Wood burners have significant maintenance requirements, must be properly aired and cleaned regularly, and are significantly more prone to cause big fires than either oil or gas heaters.
Q: Are wood burners expensive?
A: Wood stoves are more expensive to buy than gas wood burner or electric wood burner, and depending on your home, they might also be more expensive to install. You'll also need a storage room for wood, as well as frequent maintenance, just like with gas.
Sources