Introduction to Best Carpet Cleaners
Finding the right carpet cleaner is instrumental to maintaining your carpets long-term. With the right product, you can keep your carpets clean and give them a fresh, vibrant odour.
Our guide to the best carpet cleaners will review some of the top products on the market, discussing their features, pros & cons and average cost.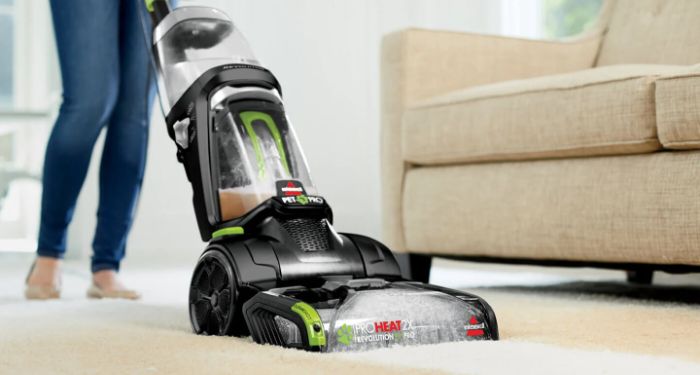 We will also look at additional topics such as the cost of getting carpets cleaned by a professional and the benefits of a carpet cleaner.
This article will prove useful if you're currently searching for the best cleaner UK for carpets or would like to do some research for possible future purchases.
What is a Carpet Cleaner?
For this section, we will explain what a carpet cleaner is. We'll also explain why they're so popular, what they're used for and what the purpose of a carpet cleaner is.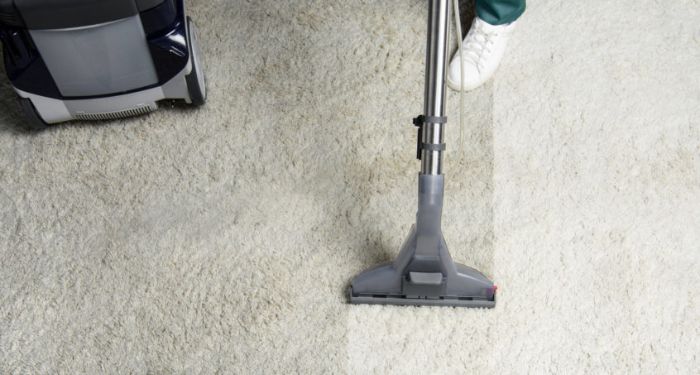 Carpet cleaners are tools with a handle atop a rectangular cleaning section. They combine scrubbing brushes, vacuum suction and a cleaning solution to effectively scrub and clean a carpet.
Carpet cleaners are popular because they are especially effective at doing what they are intended for.
Carpet cleaners are used to remove knotted-in animal hair and ingrained dirt, for example, and go beyond that of simpler cleaning tools. Their purpose is to thoroughly clean carpets and to do so in an effective manner.
How Does a Carpet Cleaner Work?
We will now explore the workings of a carpet cleaner. By combining scrubbing brushes, vacuum suction and a cleaning solution, a carpet cleaner injects cleaning solution and water deep into the fibres of a carpet.
The brushes then work to scrub, agitate and loosen dirt and stains from the carpet. Further, the vacuum suction lifts away the dirt and stains.
Some types of carpet cleaner vary from the exact description given above, which is a broad break down of how carpet cleaners work.
Types of Carpet Cleaners
In this section, we will lay out details regarding the various types of carpet cleaners. We will include their pros and cons.
Hot Water Extraction
Hot water extraction is also known as steam carpet cleaning. The highly pressurised hot water used in this method agitates the fibres of the carpet before dissolving dirt inside the carpet.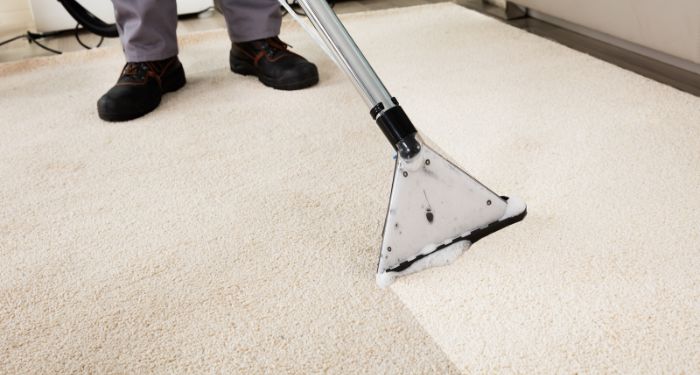 Usually, a cleaning agent is applied to a soiled surface before the carpet can be agitated with the brush. Rinsing will follow to complete the process.
The settled cleaning agent will allow the carpet to be washed so that the cleaning agent can be rinsed thoroughly. The room should then be allowed to dry out afterwards.
A carpeted office about 3000 square feet will generally take around 2 hours to clean using a hot water extraction method and 4 hours to dry.
Pros:
Completely effective cleaning.
Fast cleaning method.
Highly recommended approach.
Cons:
Risks the growth of mould.
Could take up to 12-24 hours to dry.
Danger of wetting your carpets too much.
Carpet Shampoo
Another approach is to shampoo a carpet. It was a particularly popular cleaning method prior to the launch of encapsulation technology in the 1970s.
One major drawback with carpet shampooing is that it will leave behind large amounts of wet foam in the carpets which can take plenty of time to dry out fully.
Further, such foam residues can become sticky since there is no rinsing involved.
Pros:
Cons:
Outdated approach.
Can be quite expensive.
Residues of wet foam can be left in the carpet.
Not preferable for relatively small cleaning jobs.
Encapsulation (synthetic detergent)
In recent decades, encapsulation has become quite popular. Foam encapsulation makes use of synthetic detergents which act as a base that crystallise into a powder upon drying.
Once pieces of dirt in the carpet fibre have been loosened, it will be encapsulated by the powder when the cleaning foam has dried.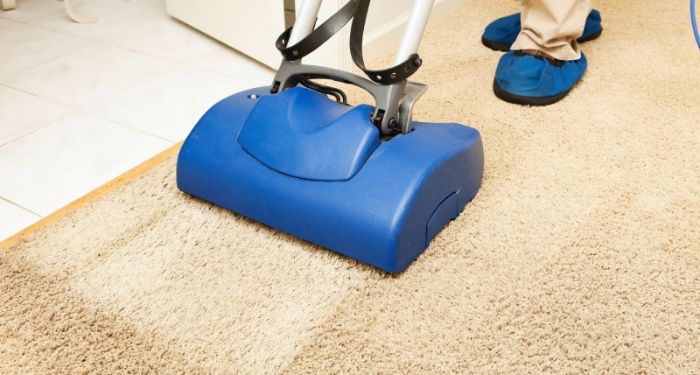 Then, these encapsulated particles can be brushed or vacuumed up once the foam has dried.
This approach has become more popular than carpet shampooing due to its various advantages over the prior mentioned cleaning method.
It is also a less harmful method for the environment due to the fact that less chemical residues remain in the carpet afterwards. With that being said, this approach is not very effective at cleaning heavy soiling carpets.
One note of concern is that with budget encapsulation products, the cleaning will likely not be scrubbed deep enough.
Pros:
Modern option.
Crystal chemistry helps with effective cleaning.
Cons:
Budget products are not very effective.
Not suitable for grease-filled carpets.
Thorough vacuuming is a must.
Bonnet Carpet Cleaner
With a bonnet carpet cleaner, a brush with pads oscillates inside a cleaning machine. The pads involved may be damp, dry or wet.
Before using a bonnet cleaner, the carpet may be sprayed with a solution or shampoo or the pads could be soaked in the shampoo or solution prior to being attached to the brush.
A bonnet carpet cleaner lifts dirt and debris from the carpet.
Pros:
Cons:
Risks damage to the carpet and may result in fibre fraying.
Limited cleaning capacity.
Best Carpet Cleaners
We will now look at various products, all of which could be considered the best carpet cleaner depending on your preferences and needs. This includes some of the best home cleaners for carpet.
For each product, we will explore details such as how often the water needs to be replaced, what carpet cleaner type it is and how much it costs on average.
How long your carpet cleaner will last for will depend on the quality of the product and how well it is looked after.
Generally, vacuum cleaners work for three years before beginning to decline in power.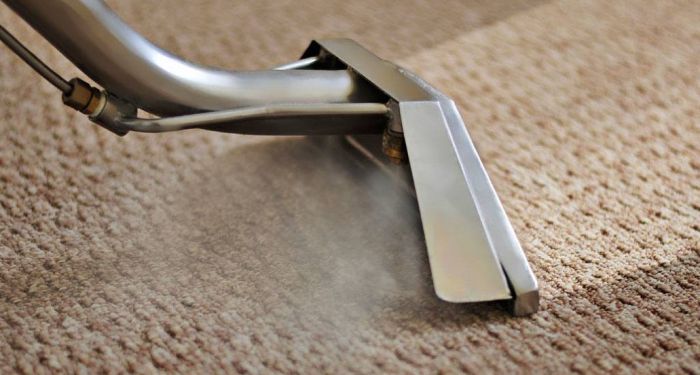 Bonnet carpet cleaners may last for seven years or more although, with each product, you can expect part replacements to be necessary every several years.
For example, you'll likely need to replace a bonnet cleaners plates every couple of years.
In most cases, carpet cleaners based on hot water extraction will need to have their water/solution tank refilled with its appropriate liquid once the dirty tank has reached the full line.
For further details, you should see the manufacturer's handbook of the product which you end up purchasing.
Vax ECJ1PAV1 Rapid Power Advance Carpet Cleaner
This 4.7 litre capacity hot water extraction carpet cleaner is a highly rated and popular product. Its deep clean approach can leave your carpets dry in as little as one hour after use.
It features spin scrub technology, a sizeable tank capacity as well as an upholstery wash tool and crevice tool.
You can also take advantage of the EDJ1PAV1's Quick Clean Mode, if you need it. You have to assemble this carpet cleaner. In order to do so, stand the carpet washer base on the floor. It should be in an upright position.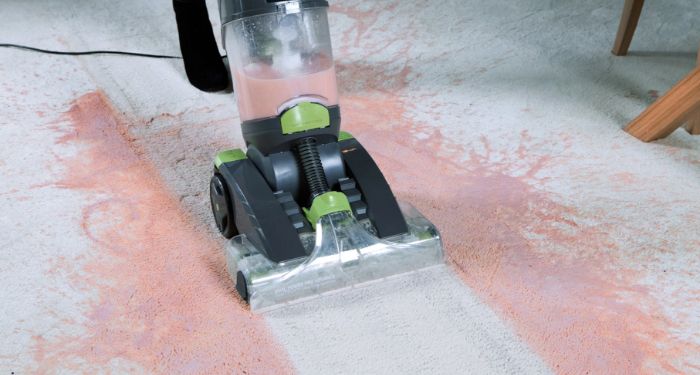 The handle needs to be aligned with the main body before being pushed into position. You can lock it in position by turning the lock dial clockwise.
Finally, you need to assemble the tanks by tilting them and lining up the tank's front with the washer before pushing the tank until you hear a click. This cleaner is very effective at its job.
To get the best out of this carpet cleaner, Vax suggests that you use their Ultra Plus Carpet Cleaning Solution. This is possibly the best carpet cleaner product out there but certainly one of the best.
You can purchase the ECJ1PAV1 for between £140 and £400.
Pros:
Popular and highly-rated.
Features a Quick Clean Mode.
Includes spin scrub technology.
Carpet may dry in just an hour.
Cons:
You may need to refill the tank quite often.
Some users have warned that this product has experienced premature issues.
A small number of users have also reported issues with removing debris from the brushes area of this carpet cleaner.
Bissell ProHeat 2X Revolution Pet Pro Carpet Cleaner
The ProHeat 2X is another hot water extraction carpet cleaner. With a 4.5 out of 5 stars rating on Amazon, from almost 2500 ratings, it is also another very popular product.
Its 2 in 1 Pet Upholstery Tool is designed to remove stains, odours and pet hair while its EZ clean brush roll cover allows you to easily and quickly clean the make itself after a deep carpet clean.
It is a light product, weighing less than 18 pounds while it also has a low profile foot.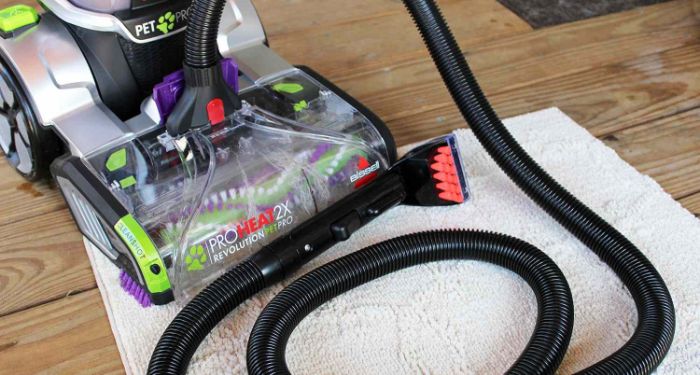 You may also use its express mode, designed to allow carpets to dry in approximately sixty minutes. Another positive with the ProHeat 2X is that for every pet product purchased, they donate up to $10 to the Bissell pet foundation upon activation.
You can assemble the ProHeat 2X quite easily. Insert the upper handle at the base's top until you hear a click. You must not attach the clean tank yet.
Secondly, line up the carry handle with the slots on both sides of the base and place it until you hear a click.
Next, employ a Phillips screwdriver to secure the screw (that is located on the upper handle) into the carry handle. Wrap the carpet cleaner cord around the handle and Quick Release Cord Wrap hook.
Finally, line up the clean water tank at the bottom of the upper handle with the grooves before sliding it into position. It is a powerful carpet cleaning machine designed to remove even skunk odour, making it a great product for cleaning.
You can purchase this carpet cleaner for between £250 and £290.
Pros:
Ideal for households with pets.
Features an attachment for tough to remove stains.
Express modes can have carpets clean in an hour.
Easy to clean the product itself.
Cons:
Does not come with any on-board tool storage.
Karcher SC5 EasyFix Steam Cleaner
The SC5 is a steam carpet cleaner and is a strong, popular product, rated positively by many carpet cleaner reviews. Its powerful 3.5 bar super-heated steam can kill 99.99% of normal household bacteria on a hard surface.
It comes with a hydro vapour function which merges steam and hot water, multifunctional accessories and a no-chemical approach to deep cleaning carpets.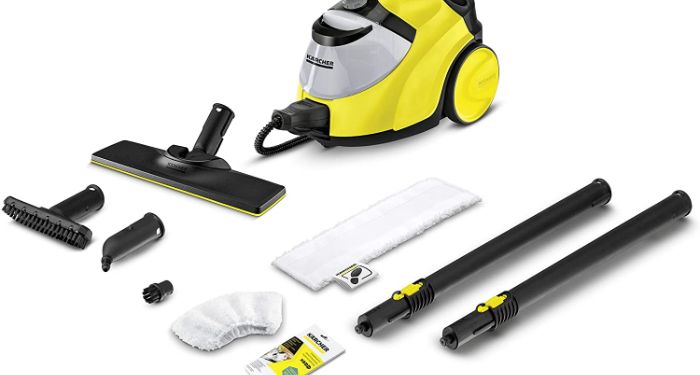 It has a removable 1.5 litre water tank. The SC5 also features a child safety lock and a steam flow regulator. It can be assembled with ease. You can follow Karcher's visually aided instructions for this purpose.
It blasts debris and dirt away with its multitude of accessories thanks to its pressurised steam, making it a high-quality, effective carpet cleaner. This product costs about £450 to £550.
Pros:
Comes with 3.5 bar super-heated steam.
Kills 99.99% of normal household bacteria.
Features a child safety lock and steam flow regulator.
Cons:
Rug Doctor Deep Carpet Cleaner
Returning to hot water extraction carpet cleaners, this next product has a volume capacity of 4.2 litres. The Rug Doctor Deep Carpet Cleaner features a New Super Boost Spray function allowing you to customise your clean to your preferences.
This is particularly beneficial for performing a deep clean on high traffic and heavily soiled carpet areas.
Its Dual Cross Action Brushes are intended to deep clean each side of the fibres on the carpet. The tanks can easily be filled and rinsed.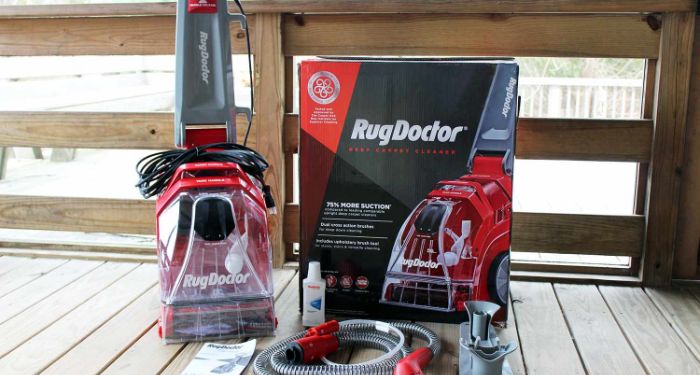 This product comes with sizeable opening lids and an in-built detergent measuring cap. It also comes with a separate hand tool caddy. This product requires no assembly.
This carpet has an award-winning performance and a great ability to clean. It was awarded gold by the Carpet & Rug Institute.
The CRI evaluates deep carpet cleaners for their ability to remove water, remove soil and for surface retention. Its shape and weight can hinder your efforts to manoeuvre this carpet cleaner.
On the other hand, the hand tool that comes with this deep carpet cleaner helps to reduce this issue.
This carpet cleaner will set you back around £300 to £450.
Pros:
High performing carpet cleaner.
Award-winning product.
Tanks can be rinsed and filled with ease.
Not overly expensive for such a powerful and popular carpet cleaner.
Features a New Super Boost Spray function.
Comes with Dual Cross Action Brushes.
Cons:
No automatic shut off feature.
Manoeuvring may prove a tiny bit difficult.
Some customers have issues with the consistency of this product's quality control.
Henry George GVE 370-2
This product from the popular vacuuming brand Henry can provide a wet or dry vacuum depending on your preference.
While having a comical, quite trivial appearance with a smiley face on its surface, it is nonetheless a powerful and popular choice. Its features include a HEPA filter, HEPA filtration and bags for dry cleaning.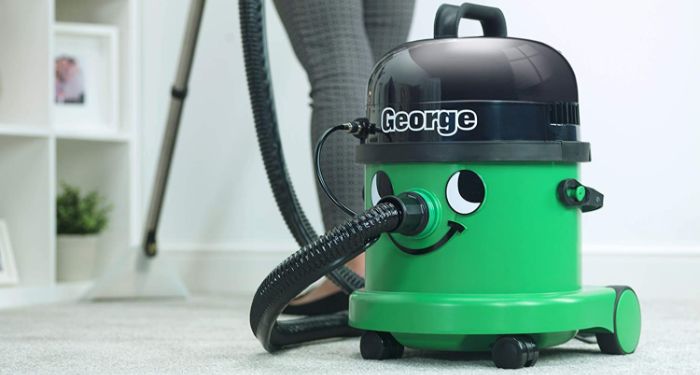 This carpet cleaner can clean and shampoo a surface very well. It's also perfect for pets and rapid cleans. This product comes in green & black. It is a blend of a hot water extractor and a dry cleaning vacuum.
The GVE 370-2 can be assembled with ease following the manufacturer's visual instructions. It is also very effective at cleaning. You can purchase the Henry George for around £200 to £260.
Pros:
Versatile.
Effective and powerful carpet cleaner with a friendly smile.
Refreshes your home.
Perfect for households with pets.
Can clean rapidly.
Inexpensive.
Cons:
Its design and appearance may not be for everyone.
Not very light at 11kg.
Vax ECB1SPV1 Platinum Power Max Carpet Cleaner
As such a popular brand of carpet cleaners, it's no surprise that Vax appears in our article twice.
When its tank is full, it has a capacity of 3.5 litres while the capacity drops to 2.9 litres if the tank is dirty.
It comes with an upholstery cleaning tool, hard floor cleaning tool, spin scrub brush, two platinum solutions, a pre-treatment solution and a pre-treatment wand.
It is another example of a hot water extraction carpet cleaner.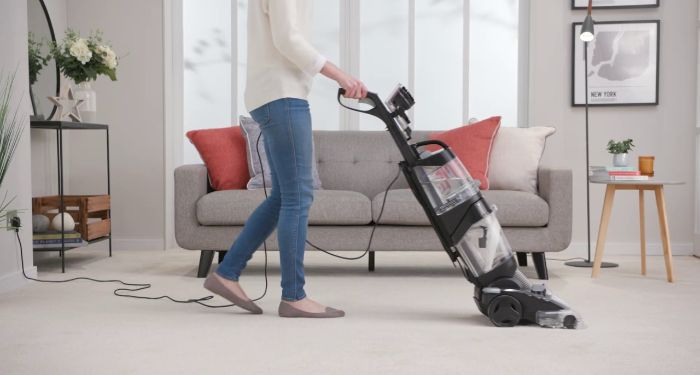 It is also a top-quality product which is great for removing stains. It comes with a long hose, and the floors will dry quite quickly after use. Follow the Vax instructions or instructional video to put this product together.
The ECB1SPV1 costs about £250 on average to purchase. It also comes with an incredible six year warranty.
Pros:
Comes with various helpful features.
Relatively inexpensive
Has a six year warranty.
The floor will dry quite quickly after use.
Cons:
Not a lightweight carpet cleaner.
Carpets may experience piling due to this product.
Quite noisy.
Cost to Get Carpets Cleaned
If you'd rather have someone clean the carpets for you, the cost of a full carpet clean for a regular 3 bedroom house will end up at around £200. This includes £170 for the cost of labour and £30 for materials.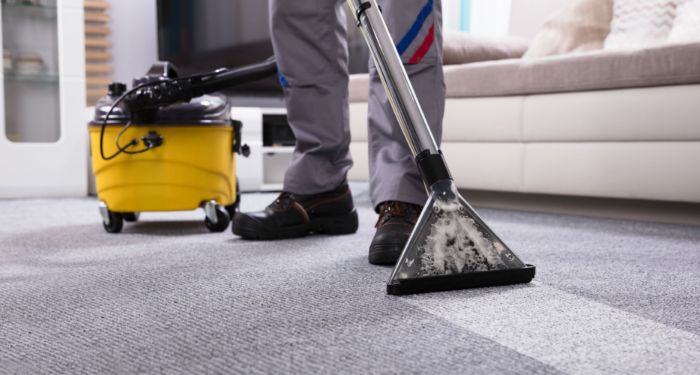 For smaller jobs, it will set you back about £30 to have the stairs, and landing cleaned, around £40 for the lounge, £20 for a small bedroom and £35 for a large bedroom.
Benefits of a Carpet Cleaner
Let's now explore the benefits of a carpet cleaner.
Effective Clean
Carpet cleaning devices are great at effectively cleaning carpets and making them fresh and vibrant. Particles such as dirt, debris and pet hairs can be removed from a carpet with a decent carpet cleaner.
Those that use solutions such as hot water extraction carpet cleaners or steam-based carpet cleaners can also have the capacity to disinfect a carpet.
Time-saving
A good carpet cleaner will save you time too. A carpet cleaner will make the job easier than say scrubbing a surface directly by hand. Carpet cleaners can remove dust, dirt, grime and animal hairs relatively easily.
How fast the job will be will depend on the product in particular, although some of the carpet cleaners discussed in this article are great for rapid, emergency cleans.
Protective of Health
A carpet cleaner can also be beneficial for health purposes. If you have a decent carpet cleaner, it will disinfect a carpet.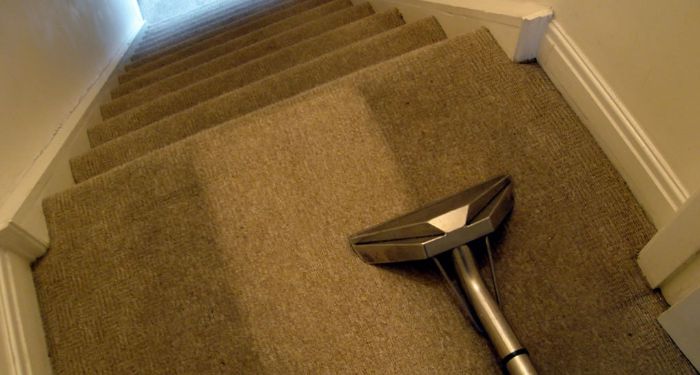 Some can remove around 99.99% of normal household bacteria. By removing dust, it can also reduce the risk of allergy-related problems.
FAQs
Q. How do you use a vax carpet cleaner?
A: Before using a vax carpet cleaner, clear the carpet as much as possible. Next, apply a pre-treatment such as Vax Pre-treatment solution.
Q: Where can I hire a carpet cleaner?
A: There are plenty of carpet cleaner services across the UK. These include NCS, No. 1 Carpet Cleaners and Carpet Cleanings London.
Q: What is the best carpet cleaner?
A: While there are many high-quality carpet cleaners to choose from, the Vax ECB1SPV1 is arguably one of the very best products out there. It also comes with a six year warranty. With that being said, there are plenty of additional products on the market, which may be more suited to you.
Q: How long does a carpet take to dry after being cleaned?
A: It may take six to ten hours, but the best carpet cleaner machines are designed so as to allow the carpets to dry in as little as one hour.
Q: What else can I do to look after my carpets?
A: Ideally, you should find the best carpet cleaner solution or best carpet cleaner spray to improve the quality of your carpets.
Sources