What is a Patio?
A patio is a structure built separate from your main property and is constructed on the ground, usually just at the beginning of a back garden.
Meaning the courtyard of a building or house, in Spanish, a patio is essentially that but without any surrounding walls.
Patios often consist of slabs of material laid down next to each other to form the full structure.
Patios can often provide room for seating, outdoor cooking, and even dining furniture. However, since we're looking at small patios, in this case, it may be the aesthetic value that you are most interested in.
It's often used for reasons of aesthetics or utility. But, it will really depend on each homeowner. The advantages of patios are that they're not as costly as decking, easy to maintain, generally quite durable, and permits are usually unnecessary.
Small Concrete Patio Ideas
Each patio material has a range of pros & cons. As for concrete, though it is somewhat susceptible to cracking and chipping, it's relatively durable.
It is also cheaper than many other materials, and there is a lot of versatility when it comes to choosing a design.
On the other hand, concrete patios can become quite slippery after it rains and often requires plenty of maintenance and repair work over the years.
Poured Concrete
Though most concrete patios are made of blocks that are laid down next to each other, it's possible to have concrete slabs poured in place and perhaps also acid-washed for a finishing touch.
To spice it up, add green ground cover such as Elfin thyme to fit between each elongated patio 'slab'.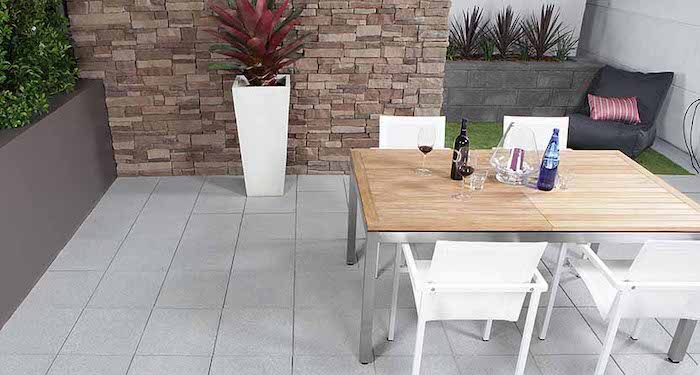 You may want to surround the patio with small stones like pea gravel (and of various colours, perhaps) to complete the look.
Perfection
Another option worth considering is laying out the concrete slabs next to one another, all of the same size, shade, and shape.
This may not what you're after, but if you want something uniform and simplistic, this might be the way to go.
It can present a similar vision to kitchen or bathroom tiles but with an outdoors aesthetic, aided by the ability of light-toned patio slabs to reflect sunlight.
Concrete Pavers with Added Materials
There are plenty of options when it comes to concrete pavers, whether it be shape, colour, size, or texture.
Having pavers laid down conventionally, you may want to fill the gaps with materials like pebbles, pea gravel or an appropriate form of low-growing ground cover.
Small Pea Gravel Patio Ideas
Another option worth looking into is pea gravel patios. Pea gravel is a popular choice that provides a wonderfully smooth texture and is particularly environmentally-friendly.
It involves a minimal outlay, it's a prominent choice among gardeners, and there are plenty of designs available.
With that said, pea gravel stones can be displaced easily, it can be hazardous for children, and it may not be the most comfortable type of patio to walk on.
Checkerboard Design for Small Gravel Patio
By combining relatively larger pavers with pea gravel, you can create an aesthetically appealing checkerboard effect.
The pea gravel is essentially treated like grout with this design before the pavers can be added atop to create a visually striking grid.
Circular Patio
In some ways, small pea gravel is a great material for creating a rounded patio. As it is a small patio, you may only have room to add a water feature or a plant pot.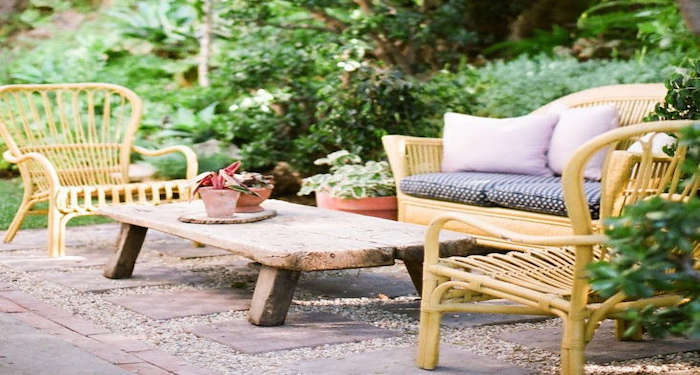 However, a circular area of small pea gravel surrounded by patio slabs for visual contrast can create a cute and unassuming patio with plenty of aesthetic value.
Small Stone Patio Ideas
Though the most costly option, natural stone has incredible visual qualities, not to mention that every slab of natural stone is unique.
These patios may be made from marble, sandstone, limestone, or granite, among many others. Stone patios are very durable and come in a whole host of colours and designs.
As for the downsides, these patios are not only costly but if mortar is used for the installation, the joints tend to fail before the actual stone starts to degrade.
Irregular Patio Steps
For something a little different, you may want to establish steps comprising various natural stone slabs.
Rather than going with conventional steps, with each being the same size, you could try more 'V-shaped' steps with a curved end.
One specific design we've seen involved the first step being mid-sized before a much shorter step followed.
Then came a step several times as large as the first and finally a step much shorter than the third step, completing this unconventional but visually appealing pattern.
Of course, there are many other designs that you could come up with steps as the initial premise.
Natural Patio
Natural stone patios can fit in especially well with surrounding plants that can help complement their Earthly look.
This tends not to work as well with other materials like concrete. Ultimately, with natural stone, you can create a very organic look.
Mixed Shades
One way of adding a flare to your patio is by having natural stones of various shades and tones fitted.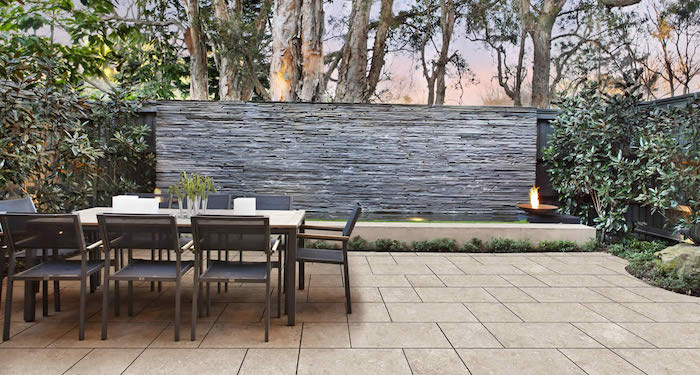 This could be a range of brownish-orange stones or even a combination of greyish-brownish stones. These are just some examples.
The options are nearly endless. Given that every stone slab will be distinct to some degree or another, plenty of beauty can be achieved by mixing different natural stone shades to form a patio.
Small Raised Patio Ideas
We touched a little on an example of a small raised patio when we looked at the idea of patio steps.
However, there are many other ways a patio could be raised for different small garden patio designs, which we'll look at in this section.
Block Patio
For something neat and simplistic, you should consider merging blocks/slabs, preferably concrete, to create a larger slab that is the patio itself.
You could choose to keep it plain around the edges or add some decorations like a small hedge, garden ornaments or/and water feature(s) to give it a bit more flare.
Small Step Off
Another way of making a large block patio into something interesting is by adding a small step at the edge, although ideally, one that only covers the middle third of the patio's edge.
Remember floppy disks? Think of their design, but with the step being a bit smaller than the top casing was on a floppy disk. That's essentially the sort of design we're describing.
Island Patio
With the right garden terrain, you could choose to have small patio steps installed from your back garden door down to a little patio island that sits on its own.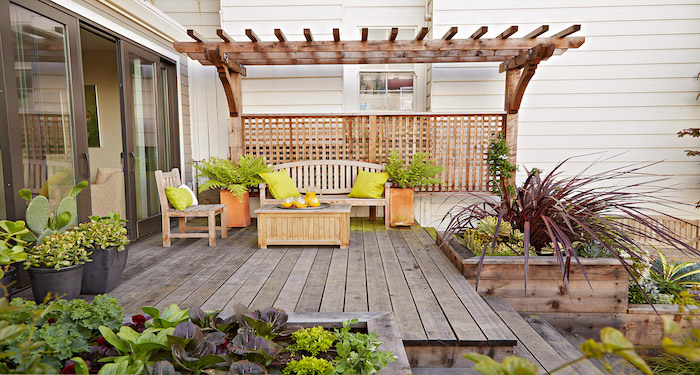 To add to the style of such a patio, you might want to create a messier and more mixed up patio design than you would with other types of patios.
Small Patio Furniture Ideas
Now that we've discussed some options for designing a small patio, let's move on to the items and fittings that could be added after the patio has been built, starting with small patio furniture.
Condensed Seating
To fit seating on a small patio, it's important the furniture you buy does not take up too much space. Fancy, rounded seating is therefore not suitable in this case.
It would be better to go with square seating and a square table to make the most of the space you have. If even some of the seats can fit beneath the table, then that's even better.
Outdoor Couch
Though individual chairs are the most common seating choices for a patio, you should keep an open mind to the idea of installing a small garden sofa.
This is something you'd want to take out for nice, sunny days to relax in the garden and take in after. But, it could certainly be worth it, giving the added comfort.
Furniture and Plants
Depending on your taste, plants and furniture could go hand-in-hand to create a beautiful and peaceful visual, sitting atop your garden's patio.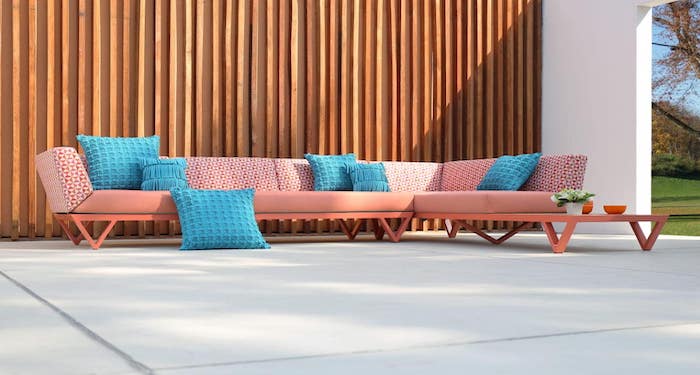 Large plant pots on either side of a bench or small sofa, with the seating facing a table (perhaps a glass table), can result in a fantastic aesthetic.
Small Patio Decking Ideas
In some cases, homeowners choose to have a decking installed atop a patio. Why take this approach?
It can increase utility by providing the benefits of both decking and a patio, and with the two combined, it can create an interesting visual.
Side by Side
One solution is to install a small patio next to a deck with both complementing one another's functions rather than the patio essentially acting as a ground layer largely for aesthetic reasons.
The patio could be used secondary to decking, such as having a BBQ on the patio, while the decking is used for seating.
Ground Layer Patio
Another way of having these two structures constructed together is by laying the patio first and then fitting the deck on top.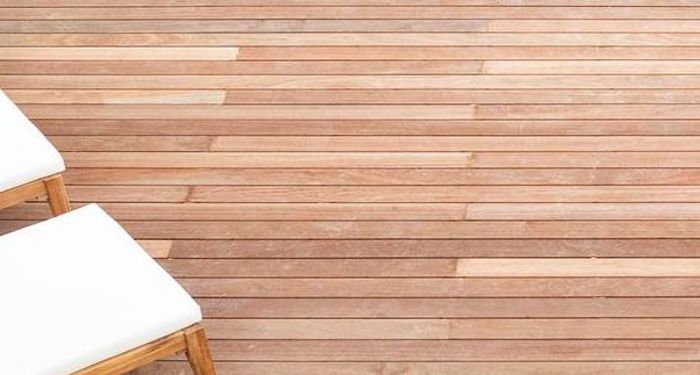 In that way, the patio may only act as a visual support, but it could also be used as a step covering the deck's edge, thus providing utility also.
Small Patio Lighting Ideas
Nothing beats a warm summer evening in your garden sitting next to your friends as birds sing goodnight songs in the distance, and the smell of fresh-cut grass fills the air.
We all miss those times, but hopefully, for summer 2022, those days will come back to a full extent.
And to make the best of it, if you were to have a small patio built, you'll want to think about how to light it up when the sun goes down.
Bamboo Stakes
For something a pacific aesthetic, you should consider bamboo stake lights with a Polynesian design.
Solar-powered bamboo stakes are perfect and start glowing automatically once it gets dark.
It is best to line these stakes around the edges of a patio, assuming that they will provide sufficient light, but for a small patio, this should suffice perfectly.
Bluetooth Lantern
For something a little hi-tech, why not buy a Bluetooth LED lantern that also acts as a speaker? These modern lamps will bring your garden into the 2020s.
With Bluetooth capacity, these cordless lamps are ideal for lighting up your garden and the mood of everyone present, well, assuming you play songs everyone likes!
Decorative Steps for Small Patio Lighting
One unique and unconventional way of lighting up a patio is by having steps that go nowhere.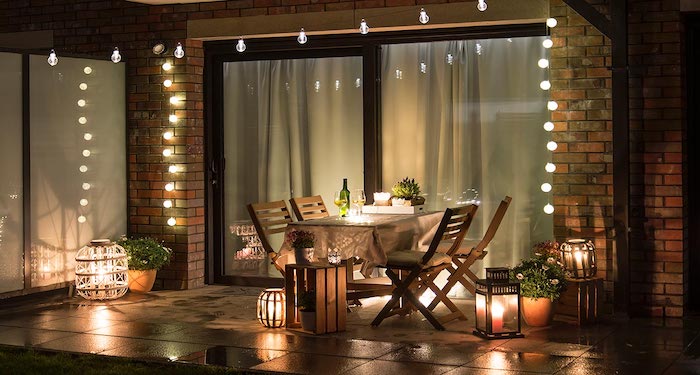 Yes, you read that right. It sounds absurd, but after all, steps can be used as a fantastic and aesthetically pleasing way of storing candles encased in various fancy lanterns and transparent candle containers.
Small Patio Edging Ideas
Lastly, let's take a look at some ideas for edging small patios. As you'd imagine, patio edging refers to the materials, design, etc., that covers the edge of the patio.
Contrasting Brick Edging
One fairly common approach to the edge designs of a small patio involves laying bricks around the edge in a darker colour than that of the patio itself.
So, while the patio may be greyish in tone, the bricks may be red, for instance. This creates very clearly defined and visually striking edges around a patio.
Grass Covered Patio with Dark Edging
This design is pretty self-explanatory. If you want to maintain a natural look in your garden and avoid creating an overly-industrial aesthetic, you should consider covering your patio with synthetic grass.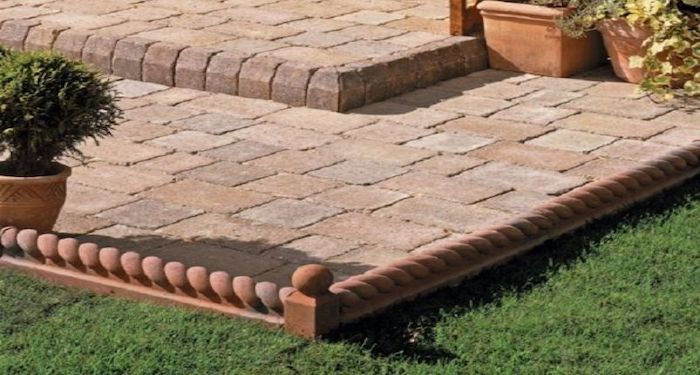 You can also cover the edges with dark wooden blocks or another suitable material. This works best for gardens with plenty of wood and plants, such that it won't appear out of place.
Thin Edging
If you'd like small patio edging that's not too over-the-top, then it's worth considering having a thin edging by using small slabs, small bricks or even stones or pebbles.
To make the edging especially subtle, you could ensure that the edging materials are only slightly lighter or darker than the rest of the patio.
Sources