LED Outdoor Lighting Ideas
LED lights are incredibly useful for around your home, and their brightness can really create dramatic looks on doors, walls, garden bars, trees or anything else you have surrounding your home.
There are quite a few variations for outdoor LED lights, so we're going to break them up into easier to manage chunks.
Solar Outdoor Lighting Ideas
Solar power is, without a shadow of a doubt, the future for powering homes and other items, but solar-powered lighting has been around for a long time.
Stake lights are a prime example of getting the best from solar power. They feature little panels on top of the light-absorbing the light throughout the day, to be used when the sun sets in the evening throughout the night.
Solar power removes the need for replacing batteries every few days when you forget to turn your lights off after an evening in the garden or need to lay costly and frustrating wires through your garden.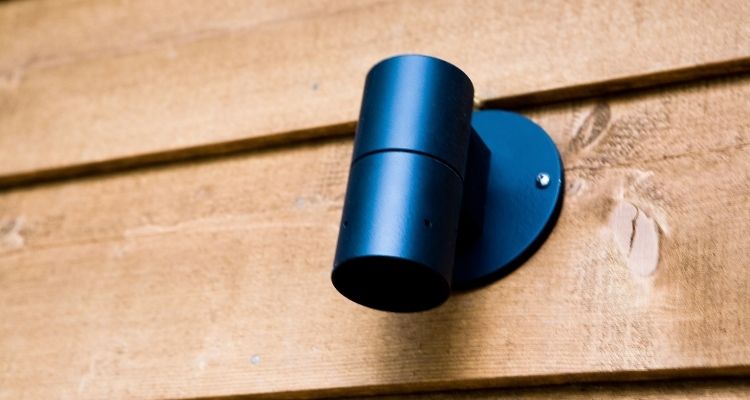 Path solar lights are a very popular option with many people as the sun hits the path throughout the day, maximising the amount of charge it can enjoy before lighting up the way in the evening.
Even more popular recently are solar step lights, which are similar to path lights, but they have a motion sensor that will activate the light as you walk across them.
This exudes a futuristic and modern aesthetic and, in all honesty, is just a really cool addition to your garden.
Decorative lights above patio doors and windows are great options to be used with solar power. Again, the sun tends to hit these areas throughout the day, letting you make the most of the free energy and using it throughout the evening.
There are lights that look almost like lanterns placed outside a castle in medieval times, and they are quite a popular choice for the right home.
Outdoor Security Lighting Ideas
Of course, outdoor lighting is usually centred around the decorative and aesthetically pleasing aspects of home design, but you shouldn't overlook the security benefits of outdoor lighting.
There are many security lights on the market that are cheap, effective and discreet, that can be placed in areas of your garden that may need protecting, the obvious choice being above doors and windows.
It's a simple fact that thieves and burglars like to operate under the guise of darkness, anonymous and undetected.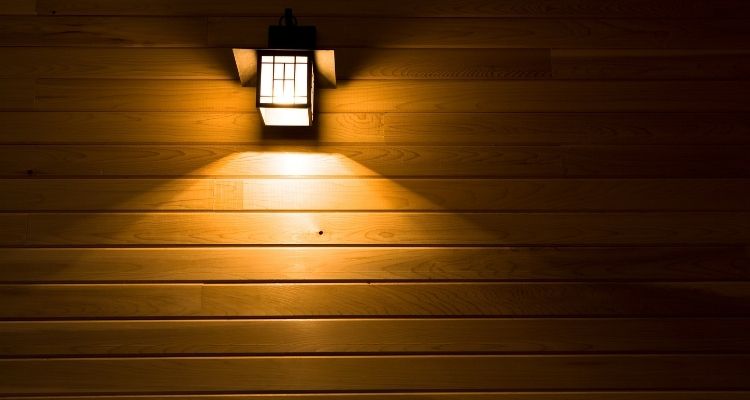 They work under the cloak of shadows, but if you take this anonymity away, they tend to run for the hills, never to darken your doorstep again.
You can pick up a solar-powered, motion-activated security light for as little as £15 online, and they are super-bright, with some even covering your entire garden area with just one fixture required.
These types of lights are also perfect for installing above driveways and in dark side-alleys of your home. Nobody will mess with your car when thousands of lumens light them up like a singer on a stage.
Outdoor Smart Lighting Ideas
Smart homes are really taking over, with video doorbells, CCTV cameras with intercom systems and even voice-activated heating systems.
So, it's no surprise that outdoor smart lighting is the newest trend, showing no signs of slowing.
In the previous section, we mentioned the importance of security lighting in the outdoor areas of your home and how effective they are at scaring away any criminals that dare step onto your property.
Well, smart security lights are another step beyond that. Take, for example, Ring's Spotlight Cam.
This device will use its motion detector to light up and intruder with the power of 1,800 lumens while simultaneously recording them with the 1080p camera and alerting you via a notification on your smartphone or any other smart device within your home that there has been an intruder detected.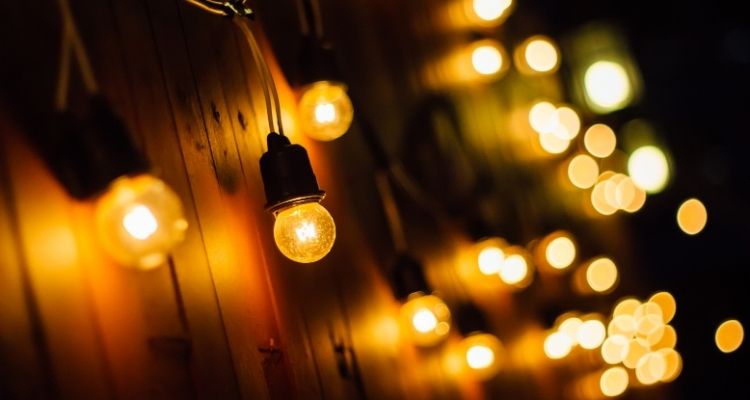 Now that is one secure home. These lights are also easy to fine-tune with the app, and you have access to a range of features like a remote-controlled siren, changing the field of detection to make it broader or narrower, and a whole host of other handy settings.
Smart outdoor lighting isn't all about keeping your home safe. There are smart lighting options now, like string or strip lights, that allow you to change the colour, intensity and even the pattern of your lights.
These lights can either be pinned or stuck to the structures in your gardens like decking bannisters and spindles, gazebos, sheds, hot tubs and anything else you can think of.
They are usually controlled with an app on your phone and are either battery or solar-powered.
They aren't the cheapest option on the market due to the amount of technology crammed into them, but they are a great investment if you are interested in turning your garden into a 'smart garden'!
Garden Lighting Ideas
Our gardens play very different roles throughout the year. On summer days, they are places to relax in the British sun, sipping a cool Pimms and watching the kids play with water guns.
In the summer and spring evenings, they are ideal for parties, BBQs and gatherings with your friends and family, but in the winter, they tend to be shunned until the warmer weather makes them a little more enjoyable, but this doesn't need to be the case.
There are lights that also feature outdoor heaters simultaneously, opening up a wide range of options for those bitter months.
These aren't cheap, but they are a lot more affordable than they have been in recent years, and you can pick one up for around £300.
It's pretty hard to get garden lights wrong. String lights look wonderful draped around fencing, decking bannisters, gazebos, sheds, or canopies, and the best thing about them is that they are battery powered and cheap to purchase.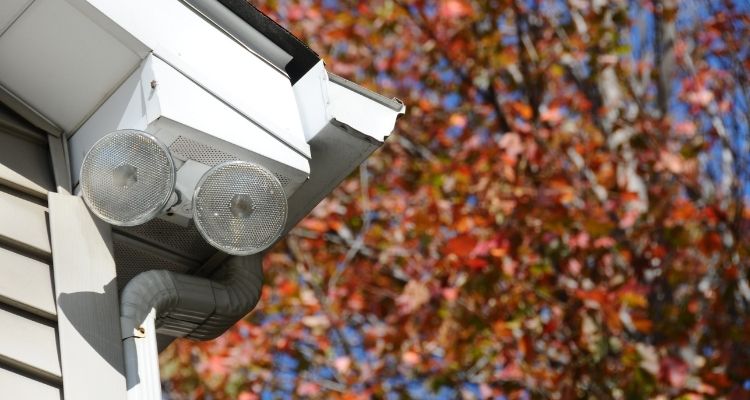 They're also incredibly light, meaning its really easy to put them up pretty much anywhere. You can attach them with little holding pins, staples, strong outdoor tape or anything else that works for you.
Stake lights look great dotted around the garden too, and if you're having a party or a BBQ for a special occasion, they look wonderful placed within the party too.
Stake lights are often solar-powered, removing the need for batteries, and they are versatile for those who love a quick rearrange depending on the event.
Plug and play lights are really handy to have lying around for those special occasions too. You don't need to find a place for them year-round but keeping them in a drawer ready to spruce up your garden's lighting at a moment's notice is a great option to have.
They require a power source, either with batteries or with a plug socket, but most homes now will have an outdoor plug socket, and if you don't have one, you can have one installed for around £150.
Garden Wall Lighting Ideas
Garden wall lighting can give your outdoor spaces quite a classy and dramatic look, with spotlights illuminating the design of your home in the areas you want them to.
Dual bulb spotlights are incredibly popular in recent years, with light emanating from both the bottom and the top of the light fixture, giving a full lighting spectrum above and below the light.
These lights are really well served beside patio and front doors. You can also get these lights with a motion sensor included with them, which will then automatically activate whenever someone approaches your doors.
This is entirely for decoration purposes, but there are some security benefits to enjoy from this too.
As we explored in a previous section, thieves hate being lit up in the dark, exposing their identity and actions, so the more motion-activated lighting systems in your garden, the better!
Your house number is usually shown with a metal sign or metal cut out numbers attached to your wall or front door, but there are some different options available at the moment.
There are acrylic or metallic signs available that will have the number or house name on it, illuminated by small spotlights below, making for an incredibly classy decoration at the front of your home.
Large wall spotlights may look a little bit too much like security lights for your liking. Still, if you are having a party at night, it can be a great way to illuminate the whole garden space for you and your guests to avoid any injuries or accidents.
Some newer versions can be remotely controlled to adjust the intensity of the brightness. Again, these lights can be multi-function, as motion detection, large spotlights can work both for your parties and act as a security light when in the automated mode.
Investing in some lighting for your garden and outdoor spaces will be money well spent regardless of how much you can set aside.
It can create stunning aesthetics around your home, serve as a burglar deterrent and simply makes your space look a lot more inviting to both you and anyone you invite to enjoy your garden.
You can make all these additions for a low cost, and everything you need will be available for you to buy at any local DIY store.
These products are also designed to be easily assembled and installed quickly, making them more accessible to everyone who wants to use them.
A little investment goes a long way for outdoor lighting, and you'll wish you had done it sooner!
Sources