Why Does my Garden Need to be Levelled?
There are numerous reasons why you garden is uneven:
Children playing on the soft soil could put pressure on the lawn, and cause damage to the surface area.
Animals that roam and dig at your garden.
If you have pipes or rubble underneath your garden this can affect the composition of your lawn.
Waterlog build up during these winter months, this can play a huge part in bumps and lumps in your garden. It's so important you get your drainage right.
You would first need to establish potential reasons your garden soil is uneven before learning how to level a garden.
Perhaps you're getting sick of the slope in your garden, and the uneven lawn is making it problematic for you to fully get the most out of your outside space.
If your garden is experiencing any of the above issues then you should invest the time in levelling your lawn. Don't worry, help is at hand! In this article we will give you the tools and know-how you need to level a garden.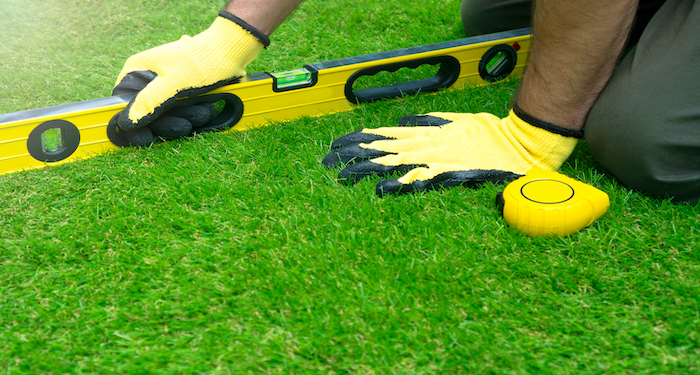 There are a number of reasons why you should need to level your garden, as well as practical issues, you may also be giving your garden area a much needed revamp.
Please be aware you will need to level your garden before attempting any of the following:
Laying a patio
Laying decking
Laying artificial grass
Laying new turf
How to Level a Garden Yourself
Use our easy step by step guide on how to level a lawn in 10 steps:
Step 1
A full inspection of your garden is required first, before handing and tools or materials.
Firstly, the best way to level your garden is to check how deep the current holes and bumps are in your lawn. There are two types of spots you should look for: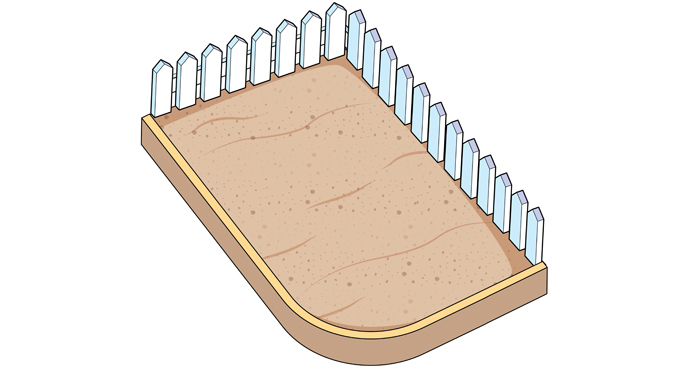 Small Bumps (around 2cm deep) and deep spots (anything greater than 2cm).
The extent of the damage will affect the method used for levelling your lawn. We will go into details of each in the next few steps.
Step 2
The easiest way to measure out the level and slope in your lawn, is by using a wooden board. Using the board and laying it on the ground you should be able to see the slope of the lawn.
Taking a wooden stake/peg, place this into the top slope of your garden, and place another wooden stake at the end of the garden.
Tie a piece of string from one stake to another, ensuring you keep the string level. You should use this to calculate the level of your lawn.
Step 3
You will need to ensure any previous turf from your garden has been removed.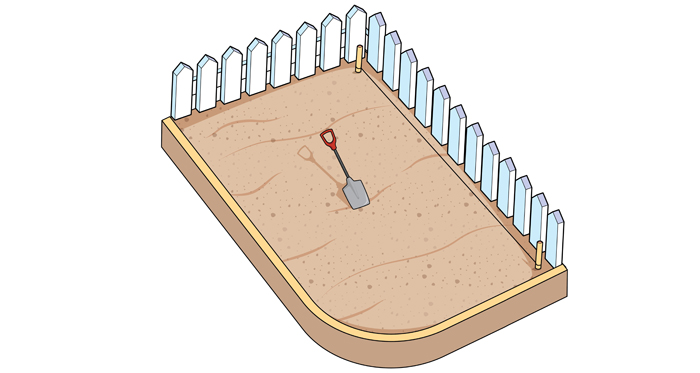 For areas that are considered deep spots and are slightly more sunken, you will need a squared-off shovel. Using the shovel will allow you to level out the areas of uneven soil.
Step 4
Take the shovel to the centre of your bump and cut into the soil, creating a cross shape. This will make it easier to lift the turf and soil without creating too much mess.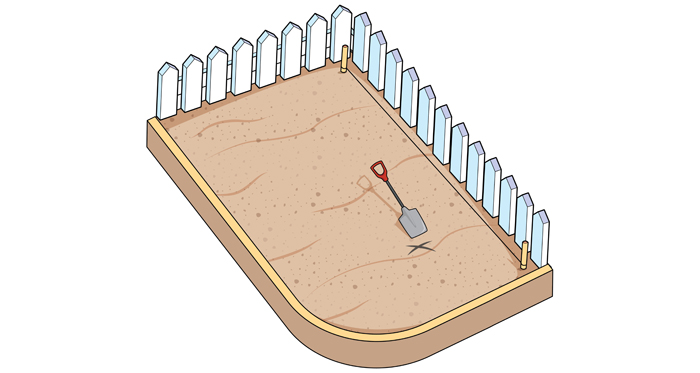 Step 5
You should then cut about 5cm deep under the cross section you have just created. Remove the section of soil, ensuring you keep the shovel as steady and as flat as possible and maintain a level, even thickness of soil when removing.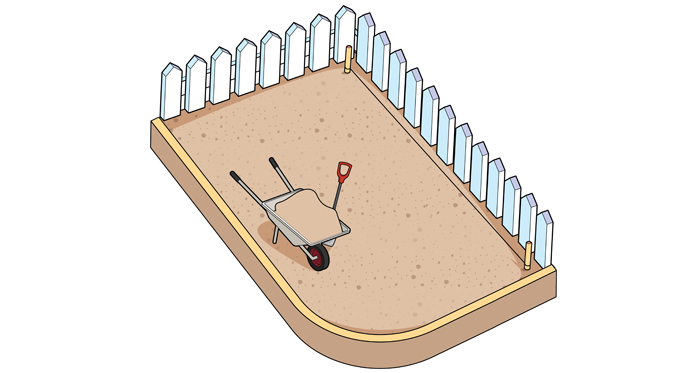 Step 6
You should repeat the above step, and then peel back the edges of the turf as you go. You want to ensure that you can remove the soil and keep it compact without it breaking.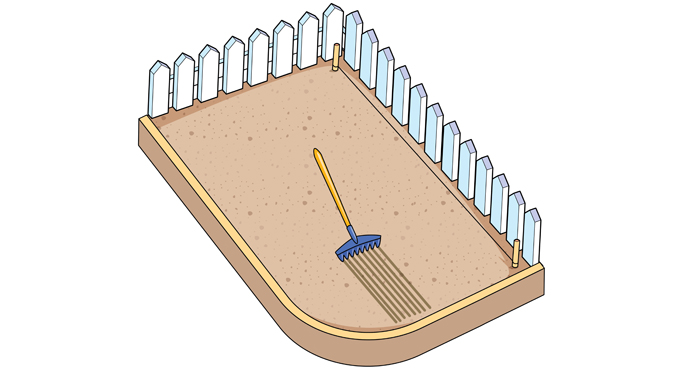 Dig out any excess soil, so that it remains as level as possible with the rest of the area.
Use a wheelbarrow to store any soil or turf you wish to remove.
Step 7
You need to condition your soil. To do this you will need to fork your soil.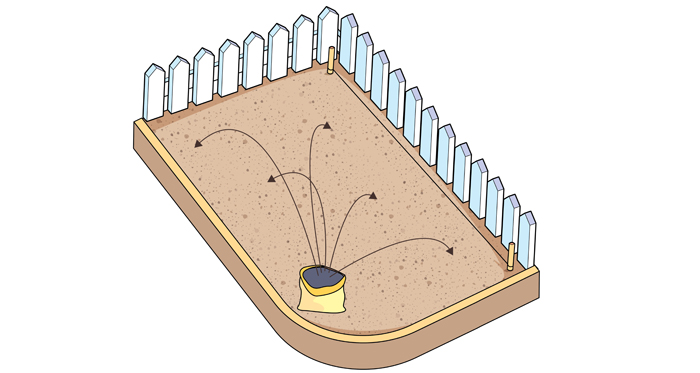 Take your fork, and plunge down to a depth of about 6 inches. Using your foot to help you apply pressure. Dig out the area of your turf, being careful to remove any rocks, rubble or remaining weed roots as you go.
Step 8
To help improve the condition of your soil you will need to help it maintain moisture.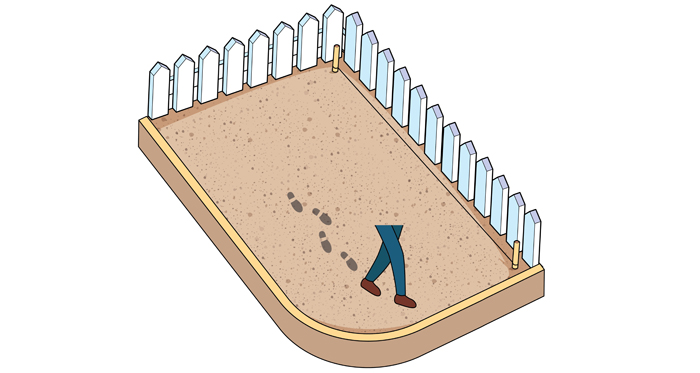 Taking some new compost or farmyard manure, sprinkle this evenly over the surface of your soil. Using a fork, mix in the new compost with your soil thoroughly.
Step 9
Once all the soil has been dug over, it's now time to firm and level the soil and ensure that you don't end up with any hollows underneath the surface.
The easiest way to level a garden is to walk across the lawn using your heels, and pat down the ground taking very small steps, applying pressure with your bodyweight. Repeat this process by going up and down the lawn.  Doing this should ensure any air-pockets have been removed.
Taking your rake, drag it over your surface to try and create a level surface.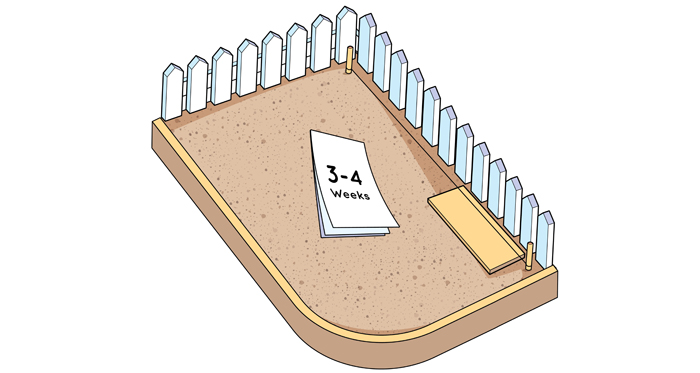 You will then need to walk over in the other direction with your heels to compact the soil further. Then rake over again. You might need to repeat this process several times.
It's now time to check the level of your garden.  Use the height of your edging strip or path as a guide to keep your lawn level. You could also use your wooden stakes and string, as a guide.
Place a wooden board on the ground, and place your spirit level on the board to double check that the surface level is even.
Leave the area for a few weeks (3-4) to allow for the air and rain to help keep your ground sturdy and compact.
After leaving the ground for 3-4 weeks, you are now free to continue with any further plans such as laying decking or a patio.
Tools to Level a Garden
To achieve that perfect garden levelling, you will need to ensure you have the correct tools for the job.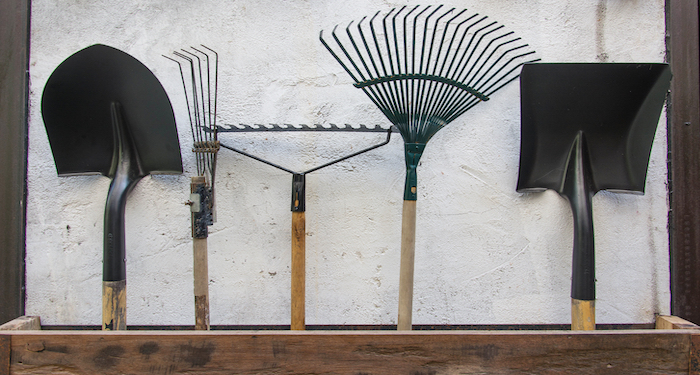 You can source the following from a local garden centre or alternatively you could purchase them online.
Rake
Fork
Straight edge shovel
Spirit Level
Wheelbarrow
Safety Equipment to Level a Garden
Although levelling your garden might seem like a pretty straightforward task, it's important to remember that you will be handing some pretty large tools, and if not used safely could be dangerous and may result in injury.
Protective Gardening Gloves
You will need to use these gloves during the whole process to keep your hands protected. When handling any compost or fertiliser you will also want to keep your hands clean.
Protective Boots
Wearing these boots will help protect your feet when handling forks, shovels and rakes. You don't want any sharp objects pointing into your feet. Wearing boots will also help during the levelling process.
Materials to Level a Garden
As well as gathering tools and the appropriate safety equipment, you will also need to get the following materials to help you level your lawn correctly.
Compost
Fertiliser
Wooden stakes/pegs
String
Weed killer (optional) - This is optional, and should be used before following the step by step guide. If your garden is prone to weeds you should follow the manufacturer's instructions to treat your lawn and weeds. You can remove the remains during the levelling process.
How to Prepare to Level a Garden
To prepare your lawn you will firstly need to assess the area to determine the levelling required.
You will also need to assess if you have any existing drainage problems or even any potential pipe damage. You may need to call a professional to get the correct advice before continuing.
Should you have draining issues, we highly recommend you regrade the lawn and adjust the levelling which will create a sloping surface away from the direction of your home.
You could also have an underground drainage system fitted, but please check with a professional beforehand.
You will also need to pre-water your lawn several days before (3-4) to ensure that your soil isn't crumbly and hard.
Likewise, you should also ensure you don't overwater your lawn during this process as you don't want to work with over saturated soil.
If your garden has a weed problem, please treat the weeds first with a weed killer following the manufacturer's instructions.
Garden Maintenance
Your garden, like all things, will require regular maintenance and upkeep. For example, everyone knows how annoying it can be driving over unmaintained roads after time, driving down potholes can cause damage to your car.
Well, it's the same for your garden, if you fail to keep up with maintenance, then you can end up with hollows and bumps, creating an uneven surface.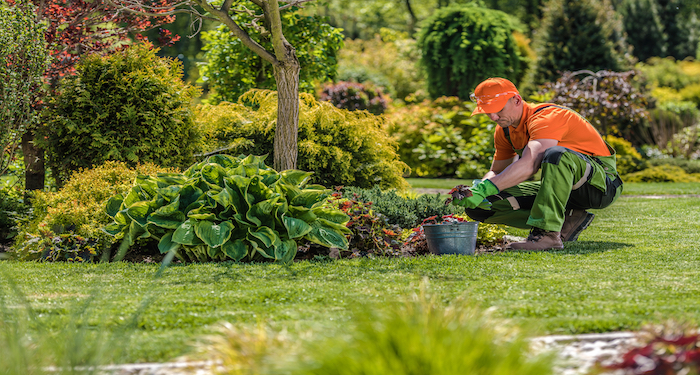 When cutting your grass, you will want a smooth journey using your lawnmower, which, in turn will keep your grass even and stop bald patches occurring.
If you have a lawn, it's important that you avoid creating any ruts from your lawnmower. To prevent this, simply change the pattern of cutting every time you use the lawnmower.
FAQs
Q: How much does garden levelling cost if done by a professional?
A: Giving an accurate estimate is always difficult as each garden is often individual, varying in shape and size. Getting a professional to level your garden can be costly, most tradesmen will also charge you for the cost of a skip too which could be anything from £150 -£300.
You should be prepared to pay per hour or per day for the professional, which could cost a minimum of £250 per day
.
It's important that you do your research, and get quotes from a couple of different professionals to see if the price varies.
Q: What's the best time of year to level your garden?
A: We suggest that you level your garden in the springtime.
The weather is usually a perfect mix of sun and rain, and keeps the right level of moisture in your soil. It's also the perfect time to allow any new grass seed to grow.
Q: Can you level a steep slope in your garden?
A: If your garden has an extreme slope, you should consider building a retaining wall and breaking your garden into tiers. Doing this allows the wall to support the land in your garden.
Rainfall will also be directed towards the wall which will soak up any excess water, and takes pressure from the soil. This will help with any water logging issues. You should seek professional advice before attempting to build the retaining wall yourself.
Q: Do you need permission to level your garden?
A: It is often a point that is overlooked, but you may want to check with your local council or utility company to ensure there are no cables or pipes underneath your garden.
If you are digging you don't want to risk bursting any pipes. It's always best to check first before you begin the job. Please be aware that if you are planning on raising your ground area of your garden you may need to seek planning permission.
Q: Can I put topsoil over my existing lawn?
A: Yes you can. This process is called topdressing. The mixture consists of two parts sand, two parts topsoil and one part compost.
This mixture will fill in any small lumps and bumps and also improve the condition of the soil and drainage.
Sources