How Much Does It Cost to Build a Granny Annexe?
In recent years, multi-generational households have become increasingly common, either because of adult children staying at home longer or because of elderly relatives requiring additional care.
A prefabricated granny annexe is one of the most common choices for such families. When you choose the correct service or builder, it can also be one of the most cost-effective solutions.
If you've come to the point where you're concerned about a loved one's health and well-being, you may be faced with the same decision. A granny annexe is a great method to keep them close while still allowing them to be self-sufficient.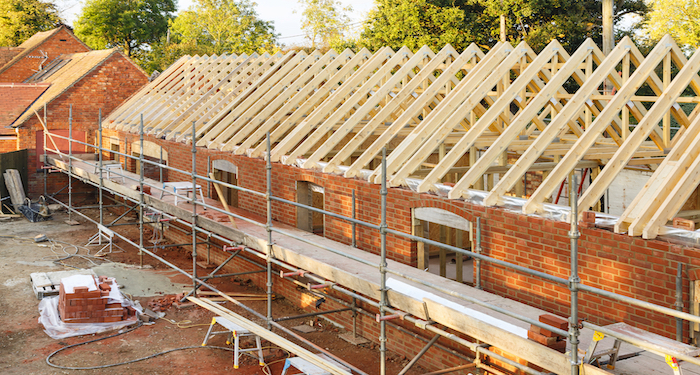 You may avoid expensive care homes and the guilt and stress that comes with having a sick or elderly relative live alone by building a granny annexe.
You are welcome to visit them daily to check on them and assist them with tasks such as cleaning and personal hygiene. You may even ask them over for supper in the evening. A granny annexe grants a safe space that is comfortable and unique.
If you decide to build an annexe with separate contractors, there are a variety of expenditures to consider, including an architect, ensuring compliance with Building Regulations, planning approval services, and finally, the materials and labour needed to complete the project.
Many of these fees are incorporated in one overall package with prefabricated annexes, especially when using a turnkey service like ours. This can help you save money, as well as time and stress.
A granny annexe is a self-contained residence with a bedroom, bathroom, kitchen, and living room. As a result, it is not a low-cost project. You'll need to account for both construction and furnishings and fittings in your budget.
The average cost to build a granny annexe is £80,000 - £100,000, the cost of buying a granny annexe kit can cost you around £29,000 - £51,000.
You could also have a garage conversion to turn it into a granny annexe which would cost £7,500 - £20,000, or a loft conversion would cost you £37,500 - £60,000, and a basement conversion would cost £100,000 - £160,000.
You would also need building regulations which would cost an additional £200 - £500 on top of your overall cost, and utility diversions or works will cost you £4,500 - £5,000.
Granny Annexe Prices
The table below will show you the different costs to install a granny annexe in your home.
| Job | Cost |
| --- | --- |
| Cost to build a granny annexe | £80,000 - £100,000 |
| Granny annexe kit | £29,000 - £51,000 |
| Garage conversion | £7,500 - £20,000 |
| Loft conversion | £37,500 - £60,000 |
| Basement conversion | £100,000 - £160,000 |
| Building regulation | £200 - £500 |
| Utility diversion or work | £4,500 - £5,000 |
What are the Supply Costs to Build a Granny Annexe?
The thought of saving money on labour can be appealing, but the last thing you need is a hazardous and structurally unsound annexe.
This selection is largely based on your expertise and experience level; nonetheless, you'll need to know what you'll need to construct a granny annexe; therefore, we've designed a section that simply includes supply costs and excludes any additional or labour expenditures.
First, you will need planning permission to make sure it is safe and ok to build a granny annexe in your home or garden. The cost of submitting a planning application varies depending on where you live in the UK.
In England, a full application for a new single home or outline planning permission costs £462. In England, a householder application costs £206.
First, you will need to make sure your granny annexe will have a sturdy base to keep your granny annexe secure, so you will need to buy pressure treated wooden posts, which cost £24 - £136.
You will need to know the size you need before you buy. You will also need a shovel which will cost you £7 - £25.
You will also need premixed concrete, which will cost you £6 - £13 depending on how much you will need. You will need to buy insulation to make sure the granny annexe will be warm. This costs £19 - £49.
You will need to buy windows which depend on the type you want they can cost you £129 - £400, and a door will cost you £40 – 600.
Your property's plumbing provides water and removes trash, and it goes a long way toward making your house a home. Plumbing a house from the ground up is a difficult and costly task. Plumbing costs between £13,000 - £15,000 in a new home with one main bathroom and one en-suite.
This includes the time and effort required to build additional plumbing throughout the property and connect it to main utilities (water, drainage, and sewerage) as needed.
A new energy supply connection costs on average £1,600 - £2,000. However, depending on your unique circumstances, charges can be much greater or cheaper.
Then you will need to buy everything inside your homes, such as decorating, furniture, toilet, shower and other factors that would need to be installed after building a granny annexe.
The table below will show you the different supply costs when building a granny annexe DIY.
| Supply | Cost |
| --- | --- |
| Planning permission | £206 - £462 |
| Pressure-treated wooden posts | £24 - £136 |
| Shovel | £7 - £25 |
| Premixed concrete | £6 - £13 |
| Insulation | £19 - £49 |
| Windows | £129 - £400 |
| Door | £40 - £600 |
| Plumbing | £13,000 - £15,000 |
| Electricity | £1,600 - £2,000 |
What are the Additional Costs of Building a Granny Annexe?
When building a granny annexe, a lot more is involved than you think as you are building a mini house for your family member or friend.
Therefore, when having one built, you may realise many additional costs come with building a granny annexe. Therefore, we have created this section so you know what additional costs to expect when building your granny annexe.
New Kitchen
If you want a small kitchen installed in your granny annexe, then this will be an additional cost as a whole kitchen is installed in the small home. But how much does it cost?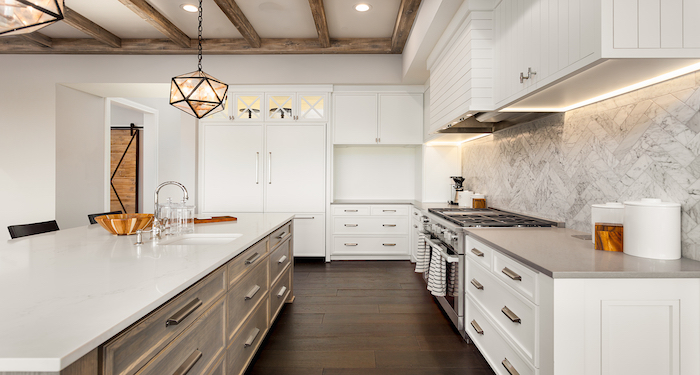 The cost of a kitchen makeover is determined by the size of the space and the materials you select. A simple kitchen with solely necessary kitchen items costs between £4,000 - £10,000, with average kitchen prices ranging between £5,000 - £12,000.
You'll just need a small to medium-sized kitchen for your granny annexe. Small kitchens with seven or fewer components cost between £4,000 - £15,000.
Medium-sized kitchens typically contain ten pieces and cost between £6,000 - £17,000.
Flooring is an essential component of kitchen installation costs. If you want a new kitchen floor, you can expect to pay between £60 - £75 per square metre for the professional installation of kitchen tiles.
You might want to consider hiring a professional painter and decorator to finish off your kitchen's walls.
This might include painting your walls, which can cost anywhere between £300 - £500 for a complete room, depending on the size of your kitchen.
Please refer to our guide on new kitchen costs, for further information.
New Bathroom
You will need to have a new bathroom fitted in your granny annexe. Installing a basic quality bathroom could cost anything from £1500 to £2000.
A bathroom of intermediate quality will cost between £3,000 - £6,000, while a bathroom of exceptional quality would cost between £7,000 and £15,000.
You may anticipate paying between £1,000 - £3,000 for a small bathroom installation. It is anticipated that a medium-sized bathroom will cost between £3,000 - £6,000.
You'll also need to buy everything for a bathroom, which means a new toilet will set you back between £100 - £200, and a shower would set you back between £40 - £500.
A shower screen will set you back £50 - £150, a new bath would set you back £100 - £400, a new sink will set you back £50 - £200, and new bathroom taps will set you back £40 - £100.
Please refer to our guide on the costs of a new bathroom, for further information.
Painting and Decorating
Once your granny annexe is built, then you can think about painting and decorating to give your granny annexe a home feel to it.
When redecorating, you should think about how much interior painting will cost for various jobs. Painting a room, for example, might cost anywhere from £180 for a tiny bedroom to £600 for a large living room.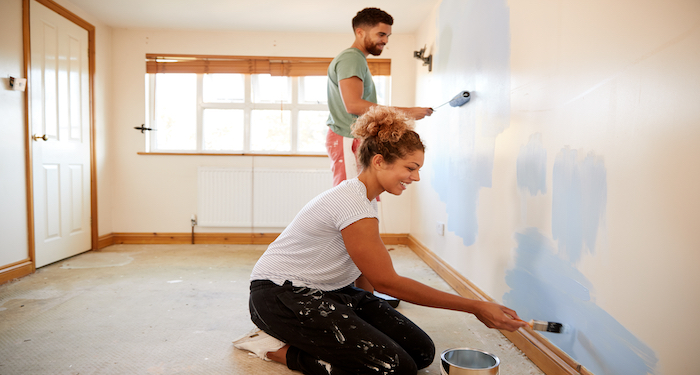 You'll also need to include in the expense of painting and decorating other fixtures, such as skirting boards, which range from £180 - £350, and window painting, which costs between £400 - £1,500.
Wallpapering is another substantial decorating cost, with prices ranging from £180 for a small room to £600 to strip and hang the wallpaper, while internal cladding costs between £1500 - £2500.
Because the majority of tradesmen charge for their time, knowing how long a task will take to establish the ultimate pricing is also vital.
If you're only having a tiny one bedroom granny annexe painted, it should only take a day to finish; but, if you need any wallpaper or paint removed, you'll need to add another day.
Please refer to our guide on the costs of interior painting, for further information.
Floor Installation
The average cost of flooring installation is between £400 - £1,000 in most circumstances. The cost of installing new flooring, on the other hand, will vary depending on the type of flooring you choose and the size of the room.
Carpet is a type of textile carpeting that is often made of wool, nylon, or polyester, with an average cost of £90 - £900. Laminate flooring is a modern synthetic floor that resembles more expensive floor options like wood and stone. Laminate flooring installation costs typically range from £170 - £800.
Hardwood flooring is made up of many solid wood species such as white oak, maple, beech, red cedar, and others. The cost of installing timber flooring ranges from £550 - £1,750. Vinyl resembles laminate flooring; however, it is made up entirely of synthetic elements such as fibreglass, PVC vinyl, and plasticiser.
The typical cost of installing vinyl flooring is between £90 - £450. Tiling installation costs between £400 - £1,380, karndean flooring installation costs between £600 and £2,400, and parquet flooring installation costs between £200 and £2,500.
Plastering
Plastering costs are primarily labour costs because plastering a home takes time. The cost of plastering a room could be anywhere between £300 - £900.
Plastering two average-sized rooms will likely cost between £400 - £600, while tiny patch repairs will likely cost between £100 - £200.
The size of the area that requires plastering, the state of the area, and whether plasterboards are required are all factors that might affect how long a plastering work takes.
You must also evaluate whether simply skimming is required, any waste removal jobs that may be required, and your location in the United Kingdom. However, plastering a home can take between 3 hours to 4 days.
Please refer to our guide on the costs of plastering, for further information.
New Radiator
A single panel radiator should cost between £110 - £210 to install, a double panel radiator should cost between £140 - £240 to install, a horizontal radiator should cost between £260 - £470 to install, a vertical radiator should cost £280 - £440 to install, a column radiator should cost £290 - £470 to install, and a heated towel radiator should cost between £130 - £230 to install.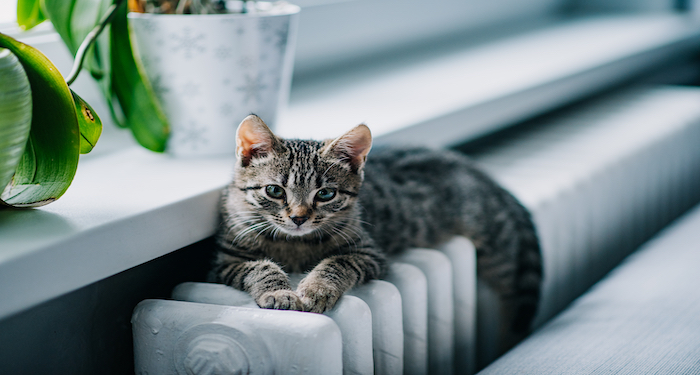 Installing a new radiator will cost you between £30 - £70 per hour, with a day rate of around £240 - £320. However, your location in the UK will have a considerable impact on this.
Minimum Fee
In a variety of situations, workers might decide on minimum pay. On the one hand, this could take the form of a flat fee that is applied to your entire bill. It may, however, be used to extend a current charge in certain circumstances.
Consider the case where you are charged a daily labour rate. In this case, whether the job took one day and three hours or one day and seven hours, you would be charged for two days of labour.
Location
Because the cost of hiring a builder varies across the country, where you live has a huge financial impact. For example, labour rates in the southeast, particularly in London, are higher than in the rest of the UK, whereas Scotland, Northern Ireland, and the north of England have the reverse situation.
Duration
Because of the labour costs, the longer it takes on-site, the more you will pay. If labour is taxed per day, you would be charged three days of labour whether the work took two days and three hours or two days and six hours.
If a fixed price is agreed upon ahead of time, the labour cost will not be affected by the passage of time.
Tradesmen Costs for Building a Granny Annexe
When it comes to construction projects and structural work, you'll almost certainly require the services of a builder (or builders).
We'll go over the labour costs for building a granny annexe without any supplies or extra charges so you can see how much money you'll save if you do it yourself.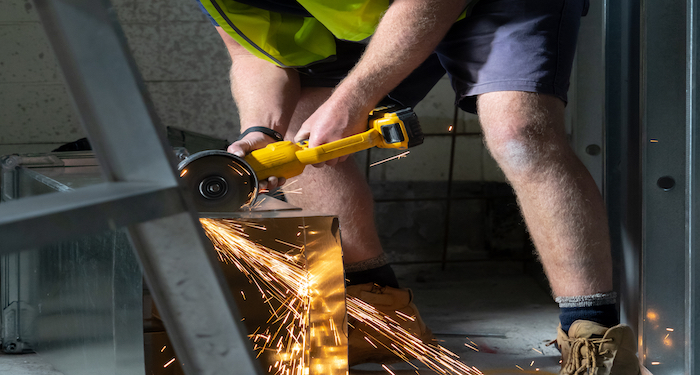 You should anticipate paying between £150 - £280 per day for a tradesperson to construct your granny annexe.
The actual fee you pay will be determined by the individual's expertise, the project's complexity, and your location in the country. For example, builder day rates are higher in London and the Southeast.
For a self-employed person, you may expect to pay roughly £25 per hour.
The difference between working as a self-employed individual and working for a construction company is that self-employed people normally charge a lower hourly rate since they don't have to cover the administrative and overhead costs of a larger firm. However, this will vary based on your experience and where you are in the United Kingdom.
We usually recommend getting at least three quotations from different builders in your region, as we do with all professionals. You should search around to ensure that you are paying a fair and competitive price for the work.
You will also need to hire a plumber for the water and sewage work. It depends on how large, complicated, and/or finicky the plumbing project will be.
Sinks, toilets, and other plumbing components that are difficult to reach or require disassembly and reassembling later will take longer, increasing the cost.
Most plumbers charge between £20 - £40 per hour. However, the overall cost will vary depending on the scope of the job.
An electrician will be needed to install the lights and plug sockets around your granny annexe. Typically, you should anticipate paying between £280 - £450 for this service.
For other jobs, though, we've had quotations as low as £150 for a daily charge. For an electrician in London, expect to pay around £75 per hour. Electricians in the south of England will be slightly more expensive than those in the rest of the UK.
How Long Does It Take to Build a Granny Annexe?
Granny annexes are quickly becoming alternate solutions to today's affordable housing problems. They're ideal for retirement planning and elderly care (granny flats), young independents' first homes, single parent & single-income homes, and downsizing and freeing up equity.
Here we will go through the duration to build a granny annexe so you have an idea of the time your project will be completely done, and your family or friend can move into the safe space.
The decision to create an annexe is arguably the most challenging because it normally requires several or many members of your family to decide how it will function together.
With issues like inheritance tax, council tax, operating costs, moving fees, and more to consider financially, the process is not one to jump into without due consideration. Choosing what you want takes about two months on average.
When you've chosen a business to build your annexe with, you'll normally be required to pay a deposit or a planning fee before moving on to the next stage, which is the crucial Planning Permission stage. On average, this takes about ten weeks.
The foundations and main services connections for your annexe are the following steps. Depending on where your services are located, the amount of ground preparation required, and the overall size of your annexe, this process usually takes 1-2 weeks.
The average build on-site takes 7-14 weeks to complete, depending on the size and specification of the annexe, from the erection of the frames, windows & doors, roof & cladding outside to the fitting of the bathroom & kitchen, flooring, plumbing, electrics, painting and décor within.
The table below will show the breakdown of the duration it takes to build a granny annexe.
| Process | Duration |
| --- | --- |
| Decision making | Two months |
| Planning permission | Ten weeks |
| The foundation and services stage | 1 – 2 weeks |
| Average build | 7 – 14 weeks |
Types of Granny Annexe
If you are deciding what granny annexe to go for, then here we will go through the different types of granny annexe, including their pros and cons.
Therefore, if you are debating on what granny annexe you want, then hopefully, this section of the article will help you with your decision.
Traditional Granny Annexe
A conventional Granny Annexe separates a piece of the main house from the rest.A self-contained living area with a kitchen and bathroom will be present in this section of the house.
They may have independent entrances or share the main door, but they are almost always connected to the building and located on the ground floor.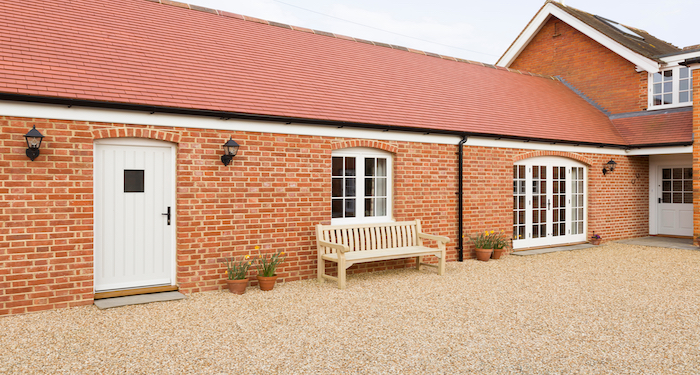 Great for large estates with extra space or those with extensive gardens that can accommodate the expanded structure.
Pros
Located on the ground floor.
Connected to your home.
Cons
Granny Flats
A granny flat is a variant of the classic granny Annexe. One storey of the building may be dedicated to becoming a self-contained flat rather than an expansion attached to the home, which is common in more densely populated city locations.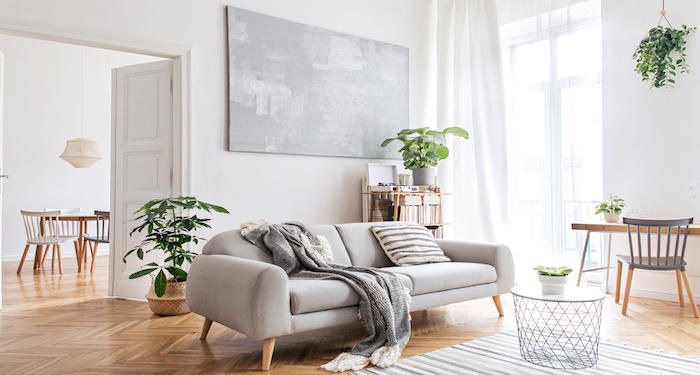 As it is common in cities like London where space is limited, it takes up one storey of a family home. This option is ideal for families who want to stay in their current home because there isn't much room for an extension.
Pros
Feels more like home.
Have some independence.
Cons
Ancillary Building
This type of annexe can be constructed on-site or off-site. The concept is to construct a permanent or semi-permanent mobile home in your backyard.
The structure should be connected to the main house's utilities, making it auxiliary. There are numerous examples of outhouses being adapted for the use of the elderly.
This type can also be built from an outhouse you don't use. So, if you don't use your outhouse, it could be turned into a granny annexe. Even modest structures have promise, and you'd be astonished how beautifully even the most basic areas can be transformed.
Pros
Can build in your garden.
Connected to main house utilities.
Cons
Prefabricated Annexe
A prefabricated granny annexe can also be purchased. There are many different configurations to choose from, and some companies even allow you to design your annexe.
A prefabricated annexe comes with all the necessary fixtures and fittings and is assembled on site. A prefabricated granny annexe typically costs between £40,000 and £40,500.
Pros
Can design it by yourself.
Create exactly what you need.
Cons
A company is best to build this type.
Benefits of Building a Granny Annexe
Building a granny annexe has multiple benefits to your home, which we will go through here, so if you are indecisive on building a granny annexe, then this section of the article will help you make your final decision.
More Time with Your Loved One
With already hectic schedules, finding time to visit or take an elderly parent out might be difficult. It's a lot easier to spend time with them when they're closer, whether it's having them around for supper or just chatting in the garden.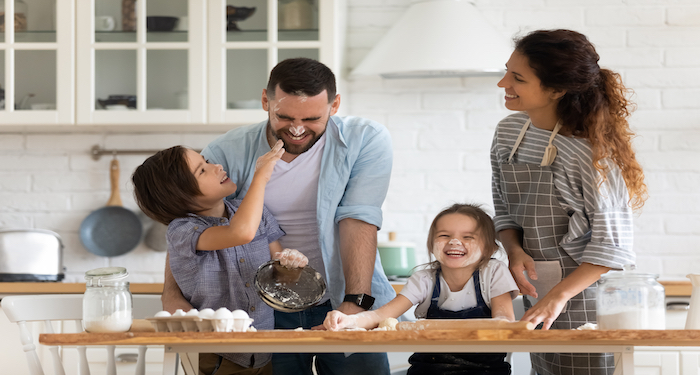 Sensible for Financial Reasons
If your loved one has more than £23,000 £24,000 in savings, they are unlikely to be eligible for council-funded care. Creative alternatives, such as downsizing to an annexe in or adjacent to a child's house, may be a viable option in these instances.
The proceeds from the sale of an existing home can be utilised to cover the costs of caring for a loved one. It also makes it much easier for families to take on additional caregiving responsibilities, reducing the need for professional caregivers.
More Independence
It's far easier to make your loved one's living conditions feel like home and to provide them with a much better sense of independence than it is to move them into a care facility.
Security
Living in a granny annexe in the back garden with relatives in the family house may make your relatives feel more protected, while the annexe allows them to keep some independence.
Our clients find it reassuring to know that their family is close by in case of an emergency. Our clients also feel more at ease because they are in a familiar atmosphere for a longer amount of time, which provides them with more stability and peace of mind.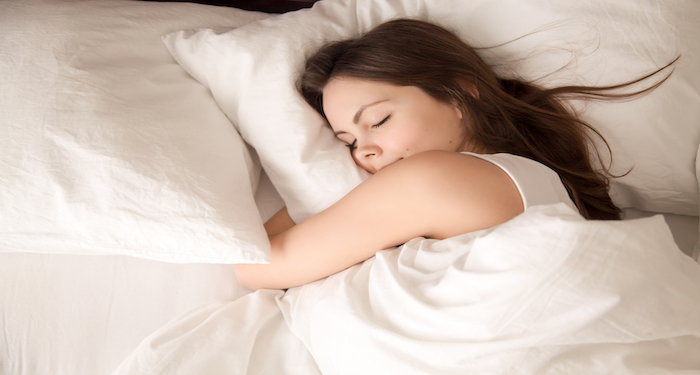 Property Value
Adding a granny annexe to your home will almost surely boost its value. Although it's impossible to put a precise figure on the rise, your local real estate agent is the ideal person to ask for advice.
How Much Does It Cost to Remove a Granny Annexe?
If you have a granny annexe in your home and you want to get rid of it to create more space for storage, then you should know how much it will cost to remove. Here, we will go through the different costs to remove a granny annexe from your home.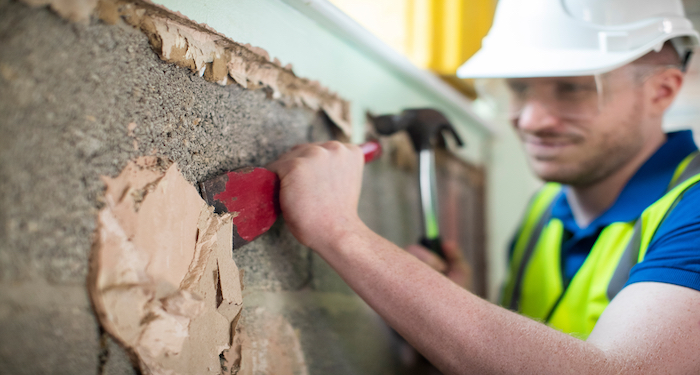 The cost will depend on the materials used to build the granny annexe, as well as any extenuating circumstances, such as the use of restricted or risky materials in the construction. It will also be determined by the type of base it stands on and the difficulty of removing it.
If you deconstruct it yourself, the cost could range from a few hundred pounds to several thousand pounds for the removal of deep-seated and/or dangerous items.
The average cost of removing a granny annexe is roughly £200. If asbestos must be removed, expect to pay an extra £200 - £1,350 on top of the removal fee.
You will also need to think if you will need to skip hire for the removal. The usual cost of hiring a 2-yard skip is £70 - £100, with a 4-yard skip costing £100 - £160 and a 6-yard skip costing £120 - £190.
An 8-yard dumpster costs around £150 - £370, a 10-yard skip costs £180 - £410, and a 12-yard skip costs £220 - £450.
A 14-yard skip will cost between £230 - £460, a 16-yard skip between £240 - £480, an 18-yard skip between £280 - £500, and a roll-on roll-off skip between £300 - £500.
Therefore, the size of the granny annexe you are having removed will depend on the overall cost of the removal.
FAQs
Q: How big can a granny annexe be?
A: If you're thinking about building a granny annexe in your backyard, there are a few basic tests you can run to make sure you have enough room and that your project will comply with LPA regulations and all other granny annexe regulations.
Although LPA guidelines vary by region, one thing they will consider when considering planning approval for your annexe is the size of your planned annexe about your existing home and the land or garden that surrounds it.
Q: Do you need planning permission to build a granny annexe?
A: A granny annexe is a type of outbuilding that is described as being unrelated to the primary function of the property. This means that no planning clearance will be required for granny annexe developments.
Q: What are the disadvantages of building a granny annexe?
A: While a granny annexe can provide more independence than a care home, moving into the yard of a child's home can be demoralising for a parent, and it may not be suited for them.
Q: Does a granny annexe add value to your home?
A: In most circumstances, a granny annexe will increase the value of your home significantly.
Whether utilised as extra living space, an office, a home gym, or a holiday rental area, granny annexes offer multi-functional living spaces that can make a property more enticing to purchasers.
Q: Does a granny annexe pay council tax?
A: Granny annexes are usually exempt from Council Tax, or if they are, they may be subject to a lower rate.
Sources