Introduction to the Best TV Wall Mounts
If you are looking to enhance the space in your home, you may want to consider having your television mounted on a wall instead of it taking up precious living space.
To hang your television on the wall, you will need to purchase a TV wall mount and you may need to hire a professional to do it for you.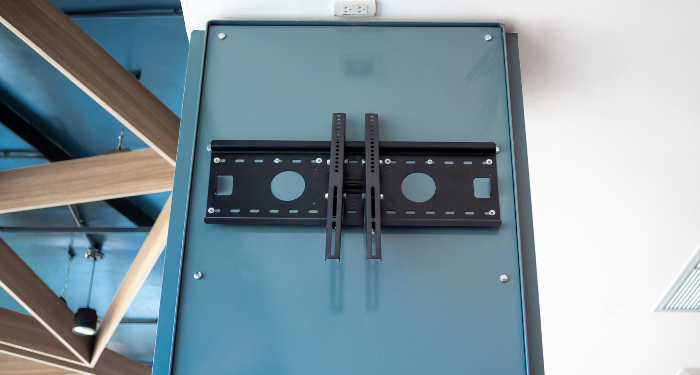 Before spending any money, take a look at the following guide which sets out the everything you need to know about TV mounts including the different types, the best brands, and the costs of each as well as the pros and cons.
What is a TV Wall Mount?
A TV Wall Mount is a type of wall bracket which are normally made out of metal and are used to support wall-mounted televisions.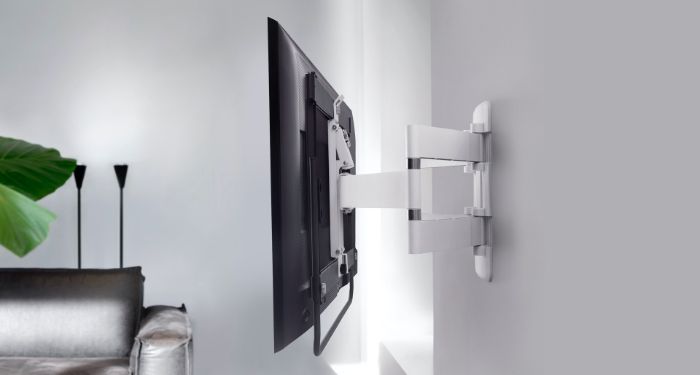 They are popular in homes which have limited space and are also ideal for optimal viewing as televisions can be positioned at the perfect eye level.
How Does a TV Wall Mount Work?
Wall mounts work by installing them onto your chosen stud wall by fixing the bracket onto the wall.
Once the bracket is in place, all the cables will be plugged in and set up before hanging the TV up.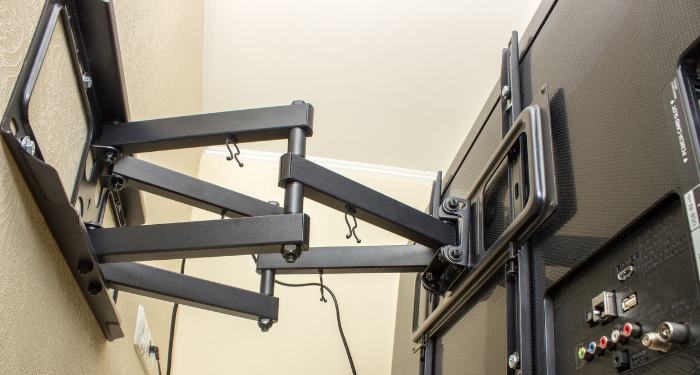 Your television will then be attached to the hooks on the side or the back of the television to ensure it hangs properly and is also very secure.
Types of TV Wall Mounts
Before choosing a TV wall mount, you need to be aware of the different types, including:
Fixed Bracket
A fixed TV wall bracket is a type of mount which is unchanging as once it is installed it will not move.
A fixed bracket is ideal if you plan to install your TV at eye level, as in the case, there will be no need to move it for better viewing purposes.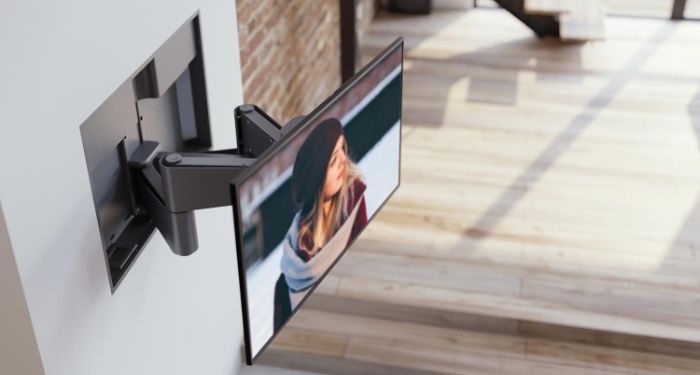 However, the downsides are that it does not offer the flexibility that other TV brackets do as it remains stationary.
Tilting Bracket
A tilting TV bracket has more flexibility than a fixed TV mount as it can be tilted downwards to a 45-degree angle. This is ideal for bedrooms or over a fireplace where a TV will need to installed above eye level.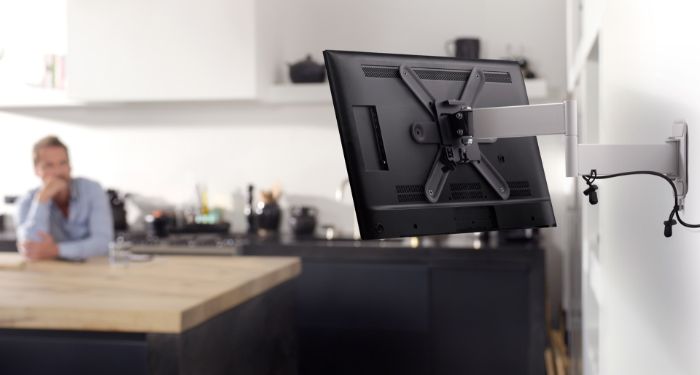 Installing this type of bracket will prevent you from having to crane your neck while also reducing glare.
The main disadvantage of a tilting TV bracket Is that they are usually more expensive than fixed brackets and are also not the best option for corner TVs.
Full-motion Bracket
A full motion TV mount offers a floating television effect due to its extensive motion abilities which allow it to turn, extend and rotate in order to find the perfect angle.
This is the preferred option for spaces with multiple seating areas such as the dining room or living room.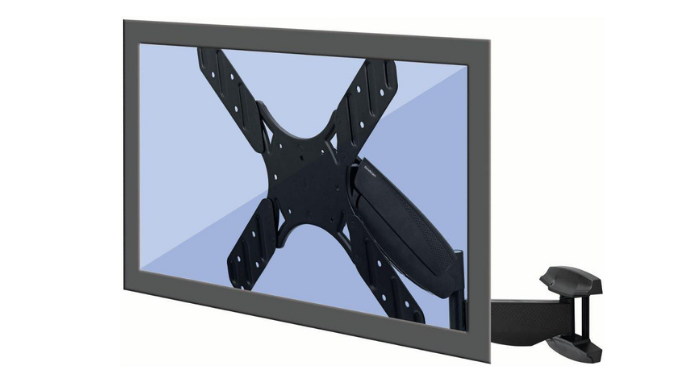 It also works as corner TV wall mount for conservatories and bedrooms.
The problem with this type of TV bracket is that it may not hide wires as well as fixed TV mounts, so may need to pay extra to conceal your wires in the wall.
Best TV Wall Mounts
Before purchasing the first wall mount TV bracket you see, take a look at the following guide which sets out the best TV wall mount brands on the market.
Mounting Dream MD2380
This Mounting Dream product has been described as the best tv wall mount for plaster walls.
It is a full-motion flat TV wall mount which is made out of heavy- duty steel and has a robust powder-coated finish.
This is the ideal choice for 26 to 55-inch televisions. It also supports weight up to around 45kg and comes fitted with a HDMI cable and a built-in spirit level.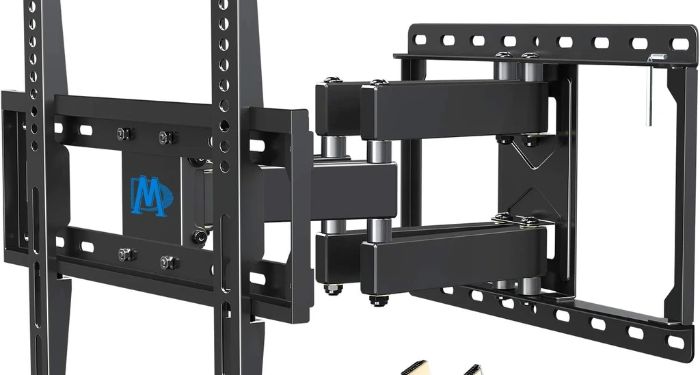 The benefits of choosing this TV mount is that it features an articulating arm which enables it to extend 15.2 inches from the wall and 3 inches to the wall.
It also provides smooth adjustments including tilt ability which ranges from 5 to -15 degrees, 45 to -45 for swivel ability and a rotation capacity from 3 to -3.
The downside of the Mounting Dream MD2380 TV wall mount is that it cannot be installed straight onto drywall, so you will need to ensure your walls are fully prepared before fixing your TV to the wall.
This TV mount typically costs around £17 to £20.
Pros:
Significant extension for better viewing
Excellent tilt and rotation abilities
Cons:
Unsuited to drywall installation
Sanus VLT5
This tilting TV wall mount accommodates large television sizes including 51 to 80-inch screens and can hold up to 55kg.
The VESA interface standard, which is the distance between the mounting holes on the back of the TV ranges from 200 x 400 to 600 x 400. This tilting TV mount costs around £50 to £80.
The main advantage of this TV mount is that it is very sturdy and is ideal for larger TV installations, while also being very easy to install so you can save on labour costs.
It is also ideal for preventing glare which is beneficial for brightly-lit rooms.
If you have a small TV screen, then this is not the best option as the brackets will not be compatible with the hooks at the back of the television.
Pros:
Robust
Easy installation
Works great for larger televisions
Cons:
Does not work well with small TVs
Invision HDTV-DXL
The Invision HDTV-DXL is a flexible tilt and swivel TV mount which is compatible with screen sizes ranging from 37 to 70 inches and a weight of up to 50kg.
It also has a VESA size ranging from 200mm x 200mm to 600mm x 400mm.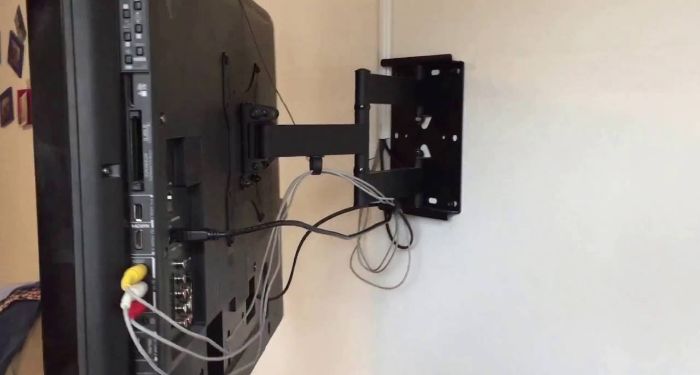 The main benefit of this TV mount is that it is one of the most flexible products with a swivel capacity ranging from 8 to -5 degrees.
It also extends 20 inches away from the wall while its profile when flat is around 2 inches.
This tilting TV mount tends to costs around £40 to £50.
A disadvantage of opting for this TV mount is its basic HDMI bundle which does not offer a 4K rating, which may reduce the image quality.
Pros:
Extremely flexible swivel capacity
Offers great extension
Cons:
One for all Ultra Slim WM6611
This is a slimline fixed TV mount which accommodates the major of TV screen sizes – ranging from 32 to 84 inches with a maximum weight of up to 80kg.
It also has a VESA size starting from 100mm x 100mm to 600mm x 400mm.
For this model, you should expect to pay around £50 to £60.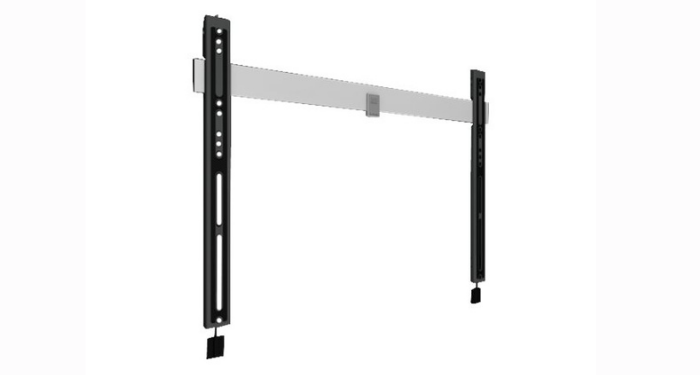 One of the main pros of the Ultra Slim WM6611 is that it provides a streamlined design which works well in living rooms and bedrooms.
It is also very easy to install so you can cut down on labour expenses.
As this is a fixed TV mount it does not offer extensive flexibility and may not suit certain rooms where fitting a TV at eye level is not possible.
Pros:
Streamlined design
Quick and affordable installation
Cons:
Not as flexible as other models
Vogels Wall 3345
This is a full-motion TV wall mount which is ideal for large TV screens ranging from 40 to 65 inches.
This product offers the flexibility to face downwards by 10 degrees and a swivel capacity of 90 degrees to the left and right.
The average cost for this product is around £170 to £200.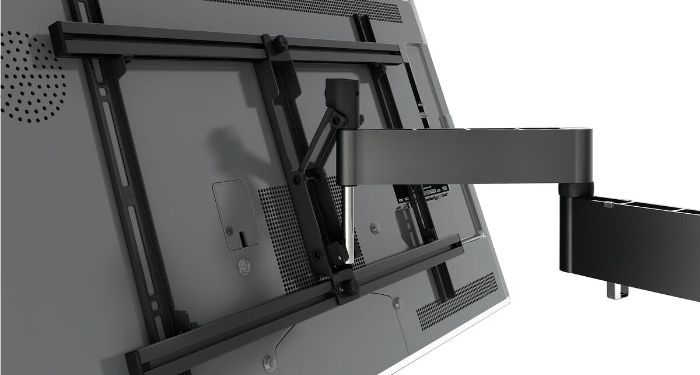 One of its main benefits is that it offers 13 different VESA patterns ranging from 100mm x 100mm to 400mm x 600mm.
It also has a cable inlay system which allows you to keep your wires and cables tidy.
In comparison to other TV mounts, the Vogels Wall 3345 is much chunkier in design, which may not be the most aesthetically-pleasing option.
Pros:
13 different VESA patterns
Cables and wires can be tidied away
Cons:
May not be as aesthetically pleasing compared to other models
Cost to Install a TV Wall Mount
To ensure your TV wall mount is fitted properly, you should consider hiring a professional installer which will involve attached the TV mount to the wall, hooking up the TV and tidying up the cables.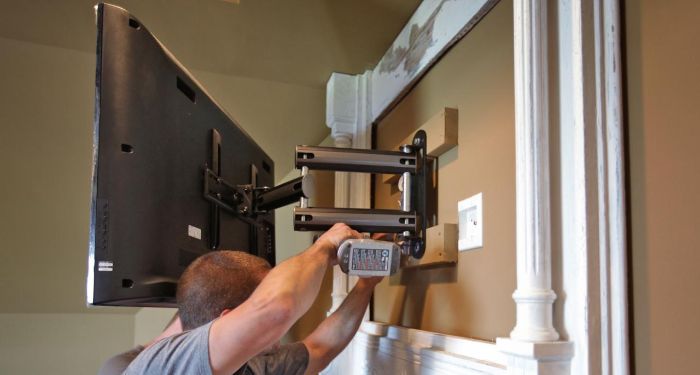 The average cost of hiring an expert installer ranges from £140 to £170 for a fixed TV mount, £160 to £190 for a tilting TV mount and £190 to £270 for full-motion TV mounts.
Benefits of a TV Wall Mount
There are various benefits of installing a TV wall mount including:
Glare Prevention
If opting for a tilt or full-motion TV, you can benefit from the lack of glare, as you can position the television away from windows and sunlight.
This offers better viewing especially in areas like the living room or bedrooms.
Aesthetically-Pleasing
Mounting your TV is one of the most modern ways to spruce up your home and will also offer a streamlined aesthetic which will enhance the look of the property.
It will also help to hide cable clutter, as installers tend to hide wires in the wall or behind the television.
Space-Saving
One of the great benefits of installing a TV mount is that it can help you save a significant amount of space, especially in areas with limited room.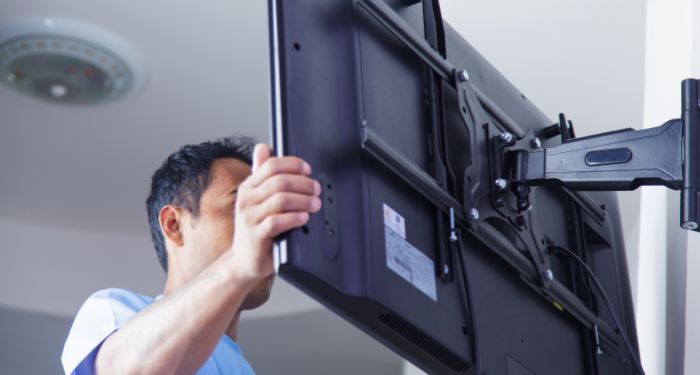 This is especially advantageous if you have a large television as this can take up a massive amount of space in a small bedroom or office.
Easy Installation
Having a TV mount fitted is one of the easiest installations which simply involves attached the bracket to the wall, plugging in the cables and attaching the TV.
You can pay for a professional to do this for you or take on a DIY project.
Enhanced Safety
Another advantage of having a TV mount installed is that enhances safety in the home in comparison to TV standards which are not as secure. The majority of TV brackets are made of robust materials which means the installation will be long-lasting.
FAQs
Q: How high should you mount a TV on the wall?
A: If you are mounting your TV, you should try to have it installed at eye level which is about 42 inches from the floor, with the average couch being around 18 inches away from the ground.
For more accurate measurements, you should divide the height of your TV by two then take this number away from 42 to determine where the bottom of your television should be positioned.
Q: What is the VESA standard?
A: VESA stands for Video Electronics Standards Association which determines the regulations for electrical installations such as fitting a TV mount. The VESA interface standard is the defined difference between the mounting holes on the back of a television which is measured in millimetres.
The most common VESA sizes include 200mm x 200mm, 400mm x 400mm, and 600mm x 400mm, although this will vary depending on the television screen size.
Q: Can a TV mount be installed on drywall?
A: Some TV mounts cannot be installed on drywall without studs as it may not be secure enough to support the weight.
However, it is possible to install a TV mount on drywall with a hollow wall anchor such as a toggle which will ensure that your television stays in place for a long time.
If you are not experienced with mounting a TV on drywall, then you should definitely consider hiring a professional to do it for you.
Q: Can a TV mount be installed above a fireplace?
A: Installing a TV mount above a fireplace is a popular option and offers an aesthetically-pleasing design.
However, there are some downfalls for this type of fitting, as heat and electronics may not mix well.
The soot from a fireplace can also get into your TV which can cause it to malfunction, so you should consider installing it four to twelve inches above.
Q: Which TV mount do I need?
A: The TV mount you choose will depend on the size of your television screen as well as the living area where you plan to install your TV.
For instance, if you are installing in a bedroom, you may want to opt for a tilting or full-motion wall mount which allows you to move your TV, while a fixed TV bracket will work in a living room.
You should also check your specifications to ensure that the TV mount you choose can support the size and weight of your television before buying it.
Sources