Introduction to the Best Smoke Alarms
Our guide to the best smoke alarms will help you find the top products on the market.
We will discuss some of the best smoke alarms you can buy. We'll lay out their details, pros & cons and average cost.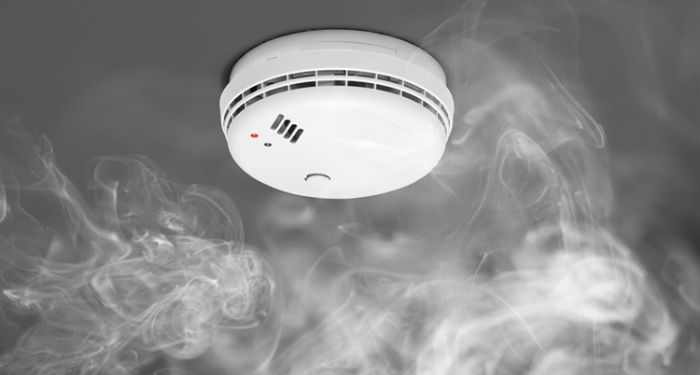 This article will also look at additional topics such as how a smoke alarm works and the cost of having a new smoke alarm installed.
If you're looking for a new smoke alarm, this guide will prove very useful.
What is a Smoke Alarm?
First, let's look at what a smoke alarm is. They are self-contained devices which can detect smoke and set off an alarm upon detection.
The alarm itself is generally a loud beeping sound.
The first smoke alarm was invented in the 1930s.
They are used to detect smoke and warn the occupants of a home that there is possibly a fire.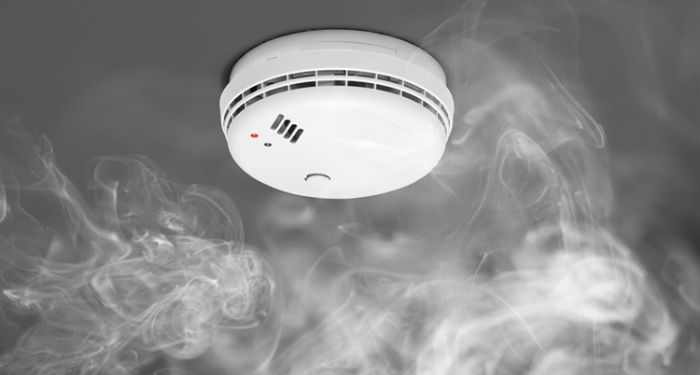 You quadruple your chances of survival in a house fire if you have smoke alarms installed. Their purpose, ultimately, is to save lives.
In England and Scotland, landlords must have smoke alarms fitted in the properties that they are renting out.
If you are a tenant, it's important to know what is legally required of your landlord regarding smoke alarms. This way, you can make sure that your rights as a tenant are being upheld.
How Does a Smoke Alarm Work?
We will now look at the workings of a smoke alarm in more detail.
There are two main types of smoke alarms; ionisation and photoelectric.
We will discuss both of these types in more detail in the next section.
For ionisation-based smoke alarms, they contain a tiny quantity of radioactive material between two electrically charged plates. This, in turn, ionises the air causing the electrical current to flow between each plate.
If smoke enters the chamber, it will disrupt the flow of ions, reducing the electrical current flow and trigger the alarm.
Photoelectric smoke alarms direct a light source into a sensing chamber. This is done at an angle so that it misses the sensor itself. If smoke enters the chamber, it will reflect light onto the light sensor, setting off the alarm.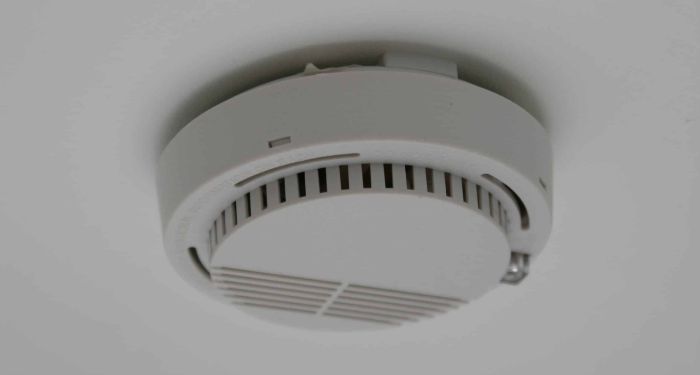 In order to attach a smoke alarm, first remove the base plate of the alarm. Break out any tabs present in the base plate. Do not drill into a wall or ceiling bind.
Also, analyse the location you've chosen to fit your smoke alarm for hidden pipes or cables. You can detect hidden cables with an electronic detector.
Place the base plate up on to the location you've chosen. Use the fixing slots on the base plate to mark the screw holes position onto the wall or ceiling with a pencil.
If there are timber battens behind the plaster of your ceiling, you can simply screw the base plate into the timber, meaning you won't need to use any plugs.
Next, employ a drill bit of the appropriate size for the screw or wall plugs you're going to be using. Drill the holes in each of the marked locations.
If you're drilling into a wall, a drill with hammer action should be used. Always wear safety goggles for this type of work. Insert the wall plugs by hand.
If required, lightly tap each plug with a hammer to level it with the wall or ceiling.
Install the base plate with a screwdriver using the screws given with the smoke alarm product. Add the correct battery. Putting the battery in may set off the alarm.
Re-attach the alarm to the base plate. You can do this by positioning the alarm on the base plate and then twist it clockwise until it is locked in place.
Ensure that the alarm is twisted on fully. To test the alarm, press the button on the alarm.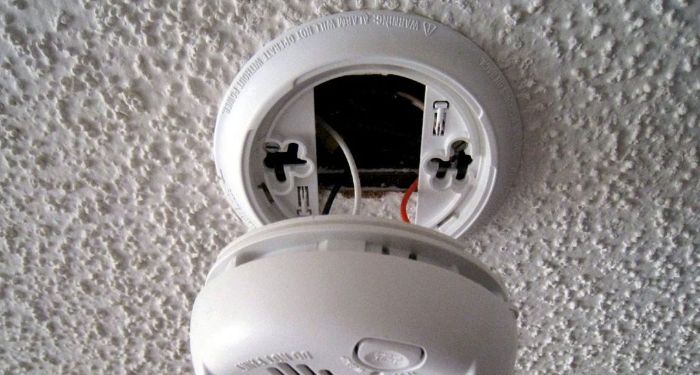 Of course, the exact procedure for installing a smoke alarm will vary depending on the product in question. Preferably you should install an alarm in the middle of a ceiling, 300mm away from any walls or light fittings and within 3 metres of any bedroom door.
You should have an alarm fitted within 7.5 metres of every occupied room of the house.
They must also be located between high-risk rooms and bedrooms although they shouldn't be fitted in bathrooms or too close to one since moisture can affect their ability to work.
You should fit them in a location where it's easy to change the batteries too, once you're not overriding the rules mentioned above. For example, it's not ideal to install a smoke alarm over the stairs.
Use common sense and ensure that you have enough smoke alarms throughout your home and in such a way that should they go off, you're more likely to hear them. The landing and downstairs hallway and bedrooms are some of the most important rooms to have smoke alarms fitted.
Types of Smoke Alarms
We will now discuss photoelectric and ionisation-based smoke alarms in more detail. We will discuss what each type of alarm is as well as list out their pros & cons.
It is worth noting that it is preferable to have both types of smoke detectors fitted in your home. This is due to their various unique advantages.
Photoelectric Smoke Alarm
A photoelectric smoke alarm makes use of a light sensing chamber to detect smoke.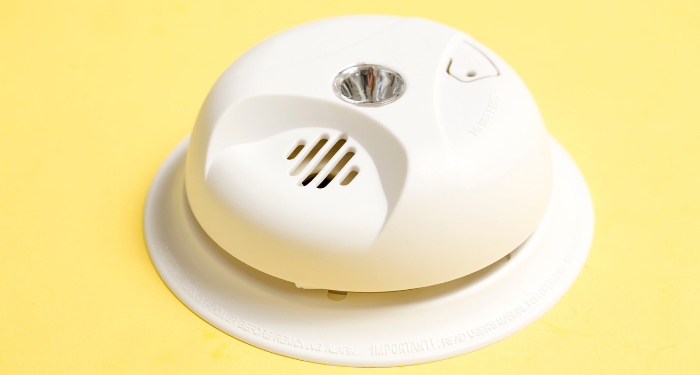 Photoelectric smoke alarms are more effective at detecting a smouldering fire than ionisation smoke detectors.
A smouldering fire is most likely to occur when synthetic materials catch on fire.
Pros:
More effective at detecting smouldering fires.
Cons:
More expensive.
Lacks some of the advantages of an Ionisation smoke alarm.
Ionisation Smoke Alarm
Ionisation-type smoke alarms use electrically charged plates with an electrical flow between each plate.
Smoke entering the detecting chamber will disrupt this flow, setting off the alarm.
This type of smoke alarm is better than photoelectric smoke alarms at detecting flaming fires, meaning a fire catching on wood, paper or flammable liquids.
This type of fire produces plenty of flames but less smoke.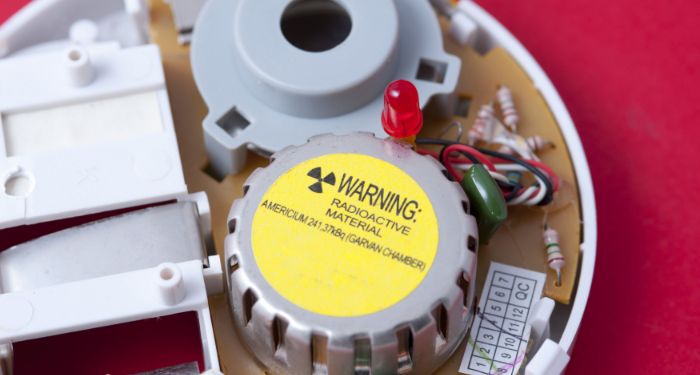 Since such fires are more common than smouldering fires, ionisation smoke alarms are especially popular.
Many consider ionisation smoke alarms to be the best type of smoke alarm, although both have great advantages.
Ideally, you should have both types installed in your house.
Pros:
More popular.
Less expensive.
Better at detecting flaming fires.
Cons:
Not as effective at responding to smouldering fires.
Best Smoke Alarms
On average, smoke alarms last for about 10 years. Unless otherwise stated in the following subsections, assume a life expectancy of about one decade.
You'll likely need to change the batteries every twelve months or when the alarm low-battery warning signal is sounded.
Smoke alarms which require hard-wiring should be fitted by a qualified professional.
The main power should always be turned off before having a new smoke alarm fitted.
First Alert SC05 Smoke Alarm
The SC05 is a top-quality smoke detector. This octagonal-shaped alarm can detect smoke and carbon monoxide.
It comes with electrochemical and photoelectric sensors. The SC05 features an end of life battery sound.
No rewiring is required to have it fitted. It comes with two batteries.
It also features a hush and test button. The SC05 can produce 85dB of noise when the alarm is set off.
To install the SC05, remove the mounting back from the hold base before holding the mounting bracket against the wall or ceiling so that the vertical mounting slot is positioned in the 12 o'clock position. Trace around the inside of the mounting slots with a pencil. Drill each mounting hole. You should use a 3/16" or 5mm drill bit.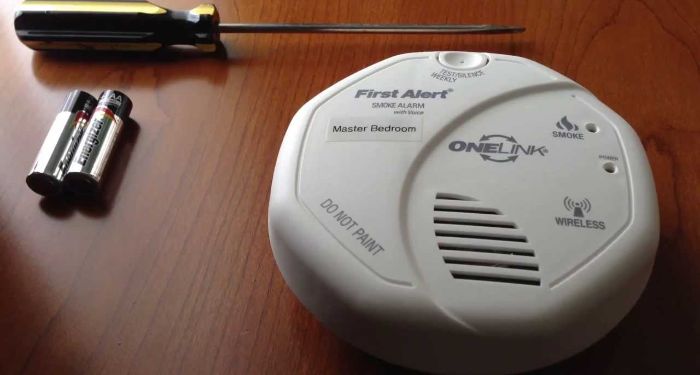 Next, fit plastic screw anchors in each hole. Tap the screw anchors with a hammer gently, if required. They must be flush with the wall or ceiling.
Line up the mounting bracket over the anchors. Screw the mounting bracket in place via the mounting slots with the two screws that are given with this product. Insert the batteries.
Attach the alarm to the mounting bracket. The alarm's base guides should be lined up with those on the mounting bracket before twisting it back into place.
The SC05 will set you back about £20 and it comes with a seven year guarantee.
Pros:
Detects smoke and carbon monoxide.
Particularly loud.
Long warranty.
Cons:
Relatively expensive.
Some users have raised concerns over false alarms.
Aico EI41RC Mains Ionisation Smoke Alarm
The EI41RC is an example of a mains smoke alarm, which is an alarm that is powered directly by the house's electricity supply.
With that being said, it does feature a backup 9 volt battery just in case. It comes with a one person test feature.
To fit this smoke alarm, you should find a suitable ceiling for it to be mounted and choose a spot that is no closer than 300mm from walls and obstructions. The central area of the room is ideal for the installation.
Before wiring, the alarm, make sure that you turn off the main power so that you don't risk electrocution. Wire to the terminals on the baseplate and install the baseplate on the ceiling with the fixings provided. Slide the alarm onto the baseplate.
You should hear a click sound. Hold the test button down to check that the alarm is working correctly.
Aico will provide exact instructions for the installation with more details, especially regarding the wiring.
One major advantage to this Aico smoke alarm is that you can have it connected to 20 other alarms so that if one alarm is set off, every alarm will go off.
They can be interconnected with the Aico radio wireless bases or by hard wiring.
This smoke detector is arguably the best mains smoke alarm and produces 85dB of sound. You can purchase this Aico smoke alarm for about £17 to £19.
Pros:
You can connect it to 20 other alarms.
The base can be installed with ease.
Another particularly loud smoke detector.
Features a low battery warning.
Cons:
If you need to replace the backup battery, it can be a little tricky.
Google Nest Protect Smoke and CO Alarm (2nd Gen)
This smoke alarm from Google is one of the most popular and highly-rated products available which can detect both smoke and carbon monoxide.
One very helpful feature of this smoke alarm is that it uses a split-spectrum sensor rather than a photoelectric or ionisation approach, meaning that it has the benefits of both methods.
This means that it is effective at detecting smouldering fires and flaming fires alike. With the Nest App, you can silence the alarm with your phone.
It can also provide phone alerts when you're out of the house regarding smoke or carbon monoxide being detected, a low battery or an issue with the sensor. It also comes with a night light feature.
Before fitting the Nest Protect alarm, you need to download the Google Nest app. It can be downloaded from the Google Play Store or the Apple App Store.
The Nest App will help with each step of installation in detail. Scan the Nest Protect QR code to connect it to the internet and any other Nest products in your household.
Turn off the power in your house to ensure that you won't electrocute yourself.
If you have an old smoke alarm, twist the alarm cap to release it. Carefully remove it before taking out the two or four conductors present in the backplate of the old smoke detector.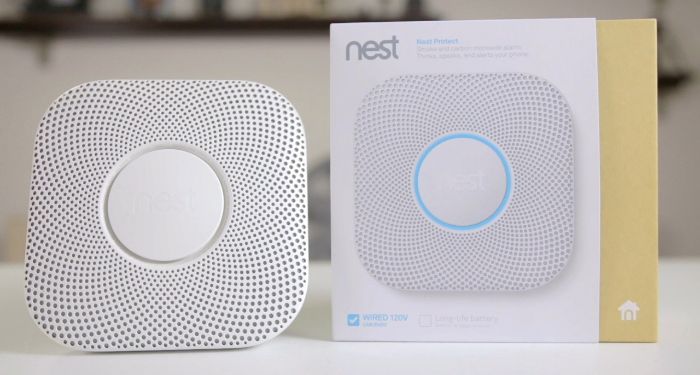 Next, unscrew the backplate. Hold onto the screws. You'll then notice a wire or two coming from the ceiling. Wire it up correctly following Google's instructions.
You'll be able to skip to this step from the point of removing an old smoke alarm if you don't have one or lack one in a suitable location.
Then, screw the backplate of the Nest Protect with the old screws or the Nest screws. Plug the 230 volt connector into the Nest Protect. Make sure that no excess wiring is loose from the electrical box.
Hold the Nest Protect up against the backplate and twist it into place. Once the tabs drop into place, you know that it's secure.
The Nest smoke alarm should be square with the ceiling or wall.
Repeat these steps if you've purchased more than one Nest Protect.
It has a noise level of 85dB. One downside is that it's very expensive with a cost of around £90, but that may not be too surprising considering how hi-tech this alarm is.
Pros:
Relatively easy to fit.
Hi-tech features.
Comes with a night light feature.
High-quality sensors.
The Nest App is very helpful.
Cons:
Kidde Firex KF20 Interlinked Smoke Alarm
This photoelectric smoke alarm can be interlinked with additional Firex alarms, all of which need to be hard-wired.
It has a hush & test button, an auto reset and a tamper resistant locking device. It also features a no-battery lockout so that if you've forgotten to add a battery, it will not close properly.
There is also a green light on the alarm to inform you that it is correctly receiving power via the mains.
To install the Firex KF20, first, line the mounting plate up with the standard electrical box holes or surface mounting pattress. If you wish to have the alarm fitted to the ceiling, the mounting plate can be employed to mark positions on the ceiling.
Drill the holes before inserting the screw plugs supplied with the Fires KF20. Screw them into the holes until the alarm is flush with the ceiling. Secure the mounting plate in place.
The blue cable of the smoke alarm's connector plug will need to be wired to the neutral. Replace with (N) mains power cable. Connect the brown wire to the live mains power cable.
If you wish to interlink multiple alarms, the orange or white cable of the connector will need to be interconnected with the 3 core & earth cable.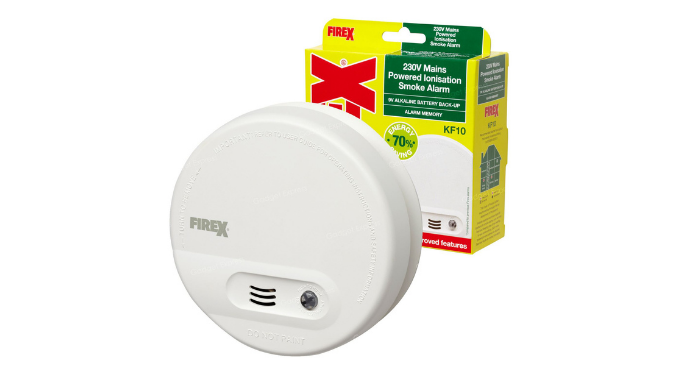 Open the battery door. Place the new 9v battery inside the battery pocket. It must be secured right. Close the battery pocket door. You can lock the tamper-proofing lock with the screw provided.
Insert connector plugs to the pins on the back of the KF20. Check that the connector is attached properly.
Make sure that the smoke alarm is positioned to the mounting plate in a way that the key slot on the side of the smoke alarm is left of the mounting plate tab. Turn clockwise and fit it in place.
Turn the main power back on once you are satisfied. Hold the button on the front of the alarm for 3 seconds to check that the alarm is fitted and working correctly.
The manufacturer provides more information regarding installation and interconnecting the alarm online and with their manual.
It can also produce 85dB of sound. You can buy the Firex KF20 for £23 to £25 on average.
Additional Kidde smoke alarms worth considering include the Kidde Worry Free Smoke Alarm and the Kidde 21026051 Smoke Detector Alarm.
Pros:
The Firex KF20 has a tamper resistant locking feature.
Can be interlinked with additional Firex KF20 alarms.
Has an auto reset.
Comes with a no-battery lockout.
Cons:
May not be sufficient for large homes.
Some consumers have complained of a smoke alarm beeping noise with this product.
FireAngel SB1-TP-R
Another very popular brand of smoke alarms is FireAngel.
This FireAngel smoke alarm, the SB1-TP-R is a photoelectric smoke detector that is best at picking up on smouldering fires. It is designed to resist nuisance alarms which are a prominent issue with many smoke alarm products.
To install this smoke detector, first, remove the base plate from the smoke alarm and insert the provided battery.
The screws given can be used to fit the baseplate onto the ceiling. Twist the alarm clockwise so that it can be fitted to the base plate.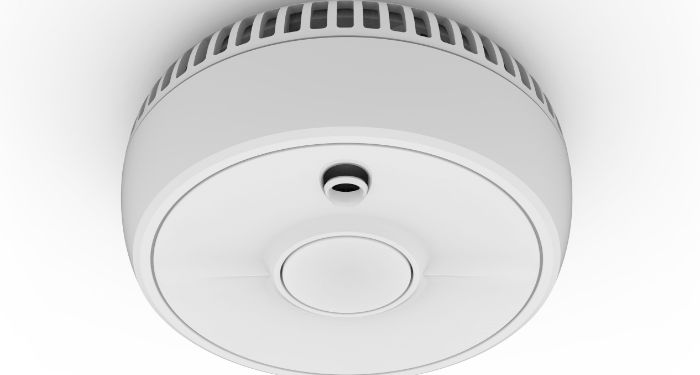 Hold the test button for 5 seconds. If the alarm sounds, then you know that the alarm is working correctly. As with most fire detectors, its sound level is 85dB.
It's perfect for grade F installations where the cost is an issue. It also comes with a three year warranty.
While it is intended to have a 10 year life expectancy, many consumers report that it never reached a decade of functionality. The SB1-TP-R is available in a pack of two for just £10 to £11.
Pros:
Inexpensive.
Resists nuisance alarms.
Cons:
A 10 year life expectancy is possibly too optimistic.
Cavius Optical 10 Year Smoke Alarm
This fire alarm is another photoelectric smoke detector. It features a 30 day low battery indicator, a 10 minute hush button and a sealed battery with a 10 year life expectancy.
To fit this alarm, the screws and plugs provided can be employed to fit the mounting base to a ceiling before adding the battery and re-attaching the smoke alarm cap.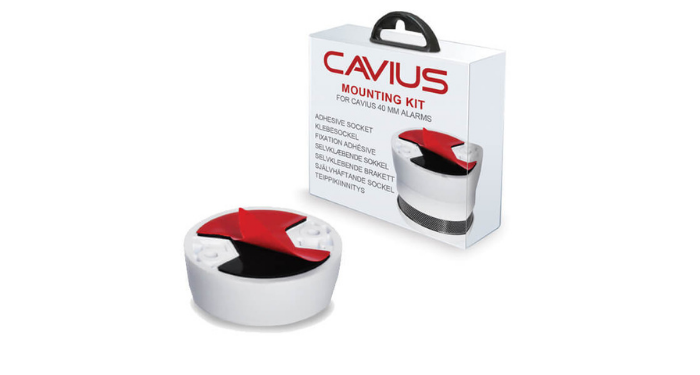 Cavius recommends fitting at least one smoke alarm on each floor and ideally a smoke alarm in every room. You should test the alarm prior to installation with the smoke alarm test button.
At 3 metres, you will hear 85dB of sound coming from this Cavius smoke detector. You can purchase this alarm for around £25 to £30.
Pros:
Features a 30 day low battery warning.
Sealed battery with a decade-long life expectancy.
Cons:
Cost to Install a Smoke Alarm
We will now explore the cost of hiring a professional contractor to install a smoke alarm.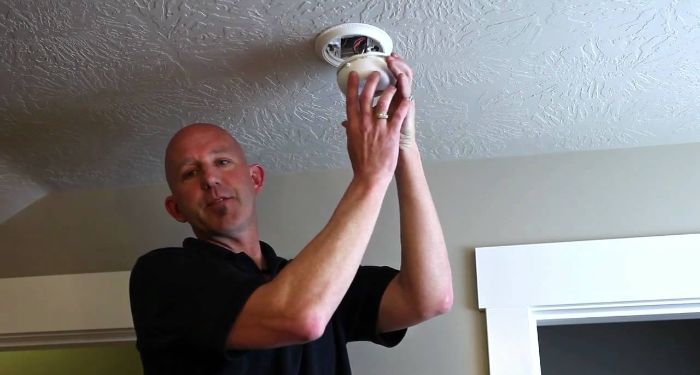 To have many battery-powered alarms fitted will likely cost £80 to £120 in labour cost while for wired alarm installations, you can expect to pay around £140 to £180 for the labour.
Benefits of a Smoke Alarm
We will now discuss the advantages of a smoke alarm in more detail.
Saves Lives
Of course, the most important benefit of a smoke detector is safety for you and the other occupants in your home.
Smoke alarms quadruple your chance of surviving a house fire.
Smoke inhalation is a major cause of death in household fire fatalities; thus, without a smoke alarm, there is a serious risk that any smoke in a house fire could kill the occupants during their sleep.
Protects Your Home
Aside from the ability of smoke alarms to save lives, it can also protect your home as a whole.
In case of a large, dangerous fire, once every person in your home and any pets are safely outside, you should contact the emergency services.
They will arrive as soon as possible and put the fire out.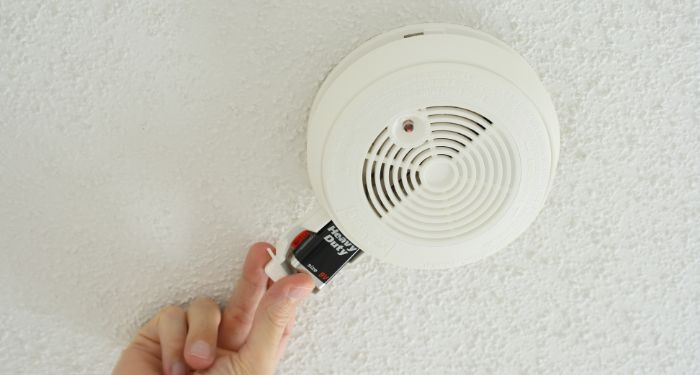 This quick response, beginning with thanks to functional smoke alarms, can maximise the chances of your home's material goods being protected and the house itself.
Reassurance
Even if you're fortunate and no fires ever occur in your household, having smoke alarms installed will give you peace of mind. Having working and well-maintained smoke alarms will give you a greater sense of security at home.
Further, if you purchase a hi-tech Wi-Fi-enabled smoke alarm such as the Google Nest Protect, you can even be alerted of any fire alarms going off at home when you are out and about.
FAQs
Q: What is an optical smoke alarm?
A: An optimal or photoelectric smoke alarm relies on the ability of smoke to reflect a light beam on to an internal sensor.
Q: How do you stop a smoke alarm from chirping?
A: There are various approaches that you may need to take to stop this issue.
You may need to fix a loose or incorrectly fitted battery, or it may be that the smoke alarm's sensing chamber requires a clean.
An alarm reset may also prove necessary.
Q: What is the best smoke alarm UK?
A: The Google Nest Protect is perhaps the best smoke alarm on the market.
For a less expensive top quality smoke alarm, you should consider the Aico EI41RC.
Q: How long do smoke alarms last?
A: Generally, smoke detectors should last for 10 years.
With that said, there is no guarantee and you should replace a smoke alarm when necessary.
Q: How does ionisation smoke alarms work?
A: Ionisation-type smoke detectors contain a small quantity of radioactive material enabling an electrical current to flow between two electrically charged plates.
If smoke enters the detection chamber, it will reduce electrical flow and set off the alarm.
Sources