Introduction to the Best Range Cookers
If you're trying to find the best range cookers UK, our guide will help you narrow down your search.
In this article, we look at the best range cooker products on the market as well as additional, relevant topics such as the cost of having a new range cooker installed.
This guide will prove very useful if you intend to buy a new range cooker or if you're thinking of making a purchase at some stage in the future.
What is a Range Cooker?
First and foremost, it's important to establish what a range cooker is.
It is an oven and hob combination in the form of a single freestanding cooking unit.
In a range cooker, the oven is usually larger than it would be in a standalone, integrated oven. Range cookers can also have two ovens. Additional features which you may find in a range cooker include warming drawers and a separate grill.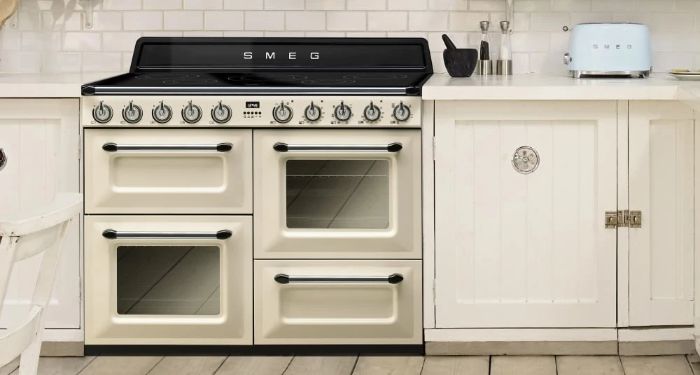 They've become very popular due to the range of benefits including size, the fact that they combine both a hob and oven and they also often come in great designs.
Range cookers are used for a wide-range of cooking jobs. They provide a convenient, multifunctional and integrated storage approach to cooking.
The key difference between a range cooker and standard cooker or built-in oven, as alluded to earlier, is that they have around 20-30% more oven space.
How Does a Range Cooker Work?
Let's now explore the workings of a range cooker.
Range cookers are heated either by an electrical flow or by igniting gas. This will occur inside the range cooker to heat the oven.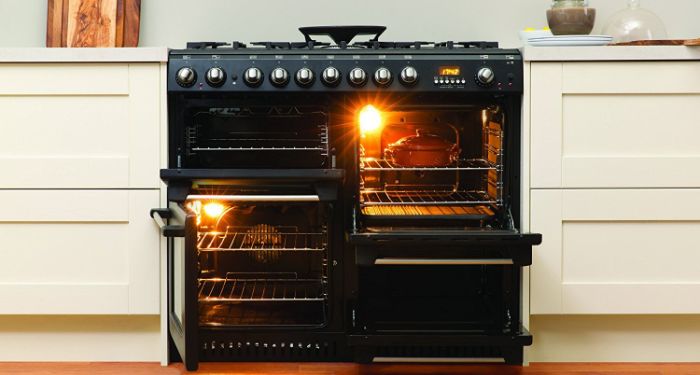 For the hobs, the heating element is positioned directly below each hob.
The relevant heat source will turn on once powered up.
This is a broad description of how ranger cookers how and the precise workings of a range cooker will depend on the type, which we will now discuss in further detail in the next section.
Types of Range Cooker
Range Cookers come in all different shapes and sizes, with different energy sources fueling them.
To help you choose the right range cooker, take a look at the following types:
Electric Range Cooker
For an electric range cooker, coils are located beneath the cooking surface of the stove.
Electricity flows to a wire inside these coils in order to produce heat when powered on.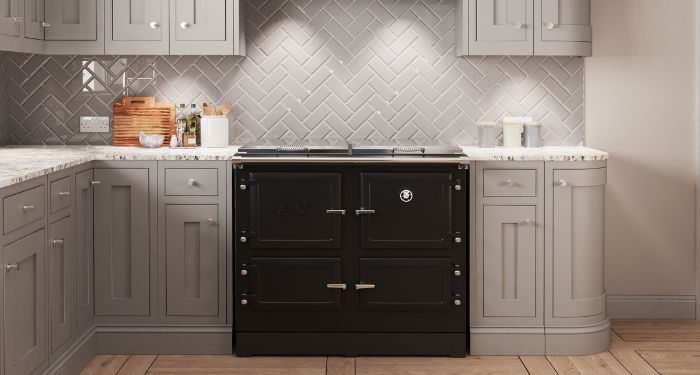 For the oven element of this type of range cooker, wiring is surrounded by metal sheaths inside the oven.
When electricity flows through these wires, they in turn, heat the metal and the oven in the process.
In some cases, an electric range cooker will have a convection fan to help better distribute air across the oven.
Pros:
Oven heating is more evenly distributed than in counterparts.
Can be cleaned with ease.
Has a multifunction oven.
Cons:
Higher cost of running.
The hob will remain warm even when turned off.
Electric Range Cookers will typically set you back on average around £400-£800.
Gas Range Cooker
As the name suggests, this type of range cooker features gas hobs and gas ovens.
Gas powered flames provide heat immediately, allowing you to instantly use the hob.
As for the oven, a gas supply flows from the mains to the range cooker to light the gas-fueled burner.
An internal thermostat helps to measure and regulate levels of heat within the oven.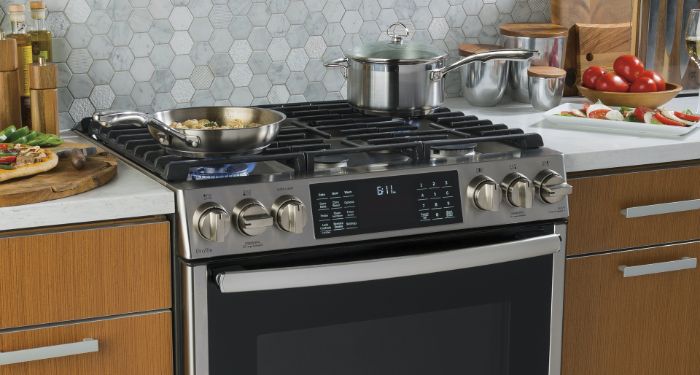 The thermostat will trigger the burner to turn off and for the gas supply to be cut when the temperature reaches the right level.
Gas range cooker ovens produce higher levels of moisture than electric ovens when cooking thus making them perfect for roasting food.
That way, your food won't dry out too easily. They also tend to have a lower energy cost than electric range cookers.
Pros:
Relatively low running-costs.
Gas hobs are usually good for simmering.
Cons:
May prove more difficult to clean.
Heat distribution in a gas oven is less even than in an electric range cooker.
Gas Range Cookers will typically set you back on average around £700-£1000.
Dual-fuel Range Cooker
A dual-fuel range cooker combines an electric oven with a gas hob.
With the benefits of an adjustable and versatile gas cooktop above an easy to clean electric oven, this type of range cooker is becoming increasingly popular.
Many dual-fuel range cookers offer exceptional aesthetics.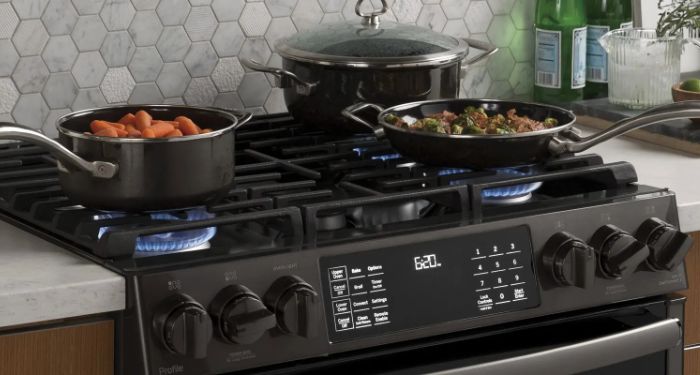 On the other hand, dual-fuel range cookers depend on a multitude of power sources.
Whether or not this will work for you will depend on the layout and design of your kitchen.
Another downside is that they tend to be quite costly.
Pros:
Benefits of an electric oven and gas hob combined.
Generally very stylish.
Cons:
Reliant on many power sources.
Tend to be quite expensive.
Dual-fuel Range Cookers will typically set you back on average around £1400-£3000.
Best Range Cooker
On average, you can expect a range cooker to last for about 13-15 years. The length of their lifespan will ultimately depend on how well they are maintained.
Smeg TR103 Victoria Dual Fuel
The TR103 is a 90cm freestanding dual fuel range cooker. This Smeg range cooker combines the benefits of modernity & traditionality while providing the advantages of gas hobs and electric ovens.
It comes with a flame failure safety device, circulaire fan, air cooling system, triple glazed oven door and heavy duty cast iron pan supports.
It also features a vapour cleaning system to assist in maintaining the cleanliness of the oven. It has a class AB energy rating.
The oven is relatively easy to clean but the gas hob could take a while to make new.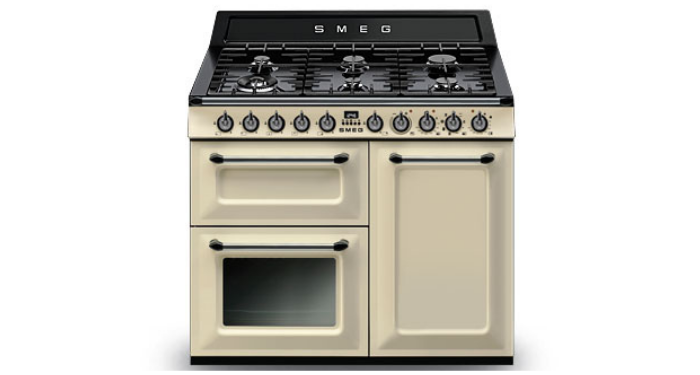 This product is arguably the best dual fuel range cooker out there.
To fit the TR103, it can be installed on to a wall if at least one of them is taller than the worktop.
Follow Smeg's instructions for exact details. You can purchase the Victoria Duel Fuel in black gloss or cream.
It costs approximately £2200 to £2300.
Pros:
Smeg is a globally renowned kitchen appliance brand.
Has an AB energy rating.
Features a vapour cleaning system.
Comes with triple glazed doors and a cooling system.
Cons:
Not the most exciting design.
Gas hobs can be difficult to clean.
Rangemaster Professional Deluxe PDL110EISL/C
This electric range cooker from Rangesmaster is ideal for households where multiple meals need to be cooked at once.
It features two large oven cavities, five burners, a slow cook oven as well as a grill.
It also comes with an automatic safety power off.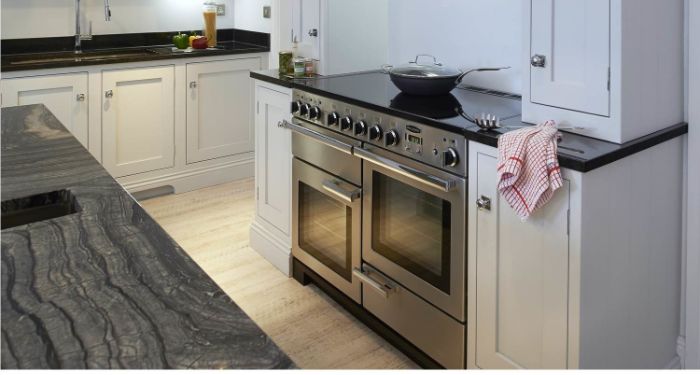 Its unique features and many positive online ratings make it arguably the best range cooker on the market.
The fan oven and multifunctional oven have a capacity of 69 litres each while the slow oven's capacity is 35 litres.
It has an energy rating A/A. It's relatively easy to clean as an electric range cooker.
You can purchase this Rangemaster cooker for about £2600 to £2900.
Pros:
Features a slow cook oven.
Additional grill oven.
Comes with two large ovens.
High energy rating.
Cons:
Bertazzoni Professional Series 100cm Electric Induction
This 100cm electric range cooker from Bertazzoni is another popular, high-quality product.
With options such as grilling and rotisserie as well as a total of 123 litres of space, this range cooker has much to offer.
It also features triple glazed doors, a child lock and a timer.
This cooker is available in seven different colours including cream and bright yellow.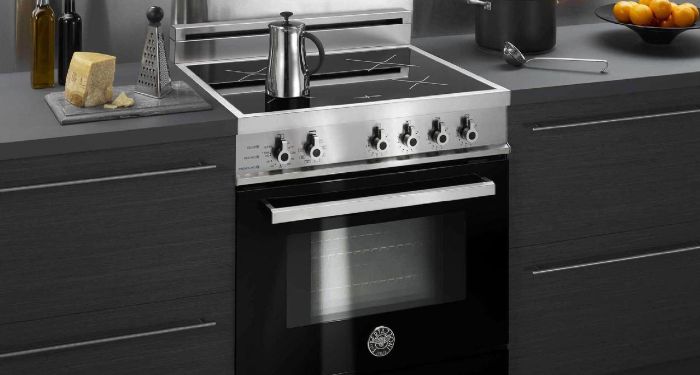 It too has a class A energy rating and is quite easy to clean.
However, it is quite expensive. This range cooker will cost you around £5000 to £5100.
A specific approach is required to install this machine. Follow Bertazonni's instructions for more information.
Pros:
High energy rating.
Features triple glazed doors.
Has a child lock.
Plenty of cooking functions to choose from.
Cons:
Quite expensive.
Finish is somewhat prone to scratching.
Belling Kensington 100G 100cm Gas
This Belling gas range cooker is another great option for populated households.
Like the PDL110EISL/C from Rangemaster, it can be used to produce many meals at the same time.
It is available in cream & chrome.
It comes with two gas ovens, an integrated gas grill, 7 gas hobs, a four kilowatt wok burner and cast iron supports.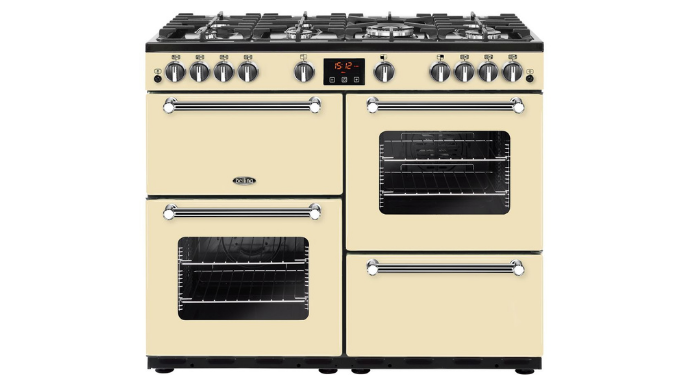 The easy rotation dials and LED timer that come with this product help to make cooking an easy and manageable process, even if cooking many meals at once.
The Kensington is another A-rated range cooker for its energy. While gas range cookers are generally quite difficult to clean, the job is made a little easier thanks to the enamel coating used.
One slight caveat to the Kensington is that the lights will turn on in both ovens even if only one is in use.
You can purchase this range cooker for just £1000 to £1200. Use Belling's user guide & installation handbook for fitting this range cooker.
Pros:
Well-built range cooker.
Dials can be adjusted with ease.
Not too difficult to clean in comparison with most gas range cookers.
High energy rating.
Cons:
Lights will turn on in both ovens even if only one is in use.
Stoves Sterling S900Ei
This next product is another electric range cooker featuring a five ring glass induction hob and 3 ovens with a total capacity of 172 litres.
It has a voltage of 230 volts. In terms of its additional features there are boost & pizza functions as well as a dough proving feature and easy glide shelves.
This product is available in black. It also has a class A energy rating.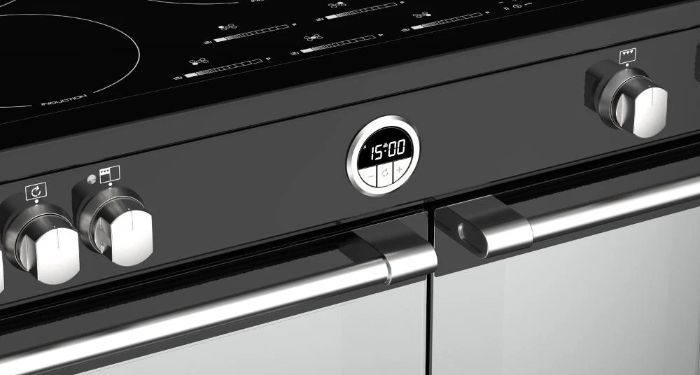 This product is another easy to clean electric range cooker although the mirror doors can see an accumulation of grease relatively easily.
It costs about £1900 to £2100 to purchase this product. Stoves provide a detailed installation manual for fitting the S900Ei.
Pros:
Efficient and low-volume.
Features a five-ringed glass induction hob.
Comes with easy glide shelves.
Cons:
Mirror doors can accumulate grease quite easily.
Rangemaster Classic 110cm Gas
This range cooker is one of the most popular gas range cookers available to buy.
It is well-designed, practical and comes with a programmable main oven.
This oven has a capacity of 81 litres as does the second oven, making for a total oven capacity of 162 litres.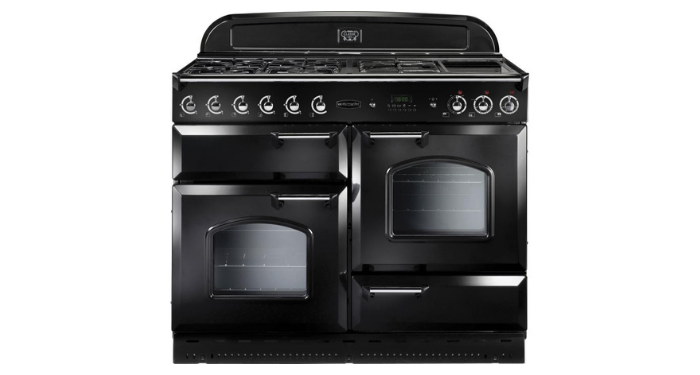 It comes with a handyrack and countdown timer. Its porthole window glass makes it easy to check on the food that is cooking.
This range cooker has a class A energy rating although it is quite difficult to clean.
This product will cost you around £1900 to £2100. You can use Rangemaster's detailed instruction manual to fit this range cooker.
Pros:
Up to 162 litres of oven capacity.
High quality product.
Great design.
Comes with a Handyrack.
Cons:
Can be difficult to find.
Benefits of a Range Cooker
We have discussed the various benefits of different types and products of range cookers throughout this article.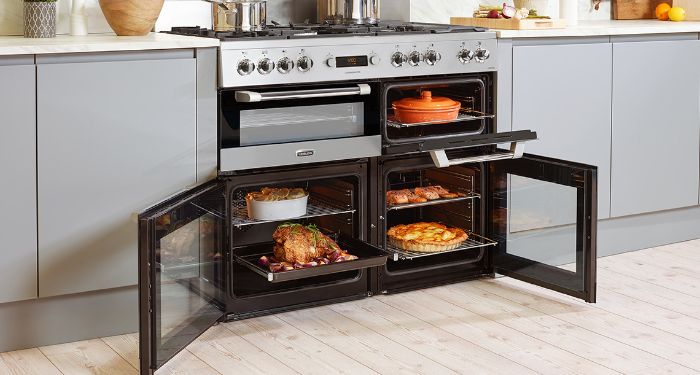 Now, we will explore the advantages of a range cooker itself over a built-in oven.
Choice of Colours and Designs
With a range cooker, you're going to have more choices in terms of colours and designs.
Many of the top range cooker brands provide their products in a wide variety of colours.
With a decent level of research you'll be left spoilt for choice when it comes to many design options.
Space for Cooking
Range cookers are around 20-30% larger than its built-in counterparts.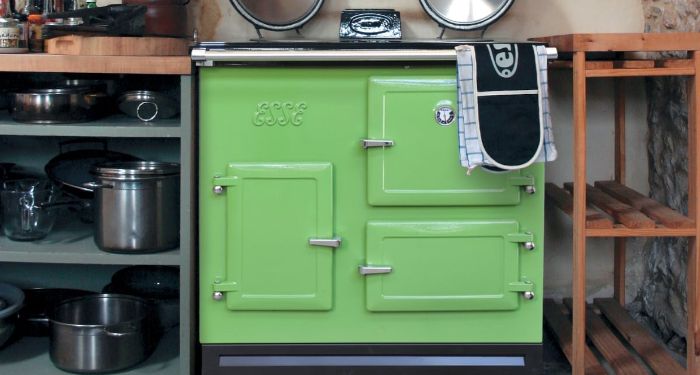 In turn, this allows for a more even distribution of cooking heat and it will help with retaining moisture.
This will significantly improve the quality of the food being cooked.
Flexibility of Cooking
With multiple ovens and many hobs, there is flexibility in terms of cooking.
This is especially true when it comes to the variety of features available with many range cooker products.
Some range cookers for example have advanced controls or/and a programmable oven to suit your exact cooking requirements.
Cost to Install a Range Cooker
Let's now discuss the cost of hiring a professional to install a range cooker.
The total labour cost will depend on a range of factors such as the type of range cooker in question.
To have a freestanding gas cooker installed will cost around £75 to £100.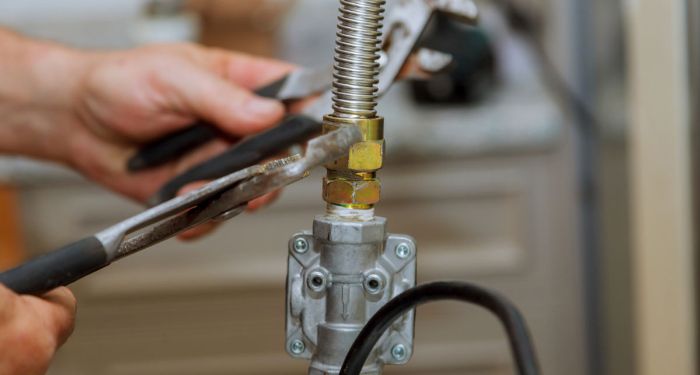 You can expect the cost to be around £70 to £90 for an electric cooker.
As for a dual cooker, expect to pay between £100 and £150 to have one fitted.
FAQs
Q: Who makes the best range cookers?
A: Rangemaster, Smeg, Stoves and Belling are among the best manufacturers of range cookers.
Q: How wide is a range cooker?
A: Range cookers tend to have a width of 90cm, 100cm or 110cm.
Q: What is the best way to clean a range cooker?
A: The exact cleaning requirements for a range cooker will vary depending on the product. You should follow the manufacturer's guidance in each case.
However, there is a broad approach to cleaning range cookers in general.
This approach involves taking out the shelves and runners before cleaning them in soapy water with the use of a nylon scourer.
Additional cleaning may be required depending on the nature of the range cooker.
Q: How long do range cookers last?
A: They may last for about 10 years although their longevity will be affected by how well they are maintained.
Regular maintenance and cleaning can prolong the life expectancy of a range cooker.
Q: What is the best range cooker?
A: The Rangemaster Professional Deluxe PDL110EISL/C is one of the best range cookers on the market although the Rangemaster Classic 110cm Gas is another great option.
Of course there are many top products out there worth considering.
Sources