What is a Home Sauna?
You may have heard of a sauna before, but not one that you can install directly inside your home. A home sauna is a scaled-down version of a full-sized sauna, providing the same benefits but simply fitting inside a smaller space.
Home saunas are incredibly popular amongst people who enjoy taking part in sports and exercise due to their recovery benefits.
Saunas help to soothe tired and sore muscles and increase the metabolic rate. However, they provide so much more for the casual user.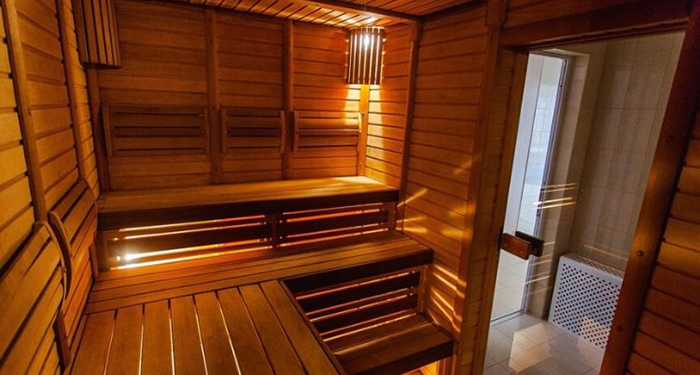 Saunas rid the body of toxins like nicotine and mercury, improves circulation, relieves sinus congestion, helps to maintain clear skin and relieves stress. Saunas really are helpful to the entire household in a variety of ways.
Ten minutes relaxation in the sauna after a busy day makes a world of difference to how you think and feel, and several scientific studies have proven this fact.
Due to their ever-growing popularity, the price of a home sauna has reduced over time, making them more attainable than ever.
They have technology that keeps the running costs at a minimum, and they require next to no maintenance, unlike home hot tubs!
How Does a Home Sauna Work?
Different saunas work in different ways, even though the overall benefits remain the same. Put simply, a conventional sauna produces steam by the user pouring ladles of water over hot rocks creating steam that reduces the humidity but increases the temperature, which makes the high heat tolerable.
Whereas infrared uses light radiation to heat the skin, helping the body to sweat without needing to heat the entire space to high heat. This is usually preferred by those with a low tolerance to heat.
Types of Home Sauna
Here, we explore the different types of home sauna available on the market and explain how they work, how much they cost and provide the pros and cons!
Wood Burning Sauna
A wood-burning sauna is also known as a traditional Finnish sauna and is heated through a wood-burning stove. By controlling the amount of wood being burned, you, in turn, control the temperature of the sauna.
The ideal temperature for these types of saunas is over 65.5C, measured while someone is sat inside. You throw water on the hot rocks inside to control the humidity inside the sauna, making it more bearable at high heats.
The actual sauna is made from wood and comes in various sizes from giant saunas found in gyms and health clubs, to compact, 1-man saunas you could fit in your home.
You can purchase a small wood-burning sauna for your home for around £1,000. These saunas achieve great heats, have a traditional look you associate with a sauna and will provide all the benefits we listed earlier in the article. They are certainly an investment and can be a little hard to control temperature-wise.
Electrical Sauna
A more modern option for a home sauna is certainly an electrical sauna due to its far superior controls and other gadgets.
They still look like your typical traditional sauna but instead are heated with electricity. In fact, they're so popular that they are now the leading sauna in Finland.
They are safe, aesthetically pleasing, efficient and are ideal for those buying their first sauna.
Their heaters range in size depending on what size sauna you need for your home or garden, and range in price, however, you can pick a compact, 1-man sized sauna up for around £850.
Smoke Sauna
A very rare find nowadays, the smoke sauna features a large wood-burning stove and doesn't have a chimney, keeping the smoke inside for many hours before ventilating and using it immediately.
It's not a popular option due to the time, expense and hassle it causes trying to ready it for use. While it is about as much of a traditional sauna experience as you can get, it's very inefficient for use as a home sauna.
To find one, you'll need to search high and low and be ready to pay a fair amount to attain one.
Steam Sauna
Despite its name as a sauna, it's technically a Turkish spa due to the humidity level of 100%. The temperature is much lower than definitive saunas and is controlled with a thermostat that reaches around 49C.
They are certainly suited for those with a low tolerance to heat, and the amount of steam that fills the room can be soothing, however, you won't be able to use it at the same extreme heats found in traditional and electrical saunas. You can buy a home steam sauna for around £1,500.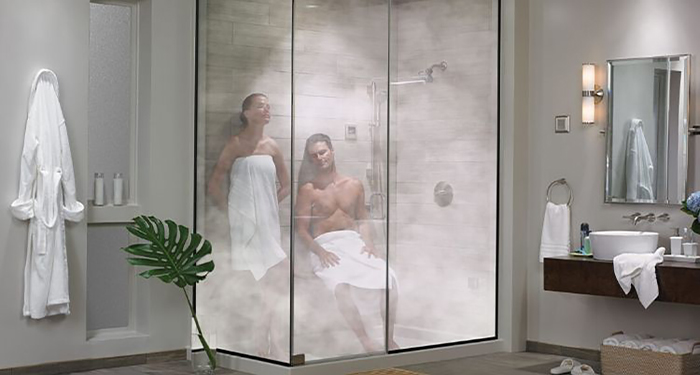 Infrared Sauna
Infrared saunas are the most technologically advanced option in the current market with the heating system based solely on the person's body heat as opposed to heating the air inside the unit.
They are also known as heat therapy rooms due to their increased health benefits like muscle recovery and relaxation.
One thing you'll miss out on is the steamy experience as no water is used in the system. They can be bought for around £900 and come in a variety of styles.
Best Home Saunas
Here is a list of the best home saunas available:
ECK! for 4 People Special Action Infrared Sauna by Trade Line Partner
This larger home sauna by Trade Line Partner has been a real hit with those people that have a little more space at their disposal.
But, despite its capacity of 4 people and the space available, it still has a fairly small footprint, so you won't need a silly amount of space. Its dimensions are 150 cm x 150cm x 80cm x 80cm x 190cm x Height 95cm Front, and it has a hexagon like shape.
This wonderful sauna also has a plethora of gadgets to choose from such as CD-Radio, dual digital controls, glass door, thermal guard, reading lights and colourful decoration lights.
2 Person Traditional Indoor Sauna by UK Saunas
This option is not only space-efficient but is very reasonably priced and performs to a very high standard.
It features a 3kW heater, toughened glass windows, drinks table, reading lights and is constructed with Canadian Hemlock wood.
The build and installation are designed to be easy for anyone willing to engage in a little DIY.
Sven 3 Topline 3 Person Infrared Sauna and Infrared Cabin Sauna
This Sven infrared sauna is designed for the home user with a warm-up time of only 10 minutes, a sound system, reading and decoration lights, and comfortable ergonomic seats.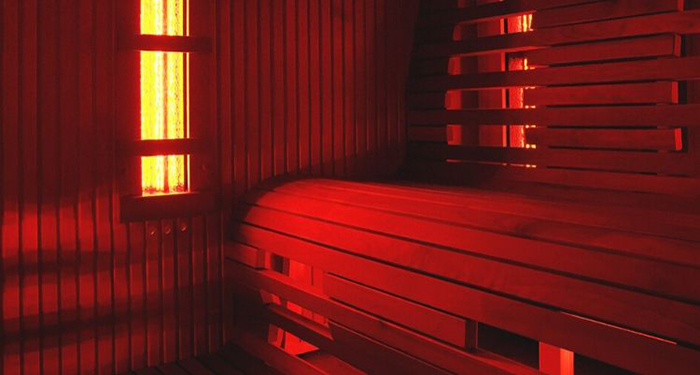 It can be heated up to 65C, is constructed of very high-quality Cedarwood and has a control panel both inside and outside of the cabin.
This is a great option for those that want something a little above an entry model, without spending too much!
2 Person Traditional Indoor Sauna with Glass Door by UK Saunas
This sauna exudes style and class with a luxury look. Glass doors are combined with Canadian Hemlock wood, a sound system, a powerful 3kW heater, chromotherapy lights and stone effect walls on the inner.
This is a beautiful addition to any home and is a breeze to put together. It requires little to no maintenance and is delivered free of charge.
SaunaMed 4 Person Luxury Cedar FAR Infrared Sauna EMR Neutral™
This is the highest-priced option on our list of the best saunas and for a good reason! The SaunaMed luxury 4-person sauna features 8 ceramic heaters, spotlights, up to 2,800w of power, MP3 stereo system an adjustable air vent and an aromatherapy fragrance dispenser.
Assembly takes less than an hour, and it can be installed anywhere with access to a traditional plug socket. We're sure you'll love this luxury option.
Cost to Install a Home Sauna
Home saunas are designed to be DIY-friendly, ensuring that the majority of people are able to build the sauna themselves, given the correct guidance and tools.
However, if you don't feel comfortable building and installing the sauna yourself, you can always enlist the services of a contractor to build and install your sauna for you.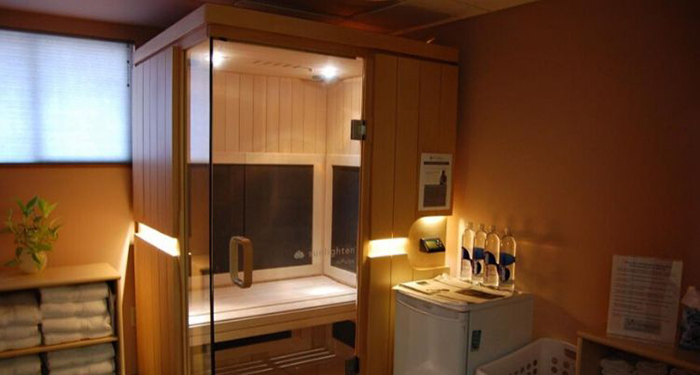 There are also a lot of services from the sellers of saunas that offer installation on delivery, often at a discounted price. Now obviously the prices range dependant on the size of the sauna, the type of the sauna and where you are located.
But, by contacting different contractors and getting different quotes, you can find the right solution for you. Typically for a 2-man infrared sauna, you would be looking at £60-£100 for the install.
Again, this varies from company to company and area to area, so do some research online for a more specific quote!
FAQs
How many calories are burned in a sauna?
The typical rule for deciding how many calories are burned in a sauna is based on the size of the person. A 150-pound person, sitting at a high temperature for 30 minutes, is likely to burn about 84 calories. Which is 28 calories more than simply sitting at room temperature.
How hot is a sauna?
Saunas differ depending on the strength of the stove or heaters that it uses, it also differs depending on the setting you put on, the amount of wood you burn or the amount of water you pour on the rocks. Saunas are typically heated from 150F to 190F, so somewhere in between is probably a good guide.
What are the benefits of a sauna?
The benefits of saunas are very extensive. Sportspeople use saunas to aid in muscle recovery and an increased metabolic rate.
Whereas everyday people use it for a whole host of benefits, mainly surround health and relaxation. The heat naturally relaxes the muscles, allowing tension to leave the body along with any harmful toxins trapped inside.
It also helps open and clean out the pores on your skin, allowing radiant skin to shine through. It relieves sinus congestion, can clear colds, improves circulation and can soothe sore throats.
If you use aromatherapy oils with the heat, you can really begin to maximise the benefits your sauna provides. Some religions and countries also use saunas for meditation purposes.
How long should you stay in a sauna?
This is a question that has many answers depending on a variety of factors. The biggest factor is dehydration, so a good guide is around 15-20 minutes without fluids.
If you drink plenty of fluids while in the sauna, and you don't feel unwell whilst in the sauna, you can stay in it longer.
Another factor to consider is the heat inside the sauna, especially if you have a low heat tolerance.
Are sauna's dangerous?
As with many other things, some precautions must be taken with saunas. Firstly, you shouldn't use them for long periods of time without taking regular breaks and drinking plenty of fluids.
Secondly, if you have a low heat tolerance, don't try to spend more than a few minutes at a time in them. If you can avoid it, don't use your home sauna without someone else being home, in case of any emergencies.
If used sensibly and correctly, a sauna isn't dangerous at all, but they must be used in moderation and with the correct precautions. It's also not a suitable place for small children as they can overheat and dehydrate much faster than a fully grown adult.
Sources