Introduction to Shelving Ideas
General DIY is a fantastic way to learn some new skills, improve the décor of your home and save some money at the same time. Shelves can really transform a room, whether you're looking for more storage, a place to show off your favourite collectables or to decorate a room.
Kitchen Shelving Ideas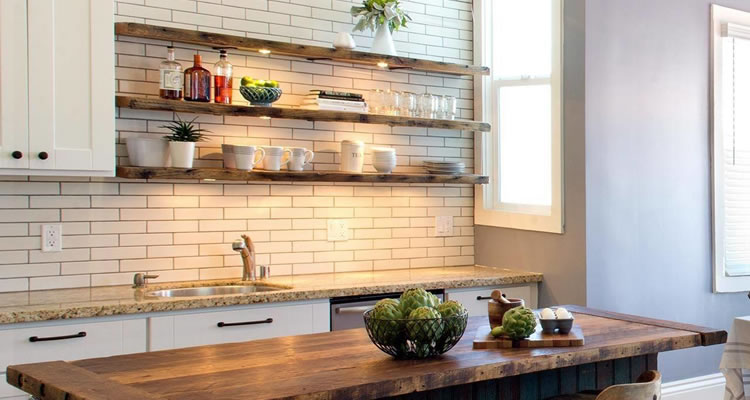 Kitchen shelving is arguably the most important section in this guide. If you're strapped for space in your kitchen, shelves are a complete life-saver and will help you keep your kitchen looking neat and tidy without having to hide everything away or reduce the number of appliances or tools.
Even if you're lucky enough to have a huge kitchen, you don't want your surfaces littered with all the equipment you have, leaving no space for cooking! Good shelving solutions can solve these problems whilst adding to the look and style at the same time. Here are some of the best shelving solutions to use in a kitchen:
Open Shelving
Open shelving is just that. Simple shelves as long or short as you want, fixed across your kitchen walls. These shelves can also be great in even rows to double or triple the capacity you have. These are great to store spices, jams, baking ingredients and your fancy plates. They are easily accessible, safely out of the way of little hands and help to fill often empty walls. They come in a wide variety of styles and can be bought for as little or as much as you like!
Floating Shelves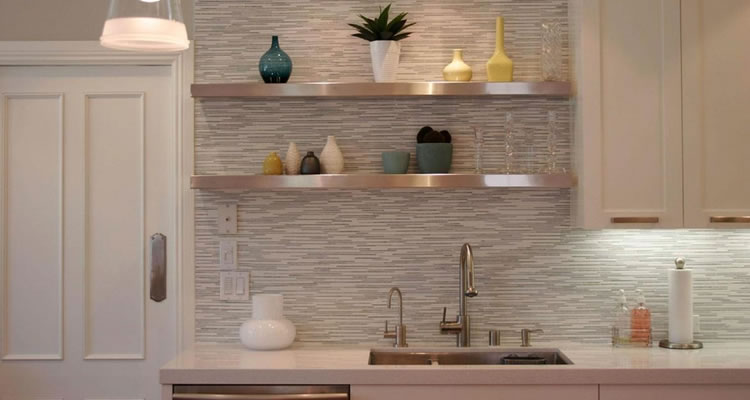 Floating shelves, when installed correctly, they are stylish, useful and extremely versatile. The picture above shows what a floating shelf is, but basically, they are fixed at the only point of the wall and seem to be floating. They're great for use as a single shelf to home something specific like a projector or some candles, to break up a blank and bare wall. They are also used a lot in small groups of 2 or 3 to form a feature on a wall, maybe in a stair-like design.
Wine Shelf
A big hit with many, the wine shelf is as much fun as it is useful. These shelves are either freestanding from the floor, or on a surface and come in a wide range of styles, designs and sizes.
A wine shelf is used for so much more than storing your favourite bottles of vino, and some of the floor freestanding designs come with other sections like a bookshelf or a cupboard. Wine shelves really add a touch of class and sophistication to a kitchen and can be a fantastic and inexpensive addition.
Freestanding Shelving Unit
Similar to the freestanding floor wine shelf, you can purchase larger freestanding shelving units to provide a solution to many problems in the kitchen. Again, they come in all kinds of shapes, sizes and styles, and can be used for storing anything from plates and crockery, to wine and others cupboard food items.
They can be placed around the kitchen and are often not too expensive. These unit's help keeps a lot of clutter at bay in your kitchen without having to decide whether to throw it away altogether.
Shelving Racks
Shelving racks are incredibly versatile as you can buy tall racks that stand on the floor, or smaller racks to go on the countertop. They are very minimalistic and would suit rustic looking kitchens, but smaller shelving racks can be found with very modern styles. Smaller racks are ideal for spices, cutlery and other small items. Large racks can house anything, you could even place things like microwaves and toasters on one to keep them off your surfaces.
Bathroom Shelving Ideas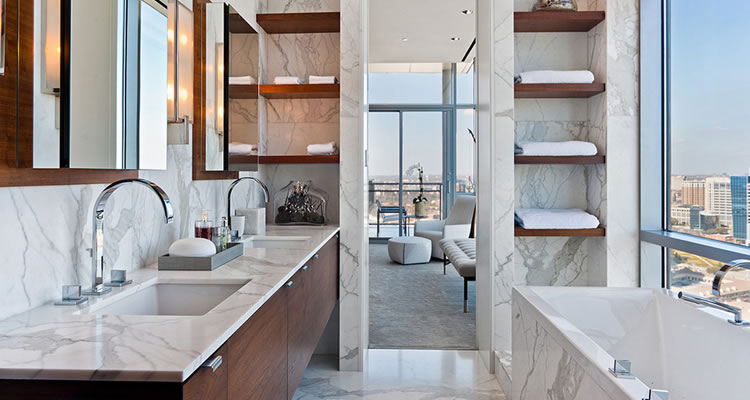 Even more common than kitchens, bathrooms are notoriously small, which creates quite a problem when so much is done and kept in there. With these shelving ideas, you can wave goodbye to long lines of beauty products on windowsills and messy sink tops.
Above the Door Rack
Discreet, cheap and extremely useful, and above the door rack simply hooks on to the door, without causing issues shutting it. They either have small open cages to store small items to keep them off bathrooms surfaces or have hooks that can hang towels or housecoats. They're usually made from metal and help to keep your bathroom ordered and clear.
Under the Sink Storage
You can find a sink in every bathroom, but few people utilise the space below it, usually chalking it off as lost space or maybe trying a hide a bin beneath it. However, there is a better storage option available to fully utilise this space. You can purchase small cupboard-like fixings that surround the sink and provide another place for storage of anything you want. This is a great way to make use of every piece of space in your bathroom.
Clear Floating Shelves
These shelves come in either clear plastic or glass and are perfect for your bathroom. They work in the same way as other floating shelves, only they may need some sealant to help keep them structurally sound in the humid conditions of a bathroom. They are often placed inside the shower to house shampoo and soap, or above the sink for toothbrushes, hair products and other bathroom items. They're cheap, easy to install and definitely worth the effort.
Over the Toilet Shelving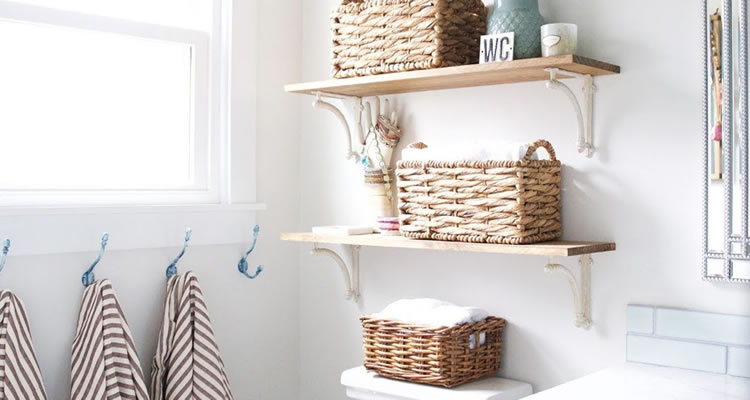 Much like below the sink, over the toilet is a seldom-used place in the bathroom. There are structures you can buy which stand on the floor and provide shelving above the toilet. Not only do they look great, but they also provide a great place for beauty products, toilet roll, toothbrushes and anything else you can fit on them. You can also utilise floating shelves above the toilet, it all depends on which you prefer, and which products match the style of your bathroom.
Bedroom Shelving Ideas
One of the main concerns and problems in a bedroom is the amount of clutter it's filled with, especially in a child's or teenagers' bedroom. So, why not implement some shelving and storage options around the room to help combat that clutter and improve the look of the room at the same time. Here are some ideas to consider:
Wall Perimeter Shelves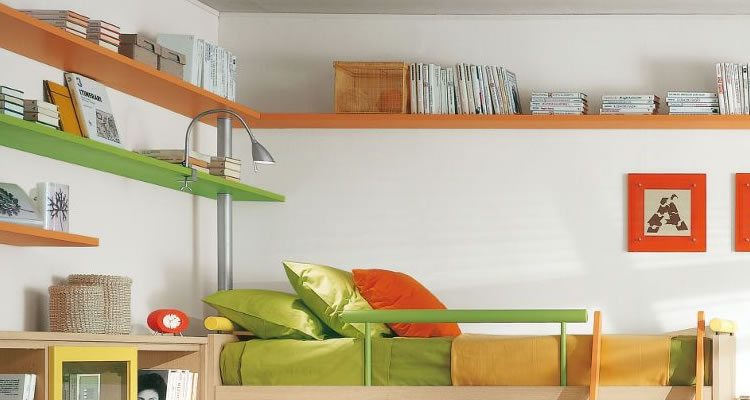 Extremely popular in kids' rooms, wall perimeter shelves look incredible. As you can see from the picture above, the shelves surround the room, giving every wall a feature and a splash of colour. These shelves look great with collections of books, toys, trophies and anything else you want to put up on display.
They can be tricky to put up, just due to the sheer size of them and the struggle to keep everything level, however, with some effort and detailed planning, this can really transform a room.
Radiator Shelving Units
Installing structures around radiators provide a few benefits to a bedroom. Firstly, it helps to avoid draping clothes and towels across them, second, it protects babies and small children from burns, and they provide a good shelving option. Now, you can choose big structures that feature cupboards and multiple shelves, or simply a single shelf on a radiator surround. It probably depends on the space you have available, but either way, you reap all the benefits.
Floating Box Shelves
We've discussed floating shelves in previous sections, but not the floating box variant. Floating box shelves are cubes that can be grouped together or kept separate, which ultimately provide two shelves and a unique look. They look great with plants in them, candles, pictures or toys. These shelves are a unique addition suited to modern, sleek rooms and will only improve the overall look.
Headboard Shelving Unit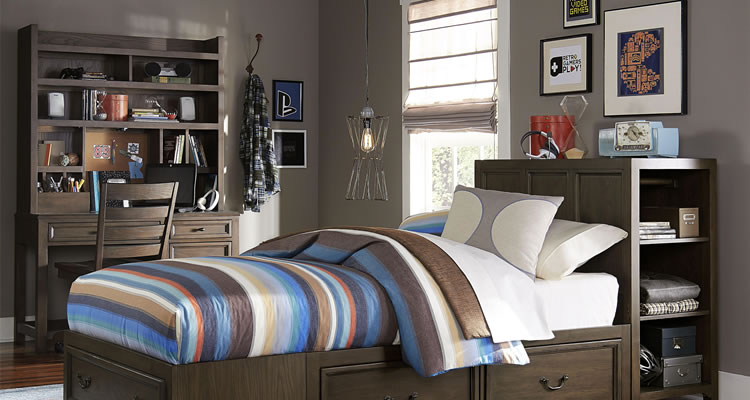 In earlier sections, we emphasised the importance of making good use of all the space available in your rooms. Headboard shelving units are fixings that surround the headboard and provide shelving options above and beside the bed. They are usually freestanding from the floor and screwed to the wall to ensure stability.
You can add a wonderful array of colours to the unit, improving your bedrooms décor and be able to change it at a moment's notice. You could also use it as your own personal library or movie collection. The possibilities are endless!
Living Room Shelving Ideas
Living rooms are your own place of solitude, with a comfy sofa, a TV and some good books or music. Sometimes it can be tough to fill your living room with decorations, usually because you don't want it to look too cluttered or full. But with the ideas below, you can fill your living room with whatever you like without losing the ambience:
Mantelpiece Shelving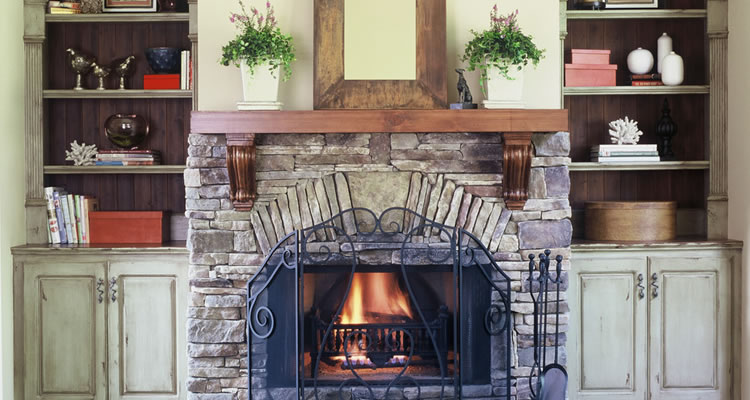 This type of shelving is very similar to headboard shelving or radiator shelving units. Basically, it's a structure that either surrounds or can be built on your mantelpiece, provide a wonderful place for books, games, ornaments and anything else you want to place on it. Mantelpieces often have a candle or maybe a photo frame, but mostly the space is under-utilised, with a simple mantelpiece shelving unit, you can improve the look and feel of your living room massively.
Wall Shelving Units
Wall shelving units come in all shapes, sizes and styles. There are options for rustic or modern looks and small or large spaces, but either way, they provide another option for you to decorate your living room and keep it free from unnecessary mess and disorder.
These shelves can actually be built around a wall-mounted TV for storing DVD's, or they could even be used for placing radios or set-top tv boxes. They're very versatile and an obvious choice for sprucing up a living room.
Bespoke Built Shelving
While certainly not one of the more inexpensive options, a bespoke built shelving unit or system may be the solution if you have a certain requirement or maybe a uniquely shaped living room. Bespoke built units can also incorporate more than one style of a shelving unit, and implement it into the same unit.
Now, you can pay a joiner or carpenter to build one of these units for you, or you can take your DIY to the next level and build one yourself. There many online resources to take advantage of if you think you may want to build it yourself. Either way, a bespoke unit can be a really effective addition to your room.
Closed Storage Units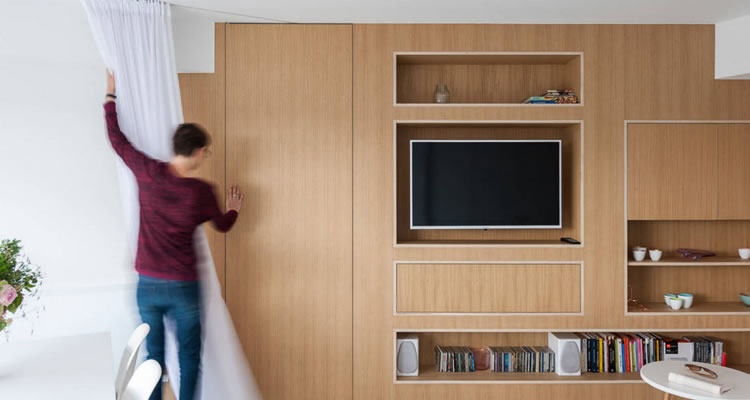 These types of units, as you can see from the picture above, have a door or cover to the front of them, making them perfect for those that like a modern and minimalistic look, without having to compromise on storage space. You can use these units to place TV's on to make the most of all surfaces, or you can place them in alcoves or other spaces in your living room.
Bookcase Shelving
There is nothing quite as sophisticated or impressive than a well-stocked bookshelf. Bookshelves can be as tall, short, narrow or wide as you need them to be, they're fairly easy to build yourself and can be used for more than just books. They are perfect beside fireplaces in alcoves, or to dress the walls. Some people even take away the middle shelf and install their TV there. The are many options to explore with a bookshelf, and you can really get creative with your ideas.
Shed Shelving Ideas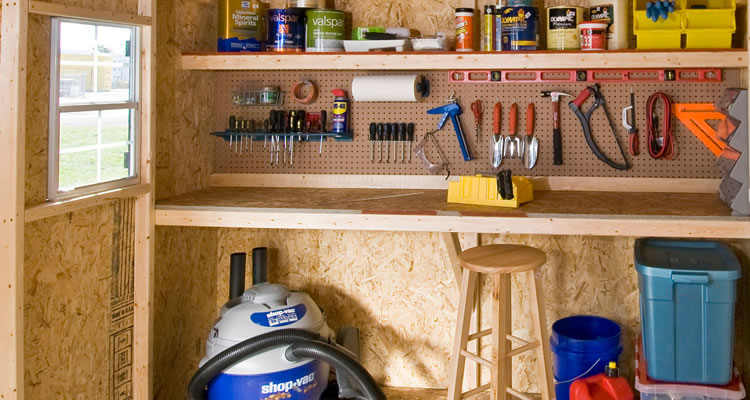 Sheds are purpose-built to provide storage for all things gardening, DIY and outdoor toys. However, they can fast become an unorganised mess and can be notoriously tough to locate items within. But, your shed doesn't have to spiral into a collection clutter, and with these shelving and storage ideas, you can transform this space in no time at all:
Wall Mount Shelving
There are certain things that are easy to be stored in a shed as opposed to indoors like paint cans, tools and outdoor toys, so it's crucial to keep them organised and not strewn around on the shed floor. By installing some simple wall mounted shelves, you'll have more space for smaller items that are easy to locate when you need them.
Tall Freestanding Shelving
If your shed has more space, why not implement some taller shelving options. Taller shelves offer more space, and if you remove certain shelves within the unit, will allow you to store larger items within it.
Metal Closed Shelving
This type of storage certainly matches the industrial feel of a shed and allows you a strong and sturdy shelving option with added security to keep any heavy tools or dangerous solvents away from any children or pets that may frequent the shed for toys and bikes.
Work Surface Shelving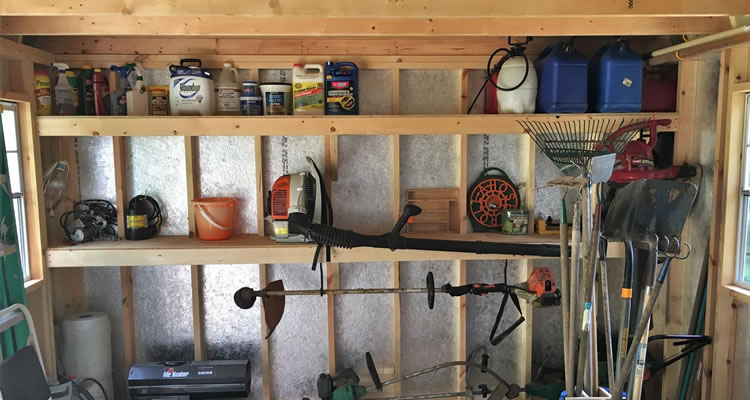 Worksurface shelving, as you can see in the picture above, provides a great place to store your tools, equipment and items whilst also providing a good workspace for you. These units are freestanding from the floor and can have large items placed under them for even more storage options.
Heavy Duty Shelving
Heavy-duty shelving provides the same as other shelving solutions but is reinforced to allow for heavier weights to be safely placed upon them. If you have large amounts of liquid, gym weights or anything abnormally heavy, you may want to consider looking at heavy-duty shelving as a safe alternative.
Garage Shelving Ideas
Garages, much like sheds, are often over cluttered and unorganised, becoming hotbeds for hiding things out of the way to keep the house clear. However, implementing some shelving systems into your garage can give you the best of both worlds.
Rolling Shelving Units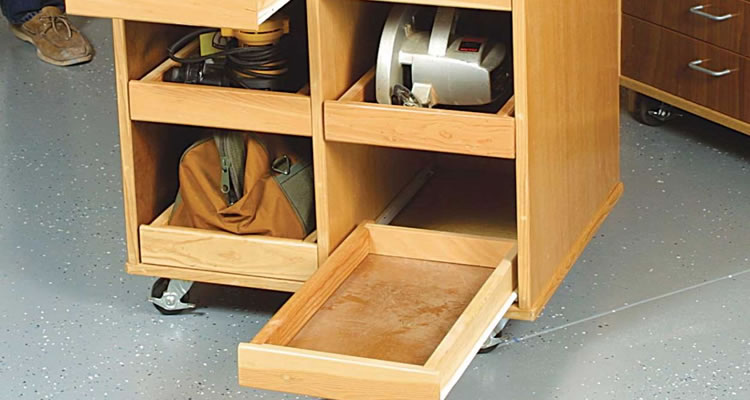 As you can see from the picture above, these shelving units are on wheels and can be moved around your garage as much as you like. If you have items that need to be kept for short periods of times before being moved somewhere else, these could be perfect for you. It also allows you to test out different variations of garage layout and see which works out best.
Tool Closed Shelving Unit
If you're a DIY fanatic or a tradesman that work at home, this is an absolute must for your garage. The unit can be fixed to a wall or placed on top of an existing unit (provided it can take the weight) and is a shelf and drawer system for all of your tools, nails, screws and small fixings. They are safely covered to deter children from playing with them and are a great way to ensure complete order and organisation in your garage.
Roof Storage Shelving
An option reserved for garages is the roof storage system. This can be used for sports equipment, boxes, long items or anything else you want to keep off the floor. They come in the form of the cage-like shelves that are securely hung from the ceiling to organise your garage.
Unusual Shelving Ideas
The previous sections cover all manner of shelving solutions and systems for all rooms. However, there are some more unique shelving ideas that you could explore if you think they could work for you better. Here is the pick of the bunch:
Invisible Bookshelf
An invisible bookshelf is a really unique way to display books in any room and can actually be quite efficient. Working in a similar fashion to a floating shelf, a floating bookshelf incorporates thinner plate-like stands for you to place books on.
Bar Cart Shelving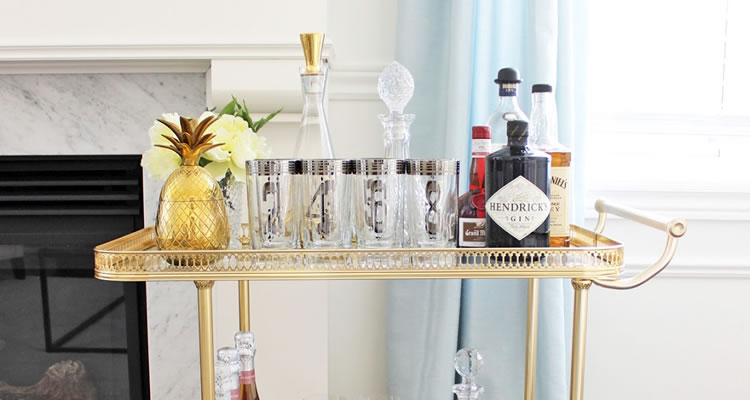 This shelving solution is definitely a unique storage option for modern days, however, in the past, they will have been quite popular. You're best looking at the picture above to understand the full concept of it, but it's essentially a shelf on wheels for keeping a portable bar, but you could also use it for playing puzzles or cards. In fact, you can use it however you like as some people have been known to place ornaments or books on them.
Pegboard Shelving
This is a really cool option for kitchens or bedrooms, and pegboard shelving units are really growing in popularity. The beauty of this system is you can change the look of it quickly and whenever you want. Different pegs are placed in the holes depending on what you want to place or hang on it.
A-frame Shelving
A-frame shelving is a really stunning unit when installed with lights behind them and break up a blank wall perfectly. They are freestanding, so can be moved around to where they look best and are often decorated with plants, books, candles and lights. This shelving option will add a touch of class to any room.
Rope Shelving
Rope shelving may not actually provide much of practical use, due to the small size of them, but they will improve the décor wonderfully. Rustic ropes are hung from either the ceiling or higher up on the wall with a swing like a platform placed at the end of the ropes to place a decoration on.
Sources