What is a Kitchen Extension?
A kitchen extension is a fairly common approach to expanding a kitchen, either by knocking down a wall with the room next to it and combining both to create a larger kitchen or by extending the kitchen outward by adding a new structure in the garden.
A homeowner may have a kitchen extension made because it can significantly increase the kitchen's space, utility, and aesthetic value.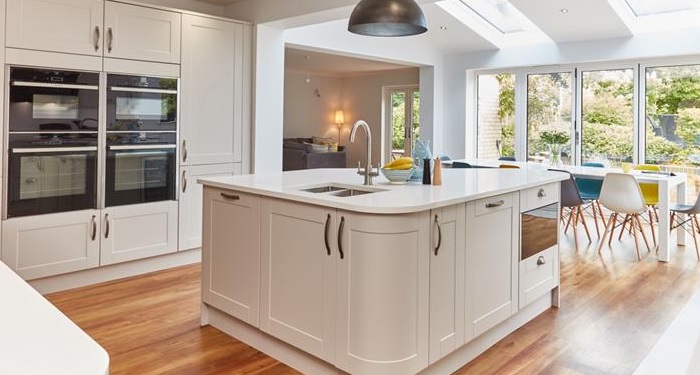 An extended kitchen can also add value to the property. The capacity to customise a kitchen extension is another reason for its popularity, which is ultimately the purpose of this article.
Some existing kitchens are also too small to fit a family table for dining, so a kitchen extension can allow this feature to be added.
Kitchen Diner Extension Ideas
An open plan kitchen diner extension is a design choice that has become more common in recent years.
They may exist as a wrap-around or rear extension kitchen. Alternatively, it may simply involve knocking a wall down to combine two separate rooms.
This approach focuses on featuring a dining table as its key focal point and will often include a kitchen island.
Install Bi-Folding Doors
For a space like this, it's worth considering having bi-folding doors fitted as a way to better open up the kitchen.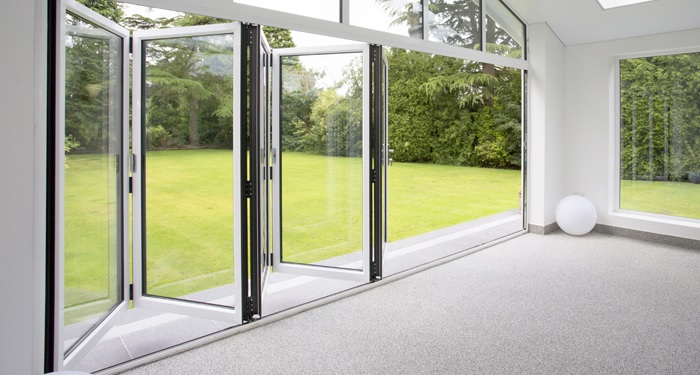 This can create an easy and aesthetically pleasing access point to your garden. It could be opened up to effectively join the kitchen with the garden during the warm summer months.
Perhaps in summer 2022, this could make for the perfect setup to have friends and family over for a post-Covid house gathering.
Painted Rug
One way of sprucing up a kitchen diner extension is with the addition of a 'painted rug' whereby colourful paintwork is added to a wooden floor to create the appearance of a rug, albeit in such a way that it is clearly painted so that it creates a certain aesthetic.
This could sit directly below your kitchen table.
Ombre Paint Effect
A kitchen for dining can be given an extra layer of life with the use of an ombre effect.
This involves creating separate sections/rows of mildly different paint colours (perhaps three to four) up along the wall but without a straight, conformed appearance. Start by painting at the top and then move down to paint each section.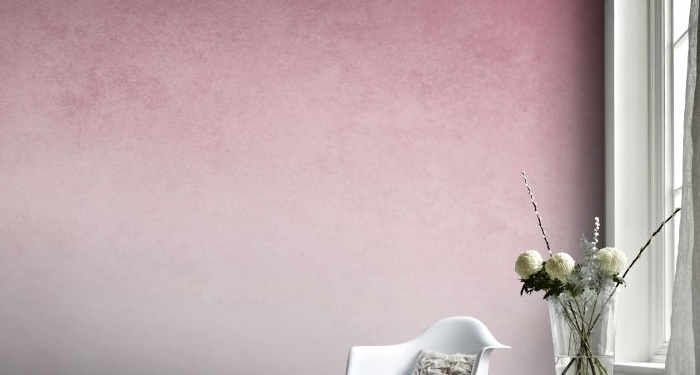 Small sections of masking tape should be used for each horizontal line between the various sections of paint.
Once you are finished, employ a damp radiator roller to provide a feather and thin look on the dividing line between each section of paint colours. This will give a hazy, artistic look.
Create a Country Dining Room
A classic farmhouse look may be preferable for some. Wooden flooring and a wooden dining table are key aspects for creating this appearance.
Foliage, suitable furniture, and other decorations can enhance a country dining room's look and feel.
It's ideal not to go over the top, as this could make the aesthetic a little overpowering.
Neutral Dining Room
It may interest you to create a more neutral kitchen. Neutral paints on at least the lower section of the room's walls can establish a warm feeling.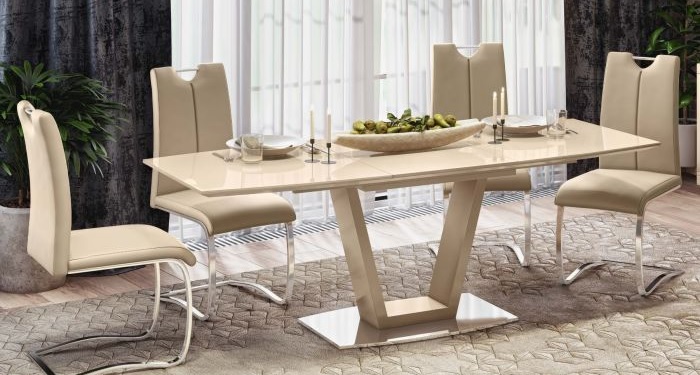 1-3 rows of designed plates should be fitted on floating shelves, standing up to complete the effect.
Other wooden fittings such as a small drawer and wooden chairs with a table covered in a white tablecloth are also additions worth considering.
Rear Kitchen Extension Ideas
With this kitchen style, a structure is added at the back of the property to combine with and extend the kitchen outwards.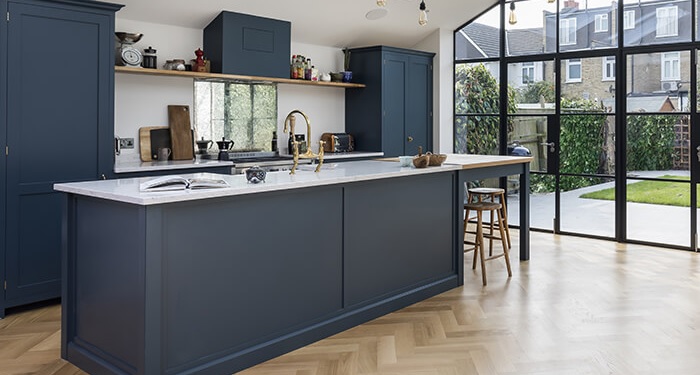 Pitched Roof
This idea is certainly applicable to any type of kitchen extension. However, if you are going through the effort of having a whole new structure added to the back of your property, it would be more cost-effective to consider this option for a rear kitchen extension.
This is ideal for a kitchen with a central dining table.
Having several windows on the ceiling in the form of skylights (preferably three on each side of the roof) can let light in and create a homely appearance.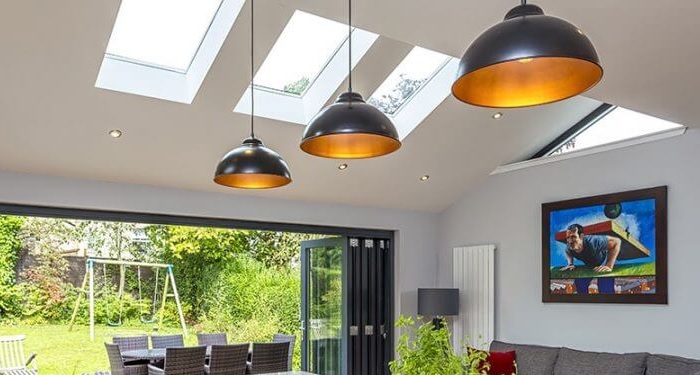 Contemporary furniture is arguably the best option here instead of going with a more cluttered approach.
Skylights
Though they are more often used with pitched roof kitchens, skylights are still an option worth considering if you have a flat roof kitchen.
Either way, they let in plenty of light and significantly enhance the look and feel of the kitchen.
Centralise Storage
If you'd like to have as much open space as possible in your kitchen, it's best to keep the storage units to a specific part of the room.
Whether they are all lined up against one wall or some of them are lined up against a wall with other appliances. Then there is an added row of units a few metres away.
This will allow you to maximise the space available elsewhere in your kitchen.
Side Return Kitchen Extension Ideas
This type of kitchen extension protrudes out to the side of a property and often fills up the space of the side entrance.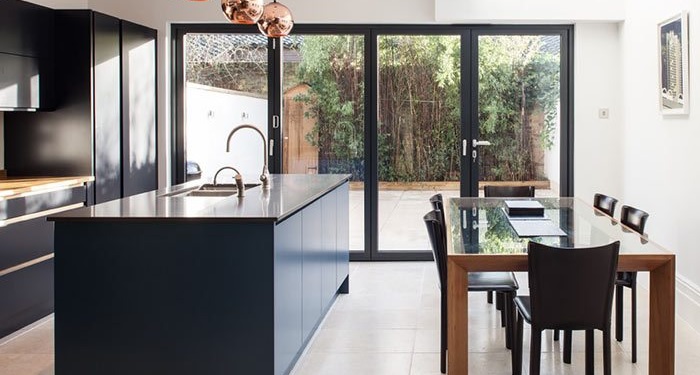 Kitchen Peninsula
An idea worthy of consideration for your side return kitchen extension is that instead of going with a kitchen island, creating a kitchen peninsula. This is essentially a connected island in the form of an L-shape.
It can act as a useful and aesthetically pleasing way of dividing the room. It is a good spot for some overhead lighting too.
Multifunctional Kitchen
With the kitchen extending off to the left or right of your home, you may choose to utilise the new space for a different purpose than the rest of the kitchen.
With a dining table, storage units, appliances, etc. making up most of the kitchen, the newly extended section could be used to add a sofa, coffee table and perhaps even a TV to create a small living space.
Though the kitchen has separate functions, it still acts as a single, cohesive space with better lighting and spaciousness than two separate rooms would offer.
Open-Plan Kitchen
As discussed, an open-plan kitchen could come in the form of a side return kitchen. The added space created with this extension could be used to add skylights and new doors.
These, in turn, could improve the lighting for the kitchen and the feeling of roominess.
Small Kitchen Extension Ideas
In this case, we're referring to a kitchen that, even when extended, is relatively small. Let's take a look at what ideas you might want to take into account for a small kitchen extension.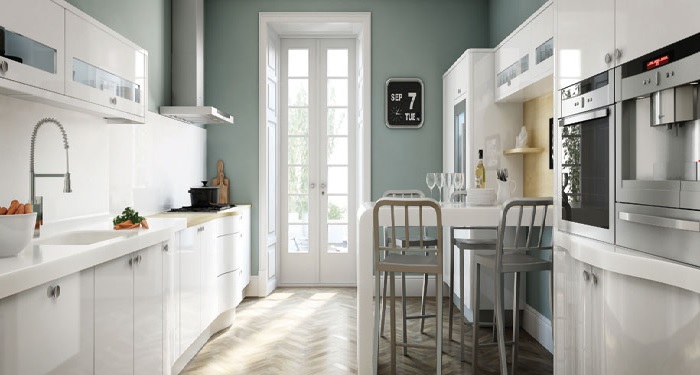 Utilise Walls
To make the most of the limited space you have with a small kitchen, it is best to make use of the walls as much as you can.
By fitting as many appliances and storage units and other fittings entirely along the walls as you can, it will open up the rest of the room.
It may be worth putting a dining table or just a kitchen island in the middle of the kitchen.
Revive Its Appearance
To give your kitchen a new lease of life, you should consider adding neutral colours on the surrounding walls to contrast stronger, more dominant colours on the cabinets.
This will give the illusion of more room between the ceiling and floor, thus adding an enhanced sense of spaciousness to the room.
Flexible Storage
A lesser-known way of saving space in a kitchen is by fitting add in or take away shelves, such as in the form of wire panel shelving.
Adding a wine rack or hanging glasses upside down can improve the look and spaciousness of your kitchen.
Combined Induction Extractor Hob
This idea is well worth a look into. This type of hob saves plenty of space as it means you can throw out a large overhead extractor hood for a two-in-one solution.
You may choose to add cupboards or shelves above the combined induction extractor hob, or you could leave it free to improve the spacious appearance of the room.
Kitchen Extension Flooring Ideas
How you design your kitchen extension is important, and you may choose to have new flooring installed. Let's take a look at some ideas worth considering for kitchen extension flooring.
Stone Flooring
Stone is a popular choice among many homeowners, particularly due to the authentic look they create.
However, you could save money by going with porcelain flooring designed to mimic the look of stone flooring.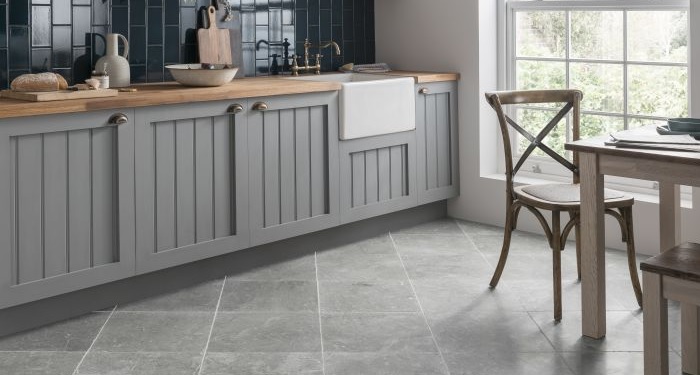 Either way, with the right stone flooring or mimic stone flooring, it can really enhance the look and feel of a kitchen with the right colours.
It's also worth having the stones laid in various sizes as a way to match the varying sized units in the room.
Contrasting Wooden Floors
Timber floors are a common option. They can create a traditional or/and country look, among many other aesthetics, depending on how the rest of the room is designed.
To create a wonderful, contrasting look and feel, it is best to go with dark-stained flooring to contrast walls painted in a lighter colour.
A high, airy, and light-coloured ceiling is also important to complete the look. It's important that you choose wooden floors which are resistant to stains and spills and are sealed correctly.
Conventional Granite Flooring
A more traditional option is granite flooring. Classic granite tiles can match all types of kitchens and are a good choice if you're concerned about spillages.
Aside from its aesthetic value, granite is long-lasting, resistant to stains, and easily cleaned.
Parquet Flooring
There is a delicate, subtlety to parquet flooring that you should keep an open mind to. Parquet flooring in its classical form can be fitted with single blocks or by using engineered wood planks.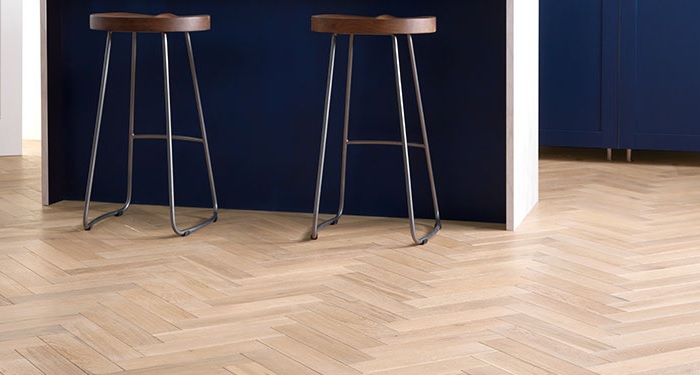 The latter is easier to install. Combining white units and furniture with this type of flooring can complete the look.
Kitchen Extension Worktop Ideas
Let's now move on to the fittings and furniture of a kitchen. First, we'll discuss some ideas for what you could do with kitchen extension worktops.
Retro Classic Designs
The new and the old can be merged to create something slightly different when it comes to worktops. You can be daring and include wooden worktops in an otherwise modern kitchen.
An example, modern and grey timber worktops without handles can pull it off, as can units with country-styled pale blue units with white surfaces.
Granite Worktops
As mentioned, granite is a very durable material and therefore is a great option when it comes to worktops.
Not only is it heat- and scratch-resistant, but it is not prone to staining or water damage.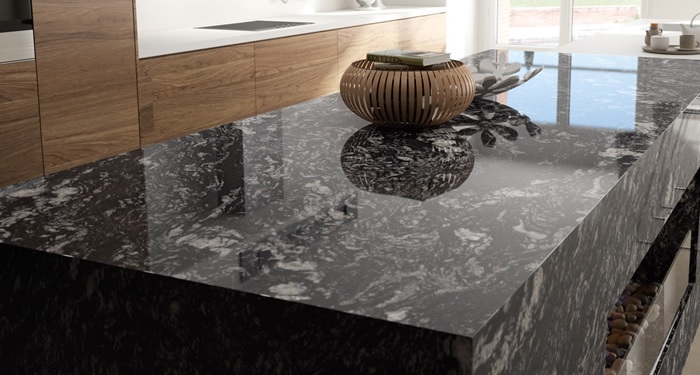 As a natural material, though expensive, granite-based worktops are each unique when it comes to their design and patterns.
There are many colours and designs to choose from. Dark timber cabinets alongside glass floating shelves that resemble those from a bar are worth considering.
They would provide an added touch of sophistication.
Save Money with Laminate Worktops
As would be the case with flooring, laminate is a cheaper option when it comes to worktops than real wood or another material.
There is a wide range of laminate worktop designs to choose from that are able to replicate real marble, granite, concrete and wood, among other materials, for a significantly lower cost.
Concrete laminate worktops can provide a modern, industrial look to your kitchen.
Kitchen Extension Cabinet Ideas
What about kitchen extension cabinets? Where you place these cabinets is particularly relevant when it comes to space and the room's appearance. Let's take a look at some ideas.
High up Cabinets
If you're looking to save on more space, you could fit cabinets high up throughout the room and in places that are more out of sight (e.g. above the fridge).
Of course, you should only do this if you plan to house items in these cabinets that you would like to store but will not use often.
Metal Grate Kitchen Cabinets
This is an interesting alternative to a conventional glass cabinet door or one made fully of timber.
A metal grate is essentially a design consisting of metallic lining that intersects and creates lines and patterns but with plenty of gaps in between.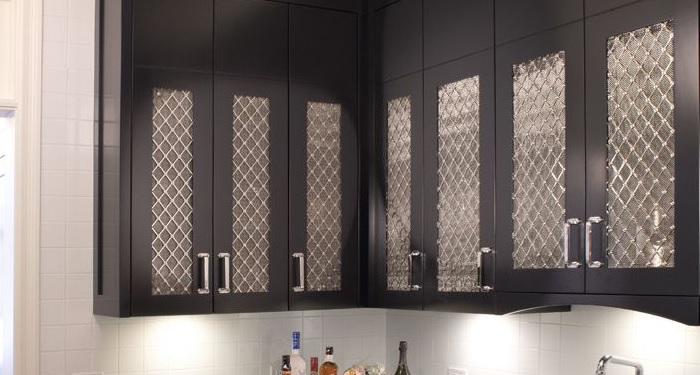 Since you can't see perfectly inside the cabinets, not everything needs to be kept perfectly neat for the kitchen to look spotless.
Further, the appearance of such metal grated doors is aesthetically pleasing and intriguing in itself.
Furniture
Another option to conventional kitchen cabinets is by using furniture such as a shelving unit instead of conventional, built-in cabinets.
A china display cabinet could also be used for this same purpose.
Pastel Colours
For wooden cabinets, a neutral tone such as pistachio green could prove visually beneficial for your kitchen.
Despite its neutrality, pistachio green still has personality and adds a light, refreshing appearance while remaining far from overpowering.
Kitchen Extension Island Ideas
When you've extended your kitchen, there's a good chance you'll want to add a kitchen island, given that your kitchen will now have added space.
Let's discuss some ideas for a kitchen extension island.
Breakfast Bar
For a kitchen design, it is certainly worth making it multifunctional. This could make the room particularly efficient.
You can make your kitchen island into one that is ideal for preparing space, offers room for storage, and has room for several chairs to act as a breakfast bar.
Adding a sink can complete the look and multifunctional utility.
Rounded Edges
A simple but effective way of improving a kitchen island's appearance and safety is by purchasing one with curved edges.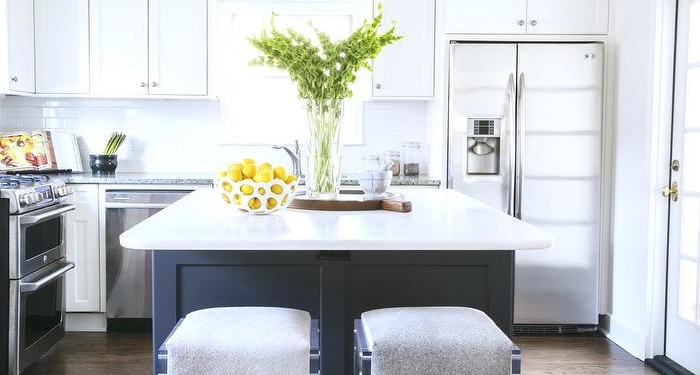 Though more expensive, it means that it's easier to move around, and you don't have to worry about bumping into sharp edges.
It's worth thinking about installing chairs with rounded edges also to complement this style of kitchen island.
Sharp Colour Tones
For some homeowners, they'll want a kitchen island with sharp, brave colours that really stand out.
This would be particularly effective if the kitchen island is in or around the middle of the room and acts as the kitchen's focal point. A deep red might be the colour of your choice.
Kitchen Sink
As mentioned for the breakfast bar idea, in general, a kitchen sink could be a useful and complementary addition to add to your kitchen island. This would be particularly helpful for those with a small kitchen as it's a good way of saving space.
Gold Underside
If you'd like to go with something fancy, a little dazzling, and certainly glamorous, a gold underside could be the right choice. Blue chairs could complement the gold underside to complete the aesthetic.
Kitchen Extension Lighting Ideas
Kitchen extension lighting is a very important consideration for any kitchen. If you're going to spend money and time extending your kitchen, it's something you'll definitely want to get right.
Skylights could be helpful during the day, but if you're not a fan of skylights, you'll want to choose the correct artificial lighting, and even for those who avail of the natural light route, it's important to consider how the kitchen will be lit up during the evening.
Recessed Lighting
These small lights are designed to disappear into the ceiling and can be spotted across the surface.
You may want to go with recessed lights because they can preserve the spaciousness and openness of your kitchen. Without sufficient space, however, recessed lighting won't quite work as it should.
Pendant Lights
These are lights that hang from the ceiling and can come in a range of shapes, sizes, and designs.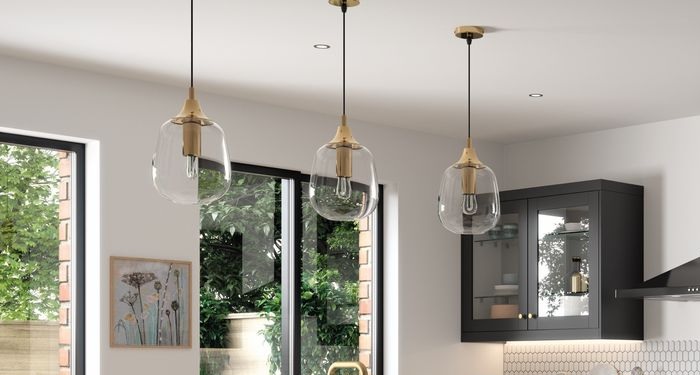 The key advantage to pendant lighting is that it brings the light closer to the parts of the kitchen you are trying to illuminate.
They are a good option if you'd like a form of task lighting. These lights are relatively efficient and have seen a resurgence in popularity in recent years.
Surface Lights
These lights can vary quite a lot too. Whether it be small mushroom fittings with one bulb or fluorescent fixtures featuring several tubes, surface lights are fixed to the ceiling's surface.
They can be used to ensure that a wide area is lit up effectively and may be considered more aesthetically pleasing than recessed lighting by some homeowners.
Kitchen Extension Appliance Ideas
Lastly, we have kitchen extension appliances. There are plenty of ways you could intelligently layout the appliances in your new kitchen and many forms that these appliances are available in.
Hide the Cooker Hood
Earlier, we discussed how you could buy a combined induction extractor hob. However, you could conceal a cooker hood purely for aesthetic reasons by creating an alcove to hide it from clear view.
Wet Zone
For reasons of aesthetics and organisation, you should consider having the washing machine and either tumble dryer or dishwasher together on a given side of your kitchen sink.
This keeps the plumbing to one area and will make work easier and likely cheaper if you need to have pipework dealt with by professionals at a later date.
Turn the Cooker into the Central Point
If you have a small kitchen, you may want to install facilities, appliances and fittings along one wall and a small area on the other side, albeit to the left of the door that leads out of the kitchen.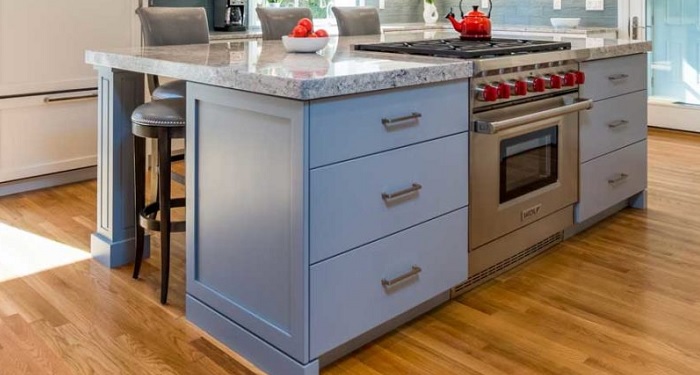 Then, in between the fittings, facilities, and appliances on the left and those on the right, you could have your cooker fixed against the wall.
This is a unique and somewhat unconventional approach that could give your kitchen more character and authenticity. It can also make everything that bit easier.
Move Your Ovens and Fridge Closer
Not many homeowners have contemplated that they could have their ovens and fridge/freezer right next to each other.
There may be unnecessary room between both appliances that could be freed up with this approach in some form or another. However, it's important that you make the right design approach to ensure that it doesn't just look ugly.
Surrounding the ovens and fridge on top and to the sides (the bar where there ovens and fridge meet) with cabinetry of a uniform colour can make this combination seamless.
Sources