Introduction to Ensuite Bathroom Ideas
An ensuite bathroom is your own piece of luxury, and it's conveniently placed beside your bedroom. To make sure you get the best from your ensuite bathroom, you'll want to create one that is perfect for you.
A place where you can unwind after a hard day at work, a place to treat yourself to an afternoon soak or simply somewhere to get ready in the morning in style.
Regardless of how much spare space you have to create your ensuite bathroom, there are plenty of options for you, ranging from the smaller shower and sink spaces to grand freestanding bathtubs and walk-in wardrobes.
Throughout this article, we're going to explore the best ensuite bathroom ideas, with both large and small spaces in mind, and information on how you can create these peaceful spaces.
What is an Ensuite Bathroom?
An ensuite bathroom is a bathroom that is directly connected to a bedroom, offering exclusive access for the occupants.
Now, homes with ensuite bathrooms typically have multiple bathrooms throughout the home in order to allow the ensuite bathroom to be completely exclusive.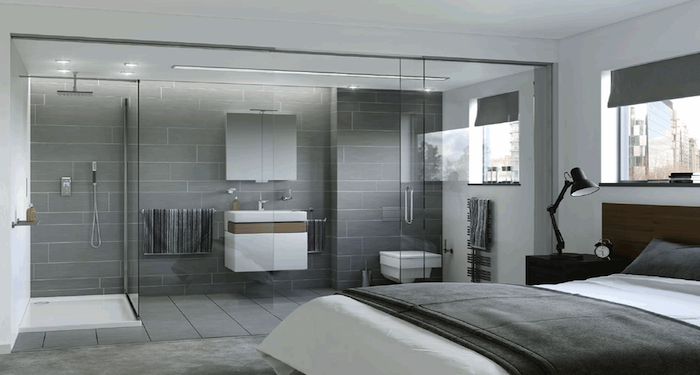 Because of this, it is usually connected to the master bedroom and can range from just a toilet and a sink to full bathrooms with baths and walk-in wardrobes.
The contents of the ensuite bathroom are completely dependent on the style and design you want, and of course, the space you have available.
Small Ensuite Bathroom Ideas
Not everyone has a ton of spare space in their home to create a grand ensuite, complete with whirlpool baths and double sink units.
However, a lack of space is no reason to not have an ensuite bathroom, and even if you only have a space 1m X 3m, you can still have yourself a small ensuite bathroom.
The key to creating a wonderful ensuite bathroom with a small amount of space on offer is by utilising those fixtures and fittings that have a small projection area, which basically means opting for things that cover as little surface area as possible.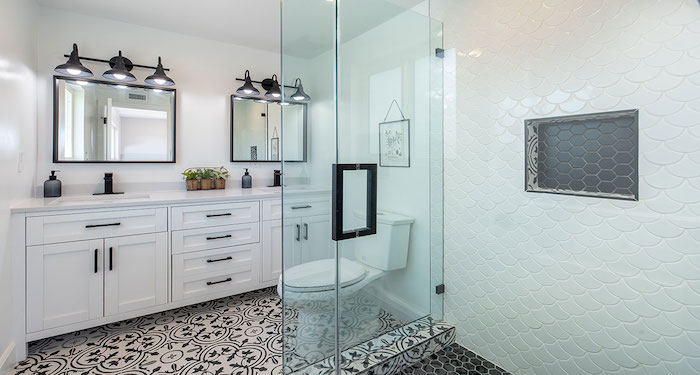 For example, opting for a corner shower instead of a bath takes up at least 3 times less space than a bath does. You can also apply this to other fixtures and fittings like toilets and sinks.
Typically, by situating the fittings in the corners of the space you have available, you'll keep as much floor space free as possible in the centre, making the ensuite bathroom look much larger than it actually is.
Of course, you must also pick fittings that are more modest than others. While it may be desirable to have a large sink unit with under sink cupboards and a wide vanity mirror, it won't be logical for small spaces.
Modern Ensuite Bathroom Ideas
If you are a fan of more modern design aesthetics, a modern ensuite bathroom may be the best option for you.
Now, modern ensuite bathrooms tend to follow the same design spectrum, which presently is square-shaped units, clean and bright white colours, wall hung fittings and unique materials like ceramic flooring and glass tiles.
The preferred white colours are a great way to brighten up the space you have, even if you are limited on the size of the window you have for natural light.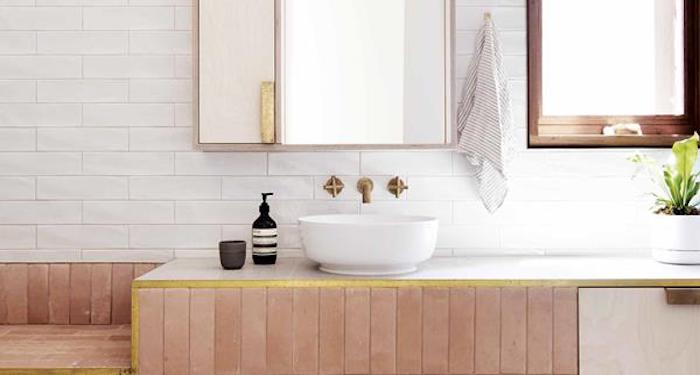 The white colours, especially on materials like ceramic, will really improve the brightness in your ensuite bathroom by utilising light fixtures and more naturally coloured light bulbs like Day Light Bulbs.
Wall hung or 'floating' units have really risen to prevalence in recent years, although floating shelves have been around for many years.
Wall hung units are secured directly onto the wall without anything posting the unit underneath, meaning that there is space beneath the units for more storage if you need it, or you can leave it for the clean and modern minimal look.
Modern bathrooms tend to heavily feature this minimal look, which is actually great for budgets, as clean and simple furnishings put together the overall aesthetic.
Ensuite Bathroom Tiling Ideas
Now, the style of tiling and, in fact, the material of tile you opt for can greatly impact the look and feel of your ensuite bathroom, so it is incredibly important to make the right choice on this.
A smaller or tighter tile pattern can actually make the ensuite bathroom feel a little busier or crowded, whereas larger tiles can almost create the effect of a large amount of space.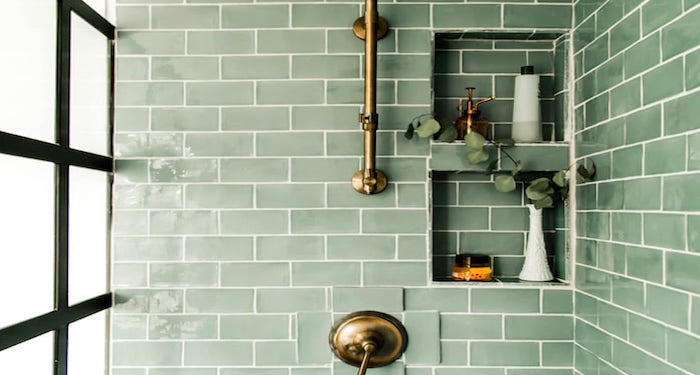 Therefore, if your ensuite bathroom is fairly small, larger tiles will make all the difference in helping it look a little more open. Moving on to the colour of the tiles, it really depends on which aesthetic you are looking to achieve.
Coloured tiles can look much more traditional, similar to that of a Victorian-era décor, which is certainly a wonderful aim for a lot of homes.
However, as we discussed earlier, bright and clean white colours are definitely the way to go if you are looking for a modern look.
Ensuite Bathroom Furniture Ideas
Ensuite bathroom furniture really depends heavily on the space you have available. Suppose you are working with tight spaces, its best to opt for those tall corner units that maximise the amount of centre floor space and prevent the room from looking overly cramped.
However, if you are blessed with more space in your ensuite bathroom, you can really get creative with your options.
Of course, a luxury, freestanding bath would be the centrepiece of any bathroom, so if you have the budget and the space for one, this is certainly a great option.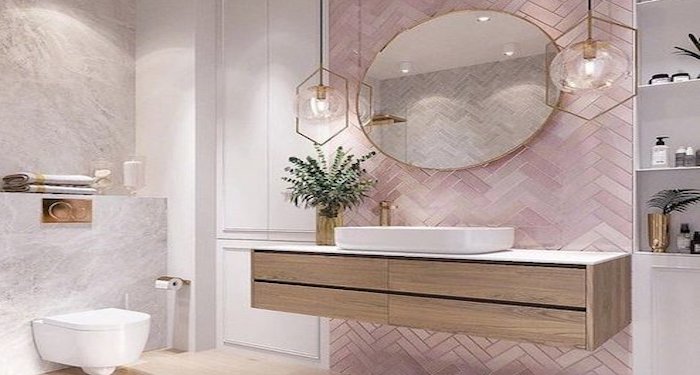 These baths are also available with power jets for an indoor relaxing jacuzzi perfect for climbing into after a tough day at work.
For bathroom furniture, you can look at the toilet, sink and vanity units to amplify the luxury feel throughout too.
Backlit mirrors or spotlights above these pieces of furniture will add to this dramatic luxury aesthetic too.
Ensuite Toilet Ideas
A lot of people overlook just how important the style of toilet is within your bathroom, and some people will allocate very little of their budget to this item.
However, there are a ton of different options to look at, which can contribute greatly to the look of your ensuite bathroom.
Firstly, wall hung toilets are a fairly new and modern addition that will play further into the modern aesthetic of your ensuite bathroom, and it will also minimise the amount of floor space taken up, therefore allowing smaller ensuite bathrooms to look much larger than they actually are.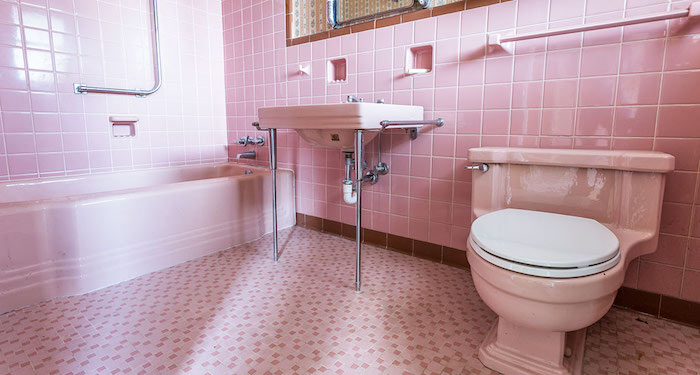 Square shaped toilets are also a more modern choice, and if you opt for a square sink to match any units you have in the bathroom, this ensures a very ordered, crisp and uniform look throughout the bathroom.
There are some toilets that come with a block like wall unit behind them, which may look a little peculiar out of the context of an entire bathroom, but they're great for decorating with flowers, ornaments or perfumes.
All in all, a toilet is a very important aspect of your ensuite bathroom, and ample attention should be paid to choosing the best option for your ensuite bathroom.
Ensuite Sink Ideas
Sinks or, as they are also referred to as, basins, are a huge part of your ensuite bathroom, and the options for different sinks are quite extensive.
Of course, the most common types are the full and semi pedestal basins, which feature a long ceramic stand either to the floor or halfway down the wall.
These are the cheapest to buy but don't offer a great deal in design benefits. Now, wall hung basins are a great improvement on pedestal basins, removing any floor space invading structures while maintaining the minimal and clean look and also contributing to modern aesthetics.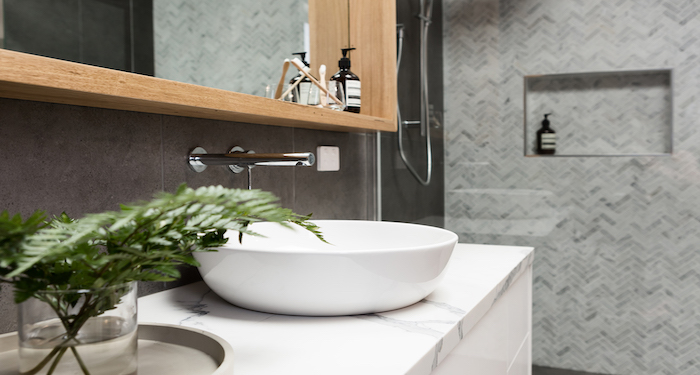 Countertop basins are a very popular option for those ensuites that have enough space within them. Countertop basins have a unit beneath them, offering some nice storage space, and great design quality for the basin above.
These basins are typically made from ceramic, but in recent years there have been more inventive countertop basins available made from glass, marble and some metal materials, and while these types of basin may be a little pricier than others, they certainly look like great quality furnishings.
Ensuite Shower Ideas
As we've mentioned throughout this article, if you are tight on space, corner shower units are certainly the best option to save on space and to prevent your ensuite from looking overly cramped.
Despite the need to keep your shower unit confined to a corner, the best thing about a shower is that they really don't need a lot of space anyway.
You can still have waterfall or aromatherapy showers installed in the same space that a standard electric shower would be installed in, and if you get creative, you can even have more storage within the shower.
A lot of modern showers will have sections cut out into the wall beneath the shower unit, which is perfect for keeping your toiletries or even some small decorative ornaments to add more luxury to your ensuite.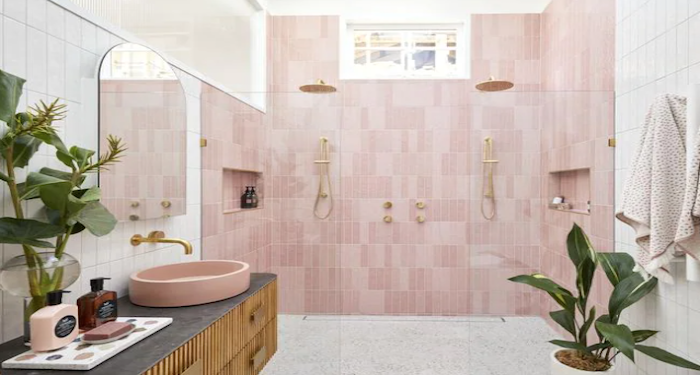 Again, this takes up very little room and can be very handy on a practical level, not just on a decorative level.
Shower enclosures are typically either a sliding door or an opening door, and while a lot of people will opt for the opening door option, if you are a little concerned about the amount of space you have available within the shower, a sliding door is a much better option to go with.
As we mentioned earlier, it's all about minimising the projection of the fixtures and fittings within the bathroom to save as much space as possible.
Of course, opening doors need to have a clearing in order to be fully operational, which could impact the placement of any units, sinks or toilets.
Ensuite Bath Ideas
We discussed earlier how showers are a much better option when compared to baths for a small ensuite, and while this is true, there is a way to have your cake and eat it!
The best thing about a shower is the low projection that it has in terms of taking up floor space, and the issue with the shape of a typical bath is that it takes up too much room.
However, this is for rectangular baths that dominate a lot of floor space but only reach 2 or 3 feet above the floor.
Now, corner baths answer both of those problems by taking up only a little more floor space than that of a corner shower unit, and while you may not be able to lie down in the bath like you usually would, but corner baths are typically a lot deeper to compensate for the loss of length.
Now, looking instead to ensuite bathrooms that have more space at their disposal, the options for baths are quite plentiful.
Of course, if you are happy to have a bath without too many bells and whistles, a simple bathtub will certainly suffice, and even if they are basic in their features, you can still find bathtubs with superior build quality.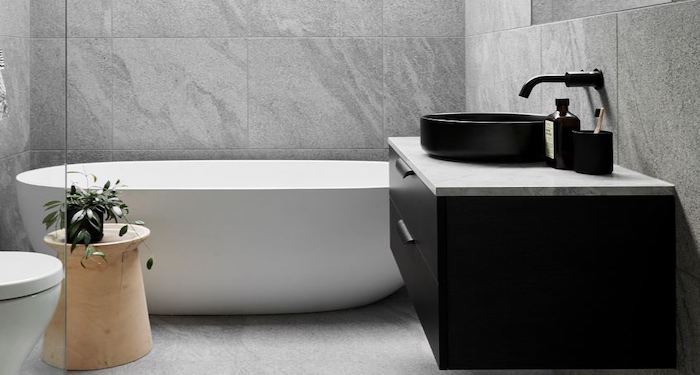 However, if you are looking for a more advanced bath, you should consider opting for a whirlpool bath which gives you all the benefits of a jacuzzi but inside your ensuite bathroom.
Like we mentioned earlier, there is nothing more relaxing or rewarding after a tough day than stepping into your very own whirlpool bath.
Just as rewarding still is an extra deep, freestanding bath, and some people will even install these baths in their bedroom for a more boutique design.
However, focusing on baths within an ensuite setting, freestanding baths beside a window in your ensuite bathroom is an incredible look and creates the ultimate luxury effect.
Some freestanding baths also come complete with very regal looking feet, which mirror that of a bygone era that exuding wealth and high status.
These types of baths are a wonderful contrast within an ensuite designed with modern designs and colours in mind.
Sources