How Much Does It Cost to Repair a Ceiling?
Depending on the size of the room and the style of ceiling, repairing a ceiling might cost anywhere between £400 and £1000.
A professional tradesperson would most likely be required to fix or replace your ceiling, which will cost roughly £150 - £200 per day.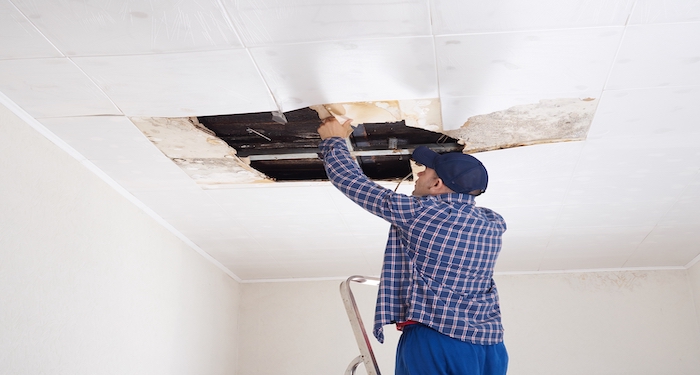 A contractor will typically need to come out and evaluate your ceiling before repairing or replacing it to determine the degree of the damage. They will be able to give you a decent concept of the work that will need to be done as well as an estimate of the costs involved at this point.
The amount of time and resources required to perform the work will be determined by the current condition of the ceiling and how much must be repaired or replaced. Filling in a major hole or flood damage, for example, takes more time and work than filling in a hole caused by a discarded spotlight.
The ceiling material will also affect the cost and timescales. For instance, if the ceiling is constructed of plasterboard (drywall), the job will be completed much quicker than if the ceiling is built of lath and plaster in an older home.
These ceilings are exceedingly delicate and must be handled with care to avoid further damage or collapse. Because of the specialised nature of the material and the skill necessary to deal with it, the cost of repairing or replacing them increases.
If the house is a listed building, like for like replacement will be required under listed building approval. Therefore, removing a lath and plaster ceiling will necessitate the skills of a specialist tradesperson who is experienced with this sort of original material and its application.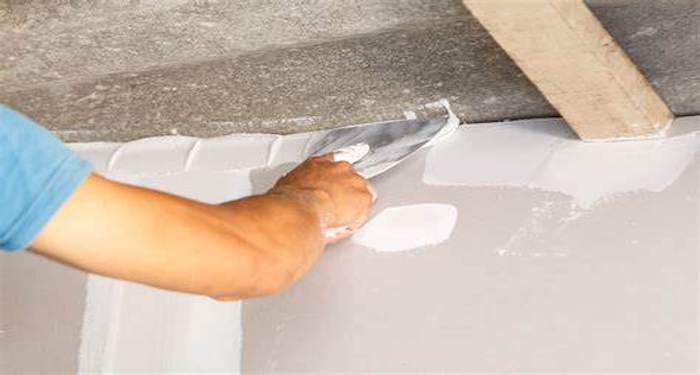 The overall expense of a ceiling repair or replacement can be influenced by the location of your property. The cost of labour in London is expected to be rough £50-£100 higher per day or £5-£15 more per hour than in the North or other regions of the UK.
However, if you live around the Northwest, the cost of labour should be lower.
Repair a Ceiling Prices
The table below sets out the average costs to repair a ceiling in your home.
| Type of Ceiling Repair | Cost |
| --- | --- |
| Full ceiling replacement | £400 - £1,000 per project |
| Small patch and repair work | £150 - £200 per project |
| Remedial simple repairs | £5 - £15 per m2 |
| Plaster a ceiling | £200 - £1,150 per project |
| Water leak ceiling repair | £1,400 - £1,700 per project |
What are the Supply Costs of Repairing a Ceiling?
The supply costs for a ceiling repair will be determined by the scope of the project and the materials used. We'll talk about supply costs alone, not labour charges, so if you're doing a DIY ceiling repair, this will give you an idea of how much materials will cost on average.
Plasterboards are available in several thicknesses and sizes, ranging from 2400mm x 1200mm to 1800mm x 900mm. Square edged, tapered edged, moisture resistant, fire-resistant, and acoustic versions are all available.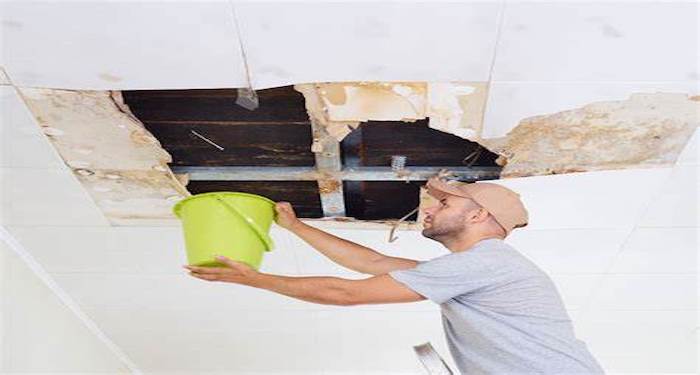 The average cost of a conventional 12.5mm thick 2400mm × 1200mm plasterboard is £6-£7. Drywall screws are available in black phosphate or anti-corrosive bright zinc and come in a variety of lengths, with a box of 500 costing between £5 and £10.
If a patch repair can be completed on an existing ceiling joist, this is a lot easier, even if it involves somewhat opening the hole to reach it. However, a timber batten can be fixed to the joists on either side of the hole, and the piece of repair plasterboard affixed to these noggins if it is not necessarily necessary.
A 25mm x 50mm piece of timber batten will cost less than £1 a metre.
Before applying a plaster skim finish, scrim tape will be required to reinforce any joints. This has a glass fibre reinforcing mesh, and a 90m roll of 50mm wide tape costs roughly £5-£6. A 25kg bag of plaster will cost between £5 and £10.
The following cost table includes a list of extra tools and materials that you might need to repair or replace a ceiling:
| Material/Tool Type | Average Cost |
| --- | --- |
| Drywall screws | £5 - £10 |
| Timber batten | £2 - £6 |
| Bag of plaster (25kg) | £5 - £10 |
| Plastic sheeting | £3 - £5 |
| Scrim tape | £5 - £6 |
| Tape measure | £3 - £30 |
| Wood saw | £5 - £20 |
| Ladder | £60 - £100 |
| Spirit level | £10 - £20 |
What are the Additional Costs of Ceiling Repairs?
It's possible that blending a repair with the rest of the ceiling may not look seamless. Newly plastered and painted sections tend to stand out, therefore you may want to consider redecorating the rest of the ceiling and walls.
Here are some additional costs you may wish to consider when repairing a ceiling:
Plastering
A patchy ceiling is repaired by first removing the damaged plaster. After that, a professional will create a perfectly shaped plaster patch to replace the previous plaster. The patch will then be nailed to the joists with plasterboard nails.
The new plaster will then be held in place with a PVA solution before being covered with a plasterboard jointing compound. The jointing tape will next be pushed into place. A coating knife will be used to apply a second, thicker layer of compound. After that, each of the edges will be feathered with a sponge.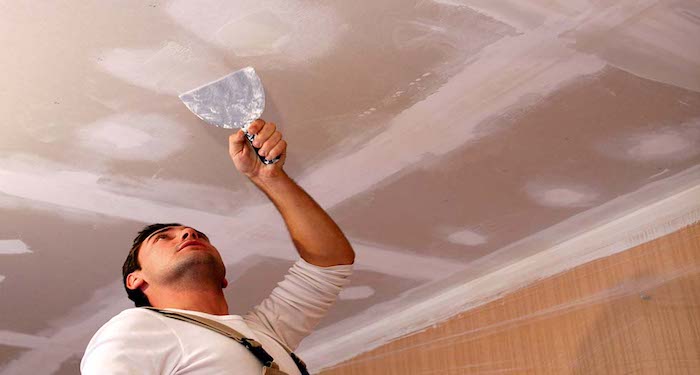 It can be sanded and then embellished when it has cured. The cost of repairing a ceiling is likely to be around £150 to £200 each day; however, the final cost will ultimately be determined by the amount of work required.
The supplies expenses would most likely be around £75 to £85 of the total, with the labour costs being around £50 to £80. The third cost component of the subtotal described above is the waste collection, which will be an additional charge.
Plastering a ceiling usually takes 8 – 12 hours. Therefore, if the tradesperson is working their hourly rate, you will be charged for the duration of the job. However, if a small patch is being plastered it will usually take around 2 - 3 hours for the job to be completed.
Painting and Decorating
After having your ceiling repaired, you may need to hire a painter or decorator to paint and decorate the space to ensure it looks aesthetically-pleasing.
The cost of painting a room typically ranges from £180 for a small bedroom to £500 for a large living room.
For significant decorating works such as painting or wallpapering many rooms, a usual quote for hiring a painter and decorator is from £100 to £300 per day. However, they may simply charge £15 to £40 per hour for smaller painting jobs like painting door frames and kitchen cupboards.
You should budget between £130 and £300 to have a single medium-sized room painted. Decorating work, like painting, typically costs between £14 and £18 per hour. Therefore. the amount you pay for decorating will be determined by the scope of the work.
Most tradesmen charge for their time, therefore, knowing how long a task will take is important to help you calculate the final cost. If you're only having a tiny bedroom painted, it should only take a day to finish; but, if you need any wallpaper or paint removed, you'll need to add another day.
Smaller paint tasks, such as ceiling painting, can take as little as three days in a small kitchen and up to five days in a big kitchen. Other chores, such as painting skirting boards, can take one to two days, whereas painting a door frame can take as little as three to five hours.
Lights
If your ceiling repair has any lights around it then it may be required to move light fixtures, which should be done by a certified electrician. An electrician for this type of job will cost between £35 and £50 per hour.
If an electrician determines that only some of your wiring must be replaced, such as new light fixture wiring, the cost will be significantly lower than rewiring your entire house.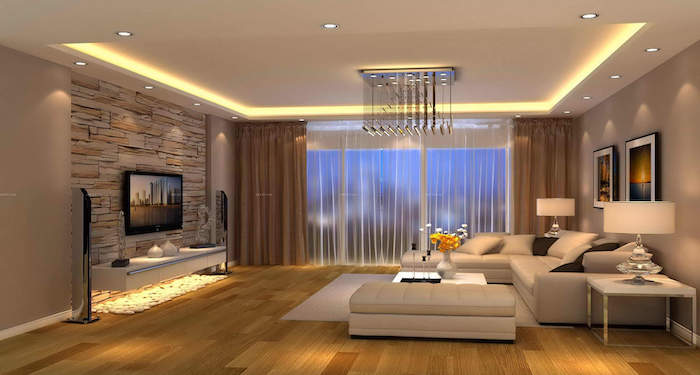 New kitchen wiring costs roughly £500 to £600, external wiring costs around £100 to £200, and wiring an outbuilding cost around £800 to £850.
With the labour costs, smaller services cost between £30 and £60 per hour, whereas bigger electrical installations cost between £170 and £340 per day.
Light fixture installation typically costs between £30 and £340, while a electric socket installation costs between £30 and £180. Smoke detectors, CO2 detectors, and natural gas detectors are often priced between £30 and £120, while fire, burglar, and heat alarms are typically priced between £60 and £240.
Tradesmen Costs for a Ceiling Repair
A plasterer or a labourer will normally be required to repair or replace a ceiling. A plasterer will often charge between £150 and £200 per day, while a labourer will typically charge between £80 and £100 per day.
Small ceiling repairs may usually be finished in a few hours, so you may be able to pay on an hourly basis. This fee is normally between £15 and £20. The cost of labour in London is expected to be rough £50-£100 higher per day or £5 - £15 more per hour than in the North or other regions of the UK.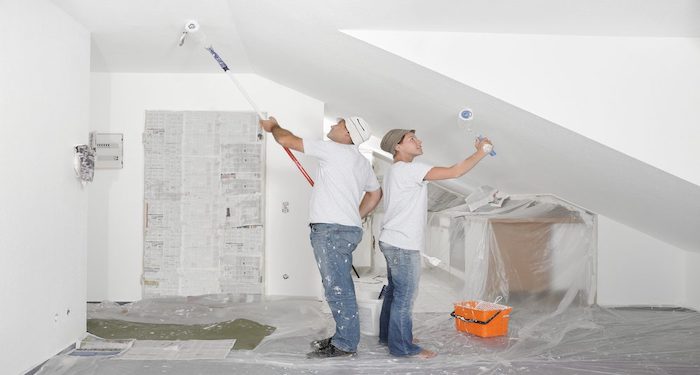 Finding asbestos fibres within a textured ceiling or asbestos cement sheets, which can sometimes be discovered in pre-war homes, are two potential issues. To avoid health risks, asbestos-containing materials must be removed by a licenced and qualified specialist, and it may be better and cheaper to cover such ceilings with drywall.
Older homes may contain plaster cornice or ceiling roses, which must be carefully removed if they are to be kept. Damaged parts can be restored by professionals, but this costs roughly £60-£65 per metre.
To find the best tradesmen is always by getting a suggestion from someone who has had similar work done is always preferable. This allows you to examine their work and get a sense of how they handle a client's property, such as cleaning and using facilities.
Most plasterers are self-employed and have either worked as an apprentice or completed official training at a college, or both. All skilled tradespeople should have proper insurance, such as public liability, indemnity, or comparable coverage.
How Long Does It Take to Repair a Ceiling?
Here, we will talk about how long it takes to repair a ceiling. Therefore, if you're wondering when to have your ceiling repaired then this guide might help you fit it into your schedule.
If the labour is basic and there are no hidden concerns, replacing an entire ceiling should take no more than one day. However, if things are more complicated than a simple repair, the time will increase, or if it is only a small amount of damage the duration could decrease.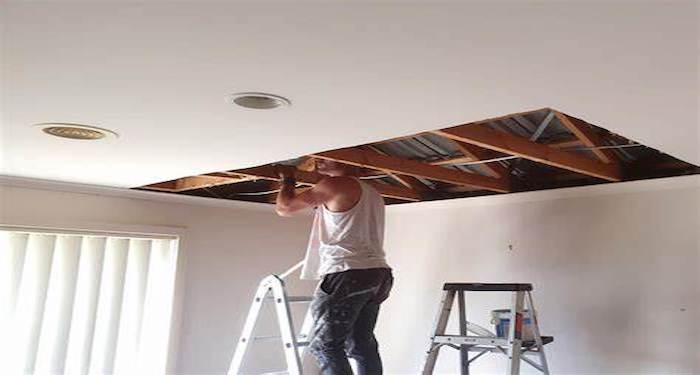 For example, a cracked ceiling repair could be completed in a few hours, and you might be able to negotiate a fee based on the size of the repair rather than a day rate.
The timescale mostly depends on the size of the room. A full ceiling replacement normally takes 1-2 days to complete. It is common for the job to be completed by two contractors.
Types of Ceiling Repairs
Whether your ceiling has started to crack or droop, or it simply needs to be updated to match the rest of your home's decor, you'll want to know what a ceiling repair or replacement entails before you get started. As a result, we've compiled a list of the various types of ceiling repairs that your home may require.
Water Damaged Ceiling Repair Cost
Water leaks, whether from a leaking roof or a burst or damaged pipe, are perhaps the most common source of ceiling damage. Water intrusion can cause significant damage, in either case, it will require extensive repairs.
A stain on the ceiling that expands and does not dry out is usually the first symptom of a problem. If the leak is discovered before any material damage occurs, the ceiling can be left to dry out, stain blocked and repainted once the leak has been repaired.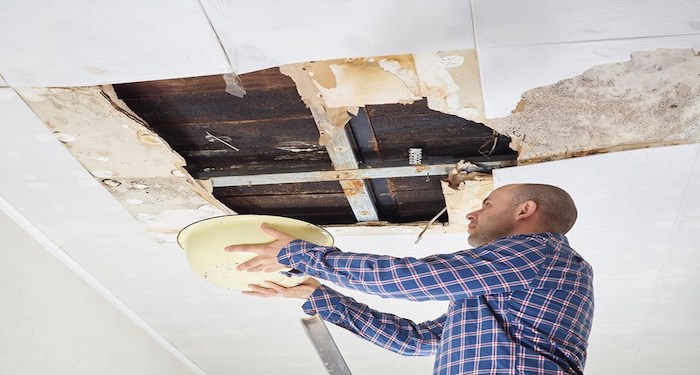 A litre of top-quality stain blocker costs roughly £20-£25. If the water has already penetrated the plasterboard, surrounding joints, and insulation, the damaged area will need to be repaired.
Water damage, whether from a leaking roof or water pipes, accounts for a large portion of ceiling repairs. A new piece of plasterboard is usually affixed to either the joists or newly added battens to replace the damaged area of the ceiling.
The area is then plastered and redecorated when it has dried. The cost of repairing a water-damaged ceiling area ranges from £30-£40 per square metre, depending on whether the ceiling is made of plasterboard or lath and plaster.
Pros:
A water damaged ceiling has been weakened and may collapse
Mould growth is encouraged by damp
The water damage will create an unsightly area on your ceiling
Cons:
Hard to blend in as the repaired area will stand out
Need to hire a professional
Hairline and Settlement Crack Repair Cost
Hairline and settlement cracks should be monitored over time to see if they are getting bigger. A professional will also be able to look at hairline cracks to determine what is causing them. Once the cause of the cracks has been determined, they can be repaired appropriately.
While cracks created by the above are usually superficial and can be quickly repaired, larger cracks could indicate major structural difficulties such as foundation damage or subsidence.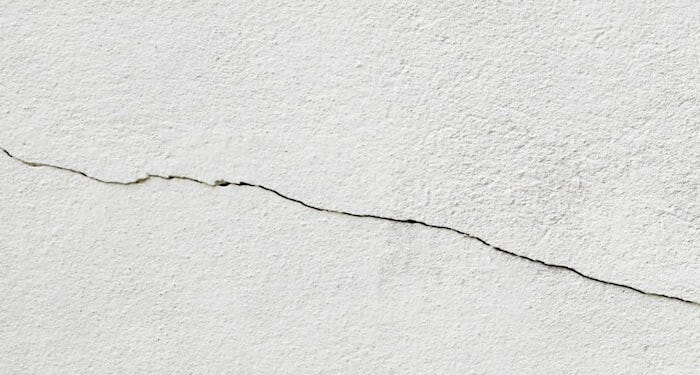 Drainage damage and subterranean leaks, roots from surrounding trees that extend into the foundations and draw moisture from the soil beneath your home, flooding and excessive rains, especially in clay soil locations, can all cause larger fractures.
Pros:
Removes unsightly fractures from the ceiling, restoring its attractiveness
Prevents the cracks from growing larger and causing further harm to the ceiling
As a DIY project, it is sometimes possible to cover it with flexible paint
Cons:
If you repair them right away when they're discovered, you might end up repeating the process a few months later. Wait and see how they progress
Dealing with small, tiny cracks can be aggravating
The filling will show through, and the entire ceiling may need to be redecorated after the repair
Peeling Paint Repair Cost
Damp is a common cause of peeling paint, and the source of the damp should be treated immediately. Allow the surface to dry completely before applying a stain block to avoid 'bleed through' to the painted surface.
Once the stain block has dried, a topcoat can be applied. The cost of a 5-litre tin of white ceiling emulsion ranges from £15 to £35. If the paint hasn't been cured, peeling paint can be caused by improperly prepared plaster. A litre of plaster primer/sealer costs roughly £15-£20.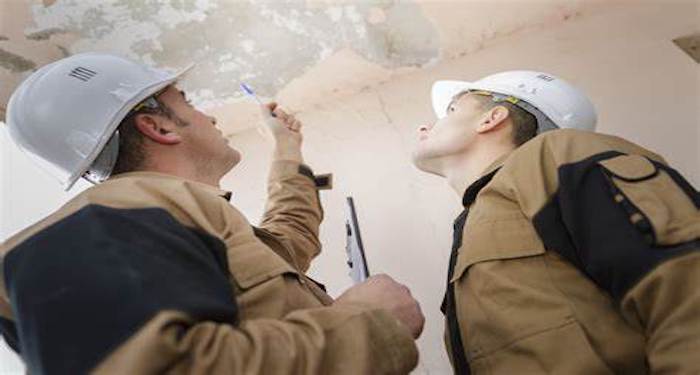 Filling hairline or settlement cracks will cost between £10 and £20 per square metre, depending on whether you're repairing a plasterboard or lath and plaster ceiling. Damp or a poorly prepared plaster surface before decorating might cause paint to peel on a ceiling.
Water damage or improperly prepared plaster before decorating might cause peeling paint.
Before you start repairing peeling paint, you should figure out what's causing it. Repairing flaking paint normally costs between £100-£160. Before any ceiling repair work is done, the cause must be determined.
Pros:
Repairs will make the ceiling look much more appealing to the eye, as peeling paint is highly ugly
If the underlying reason is ceiling dampness, you may be alerted to a previously undisclosed problem
It can instantly improve the appearance of a room
Cons:
Damp can cause peeling paint, which can be a pricey repair job
In most cases, you'll have to replace the entire ceiling to bring it up to code
It can be a very dirty operation to remove flaking paint
Foundation Movement Repair Cost
Cracks in the foundation are usually broader at the top than the bottom and have a diagonal or stepped form. Clay subsurface, failed drains, trees placed too close to the building, and structural flaws can all contribute to this type of movement.
Sagging or fissures in the ceiling may result from interior impacts. Before completing any remedial work on the ceiling, the foundation movement should be addressed and corrected, or else it may need to be done again. Larger cracks can be filled and ornamented over with flexible filler.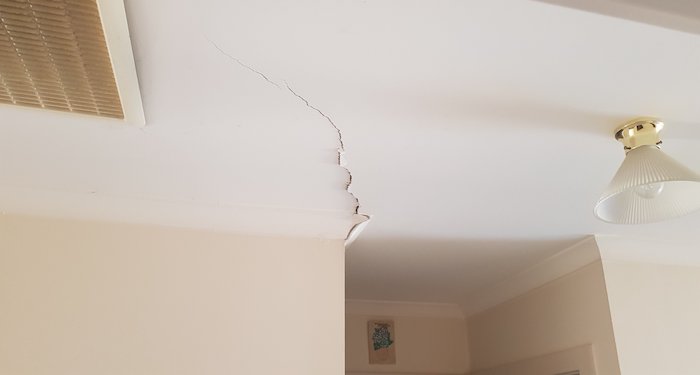 If the cracks in the ceiling are caused by movement in the building's foundations, this potentially dangerous problem must be addressed first. After the required stability has been obtained, the procedure of repairing any cracks can begin.
Repairing fractures caused by foundation movement can cost anywhere between £10 and £18 per square metre, depending on whether the ceiling is plasterboard or lath and plaster.
Pros:
Bringing the ceiling's structure back to life
Repairing unsightly cracks can improve the room's appearance
Internal movement or vibration in the property might exacerbate cracks if they are not fixed
Cons:
Even if the fundamental cause of the foundation movement is fixed, there's still a potential that the fissures will widen
It will be necessary to redesign the entire ceiling
If the cracks are extensive, a specialist may be required to restore the ceiling
Replacing a Ceiling Cost
The cost of completely replacing a ceiling can range from £400 to £600 for a small room to £750 to £1000 for a large room. This will save you roughly £250 if you are experienced in DIY and confident in your abilities to do everything except plastering.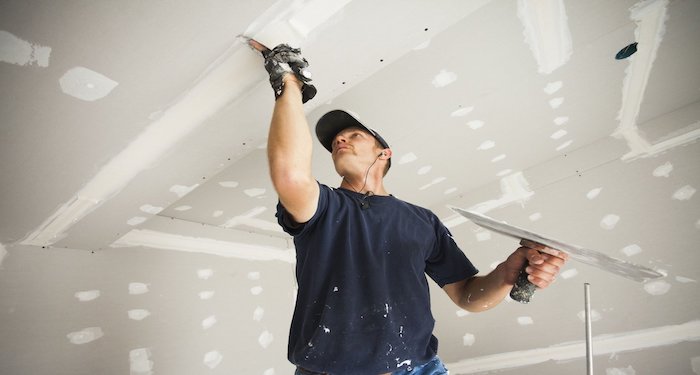 The length of time it takes to replace a ceiling is determined by the size of the space and the number of employees necessary. A ceiling replacement takes five hours on average for two tradesmen in a small room and seven hours in a large room.
Pros:
Good duration
Easy installation
Cons:
Re-Plaster a Ceiling Cost
While replacing a whole ceiling is expensive and time-consuming, re-plastering it can be a viable choice for repairing plaster damage and giving your space a fresh, modern feel while saving you time and money. It's also vital to remember that any structural damage beneath the plaster should be repaired as soon as possible to avoid future problems.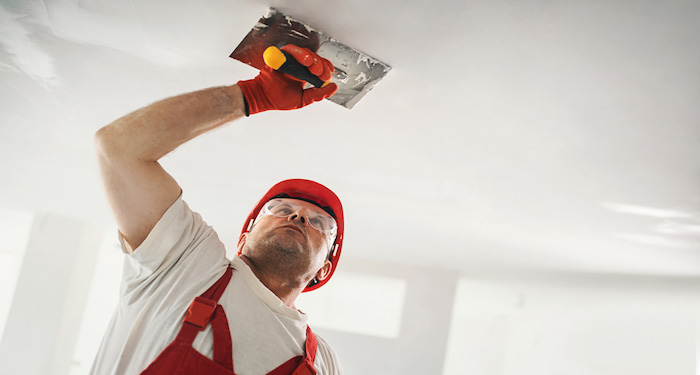 Plastering a small room costs between £200 and £350, a medium room between £280 and £440, and a large room between £425 and £725. The time it takes will differ, depending on the size of your space, but it will take around four hours.
Pros:
Cons:
FAQs
Q: Is it best to repair or replace ceiling plaster?
A: It is recommended that you replace your entire ceiling if you have major sections of damage where a repair is just not possible, or if you want a completely new appearance. As a result, the extent of the damage will determine whether the job should be repaired or replaced.
Q: Can you repair part of the ceiling?
A: Yes, if only a small portion of your ceiling is damaged, a simple repair can be made with a plasterboard patch and dry-lining procedures that do not require plastering skills.
Q: What is the best way to repair a ceiling crack DIY?
A: To remove any loose plaster or other debris that may be inside the crack, score it with a utility knife.
Cover the crack with mesh tape. This will allow the mud to adhere directly to the plaster, strengthening the repair.
If your ceiling is drywall, you may need to use screws to keep the two sections together and smooth out the crack on both sides.
Over the taped crack, apply joint compound.
Sand the ceiling smooth once the joint compound has dried.
The ceiling should be primed and painted.
How do you cover a water stain on the ceiling?
Using a clean sponge soaked in a bleach solution, wipe down the stain. Wipe the damp area dry with a clean cloth after rinsing the bleach solution off the ceiling with water from a spray bottle. Cover the ceiling trim with painter's tape once the ceiling is entirely dry to protect it from priming and paint.
Then, using a paint roller with an extension and a 38-inch nap roller cover, roll the primer over the water spots, then let it dry for two hours or as directed on the primer container.
Then, using a roller, apply paint that matches the colour of your ceiling over the primed area. Allow up to four hours for the initial layer of paint to dry, or as directed on the container, before applying a second coat for equal coverage.
The ceiling should look as though there were never any water stains once the second coat dries.
Q: Is a plasterboard ceiling better than lath and plaster?
A: Plasterboard is significantly less expensive than lath and plaster. It's also less difficult to handle, install, and maintain. Lath and plaster, on the other hand, are more breathable and, as a result, better manage moisture within the home. As a result, both types of ceilings offer advantages.
Q: How long should settlement cracks be left before repairing?
A: A period of cracking will emerge as a freshly built property settles on its foundations or as a house adjusts to the addition of an extension or conversion. Repairs should be postponed for at least a year to enable time for the construction materials to adjust.
Q: Can you paint over ceiling cracks?
A: If you have a lot of ceiling cracks or they recur fast after a previous painting, adding a primer under the topcoat may help to extend the life of your paintwork. Small cracks may be better covered with this slightly thicker, stickier paint.
Q: When should cracks in the ceiling become worrying?
A: Ceiling cracks and drooping suggest a possible structural issue that must be addressed right away. It's almost probably a structural concern if one large, continuous ceiling crack runs across the ceiling and down a wall. For an inspection, contact a foundation specialist immediately soon.
Q: Is it normal for a new house to have cracks?
A: Expansion joints are built into new homes to allow the structure to settle as the materials shift. Minor wall cracks around the expansion joint could result from these small adjustments. In the grand scheme of things, these little wall fractures are insignificant and are a natural part of a new home's settling.
Q: Who do you call for help with a leaking ceiling?
A: A ceiling leak indicates that there is an issue with your home's plumbing or roof. If you detect these issues in your ceiling, you'll need to determine the cause of the problem before attempting to fix it yourself or hiring a plumber to do so.
Sources