How to Make Your Home More Energy Efficient
There is an ever-increasing awareness of the benefits that can be enjoyed by implementing energy-efficiency throughout your home.
According to the UK government, 37% of UK emissions originate from homes and buildings, contributing to climate change and damaging the environment.
From the effects on the environment to the possible financial savings, the journey towards a carbon-neutral home has never been more attractive.
In this article, we'll break down all the different ways you can make your home more energy-efficient, how much it may cost and why it will improve your home.
Solar Panels
Solar panels are viewed as a long-term investment considering the length of time you will benefit from them. Solar panels convert sunlight into electric energy that you can use to power your home, saving you a considerable amount of money on your electricity bill.
Of course, there are several different versions of solar panels, but fear not, we've explained them below!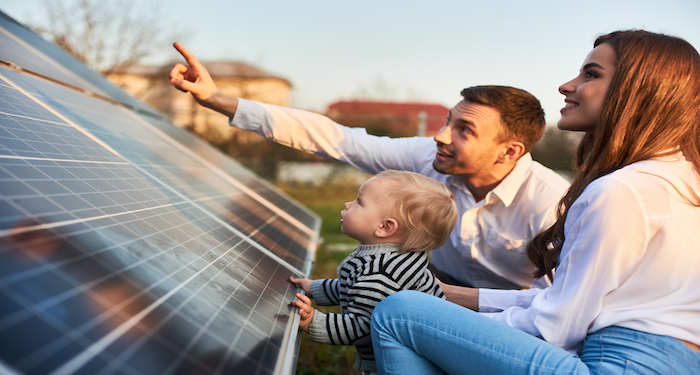 Monocrystalline
These types of solar panels are often considered as the 'premium' solar option due to their sleek look and increased efficiency.
The solar cells are created for these solar panels by forming a single bar of silicon, slicing it into 'wafers', and thus the panel is a single cell or mono, hence monocrystalline.
It's the most efficient as it allows more room for the electricity to flow. These panels have a great looking black hue that is preferred by many.
The lifecycle of these panels is usually around 25 years but, if maintained correctly, can exceed their expectancies.
Polycrystalline
While similar to monocrystalline, polycrystalline is instead made up of several pieces of silicone, providing less room for the flow of electricity and thus making it less efficient.
While polycrystalline panels are slightly less efficient, they are also cheaper to buy. These types of panels have a blue hue look instead of the black look of mono and will last at least 25 years.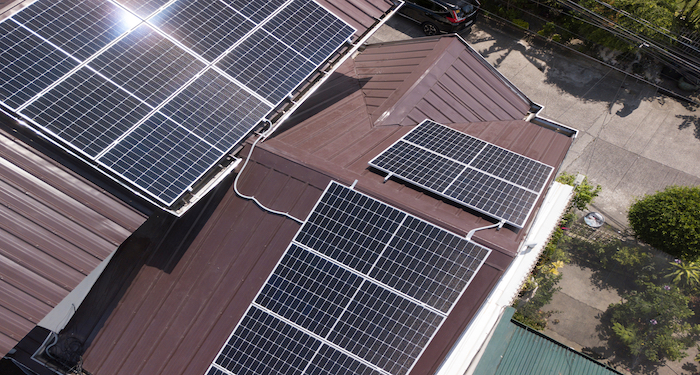 Thin-Film: Amorphous Silicon Solar Panels
Amorphous silicon or a-Si solar panels are non-crystalline solar panels, instead of using several layers of a thin film of photovoltaic material.
The potential for these new solar panels is widely regarded in the industry, and while they only account for around 3% of solar panels currently being used, that figure should accelerate in years to come. There are many reasons a-Si panels are growing in popularity.
Firstly, they are lightweight and flexible, making them versatile and able to use on any home. Secondly, they're built from inexpensive materials like glass and plastic, making them ultimately cheaper to the consumer.
They are affected much less by shady conditions, and their efficiency levels are very high in all conditions.
Concentrated PV Cell
Using the same (slightly modified) photovoltaic technology as their a-Si counterparts, concentrated PV cell solar panels convert sunlight into electricity through an optical system designed to focus large amounts of sunlight onto individual cells to increase their efficiency.
Much like a-Si panels, this technology is highlighted as the future of solar panelling, and its efficiency rates are huge.
Solar Tiles
Solar tiles are miniature solar panels designed to look similar to roofing shingles for those that aren't fond of big panelling. They work in the same way conventional panels work, and there are different types available from different vendors.
Due to their small size, they don't offer the same amount of efficiency that bigger panels do. However, they are a step in the right direction for those desiring a carbon-free home.
INSERT PIC 2
The cost of any solar panel or tile system depends on the size of the system. Here is a handy table to see how much a system would cost and how much this could save you per year.
| System Size | Estimated Costs | Number of Panels | Roof Space | Annual Electricity Bill Savings |
| --- | --- | --- | --- | --- |
| 3kW panel system | £5,000 - £6,000 | 12 | 22 m2 | £160 |
| 4kW panel system | £6,000 - £8,000 | 16 | 29 m2 | £270 |
| 5kW panel system | £7,000 - £9,000 | 20 | 32 m2 | £320 |
| 6kW panel system | £8,000 - £10,000 | 24 | 43 m2 | £430 |
There is also something called an SEG or a Smart Export Guarantee that will ensure that any excess energy that you don't use is paid to you at an agreed rate. There are also numerous grants that can help with the initial cost of your solar panels.
Insulation
Insulation prevents heat from leaving your home while keeping the cold out and is an inexpensive option around to implement in your home that is often overlooked.
Here are the key points of insulation that will aid your journey to a greener home.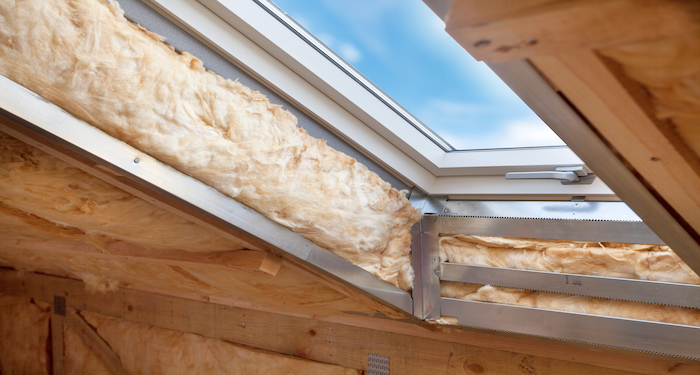 Cavity
This type of insulation helps keep the heat from escaping through the wall cavity's around your home, maintaining the temperature inside your home and avoiding any wall draughts.
The cavity is between the outer and inner brickwork, and the insulation is usually rock or glass wool, polystyrene bead or polyurethane foam.
The cost and savings vary depending on your home size, but for a semi-detached home, the cost of insulation will usually be around £475, with a saving of around £150 per year.
Loft
It's estimated that nearly a third of your heating is lost through your roof, which is a massive strain on your wallet. The UK government state that you could save 20% off of your electricity bill with good loft insulation.
The insulation is laid under the floor of your loft and is usually glass or rock wool, brown cellulose or quilted mineral wool.
Loft insulation will mean you need to use your boiler less, therefore saving you money and reducing emissions in the process.
The average cost for loft insulation for a semi-detached home is about £300, with a saving of £135 per year on heating bills. Not to mention the saving of around 550kg of carbon dioxide into the atmosphere.
Thermally Insulated Renders
Thermally insulated renders are insulated external wall coverings that help to retain heat within a house and are perfect for homes that are naturally cold.
They can actually make savings for you at around 50% by reducing further the heat lost from wall cavities. Venders use different materials to create the insulation, and the costs vary greatly, so you'll always receive a bespoke quote based on the provider and the size of your home.
Energy Efficient Windows
Energy-efficient windows are made up of multiple panes of glass within a sealed unit and are supported by a rigid frame made from either wood or uPVC.
The sealed unit acts as insulation by preventing heat from leaving through the windows, not allowing any air to leak and by helping natural sunlight and warmth enter.
There are two main types of energy-efficient windows, and we've explained them below.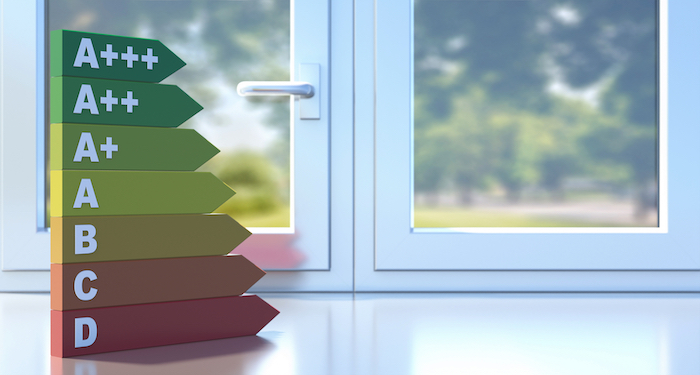 Double-glazing
Double-glazed windows, as the name would suggest, features two panes of glass within the unit, usually around 16mm apart, to create an insulated seal.
In the space between the panes, it is usually filled with argon glass to aid its heating properties from sunlight.
Triple-glazing
Triple-glazed windows are more expensive than double-glazed due to their extra insulation properties generated from an additional pane of glass within the window unit.
The process is still the same as double-glazing but provides an improved amount of insulation.
Frames
In terms of the frames, uPVC frames can be recycled and require no regular maintenance, so they are the preferred option for many.
Wooden frames have an even lower environmental impact but do require a considerable amount of maintenance to ensure they don't deteriorate.
It can be tough to decide which option is best for your home, so here's a little breakdown of the financial aspects of each:
The cost to install double or triple-glazed windows in your home depends on a variety of factors like the style of window, how many you require, the energy-efficiency rating of the windows and how big you require your windows to be.
However, the average cost is around £200-£400 per window to give you a base to consider.
The savings you could make on heating your home differs on the energy-efficiency rating of your windows. For instance, installing double-glazed windows in an average semi-detached home will save you between £85-£70 per year.
Exterior Doors
The British government introduced legislation in October 2010, which stated that all new composite doors must have a 'U-Value' of 1.8W or more.
The U-Value is basically the amount of heat that escapes from external doors. So, it's important to ensure your doors are energy-efficient to not only save money and the environment but to be safe from any fines or prosecution.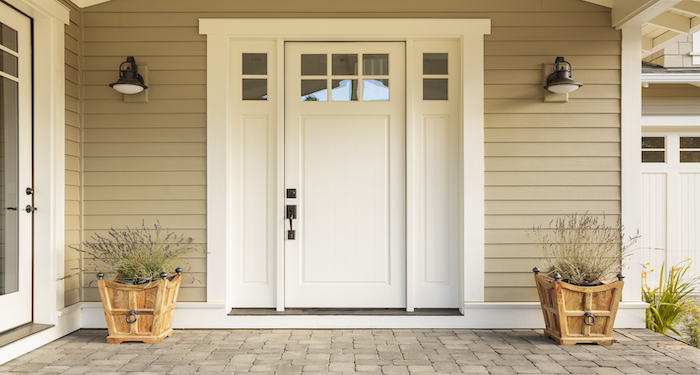 Different providers make energy-efficient doors, and they are usually made from hardwood, softwood, uPVC, composite or aluminium. Additionally, if there is a window on your door, this will be double or triple-glazed to ensure no heat escapes.
Each door will have an energy-efficient rating that will help you decide how much money you could save each year.
Energy-Efficient Heating
Energy efficient heating has grown in popularity in recent years, especially as more become available on the market.
Not only does energy-efficient heating help the environment by burning less fuel, but it can also save you an incredible amount of money on your gas bill each month.
Energy Efficient Boilers
Old boilers waste a significant amount of fuel when powering your heating and hot water systems. Mainly this is due to their age and the reduced amount of technology available when it was installed.
However, new boilers are designed to be more efficient, waste less fuel and are generally kinder to the environment and your wallet. You'll also have the additional benefit of a long warranty and government grants to help pay for a new boiler.
Without the help of a grant, a new boiler usually costs around the £2,000 mark but will save around £165 per year for a semi-detached home.
Energy Efficient Radiators
Energy-efficient radiators are one of the best upgrades you can make to turn your house into an eco-friendly home.
There is an abundance of options available to you in a vast array of styles and designs; however, the most popular option has become dual-fuel radiators.
Dual-fuel radiators have switches on them that allow you to power them using gas from your boiler or by electricity.
This is perfect for using the radiator in only one room, without the need to power the rest of your home, saving on electricity bills and helping the environment by burning less fuel.
Smart Thermostats
The control that smart thermostats offer is enough of a benefit in itself, but there is a long list of advantages to following.
You can monitor the amount of fuel your home is using at any time, with many you can turn the heating off and on without being at home, and it can help you decide where in your home you need to improve to help with energy-efficiency.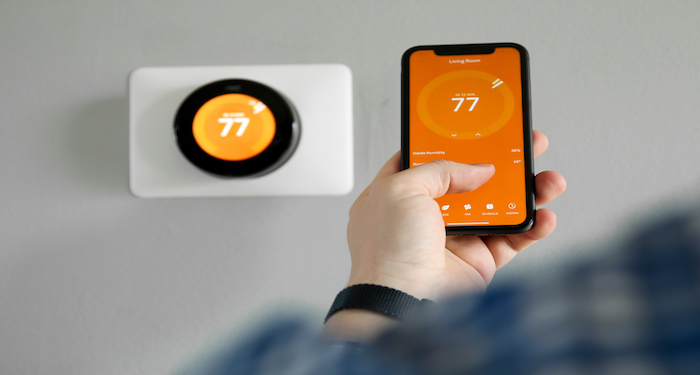 Smart thermostats can be bought by themselves, or as part of smart home packages, so the prices vary. For a standalone thermostat, you will pay around £150 but check with the provider to see if your home is ready for one.
Energy-Efficient Lighting
In the UK, there are two main types of lightbulbs that are energy-efficient, Compact Fluorescent Lamps (CFLs) and Light Emitting Diodes (LEDs).
Both options are really cost-effective and don't break the bank to install across your home. They are also versatile, meaning they will work with most of your pre-existing fixtures.
LED's are certainly more popular due to their increased efficiency and can save you around £40 per year by installing in all of your light fixtures.
Appliances
Something often overlooked by homeowners is the energy-efficiency of the appliances within your home.
When you purchase new electricals for your home, they will state how efficient they are with a grading system from A+ to E. This will tell you how much power is used and, therefore, how much you are burning and spending.
Appliances like clothes drying machines are notoriously expensive to run and can be avoided with other no electrical solutions like clothes maidens and washing lines.
When you're purchasing things like toasters, microwaves and refrigerators, it can be tempting to choose cheaper options, but these options could cost you much more in the future when you consider the running costs.
To lessen the strain on your purse strings and the environment, pay more attention to the energy-efficiency rating of the appliances you buy, and consider paying a little extra for more eco-friendly versions of the same products.
Trying to implement an energy-conscious mindset across your household isn't easy and can take a while to get right.
However, by continuously reviewing how your house runs and seeking advice on how you can further improve the eco-friendliness of your home, you can not only save a significant amount of money, but you can help the environment at the same time.
You may look at some of the savings from each aspect of this article and think that it may not seem like much, but £40 per year saved by using LED bulbs, coupled with loft and cavity insulation, can save you around £250 per year alone.
Add to that energy-efficient appliances, radiators and solar panels and your yearly bills will drop substantially. Check out our other articles for more advice on turning your home into an eco-friendly paradise.