Introduction to Video Doorbells
If you're like most people, you won't pick up the phone if the number on the caller ID is unfamiliar. Many individuals now feel the same way about their front door, why answer it if you don't know who's there?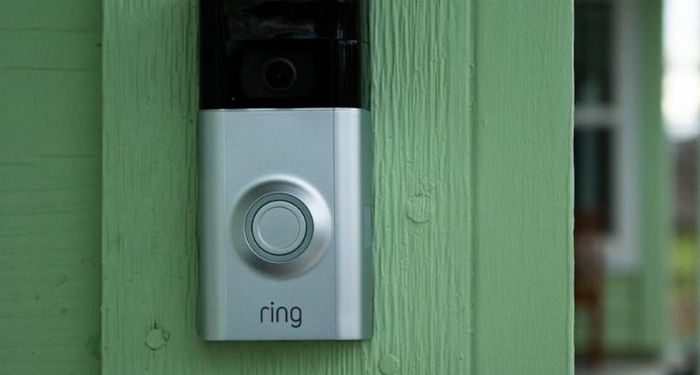 Well, a video doorbell will allow you to see who is at your front door without even looking! All you need to do with a video doorbell is look on your phone and you will see the outside of your door.
Here, we will help you understand what a video doorbell is, how do you use one, the different types and the best video doorbells you can purchase for your home. So, if you are looking for extra safety in your home then this article has been made just for you!
What is a Video Doorbell?
A video doorbell is exactly what it sounds like: a doorbell with a camera attached to it. It's also a WiFi-enabled smart device with motion detectors, recording capabilities, and a speaker that lets you speak to the person at the door.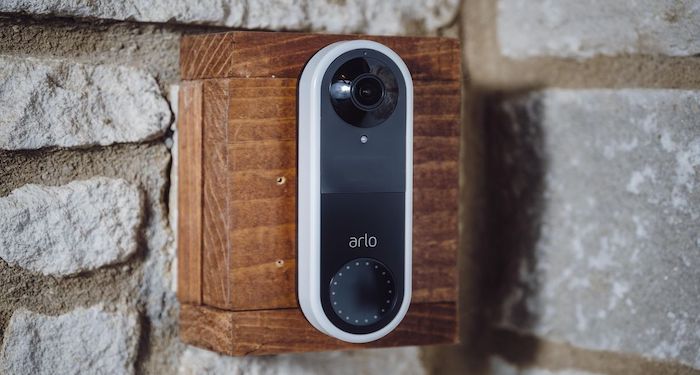 A doorbell camera serves as a caller ID for your front door, allowing you to see who is at the door without having to open it or glance through a peephole. It's a must-have for anyone looking to improve their home's security.
How Do You Use a Video Doorbell?
A doorbell camera links to your home's existing doorbell wiring and chimes, as well as the WiFi network. When a person presses the doorbell, it sounds like a regular doorbell.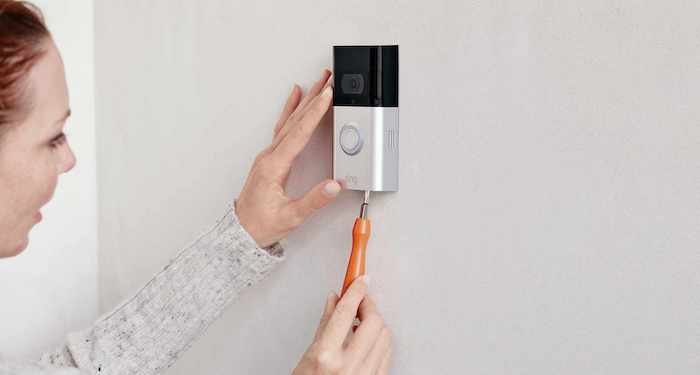 Motion detectors are used in some doorbell camera models to identify when someone is on your front doorstep and begin recording automatically. So, what happens when someone is outside your home?
When someone is at the door, a notification is transmitted to your smartphone via the WiFi connection. When you open the doorbell camera's app, you'll be able to see a live video feed from the camera.
When the doorbell is pressed or motion is detected, some doorbell cameras begin capturing video footage, which you can check at your leisure. You may need cloud storage or portable storage because recorded video clips require storage space.
Many doorbell camera models include a speaker, allowing you to utilise the app to speak to the visitor on your doorstep through the doorbell camera. You can see and speak with your visitor if your doorbell camera has two-way talk capability.
Types of Video Doorbells
Many types of video doorbells are suited for every home. Therefore, if you are wanting to find the video doorbell that will fit your needs then we have created a list of the different types including the pros and cons of each one.
Wireless Video Doorbell
Wireless video doorbells are the most popular as no wires are included and are connected via an app. The ability to use a video doorbell with an app is the primary benefit for most individuals.
Instead of having a lousy app that doesn't load until after the person at your door has left, you'll want to be sure the video doorbell you're buying has outstanding app support so you can connect to it fast to see who is at your door.
Motion Sensor Video Doorbell
Motion sensors in doorbell cameras can be used to inform you when someone is approaching or departing your front door.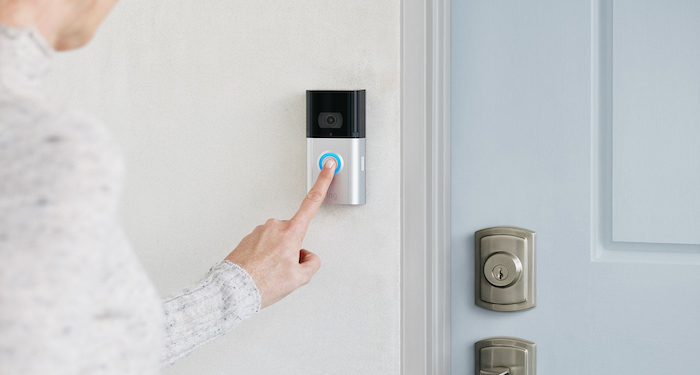 Some doorbell cameras include advanced functionality, such as the ability to monitor only certain zones while ignoring the others. Perfect for homes near a busy street where you don't want to be bothered by motion alerts every time a neighbour drive by.
Long Range Video Doorbell
Long-range wireless doorbells, on the other hand, can carry clear signals up to 500 feet (for smart doorbells) or approximately 3,000 feet (for other types of doorbells).
Long-range wireless remote doorbell systems have a longer range of operation, making them ideal for large properties such as office buildings, driveways, warehouses, farms, barns, or huge second homes.
Short Range Video Doorbell
A short-range video doorbell is best for people who work on a busy street as it won't give you constant notifications when cars go by however can detect when someone is close to your house.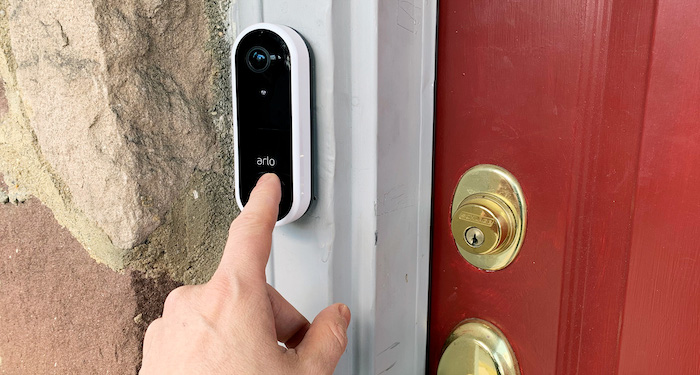 They won't be able to see as far as a long-range doorbell however they still work just as well as other video doorbells.
Battery-Powered Video Doorbell
The rechargeable battery that comes with your video doorbell is designed to keep your gadget running without the need for external power. Regularly, it will need to be recharged.
With moderate use, the rechargeable battery can last months between charges. This is determined by a variety of aspects in your home's environment, including the weather and the number of activities recorded.
Portable Video Doorbell
Wireless portable doorbells that come out of the box are the simplest doorbells to install, configure, and relocate.
When attaching the portable doorbell to your front door, you won't have to run any messy cables or dig any holes. They are also good if you are going to move as you will never need to buy a new one when you move into a new home.
Best Video Doorbells
Video doorbells have become huge all around the world and there are so many different models to choose from. So, we have a list of the best video doorbells you can buy for your home. So not sure what video doorbell to choose? Read this list to find out!
Best Wireless Video Doorbells
Arlo Essential Video Doorbell
You have the option of hardwiring or using the Arlo Essential Video Doorbell on battery power, providing you greater flexibility in how you utilise it. It also provides you with additional information about who is at your door, thanks to a 180-degree diagonal view that allows you to see more.
The capacity to leave and receive messages is the best feature. You can notify any guests or delivery people where to put a package by leaving a quick voice message.
They can also leave messages for you to listen to when it is convenient for you. Arlo's doorbell features a built-in siren, which sets it apart from Ring and Google's offerings, and you can set it to activate automatically or manually using the app.
PROS
Built-in siren
Pre-recorded messages
CONS
Some features require a subscription
Ring Video Doorbell
This doorbell allows you to see and chat with whoever is outside your home before opening it, preventing you from coming face to face with an intruder.
It's one of the more secure wireless doorbells available, with a 1080p HD monitor and display for video chats between your doorbell and a connected device. This is especially true when you consider the high-resolution night vision system that has been installed.
PROS
Works with Alexa
Monitor sensor and display
CONS
There may be connection issues
The video stream can take a while to come up on your device
Ring Door View Cam
The Ring Door View Cam is ideal for anyone renting an apartment because it fits easily into an existing peephole and requires no drilling.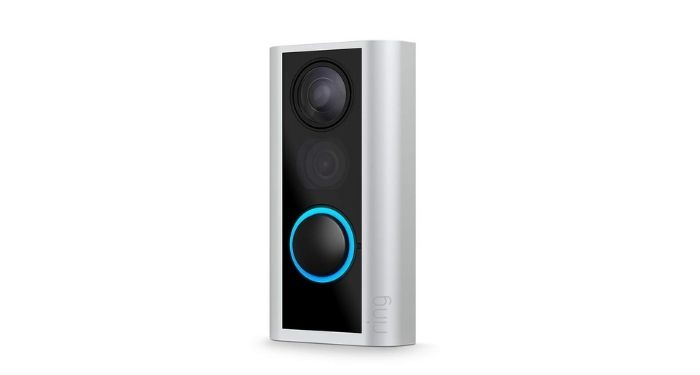 Again, you get 1080p HD video and two-way audio, as well as the excellent Ring app, so you shouldn't be dissatisfied with any of the Ring cameras on this list. As you might anticipate, Alexa support is provided.
It's another amazing Ring alternative, with built-in knock detection and night vision. It's also possible to create privacy zones that the doorbell won't be able to view, allowing you to close a door down the hall.
PROS
CONS
Only needed for certain situations
Ring 3 Plus Video Doorbell
The battery-powered smart doorbell from Ring is larger than the Video Doorbell Pro, but it has many of the same outstanding features. It may be powered by the wall outlet if you like, and the battery is also removable, so you don't have to remove the entire doorbell off the wall to recharge it.
There's also complete Amazon Alexa connectivity. If you have an Amazon Echo, you can set it to notify you when the doorbell rings or motion is detected, and you can use the smart speaker to chat with the person at your door.
PROS
Clear video and audio
Pre-roll feature
CONS
Limited features without a subscription
Toucan Video Doorbell
The Toucan wireless video doorbell is popular because of its simplicity, ease of use, and the fact that it is battery-powered, allowing it to be mounted almost anywhere. It also has a 180-degree field of view, which means you can see things that regular doorbells can't.
For those who come knocking at the door, there are pre-recorded options available, as well as a premium subscription. Others on this list may have greater motion detection, but for the price, this is a nice alternative.
PROS
Easy to use
Pre-recorded messages
CONS
Not the best motion detector
Best Motion Sensor Video Doorbells
Ring Video Doorbell Pro 2
The Ring Video Doorbell Pro 2 is a mains-powered video doorbell with excellent clarity and a variety of advanced motion detection functions.
It costs more than the ordinary Ring doorbell, but for that money, you get a camera that can capture 1536p footage with a wide 150-degree field of view, as well as HDR processing and colour night view.
You'll also benefit from excellent motion detection. It also allows you to specify how close items must be to trigger an alarm, which is very handy for residences with short front garden paths.
Its most prominent characteristic. It enables the camera to record full-resolution video footage for up to six seconds before motion is detected.
PROS
Good image quality
It allows you to choose a motion detection distance
CONS
Ring Video Doorbell Wired
This is a hardwired doorbell, therefore it may not be suitable for renters or people who want to relocate soon. However, this has its own set of advantages for everyone else, including the elimination of the need to be constantly recharged. It features a fantastic motion detector that will alert you if someone approaches your home.
And it comes with pretty much everything you'd expect and desire from a Ring Doorbell, except for some features and specifications. Of course, you won't get third-party chime support, Alexa greetings, or a variety of faceplates, but that's about it.
PROS
CONS
Eufy 2K Video Doorbell
The Eufy 2K Video Doorbell has a lot going for it, not least the video feed's 2560 x 1920 pixel resolution, which means you'll be able to see who or what is at your door. HDR improvements and distortion correction have been applied to the image.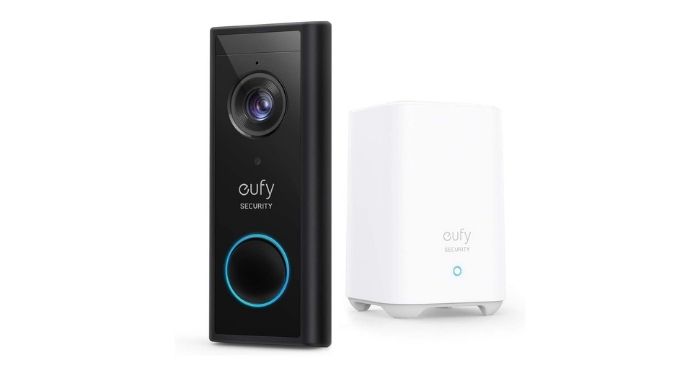 The powerful AI in the camera ensures that only humans activate the motion detection feature, and the doorbell also includes a complimentary electronic chime (offering no less than eight ringtones). There's also support for activity zones, as well as Amazon Alexa and Google Assistant connections.
PROS
CONS
The app isn't as good as others
Ezvis DB1C Wireless Video Doorbell
This great AI-enabled smart doorbell works by employing person detection to prevent the bell from being triggered unnecessarily by animals wandering by, for example.
Users liked this option because it was one of the more straightforward video doorbells on the market, compatible with both Android and iOS, functional over both Wi-Fi and mobile internet, and simple to set up and connect to your devices.
PROS
Easy to use
Compatible with different phones.
CONS
Remobell S Video Doorbell
The RemoBell S is a low-cost video doorbell with a slew of capabilities, including motion detection, free cloud storage, Alexa and Google voice commands, and IFTTT integration with other smart devices. It's inexpensive and comes with clear HD video, motion detection, and two-way audio.
PROS
Free cloud storage
Easy to install.
Works with Alexa and Google.
CONS
Wired
Video is recorded in fisheye mode
Best Long-Range Video Doorbells
Vuebell 4111 Wi-Fi Doorbell
It has the same basic functionality as the £100 model, and the video and sound quality are acceptable. Its vertical field of view is broader than some of the top models, and it also offers excellent night vision. Plus, the chime unit is included, so it functions as a traditional doorbell with a chime while also notifying you by smartphone.
The software works nicely, allowing you to set the camera to record movies or take photos, as well as alerting you if somebody is approaching your front door.
However, you won't be able to link it to other connected devices or smart home platforms, and it will need to be wired, which will run you back a few pounds.
PROS
Offers night vision
Connected by an app
CONS
Can't link it to other devices
Nest Hello
The Google Nest Hello is a great alternative for people who aren't planning on moving anytime soon. It must be plugged in, but this has its advantages, such as the fact that the batteries will never need to be recharged.
One of the best features of the Nest Hello is its cross-platform compatibility, which means it can be used with both Google Assistant and Alexa. This makes it easier for people who already have a smart home setup that they want to combine with their new doorbell.
The 2K video stream lets you watch your entire front porch, with visitors visible from head to toe. If you don't want to answer the door, you can leave pre-recorded voice messages on the doorbell.
PROS
It has cross-platform compatibility
You can leave pre-recorded messages
CONS
Ring Video Doorbell Pro
The 'Pro' type of Ring's doorbells requires hardwiring, but it boasts a thinner, more elegant design and a somewhat larger field of vision.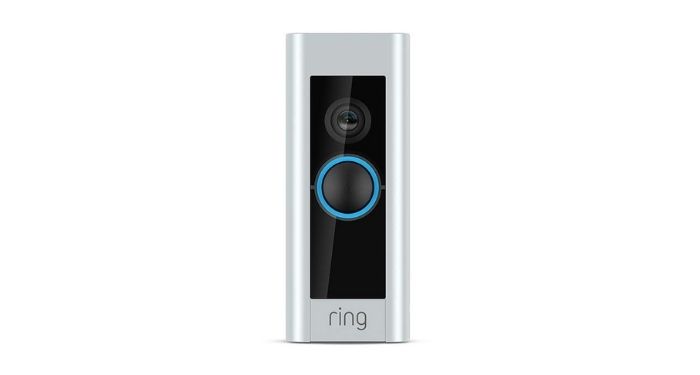 The Ring Pro's key selling feature is the smaller unit, which is significantly more compact and looks better in both older and newer homes. It also has improved dual-band Wi-Fi for faster connectivity, colour night vision, and Alexa Greetings, so your home can practically answer itself if you aren't home.
PROS
Slim design
Alexa smart home support
CONS
More expensive than other Ring models
Netatmo Smart Video Doorbell
The mystery exchange student who lit your sixth form on fire is the equivalent of this Netatmo bell. Super-chic, ultra-private, and elegantly stylish.
This camera keeps everything locked down in addition to having a beautiful, modular silver/black/grey style that will look nice in mid-century mod houses.
There is no cloud storage; instead, video is recorded locally on a microSD card that is included. Simply ask Apple's assistant to show you who's at your door, and your iPhone will display a live feed. It can also ring on any HomePods you have, as well as play a video of your visitor on any Apple TVs that are connected.
PROS
CONS
Arlo Essential Wired Video Doorbell
The Arlo can distinguish between people, animals, parcels, and automobiles, and it has a unique square aspect ratio that captures your entire doorway from top to bottom (and a few sides for good measure), all while providing excellent video quality.
The doorbell camera works in tandem with Arlo's other security cameras in the Arlo app, which also employs geofencing and scheduling to turn off your cameras when you don't want them recording. When watching a live view, even if it's hardwired, there was some lag and buffering. We also encountered problems with two-way communication and being able to hear individuals.
PROS
CONS
Best Short-Range Video Doorbells
Arlo AVD1001
When someone rings the Arlo doorbell, you get a call to your phone immediately, alerting you to their presence, making it far more difficult to miss those crucial deliveries. If you're not at home, you can even record pre-recorded messages to rapidly respond to visitors.
It's weatherproof, and like the others on this list, it has a night mode that makes it easier to see who's at the door late at night. The Arlo smart service, which expands the functionality and saves your recorded clips for 30 days, is available, but it is a membership option.
PROS
Good night vision
Leave pre-recorded messages
CONS
Ring Door View Cam
The wireless Ring Door View Cam, commonly known as the Peephole Cam, replaces your front door's traditional peephole. The Ring Door View Cam will detect motion using high-quality video resolution and record video after it is installed.
A 1080p camera with High Dynamic Range (HDR) technology and three infrared LEDs for night vision are included in the package. Motion sensors may be customised via the Ring app, and the microphone and speaker support two-way audio.
Installation is also simple. Place the doorbell on the door and feed the cable and tube through the existing peephole, then pull the back half of the camera into place and secure it with a retaining clip.
PROS
East to install
Two-way microphone
CONS
Some features require a subscription
Amcrest SmartHome Video Doorbell
This doorbell is not only inexpensive, but it also includes a couple of different storage options for your footage. This includes using the device's SD card, online storage, streaming to an Amcrest DVR, or third-party applications like Blue Iris.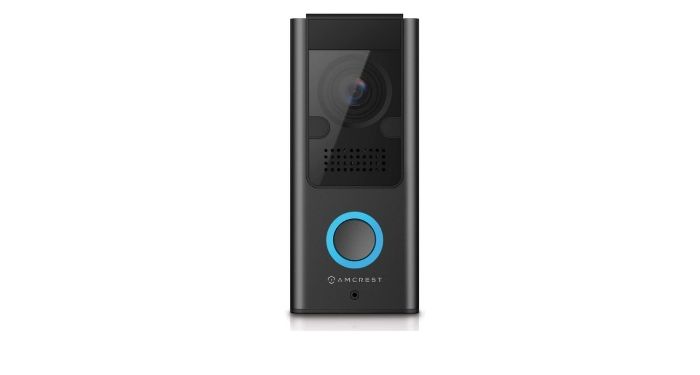 Amcrest has provided some tweaking options inside the motion detection part of its app if your doorbell is prone to be triggered by walkers or cars. If you wish to mute motion warnings during rush hour or busy times of day, you can modify the sensitivity of the PIR motion sensor or set a schedule.
PROS
Option to turn off motion sensors so it doesn't go off
Good for living on a busy street
CONS
OgleMan Smart and Wireless Video Doorbell
The OgleMan has a 2-way video communication system, an adjustable motion sensor, and auto-switch night vision to provide you with crisp, HD video surveillance 24 hours a day, seven days a week.
It has a 1080p camera and real-time notifications when it detects someone within a 10-meter radius, just like most high-end video doorbell cameras.
It can also be adjusted from high to low levels, depending on your location and security requirements. The OgleMan's audio capabilities include a built-in microphone with noise cancellation on the device's front side for improved conversation.
Finally, the OgleMan is weatherproof, ensuring that the device will endure for a long time.
PROS
Durable
Adjustable sensors
CONS
Reviews say it feels like plastic
SB1Vix Smart WI-FI Video Doorbell
The SB1Vix also includes several useful features that improve home security for all homes. With its 2-way video communication, 720p camera, and noise-cancelling feature, you can see, talk, and hear all your visitors at any time and from any location.
When a PIR motion sensor detects movement, it delivers real-time notifications to your smartphone.
All these wonderful features are simple to set up. Simply place the device at your front door, connect via WiFi, download the App, and use your smartphone to handle all your welcoming needs.
PROS
Although it is short-range it makes up for it by having amazing image quality
Two-way communication.
CONS
It sometimes randomly disconnects from WIFI.
Best Battery Powered Video Doorbells
Eufy Video Doorbell
This doorbell is battery-operated and so just as simple to set up as the Ring. If you don't want to bother charging it, you can connect it to your existing doorbell wiring, though with a claimed battery life of up to six months, that shouldn't be a problem.
With a resolution of 2,560 x 1,920, image clarity is great, and notifications arrive on our phones instantly. Although no facial recognition is available, you can establish motion zones and receive messages only when individuals are detected. This device connects to your Wi-Fi router and serves as an internal chime. If you can't hear the chime in the house, you can have it ring your Amazon Echo Dot.
PROS
Battery life claims 6 months.
Good image quality
CONS
No facial recognition is available
Ring Video Doorbell 3
Although it does not appear to be very different from the previous model, it does include certain enhancements. Better Wi-Fi is the most significant of these. That means your connection to the doorbell may be more reliable, though if your Wi-Fi router is far away from the front door, you may consider purchasing a Ring Chime Pro to boost wireless range and reliability.
users can choose a new "near" motion zone, which means the camera won't warn you if individuals simply stroll past your front gate. Pre-roll allows the camera to collect film four seconds before motion is detected, however, it will cost an extra £20 to enable this feature.
PROS
Can change settings to detection sensors
No need to wire it up
CONS
Ring Video Doorbell (Gen 2)
The sensor has been updated from 720p to full 1080p, there's new motion-sensing and night vision, and there is a slew of other improvements that make this the greatest video doorbell you can buy today, pound-for-pound.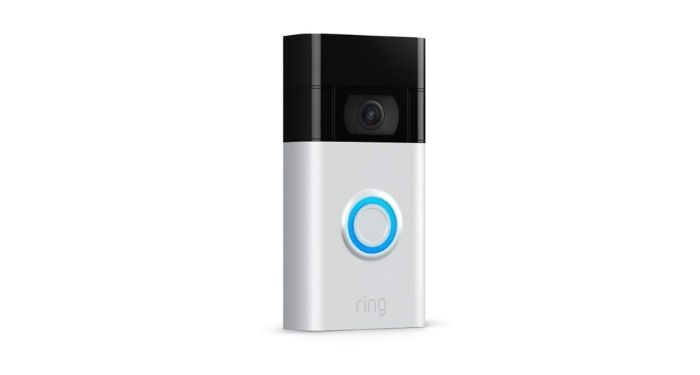 The fact that you'll have to detach the Ring Video Doorbell from its wall mount to charge it is one of them, but this is something you'll only have to do every couple of months.
There is a cost for storing your footage in the cloud. You'll have to buy a genuine chime if you want one. Despite this, the All-new Ring Video Doorbell (2nd gen) is an excellent choice, even if its name is difficult to remember.
PROS
Affordable
Good motion detection and night vision
CONS
Ring Video Doorbell 4
You may easily remove the rechargeable battery and replace it with a new one with this model. Inside, you'll find somewhat improved hardware, as well as a little modified sensor and lens.
A low-energy sensor constantly films in black and white, and when triggered by a motion alert, it stitches on a few seconds of pre-roll ahead of the full-quality video captured following the motion alert. This gives you far more information in the instance of a security breach.
The major reasons to acquire this edition are the detachable battery and pre-roll.
PROS
Good video features
Removable battery
CONS
Byron Wi-Fi Video Doorbell
Even though the Byron Wi-Fi Video Doorbell isn't nearly as elegant and stylish as some of its competitors, Byron's venture into smart, wireless video doorbells comes with a promise of quality and heritage.
All the essential features are included and ready to use, including two-way audio and companion apps for your smartphone and tablet. The video feed is in 1080p HD, and motion detection is included.
This video doorbell comes in two versions: one that connects to your existing doorbell wiring and another with 720p video that is less expensive.
PROS
Two-way audio
Motion detection
CONS
Lacks security compared to other models
Best Portable Video Doorbells
Vinint Doorbell Camera
This version keeps the original's sleek design but adds a more powerful HDR camera with an ultra-wide field of vision so you can see everything on your doorstep.
It also uses Vivint's Smart Sentry analytics technology, which identifies packages and sounds an alarm to alert porch pirates to their presence. In testing, the camera provided excellent visual quality and functioned well with other Vivint devices.
PROS
CONS
VanBar 1080P
The video doorbell is durable enough to survive adverse weather, such as rainy and snowy weather, thanks to its high-quality material cover and IP65 waterproof rating.
Two rechargeable batteries and a cordless indoor chime are included with the Video Doorbell. When the battery runs out, you may recharge it and continue to use it, which is both environmentally good and cost-effective.
You may experience the ease of wireless functionality immediately after syncing the doorbell with your mobile phone and chime.
PROS
CONS
Reviews say it gives late notifications
ieGeek Video Doorbell
This battery-powered smart doorbell camera has revolutionary motion detection with a 20-foot monitoring range that can automatically differentiate a human from other objects.
It then precisely and promptly activates the relevant alerts, securing your house day and night, 24 hours a day, 7 days a week. You can pick Auto night vision or turn it off/on according to your preferences.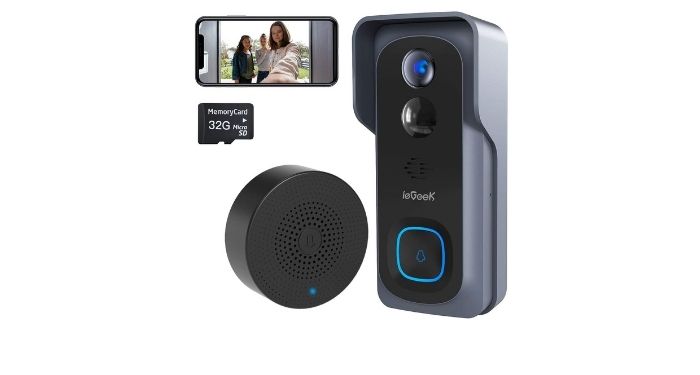 This Wi-Fi doorbell camera captures more and sends it all to your smart devices in 1080P HD, so you can keep an eye on your packages whenever you want. Its 2-way audio function allows you to talk to any visitors at any time or answer the doorbell with a pre-recorded voice message.
The fact it is only battery-powered means it is easy to assemble and de-assemble so you don't have to keep it in one home or place once it is set up.
PROS
Motion detector
Night vision
CONS
If your internet goes down it doesn't automatically reconnect when it's back on
CHWARES Video Doorbell
A wireless indoor chime and two 18650 rechargeable batteries are included with the Video Doorbell so if you are moving anytime soon it will be easy to move it from home to home.
When the battery runs out, you may recharge it and continue to use it, which is both environmentally good and cost-effective.
You can enjoy the convenience of wireless function immediately after pairing the doorbell with your mobile phone and chime; however, it is only compatible with 2.4G WIFI routers.
PROS
Free cloud storage
No subscription
CONS
Only completable with 2.4G Wi-Fi routers
BOIFUN Video Doorbell
This smart video doorbell is powered by a PIR infrared temperature sensor that can detect objects at temperatures as low as 36 degrees Celsius.
It can intelligently identify person-shape in the photo to achieve more accurate human recognition, and send you alerts to your phone promptly, thanks to the sophisticated humanoid algorithm.
This wireless doorbell battery has a 45–60-day life span. It is powered by two 3350mAh 18650 lithium batteries that are built-in and includes an intelligent wake-up algorithm that makes it easy to move about if you decide to move residences.
It will go into sleep mode automatically if motion detection is not turned on or if no one hits the doorbell.
PROS
Affordable
Motional detector
CONS
Reviews say it is prone to lose connection
Sources