What is a Shower Head?
The shower derives from the natural feature that we know as a waterfall. This was adapted in 1767 by an Englishman, William Feetham, who patented the first mechanical shower. The shower was originally a hand pump system that would essentially force water into a vessel positioned above the recipient's head.
A chain would then be pulled by the recipient, which would release the water and, in turn, would clean them much like a waterfall.
This was seen as more efficient than a bath, as a bath in a typical basin would require both fresh and waste water to be transported.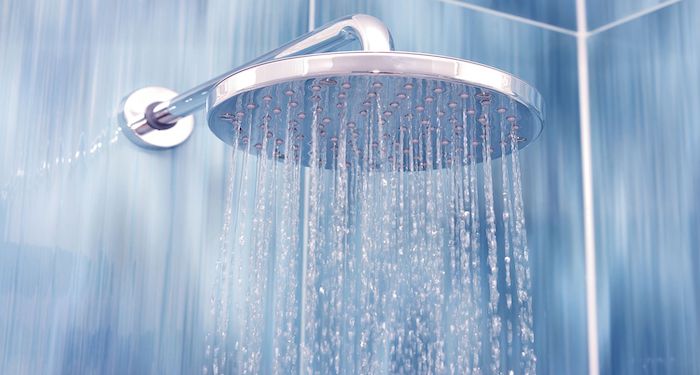 A shower head is an essential part of the shower, behind the main water supply, the shower heads will make the difference between a good shower and a bad shower.
Without the shower head, you would have a hose attached to a water faucet which water would flow through at one steady stream, meaning that most people with a shower will require a shower head.
In most cases, the shower head is a piece of equipment that can be changed depending on personal preference.
The shower head converts the steady water supply that makes its way through the heating systems and the hose and dispenses the water through several little holes at the end of the shower head.
How Do You Use a Shower Head?
Now we have established what a shower head is, let's move on to how we use one. The first step is replacing the shower head. In most cases, the shower head will have a screw fitting which allows you to easily screw the head both on and off.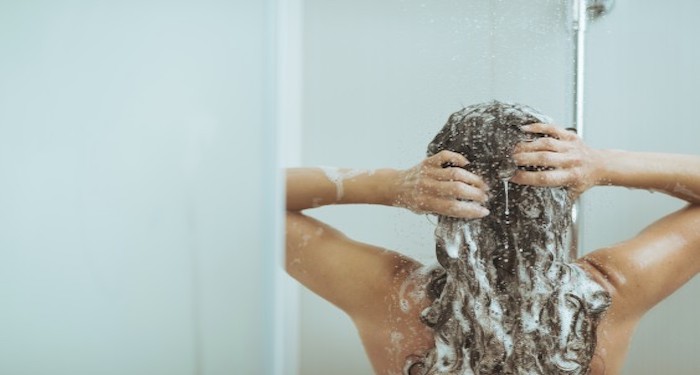 Try turning it anti-clockwise, if it seems stuck do not worry, use either a wrench or a towel to help you grip the screw fitment easily.
There may be some things left behind your old shower head, from limescale to rust, whatever it is just give it a clean with a towel or rag, this will help make sure the water can flow through the system freely and maximize the quality and the pressure of the water.
Now we need to screw on the new shower head. This step will be very similar to steps one and two. The difference being is when putting the new shower head on, we will screw this on clockwise.
The next step is making sure it is secure. The last thing you want is a leaking shower head for several reasons; your water bill, the clean-up and the lack of pressure from the shower head itself. This step with help makes sure that you are getting the very best out of your shower head.
If you are happy everything is all secure and fixed in, then it is time to turn on the tap and make sure there are no spills or leakages.
Moving on from there, if everything is okay, your shower head has been connected, now is the time to figure out the best position.
According to expert dermatologists, it is suggested that facing away from the nozzle has clear advantages, including that the more exposure you have to hot water, the drier your skin becomes. We would suggest that following this advice would be more than beneficial.
The angle and height at which a shower head is used can also have advantages. The higher the shower head, the more spread the shower head will have, which will cover more of the body. However, this also means that the water is not focusing on a certain area.
If you want to have a deeper clean on a certain part of the body, then moving the shower head closer would achieve this.
Types of Shower Head
So, we now know what a shower head is and how we use one. Now comes the part where we look at what types of shower heads there are. Like many things, shower heads come in all shapes and sizes.
We will outline the different types and provide an explanation of the different types. We will also include a pros and cons list for the different types.
Fixed Shower Head
A fixed shower head is the shower head that is most common in traditional homes. The fixed shower head is typically smaller with a diameter of 5 inches or less. The fixed shower head is attached to the arm that comes from the wall.
Pros:
Easily replaceable by simply screwing and unscrewing.
Shower heads can support many features on more expensive variants (Rain, Massage, Water-Saving)
Cheap to replace shower head
Cons:
Non-removable as they cannot be taken down, meaning a lot more work is needed from the person taking a shower to reach everywhere they need to.
Very basic, meaning the appearance is not sophisticated and can come across as plain.
More likely to cause damage to hidden pipes if not screwed/unscrewed correctly, costing more in the long run.
Rain Shower Head
A rain shower head is not too dissimilar to a fixed shower head. A rain shower head is, in essence, a bigger version of a fixed shower head. The difference comes mainly from the diameter, which is around six inches or more.
Pros:
More coverage due to the wider coverage due to the bigger head means a warmer feeling in the shower.
Multiple options on where the shower head is fixed
An overhead shower head gives you a full rainfall experience meaning you will be covered from head to toe
Wall-mounted requires a different shower head, a shower arm. The shower arm can extend between 12 and 16 inches, giving the same feel as an overhead fixture
Cons:
If mounted from the ceiling, a multifunctional shower head could become tricky to change depending on how high the ceiling is
The water flow will be the same in terms of GPM (Gallons Per Minute) regardless of the shower head. Naturally, if there is more of a diameter that needs covering, as the rain shower head does, the pressure will be weaker as the water has more space to cover
Handheld Shower Head
Handheld shower heads give the user more control. The main difference is the fact that the shower head is detachable, meaning the user can move it as far as the hose will allow them. The head is just as easy to remove as the wall-mounted shower heads.
Pros:
Handheld showerheads are possibly the most versatile showerhead. The handheld shower usually comes with an option for a wall mount/holder, so if you prefer the wall-mounted shower, then you can use it like that. If you want more control of the showerhead and move it to where you need cleaning, then you can do that also
The shower head itself is easy to change, much like the wall-mounted shower heads
The shower head is very mobile. If you wanted to clean a pet and they will not stand in one position, this is very easy to overcome as you can simply detach the shower head and move it along with your pet
Cons:
Expensive to change from all mounted to a handheld. The change from wall mounted to handheld can be expensive if pipework needs to be done; it is not as simple, and it can buy the handheld shower and replace it easily
The hose may be too short. If you have never had a handheld shower before you may not know what length you need if the shower head comes with a 3ft hose you may need a longer one which means buying an extra piece of equipment
Dual Shower Head
The hybrid of the handheld shower head and the fixed shower head, we have the dual shower head. The fixed shower head is used primarily, and the handheld is used for when you need to get those hard to reach areas.
Pros:
The ultimate shower experience, where the fixed shower falls short the handheld picks up
Mostly a very elegant aesthetic, there is a certain charm about the dual shower head that the handheld and fixed showerheads individually just cannot match
Cons:
The Dual shower head does have a similar issue as the rain shower head, the water pressure. The water needs to pass through both shower heads. If used at the same time, the water pressure will be half as powerful
Filtered Shower Head
Water can be harsh on your hair and skin, especially coming through a shower; from chlorine, scale and hard water can come through your shower head, the filtered shower head changes this as it filters the impurities to make the water a lot less harsh.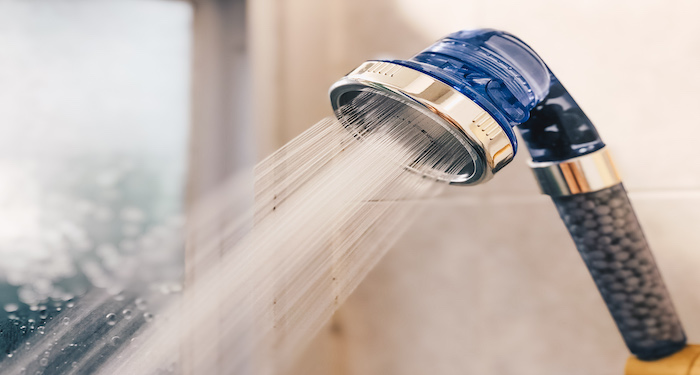 Pros:
Cleaner water. The water being filtered makes the water a lot less harsh on your skin and hair
A variety of shower heads are compatible. The filter can be put into the pipe arm and attach it to pretty much any shower head you like
Cons:
Potentially a weaker water pressure, so if you prefer a more powerful shower, this may not be the best option for you
Eco Shower Head
Eco shower heads main purpose is to be eco-friendly meaning less waste and more efficient. This works because air is injected straight into the water stream to create the feeling of a powerful shower.
In theory, the air will save water in the process as less water is being used to create the pressure.
Pros:
Less water use means less water bill costs
Less waste means it is more economical and benefits the environment greatly
Less water being used without losing pressure
Cons:
Less water being used is not a guarantee. In fact, according to an article by Which.co.uk, some 'water saving' showerheads actually use more water than it would fill a bath in the same amount of time
Not recommended for electric showers as an electric shower is economical already as it only heats the water that it needs. It is also advised by Mira (eco shower head manufacturer) that it could, in fact, damage the unit itself
LED Shower Head
This shower head is one of the more aesthetically pleasing showerheads. It works much like a normal shower head, but the main difference is the shower head lights up. LED shower heads are powered by water, not electricity.
The way it works is that the water that flows through drives a turbine which then produces electricity to supply the LED lights.
A nice feature is that the colour of the light depends on the heat of the water. If it is below 36 degrees, you will see a blue light if it is above 36 degrees, it will show red.
Pros:
This showerhead looks very pleasing and high tech
No need to turn on the main bathroom lights, the LED lights will light the room for you
No electric supply needed. At a glance, you would expect the use of three different aspects, water, electric and gas (depending on if using an electric shower or not). This is not the case as the water does the work to light up the LED lights, meaning it is more economical than it looks
Cons:
The LED lights can break, this means you would need to replace them, which could be both expensive and time-consuming
Every showerhead is different when it comes to how much water it needs in order for it to work
Power Shower Head
A power shower head is made, so the water exits the shower head at a high pressure while using the same amount of water. The shower head is usually adjustable to suit its recipients desired pressure. The stream coverage is smaller but higher pressure.
Pros:
High water pressure is good for conserving water, it helps you clean an area very quickly, meaning less water is used
High pressured shower make for a comfortable shower, the high pressure acts as a natural massage
Cons:
Less coverage. The coverage is directed all in one specific spot, which means you may feel colder in the shower
If the pressure is too high, it may cause discomfort, especially if using with a young child
Waterfall Shower Head
A waterfall shower head is different from a standard shower when it comes to how they are mounted. They are mounted in a way that the effect is that of a waterfall, much like the first adaptations of the shower, as mentioned earlier.
Pros:
The waterfall shower head has a very natural feeling, it will feel much like that of a natural rainfall/waterfall meaning it will be easier to relax
In most cases, the design is very elegant and will improve the overall aesthetic of the bathroom
Cons:
Other work may need to be done to make sure it works to its potential. For instance, if you want the best from the shower head, it may require you to redesign the whole bathroom to capture the natural ambience that lends itself to the waterfall shower head
Not every shower head has the desired effect. If you are looking for the full effect, you will need to make sure you are getting a shower head that has holes through the middle of the head and around the head's diameter
Square Shower Head
A square shower head does the same job as the rest. The differences lie come in the aesthetic, typically a shower head is a rounded shape, the square head is a nice alternative if you have a more contemporary style of bathroom with angular elements already introduced.
Pros:
The elegant design gives a modern look to a bathroom
Many manufacturers to choose from. This means there are a variety of qualities and styles
Cons:
Very dependent on having a sophisticated design already. If you don't, this may look out of place
If you have low water pressure, a bigger head will make the issue worse
Best Shower Heads
This section will look at the best shower heads, the pros and cons, the cost, why they are good, their power source, and their features.
Hydroluxe Shower Head/Handheld Shower Combo
This shower is a great combo shower head which is best when it comes to pampering. The chrome finish gives it a very luxurious look. It has 6 Spray settings, Power Rain, Pulsating Massage, Hydrating mist, Rain/Massage, Rain/Mist and water saving, making it very versatile for the user.
It's easy to install as it comes with Conical brass hose nuts, making hand tightening very easy. It does have its downside when switching from shower heads as it can fall in water pressure.
Customers seem to be very happy with the ease of installation but find the water pressure to be somewhat of an issue when using the two heads together.
Yoo.MEE Handheld Shower Head
This shower head is a great way to relax your muscles. It has a turbocharger for high pressure which makes it easier on your muscles.
It is made from ABS Engineering Grade Plastic, so it is very durable. It is finished with a brushed nickel finish which gives a very royal, classy finish.
This shower head has three spray settings (powerful shooting, pulse massage and mixed). One of the main pros for this is that it needs no tools to install and comes with a water flow regulator to ensure the pressure is just right for you. The downside is that the wall mount does tend to become loose.
Customers seem to be very happy with the water pressure, especially those in low water pressure areas.
Speakman S-2252 Signature Anystream High-Pressure Shower Head
This shower head comes with three settings (intense, rain and full flood), meaning it is great for aching muscles. It's made from brass and has a nice chrome finish. The installation does require an adjustable wrench which is a downside as not everybody has one.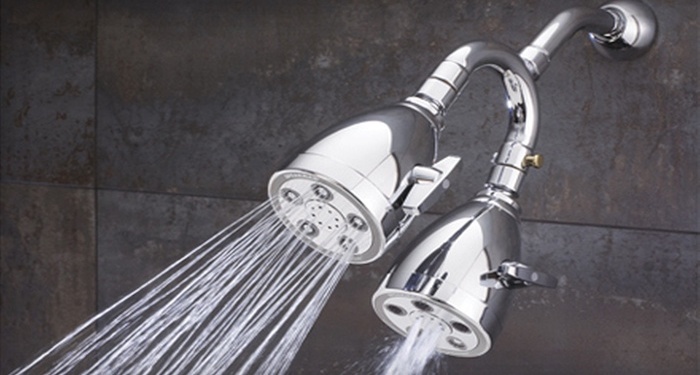 This is also a heavy model that could be an issue compared to other shower heads. It does have its upsides, though, such as, the 48 individual sprays which give it the desired effect.
The customers like the water pressure but do concede that they did expect a little more for the price they did.
Mira Showers Response Shower Head
This shower head is compatible with most showers which means it is very versatile. It has an elegant chrome finish and has four spray settings; no tools are required, making this a great option if you are on a budget.
The shower head has an eco-setting which will save both water and energy. One customer has claimed this shower head saved her a lot of time and money as her water temperature and the pressure was an issue which she thought required a plumber. The issue was resolved by changing to this shower head.
Triton High Flow Shower Head
This shower head has a chrome finish and five spray settings. The main selling point of this shower head is suitable for all showers.
It is easy to install, as it is simply a screw-on design.
It does have its downsides though, due to it being one of the cheaper on the list it does have an issue with durability as it does not last as long.
The customers who bought this rated it relatively high. One customer seems to have solved his water pressure worries by using this shower head.
Best Shower Head for Low Pressure
This section will look at the best shower head for low pressure and how we can convert low pressure into the pressure that can create a comfortable showering experience.
A power shower head is the best for low-pressure showers. This shower head converts the low-pressure water into high pressure with the small shower head holes all near each other.
They are very easily accessible through Amazon, and you can screw in and replace the shower head with no tools required.
Best Shower Head for High Pressure
The best shower head for high pressure is the dual shower head as this is a very multi-purpose shower head. If you have high water pressure, this would be best as you don't have to worry about losing water pressure when using both heads together.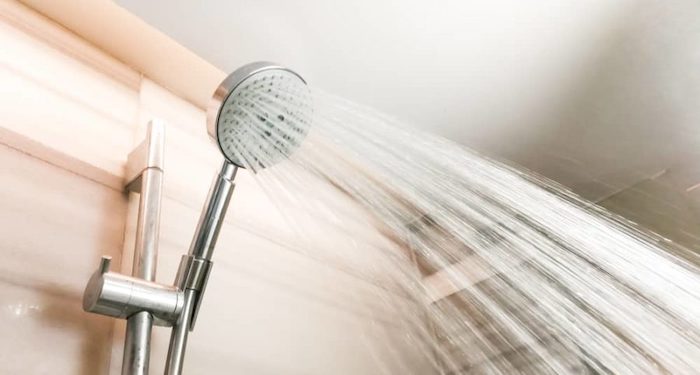 This shower head does need to be installed, which may require a plumber. You can get the shower heads from Victorian Plumbing, who will sort both installation and the shower head itself.
Best Shower Head for an Electric Shower
The best shower for an electric shower would be a handheld shower head. This is because electric showers are very economical already, couple that with a handheld shower, and you can get the best of both (handheld and fixed) while heating just the water you need.
You can get these shower heads from Amazon, they require no installation as they can be screwed in by hand.
Best Shower Head for a Combi Boiler
The best shower for a combi boiler would be the eco shower head. This is because a combi boiler uses a lot of power to heat the water, meaning there will be a lot of wasted energy. To minimize this, I would suggest the eco shower head.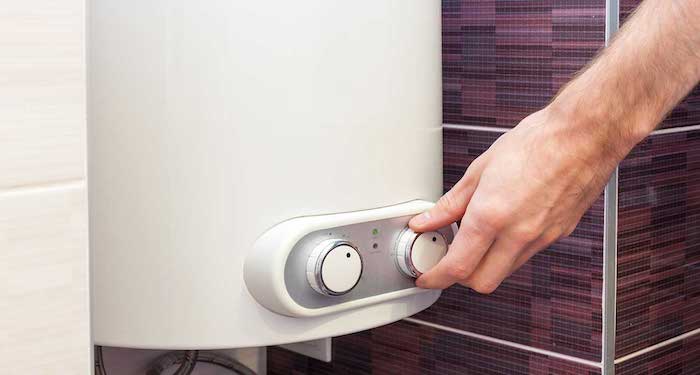 This is very easy to install and as it is a screw fitment. These shower heads can be bought from amazon.
Shower Head GPM Ratings
GPM is Gallons Per Minute which is the amount of water that flows per minute through the shower. As of 1992, a maximum of 2.5 GPM is the maximum flow rate for shower heads.
Shower heads will decrease over time, so it is worth looking at that when deciding which shower head to choose.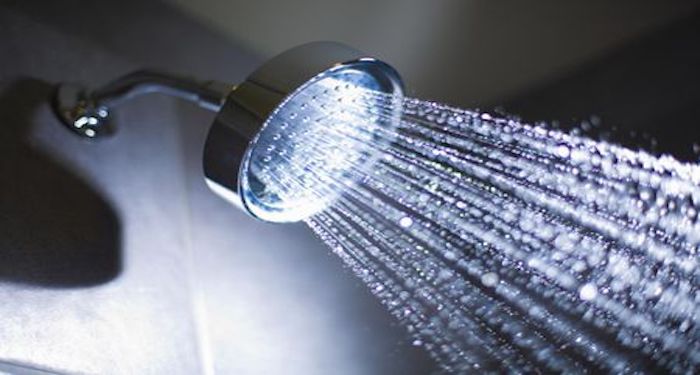 It is best to look for a shower head with a lower GPM rating, which means less water is being used per minute. This does not necessarily mean a lower quality shower as the shower heads discussed in this article can generate a better feeling shower on less water.
Sources