What is an Outdoor TV Aerial?
An outdoor TV aerial is a large metal antenna that sits at the top of your home and receives electro-magnetic waves that carry television channels.
Since the UK Freeview rollout some years ago, over a thousand transmitters have been broadcasting to your home. However, to enjoy this service, an antenna is required to receive the transmissions.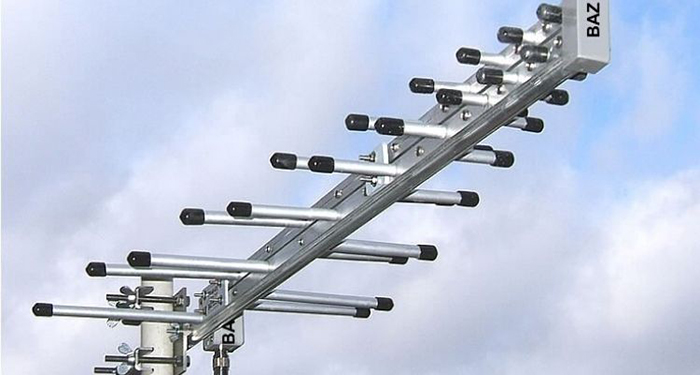 There are outdoor and indoor TV aerials available, however, indoor variations are much weaker and therefore offer fewer channels and poorer picture quality.
While outdoor aerials are more expensive and harder to install, the benefits far outweigh the negatives in comparison to their indoor counterparts.
How Does an Outdoor TV Aerial Work?
A TV aerial or antenna is a metal structure that is built to receive UHF and VHF signals that have been broadcast by TV channels through specialist transmission towers usually located on the roof of their station or another place that benefits from high ground, like a high hill.
The antenna receives the signal which is then translated into visuals and audio by your television set. The earlier ensures that the signal makes it to your television set safely and in order.
Types of Outdoor TV Aerial
As we mentioned previously, there are a wide variety of outdoor TV aerials on the market that are all suited to different homes and purposes. Here, we've provided a breakdown of the main types, to help you make a decision on the one that's right for you.
Yagi Aerial
A Yagi or a Yagi-Uda TV antenna is most commonly used for TV reception but are also used for HAM radios and for connecting Wi-Fi points to one another. It's the type of aerial that most people in the UK would be familiar with and attribute to a TV aerial.
A Yagi aerial has a long rod that is called a boom, and at a right-angle, you will see smaller metal pieces that act as the conductors or elements that pick up the signal and send it down the boom to your TV set. The smaller and closer together the elements are, the higher the frequency it receives.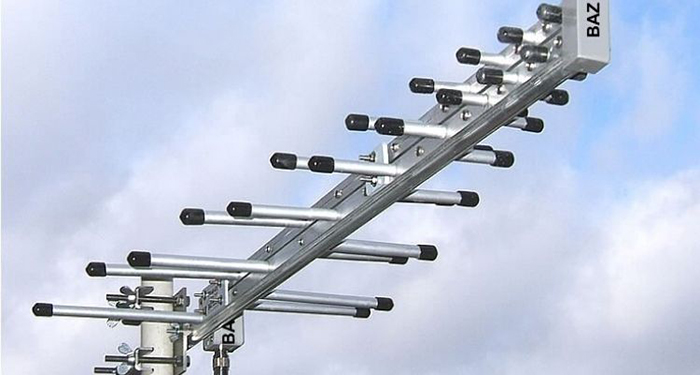 These types of aerials are designed to receive a wide beam and are focused in one direction, allowing them to better receive weaker signals. Due to their simplistic makeup, they are often on the cheaper end of the scale when compared to other antennas.
The downside to Yagi aerials is their low bandwidth and frequency range, making them a lot less versatile than others.
Log Periodic Aerial
Since the aforementioned digital Freeview switchover, Log Periodic aerials have become very popular despite hardly being used before the digital switch.
Log periodic aerials are a popular choice for digital TV channels due to their ability to reject impulse noise-causing pixelation and loss of signal in your TV set.
Due to their appearance, people often mistake a log periodic aerial with an analogue aerial, but they couldn't be more different.
They are great for areas that have good signal strengths but aren't suited to areas that don't, instead of High Gain aerials should be used which we'll discuss in the next section.
High Gains Aerial
A High Gain aerial is designed to boost and increase the signal received from a transmitter which in turn will deliver a stronger signal than that of a Yagi or Log Periodic aerial.
If you live in an area that is affected by low signal strengths, then a High Gain aerial may be the answer to your problems. This antenna features a longer boom section, large back reflectors to resist any signal interruption or nose and a boom arm to prevent the large antenna from bending over time.
This type of aerial is perfect for low signal areas but will require an expert installation due to the specifics required with its placement to avoid any elements affecting others on the antenna.
X Type Aerial
An X- Type aerial is a type of High Gain aerial that is very common in households. Their name is derived from the several dipoles that form the shape of an X within the housing, which also increases the gain.
Some models have as many as 100 elements with many using full-wave dipoles to increase their matching capabilities.
Bow Tie Aerial
Bow Tie aerials are exactly the same as the X Type but are arranged in a 'Bow Tie' shape as opposed to an X.
Multi-boom Aerial
Another high gain TV aerial is the Multi-boom which features multiple booms that all angle in different directions with the elements attached.
These antennas have the ability to have more elements added to them, thus increasing the signal gain that gets transferred to your TV set.
However, these aerials have a common issue that occurs should they be attached to brackets not strong enough to hold them.
If the bracket can't support the weight of the aerial, they tend to slowly point towards the ground rendering them useless.
Grouped Aerial
For convenience's sake, most TV aerials that are installed are called Wideband Aerials or WB Aerials as they work on all TV transmitters.
However, what is often overlooked is that a grouped antenna of a similar size will actually provide much greater signal strength and will remove any unwanted signals from other transmitters.
By reducing the frequency range that the aerial is capable of receiving, grouped aerials cannot be used with all TV transmitters, it must instead match the transmitter you want.
Now, with ever-changing frequencies from TV stations, this is an unviable option for those that can't alter their own equipment, but it's certainly something to be aware of in case you believe you would benefit more from a grouped aerial.
Grid Aerial
You can be forgiven for not recognising Grid aerials as TV aerials at all considering they are flat with all the elements hidden away inside it.
Grid aerials are fairly uncommon post-digital switchover due to problems with analogue signals are using them on digital TV's. They also don't benefit from high gains, so they are almost unusable in poor signal areas.
Best Outdoor TV Aerial
So, we've explored how an outdoor TV aerial works and the different types that are available to you. But, what are the best products on the market today? Here are the top five!
Optima L20F Compact Wideband 20 Element Log-Periodic TV Aerial
If you live in an area like Bedfordshire, which benefits from strong signal strength but with a widespread of channels, the Optima L20F could be the answer to your prayers.
Technically it's a wideband aerial as it can pick up signals from the entire spectrum, but it provides a minimal signal gain. So, you must be in the right area to use it, but if you are in those areas, the OPTIMA L20F is the best fit for you.
Vision – V10-32LF
This aerial is basically a beefed-up version of the OPTIMA L20F suited to areas that have OK but not great signal. Optima is actually owned by Vision, so there's little wonder they share so many similarities.
If you need a little more power than the OPTIMA L20F, this is a perfect option for you.
Antiference Aerial Extragain XG8
The quality of build on this aerial is fantastic, and while it only seems to be readily available in Group A, it's still too good to not include. The centre mounted boom arm distributes weight wonderfully and ensures that it won't bend over time.
There is also a signal balancer to ensure the service is consistent and secure. The aerial installation is a little more technical than others, but you would ideally have your aerials installed by a professional for all types and brands.
This is a real all-rounder and will suit any need.
SLx Outdoor Digital TV Aerial Kit
If you're looking for a unit that packs a serious punch then you need to be considering this powerful SLx aerial. It has the ability to pick up a signal from anywhere, has a signal booster and a central boom for stability.
The build is top of the range and the size and weight are in line with others on the market. If you suffer from low signal, this should be your pick of the bunch!
Lab Gear Tri-Boom Mast Digital Aerial
This High Gain aerial is one of the most popular products on the market, that has stunning reviews to go with it.
It is ideal for areas that have ok but not great signal strength, and not only does it look the part, but with its balanced construction, it's sure to last a while! It's at the higher end of the market, but it's worth every penny!
Cost to Install an Outdoor TV Aerial
TV aerials are, more often than not, tricky pieces of equipment to install and set up correctly. Therefore, it's always advisable to enlist the help of professionals that not only know how to set up your antenna safely but to also get the most out of its features.
A lot of people assume that it's expensive to have an expert carry out this type of work, but in reality, the price is pretty low.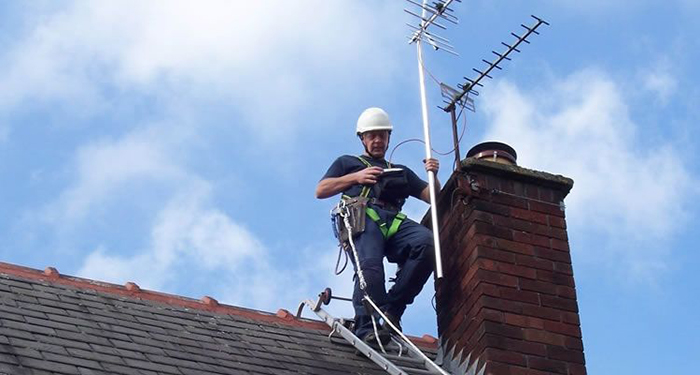 If you are repairing an aerial or need an aspect replacing, you can expect to pay between £80-£100. However, if it's a new install, the price is usually around £200.
Now, these prices fluctuate depending on the location you live in, the size of the job, additional materials and signal strength in your area. But £200 is a solid figure to work toward.
For more detailed information into the installation process and the prices, you're likely to pay, follow this link to our full TV Aerial installation guide.
FAQs
What outdoor TV aerial do I need?
There are different aerials for different areas and requirements. The best thing to do is to follow the detailed descriptions earlier in this article, to work out which type best suits your needs.
You can also reach out to TV aerial installation experts and seek some advice that way.
Why won't my TV aerial work?
There are a variety of reasons why you're aerial may not be working, such as faulty wiring, weather, damage to your aerial and many other things.
If you're having problems with your aerial, an expert may be able to deduce what is causing the problems. They also may be able to suggest a way to resolve the issue.
How long does it take to install a new aerial?
A new aerial can be installed in around 2-3 hours depending on the size of the job and aerial. It doesn't take too long but the installer may need to fine-tune the aerial to ensure it's performing at its optimal capabilities.
Why is an outdoor aerial better than an indoor aerial?
Outdoor aerials have a better vantage point and suffer from fewer obstructions, giving a clear line of sight for the signal to reach the receiver from the transmitter.
The more obstructions in the way, the harder it is for the antenna to full receive the transmission.
How do I find out what aerial I already have installed on my home?
Aerials can be hard to identify but if you're interested in finding out what already stands atop your roof, take some time online to search for pictures of the types of aerial we explored earlier in the article and see which features match yours.
Sources