Introduction to the Best Log Burners
A log burner or a wood-burning stove is a type of heating appliance which is powered by wood fuel and wood-sourced biomass fuel.
This is a popular heating solution as it helps to reduce carbon emissions due to it being fueled by low-carbon sources, while also helping homeowners to reduce their energy bills.
The main purpose of wood stoves is to heat your home, whether that includes isolated areas that are typically powered by small log burners, while large wood stoves can heat an entire house including water.
How Does a Log Burner Work?
A wood-burning stove works by burning renewable fuel which enables heat to radiate through the walls of a property. One of the most important features of a log burner is primary air which is drawn into the front of the stove.
Modern log burners tend to have controls in place which enables the user to modify the amount of air entering the stove which will determine the intensity of the fire.
Contemporary log burners also do not require a chimney, although more work will be required as a flue will need to be installed in the walls or roof of your home.
Some log burners have an airwash system which helps to keep the stove glass clean and avoid soot and dirt build-up.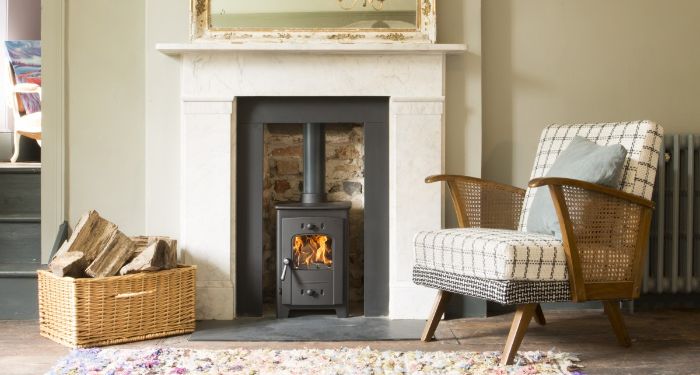 Others feature convection systems which help to improve heat distribution and provide a continuous flow by drawing in cool air and during the heating process it rises to balance out the temperature in the property.
When powering up your log burner, you need to be careful about the type of fuel you use.
There various types of firewood you can use including ash, oak, birch, beech, cherry and sycamore which are all heavier wood types which increase heat output and efficiency.
Types of Log Burner
If you are planning to have a log burner installed in your home, then you need to consider which stove is best for you. To help you decide, here is a breakdown of the different types of log burner, their costs and the pros and cons of each.
Radiant
A radiant stove is a more traditional option that distributes heat from the front, sides, back and top of the appliances which travels in straight lines where heat is absorbed by surrounding surfaces.
The heat then travels from the surface to heat the rest of the room as well as adjacent areas in the property.
Radiant log burners offer localised heating that is cheap and sustainable, with this type of stove costing around £500 to £900.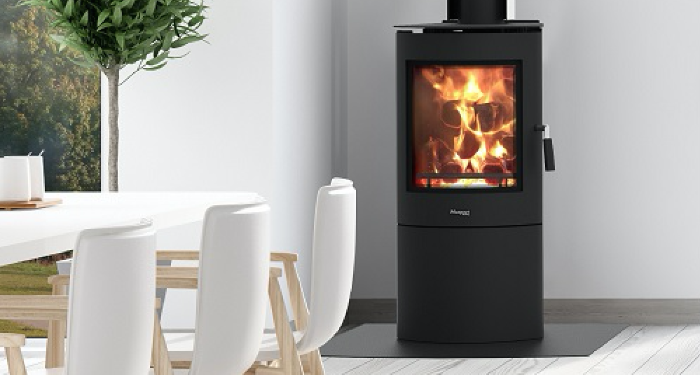 You should consider this type of wood burner if you live in a poorly-insulated property that is draughty and features high ceilings, as this will help heat up your home efficiently.
The main downside of radiant log burners is that the heat can be overwhelming if you stand too close to the stove.
Therefore, this is not ideal if you have children, as both the stove and surrounding surfaces will be extremely hot to the touch.
Pros:
Distributes heat from all direction.
Cheap.
Cons:
Can be overwhelmingly hot.
Circular
A circular or convection style stove is a modern log burner which is specifically designed to distribute heat evenly around a property.
They work by drawing in cool air through the back and side panels which are connected to a channel system between the log burner's fire box and outer wall. Contemporary circular stoves also feature fans which help to improve distribution.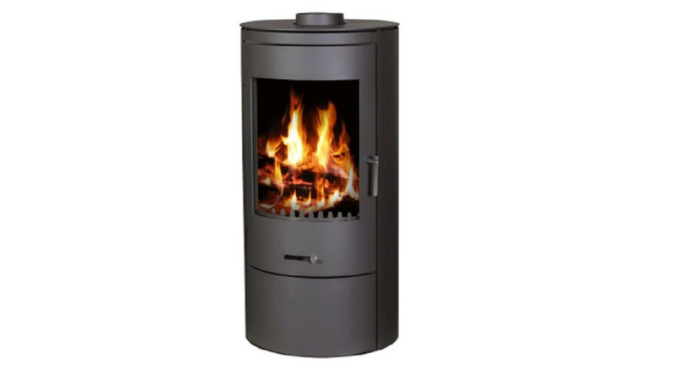 In comparison to radiant stoves, convector log burners are much safer as they utilise cold air, therefore the stove will not emit an overwhelming amount of heat. It also provides a comfortable temperature across multiple rooms.
If you live in a draughty property, then a convector stove may not be the best option as they work better in well-insulated homes with low ceilings. Circular stoves can also be quite expensive and tend to range from £600 to £2000.
Pros:
Evenly distributes heat.
Emits comfortable temperatures.
Cons:
Poor at heating poorly insulated properties.
Best Log Burners
Before purchasing a log burner, take a look at the following guide which includes the best log burner brands that will help you decide which wood-burning stove is best.
Lincsfire Harmston 5.5kW Multifuel Stove
One of the most highly-rated log burners is from the brand Lincsfire Harmston which costs around £200 to £300.
It is praised for its fuel flexibility as you can use wood, coal, biomass fuel and more to power the stove. It also features an airwash system and flow control that enables better heat distribution.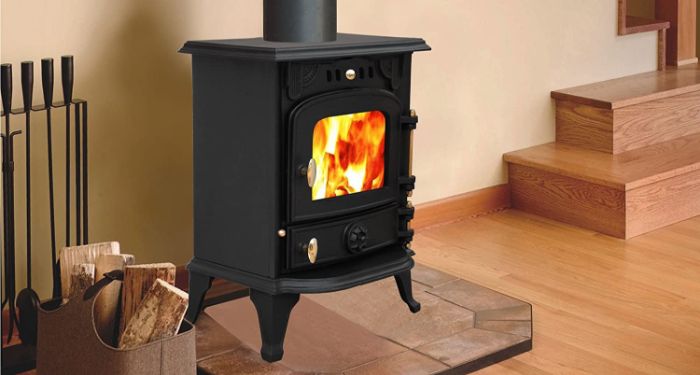 The main benefit of this log burner is that it is made of cast-iron which is a long-lasting and highly-resistant material.
It also offers great efficiency for such a small appliance, while also offering the advantage of low-maintenance, as it features a removable ash pan which is very easy to clean.
One of the disadvantages of this stove is that it features a front fire basket which may ruin the aesthetic. It is also quite small, so it may not be beneficial for larger properties.
Pros:
Low maintence.
Flexibility.
Long lasting.
Great heat distribution.
Cons:
Small.
Might not be everyones favourite look.
Arada Villager Esprit 8 Solo Multi-fuel Stove
This Villager stove is made out of steel and emits a large heat output of 8kW with a 450mm log capacity. It also features a multi-fuel grate and costs around £900 to £1000.
The Arada Villager stove offers one of the highest efficiency ratings at 80%, so you can save a significant amount on your monthly bills while also making your home more eco-friendly.
It also provides an attractive aesthetic that works perfectly in contemporary homes.
The downside of choosing this log burner is that is not DEFRA-approved, which means it has not been tested in line with the Government's Department of Environment, Farming and Rural Affairs (DEFRA) conditions for emission and smoke levels.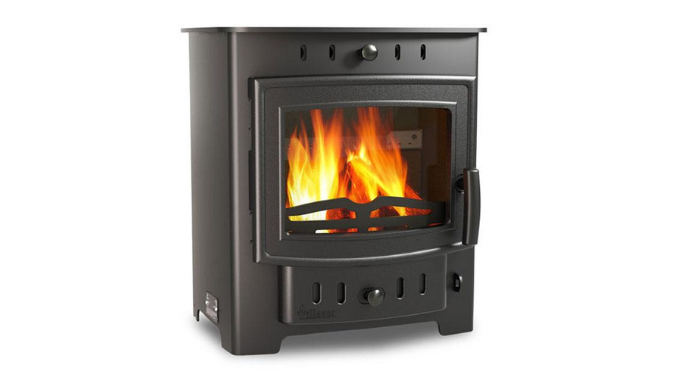 Pros:
High energy efficiency..
Eco-friendly.
Aesthetically pleasing.
Cons:
Charnwood C-four Wood/Multi-fuel Stove
This is one of the best log burner options which is made of steel and has a 4.9kW heat output.
There is the option to fuel your log burner with wood or you can use the multi-fuel grate for alternative fuel sources.
In terms of aesthetics, it offers a traditional yet clean finish with various colour options available.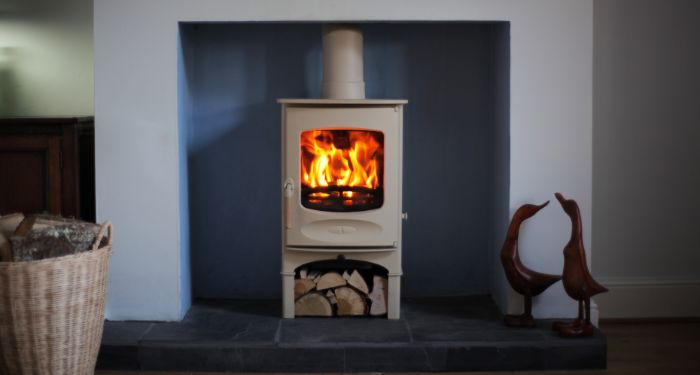 The main advantage of the Charnwood C-four stove is that is DEFRA-approved and it is extremely energy efficient - offering an efficiency rating of around 78%.
This will help you reduce your carbon footprint as well as your energy bills. It also offers flexibility with the different colours and various fuel options.
The downside of choosing this stove is that it is not ideal for large rooms, as it does not emit a large amount of heat. It is also quite expensive with prices ranging from £1000 to £1200.
Pros:
Various different fuel types can be used.
Traditional look.
Eco-friendly.
Cons:
Not ideal for large rooms.
Be Modern Ohio Solid Fuel Stove
Another highly-rated log burner is the Be Modern Ohio stove which features a 7kW heat output and costs around £700 to £800. This stove is made of cast iron and can be powered by solid fuels including wood, coal, peat and more.
The main advantage of this type of stove is that it provides a significant amount of heat with an efficiency rating of 76%. This makes it one of the most eco-friendly options, while also helping you lower your energy costs.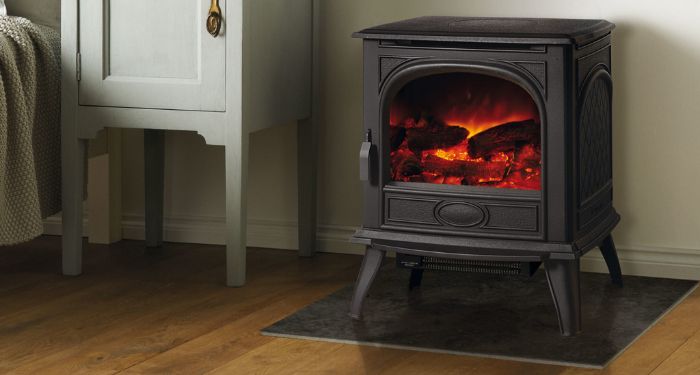 It has been criticised for its simple black aesthetic which may not work well with all interior styles.
This type of stove also requires a chimney pot installation in the roof, so if you don't already have a fireplace this could be a costly job.
Pros:
Energy efficient.
Low cost
Cons:
Requires chimney installation.
Hothouse Black 11kW Solid Fuel Stove
This is a built-in wood-fuel stove which is made of steel and has an 11Kw heat output.
It also features a tertiary air system which helps to improve heat efficiency of up to 78%. The price of this stove is around £400 to £500.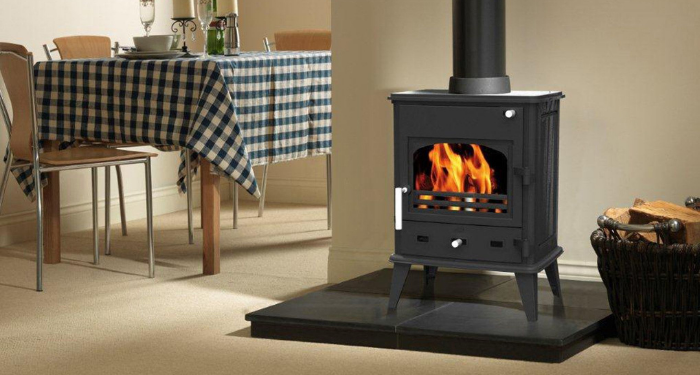 The main advantage of this log burner is that it has a seamless and contemporary design which is more aesthetically-pleasing than free-standing stoves. It also features a removable grate which makes it a lot easier to clean.
If you do not have a brick or stone chimney flue, then this may not be the best option for you, although there is the option to add on a solid fuel attachment which can be quite expensive.
Pros:
Energy efficient.
Aesthetically pleasing.
Cons:
Expensive if the house is lacking a chimney flue.
Cost to Install a Log Burner
Another important element to consider is the cost of installing a log burner, which will vary depending on whether or not you have an existing chimney.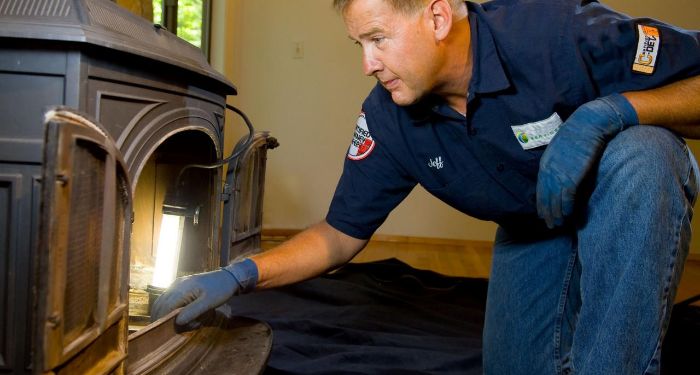 The average installation cost for a property with a chimney is around £1500 to £1700, which includes installing a chimney flue, as well as the heart and backplate.
The cost of installing a wood-burning stove without a chimney ranges from £2000 to £2200, which involves the extra task of fitting a twin wall flue pipe on the exterior walls and roofline.
Log Burner Regulations
Before having a log burner installed in your home, it is important that you understand the following log burner installation regulations.
In line with the government's announcement which discussed outlawing all stoves that do not meet green standards, you may need to consider upgrading your stove to a DEFRA-approved log burner or one with a eco-design label, especially if you live in a smoke-controlled area like London.
In regard to installation, you should consider hiring a HETAS-approved installer to fit your wood-burning stove, as this will offer reassurance that your stove is compliant with current regulations, while also avoiding planning permission approval.
However, if you live in a listed building, planning permission may be required.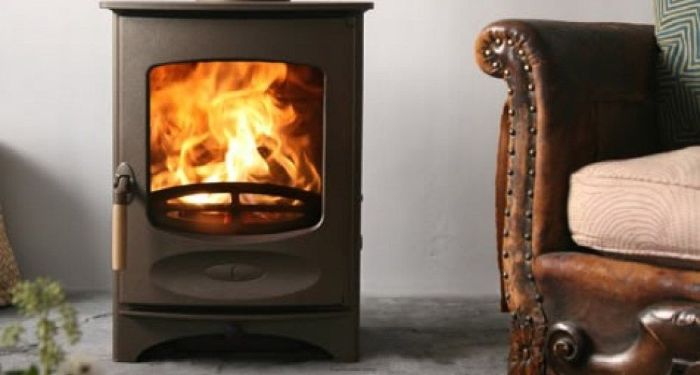 If you plan to install it yourself, you will need to obtain permission from your local building control department before starting any work.
Once the work is complete, they will send out someone to assess the work and authorise it if it meets regulations.
You will also need to make sure you fit a notice plate which will feature all the details of the fitting including the type of stove, hearth, chimney and flue.
FAQs
Q. What is the best wood for a log burner?
A: It is important that you use the right wood to fuel your log burner.
The best wood for log burner installations includes ash, birch, beech, oak, elm, cherry and sycamore.
Q: What is a double sided log burner?
A: A double sided log burner is a type of stove which can be featured in multiple rooms, with the most popular option including indoor/outdoor double-sided log burners.
This helps to improve heat-efficiency while also providing a space outside to store wood.
Q: Are log burners good for the environment?
A:For the most part, wood-burning stoves are good for the environment as they produce less carbon emissions and provide maximum heat efficiency.
However log burners also emit a large amount of particulate matter, such as soot, if burning wood which has been proven to affect climate change and can also cause breathing problems.
Q: What log burners will be banned?
A: In accordance with new laws regarding log burners, homeowners with wood-burning stoves will not be able to buy coal or wet wood to fuel their home, however, they can still use other types of wood.
If you live in a smoke-controlled area which usually include city-centre locations, then you will only be able to purchase DEFRA-approved log burners which emit low emissions and are more eco-friendly.
Q: Will a log burner heat your entire house?
A: A wood-burning stove can heat your entire property if connected to a back boiler installation and central heating system.
You can also heat your home with just a log burner although you must make sure that you are using efficient fuel sources and to spread heat you could consider installing vents throughout your property.
Sources