Introduction to the Best Cooker Hoods
We will also look at additional topics such as the different types of cooker hood and the cost of having a new fitting installed.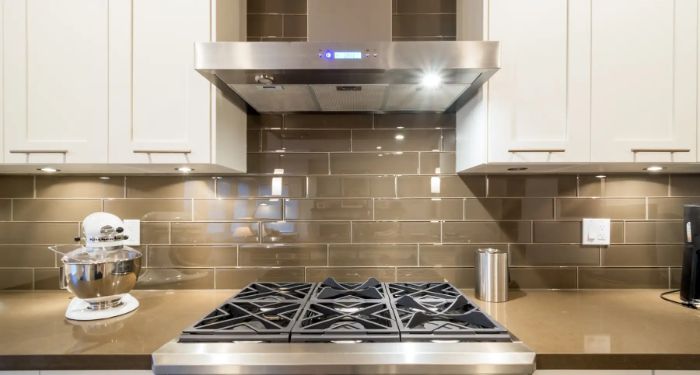 What is a Cooker Hood?
First, let's discuss what a cooker hood is. A cooker or kitchen hood extracts air and airborne particles such as that of steam, smoke and grease. It will either remove the particles from your home, releasing them outside or filter and recirculate the air within your kitchen.
Their popularity is arguably down to necessity since without a cooker hood many problems would quickly accumulate in a kitchen such as water damage and grease build-up.
Not only are they used to prevent the aforementioned issues but cooker hoods can also reduce heat and offer great aesthetic value to your kitchen. Their purpose is to maintain cleanliness in a kitchen and to act as a way of preventing health issues.
How Does a Cooker Hood Work?
We will now explore the workings of a cooker hood. The first line of defence of a kitchen hood is its filter(s). Extractor hoods tend to have just a grease filter while you'll find a grease and charcoal filter in a recirculation hood.
Grease filters which are generally made of stainless steel, ceramic, a fleece material or aluminium will collect grease particles, preventing them from accumulating in the kitchen as a whole. A charcoal filter will remove poor smells from the air.
Above the filter(s) in both designs is a fan, either being for extraction or recirculation. These are also known as ducted and ductless cooker hoods respectively.
An extractor fan helps to direct the air so that it can be vented to the outdoors while a circulation fan will recirculate the now cleaned air back into the room.
Types of Cooker Hood
In this section, we will look at various types of kitchen hood such as chimney, island, integrated and downdraft cooker hoods. For each type, we will discuss its details and lay out its pros and cons.
Chimney
Chimney cooker hoods are mounted to the wall as per their design. Their name is attributed to their shape with a wide bottom section which connects to a tall chimney-shaped element containing parts such as the fan. This type of cooker hood has risen significantly in popularity over the past several years.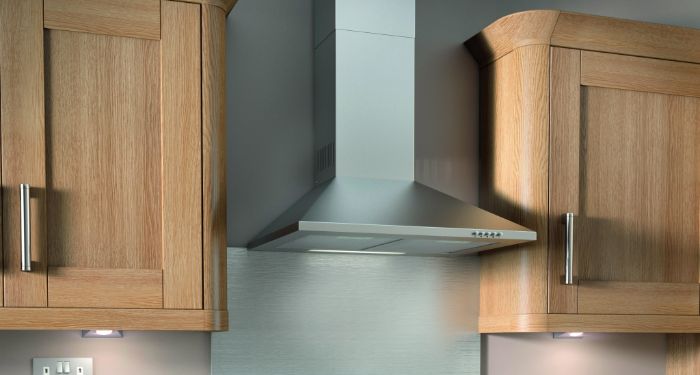 These kitchen hoods offer both traditionality and great aesthetic value. They tend to be made from stainless steel with a highly polished finish.
Chimney hoods may also be made of brass, copper or another metal. You could have it installed on its own or between units. In terms of their sound production, the higher their cubic feet per metre (CFM), the louder it will be.
Pros:
Allow odours, steam, smoke, combustible particles, heat and airborne grease to be vented outside.
Enhances the air quality of a kitchen.
Provide both traditionality and aesthetic value.
Tend to be durable.
Cons:
Can be quite loud especially if the product comes with a high CFM.
May be expensive, depending on the brand and product.
Island
This type of cooker hood, as the name suggests, is designed for use above cooking units that are located at a kitchen island.
These hoods will either be suspended above or integrated into the ceiling, contrasting them to wall mounted hoods like chimney hoods. They lack a flat back that you might have with a wall mounted hood and offer a pleasing aesthetic from all angles.
Some island hoods are designed to have the appearance of a lighting feature. Island hoods must be connected to the ceiling's internal vents although this may not always be achievable.
Pros:
Perfect for large kitchens with island-based cooking units.
Provides great aesthetic value
Cons:
Must be hooked up to the ceiling vents.
Canopy
A canopy kitchen hood is installed beneath your kitchen cabinet/overhead units and directly over the hob or a four-ring cooker that comes in the traditional freestanding form.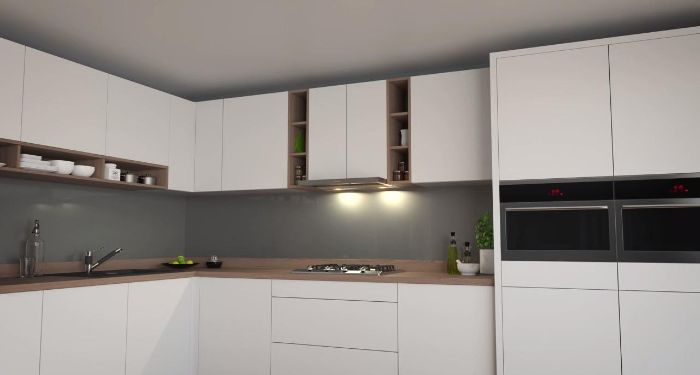 While they are less discreet than some of the other hood types such as integrated hoods, they are a popular and effective option.
They are compact and can extract or recirculate the air of the kitchen, depending on their design. Often canopy hoods have a width of around 52cm to 90cm.
Pros:
Compact design.
Popular and effective choice.
Cons:
Not as discreet as say integrated hoods.
You'll need a built-in cabinet or a separate DIY solution.
Conventional
Conventional or visor hoods are another wall mounted style of cooker hoods, which are generally fitted on the underside of a wall unit. Conventional hoods are less discreet than integrated hoods.
However, they are less visible than chimney or designer hoods. They tend to be the least expensive cooker hood products on the market. They are available in many different designs and colours.
Conventional hoods are less popular these days and also lack power. However, they are ideal for small kitchens since they can be installed beneath a cupboard.
Pros:
Least expensive type of cooker hood.
Can easily be installed.
Cons:
Becoming less popular.
Less discreet than an integrated hood.
Integrated
An integrated cooker hood is especially discreet. Thanks to closing unit doors, integrated cooker hoods can be kept out of view when not being used.
It has the appearance of a simple wall mounted unit when viewed from the front. A switch or handle can be used to easily operate these hoods.
One downside to integrated hoods is that maintenance, updates and repairs can be more difficult to perform, depending on the installation. If you're looking for a discreet and easy to operate cooker hood, you should look for the best integrated cooker hood.
Pros:
Very discreet.
Easily operated.
Cons:
More expensive than say conventional hoods.
Maintenance, repairs and updates can be more challenging.
Downdraft
While not especially popular, downdraft hoods have many benefits such as their effectiveness. These hoods are concealed inside the cupboard that is underneath the cooker.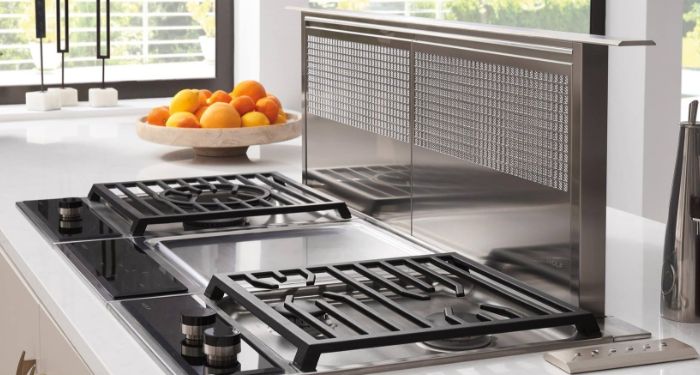 They are not designed to be used as often as other types of hoods and should only be used when the kitchen gets particularly humid and full of odours. With the use of a countertop extractor fan, air is sucked in a downward direction.
In some cases, it may be fitted to the side of the hob so that it can pull air sideways instead. Some of these fans are elevated when in use so that they can have closer access to the air particles that need to be removed.
Pros:
Ideal for kitchens lacking the space for a separate hood.
Discreet.
Cons:
May need to be entirely replaced if it breaks down.
Ceiling
Only the front plate is on view when it comes to ceiling hoods. They are located somewhere in the ceiling above the hob. While not technically being a hood per se, their ventilation support has similar effects to many of the other types of cooking hoods discussed in this section.
Not all kitchens will be suitable for a ceiling hood as there needs to be suitable space in the ceiling for the hood and its motor.
Pros:
Another discreet option.
Can be fitted above a kitchen island with a cooker.
You don't need to worry about hitting your head off a ceiling hood.
Cons:
Quite expensive.
Located further from the cooking unit than most hood types.
Telescopic
A telescopic kitchen hood is a space-saving option as it is designed to extend outward only when needed. When you extend it out, it will increase its air capture capacity.
They tend to be installed inside cabinets. Telescopic hoods have similarities to canopy and integrated kitchen hoods.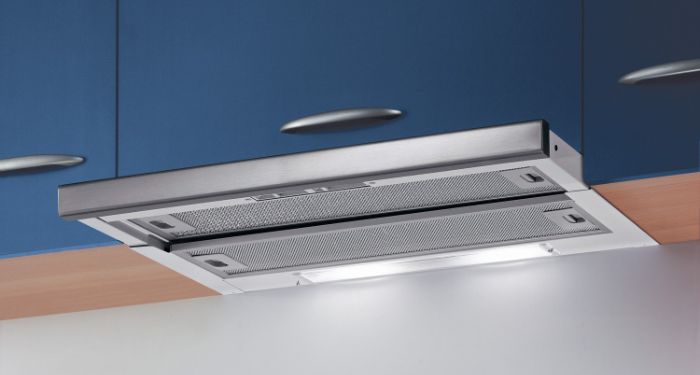 Pros:
Can save space.
Telescopic hoods can be extended outward when needed.
Cons:
May not be the aesthetic you're looking for.
Best Cooker Hood Reviews
Each of the following cooker hoods may last for 10 to 15 years. With that said, how well your kitchen hood is looked after can significantly influence its longevity.
Some products are also more durable than others. To fit each of the following cooker hoods, follow the manufacturer's instructions.
Elica Juno Iconic Pendant Cooker Hood
The Italian manufacturer Elica is one of the largest producers of kitchen hoods globally. Out of their models, 109 have been analysed by NeutraTest for the British market with their cooker hoods having an average score of 5.4 out of 10.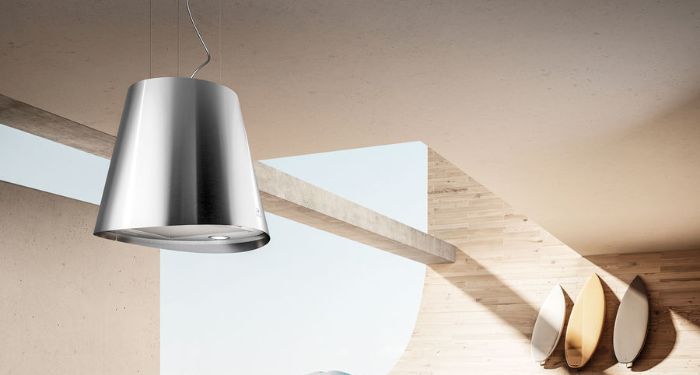 This very stylish option is perhaps the best island cooker hood that money can buy.
It comes with a maximum air flow of 600m³/h, three speed options and soft light controls. It features an aluminium grease filter and a carbon filter. It recirculates air throughout the room.
The Juno's high-performance motor contributes toward its high quality. It is in energy efficiency class B. With many filters, it can be quite difficult to clean this cooker hood in full.
On average, it costs between £750 and £850 although it's currently available for just £600 via Kasastore on discount.
Pros:
High air flow rate.
Features a high-performance motor.
Not particularly obtrusive.
Fairly efficient energy-wise.
Cons:
Another costly kitchen hood.
Hygena Cooker Hood APP2410
This product is a popular cooker hood replacement part from Hygena. It is a great replacement cooker hood light/switch PCB for a cooker hood. It can fit products sold by a variety of producers and brands. It has a class A energy rating.
Hygena is a popular brand of cooker hood parts. You can buy this product for around £20 to £40.
Pros:
Great replacement.
Class A energy rating.
Cons:
Rangemaster Bellini BELHD80WH
Rangemaster cooking hoods are generally high-performing and many are energy efficient. They provide products in many different cooking hood styles.
With a very unique design, the Beillini has dimensions slightly smaller than most products.
It comes with a bright white finish and is ideal for a modern range setup. It is energy efficient and eco-friendly.
The Bellini features LED lighting, a blue display touch control and a filter saturation warning.
It comes with both aluminium and charcoal filters. It can act as an extraction or recirculation hood depending on your choice. It has a class A energy efficiency rating.
The Bellini comes with wall plugs and screws for installation purposes. Their online manual provides extensive detail. It is an 80cm chimney hood which can be can be cleaned relatively easily. This hood costs around £860.
Pros:
Energy efficient.
Eco-friendly.
Can be used as an extraction or recirculation hood.
Stylish design.
Easy to clean.
Cons:
Britannia Latour HOOD-BTH-C-950
This canopy cooker hood is ideal for hanging over a sizeable cooking area.
It is an extraction hood with efficient halogen lights and four washable filters which can be cleaned quite easily. The lights should last for several years before you'll need to replace them.
It has an extraction rate of up to 771m³/h and produces a maximum noise level of 71dB. There must be at least 75cm between the cooking area and hood.
The 950 has an energy rating A. Its filters can be cleaned quite easily. To install the 950, first fit the duct before completing the electrical installation.
Next, the ducting must be connected prior to the extractor being fixed in position. The canopy hood will then need to be removed.
Full details regarding the installation of this product are available via an online instruction manual.
This hood costs about £700 to £800.
Pros:
Very high maximum extraction rate.
Energy efficient.
Cons:
Bosch DWB96DM50B
Bosch sells a wide-range of quiet cooker hoods, many of which are popular and highly-rated. This brand has a great reputation worldwide.
If you're looking for a hood with a high air flow rate, this brush steel coloured product is worth considering.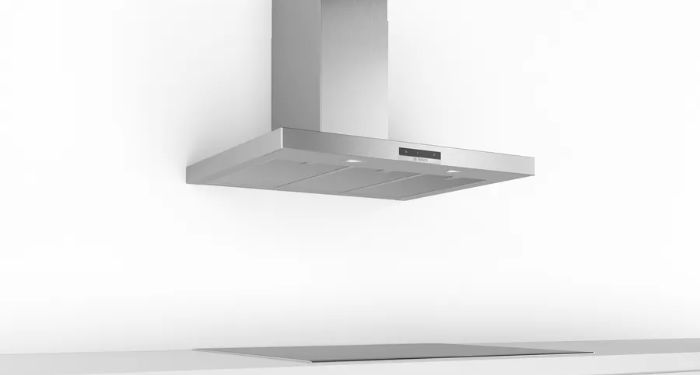 This chimney cooker hood has a maximum extraction rate of 690m³/h and a top recirculation rate of 360m³/h. It is a relatively quiet hood with a noise level of just 64 dB.
It comes with built-in LED lights, a metallic grease filter and an automatic switch off feature that kicks in following 10 minutes of inactivity. This hood also features soft touch buttons to control its settings.
The DMWB96DM50B needs to be fitted to the wall and this can be done following the Instruction guide given by Bosch. It is in the A class of energy efficiency. It's also quite easy to clean.
You'll likely pay somewhere in the range of £360 to £550 for this product.
Pros:
Not overly-expensive.
High air flow rate.
Low noise production.
A neat brush steel coloured design.
Great lighting.
Cons:
Higher settings can result in a bit of a noise.
Aeg DPB3631S Telescopic Cooker Hood
The next product is a telescopic hood with both extraction and recirculation options. With a width of just 60cm, its top extraction rate of 370m³/h is good considering its size.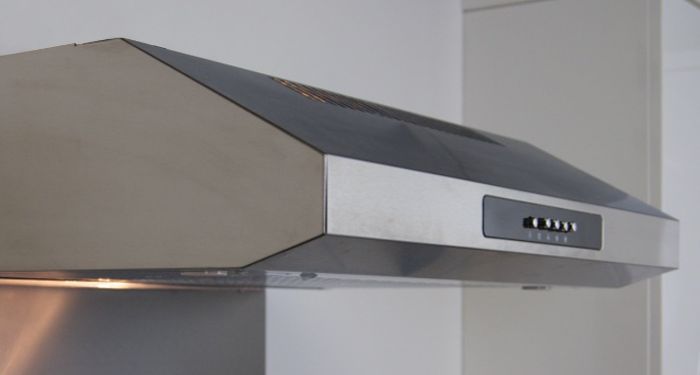 It has three speed options which can be selected via push button control. It also features washable grease filters making it easy to clean.
It is discreet both visually and audibly with a maximum noise level of just 68 dB. This kitchen hood also comes with high quality lighting. Its energy efficiency class is C.
This cooker hood will need to be fitted in place in a suitable spot such as a kitchen cabinet. Follow Aeg's instructions for further details. Expect to pay between £190 and £240 for this cooker hood.
Pros:
Fairly inexpensive.
Not too loud.
Visually discreet.
Good extraction rate considering its size.
Cons:
Not the best energy efficiency.
Mixed ratings from online users.
Cost to Install a Cooker Hood
We'll now look at the cost of hiring a contractor to install a cooker hood.
To have a new extractor hood installed will cost around £200 in labour plus the cost of the hood itself.
If you wish to have an old hood replaced, the labour cost will likely end up around £100. The additional costs of a replacement will include the supply costs and any waste removal expenses.
Benefits of Installing a Cooker Hood
Let's now explore the advantages of a cooker hood.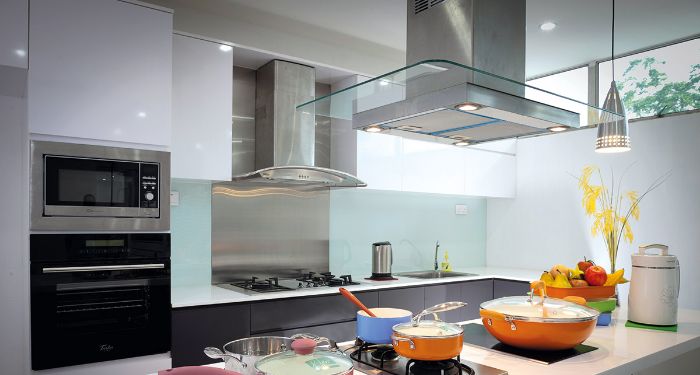 Prevents Water Damage
Cooker hoods can prevent moisture accumulation in the kitchen.
By removing or recirculating moisture, it can significantly reduce the risk of water damage and dampness in your kitchen, if not remove the threat entirely.
Water damage can cause many long-term issues for a room and may even threaten the structure of the room as a whole. Further, less moisture means that a build-up of mould and mildew will be less likely.
Better Air Quality
By dealing with bad air, a cooker hood can improve the air quality of your kitchen. This will not only make for a more pleasant experience but reduces the risk of long-term health issues arising.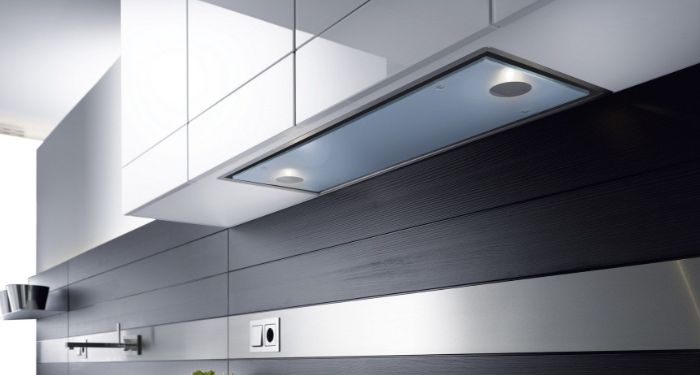 Health problems can occur due to prolonged exposure to poor air quality.
Removes Odours
Another benefit of kitchen hoods is that they can remove bad smells from the kitchen. This will make your time in the kitchen a better overall experience.
FAQs
Q: How often should I replace cooker hood filters?
A: On average, about once every four months.
Q: What is a recirculating cooker hood?
A: Unlike an extractor hood which removes air particles from the kitchen, a recirculation kitchen hood will clean the air and return it to the room.
Q: Is an extractor fan the same as a cooker hood?
A: An extractor fan can mean that which is used in a bathroom, kitchen or elsewhere. A cooker hood is essentially a type of extractor fan used for cooking.
Q: What is the best way to clean the cooker hood?
A: You'll need to use appropriate cleaning products such as a household grease and baking soda to perform the necessary job to clean a cooker hood.
Q: Which cooker hood is best?
A: The Rangemaster Bellini BELHD80WH is one of the best cooker hoods on the market. According to many of the best cooker hood reviews, this product is their top choice or close to number one.
However, there are plenty more products to choose from. Finding the right product for you will depend on what exactly you're looking for.
Sources