Why Should I Lay Artificial Grass?
There are several benefits to installing artificial grass. Below is a list of the main advantages of laying artificial grass at your property:
It maintains it's aesthetically pleasing look all year round, no matter the weather
It doesn't require much maintenance
You will have more time to enjoy your garden without worrying about mowing
Reduces pollution caused by lawn mowers
Reduces water usage as it doesn't need to be watered
It can't be dug up or spoiled by pets
It can work out cheaper over time as real grass requires constant maintenance
It stays green all year round
You can choose your colour, pile, length, texture, yarn, density and completely customise it to how you want
It dries quicker than normal grass
It is child-friendly, mess-free, and soft
It's more weed-resistant than normal grass
Due to the materials, it stays pest-free
It's highly durable
As you can see, there are many reasons why laying artificial grass outside your home is a great idea.
How to Install Artificial Grass Yourself
Below is our step-by-step guide on how to lay artificial grass:
Step 1:
Dig out to 100mm depth around the edges of the area where you are laying your artificial grass. Then, dig down 75mm depth for the rest of the area. Use a wheelbarrow for easy transportation as you're digging. Leave the centre slightly higher for a more natural look.
Knock in stakes to support the edging boards, and then level the edging boards at the correct height. Screw the boards to the stakes to secure them.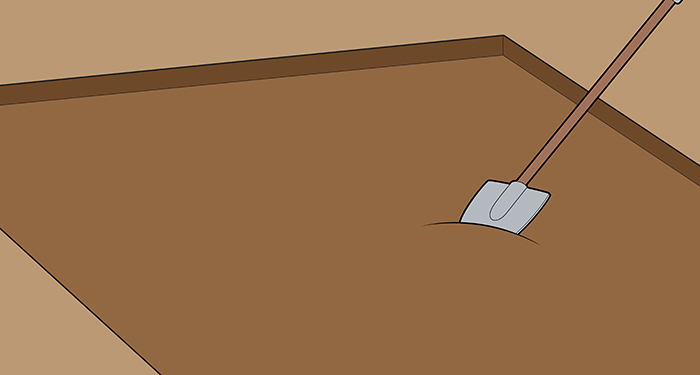 Step 2:
Once you have completed your edging, rake out the base of the area and then spray the ground with weed killer.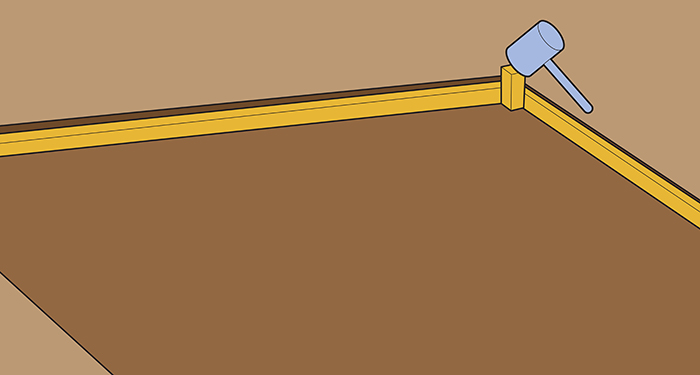 Step 3:
Cover the area completely with a weed control membrane. Overlap any joints by at least 150mm. Cut the edges to size using your Stanley knife.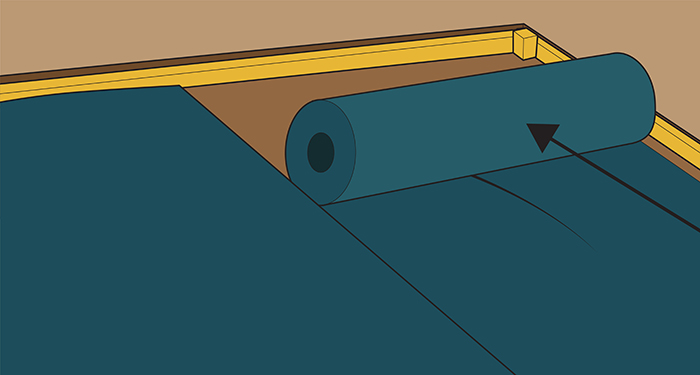 Step 4:
Next, fill the area with sharp sand on top of the weed control membrane. Rake out the sand so that it's even across the area and smooth the sand out with a plank.
Use a wacker plate to completely compact the sand down. Once this is complete, the surface is ready for installation.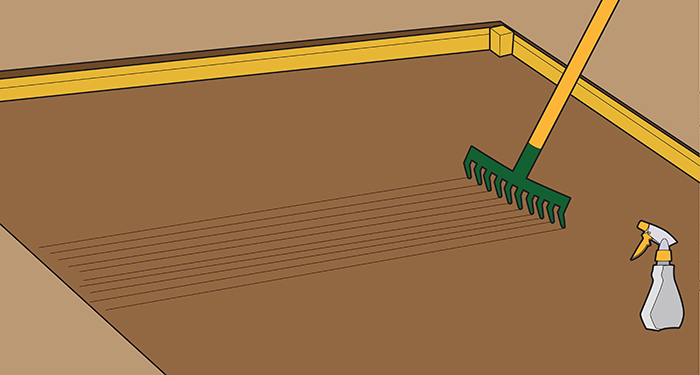 Step 5:
Lay out your artificial grass over the area, and trim is where needed using your Stanley knife.
For larger areas, you may need to join turf together. To do this, roll out tape along the join and then cut it to length. You can either use double-sided self-adhesive tape or use tape with an external adhesive. Lay this underneath the length of the turf and bring the edges of the turf together on top of the tape. Use your hand to smooth across the seam. Place a plank and heavy blocks on the seam until the adhesive dries.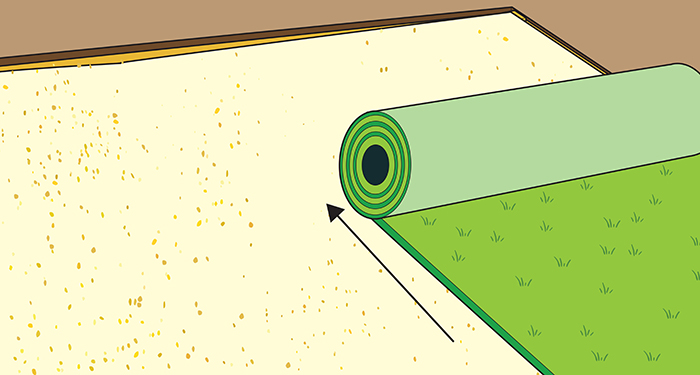 Step 6:
Hammer clout nails into the edging boards with around 300mm between each nail.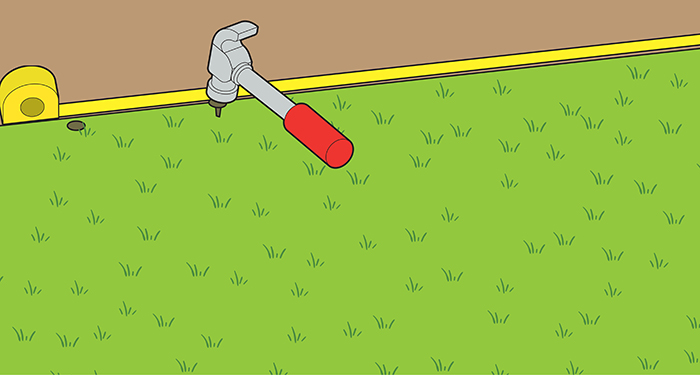 Step 7:
Brush the grass to finish it off.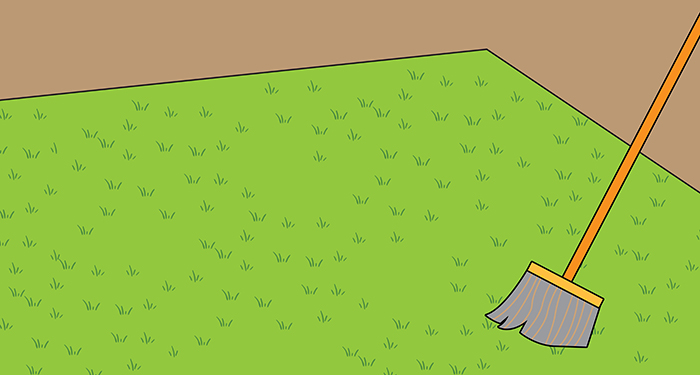 Tools to Lay Artificial Grass
You will need to following tools to install artificial grass:
1.5m spirit level
Tape measure
Wheelbarrow
Spade
Mallet
Drill driver
Drill bits
Rake
Stanley knife
Wacker plate
Sealant gun
Hammer
Safety Equipment to Lay Artificial Grass
This is the safety equipment that you will need to lay artificial grass:
Knee pads
Gloves
Eye goggles
Ear defenders
Steel-toe cap boots
Materials to Lay Artificial Grass
Below is a list of the materials that you will need to install artificial grass:
Artificial turf
Wooden stakes
100mm x 25mm timber
Deck screws
Plank
Weed control membrane
Weed sprayer
Sharp sand
Artificial grass adhesive
Joining tape
Self-adhesive joining tape
40mm clout nails
How to Prepare for Laying Artificial Grass
To prepare for laying artificial grass, you will need to begin by removing any old grass that may be present in the area and ensure the space is level.
Measure out the area so that you know how much artificial turf you need to buy. Always add on 10% so that you can be sure you've got enough.
Types of Artificial Grass
There are three different types of plastic used to make artificial grass. Below is a list of the different types of artificial grass:
Polyethylene Grass
This is the most commonly used type of plastic fibre. It is generally a good all-rounder for artificial grass.
It is a fairly soft fibre that looks great, however, it's not as strong as nylon may be best for use in less high-traffic areas.
Nylon Grass
Nylon grass is the strongest and most durable fibre used for artificial grass, however, it is also more expensive.
This is best used for high-traffic areas or children's play areas as it can withstand a lot of heavy use.
Polypropylene Grass
This is very similar to polyethylene grass and is quite a soft fibre. However, it is stronger than polyethylene but not as strong as nylon. With this in mind, this type of grass is great for general use but shouldn't be placed in areas of high-traffic.
The best artificial grass type is a combination of nylon with another fibre, as this brings down the price but strengthens the grass.
How to Clean Artificial Grass
Artificial grass requires little maintenance, however, it will need a clean every now and then.
To ensure your artificial grass looks great all year round, you should consider the following artificial grass cleaning tips.
Rinse the Artificial Turf
To remove any surface dirt from your artificial grass, you should water the turf at least once a week to keep it looking pristine.
You can use a standard or install a sprinkler and set a timer to ensure it is watered with minimal effort.
Brush the Synthetic Grass
To remove larger pieces of debris and leaves, you should try to brush your artificial turf regularly, making sure to brush against the natural grain of the grass.
Clean Up Pet Waste
If you have any pets, it is important that you clean up any waste. You can use a pooper scooper or baggie to get rid of solid waste and hose down the area at least once a week.
FAQs
Q: Can you lay artificial grass over concrete?
A: It is possible to install artificial grass on concrete. Instead of using sand as the base, you will need to use an artificial grass foam underlay instead. You will also use artificial grass glue to stick the turf down rather than using nails.
Q: Is artificial lawn abrasive on the skin?
A: Most modern artificial grasses will not graze the skin. You can get many different types of artificial grass so if you're worried about skin grazes, choose a grass type that is created with a soft fibre.
Q: Will my artificial grass drain properly?
A: Artificial grass is porous and has holes in the backing to allow for drainage.
Q: Can I use a barbecue on artificial grass?
A: You should never barbecue or have an open flame near artificial grass as extreme hot temperatures could melt the grass.
Q: How long will laying artificial grass take?
A: This will depend on the area being covered. However, most artificial grass laying jobs can be completed within a day.
Sources